Meaghan Jameson of Fox & Fern Events recognizes that a Northern Michigan summer wedding is something extra special. Whether it's the magic of a summer day, the smell of bonfires, the beautiful lakes or the "acres upon acres of woodlands and tucked away cabins," there is definitely a unique allure to a fun, Michigan summer wedding.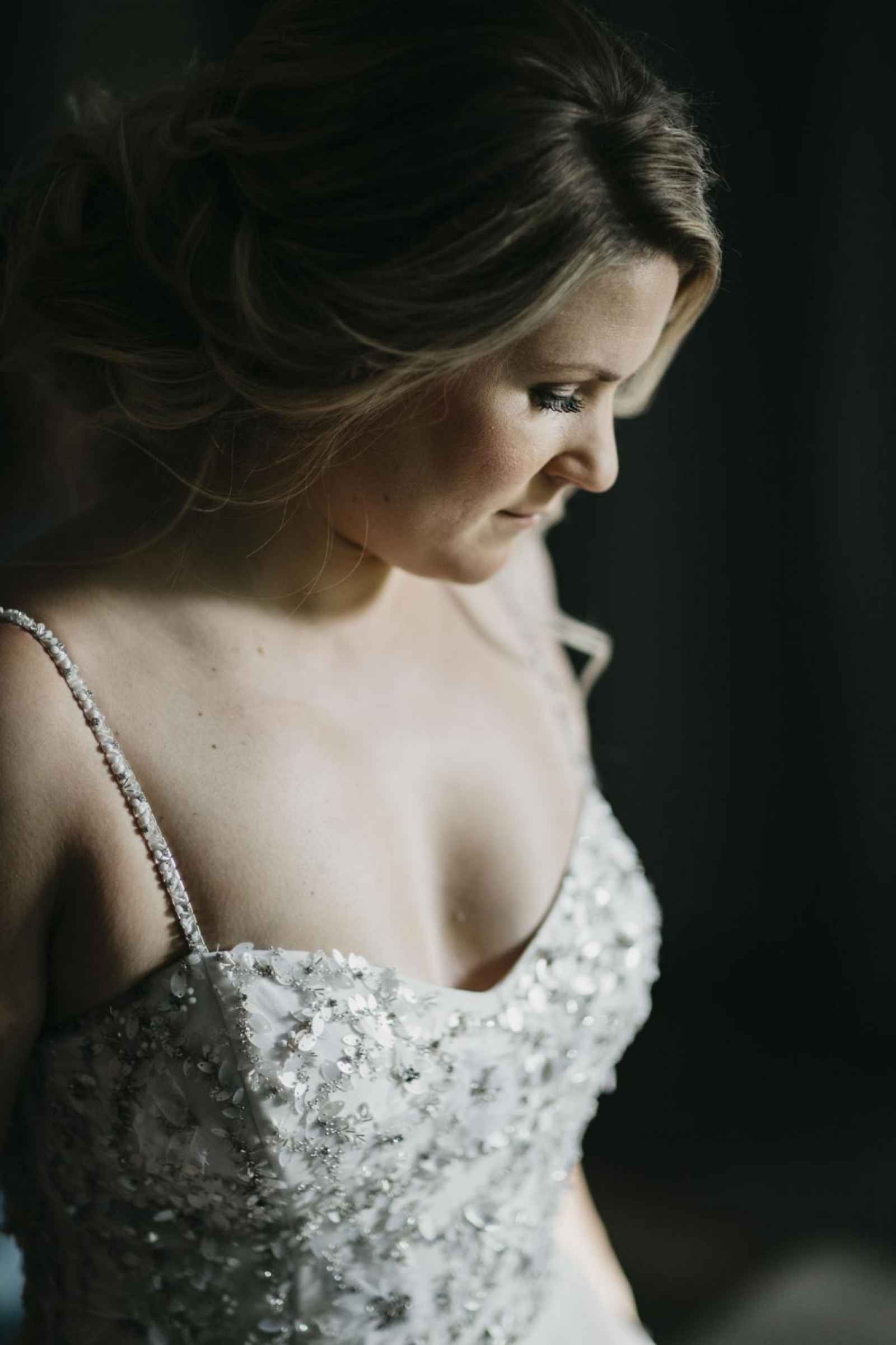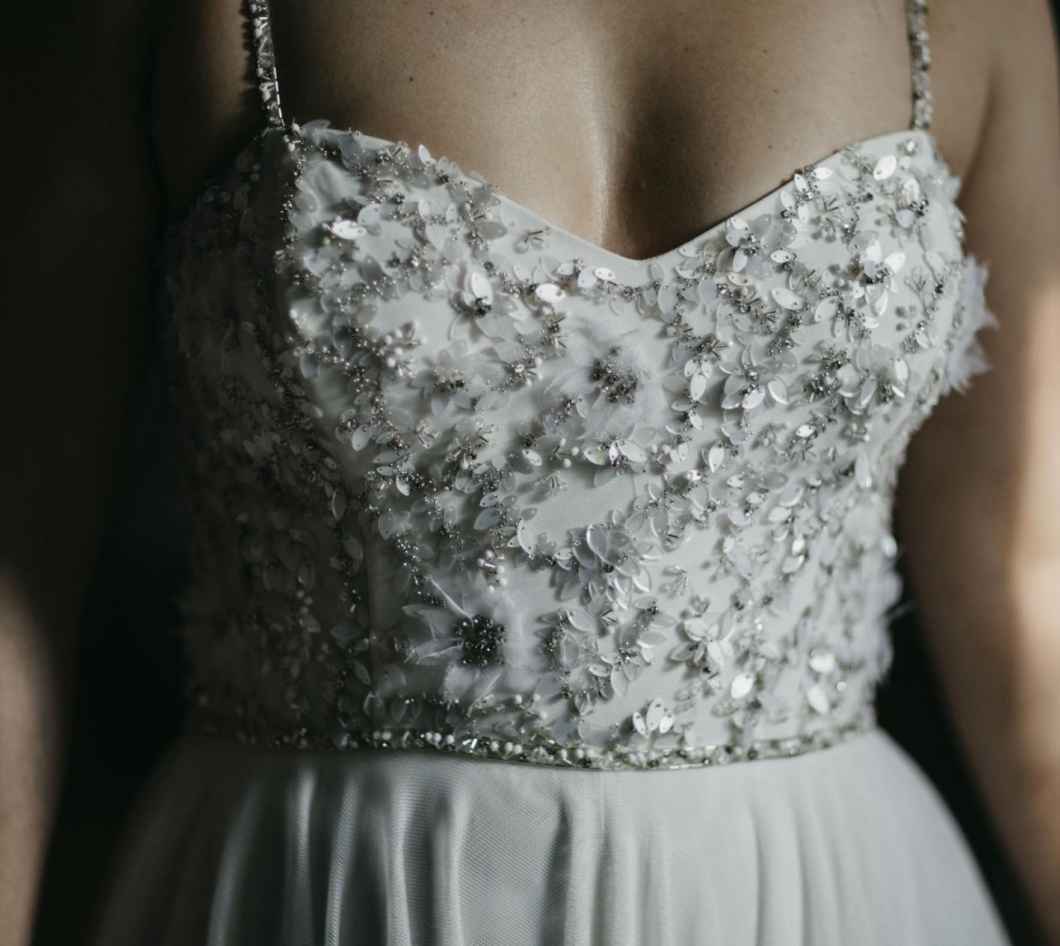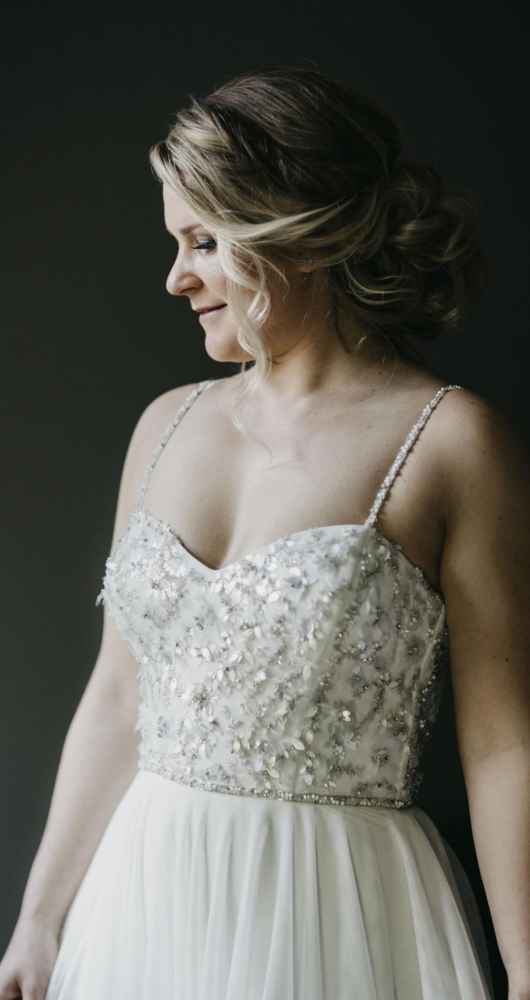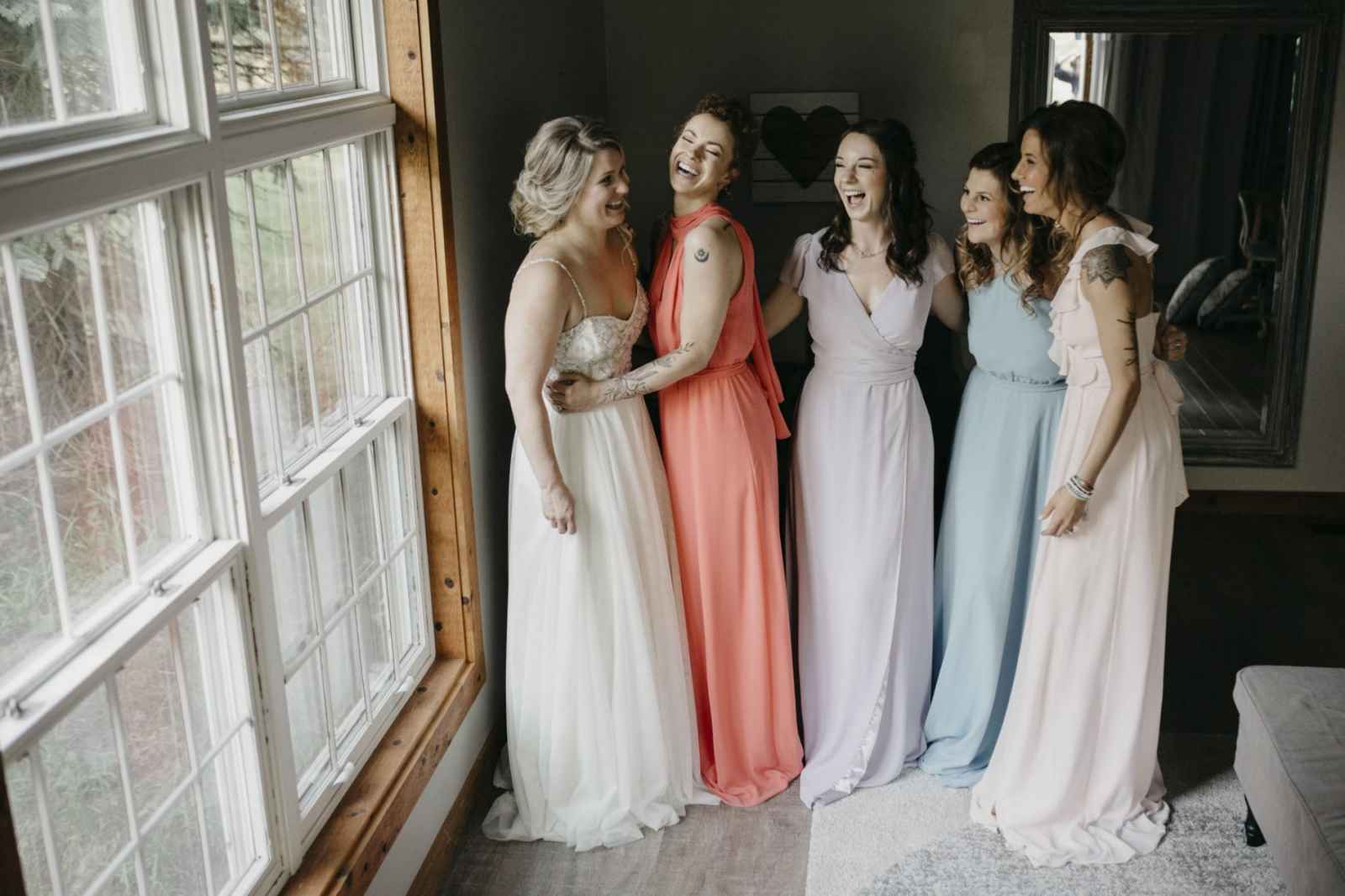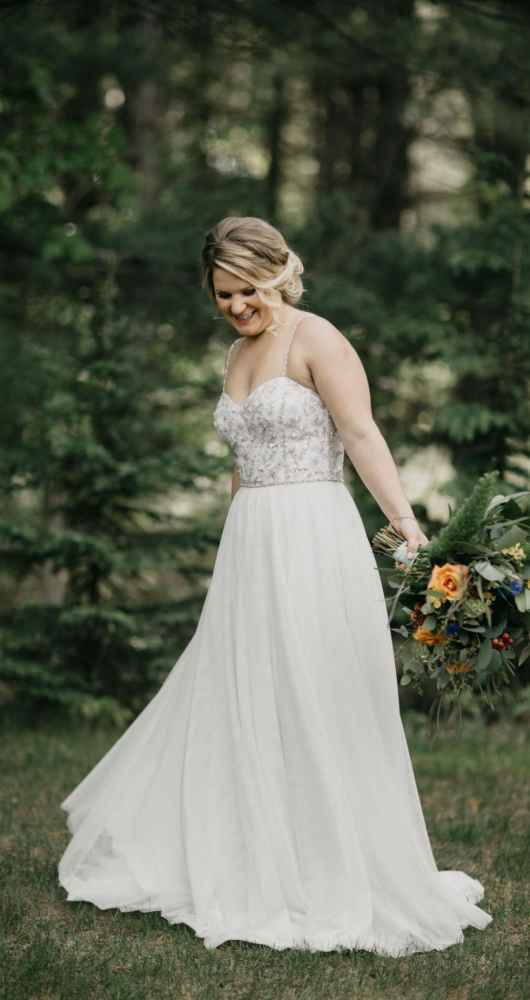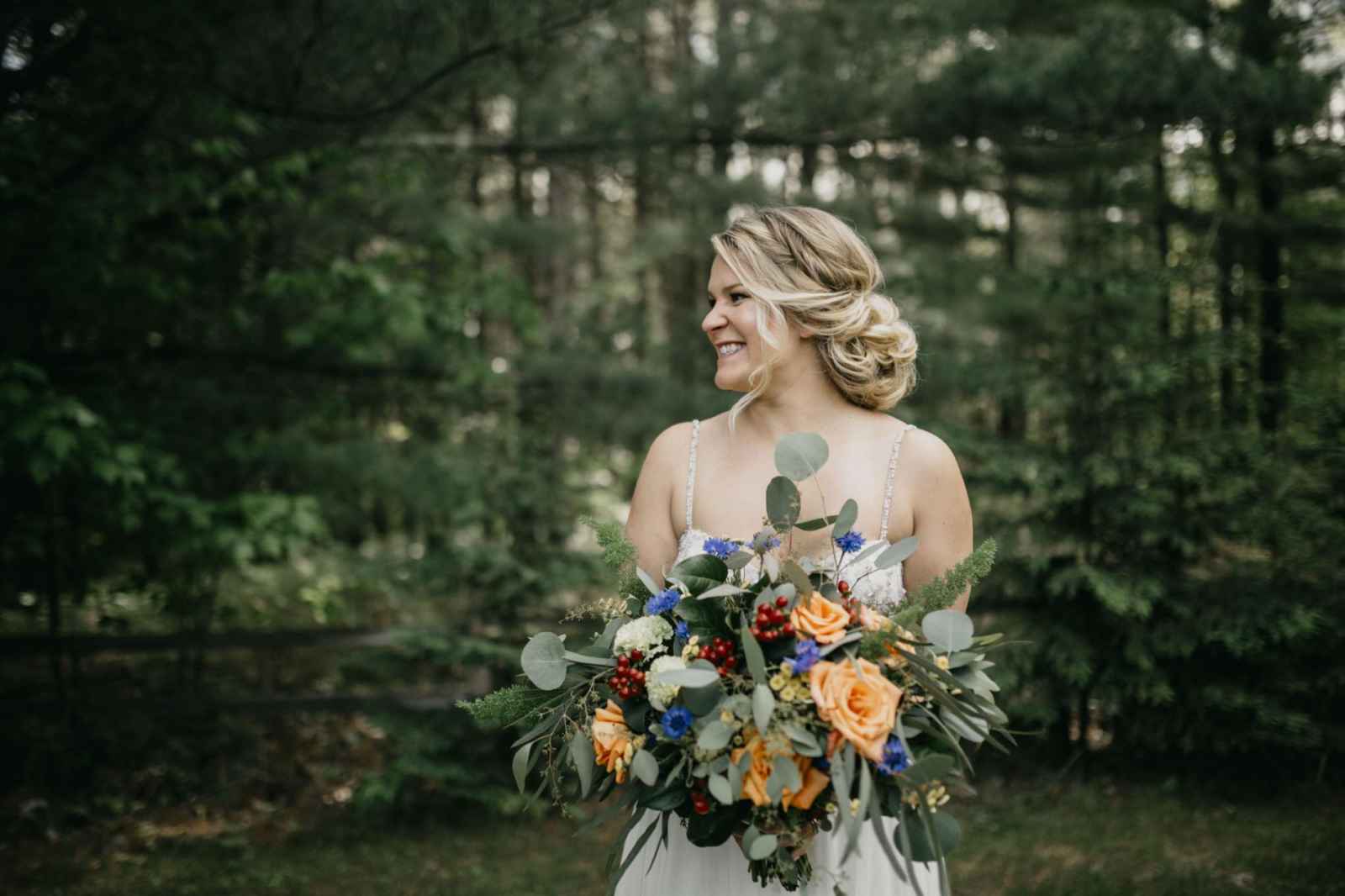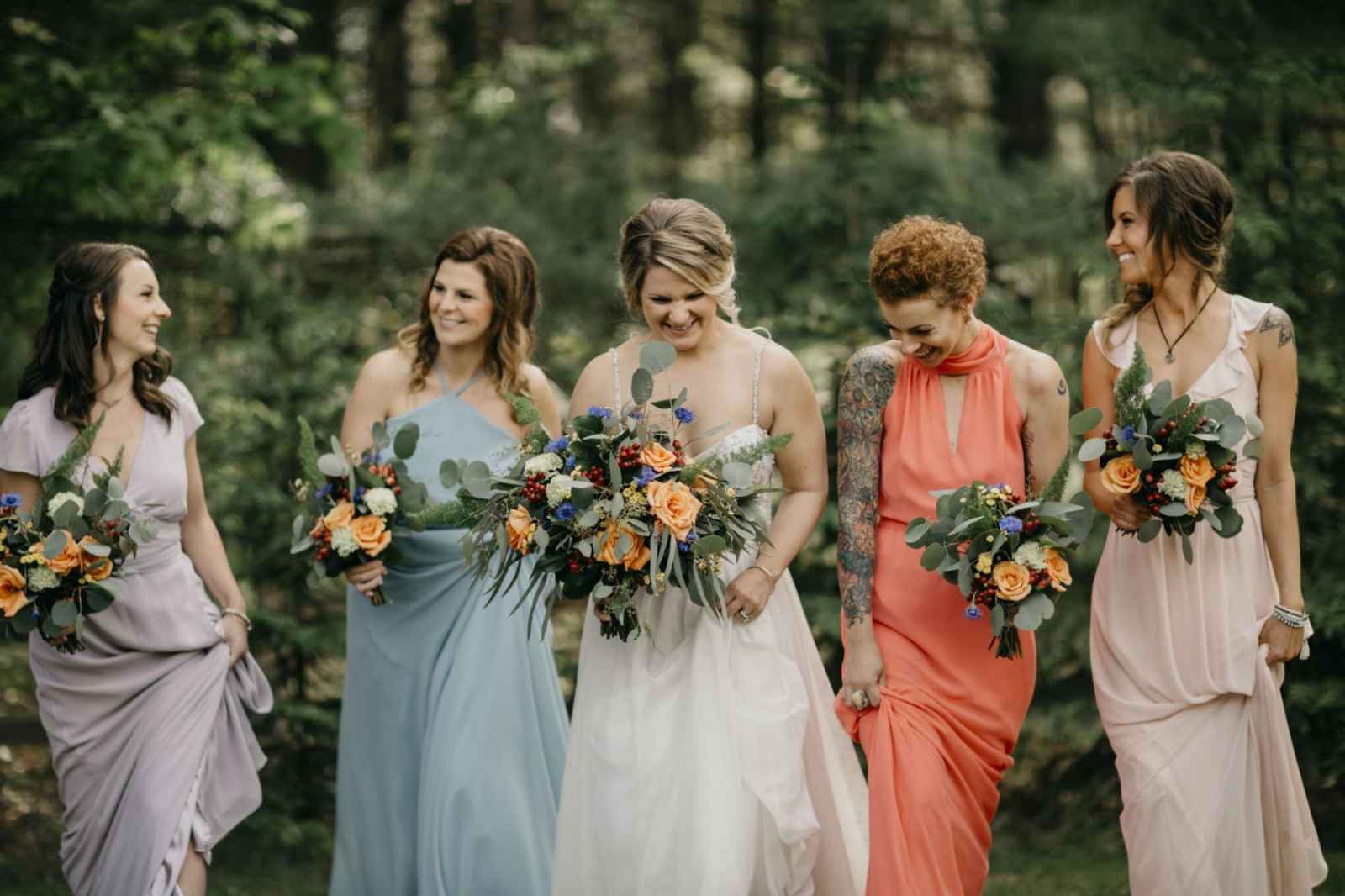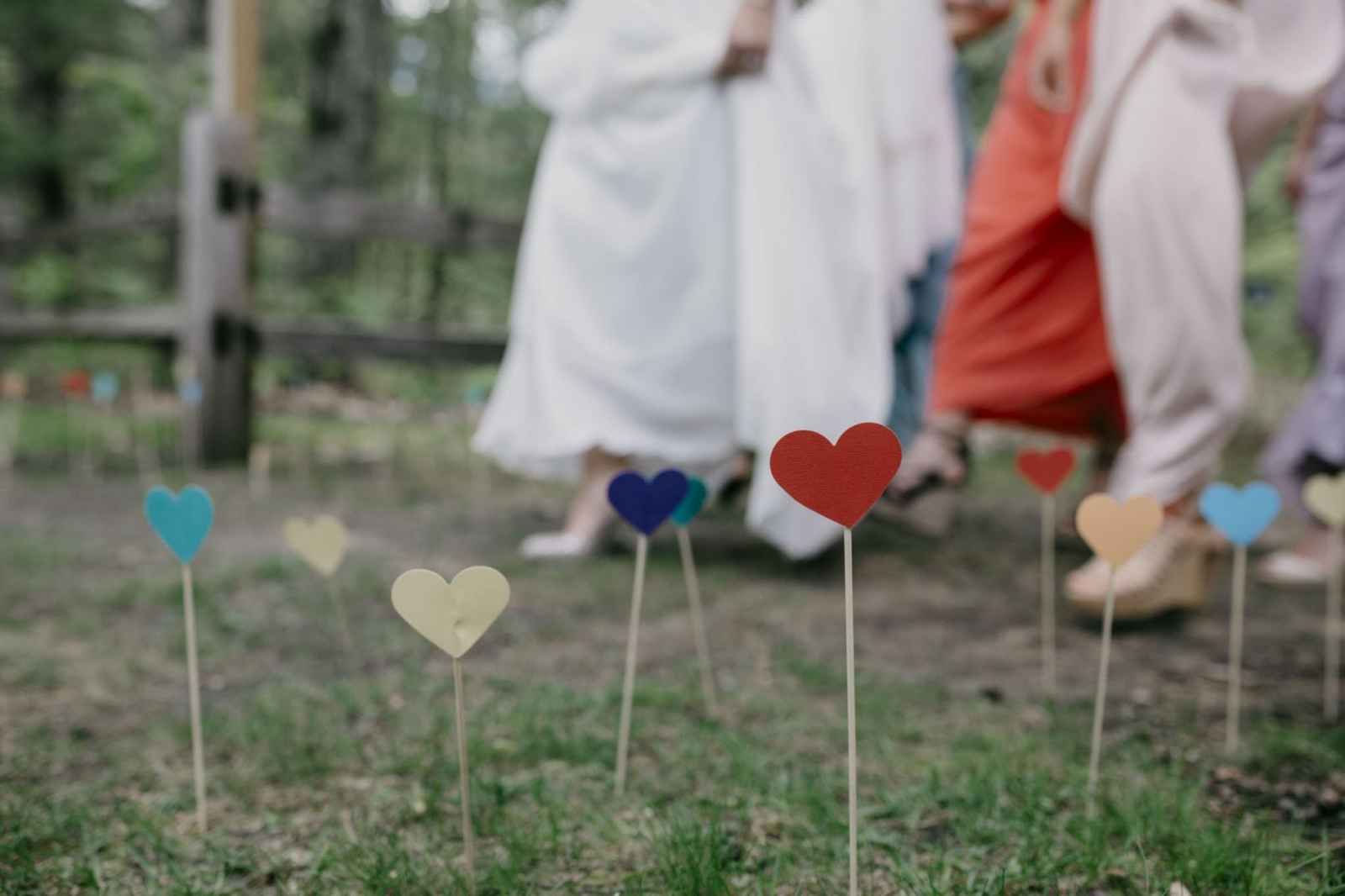 "The idea was a collaboration between One Oak Bride, whose slogan 'Less Damsel in Distress, More Badass Heroine,' fits the vibe perfectly, Planetary Coffee, who recently expanded their services to offer their coffee truck for local weddings and Fox + Fern Events, who specializes in hyper-personalized weddings full of intimate details and great conversation."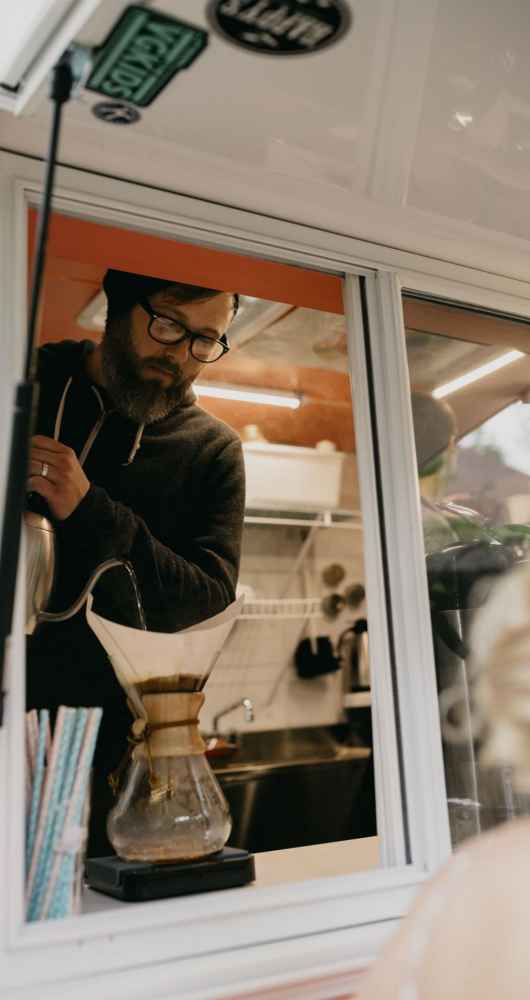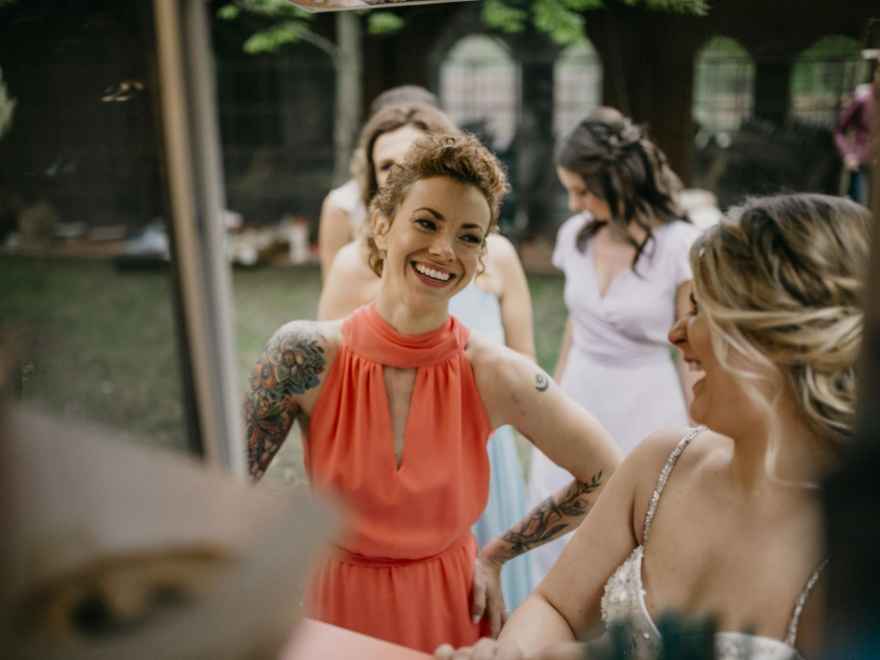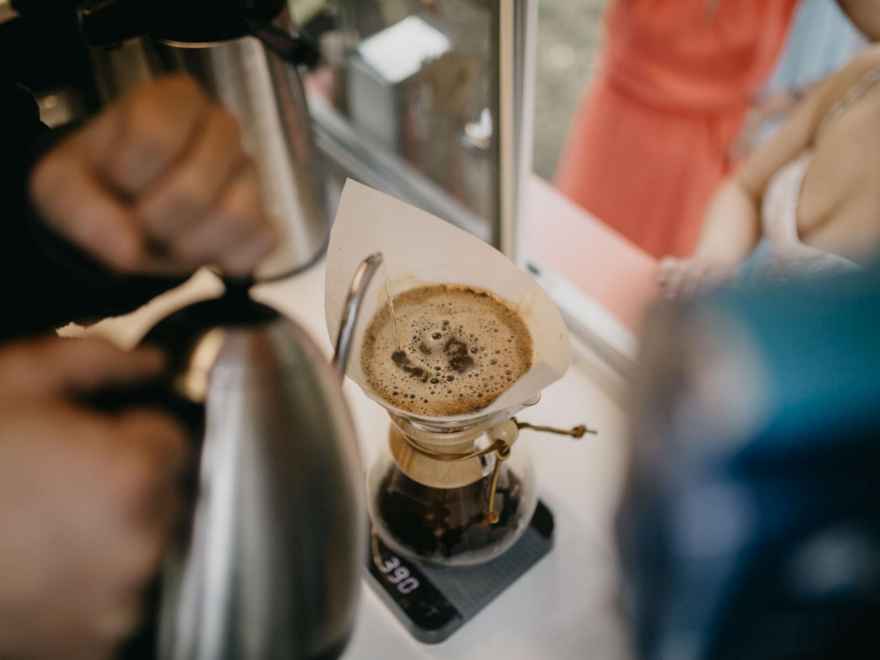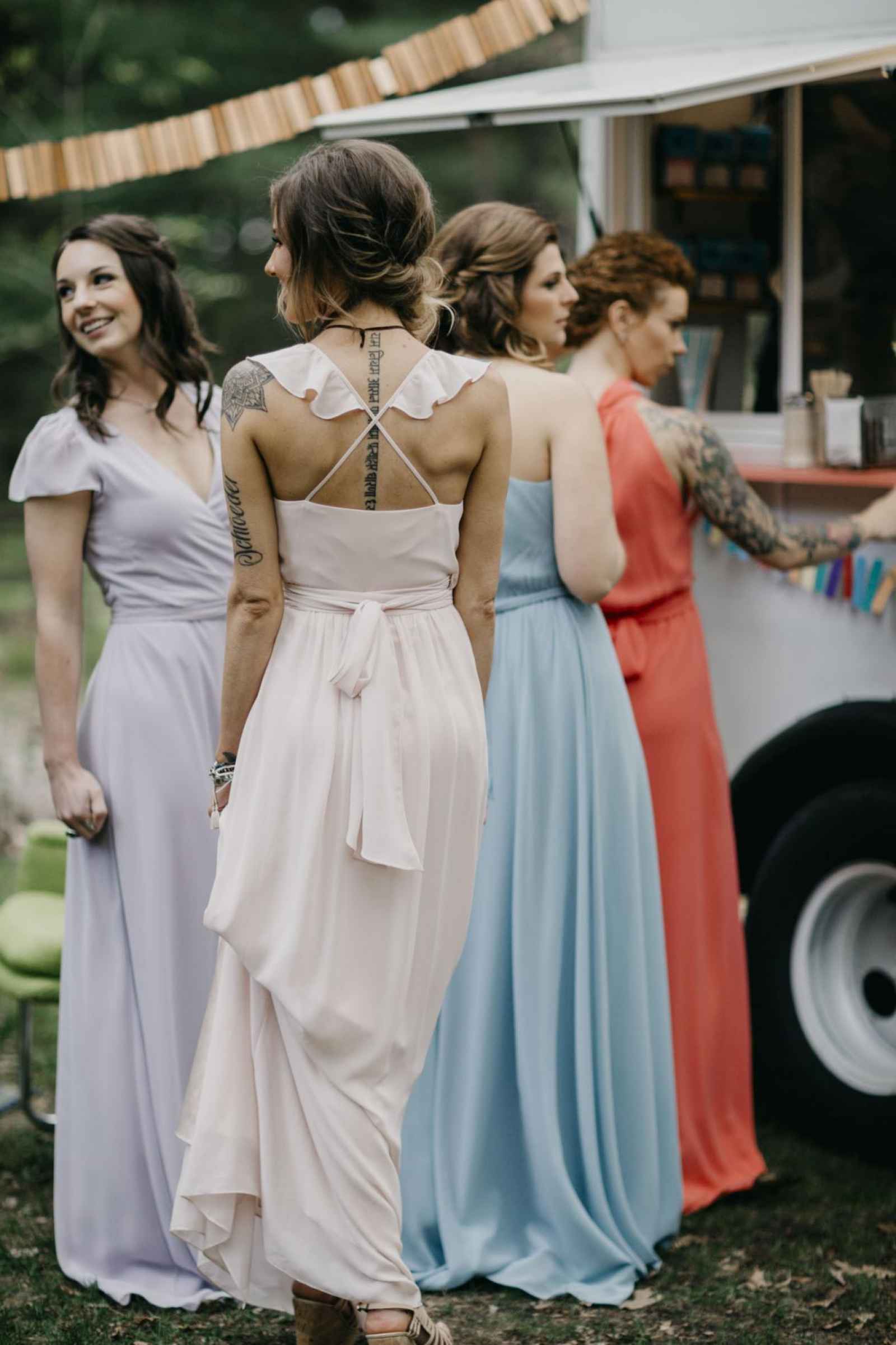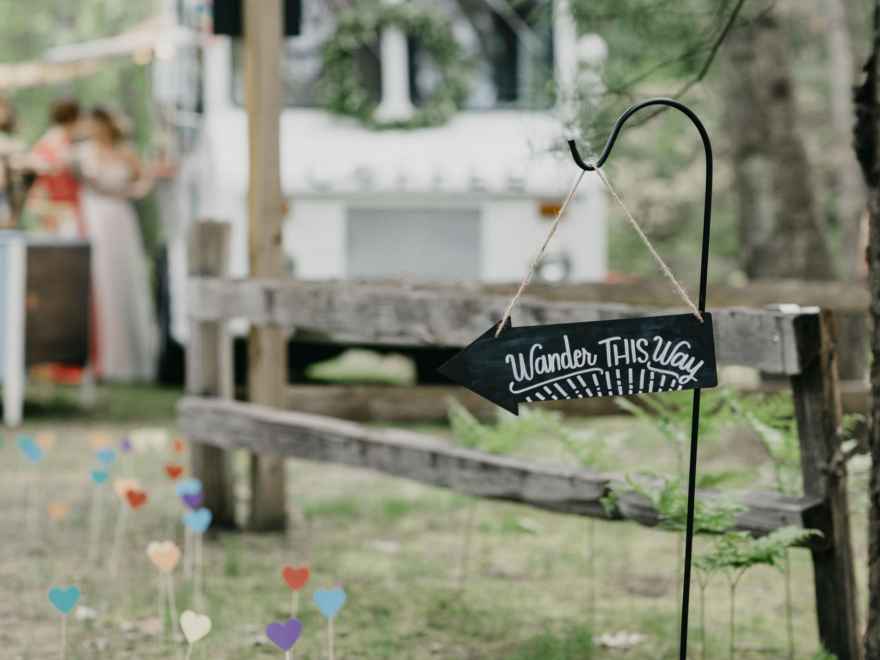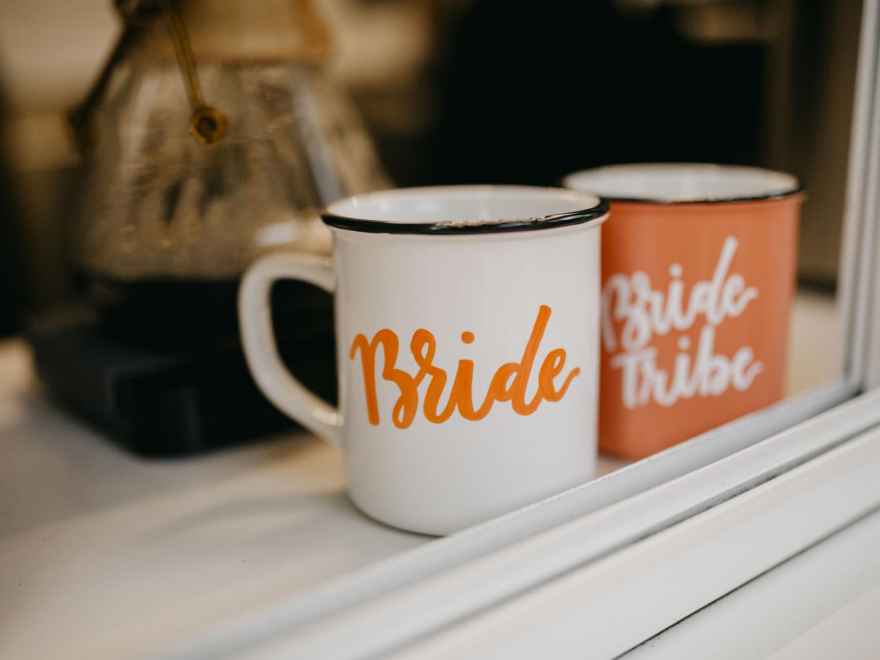 Located in the heart of hardwood pines, this BlueBridge destination wedding retreat style shoot is bright and playful and focuses on eclectic details including a coffee truck, a cozy seating area hidden in the woods, and an authentically happy bride tribe. In fact, some of the talented team's most favorite moments were when the ladies were getting ready and getting giddy over the details. Meaghan says, "We sought to capture that with this shoot, while utilizing the gorgeous woodsy-whimsy that Northern Michigan brings about."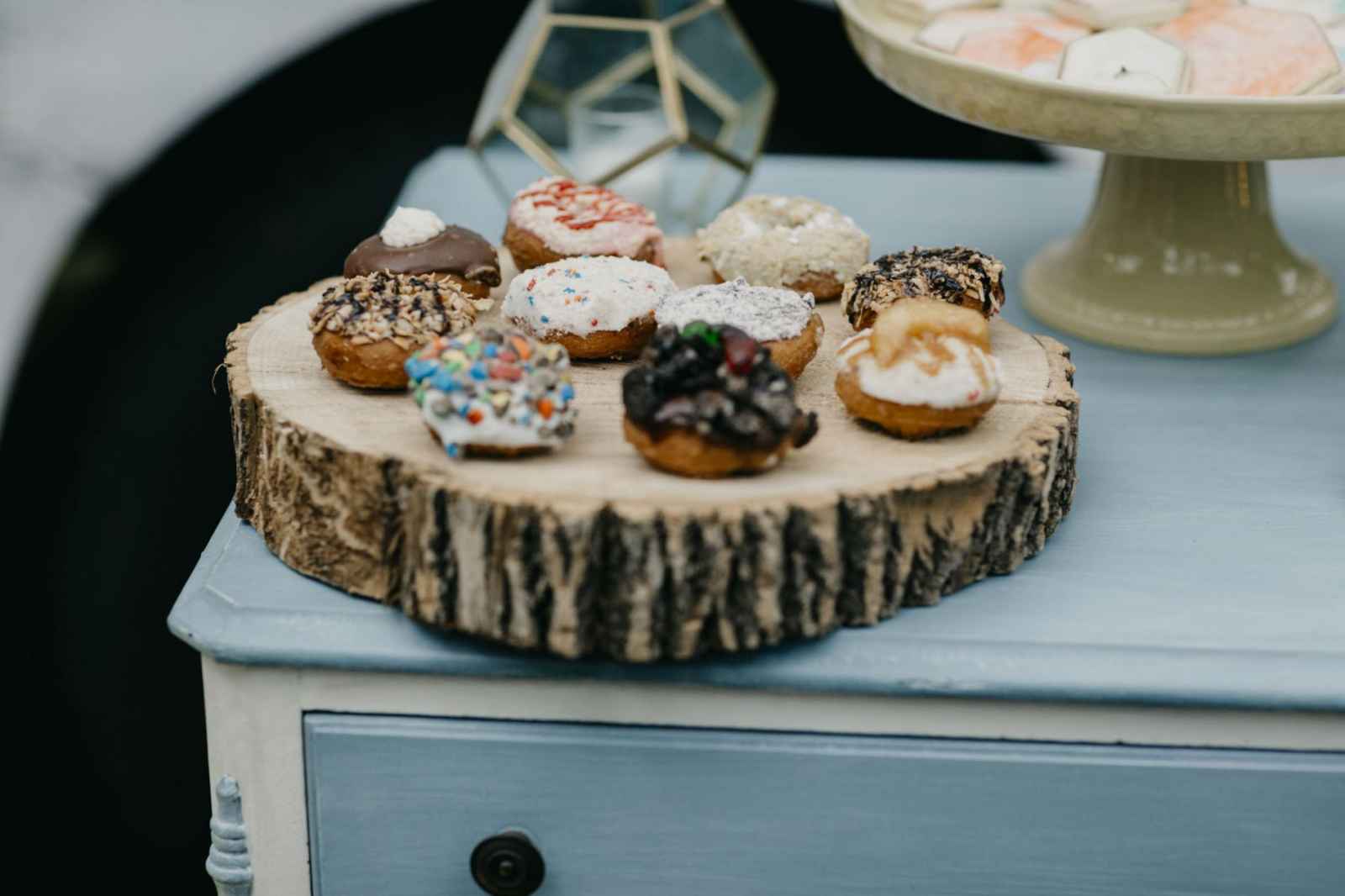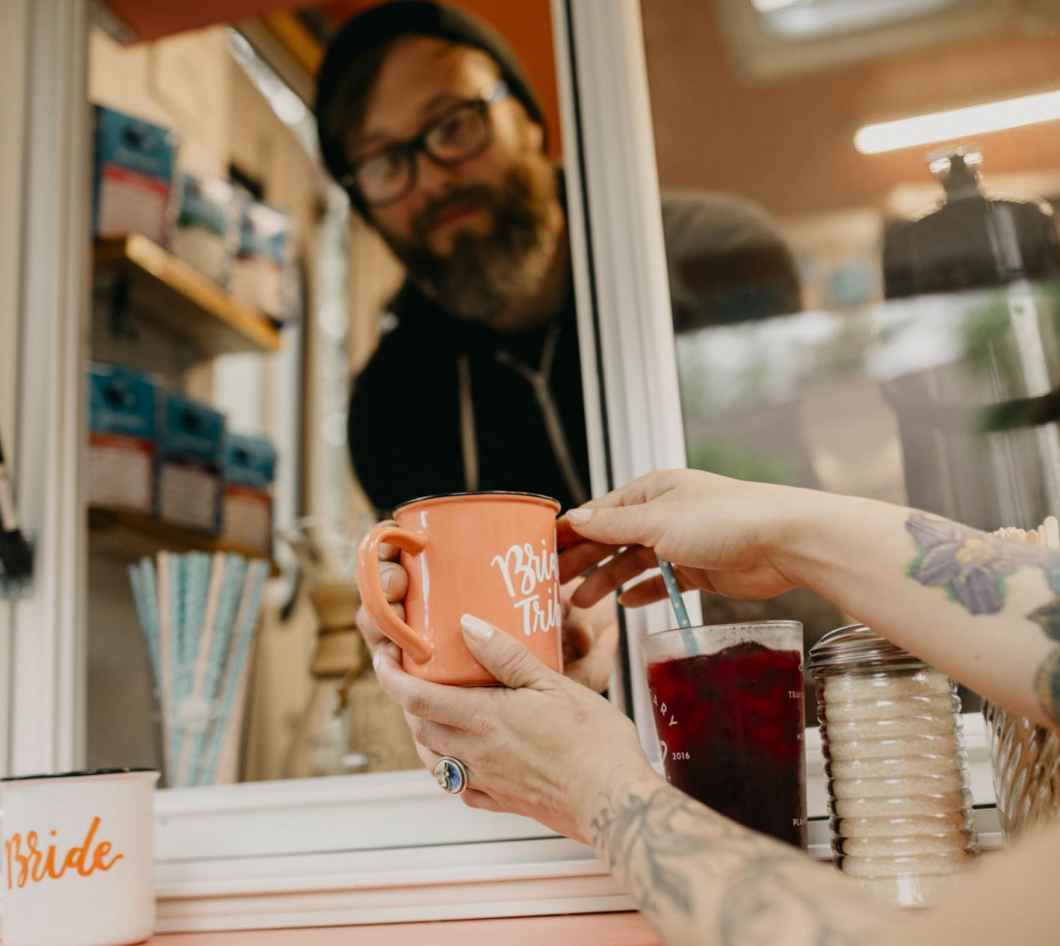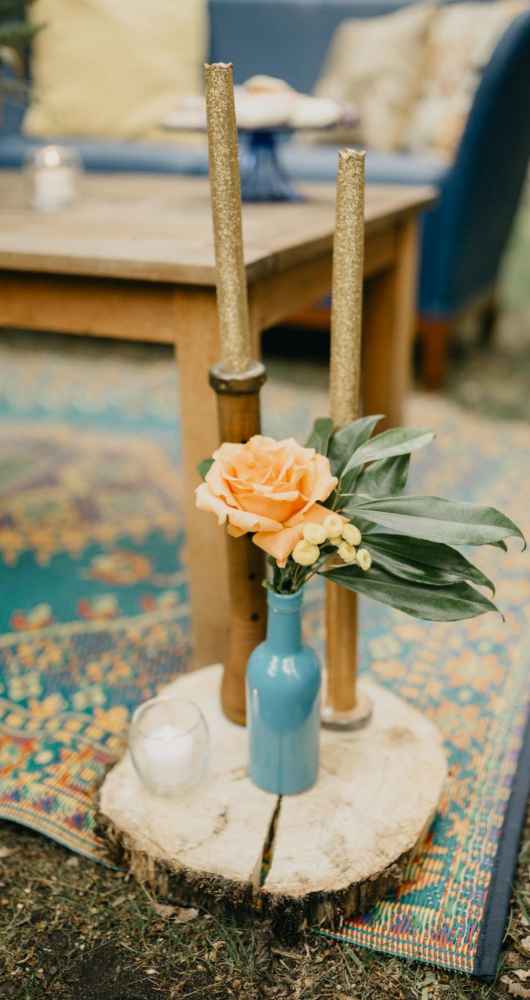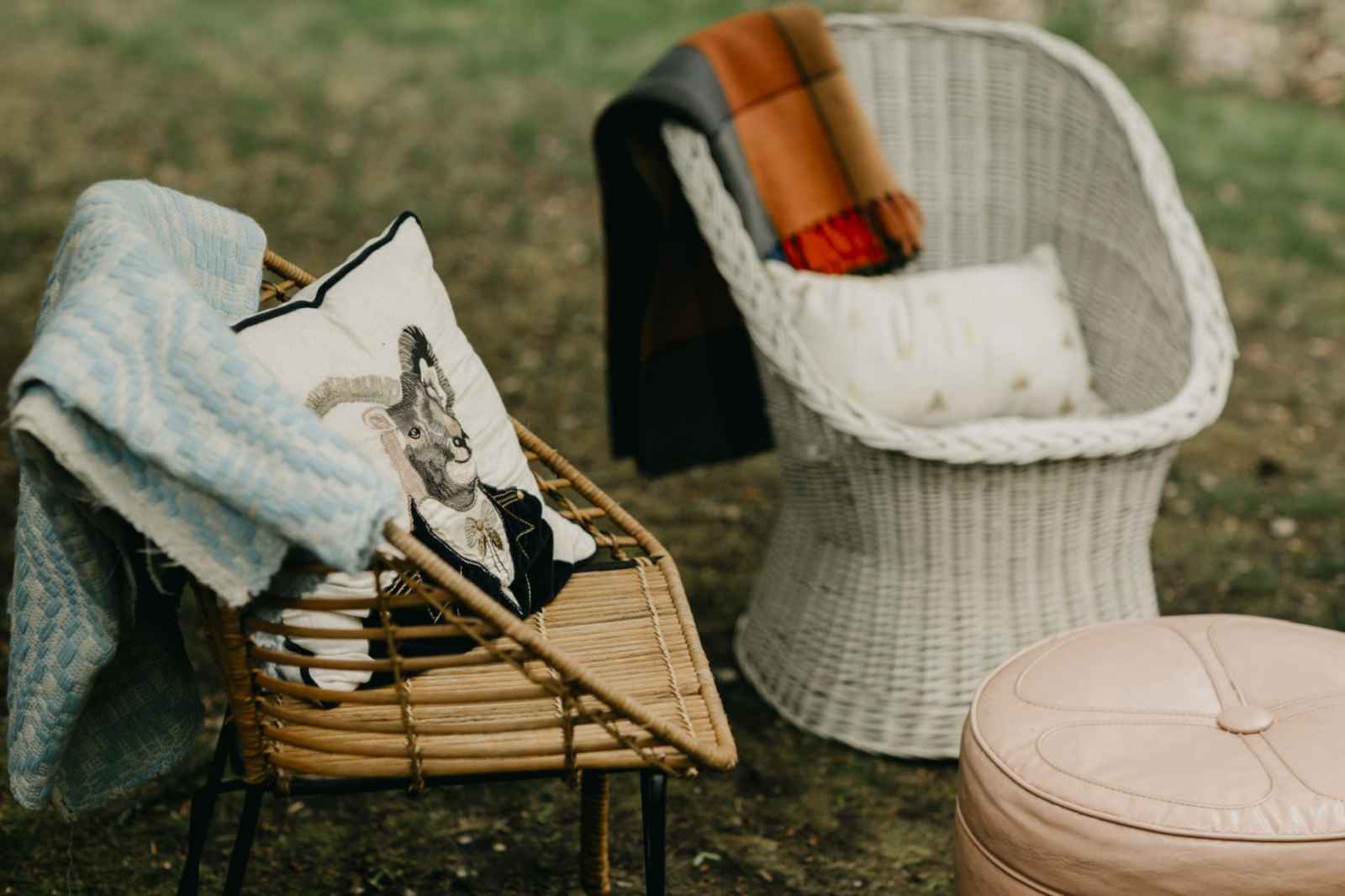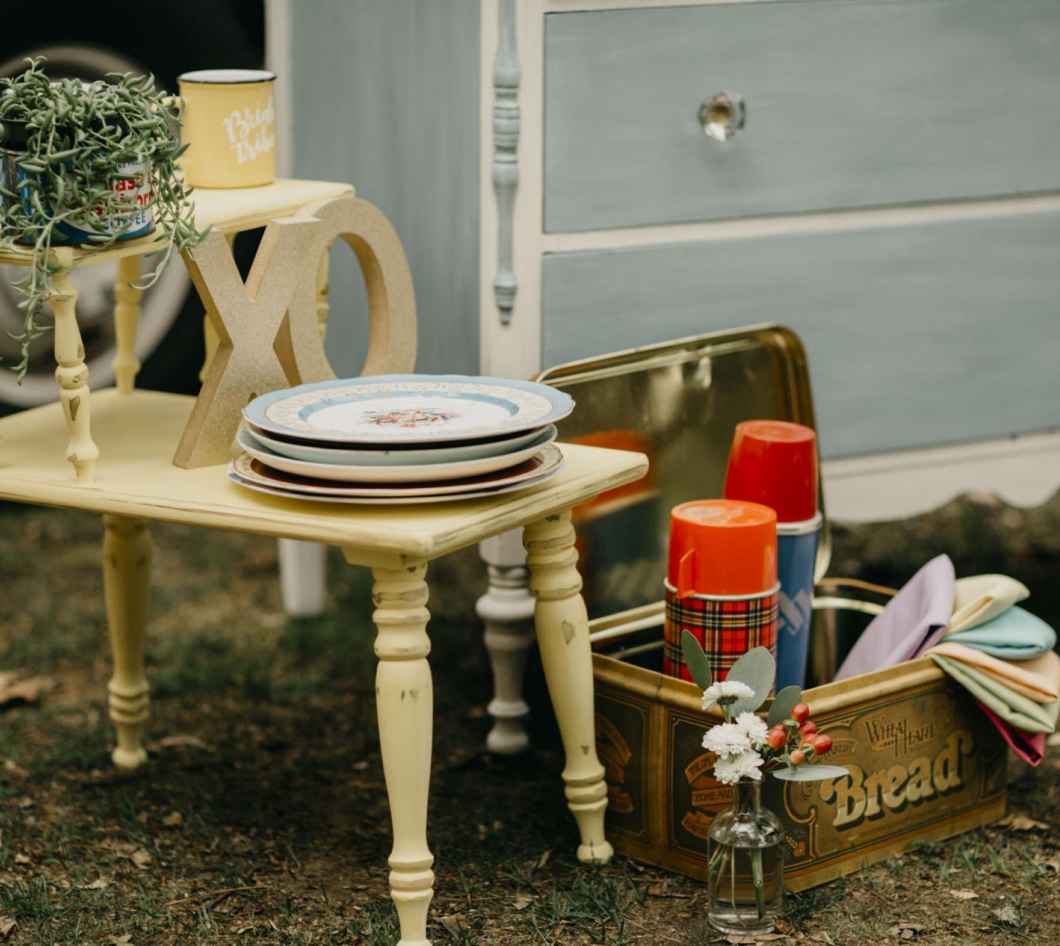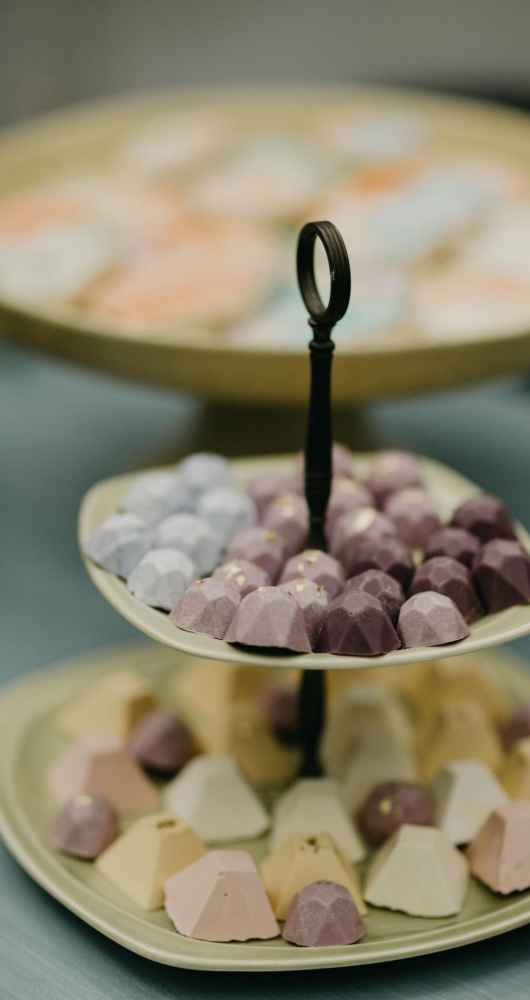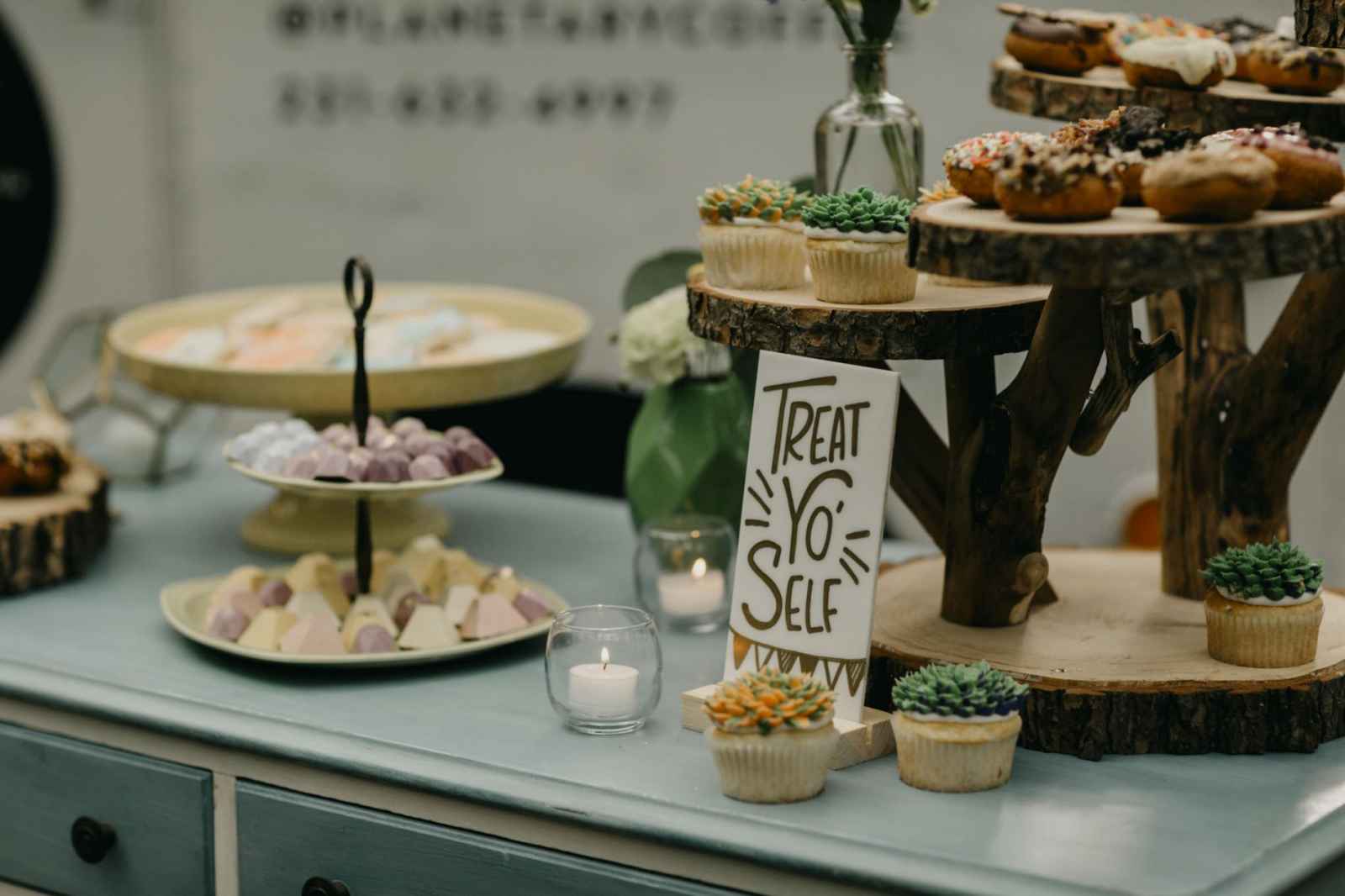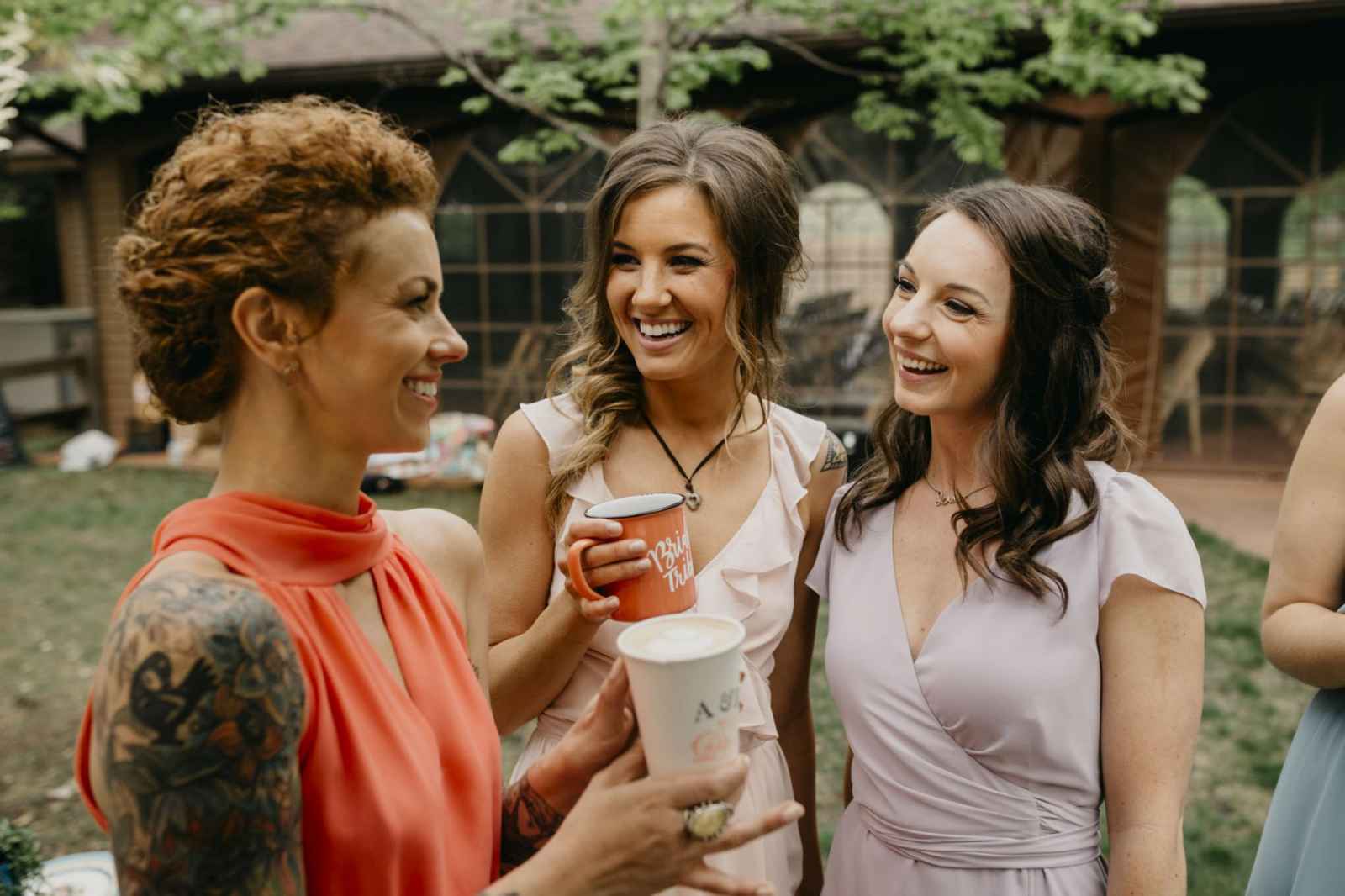 Meaghan explains, "Couples get married in Northern Michigan because it brings a sense of nostalgia. It's a place where they visited with their families as a child or camped on the weekends with their friends. We're all about embracing those feelings, so this shoot features a bride wearing a subtly glitzy, bohemian styled gown and her best girls in airy, bridesmaid dresses. We shot at the golden hour, showcasing these lovely ladies enjoying a dessert bar and sipping on brews made fresh from our local coffee truck."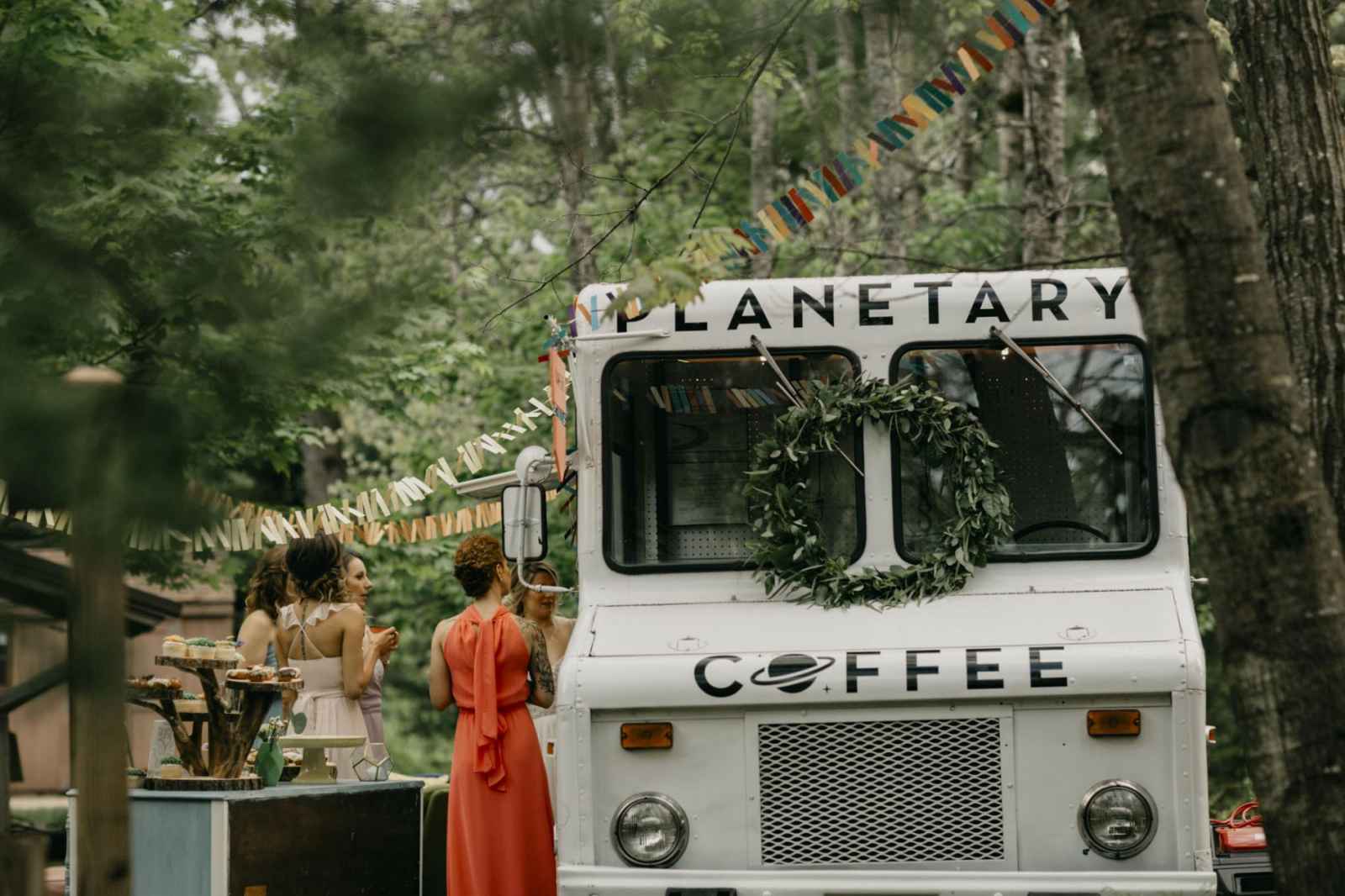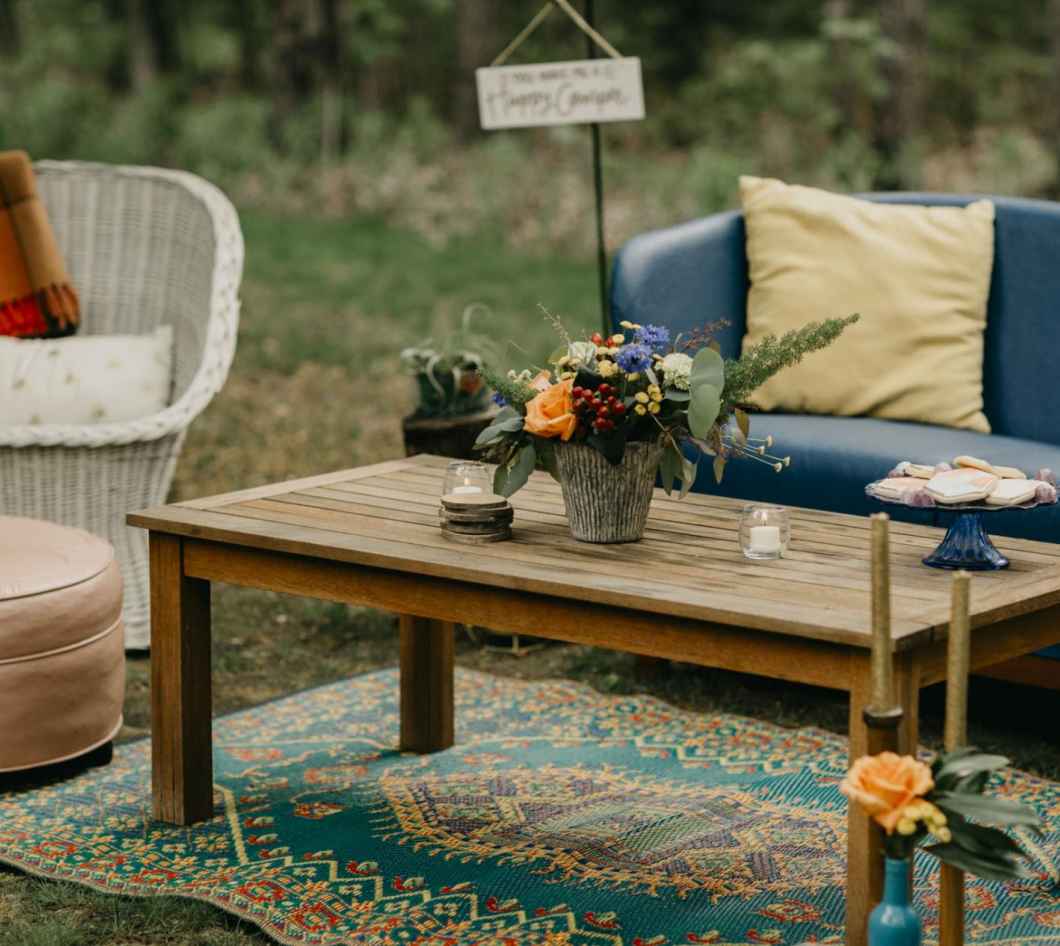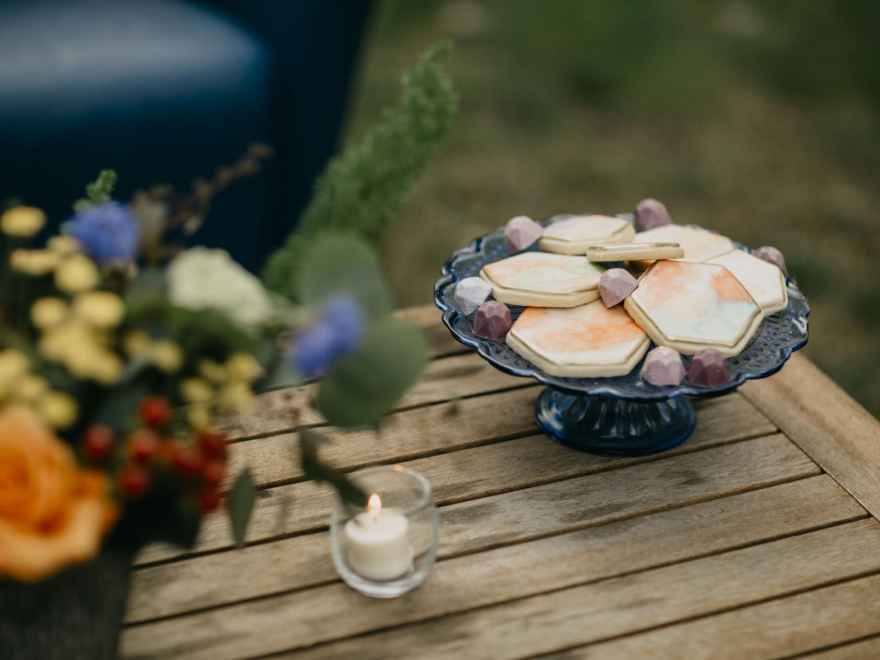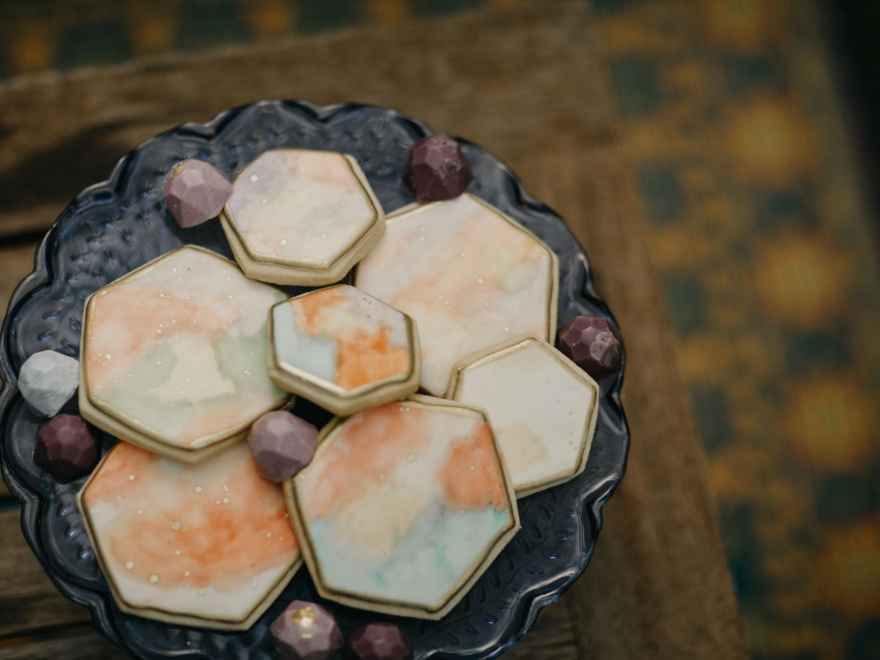 The gorgeous A-line gown featured a detailed top and flowing design that offered movement on the bottom. The plan for the bridesmaids was simply lots of color. "We wanted to work in some beautiful spring and summer tones and emphasize that pretty doesn't have to mean stuffy," Meaghan explains. Meaghan adds, "We wanted to put out a vibe of comfort. These ladies, while all wearing beautiful dresses and looking stunning in makeup and hair by Memorable Occasions, were actually a group of best friends. We wanted that to be emulated in the shoot—like they were at an eclectic coffee and dessert lounge and weren't afraid to get their shoes a little dirty to get there as long as they'd have a great time together doing so."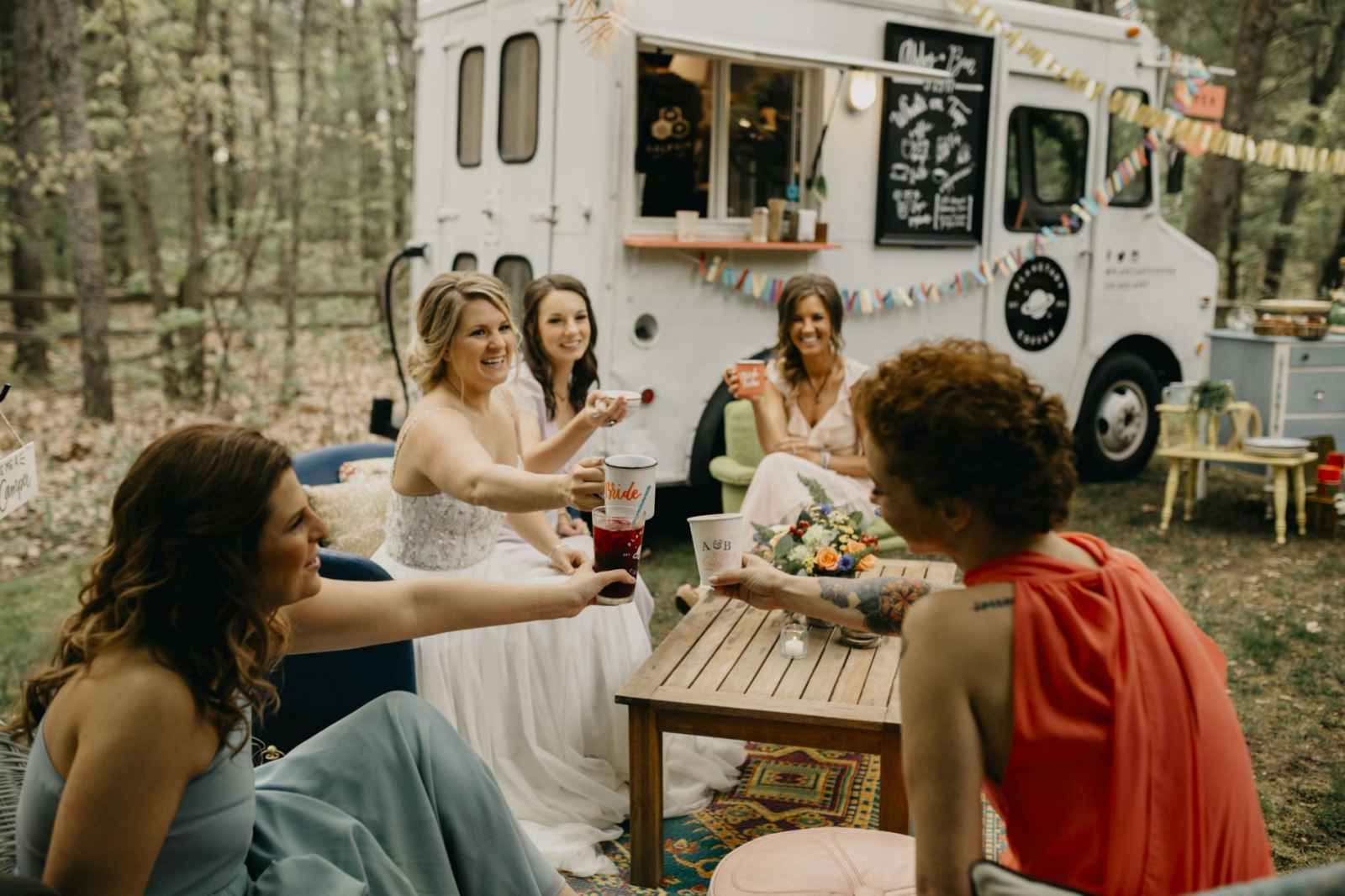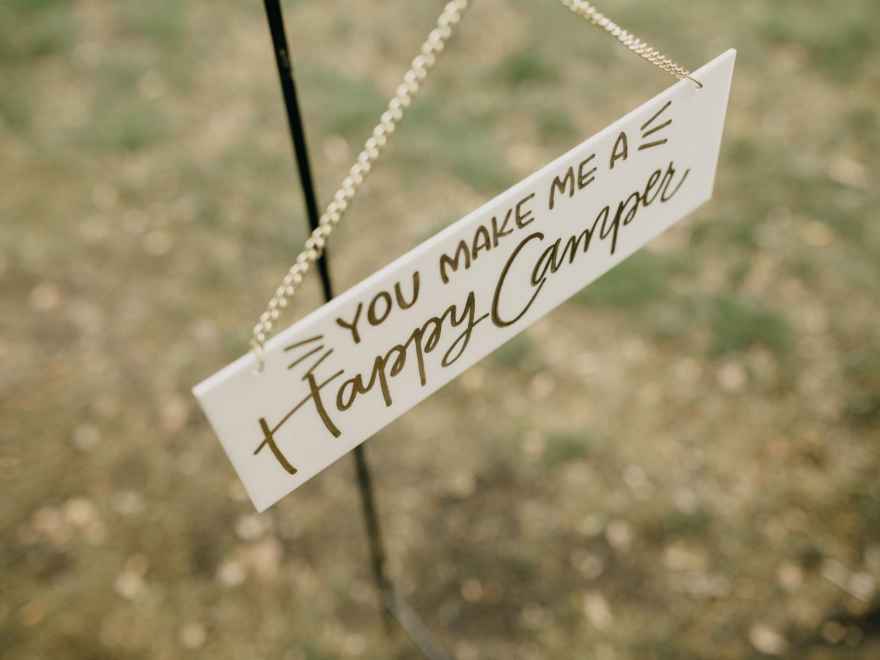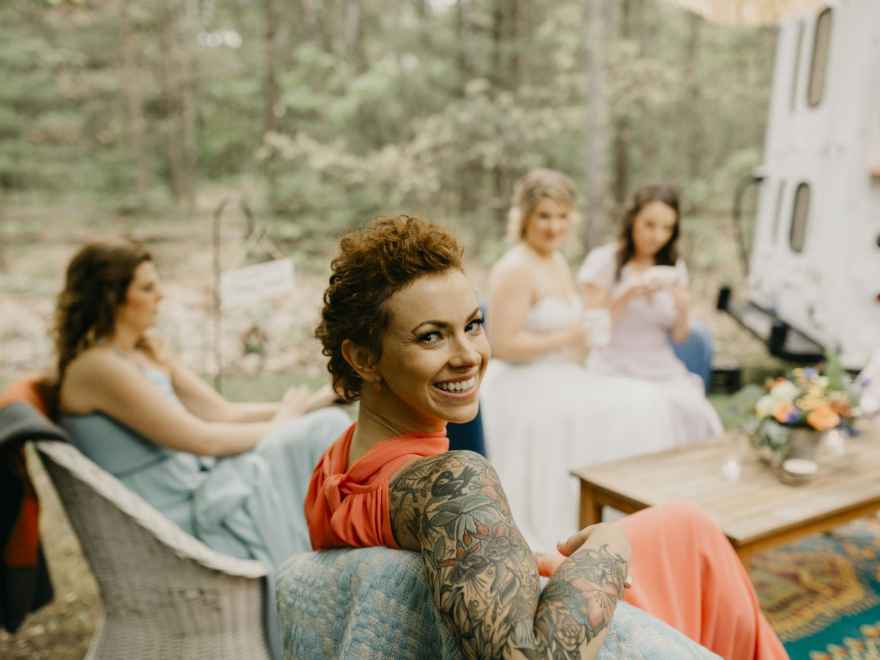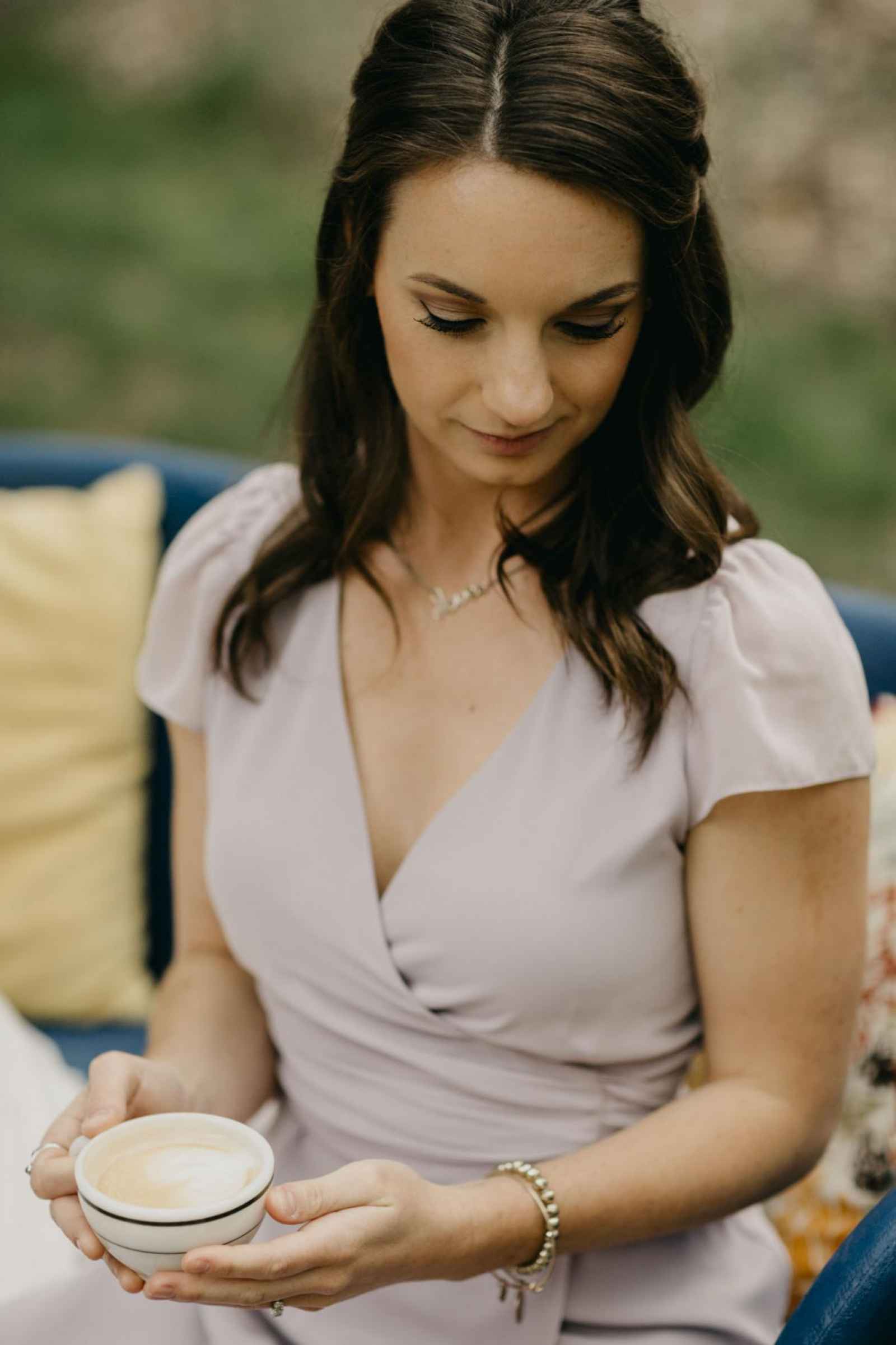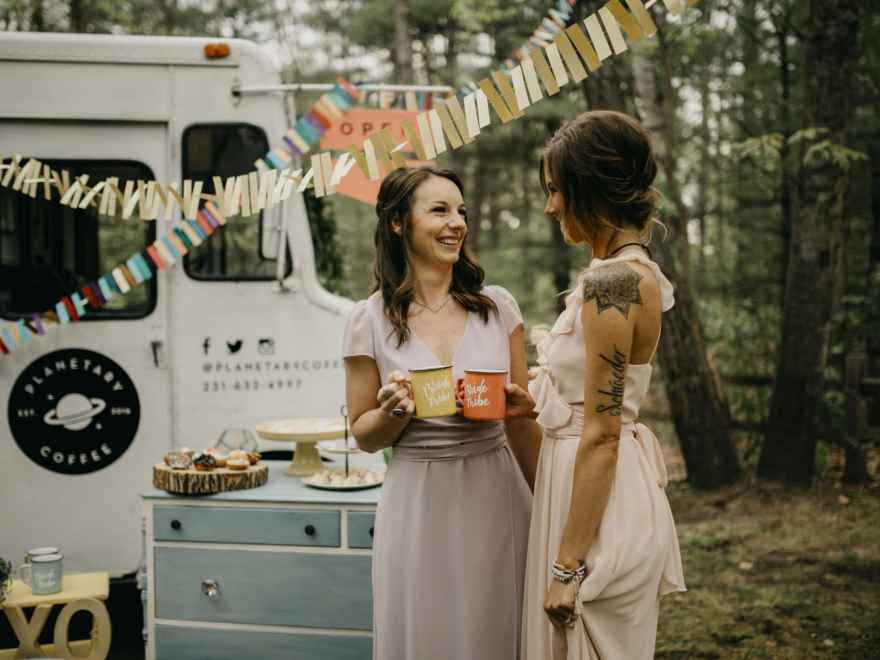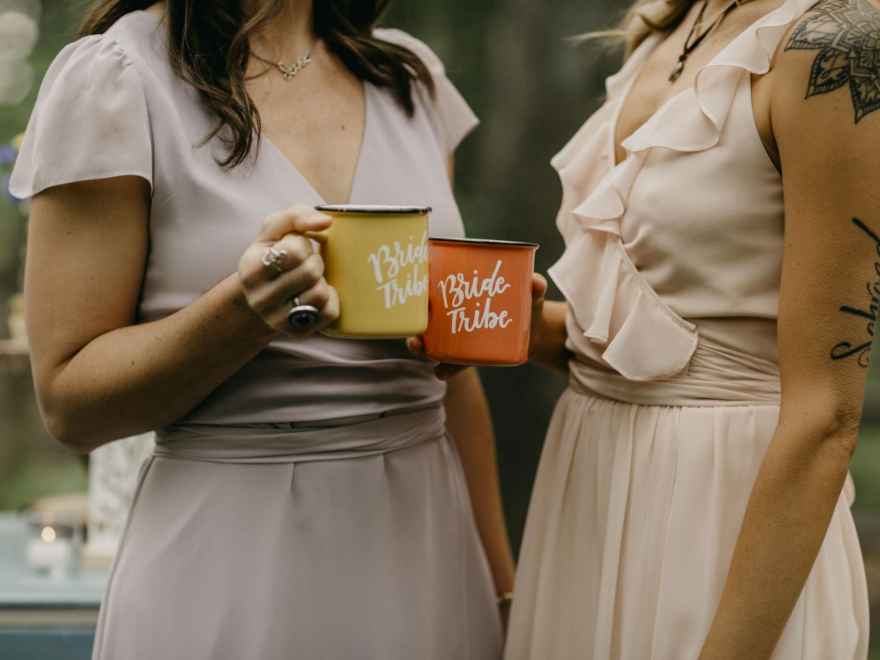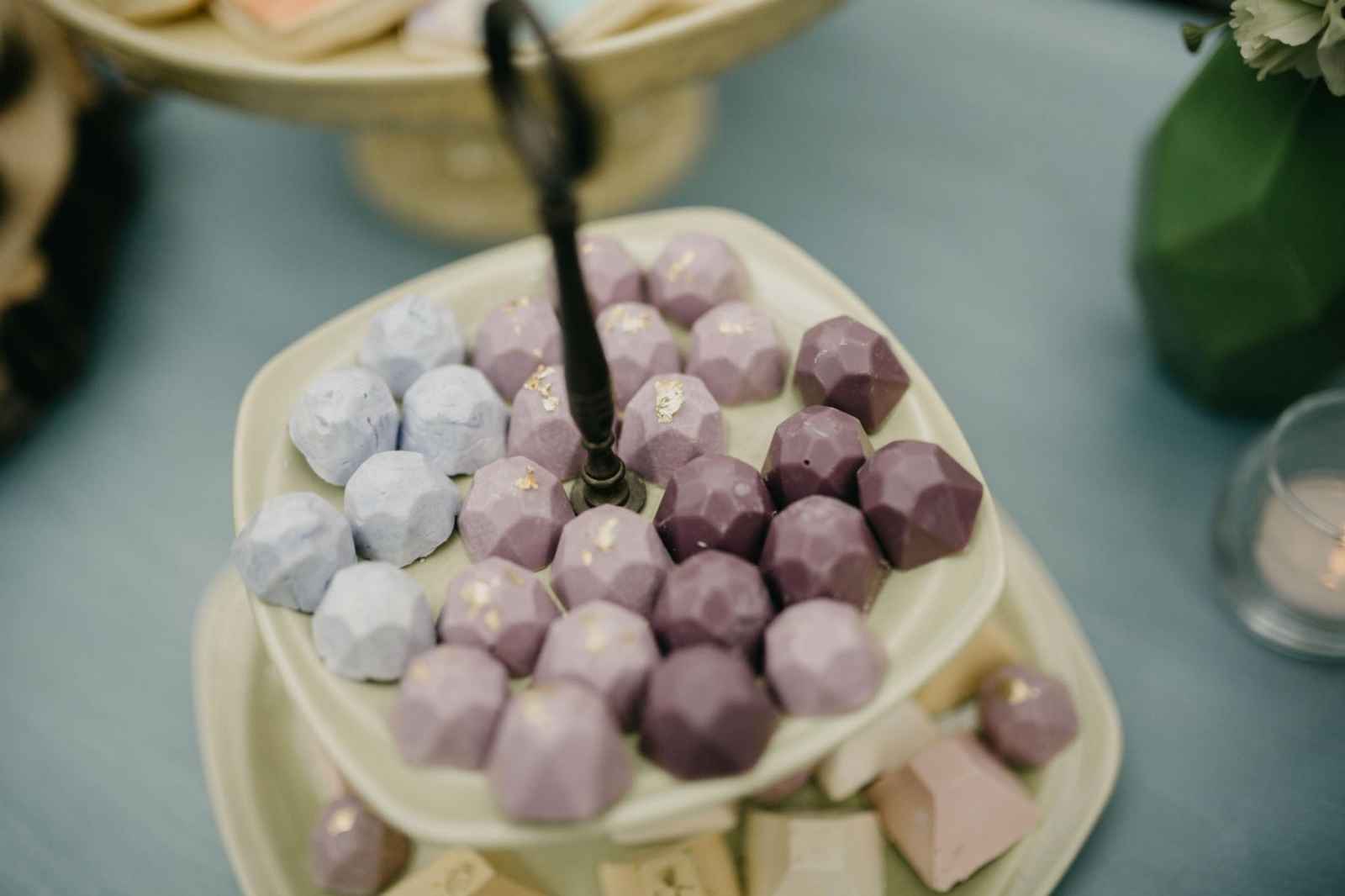 Because of Planetary Coffee's very fun, playful vibe and because their truck was the focal point, the team wanted to play off of that and chose lots of lavender, peach, pink, green, and blues. Supporting this palette, the florals featured heavy eucalyptus, gigantic peach roses, red hypericum berries, and soft key lime carnations among other accent greenery and flowers. Meaghan says, "Stems and Sprigs is pure artistry and I think that Kalin, the owner, works best when told, 'Here is our style guide. Here are our colors. Get creative. We trust you.' And she did not disappoint. She gave us brilliant bouquets full of orange, purple, yellow, peach and a whole lot of greenery." The team also included wood slices, stumps, succulents, a large wreath and a sprinkling of vintage coffee cans throughout the shoot.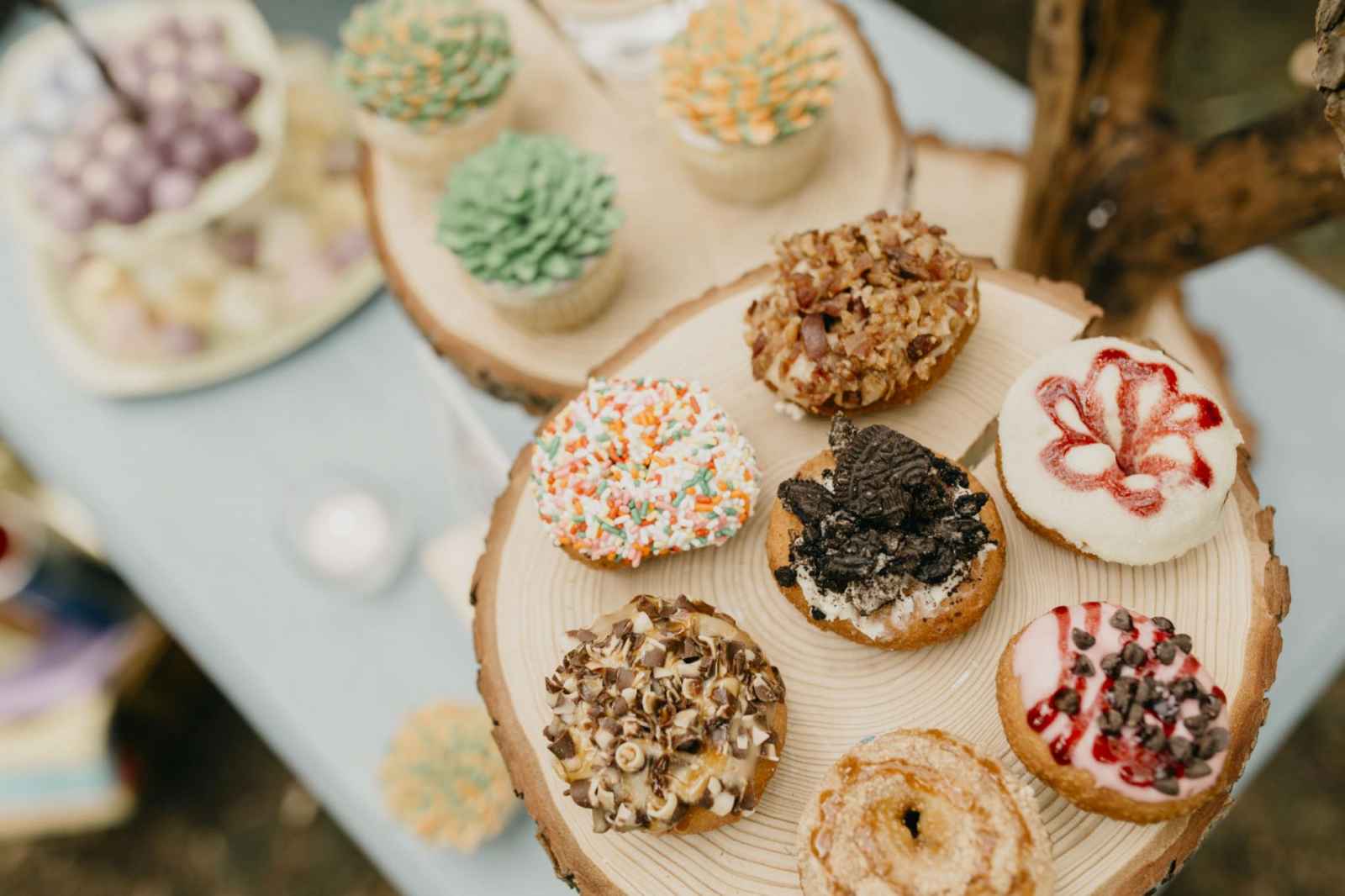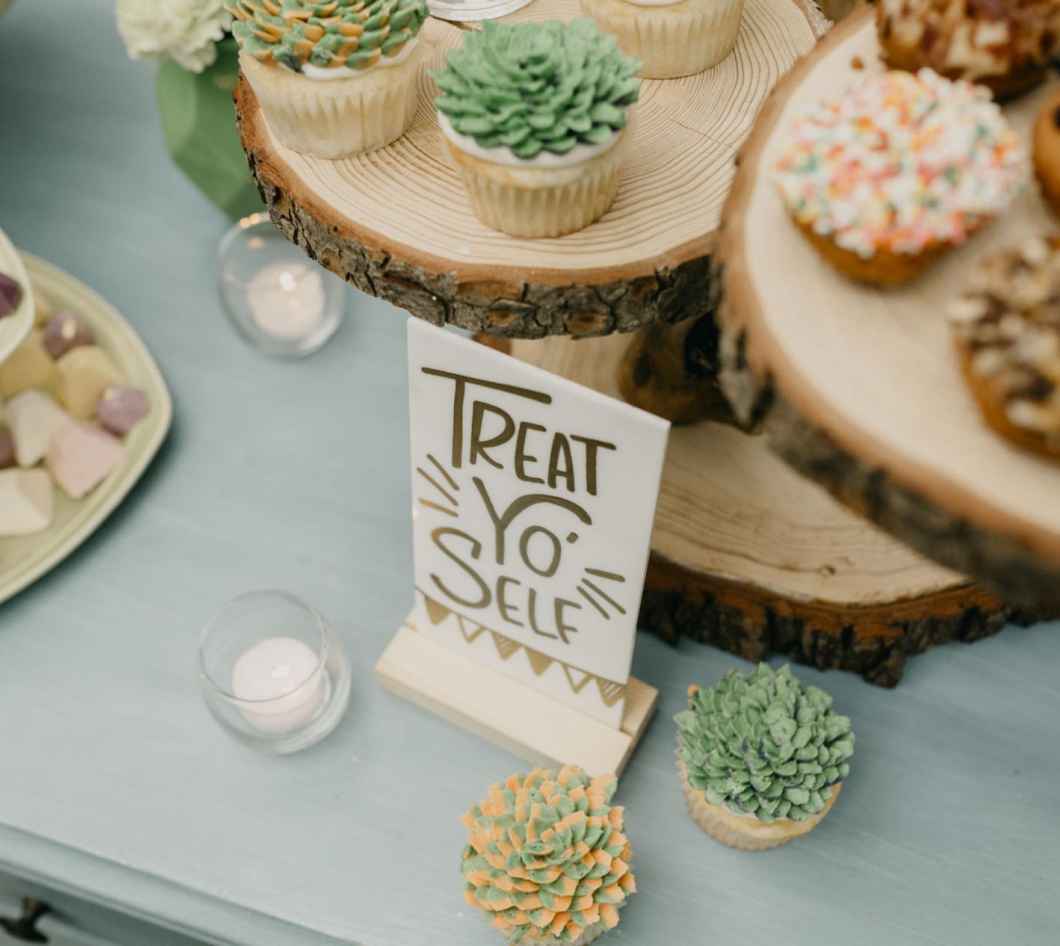 Meaghan describes Spoonfeather Designs as the mastermind behind the signage, and the team turned to EmpireBlu, a vintage and refurbished furniture store, for a lot of their pieces. "We wanted to make sure everything was a bit mismatched, but that it all pieced together fluidly, and EmpireBlu was the perfect fit," Meaghan says. Additional decor pieces were from 307 Events.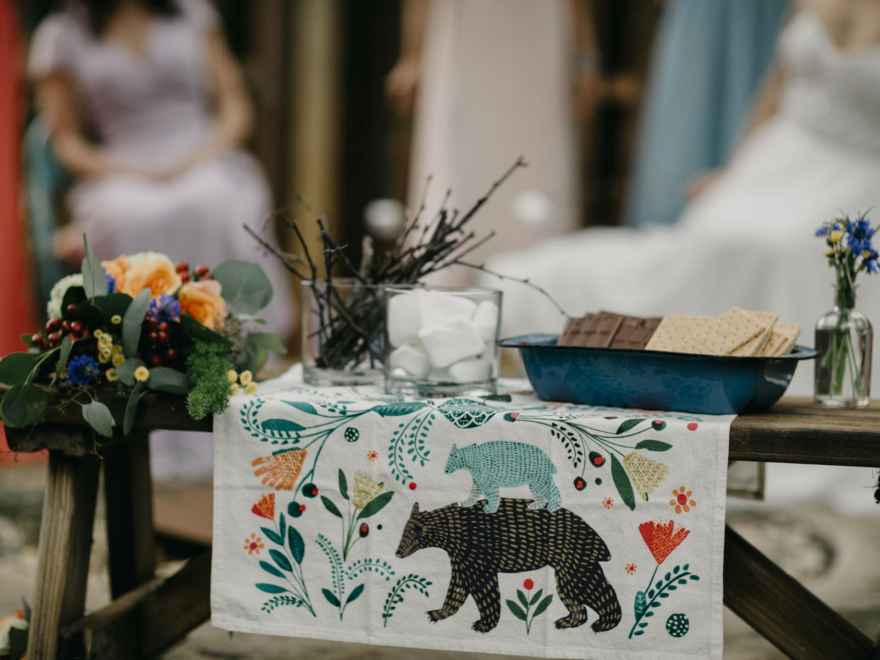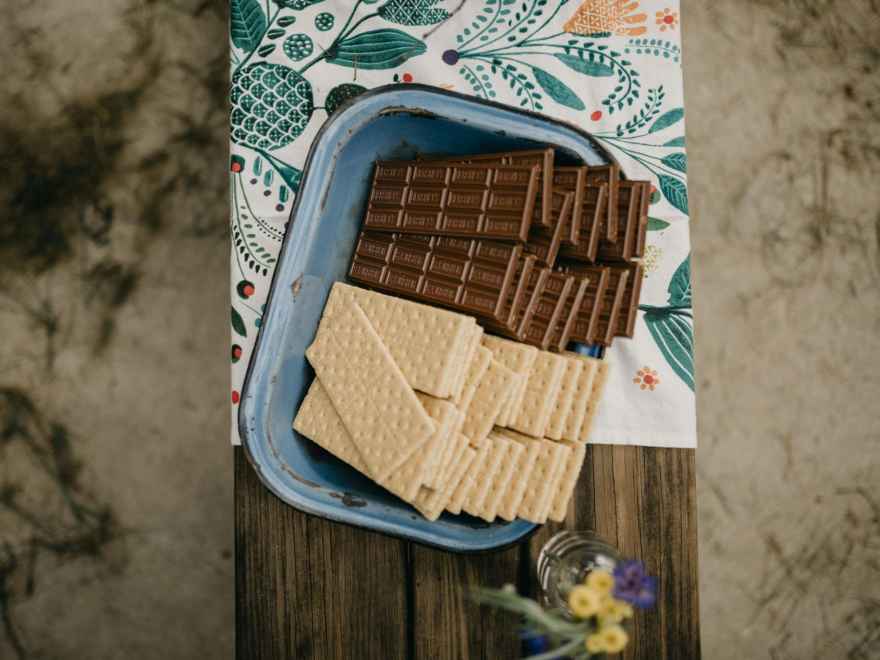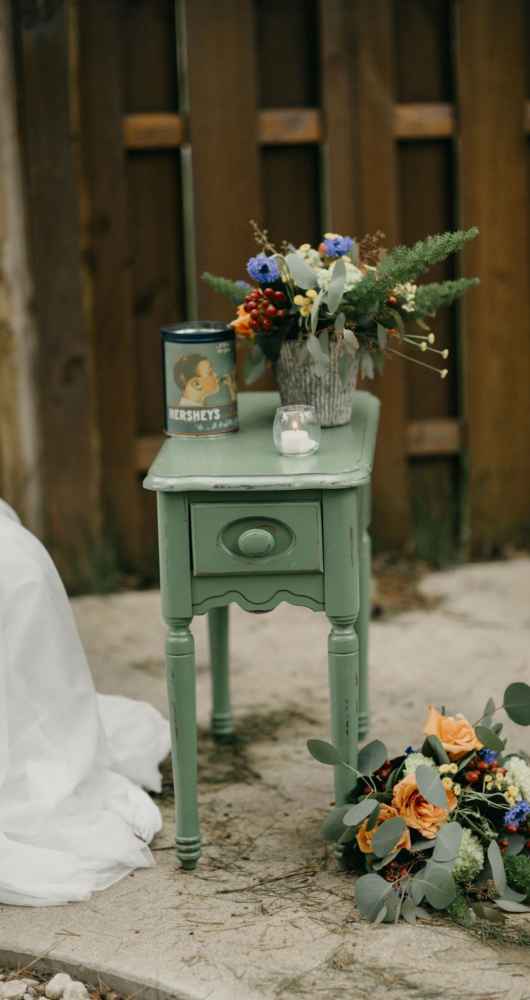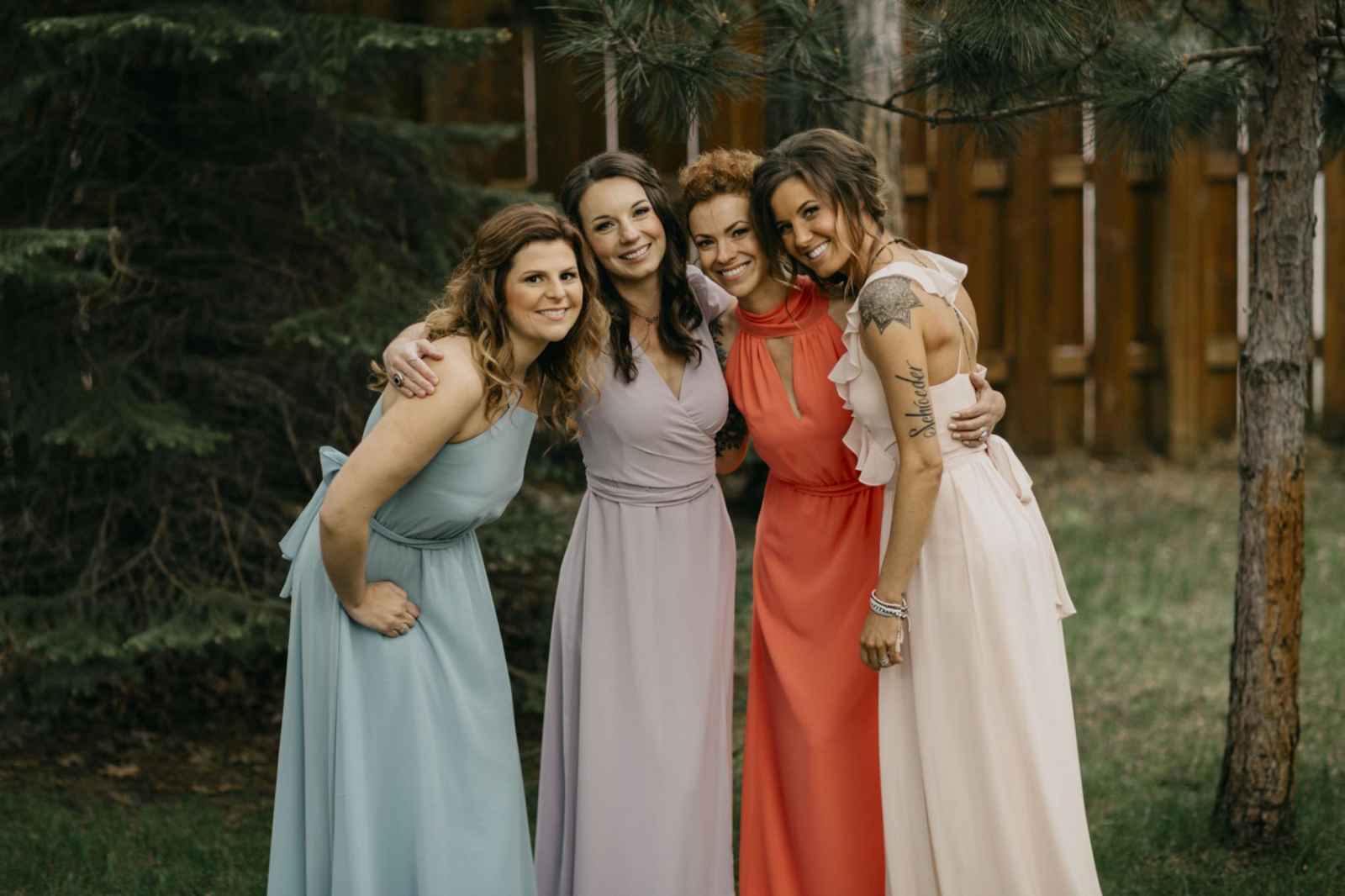 This style shoot certainly doesn't disappoint in the dessert department. "Peace, Love & Little Donuts was kind enough to provide a variety of goodies in summery colors, as well as some savory darker chocolate tones to fit the woodsy feel," Meaghan says. "Aunt B's Cakes & Desserts, whose baked goods are as delicious as they are beautiful, provided us with cupcakes with a succulent design as well as stunning watercolor sugar cookies to help to make sure this shoot still displayed a few modern elements. Baked by Josephine provided some chocolate gems in an ombre of purples to add even more color to our dessert bar in an organic way."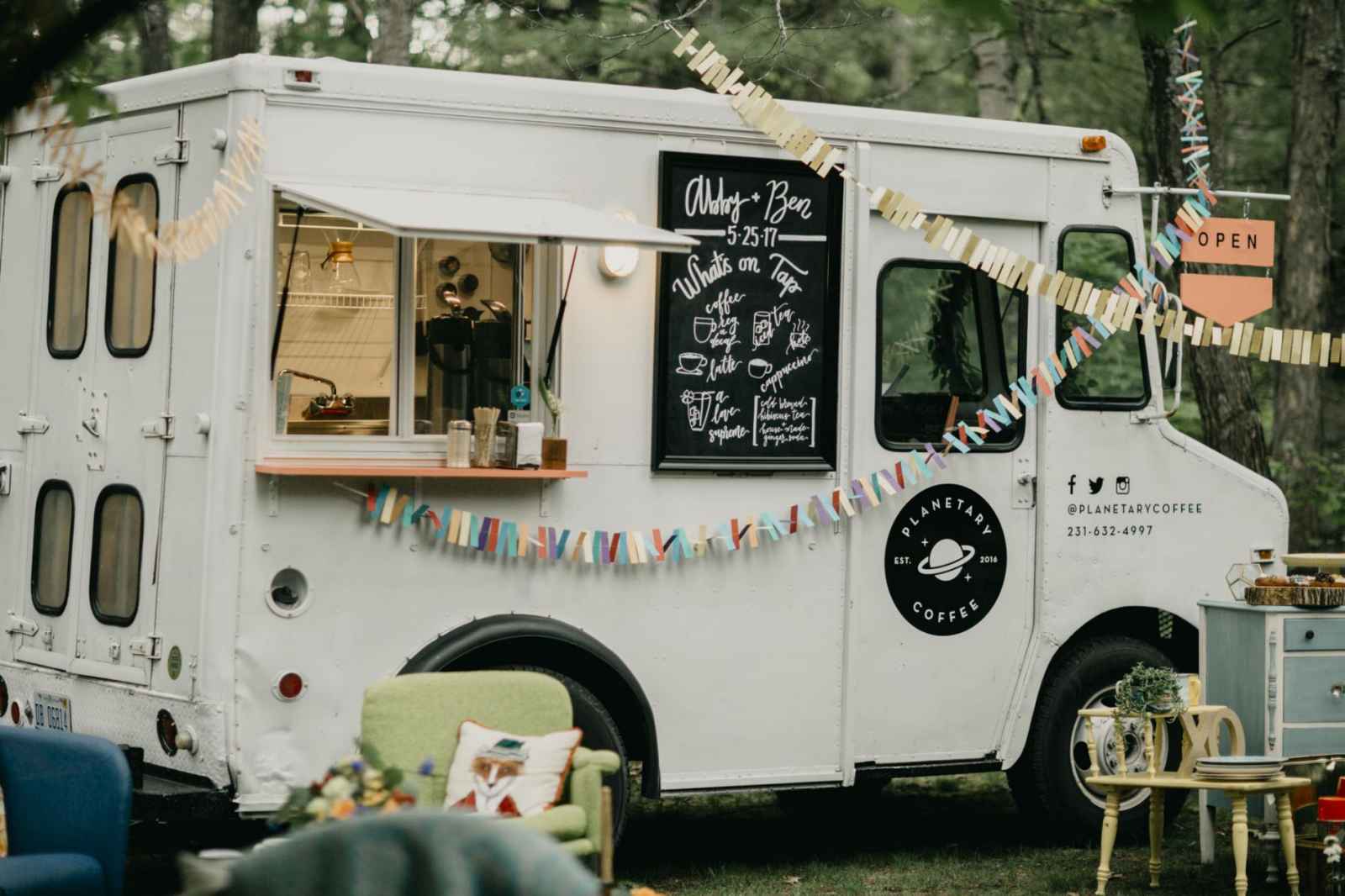 WHAT WE LOVE
We especially love the great use of trends in this style shoot, including mini donuts and the use of the cute coffee truck. Meaghan says, "We knew that a food truck of some sort was a must, as well as a lounge area—we love that weddings are including more options for guest comfort and are mixing it up by offering fun surprises, like a coffee truck."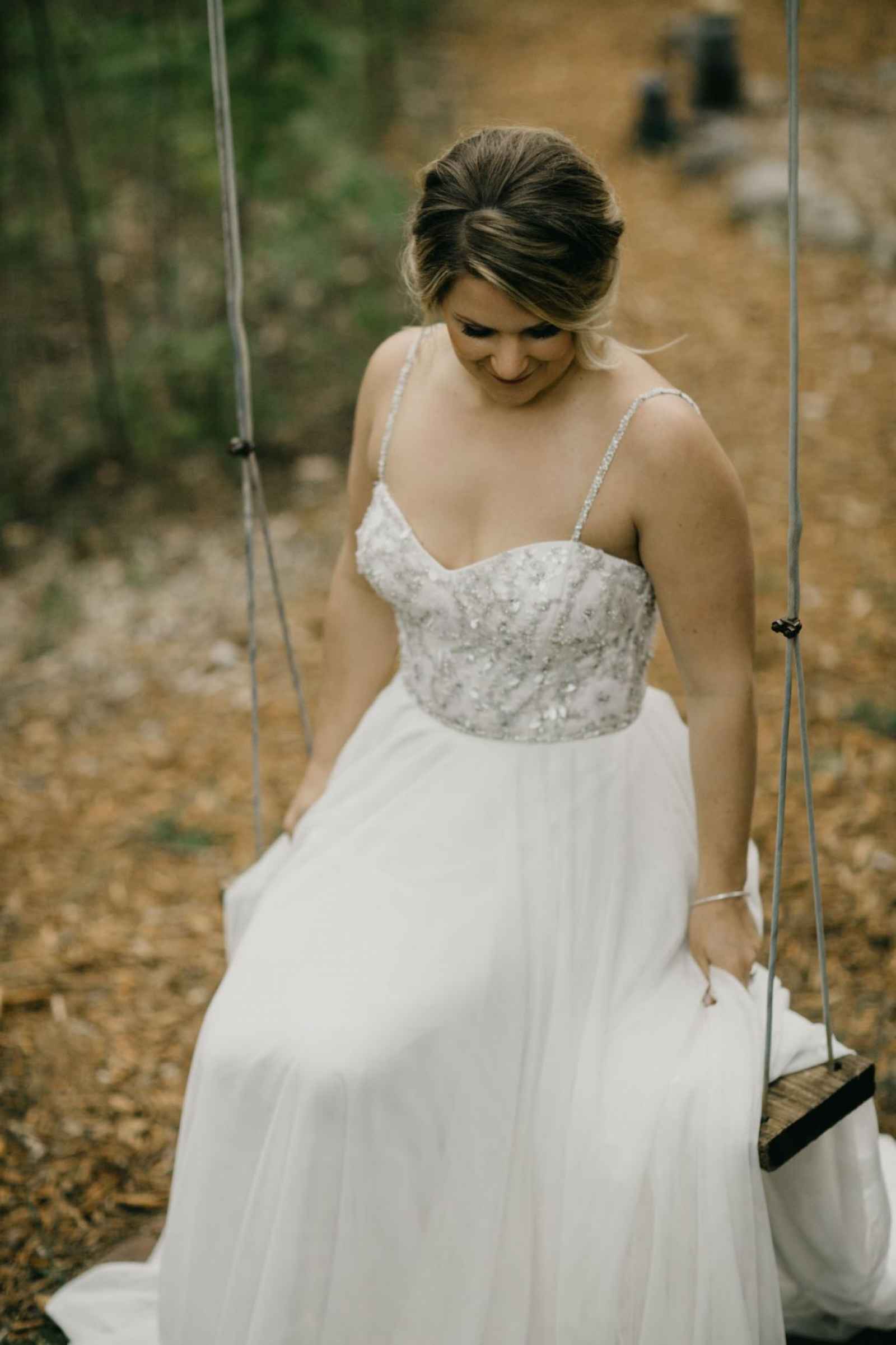 are you a bride-to-be?
We'd love to plan with you on weddingday-online.com. Let's get started!
 
are you a wedding extraordinaire?
Join WeddingDay Magazine in inspiring brides by partnering with us! See how here.