Rest assured, if you are engaged and stressed, planning ahead can help you avoid wedding nightmares! Whether you worry about finding the perfect dress or suit, collecting RSVPs, or being graced with good weather, industry experts help advise you and arm you with the important information you need.
One very common area of uncertainty is choosing your table-setting design. What pieces do you need? What is going to blend with your linens and overall theme? Well, there are professionals ready to help you in that much-needed category, too! If you haven't guessed it yet, we are referring to rental companies. And we happen to know one particularly stellar company in way of service, selection, inspiration, and expertise, and that is The Rental Company, based in Holland, Michigan.
From tables to china and everything in between, they have the products that don't just stand out but serve as the details that will be remembered.
 
We've gathered a list of the all-time great must-haves for the most perfect tablescape. And lucky for brides, The Rental Company has all the shiny, glamorous, eye-catching, and simply elegant products you need to get the job done—resulting in a beautiful and effortless look and feel.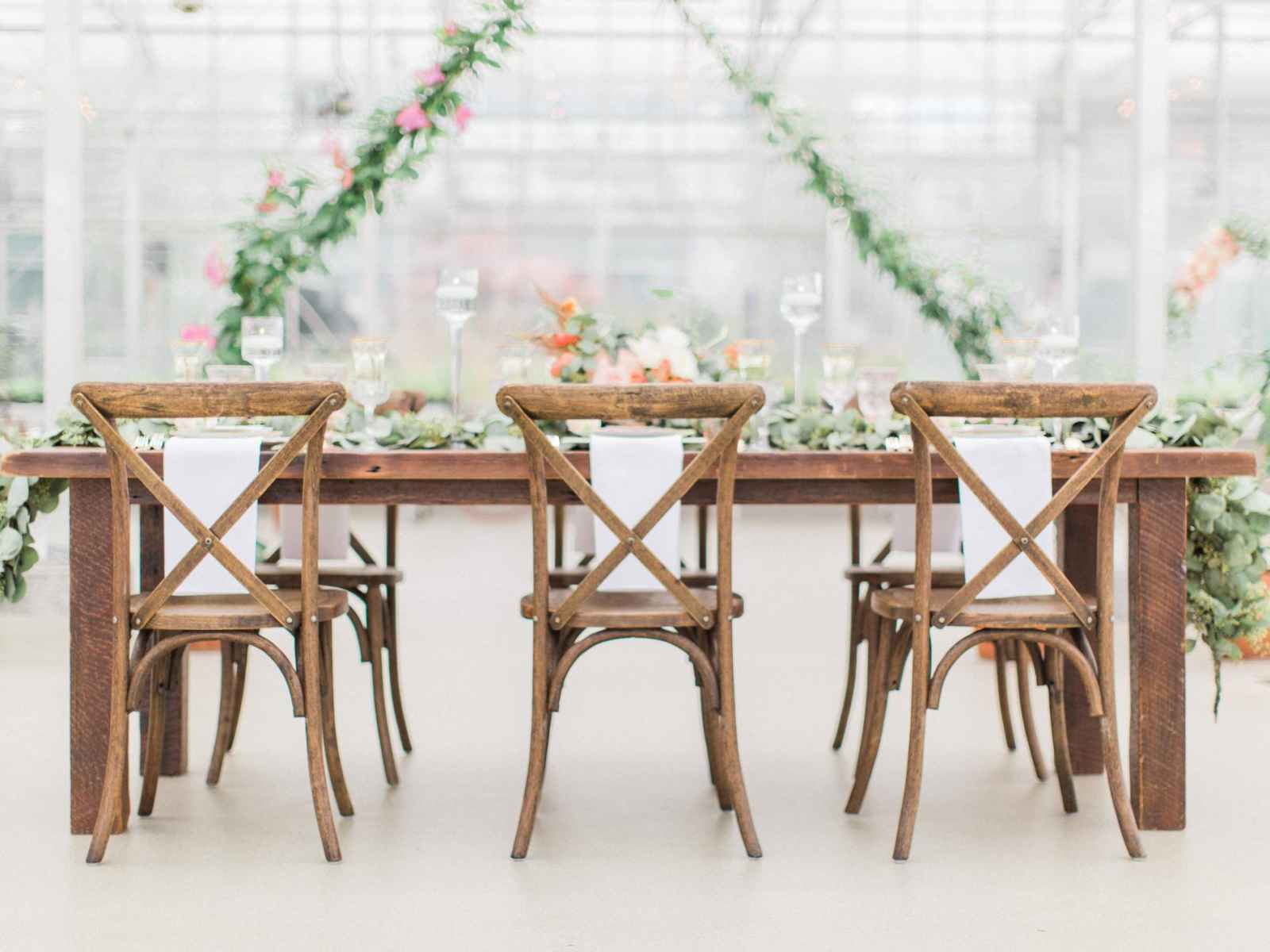 The REntal Company Products SEEN ABOVE: Farmhouse Table, Farm "X-Back" Chairs and White Napkins
Couples today are all about statement pieces and unique furniture items as they truly do help to set the stage for a beautiful dining experience. If you desire a rustic look, wood farm tables and cross back chairs add the perfect touch. If your style is more contemporary, ghost chairs will provide sleek lines and a one-of-a-kind aesthetic. The Rental Company offers these and other great furniture rentals that don't just satisfy function but provide stunning details that you and your guests will always remember.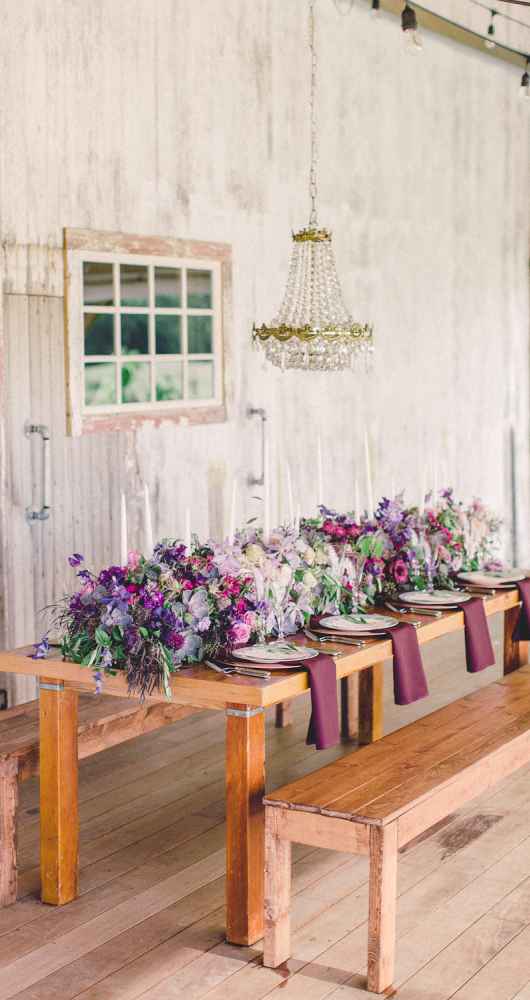 THE RENTAL COMPANY PRODUCTS SEEN ABOVE: Farmhouse Table, Dutch Copper Chargers, Vintage Mismatched China, Alexandra Glassware (Flute and White Wine Glass), Burgundy Napkins and Rustic 8' Bench
Fabulous Florals
Gorgeous florals are a staple in any table design. They infuse color or design concepts to complete your wedding decor vision. Even a fresh cut flower or a delicate sprig of greenery at each place setting can enhance any paper items or other fine details like the gorgeous china and flatware you put great care into selecting.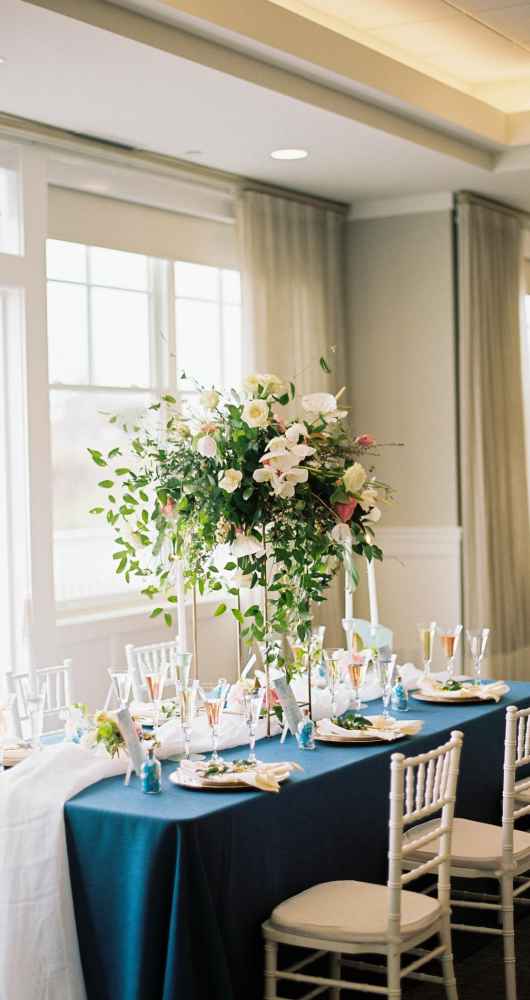 THE RENTAL COMPANY PRODUCTS SEEN ABOVE: Diamonte Chargers, Gold Flatware (Dinner Knife, Dinner Fork, Teaspoon), White & Silver Dinner Plates, WHITE Napkins, 6' Table, White Chivari Chairs, Navy Linen, Fabric Draping Runner, Alexandra Glassware and shell chandeliers
Linens set the tone and can add a punch of color or a touch of texture to any tablescape. Whether your style is light and airy or brightly hued, linens can be your best friend. Offering a variety of colors and sizes, The Rental Company can help you find your perfect look. Feeling stressed about setting up your venue? The Rental Company offers a White Glove service where they will set table appointments, specialty napkin folds, table linens, sashes, and much more.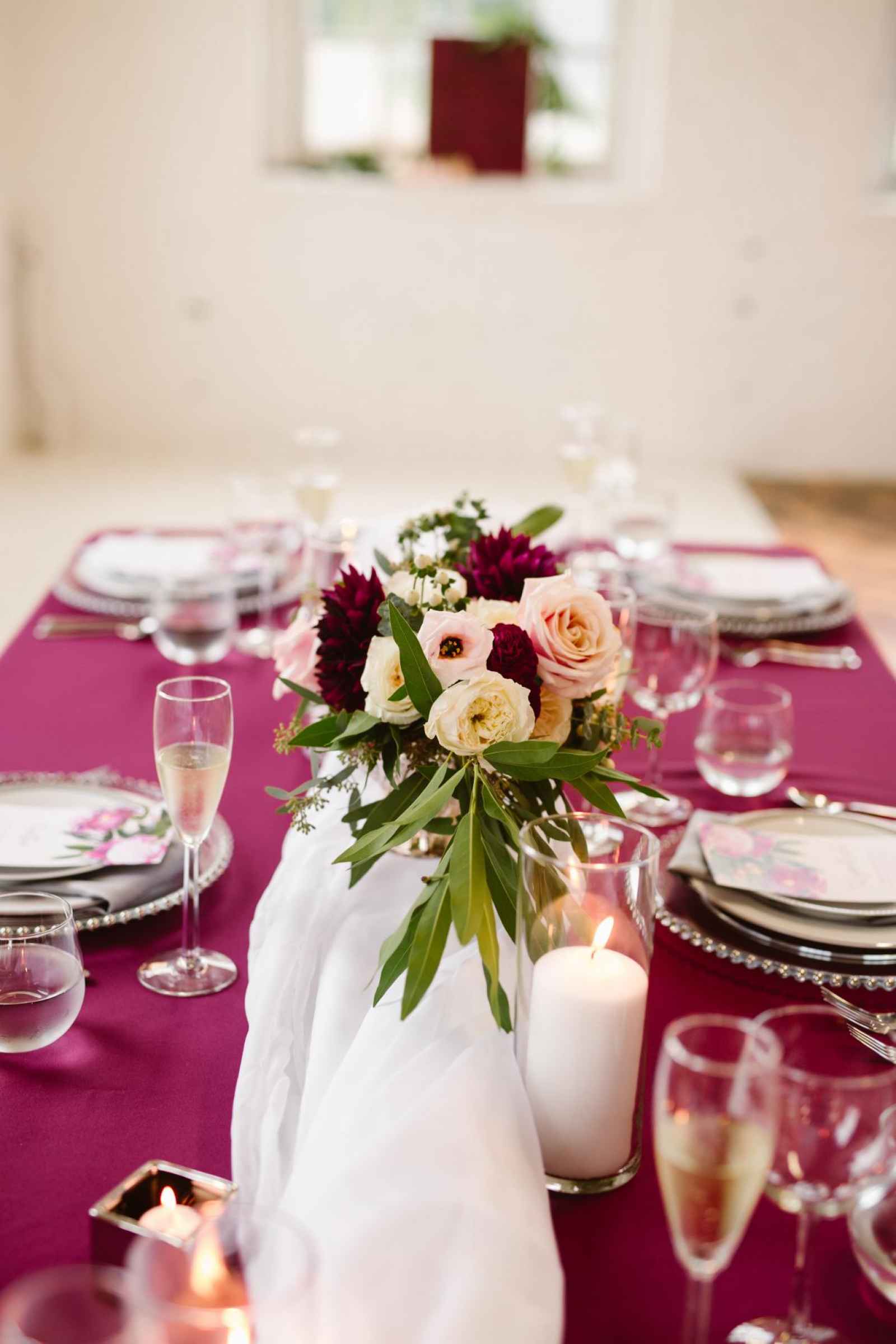 THE RENTAL COMPANY PRODUCTS SEEN ABOVE: Ghost Chairs, Wide 8' Table, Burgundy Linen with White Fabric Draping Runner, Silver Beaded Glass Chargers, Fan Flatware, Tall Flutes, Red Wine Glasses, Stemless Wine Glasses, White & Silver Dinner Plates, Athena Salad Plates, Cylinder Vases and Silver Square Votive Holders
From chairs and beaded chargers to bold linens and textured runners, each detail has its place in the overall design of a tablescape. One way to make a simple design stand out is to draw rich color in with the linens and florals while keeping the china, flatware and glassware simple and neutral. Clear beaded chargers also add an unexpected level of detail that is subtle yet speaks volumes.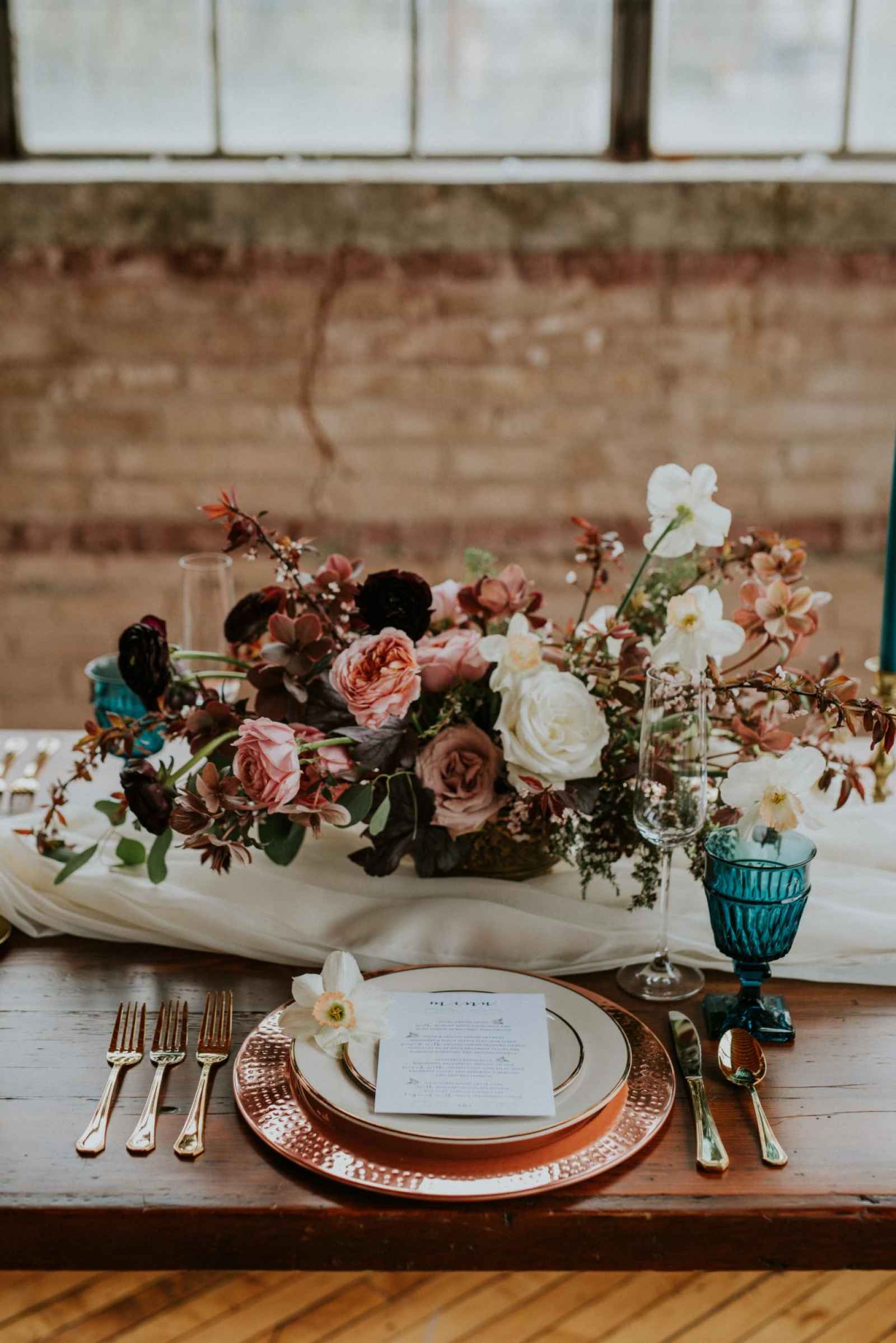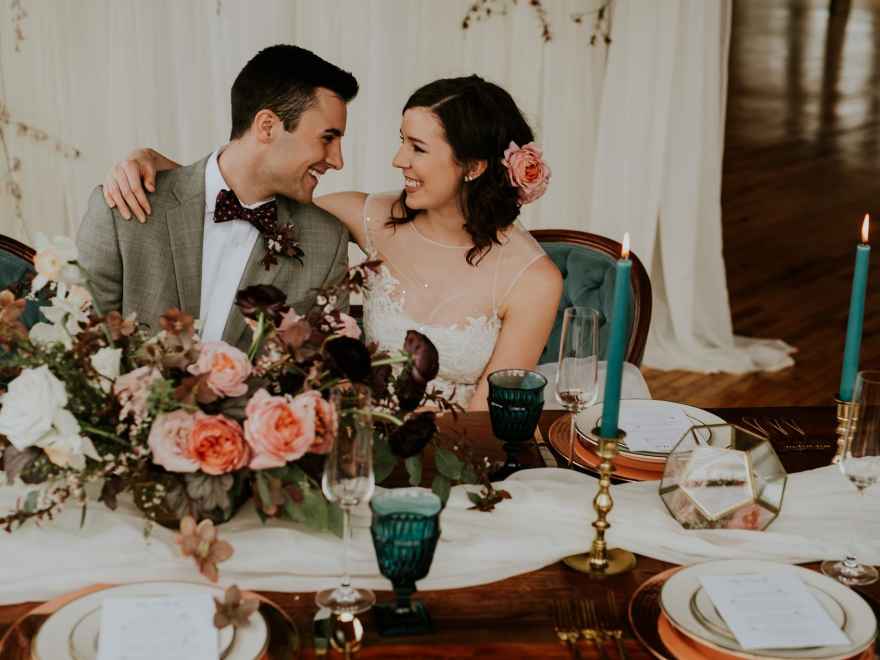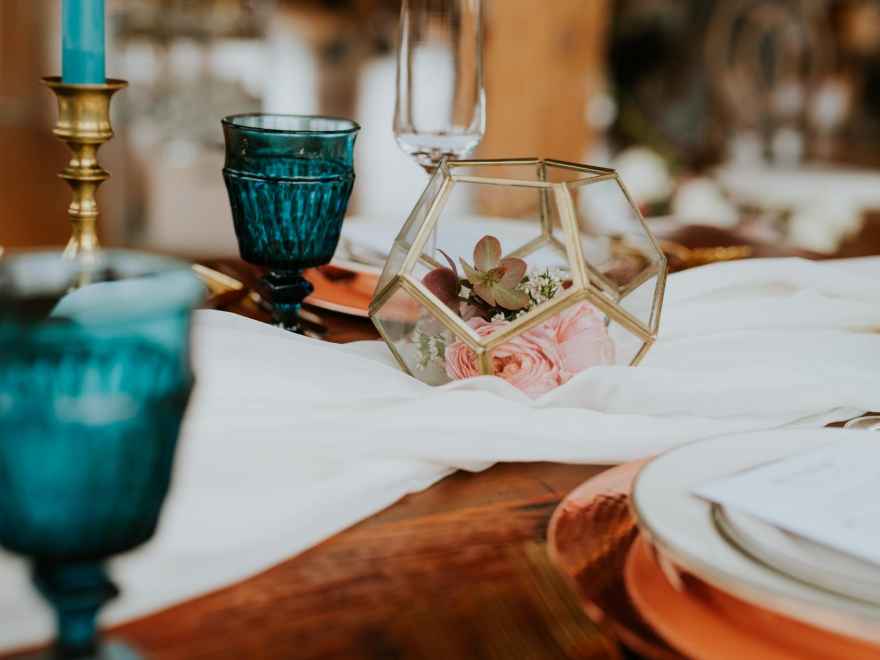 THE RENTAL COMPANY PRODUCTS SEEN ABOVE: Farmhouse table, Ivory Fabric Draping Runner, Dutch Copper Chargers, Gold Flatware, Cream and Gold Dinner and Salad Plates and Hong Kong Hip Champagne flutes
A stunning tablescape demands attention to flatware detail like any other element you are considering. With so many design options out there, the looks you can achieve are limitless. We especially love the popular use of gold flatware, one of many beautiful options to choose from at The Rental Company.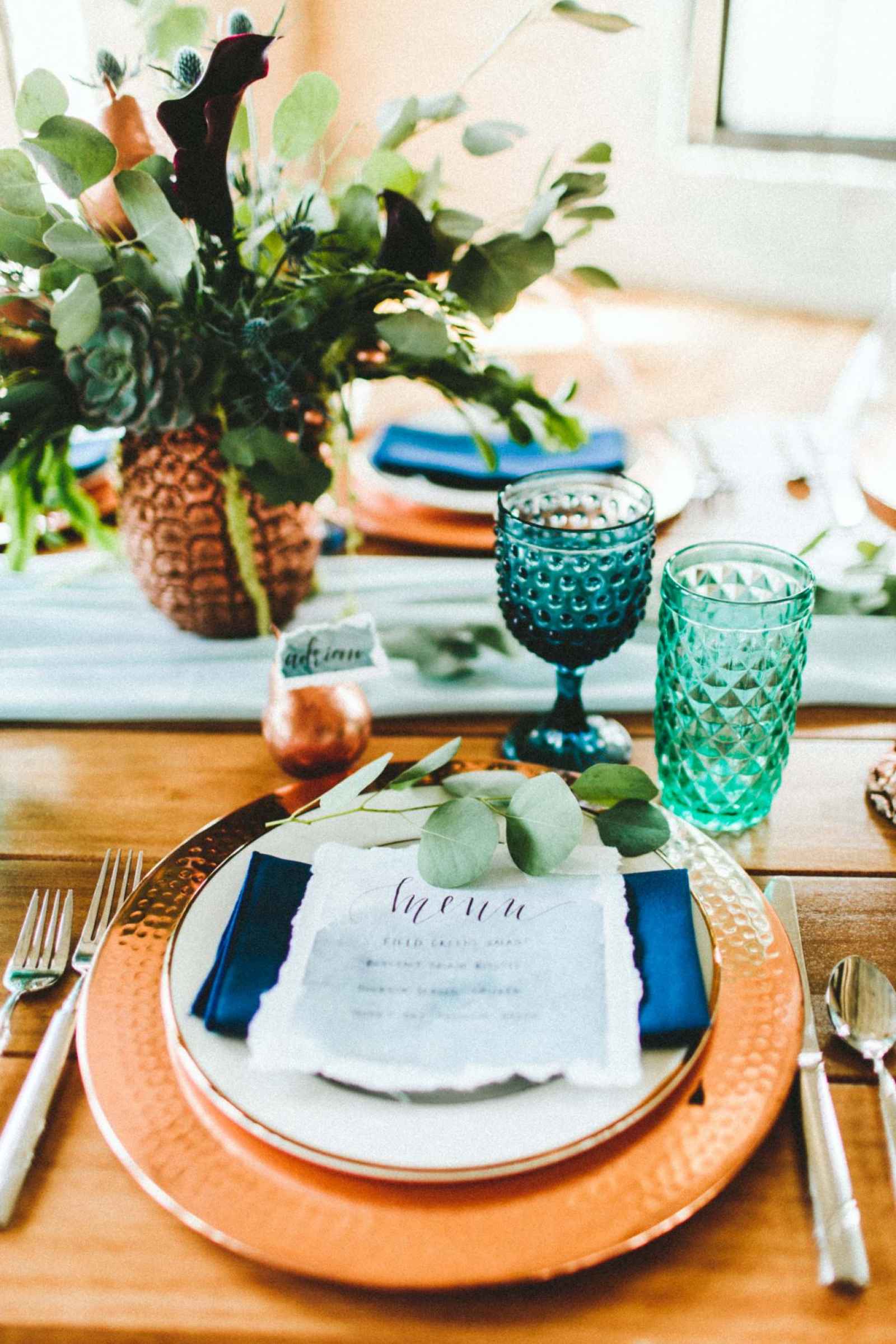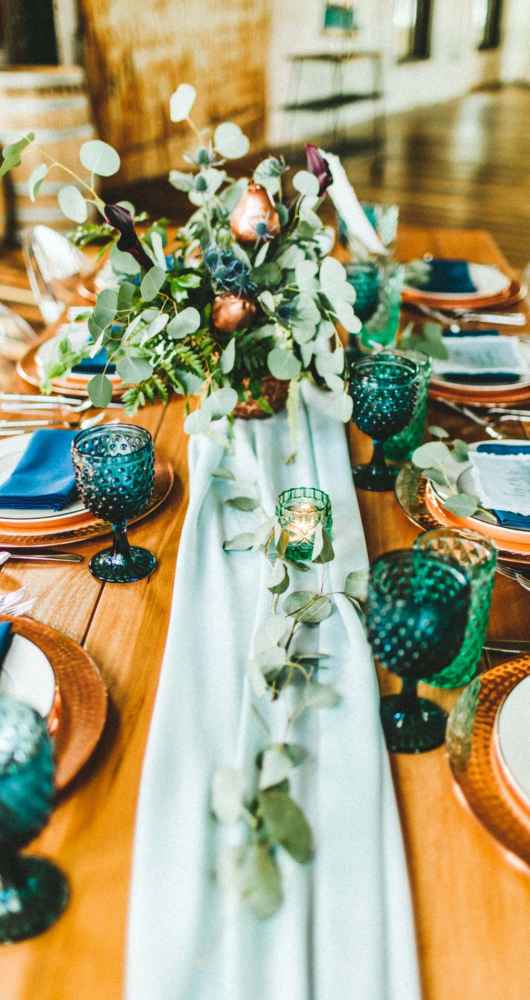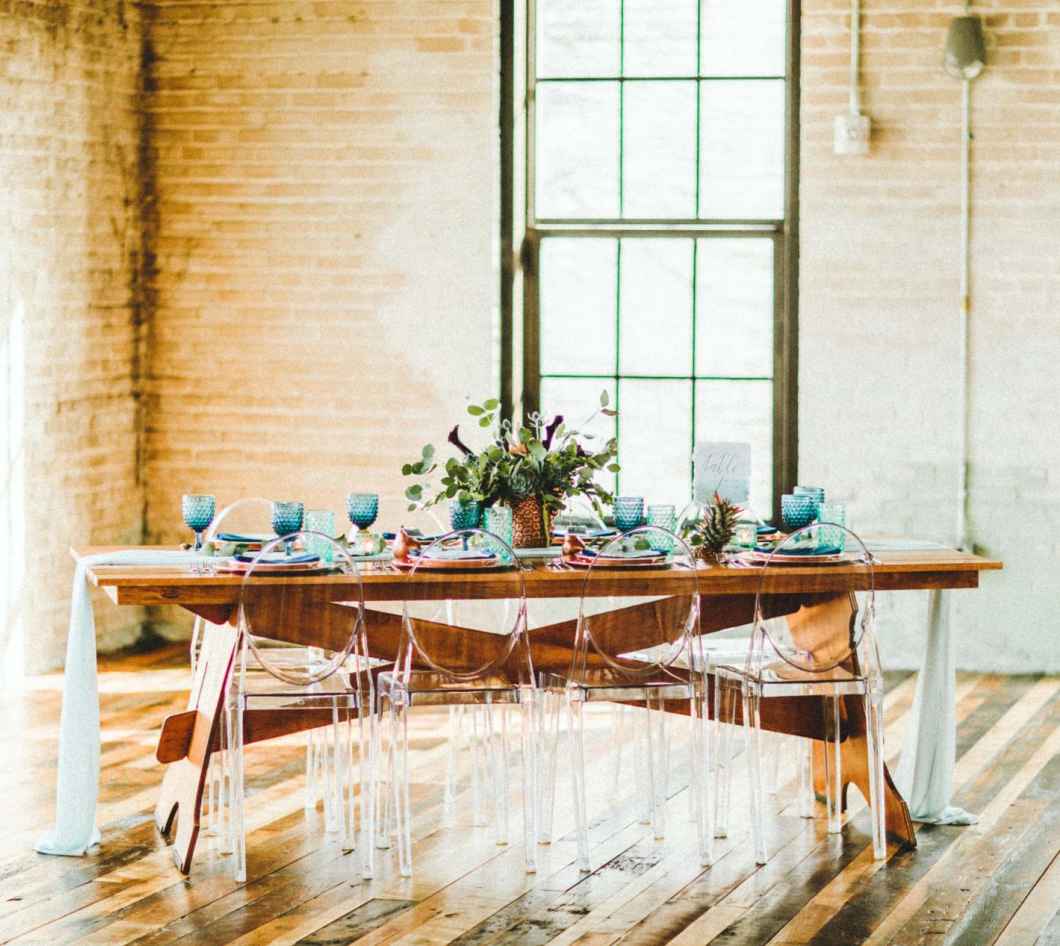 THE RENTAL COMPANY PRODUCTS SEEN ABOVE: Dutch Copper Chargers, Slate Flatware, and Cream and Gold Dinner Plates
Lucky for today's couples, chargers come in all different colors, materials, and textures. Add these to any tablescape and you have really upped your design game. Remember, if you are having a buffet or plated meal, chargers help to create a place setting for your guests until their meals arrive. Here, we love the fresh colors, fruit details and especially The Rental Company's Dutch Copper chargers. The color ushers in a warmth while the shiny finish draws the eye to this exciting detail.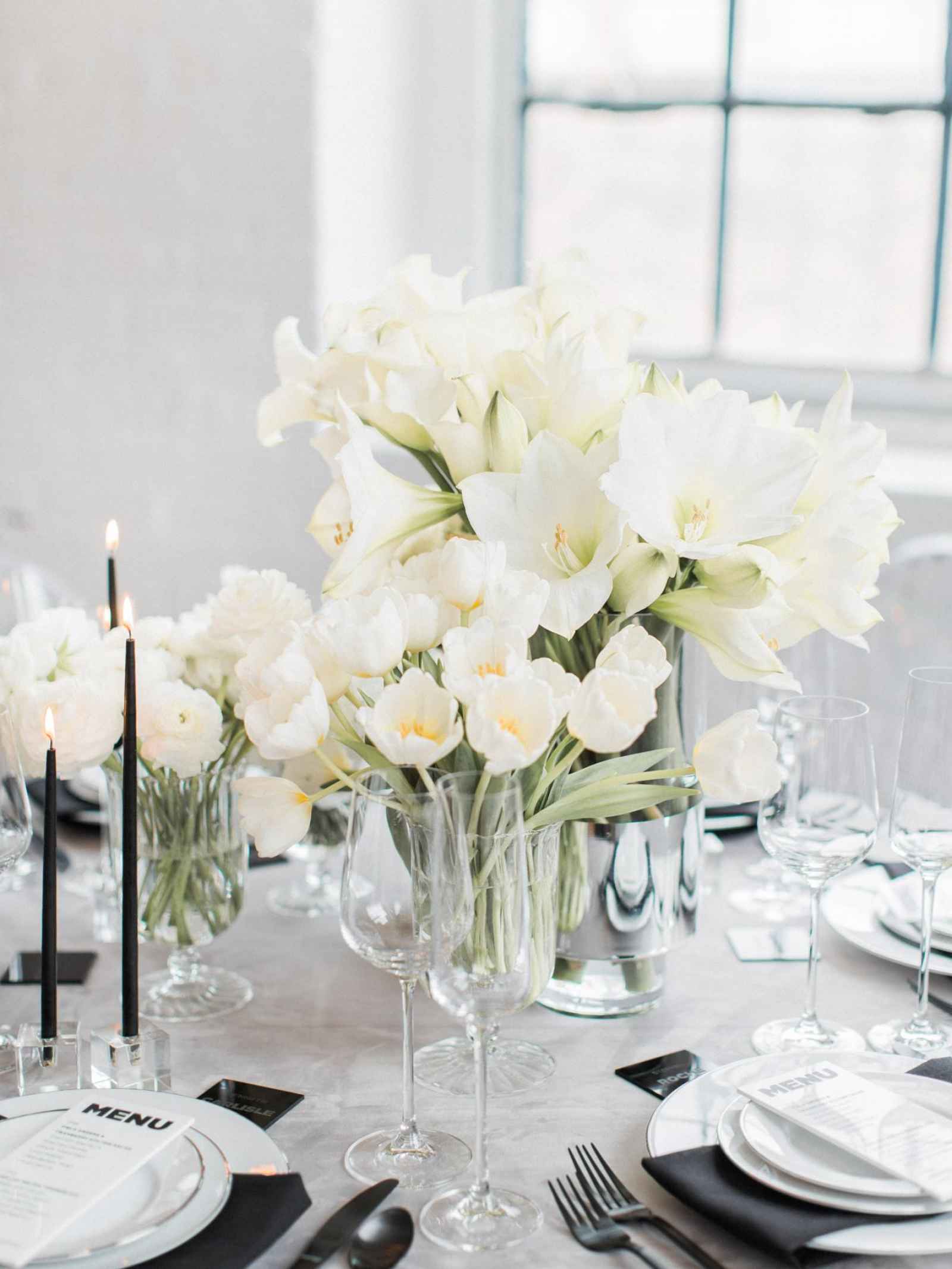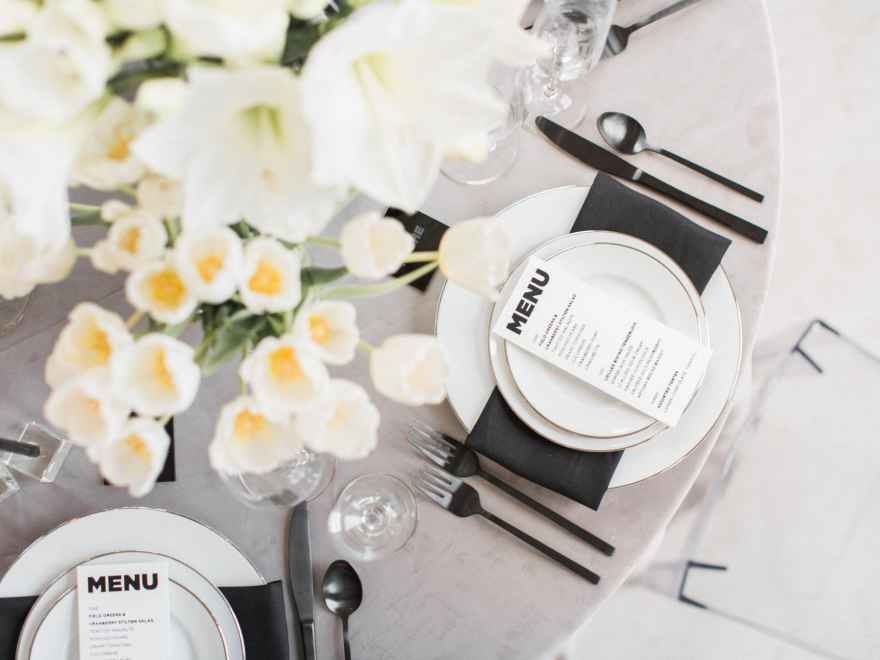 THE RENTAL COMPANY PRODUCTS SEEN ABOVE: Hong Kong Hip Glassware (Wine Glass and Flute), Ghost Chairs, White & Silver Dinner and Salad Plates and Black Matte Satin Napkins
While colored glass seems to be popping up everywhere these days, clear glassware makes a statement that is equally bold. Elegant glassware not only glows beautifully in candlelight, it can take a simple design concept to a whole new level. Mix in a glass centerpiece, and you have a look that is as seamless as it is stunning.
are you a bride-to-be?
We'd love to plan with you on weddingday-online.com. Let's get started!
 
are you a wedding extraordinaire?
Join WeddingDay Magazine in inspiring brides by partnering with us! See how here.