While the wedding industry sees its fair share of change like any other, some things never change. For example, the lengths a bride will go to ensure her wedding day look is perfect is just as important today as it was eons ago. Whether it's traveling across the country to find the perfect dress or working with a seamstress to customize her gown, today's modern bride still spends a fair amount of focus, time and emotional energy ensuring her look is nothing short of stunning (down to every last button, sequin, stitch and heel!).
But men certainly shouldn't be left in the dust. Their big day is a chance for them to stand out, too and they also deserve to look and feel their very best. While grooms of yesteryears may have been forced to go the route so many have gone before—squeezing into used rental tuxedos that do little to highlight their own personal fit and style, we're excited to see that today's modern groom has more options. And for many, that means working with a great menswear provider and investing in a fine garment that can be worn for years to come.
We decided to check in with some industry experts whose companies are devoted to providing the great quality, service, style, education and affordable options to men that bridal boutiques have been giving to brides for decades. Among them are John Porter, owner of Andrew Davis Clothiers, Ge Wang, owner of ESQ Clothing and Katy Eriks, Stylist and Customer Care Guru at The Groomsman Suit. See why these menswear providers recognize what the modern groom is looking for and, in doing so, have helped many discover their best look for a day they will remember forever.
Why should a groom get a suit for his wedding?
"He will have a fine garment in his closet for years to come that he can wear at others' weddings, business events, and other special occasions. Each time he wears his suit, he will be subtly reminded of the most important day of his life."
ESQ Clothing: 
"Though it's 'her' day, you should also look the part. On your most important day, a custom suit will not only help boost your confidence, it'll change the way your bride looks at you. Not only will you obtain something that fits perfect, but you and your bride will also get to design each element of the suit or tuxedo—from fabric to lining and everything else. In short, she's certainly going to look her best. You should look yours, too!"
"Most men wear suiting more frequently than tuxedos. Owning a nicely fitted suit is never a bad investment, but what about a tuxedo? You've probably had to wear one on several occasions, and every time you do you convince yourself it's probably the last time you'll really need a tux, so you choose to rent. But, as you get older, the need to go black tie is going to happen at least once or twice a year and if you owned one, you could find a fun excuse to wear it a few more times. Not only can owning a tuxedo be more affordable, it is also way more convenient. It will always make sense to own a tux, shirt and shoes for a comparable price to a rental. At The Groomsman Suit, we believe every man should own a tuxedo, look sharp, and not spend a fortune."
What is your company's process for helping a groom chose a great suit?
"We dress gentlemen in garments that are true, honest expressions of themselves.​ The perfect fit is most important. Fabric and customizations come next. No matter how modest or grand his budget may be, we provide our clients with the best suiting and formalwear selections available."
"At The Groomsman Suit, we are here to make the bride and groom's style dreams come true. We work with couples from the beginning of their planning process when they are still deciding on their color palette until the end as they are putting on the finishing touches with suspenders and/or cufflinks. With groomsmen and bridesmen scattered across the country, it's critical couples select a menswear provider that can ship nationally. We understand people can be nervous about purchasing suiting online which is why we offer our couples a free trial suit so they can check out our suits in the comfort of their own home before asking their guys to buy. Once they decide to suit up with us, we facilitate the ordering process and outreach to their groomsmen or bridesmen to ensure that everyone orders the right suit, the right size and on time for the wedding."
What are the benefits of a groom having personal wedding style?
"Executive style consultant Andrew Weitz says personal style is your visual business card. What better day than your wedding to make impressions that will last a lifetime?"
ESQ CLOTHING: 
"So many things are involved in leading up to a wedding day, your confidence in your outfit should be the least of your concerns. You'll have something that you truly feel comfortable in. In other words, a custom suit done right should lend itself to you wearing the suit, and not the suit wearing you."
What style tips would you give to the modern groom?
"Your photos will last a lifetime and you want to love your look for years to come. You don't have to pay a fortune to look great on your wedding day. We're proud to offer stylish suiting and tuxedos for $179! Looking sharp in a suit is all about the fit. For this reason, we carry one of the largest size ranges of any brand across two fit types and four lengths, allowing men to get as close to a custom fit as possible."
ESQ CLOTHING: 
"In terms of my personal advice, it's always 'less is more.' With ESQ Clothing, each of our garments are handmade using English and Italian fabrics. Thus, each garment will simply shine just because of the excellent fabric...not to mention all the handmade details.
But the most important thing I tell my clients—be it from grooms walking down the aisle or a celebrity down a red carpet—is try to avoid wearing something that you're going to regret 10 years down the road. Yes, that means don't do the powder blue suit…save that for a future occasion."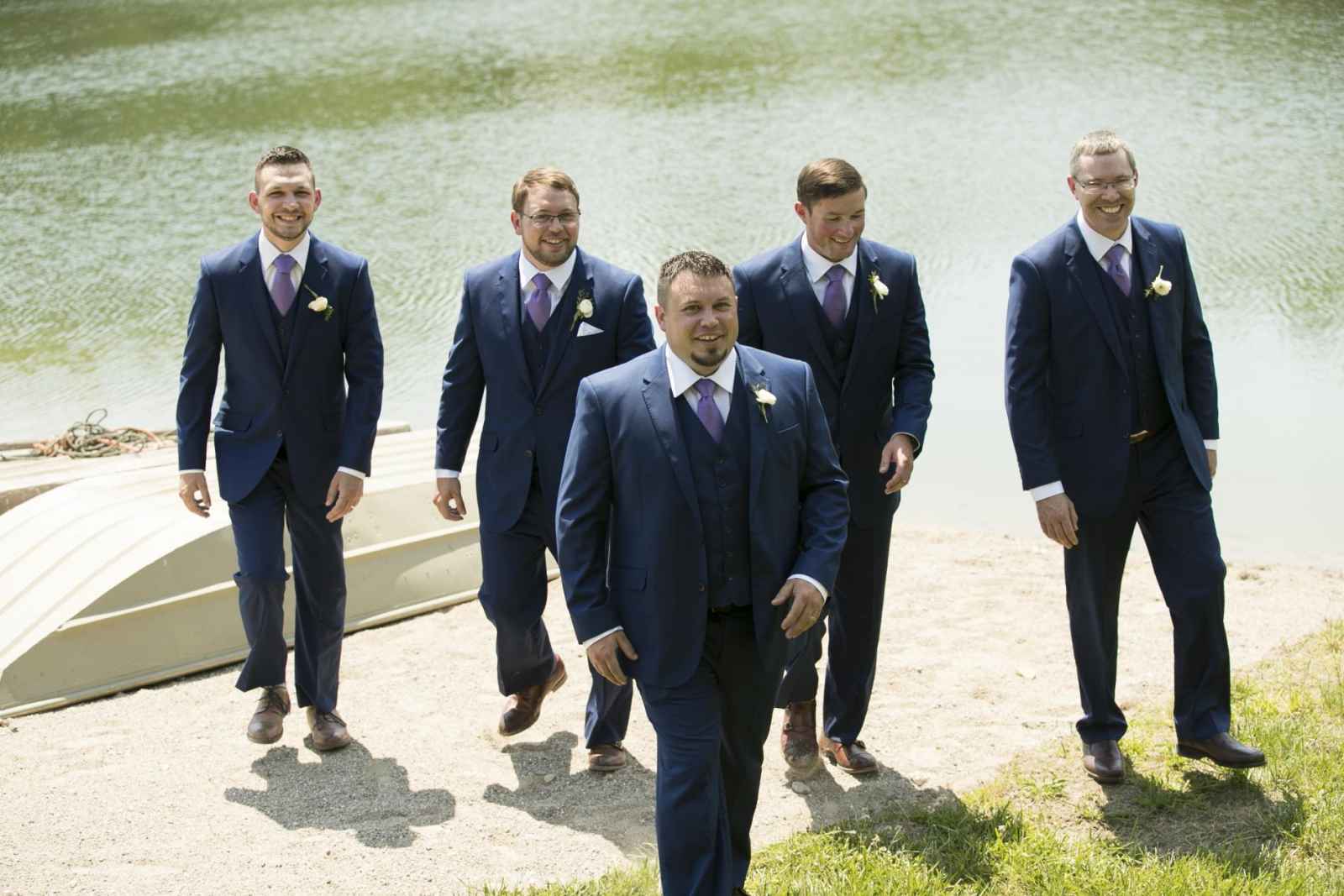 ANDREW DAVIS CLOTHIERS 
101 W Kirkwood Ave, Ste 119, Bloomington, Indiana 47404
(812) 323-7730  •  andrewdavisclothiers.com
ESQ CLOTHING 
555 W Jackson Blvd, Chicago, Illinois 60661
(312) 631-3278  •  esqclothing.com
THE GROOMSMAN SUIT
1820 W Webster Ave, Ste 410, Chicago, Illinois 60614
(773) 303-6006  •  thegroomsmansuit.com
looking for more menswear inspiration?
Find more vendors here!
 
are you a wedding extraordinaire?
Join WeddingDay Magazine in inspiring brides by partnering with us! See how here.
Blog Sponsored By
Related Blogs