You'll be happy to know that various food trends brides everywhere have fallen in love with in 2017 are here to stay in 2018, while others are gaining some serious momentum! From food trucks to the ever-popular donut walls, we've highlighted some oldies but goodies while adding more savory trends you and your guests are sure to enjoy.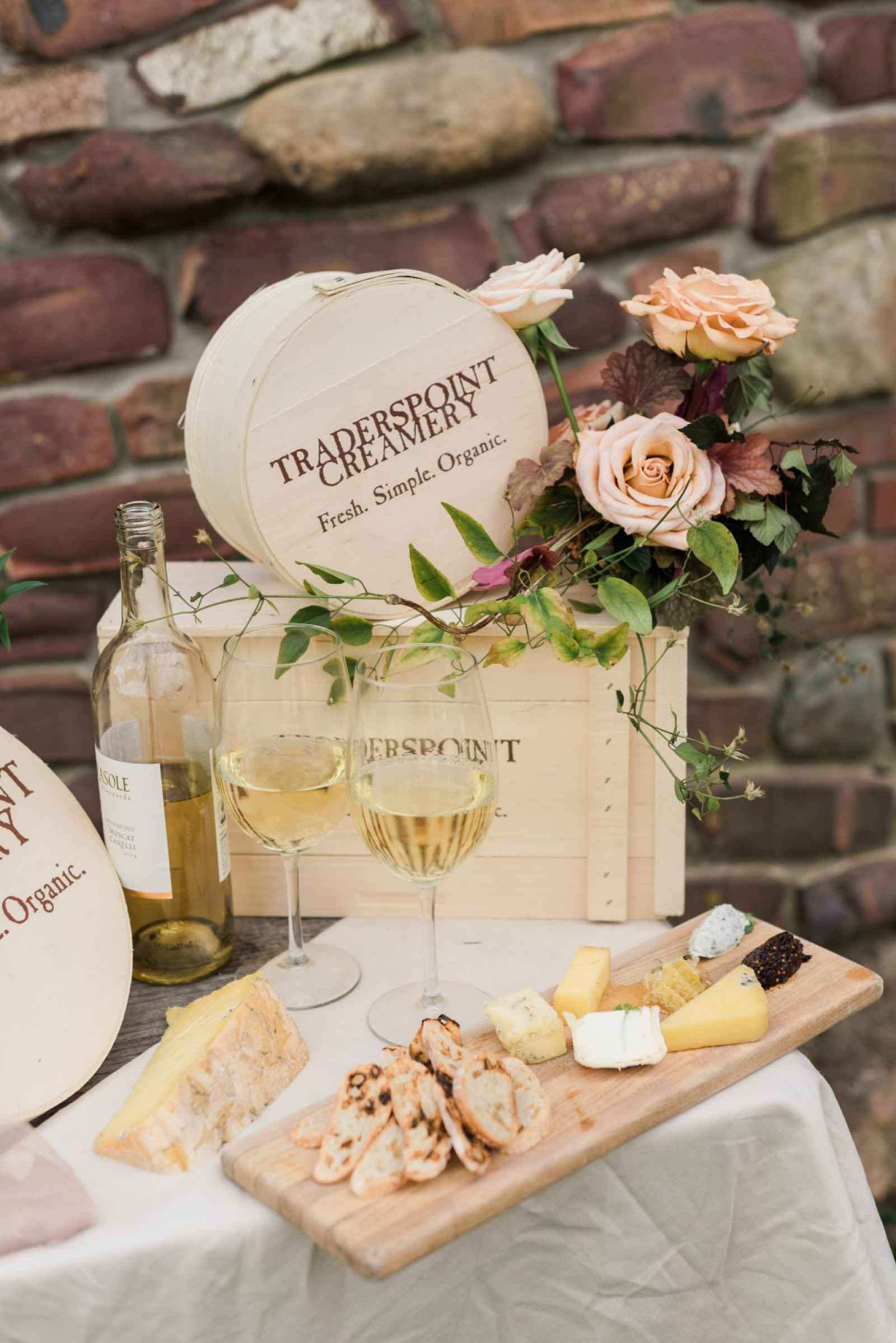 CATERING: Traders Point Creamery, PHOTOGRAPHY: Christa Hitchcock Photography
Farm-to-Table
This trend is all the rage as more and more people desire organic and locally grown food. Check with your area vendors to see who is buying and cooking with simple, fresh ingredients. Various venues who are also tuned in to current trends may additionally offer their own farm-to-table menus. Not only can this option be inexpensive, it is also a great option for infusing seasonal, fresh foods.
 
PHOTOGRAPHY: Sarah Kriner Photography
D.I.Y. Cuisine
We've seen so many talented couples, friends and other family members out there, it's no wonder brides are turning to their skilled team of people—and even their own culinary skills—to go beyond just crafting cakes and desserts. While this can be a hefty undertaking, depending on the menu and wedding size, this feat is certainly being accomplished. From Italian eats to tacos, the options are limitless. The bonuses? A very personal twist and an authentic "home-cooked" taste and feel!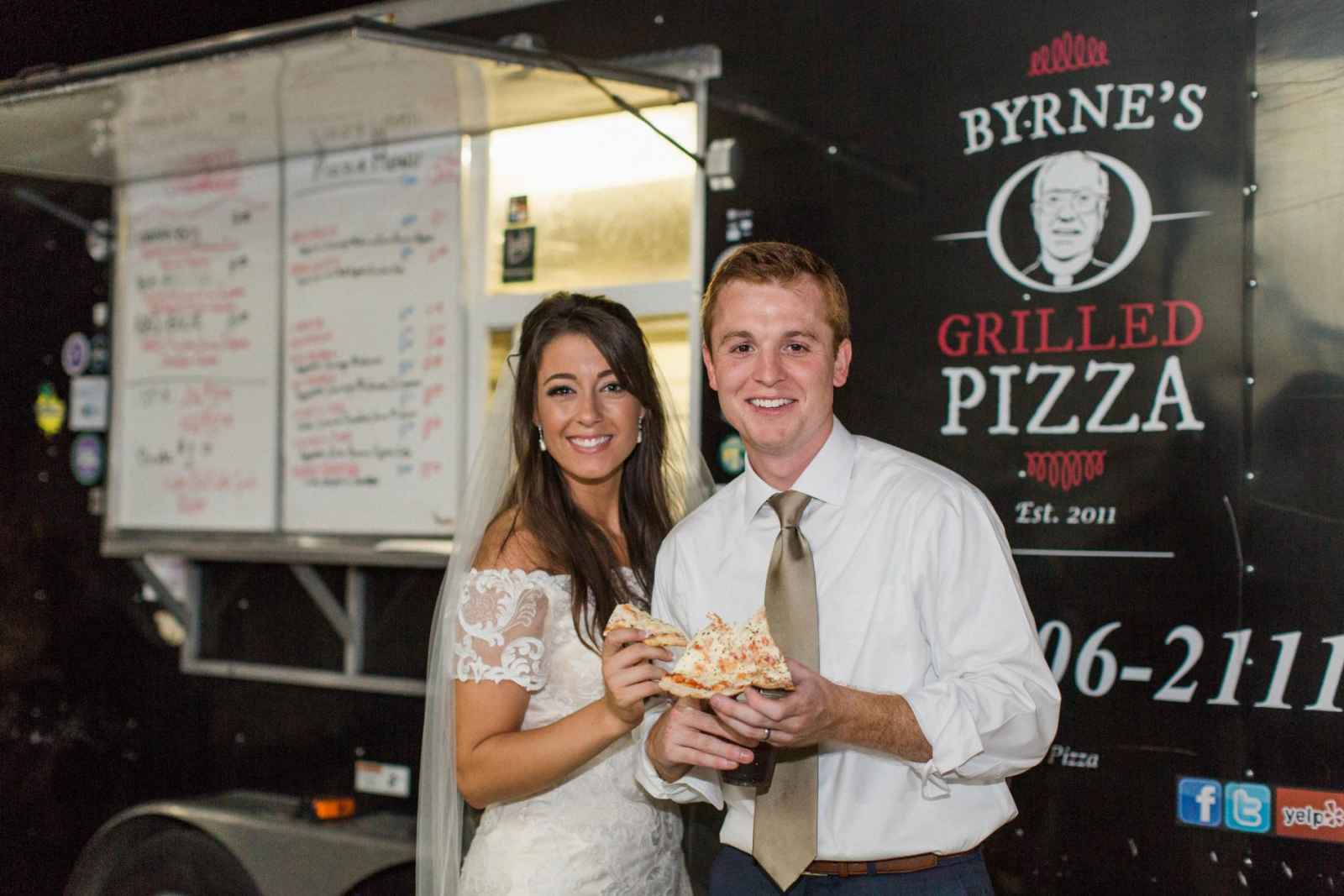 CATERING: Byrne's Grilled Pizza, PHOTOGRAPHY: Gabrielle Cheikh Photography
Late Night Eats
Brides and grooms always want their guests to enjoy themselves, while having everything they need to celebrate the night away with the happy couple. Late night food such as pizza, sliders, or french fries, specialty hors d'oeuvres and food trucks are just another simple but unique way to ensure your guests continue to dance the night away, don't leave hungry and are "wowed" by your thoughtful additions to the evening.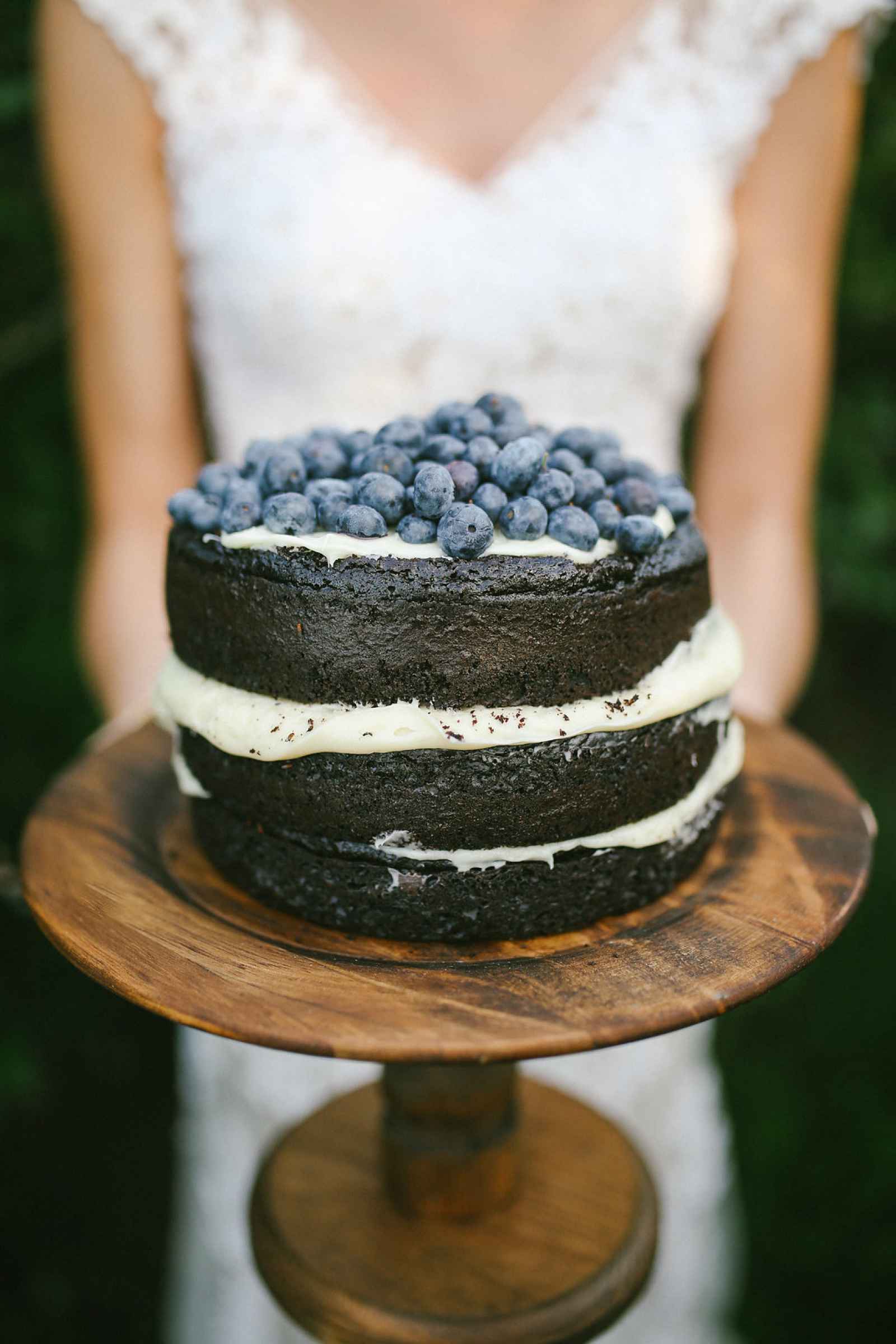 PHOTOGRAPHY: Hanna Adams Photography
Naked Cakes
Offering a chic, exposed look and blank-slate appeal, naked cakes seem to fit into a variety of styles when it comes to weddings. Visual interest aside, they are absolutely delicious, too! With naked cakes, you can choose from a variety of fillings without having to commit to frosting, and while some have no icing at all, others feature icing that is barely there. With the many available options and a sophisticated look to match, one thing's for sure: These unique confections don't seem to be going anywhere!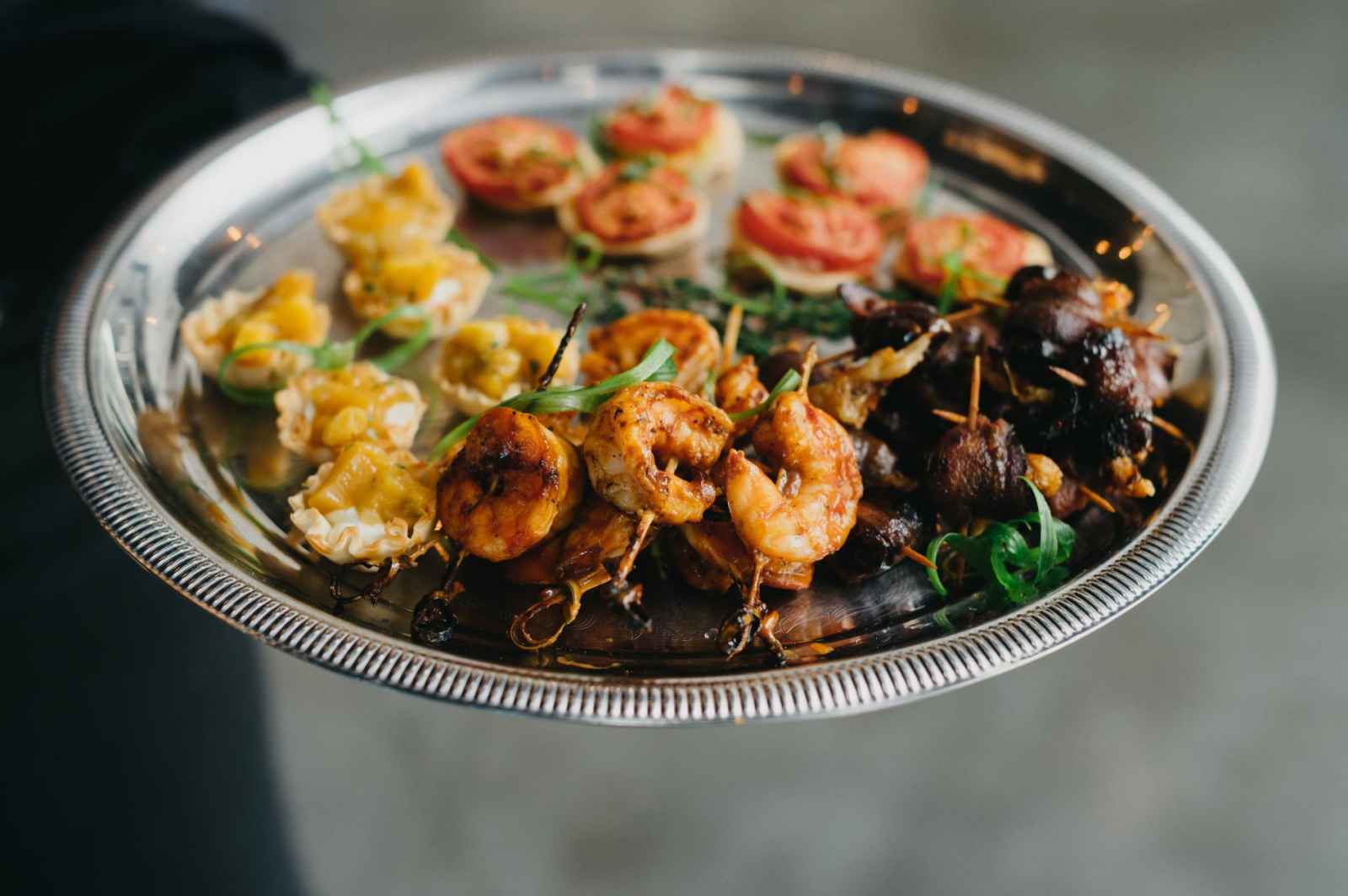 CATERING: Navarre Hospitality Group, PHOTOGRAPHY: Jessica Eileen Drogosz Photography
Bite-Sized Benefits
Just because food is tiny, doesn't mean it can't impress and pack a powerful punch. Small plate items, passed food plates and hors d'oeuvres as the main dish aren't an entirely new concept but they are certainly holding their own in a world of traditional and large plate wedding entrees. With this trend, couples have many benefits. For example, they might have the option of infusing several food themes into one wedding, satisfying many different tastes, and guests have the chance to compose their own meals and sample a variety of cuisine. Trust that guests won't go hungry, either! Just think of how full you can get at a food tasting or sampling event.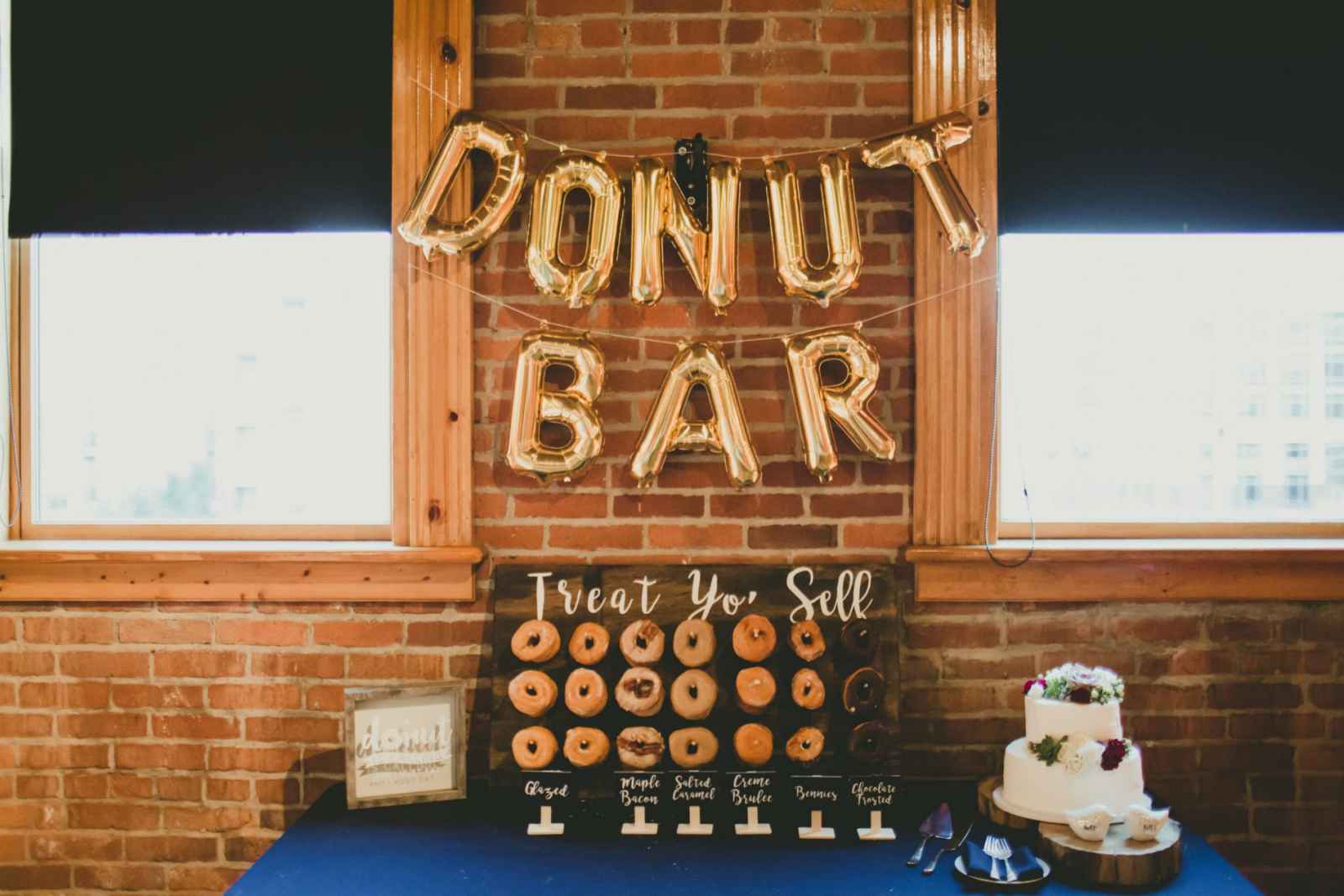 DONUTS: General American Donut Company, PHOTOGRAPHY: House Photography
Dessert Tables
Who ever said one dessert was enough was mistaken. Well, it seems brides out there certainly agree! Cakes are being ever-increasingly accompanied by other desserts to make for one glorious display, or the cake is being eliminated all together for some yummy cake alternatives. Think pies, tarts, cupcakes, macarons, donut trays (or walls!), specialty cookies and even candy. Besides the sweet sugar rush you will be providing for your guests, these displays are both pretty to look at and provide a way for you to include nods to your own personal favorites.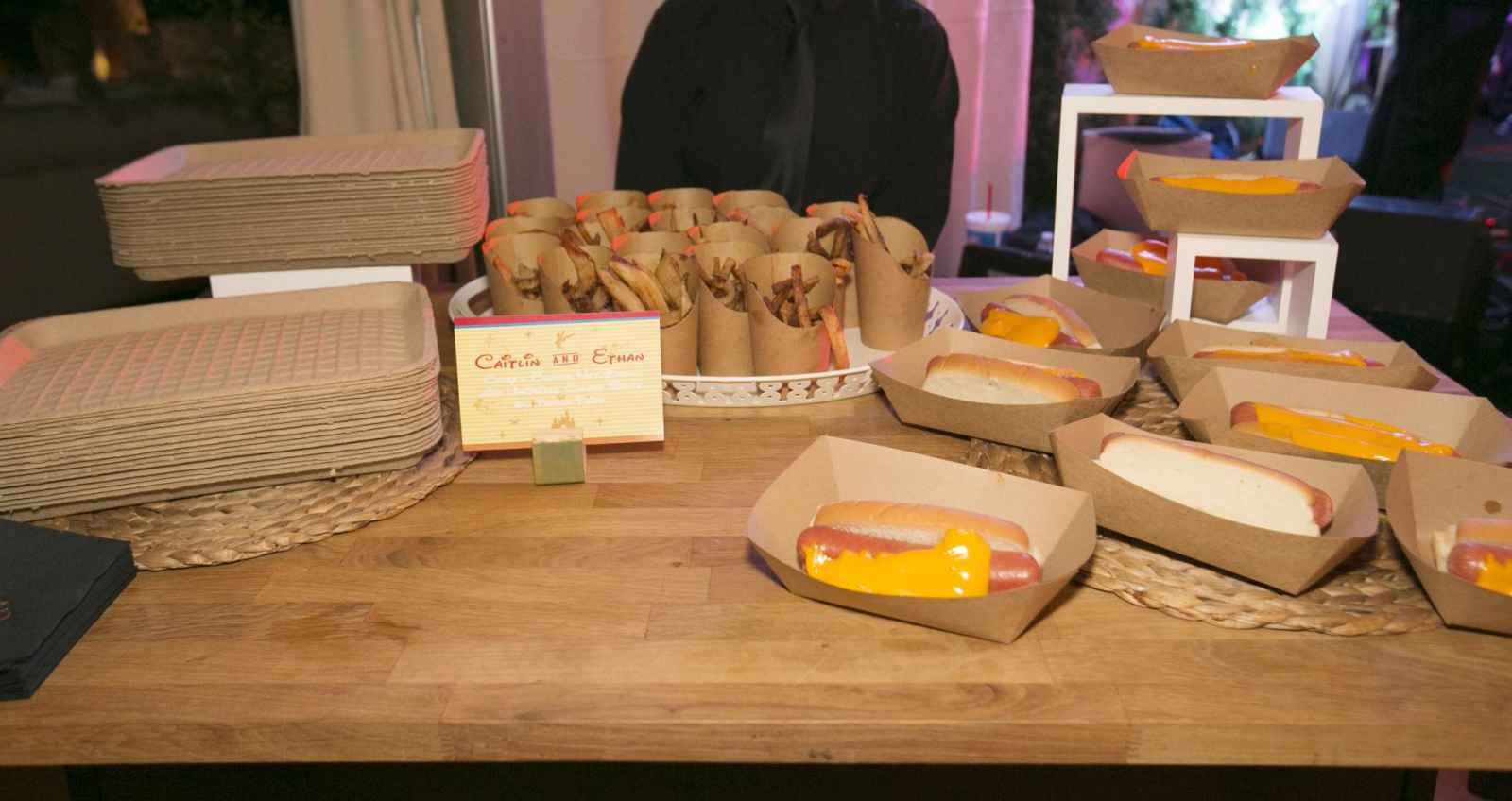 CATERING: Empyrean Events and Catering, PHOTOGRAPHY: Jennifer Driscoll Photography
Casual Cuisine
While some brides crave top-notch wedding elegance and the food to match, others desire cozy "backyard" nuptials where fancier food items might feel out-of-place. Because of that, it makes perfect bridal sense to infuse the same look and feel of your wedding into your food selections. For a casual affair, tantalizing craft burgers or delicious barbeque is sure to evoke the ambience you want, and more and more brides are doing just that with family-style cuisine and casual, laid-back fare.
 
PHOTOGRAPHY: GEM Photography
Signature Drinks
From brewing their own craft beer to designing signature cocktails, brides and grooms are getting ultra creative in the beverage department. When creating a custom drink for your guests to enjoy, you not only bring a fun element to your day, you are also infusing some of your own tastes and personality. We mean, when else in your life do you get to create a signature drink for all your family and friends to enjoy? Oh, and don't forget to come up with a unique name, too!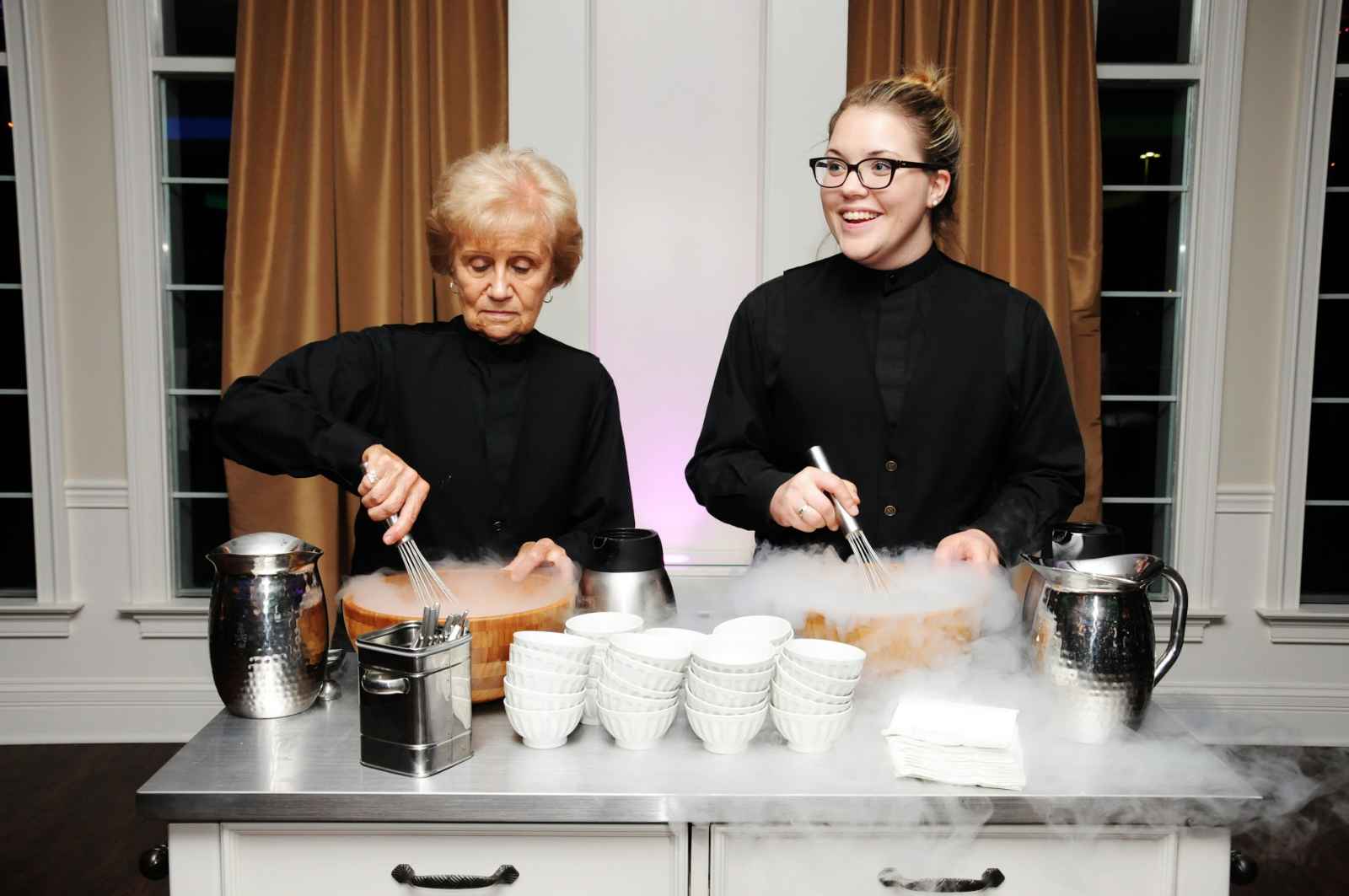 CATERING: Thomas Caterers of Distinction, PHOTOGRAPHY: Erin Hession Photography
Food Stations
Maybe you know exactly what food you want to serve for your big day but, for those that are not-so-lucky, food stations might be the perfect, tasty solution. For example, you love pasta but your hubby-to-be loves steak. You can marry the two with action stations and include as much variety for your guests as you would like! By manning various stations with a chef or someone to prep the food on-site, you add an "action" element that makes the food experience that much more fun and interactive!
 
CATERING: Thomas Caterers of Distinction, PHOTOGRAPHY: Jennifer Van Elk Photography
Unique Displays
What's amazing food without the proper display to match? From gorgeous vintage dressers and old farm tables to colored glassware and custom platters, brides and planners alike are imagining some pretty creative ways of ensuring that wedding food and beverage is just as camera-ready as the happy couple. Whether it's the perfect backdrop behind your dessert table, pretty chandelier at your bar or the most stunning vintage plates, display means everything.
looking for more food & drink inspiration?
Find your caterer here!
 
are you a wedding extraordinaire?
Join WeddingDay Magazine in inspiring brides by partnering with us! See how here.