What do you do when life gives you a floral crown? You create your own style shoot (of course!). Inspired by gorgeous florals by Snapdragon Designs, Emily of Emily Hary Photography solicited the help of a friend to model, did a little shopping, fashioned a complementary bouquet and threw caution to the wind. The result was a gorgeous style concept that was modern, industrial, organic and sweetly her own.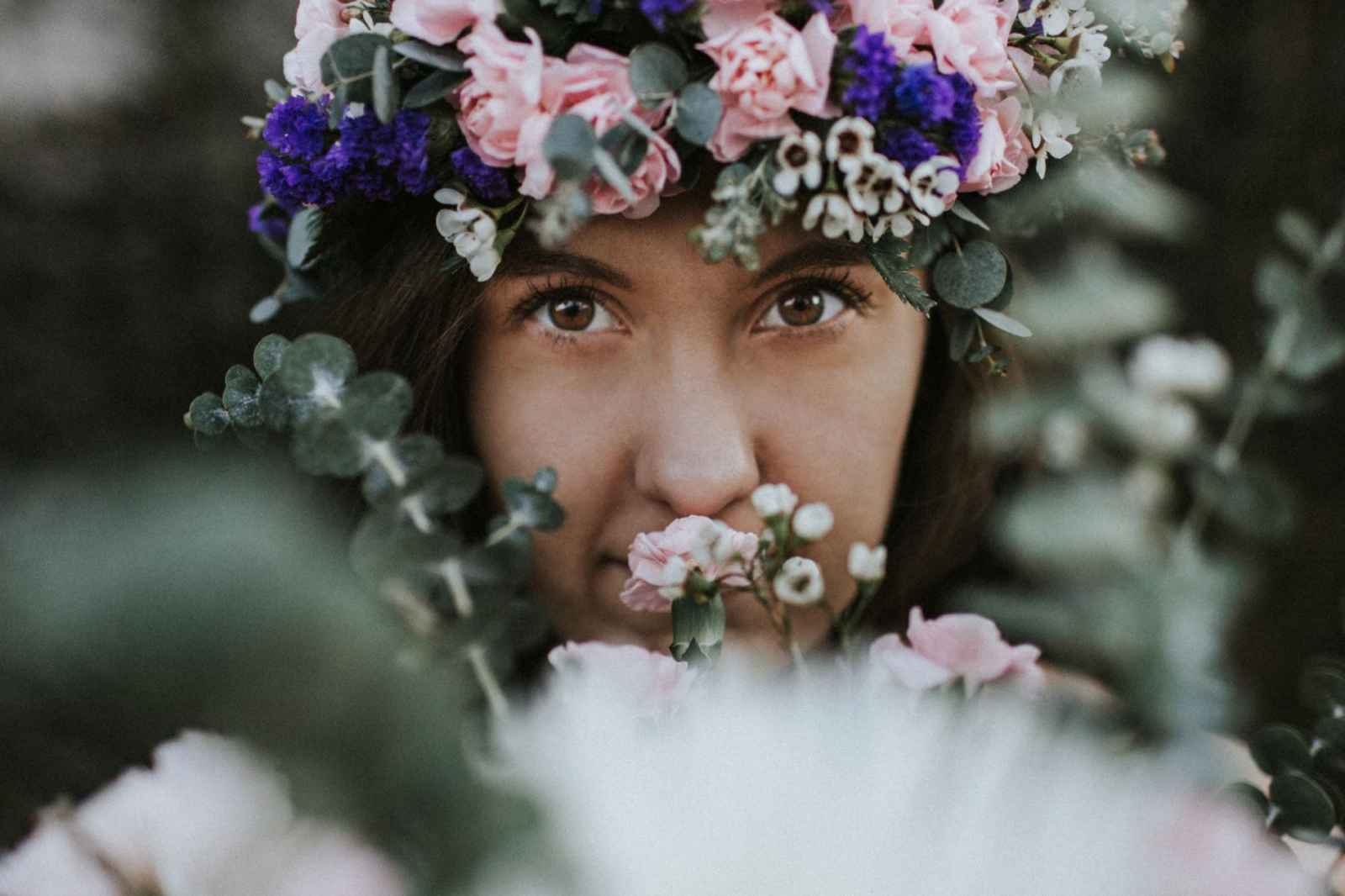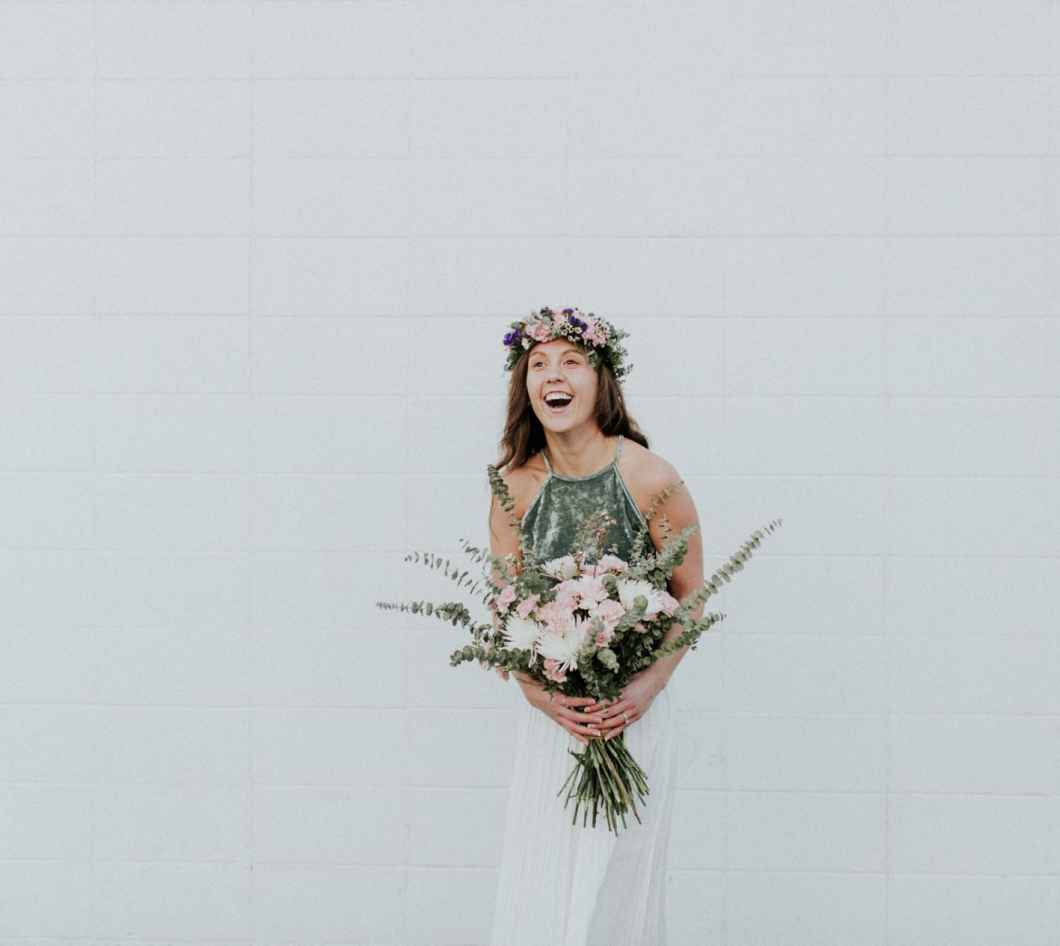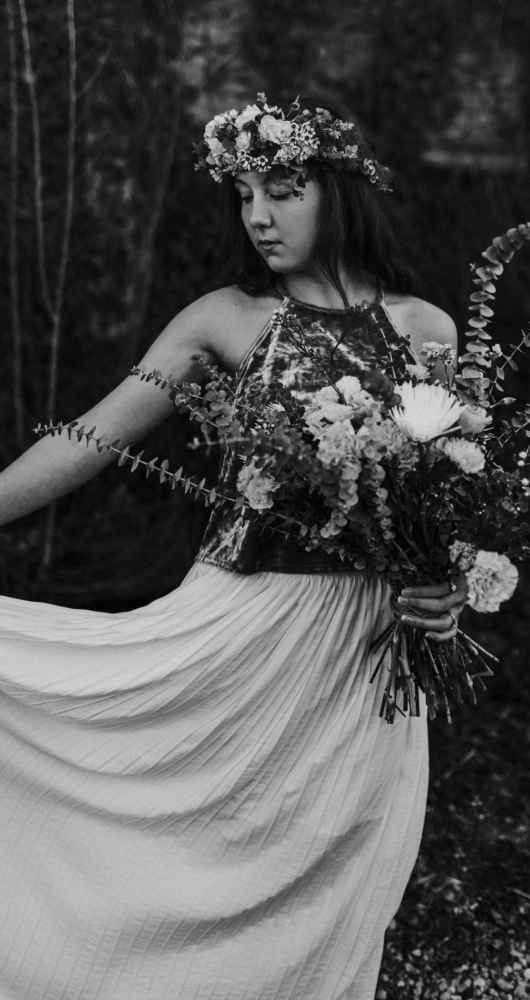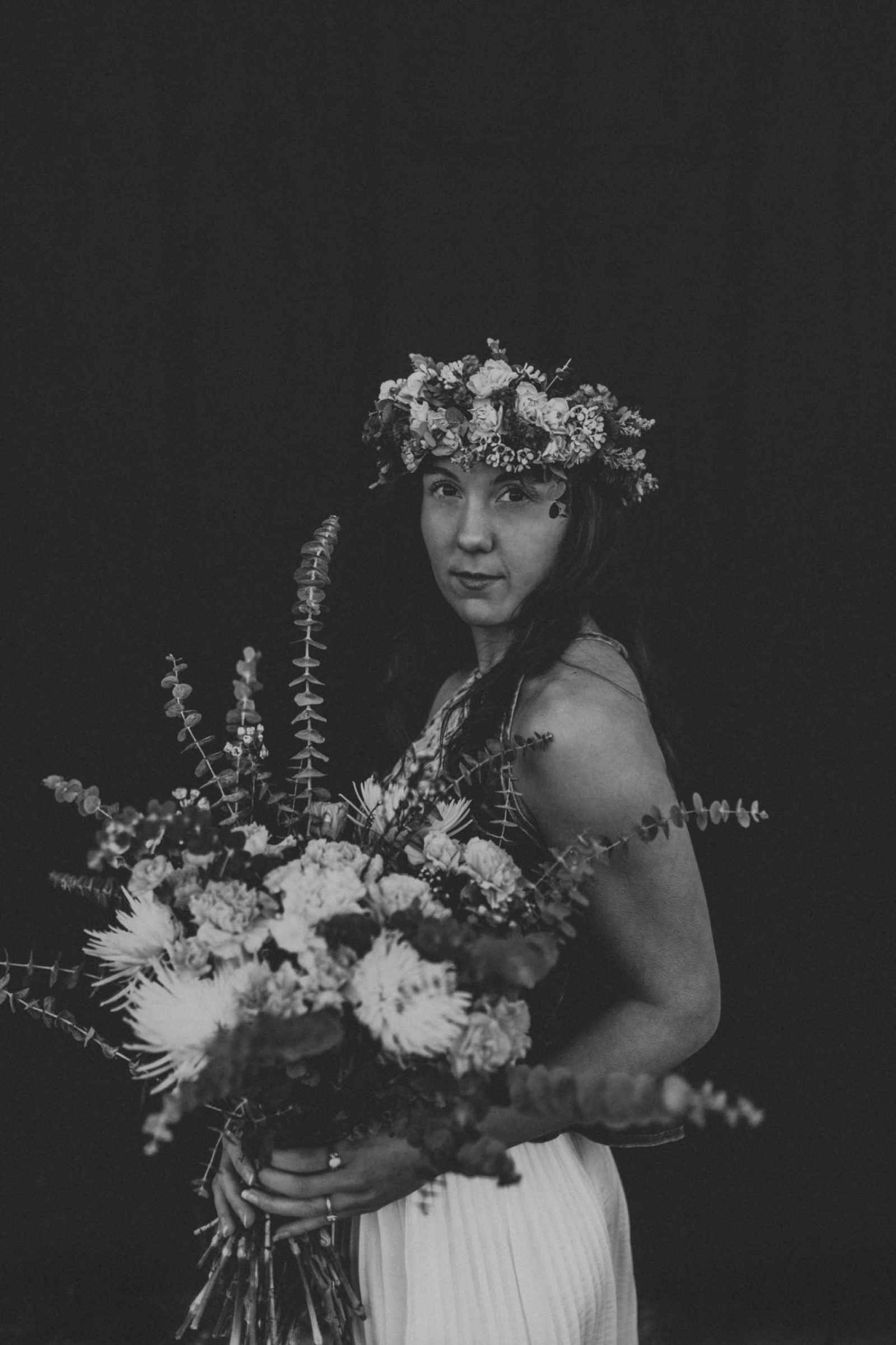 "I actually had the flowers and crown scheduled to be delivered from another shoot that was canceled at the last minute," Emily says. "So the day before, I asked a friend to model for me since I had this beautiful flower crown made by Snapdragon Designs that I didn't want to go to waste. I went out shopping and picked up some things I thought were pretty and minimal." And as for that oh-so-perfect bouquet? "I also spiced up the florals I had by adding a couple white mums to the loose ones that Snapdragon provided me with and made the bouquet," she says. "I like natural-looking florals, so I made sure the bouquet wasn't 'perfectly' shaped and tied it up with some twine."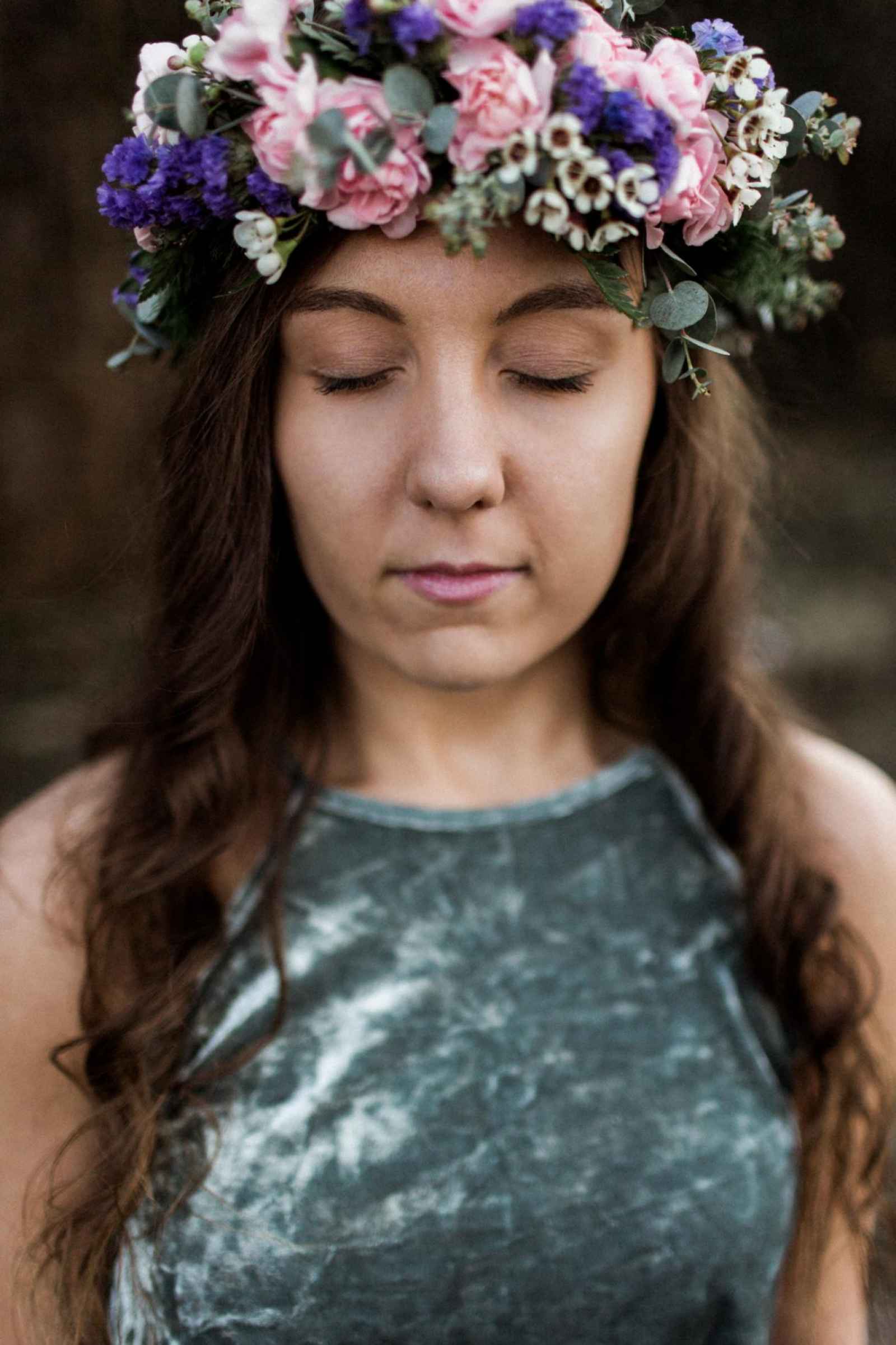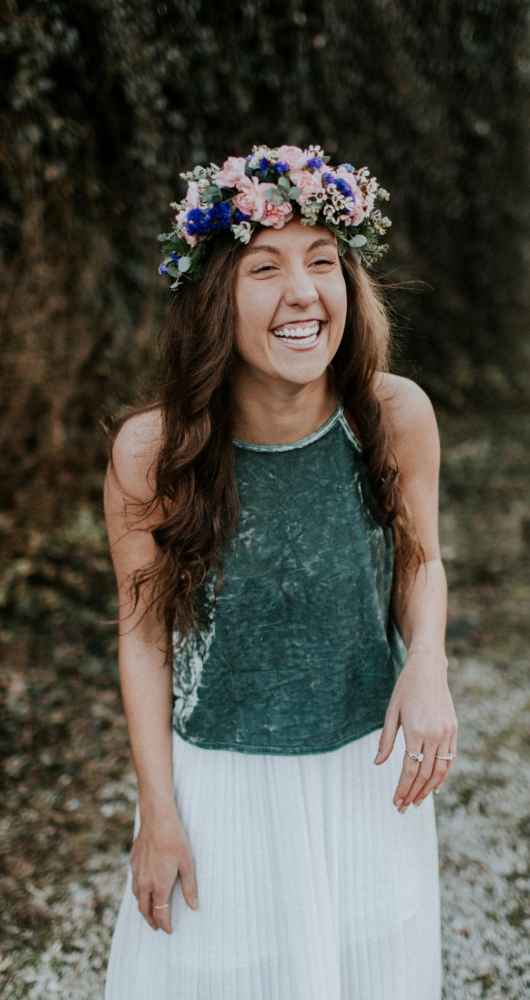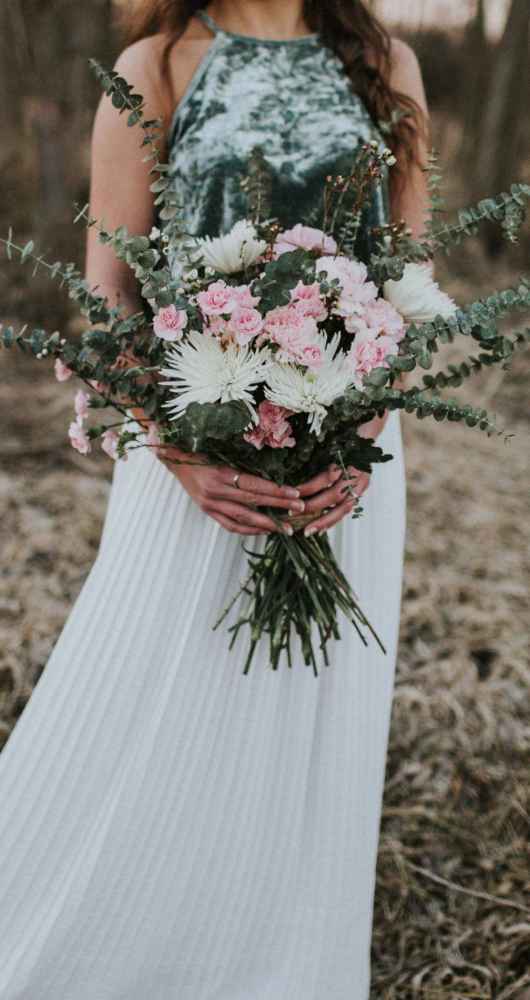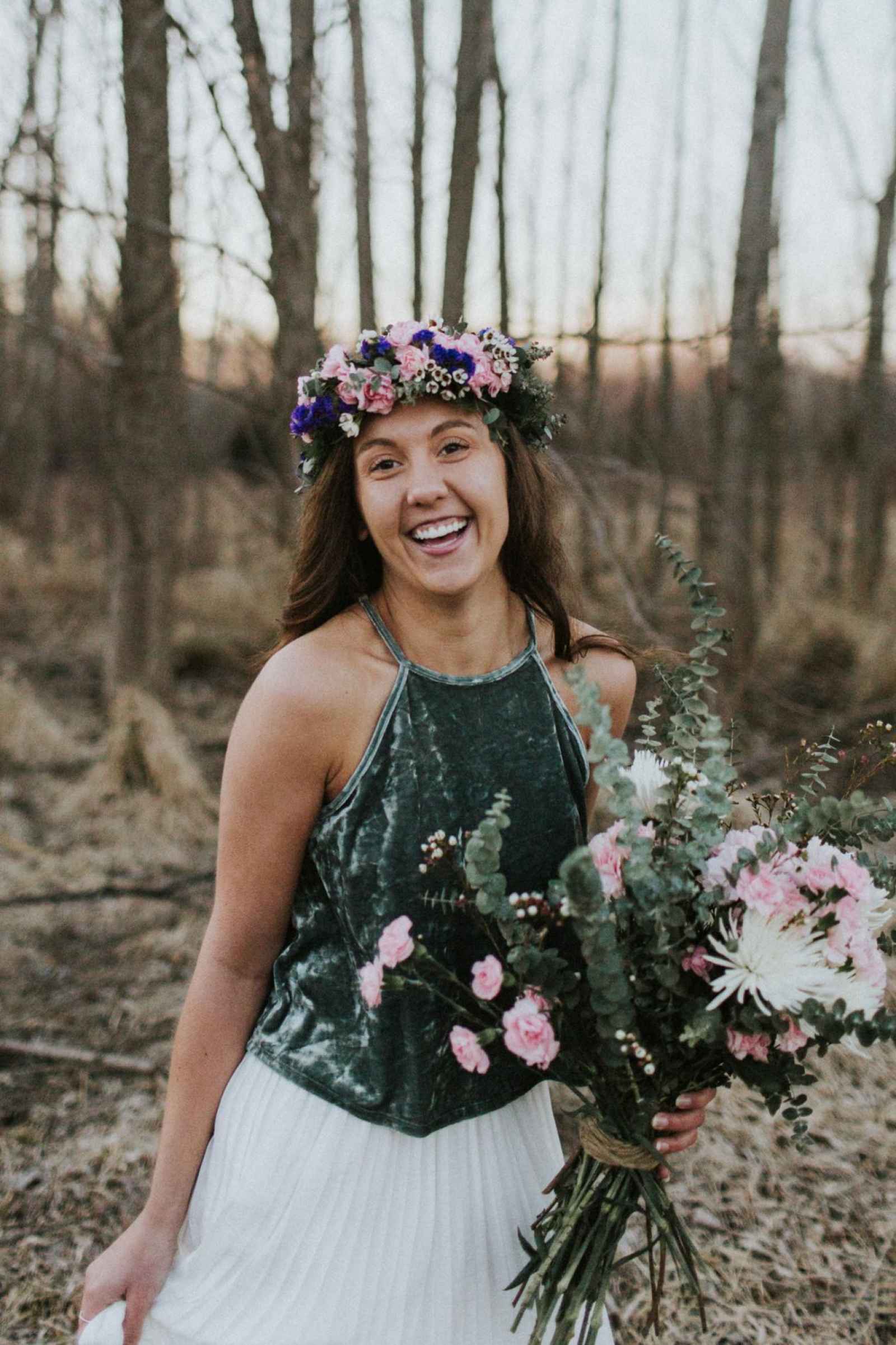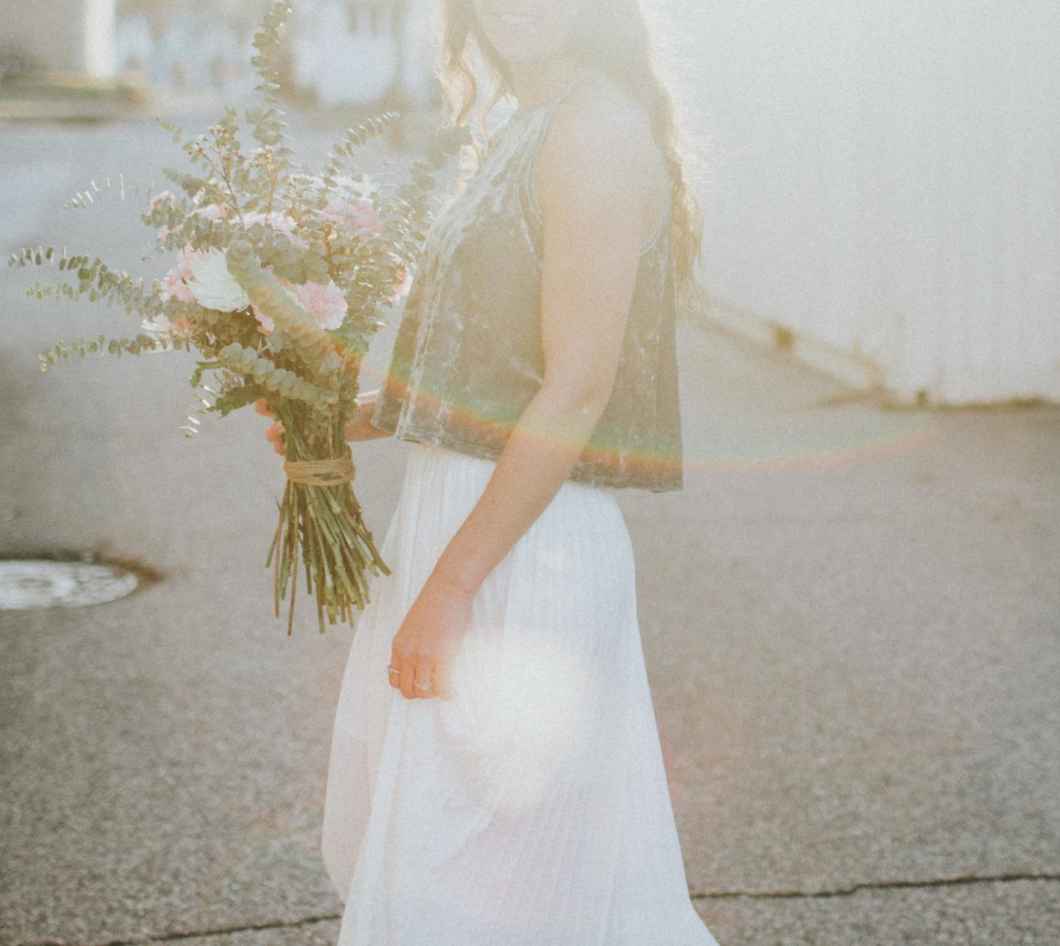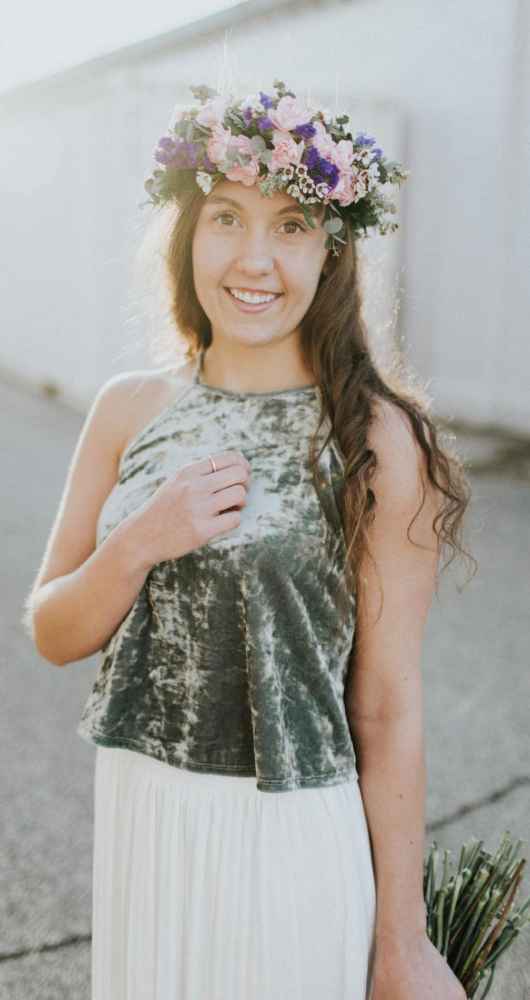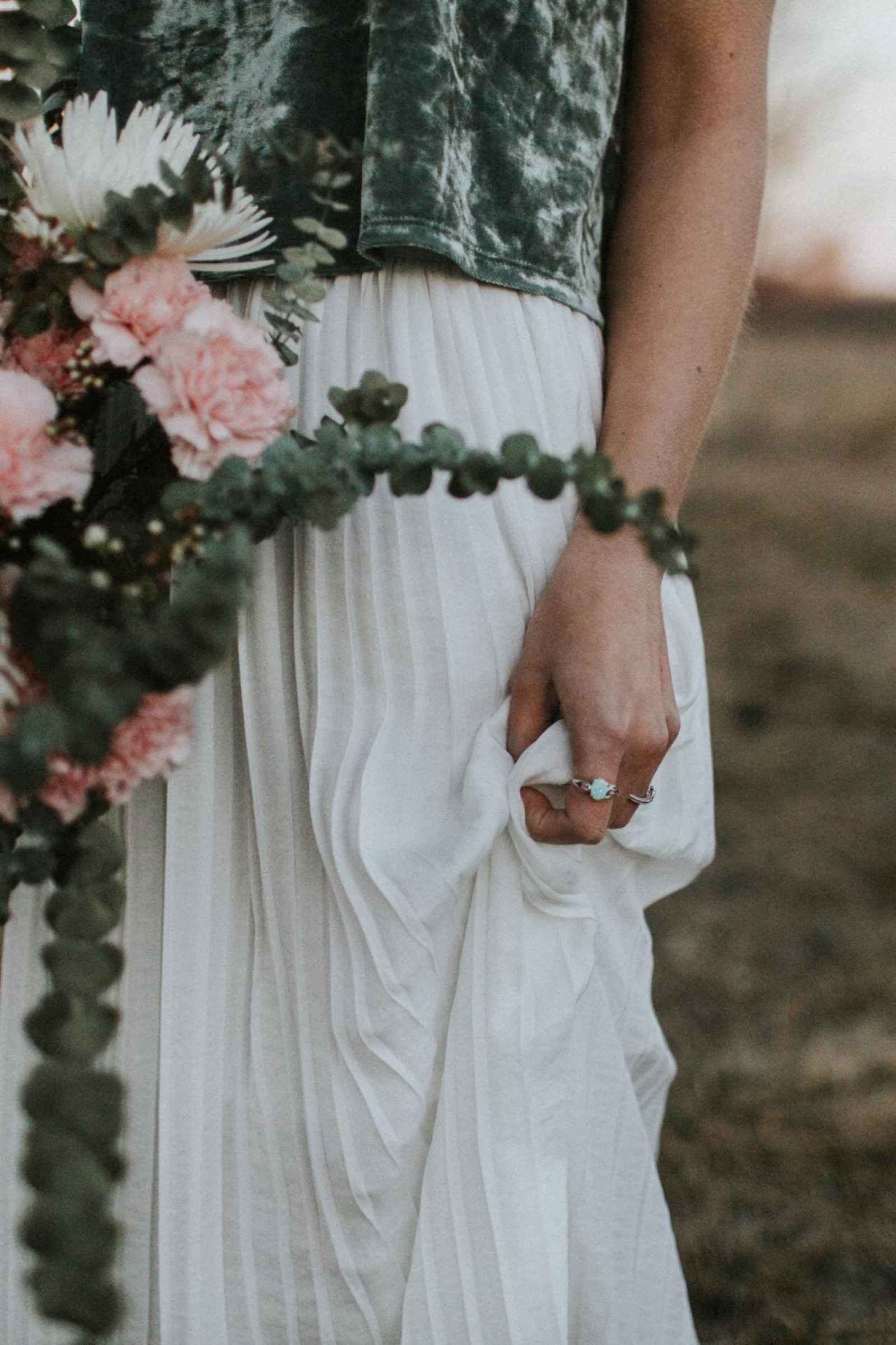 Embodying the bare, minimalist look beautifully, Emily's friend, Logan, did what any good friend would do and denied being cold despite the chilly day and goosebumps! Her natural, barefoot, sans jewelry look provided just the right elements to complement the undone florals and simplistic vibe. "This bridal shoot features raw unfinished textures, wide open walls and the organic details of nature," Emily explains. "An ivy wall also was a simple, organic backdrop for showcasing all the green and pink tones with the white skirt."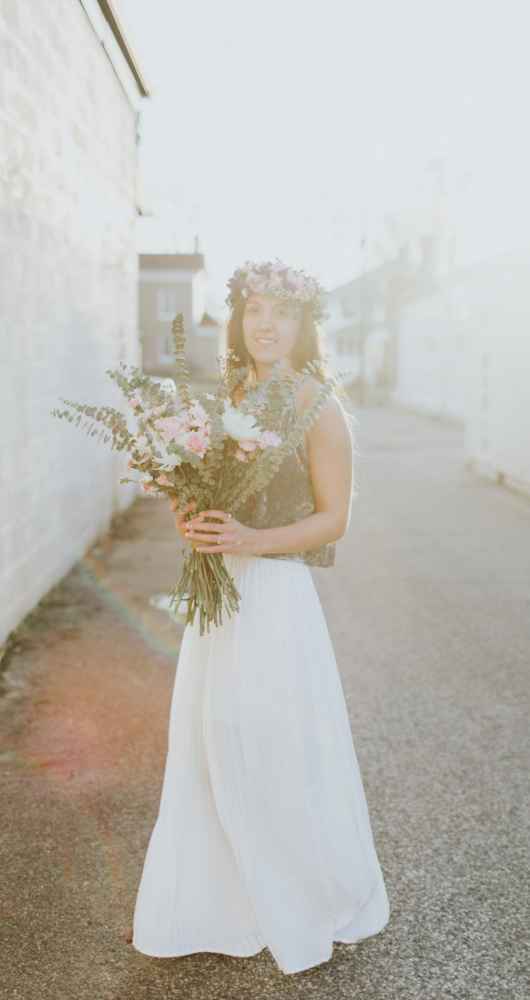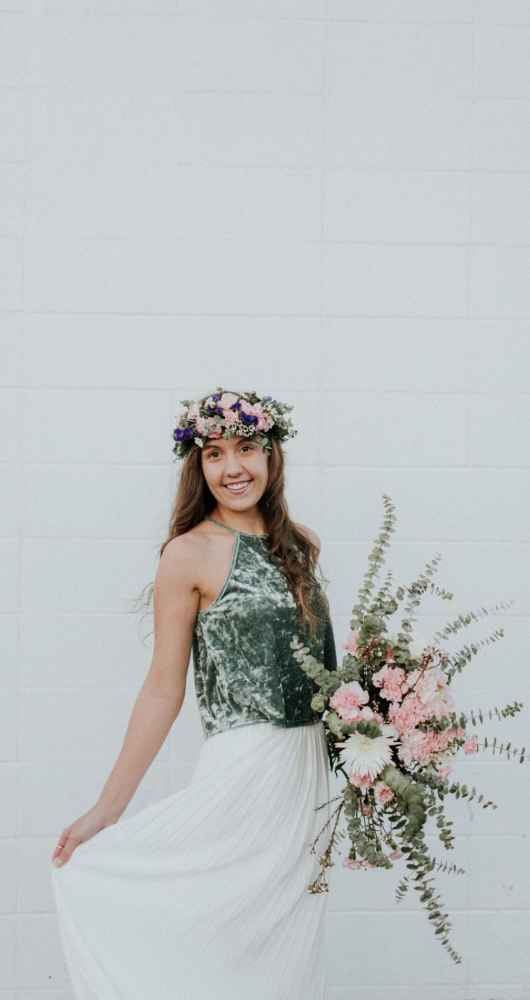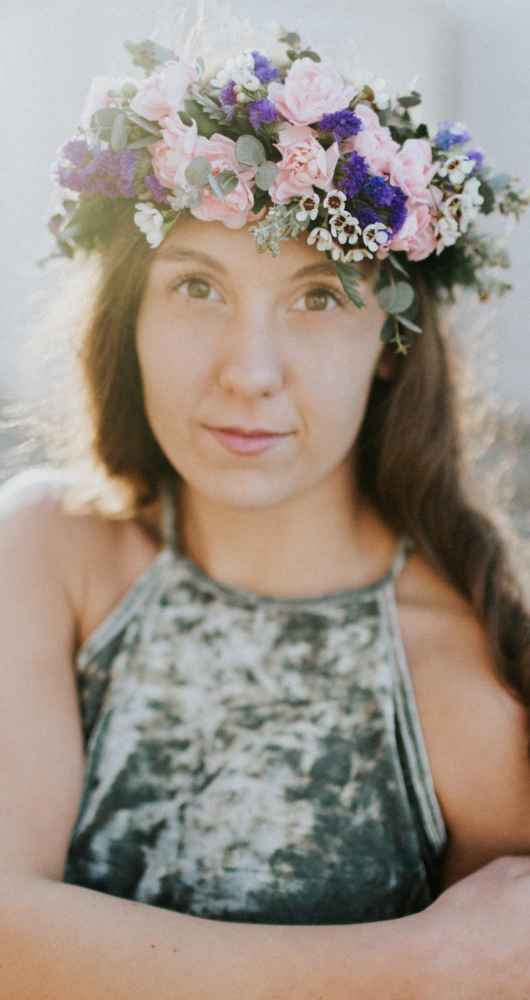 Desiring to showcase the florals, color and pure emotion, Emily identified plain black and white walls within town and a natural field as backdrops. She says, "There were no challenges in the locations, other than tromping through a somewhat muddy field in a perfectly white maxi dress, but what's a photo shoot without a little dirt?" The white pleated maxi dress was an ideal fit for the model and for Emily. She says, "I love my whites white and my blacks black! You can see that in my work as well." Keeping with her natural theme, the only other touch was a sweet, velvet crop top and a little of the model's own makeup. "Her hair was just naturally down and wavy," says Emily. "The model used very little of her own makeup--just some foundation and mascara. She is a natural beauty!"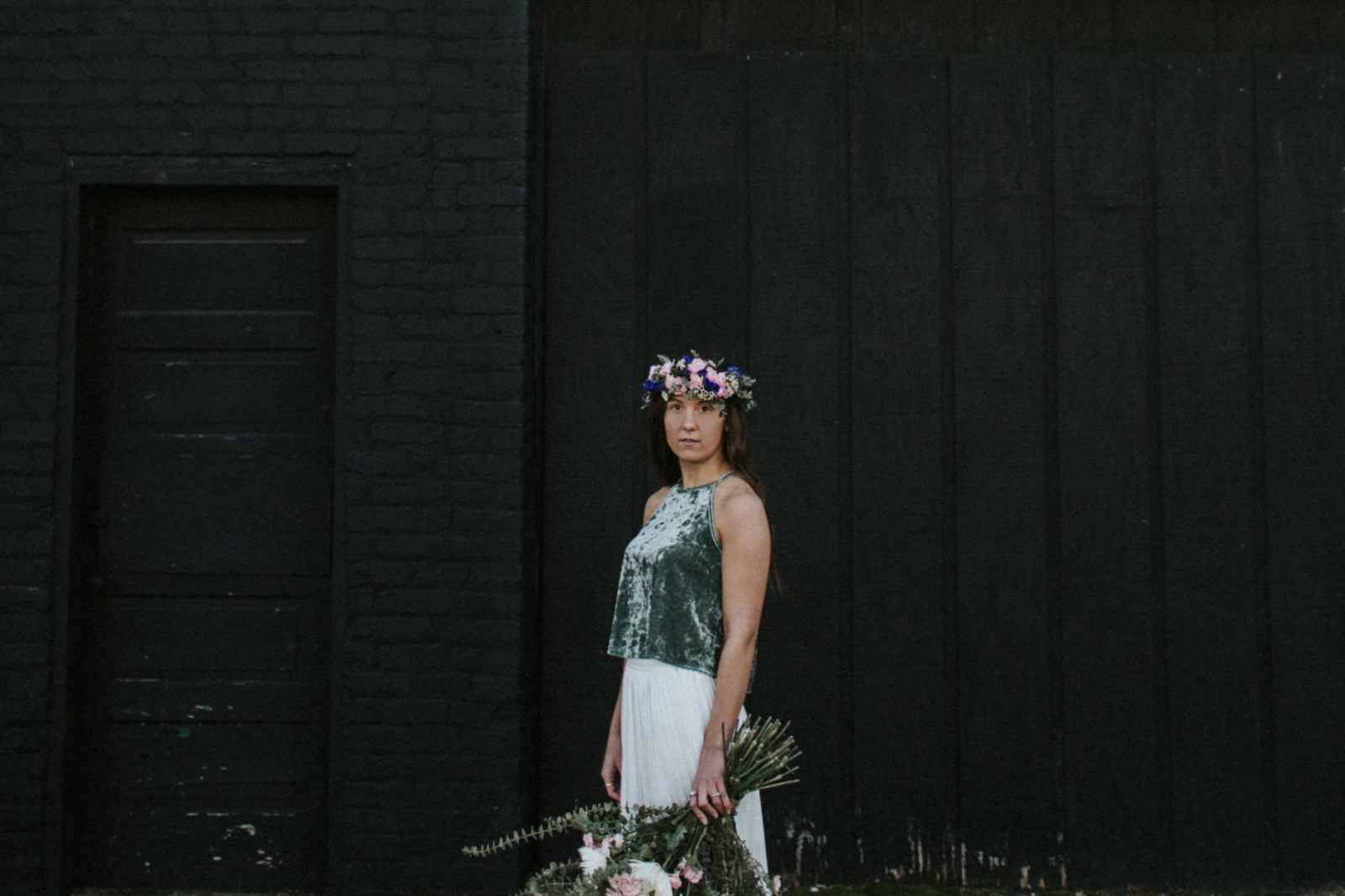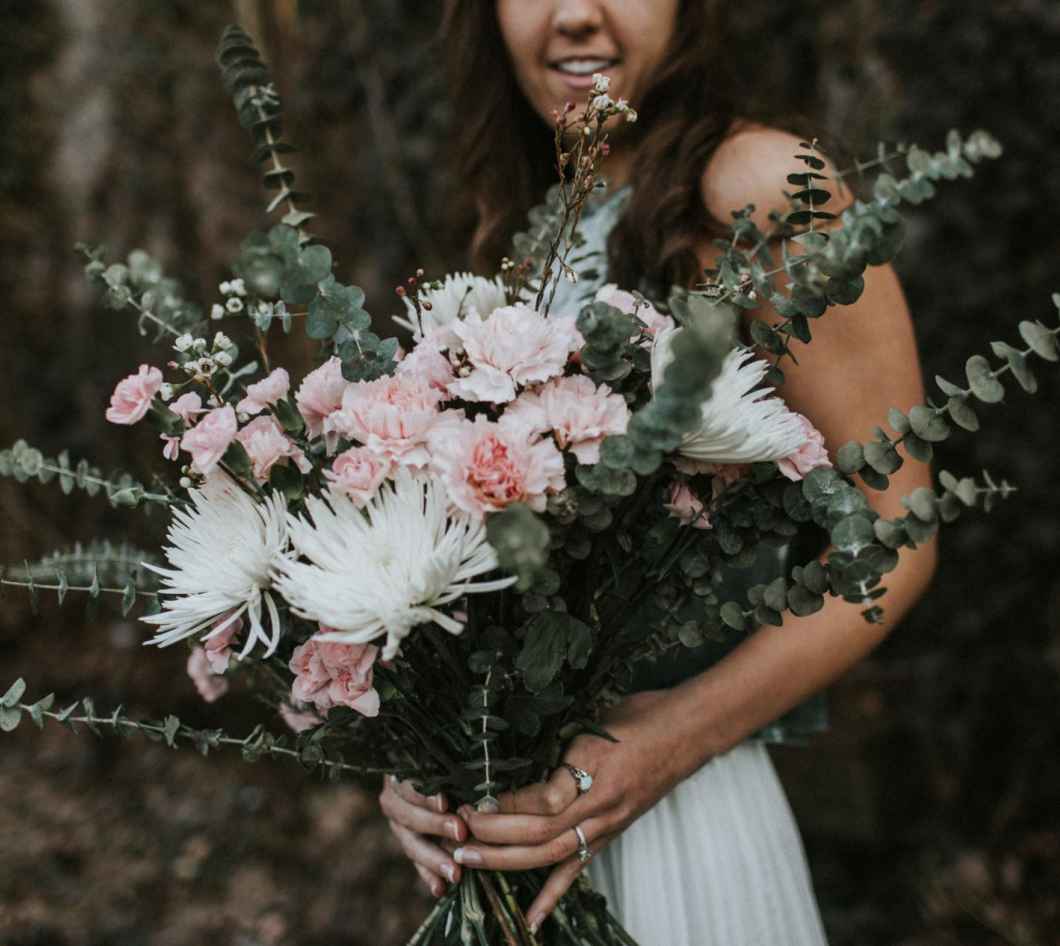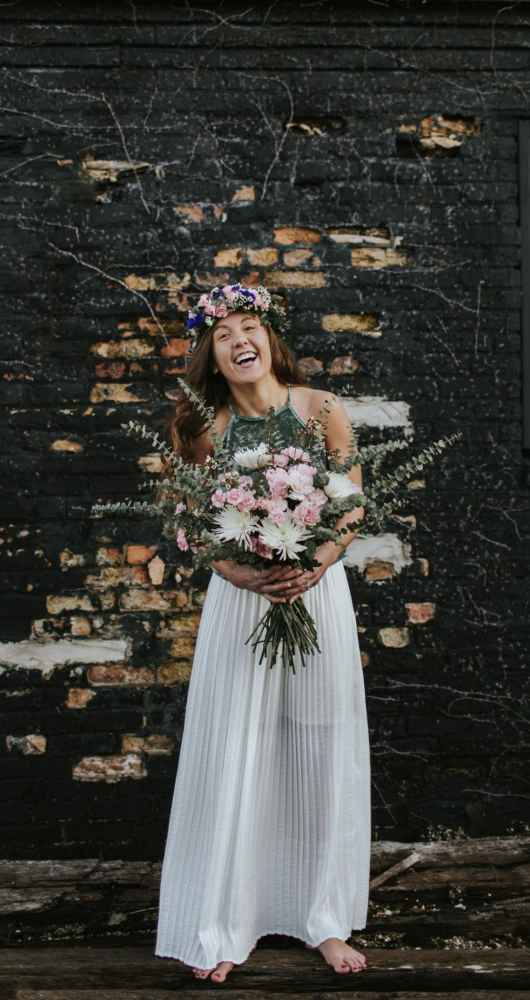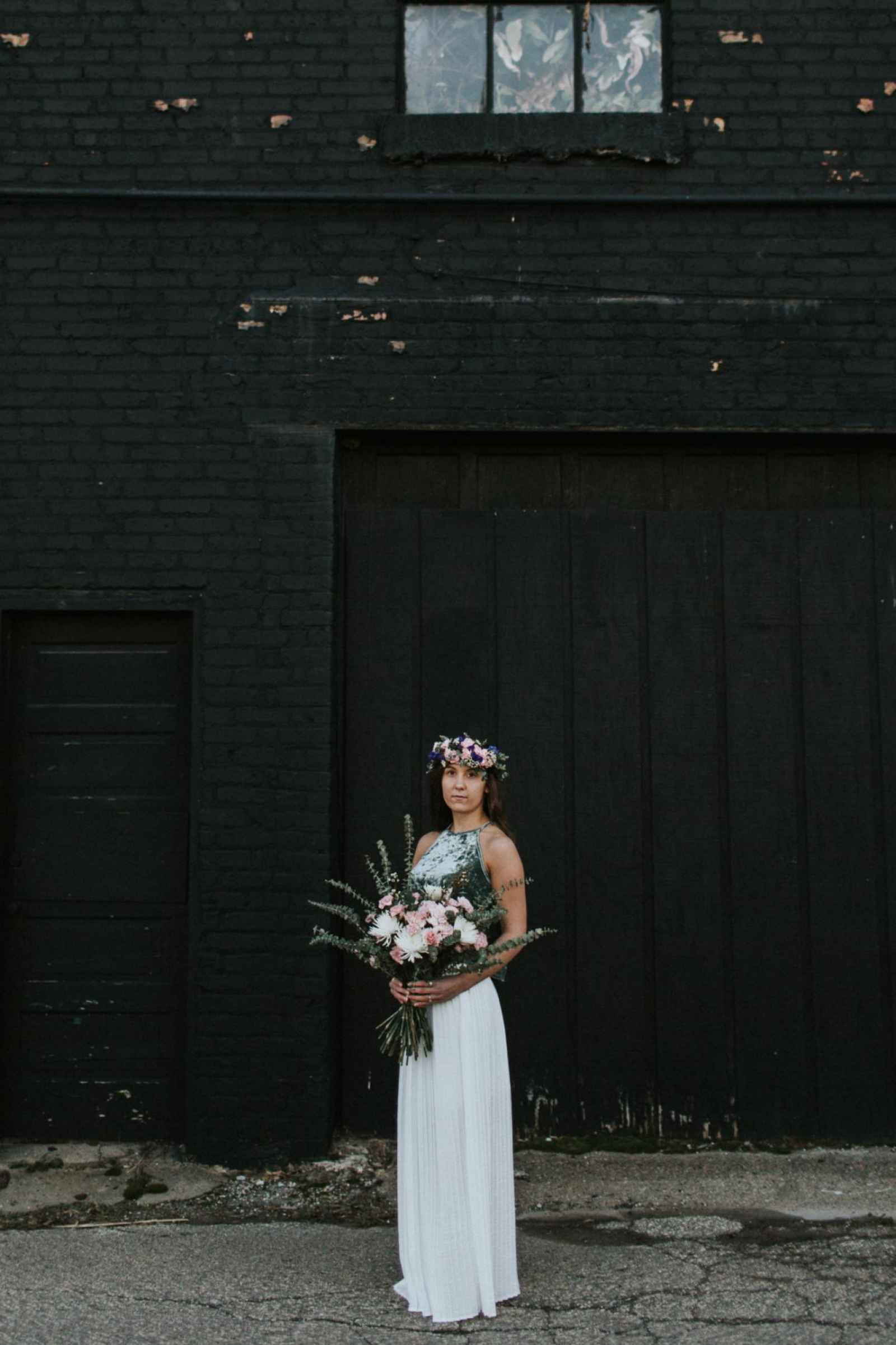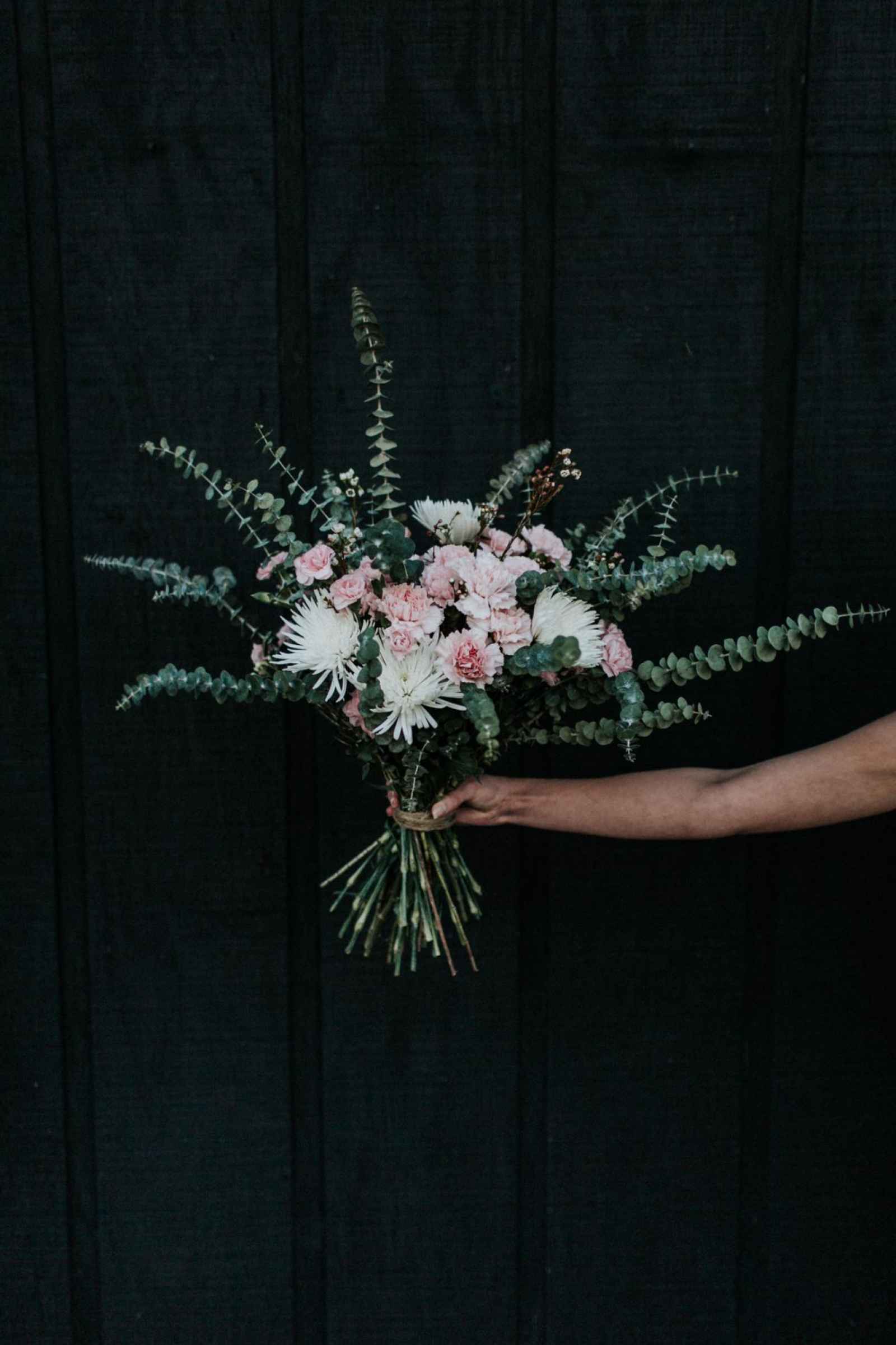 There's no doubt florals can be the catalyst for inspiration, as it was in this case. Emily explains, "The flowers are what started my inspiration. I went with the greens and light pinks." She added her beloved eucalyptus and greenery to the base of the bouquet, along with white mums and carnations to complement the design of the floral crown.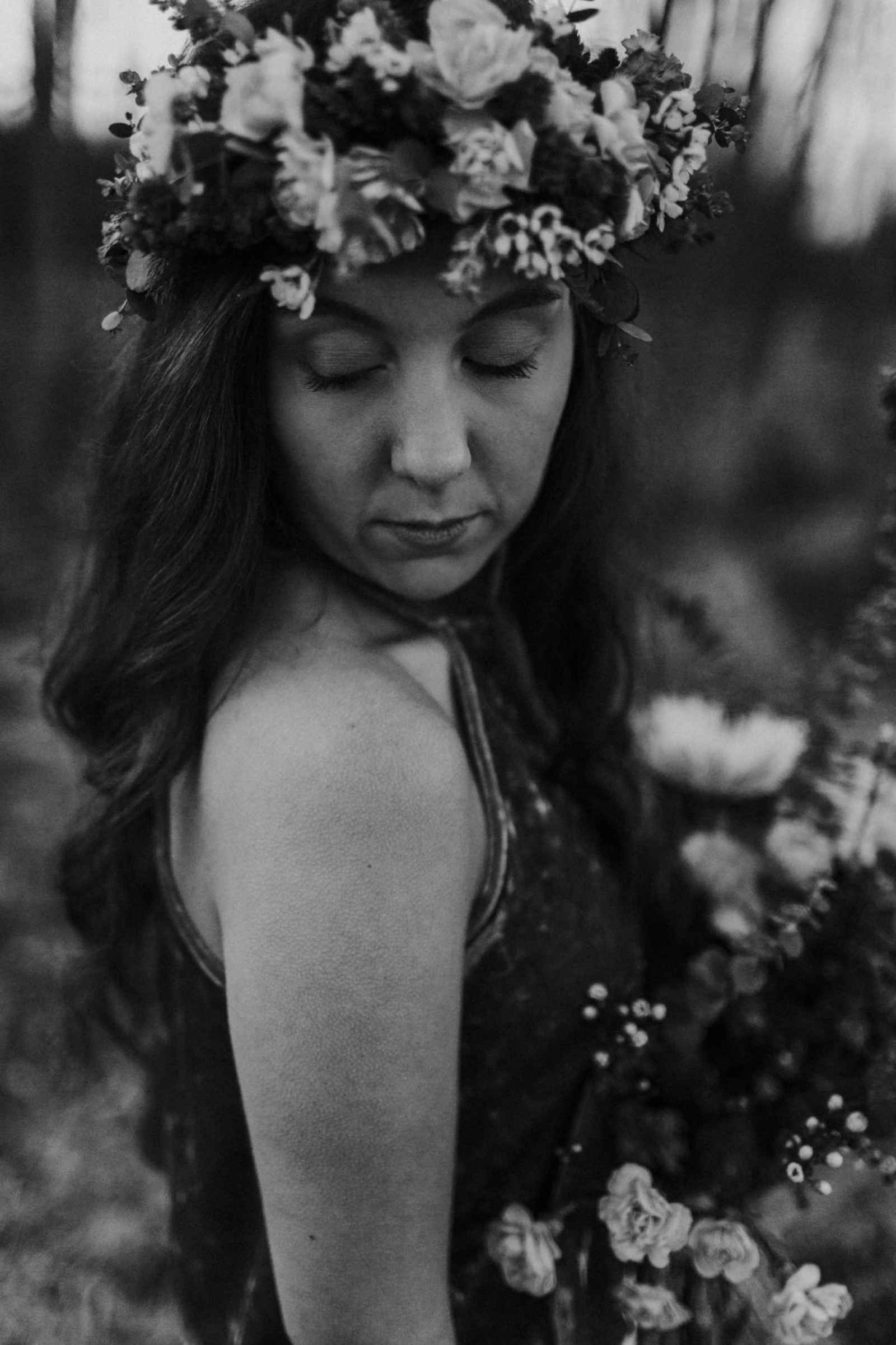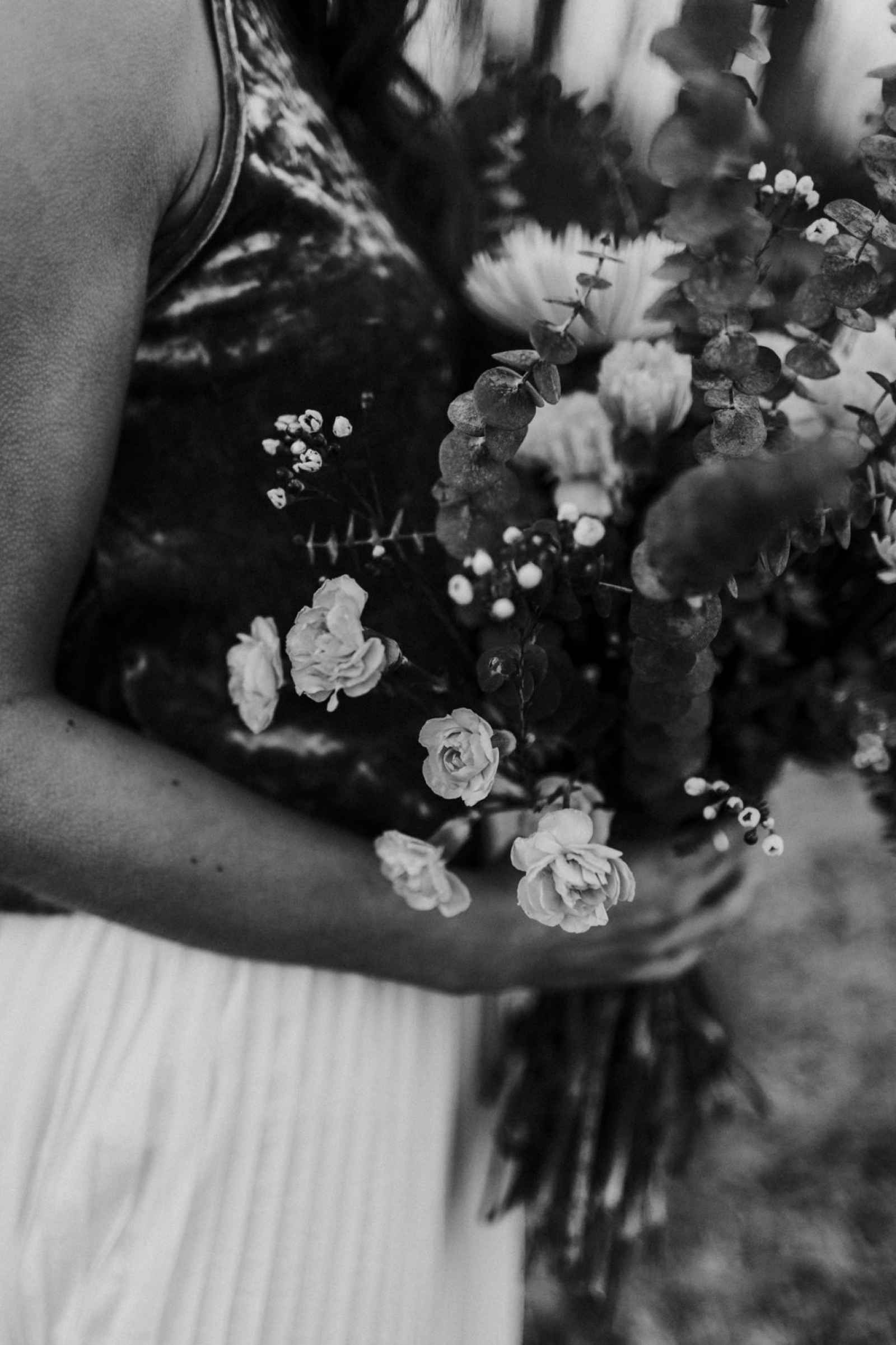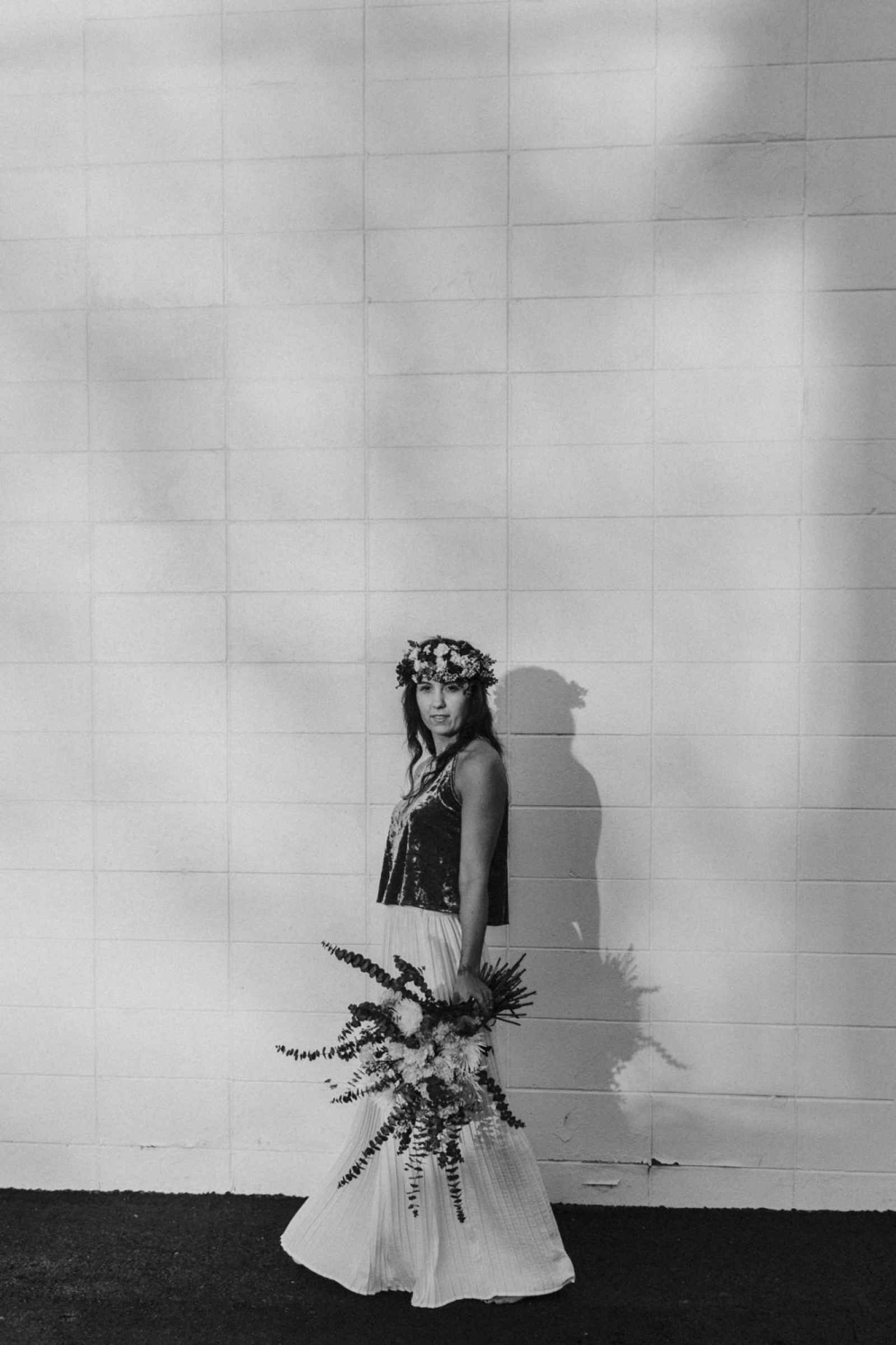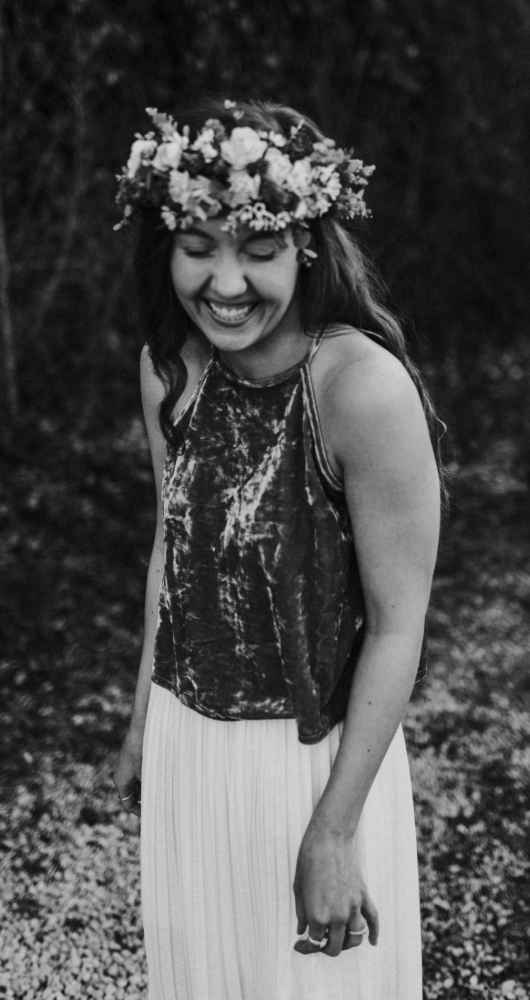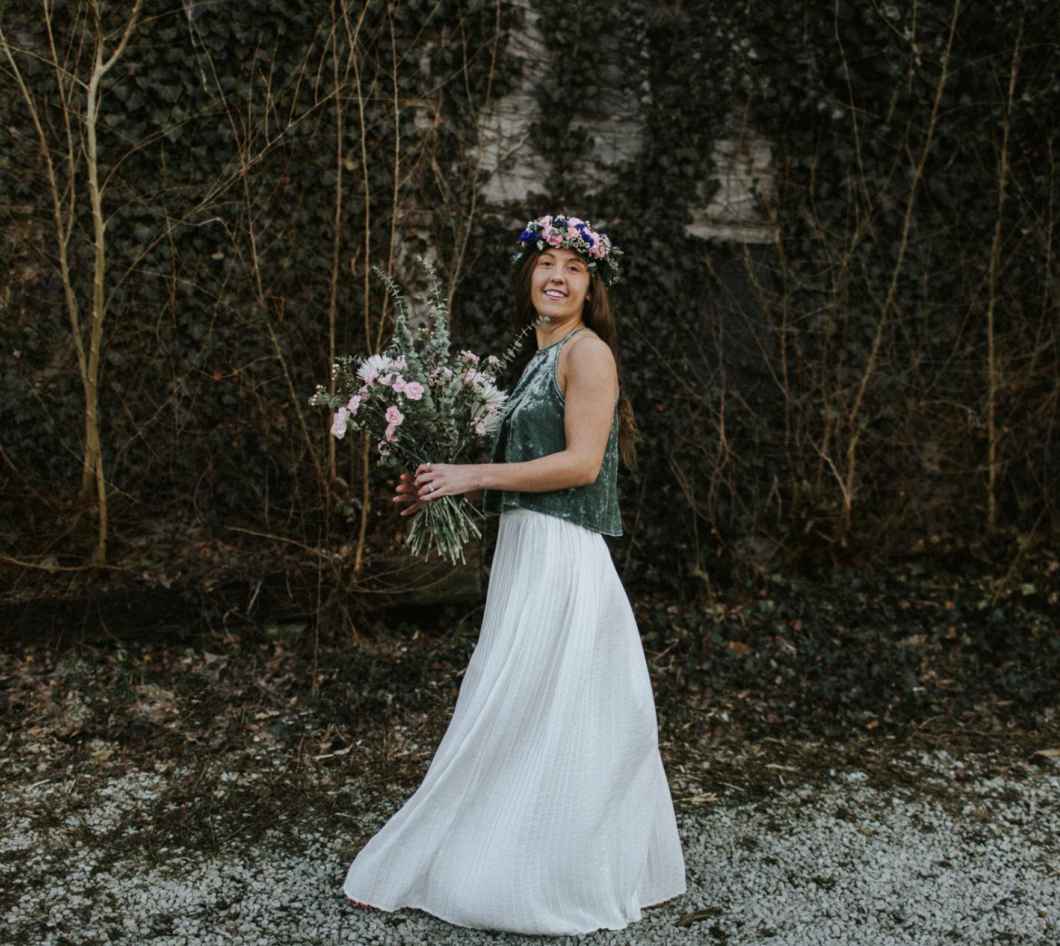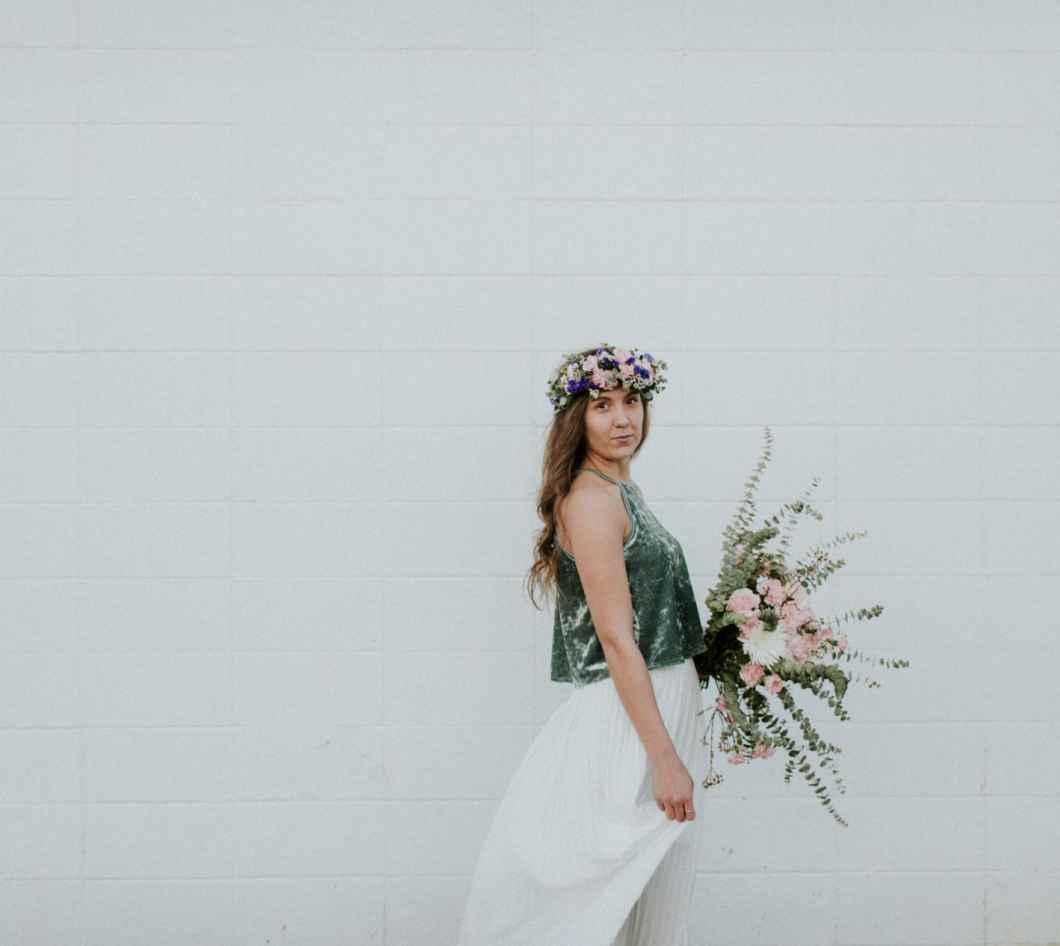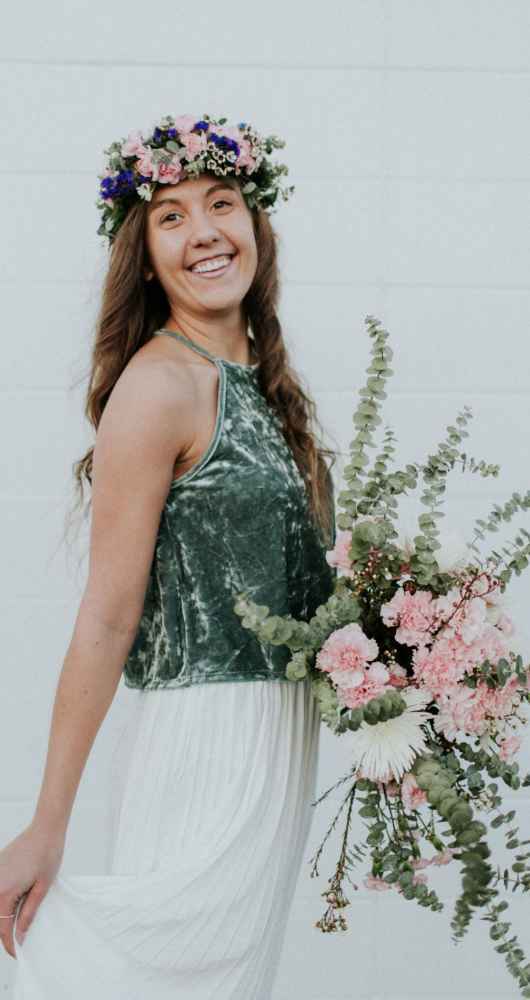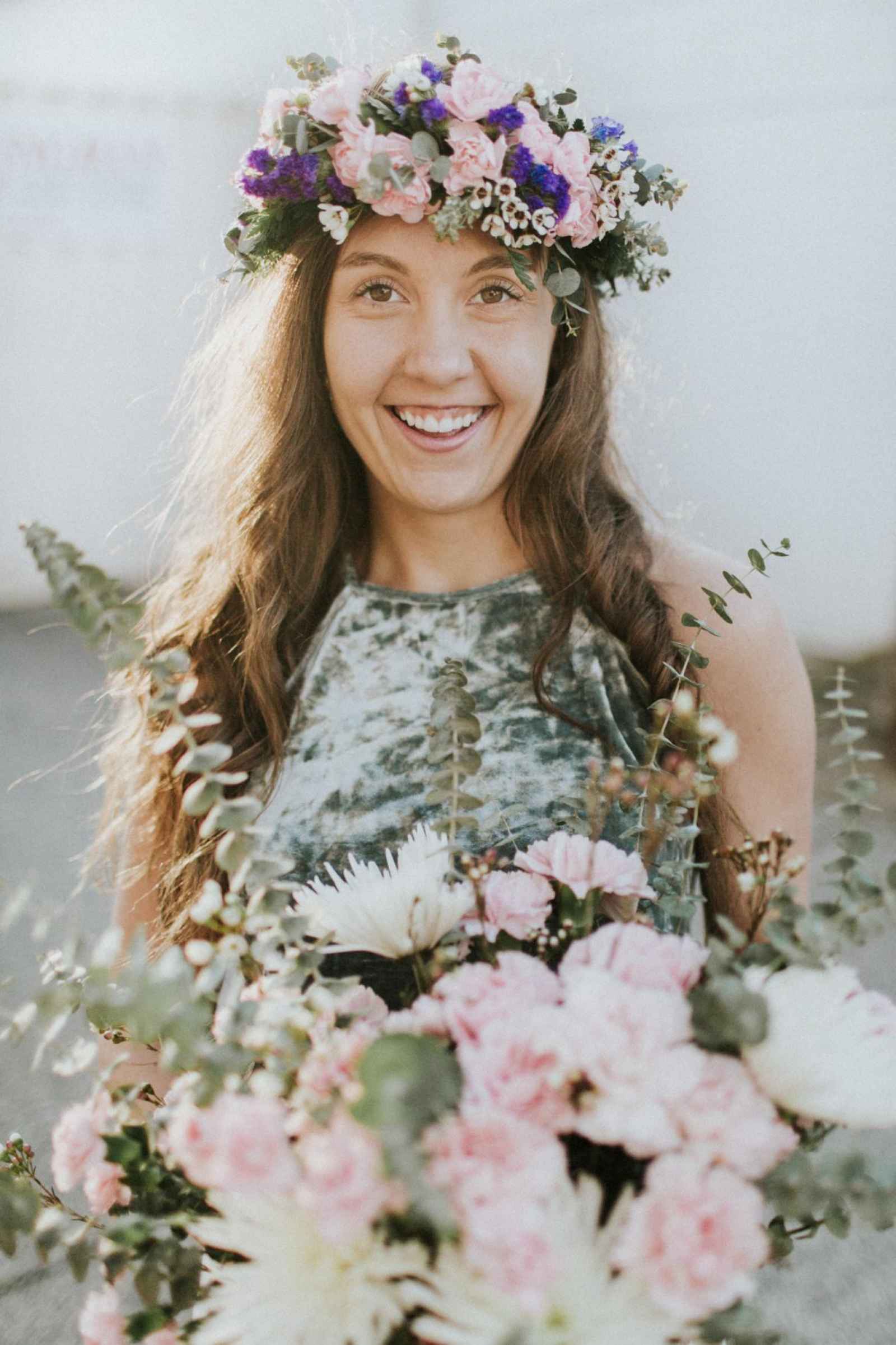 WHAT WE LOVE
When a photographer is shooting what they love, it really shows. Emily sums up the style of her shoot as laid back, industrial, minimalist and organic--the perfect nature-inspired mix to complement her photographic style. She says, "When I was a child (before photographing people), you could find me at sunset roaming around my backyard for pretty leaves, flowers and general nature-filled scenes. I crafted the art of noticing details and observing how to best photograph my subject in golden hour light. I always want to book clients who can appreciate nature as well. There is beauty in everything!"
We also love how Emily incorporated various trends including the two-piece, nod to seventies (velvet top) and the modern/industrial vibe. Emily says, "Living in the Midwest makes it easy to find locations and venues that reflect this. We have warehouses, renovated factories and industrial goodness everywhere!"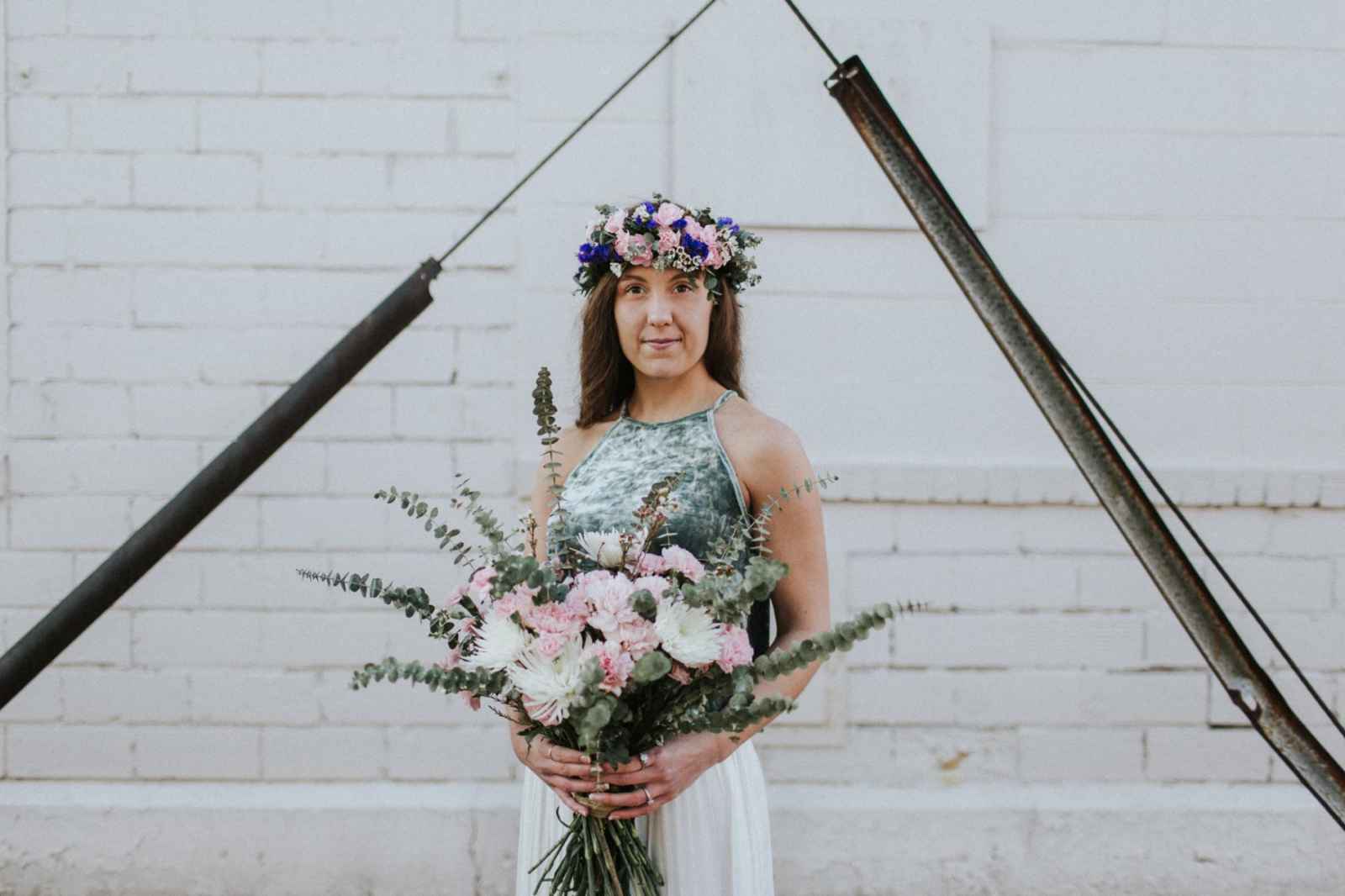 are you a bride-to-be?
Obsess and plan with us on weddingday-online.com. Sign up here.

are you a wedding extraordinaire?
Join WeddingDay Magazine in inspiring brides by partnering with us! See how here.
Blog Sponsored By
Related Blogs