The timeless verse "Until death do us part" was a natural title and theme for this beautifully intriguing fall themed photo shoot for all those moody themed brides out there. Fitting the set location of a mausoleum, signage made with gold metallic calligraphy and wine colored watercolor designed by the talented company Sable & Gray, has an exciting entrancement. The essence and emotion was masterfully captured by co-coordinator Tifani Lyn Photography using a combination of mediums including film and digital photography and a bit of videography. We are thrilled to share her imagery!
Staying ahead of the trends making their way into the 2016 – '17 fashion runway, this shoot was in part influenced by fashion designers Elie Saab and Zuhair Murad with their gorgeous black Avant Garde wedding gowns. While searching for such a gown with a similar couture style, we found the very talented Sweet Caroline Styles on Pinterest; and we are so happy we did!  Caroline's beautiful 2-piece wedding gowns are absolutely stunning! With a black lace top and long flowing couture chiffon skirt, her black bridal collection does not disappoint.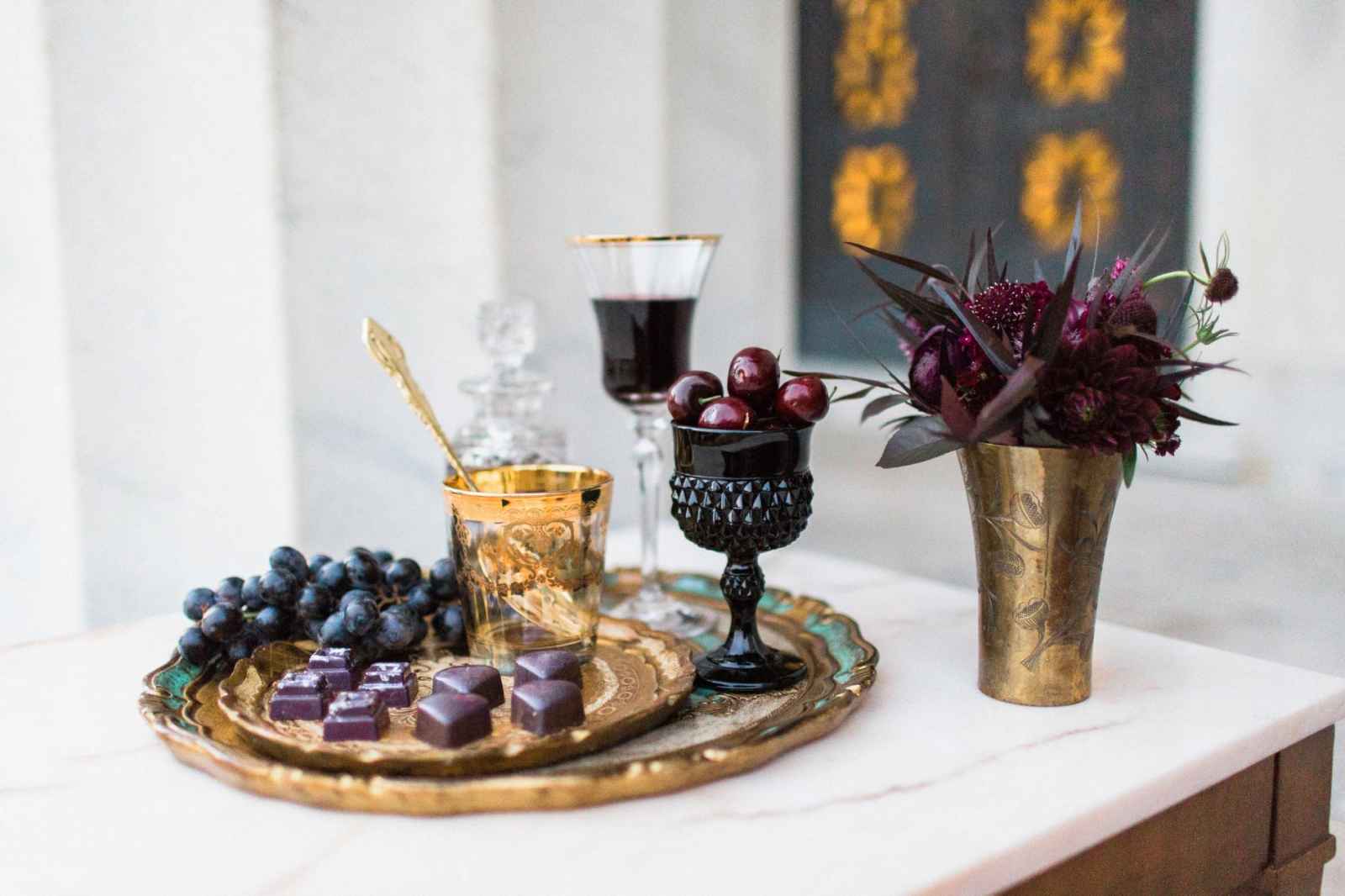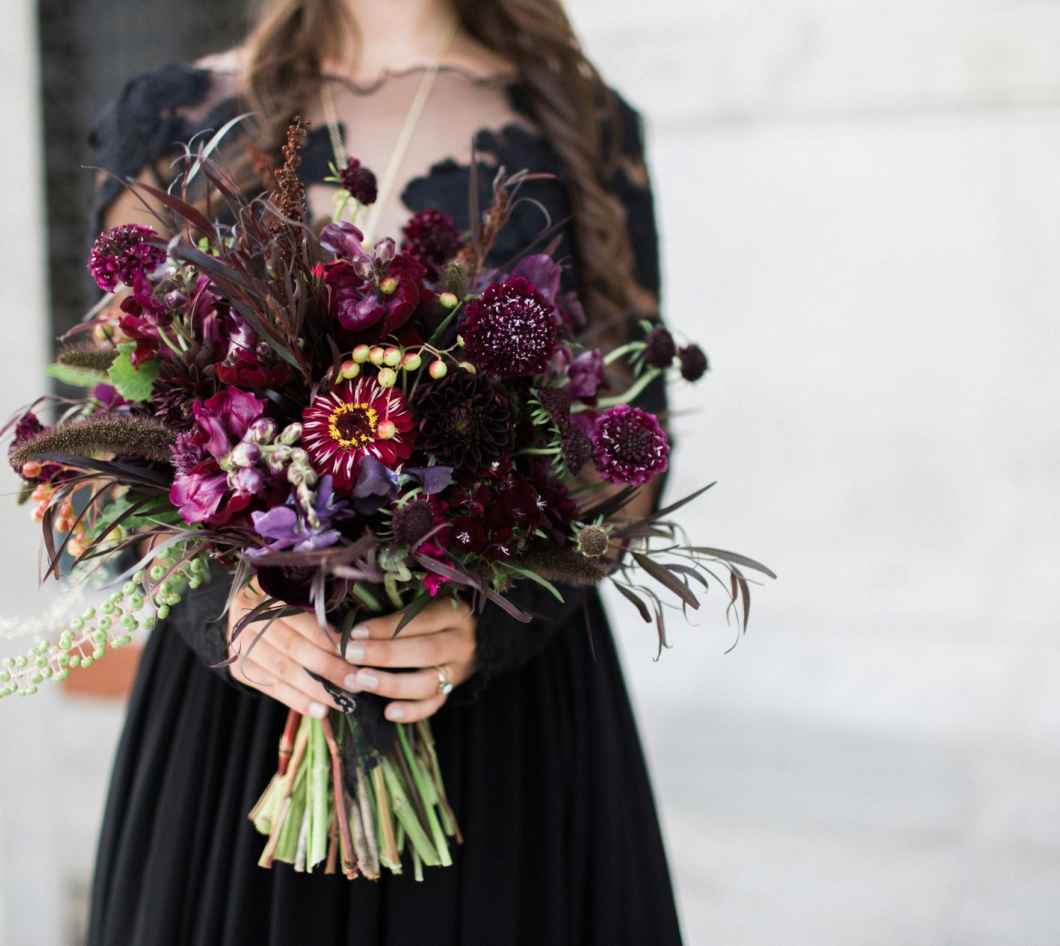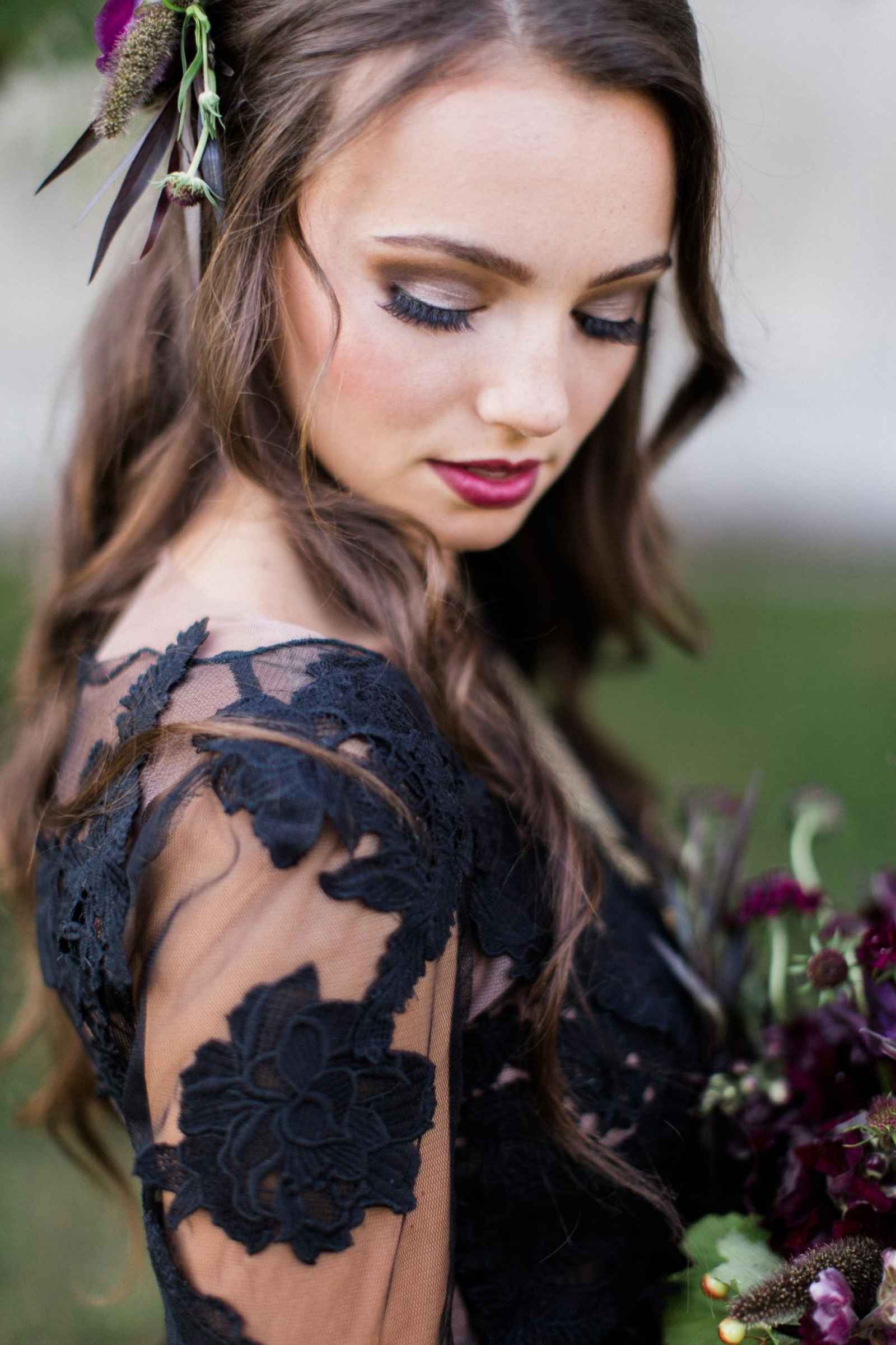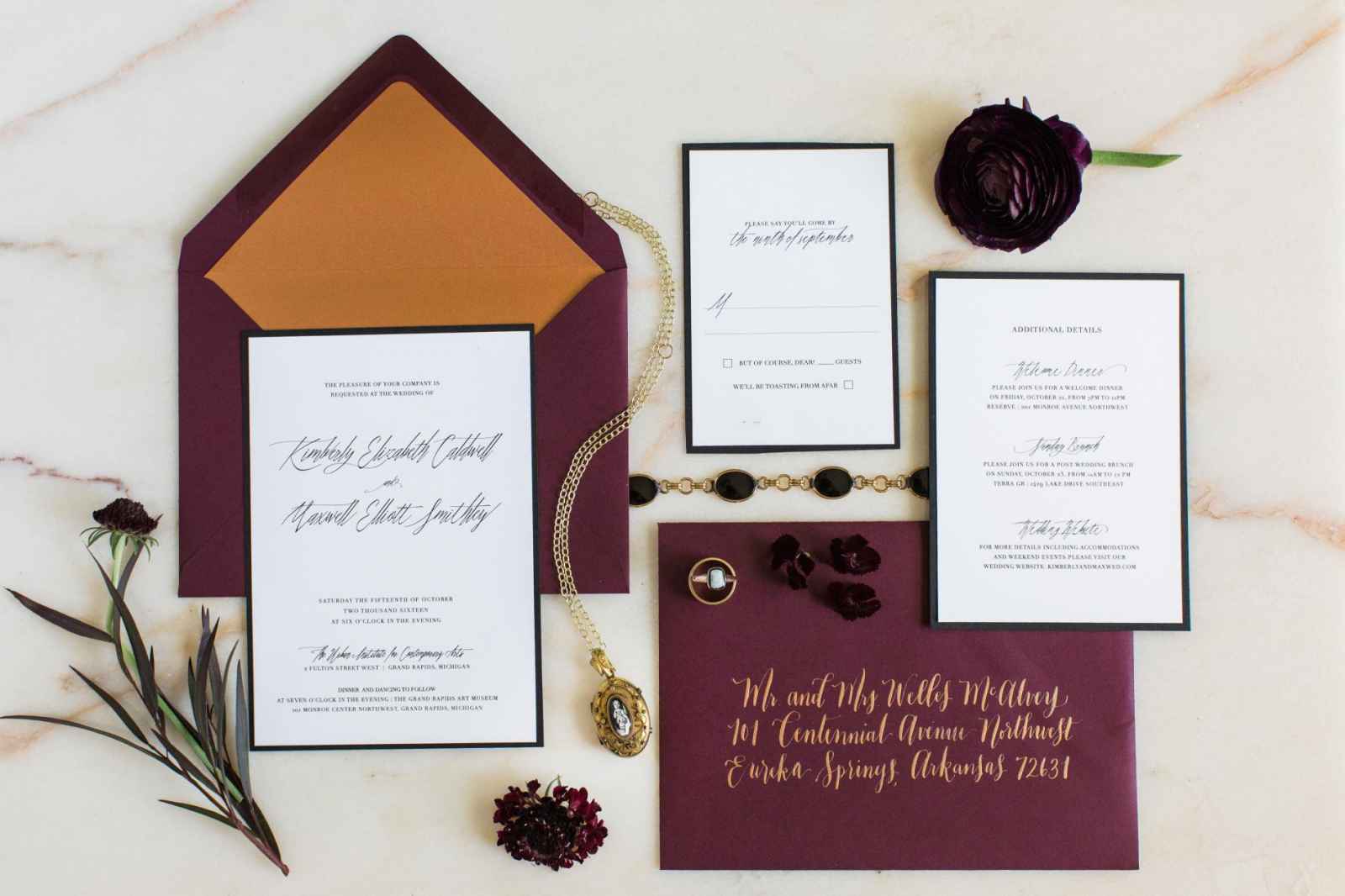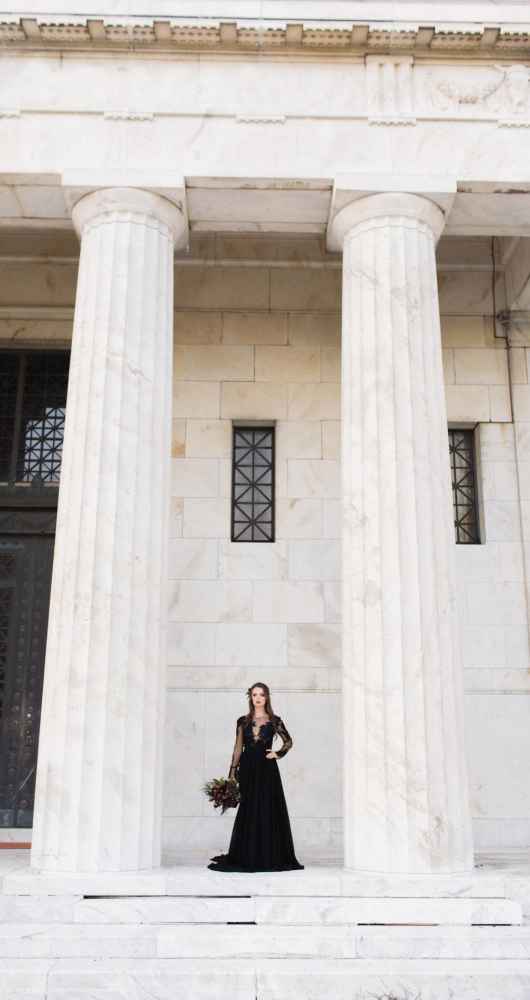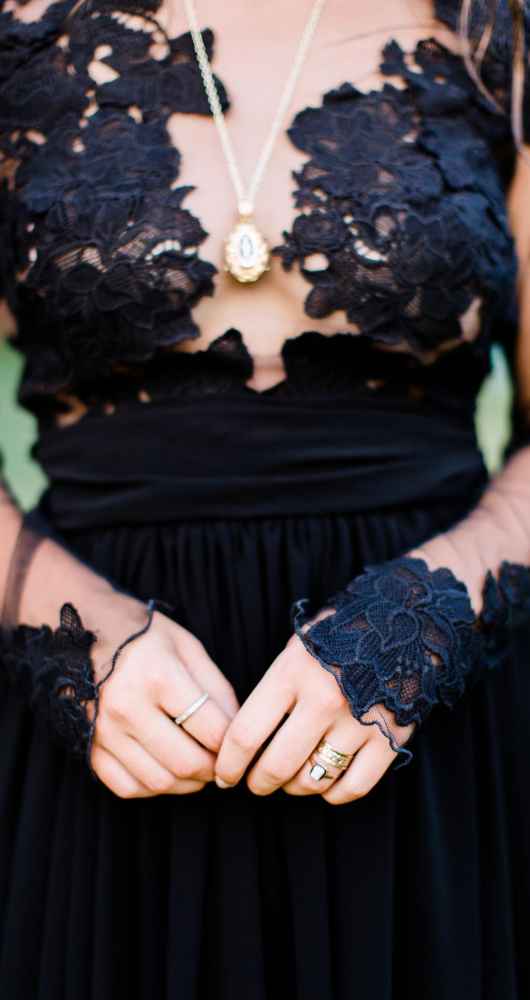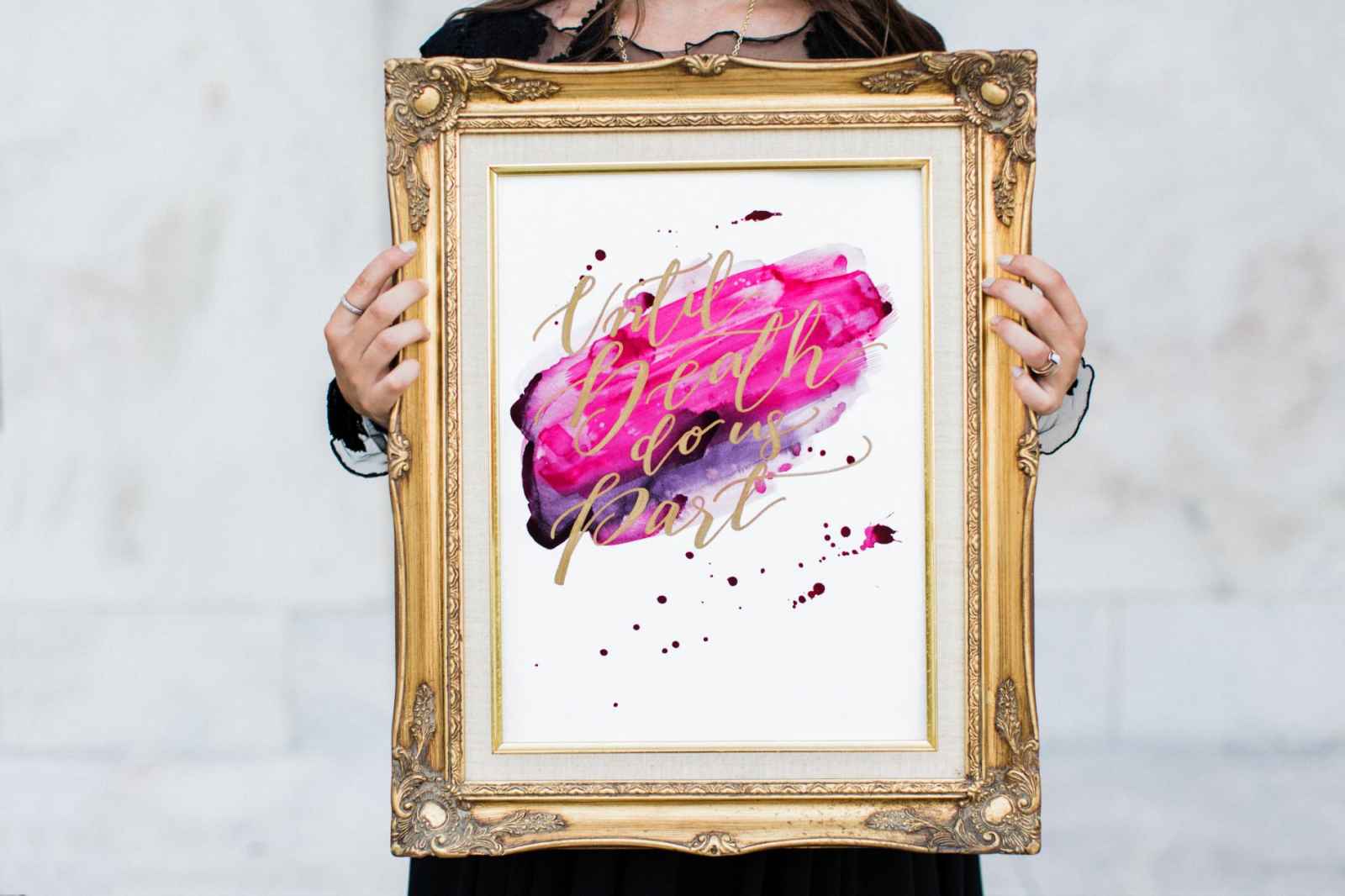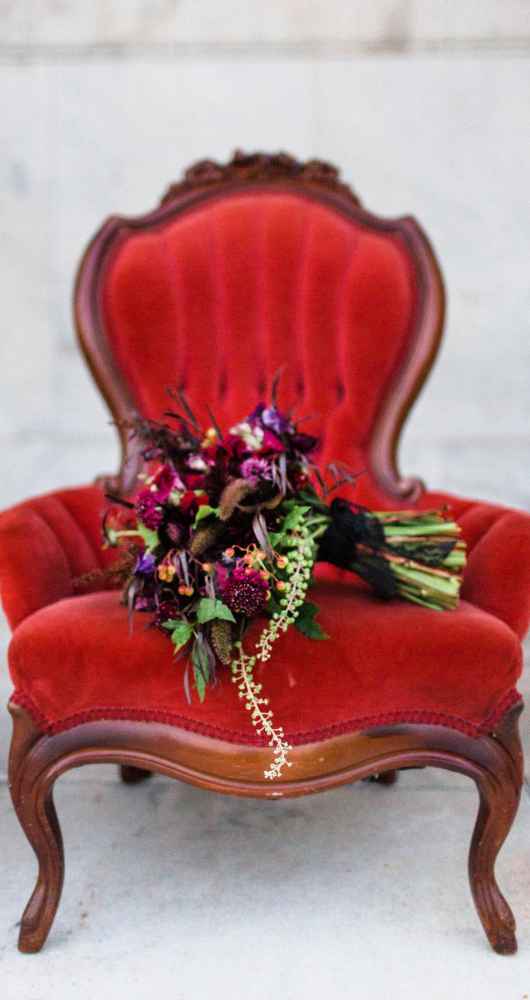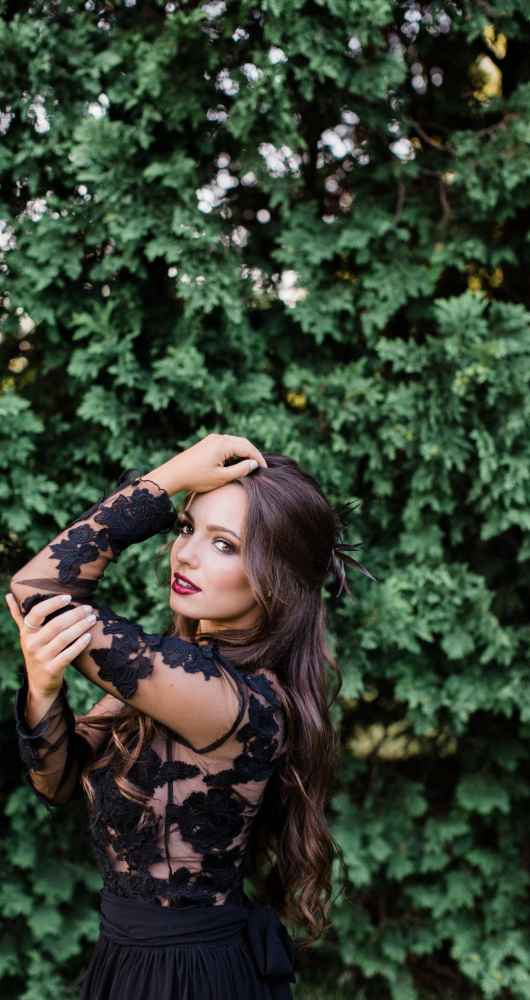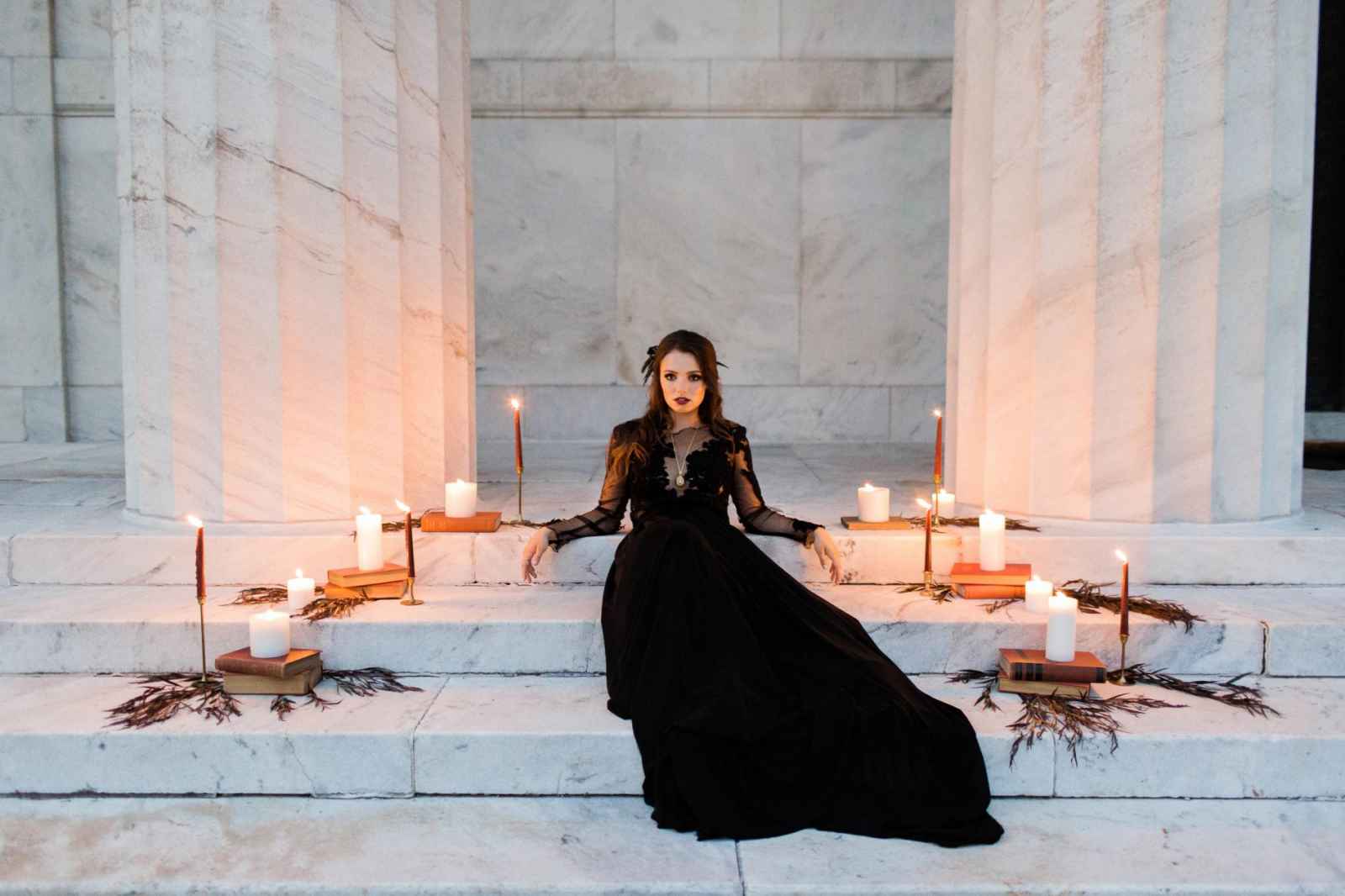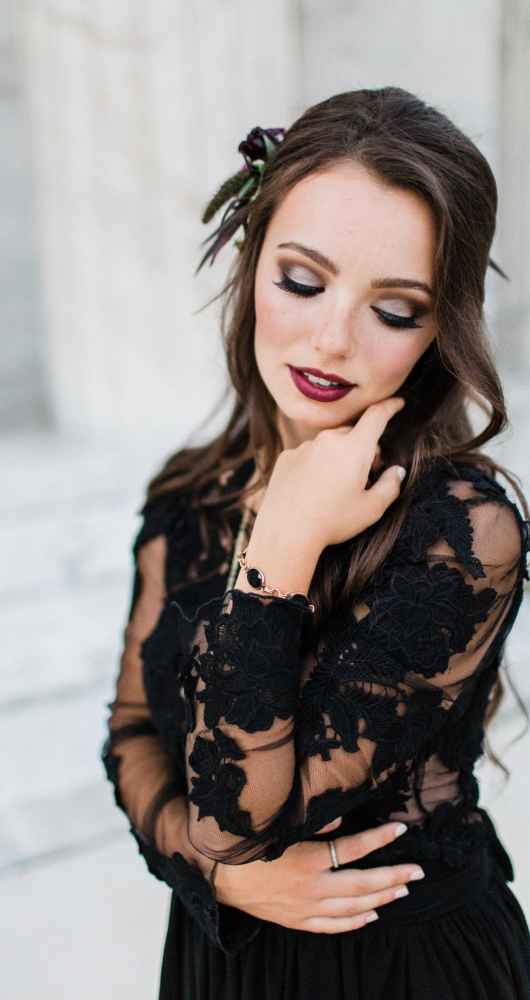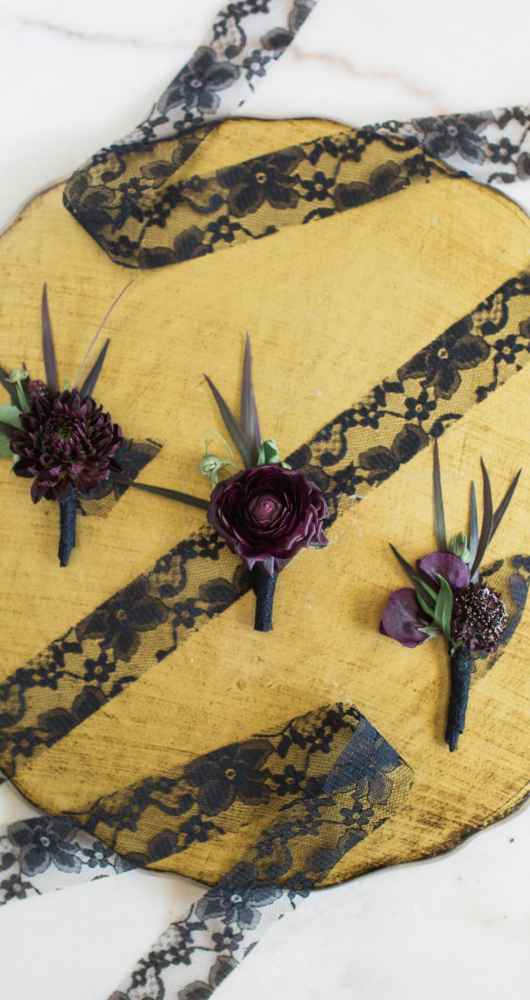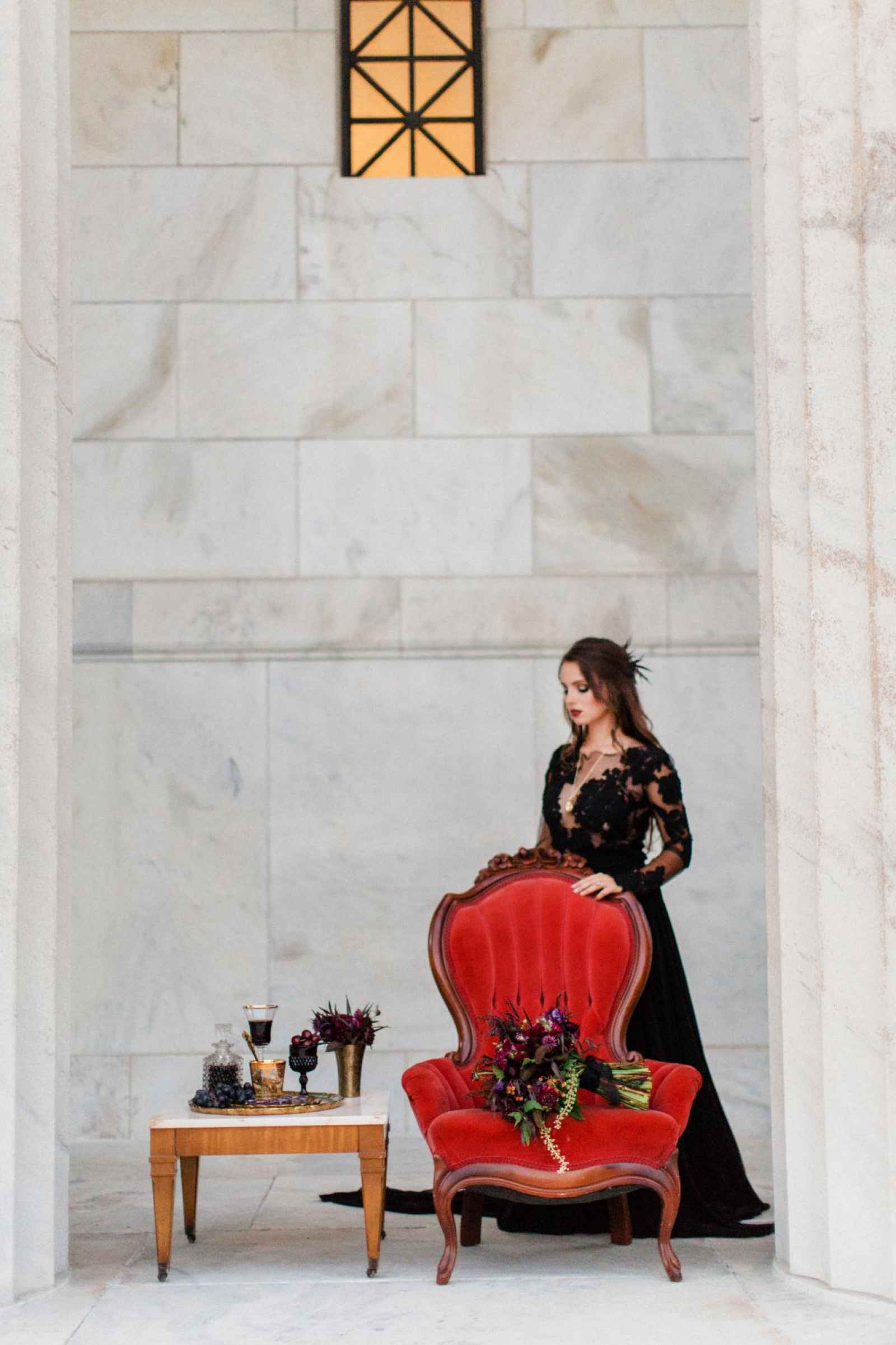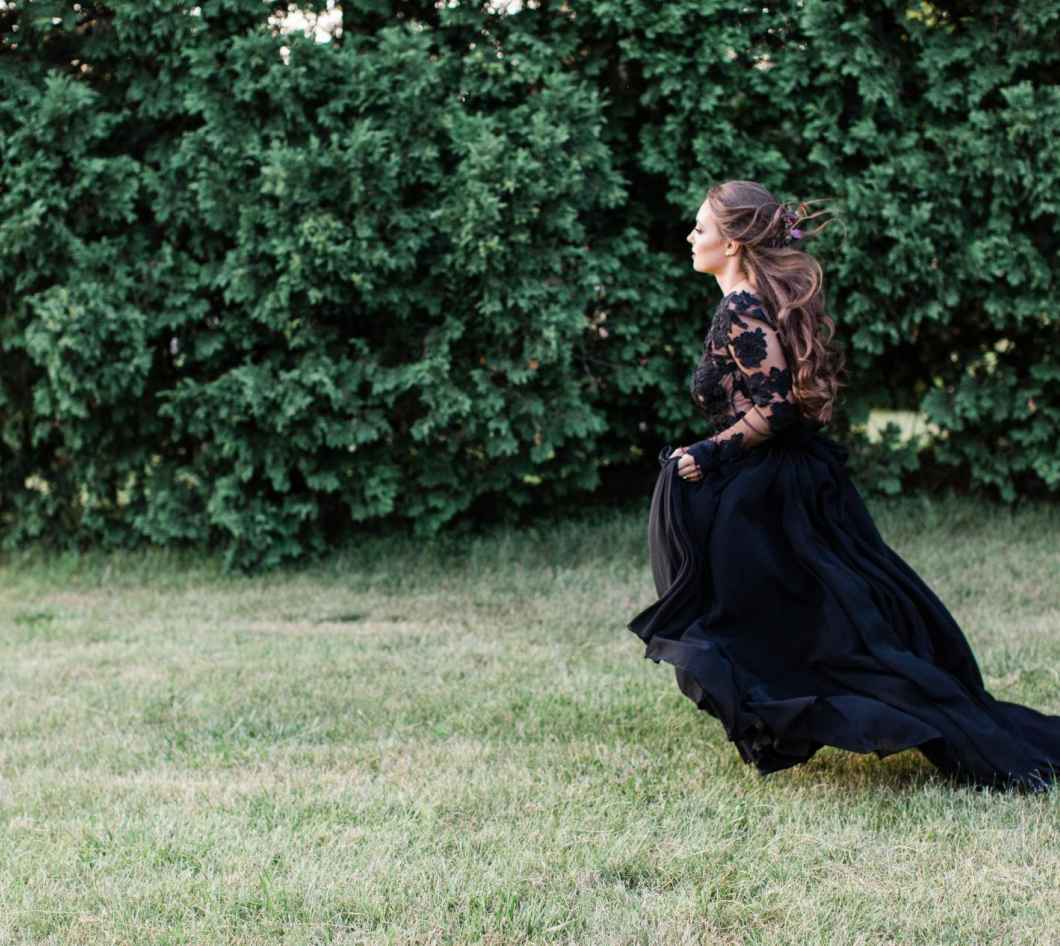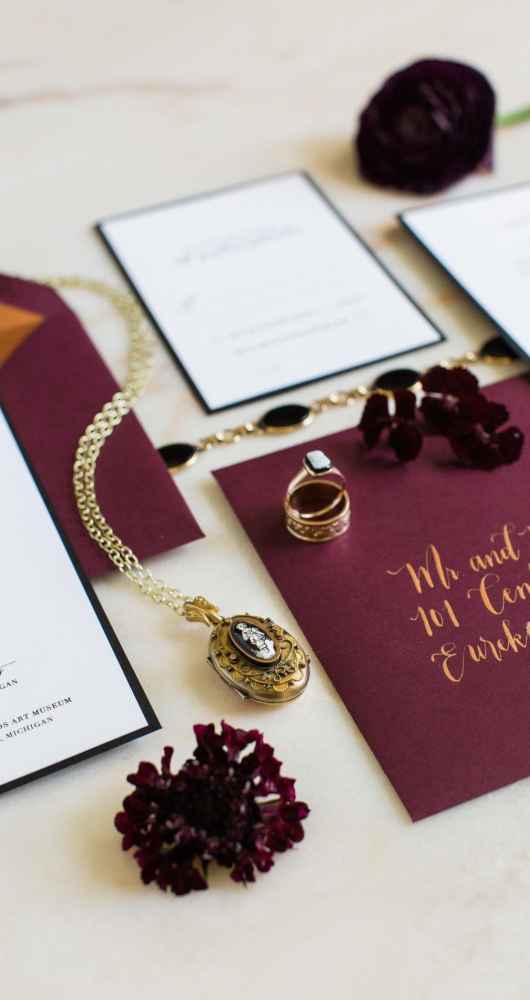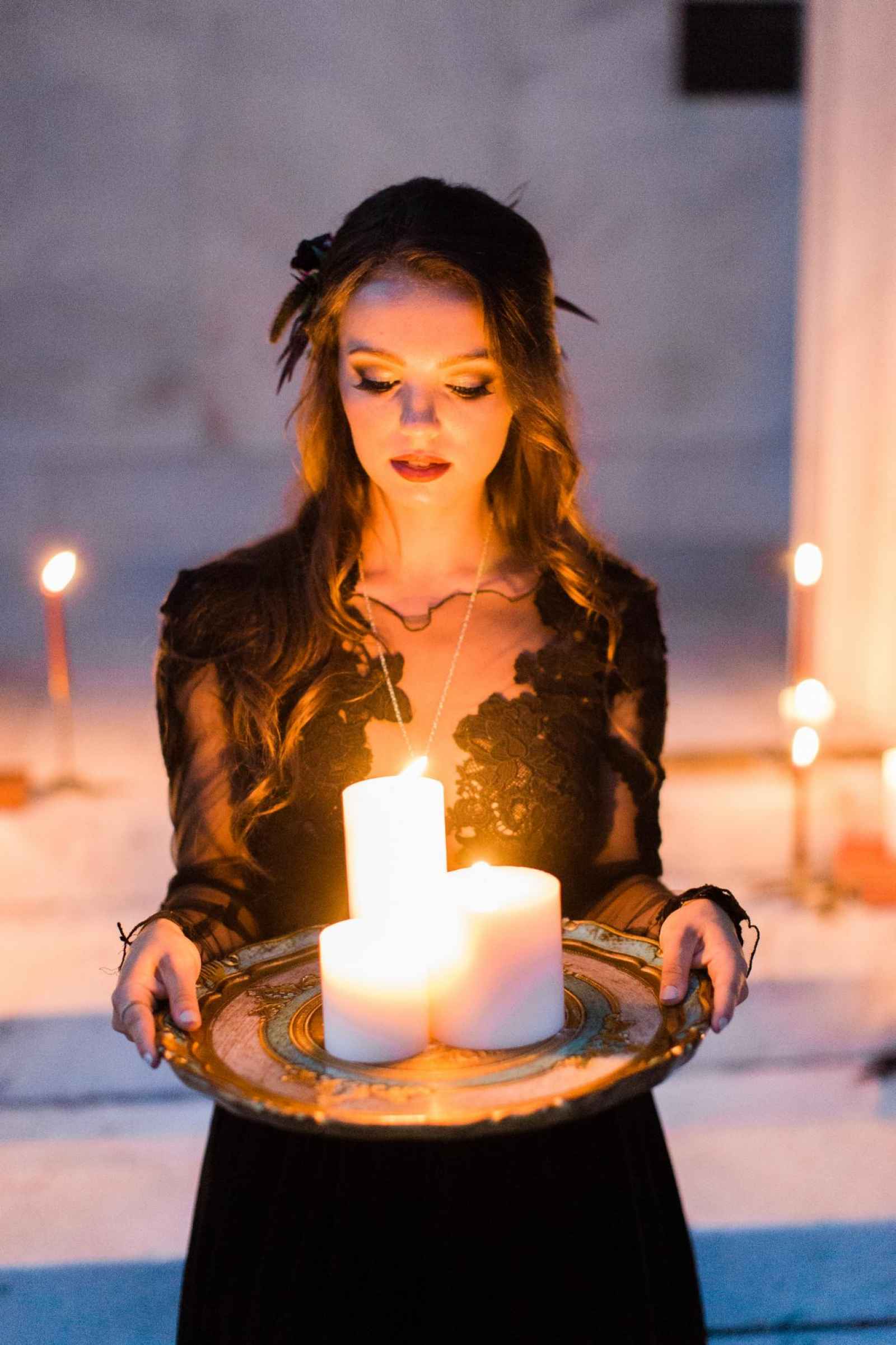 Stylist Krystle of Krystle Waivio Hair decided to keep an organic and natural look with the bride's long brunette hair down, curling the hair in sections, leaving the ends out to create a relaxed feel. Then loosely twisting and pulling out pieces back and to the side. This created a secure hold for the beautiful floral hairpiece. To accomplish the look Krystle used product from Neuma beauty, an organic, vegan and eco friendly hair product line.
The stunning makeup, designed by Lisa owner of Wonderfully Made Makeup, used a metallic gunmetal shade on the eyelids paired with an espresso brown to create dark, sultry eyes.  For the face, a light layer of airbrush makeup created a natural base with slight contouring of the model's features.  A metallic berry color was applied to her cheeks.  Then finishing the look with a deep, matte plum lipstick, similar to the model's hairpiece, complementing the theme and bridal colors.
Finalizing the brides look was all about the accessories!  The perfect pieces for our bride came from a new business, Fox Haven Jewelry, whom specializes in preserving Georgian Era jewelry. Pictured is the Channing necklace, the Brixton ring, the Delling ring and to finish the look the Fairfax bracelet.
Inspired by the beauty of the black lace bridal wear and the aura of the setting, florist, set stylist and shoot coordinator Alyssa, owner of Fleurology Designs, utilized dark, rich hues of berry, burgundy and plum florals in the bridal bouquet, hair piece and end table designs. Layers and textures were key to creating a nuanced depth that was applied to the bridal bouquet using a European hand tied technique. Using mostly locally grown and foraged flowers and foliages, products used were dahlias, scabiosa, ranunculus, sweet peas, zinnias, snapdragons, sweet william, cockscomb celosia, two different varieties of millet, pokeberry, viburnum berry and agonis.
The red victorian chair and pink marble coffee table is a product of Fancy Fray vintage furniture rental company. Placed on top of the pink marble coffee table, is vintage china, silverware, glassware, bar ware and a petite vase provided by Gigi and LaClede. Decorating the glassware, a red sauvignon blanc was poured and served with delectable locally grown dark cherries, grapes and specialty chocolates filled with raspberry or lavender and honey made by the local chocolatier Mokaya. Their chocolates paired with a nice dry red wine was as pleasing to the eye as it was for the palette.  
In the waning hours of the evening the moody setting was further enhanced by pillar candles and marsala taper candlesticks combined with vintage books and agonis foliage along the mausoleum steps to cast dancing light and shadows. This was a satisfying conclusion for all involved and evoked a saying by Rumi to remind us that, "Both light and shadow are the dance of love."
Until Death Do Us Part by Tifani Lyn from Tifani Lyn Hect on Vimeo.
love this style shoot? 
Check out the vendors who made it happen! If you're on a mobile device or tablet, keep scrolling. If you're on a desktop, they're on the right!
need more weddingday in your life?
Sign up to win our monthly giveaways, use our planning tools and find your vendors!