The Vision
There's no question that tropical weddings are exciting. The bright, juicy colors and vibrant florals and fauna seem to whisk you away instantly. We desired a cover shoot equally as colorful and alluring but—with one twist. We wanted to showcase that the same look would pair beautifully with the unexpected—a modern, urban environment. Desiring to do something a little different than what we typically see in the Midwest, we aimed at bringing a little island fun to the city!
From the large, Monstera leaves and eclectic mixes of tropical florals to lush, green place settings and pretty pops of color, we dreamt up a gorgeous palette sure to wow anyone and quite perfect for any creative bride and groom looking to celebrate their big day with a fun, modern and tropical-inspired wedding.
In order to make our dreams a reality, we teamed up with full-service wedding planner and designer, Sarah Agee, owner of Plum & Poppy Weddings, an Indianapolis-based design, planning, and coordination company. She expertly harnessed the loads of inspiration we had, helping to craft our unconventional theme beautifully.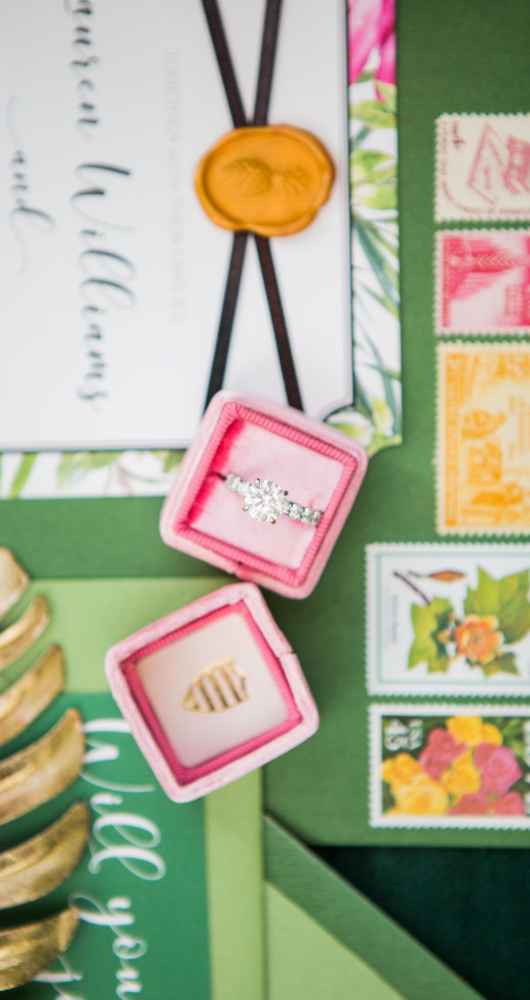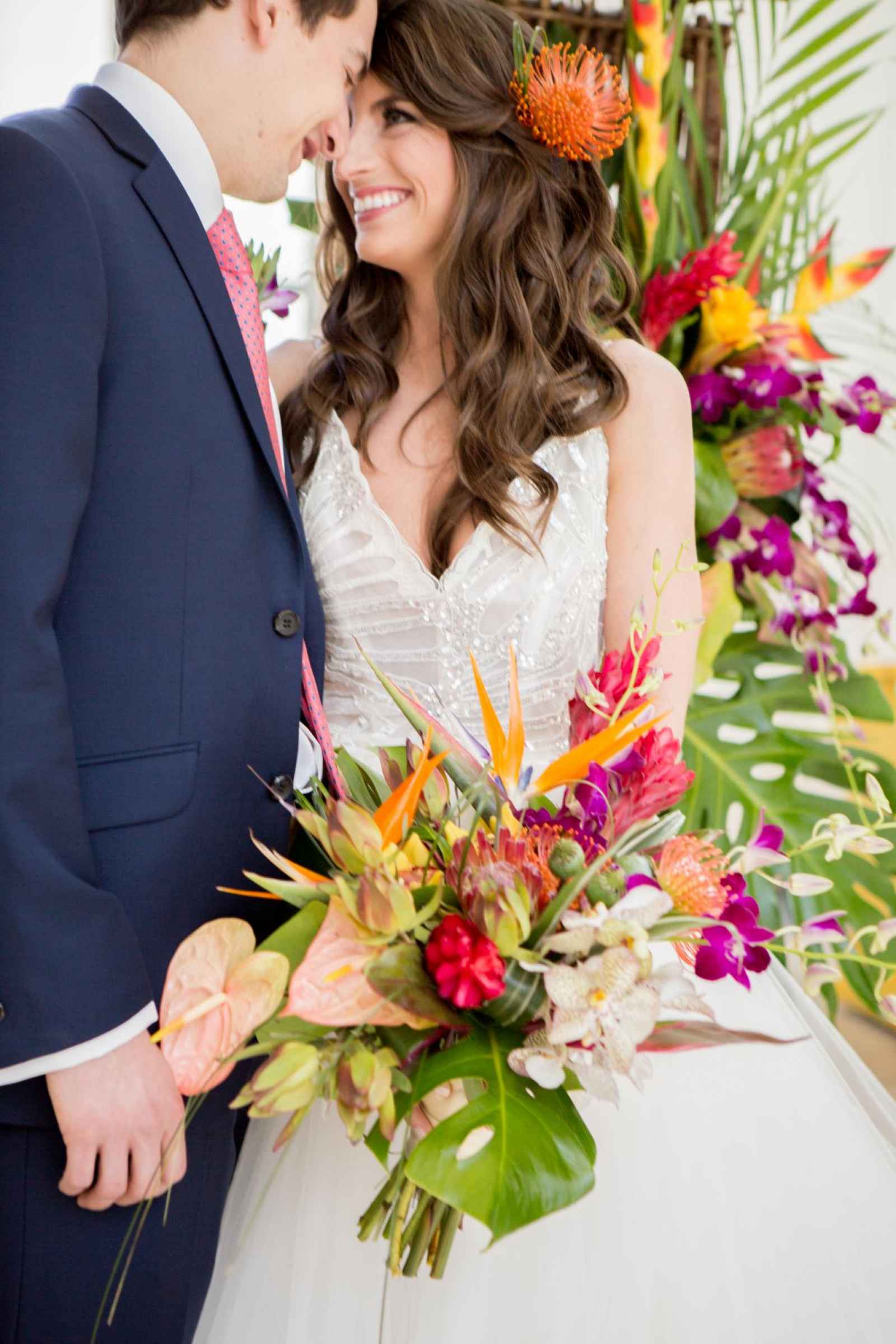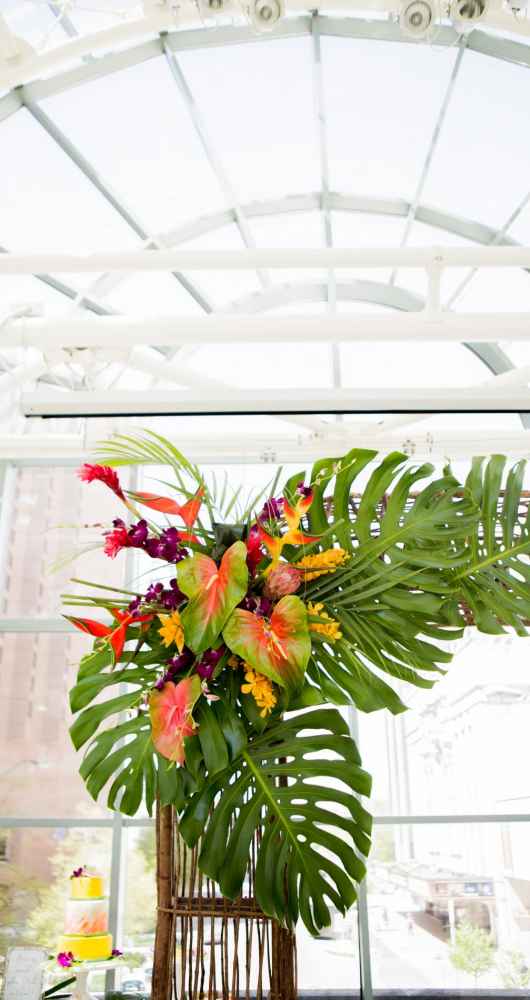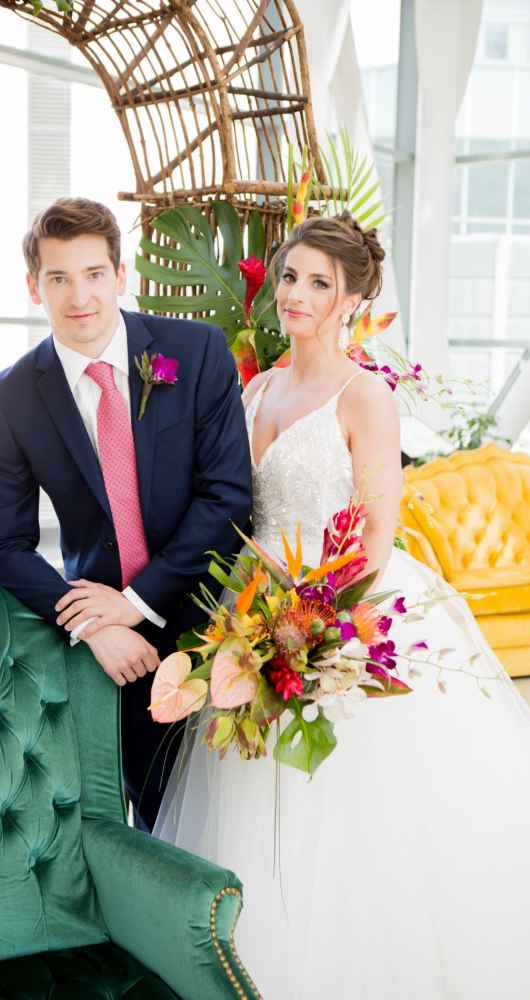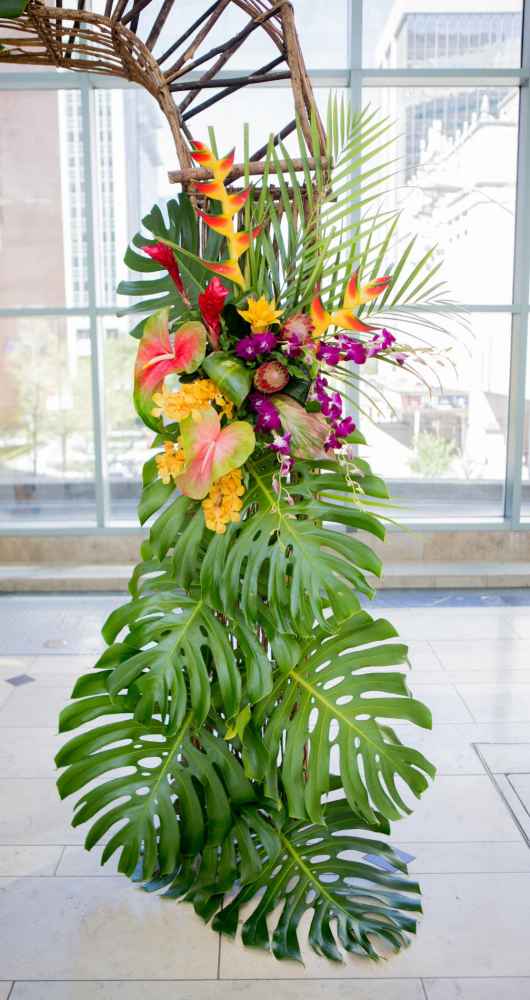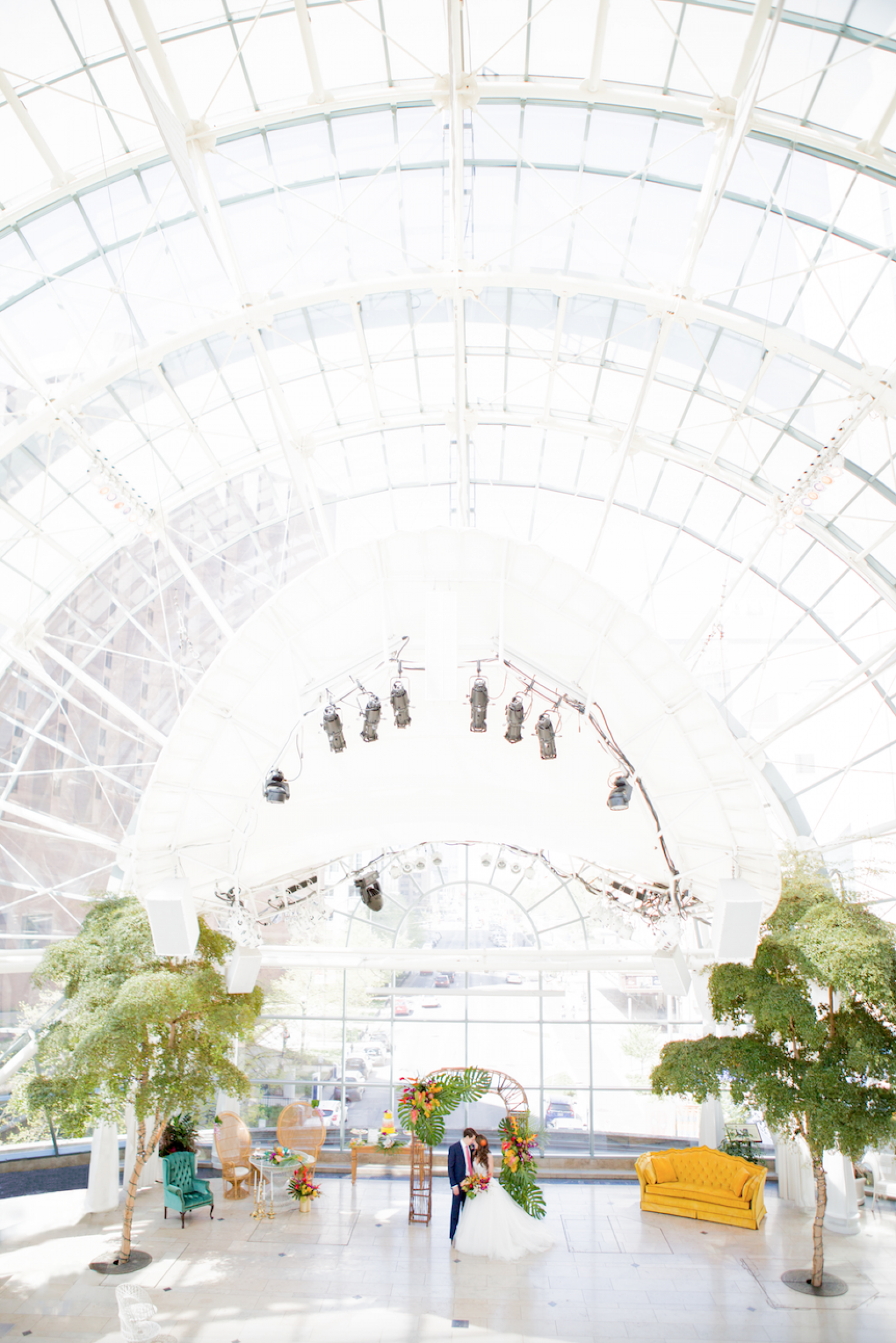 The Venue
The Indianapolis Artsgarden was an ideal location for the shoot. This arts and cultural center not only lives in the heart of the city, it has all the modern elements we were looking for—a unique, open space, sleek lines, walls of glass and the bright backdrop we envisioned. It housed our theme exquisitely, offering balance and a ton of space for the colors to play off of.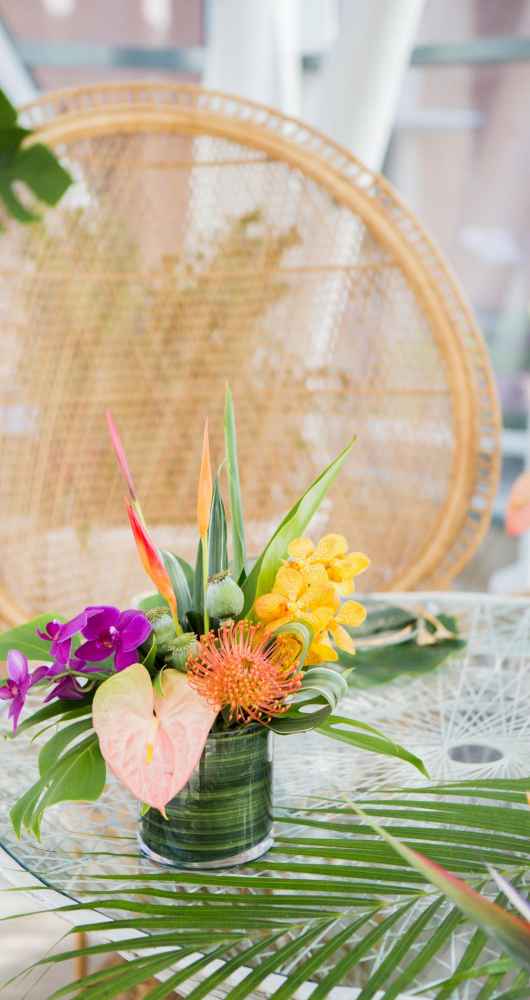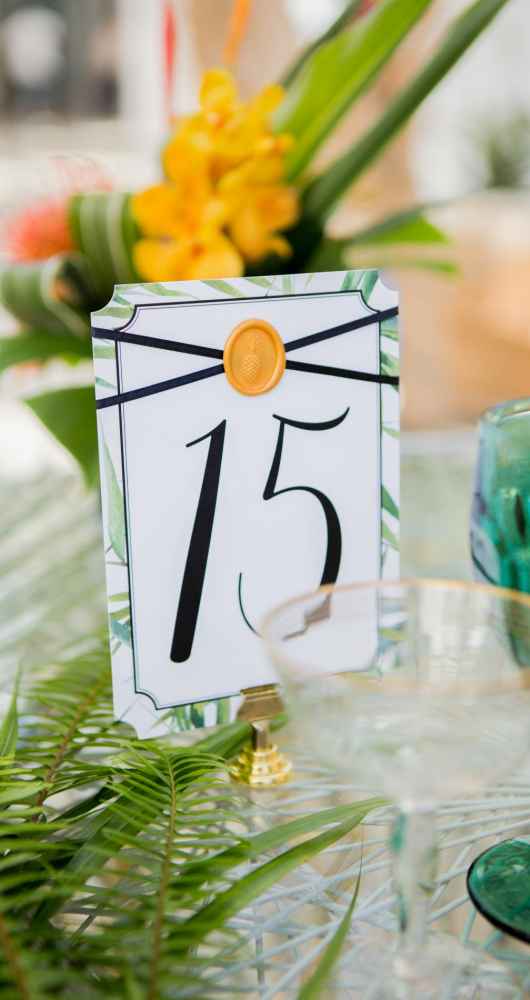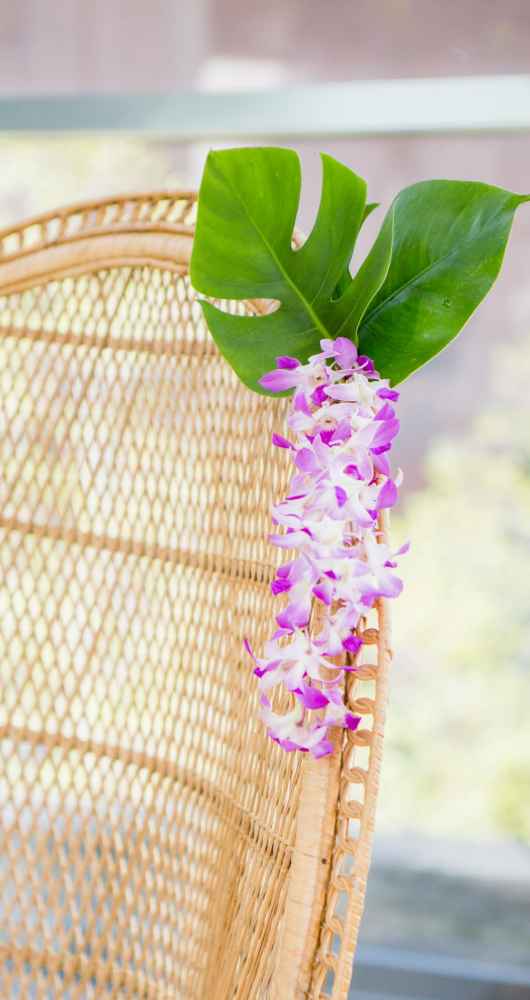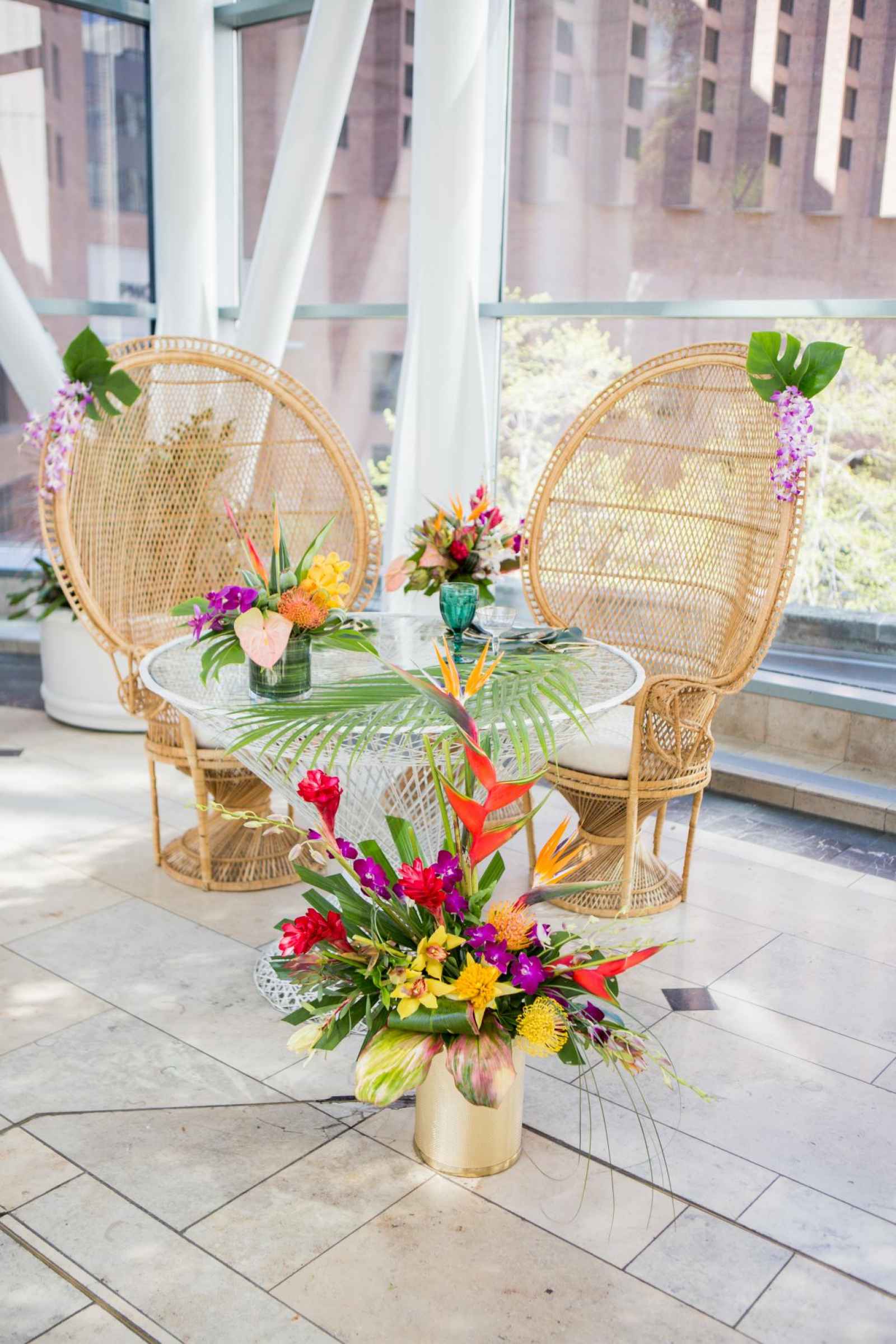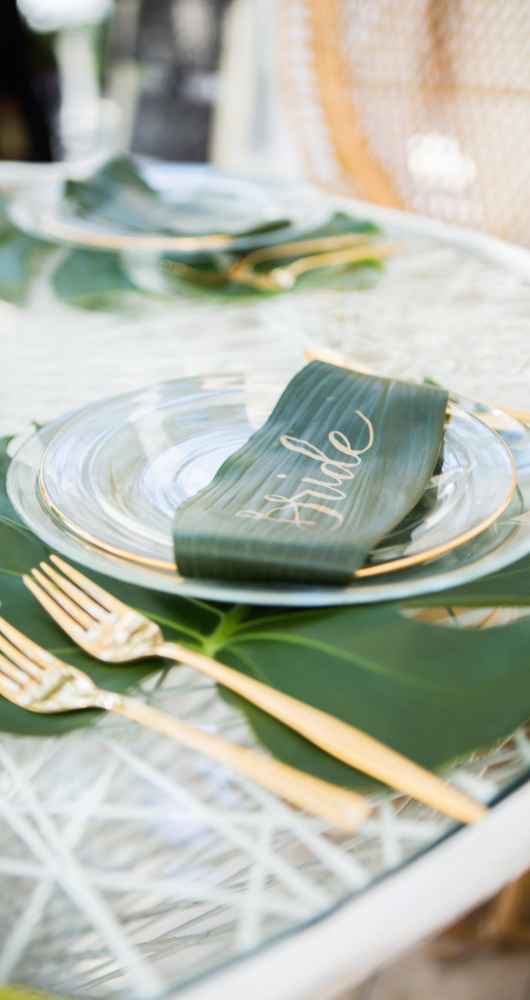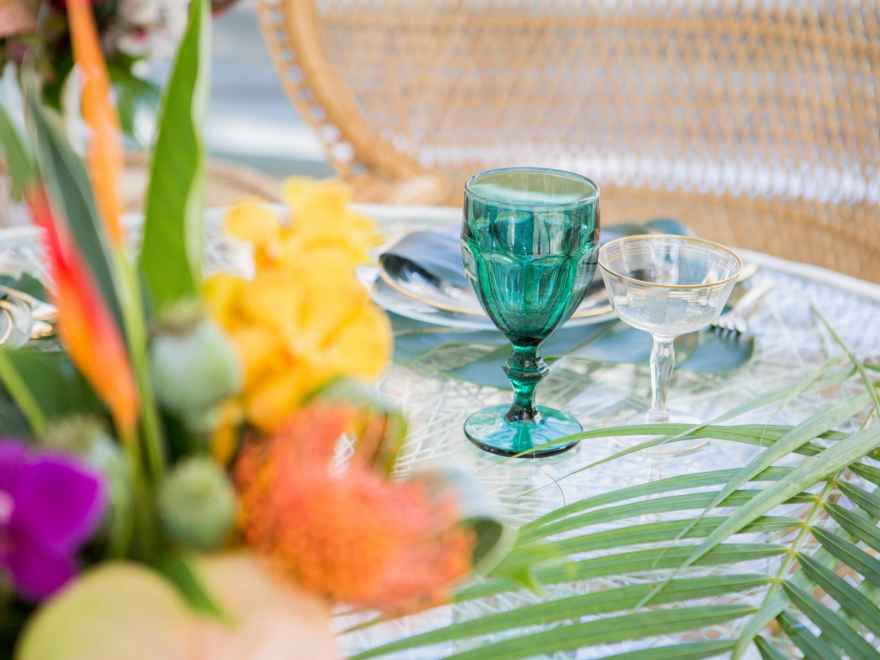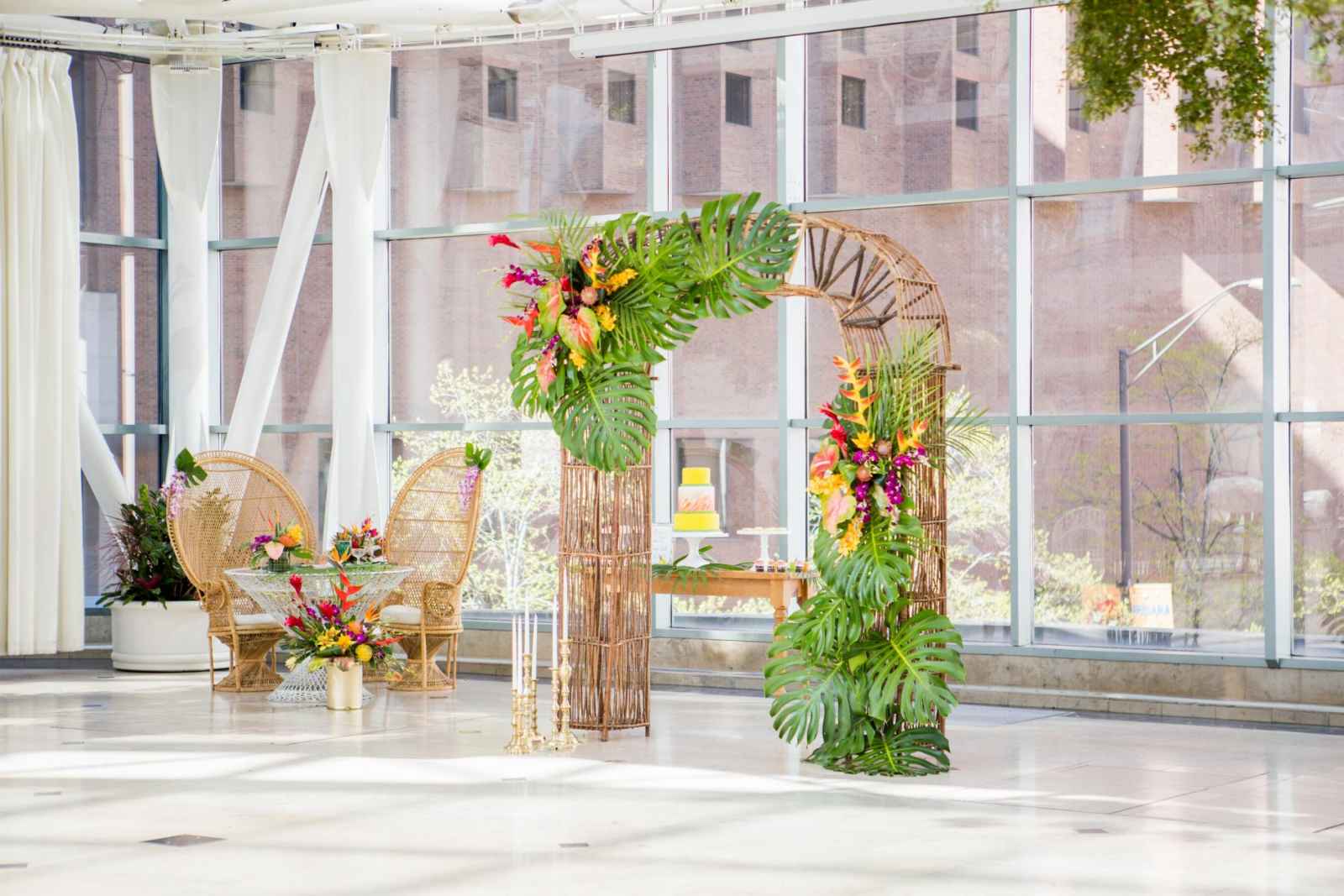 The DÉcor
The strikingly modern space provided the perfect amount of contrast to the abundant tropical florals and other bright décor items. Central to the look were eye-catching Violet Vintage rentals, including a vintage table, oversized wicker furniture (a must-have for any island party), a bright yellow couch and green armchair. The tropical arbor also wowed with its cascading floral and green foliage. Current trends we were able to playfully include were the pineapples and bright colors.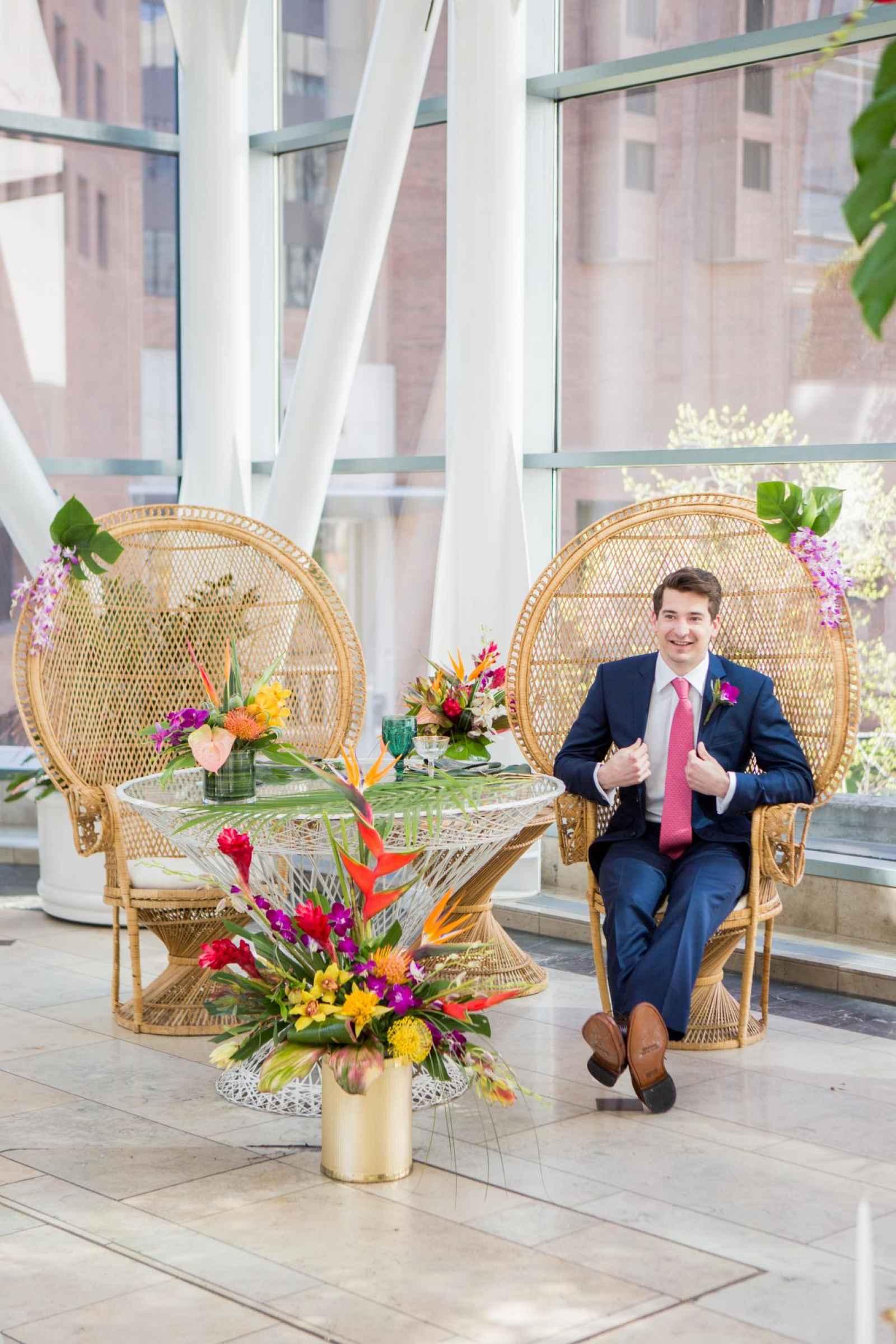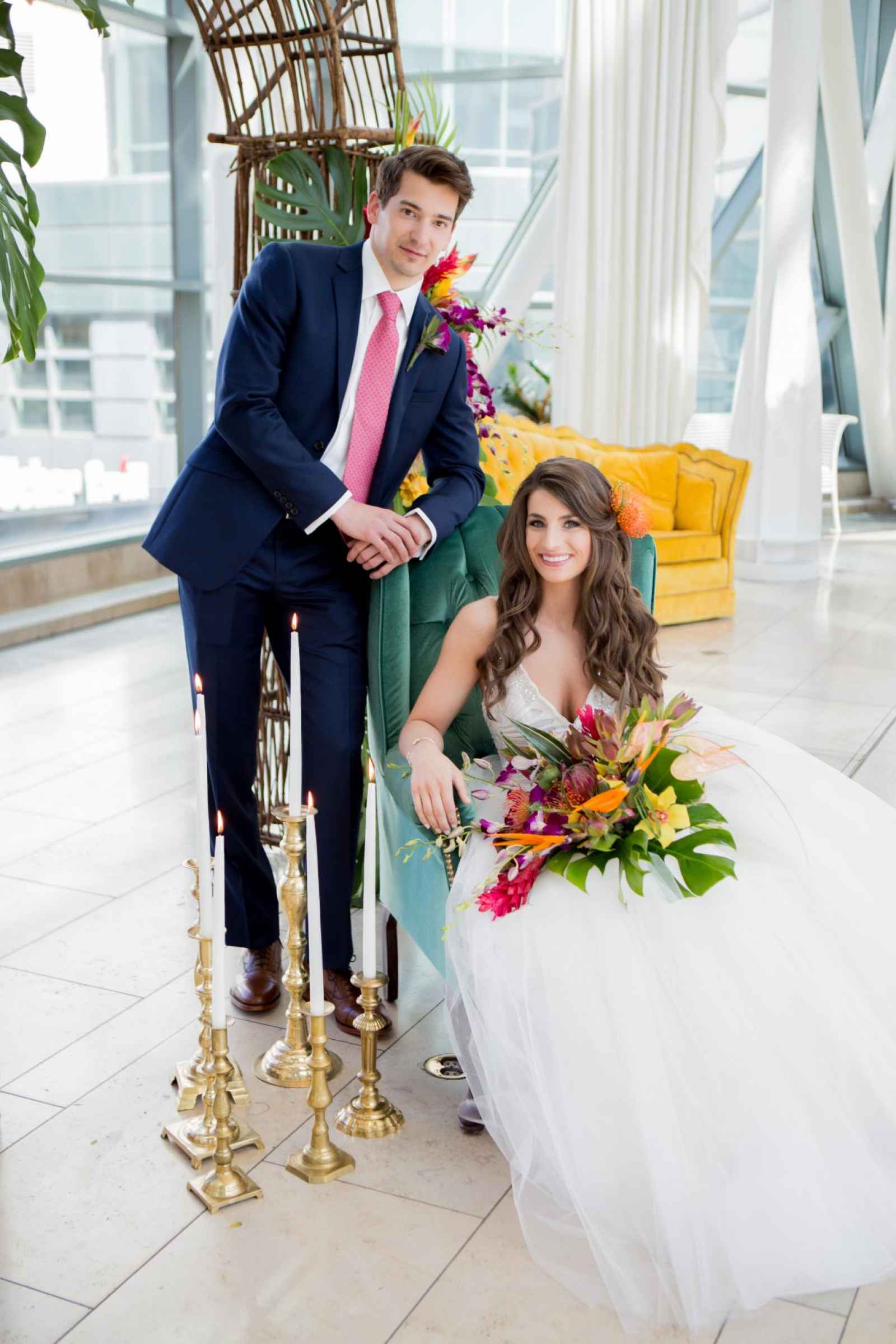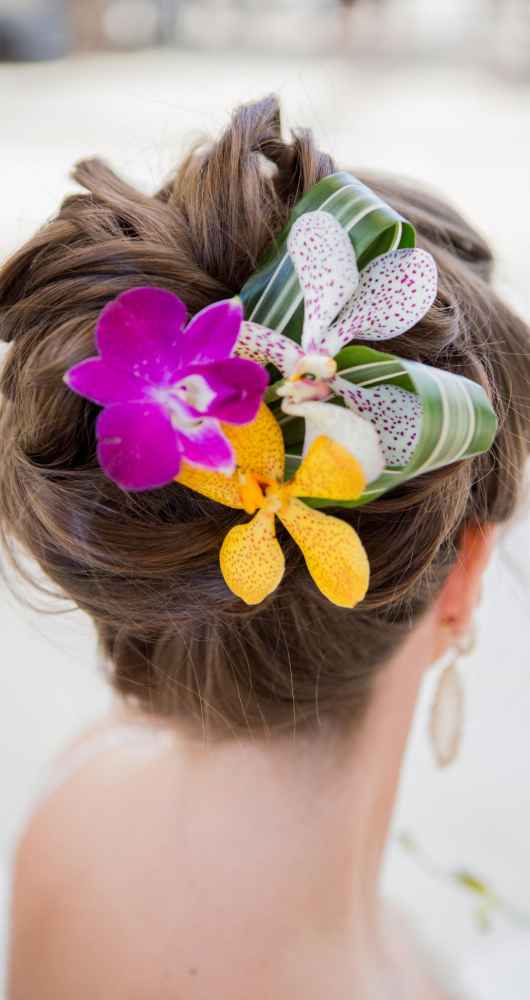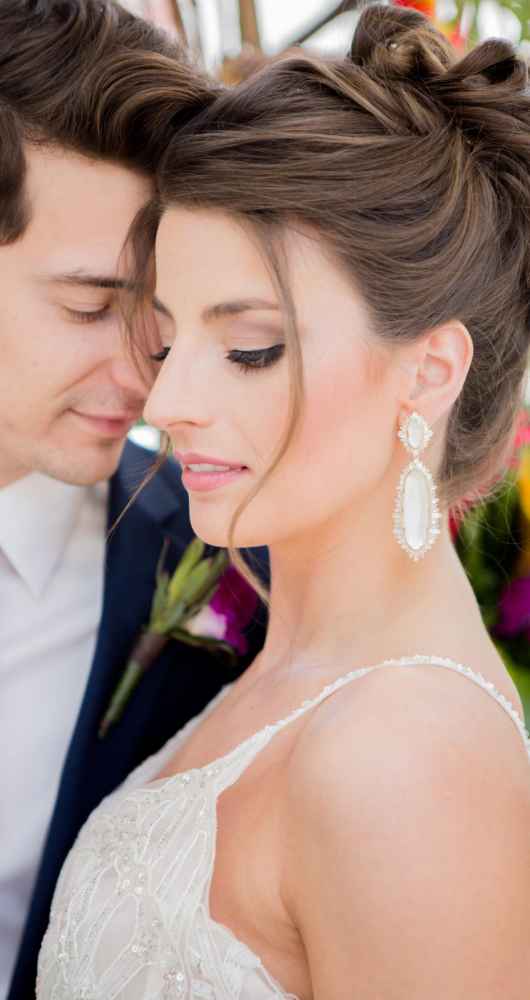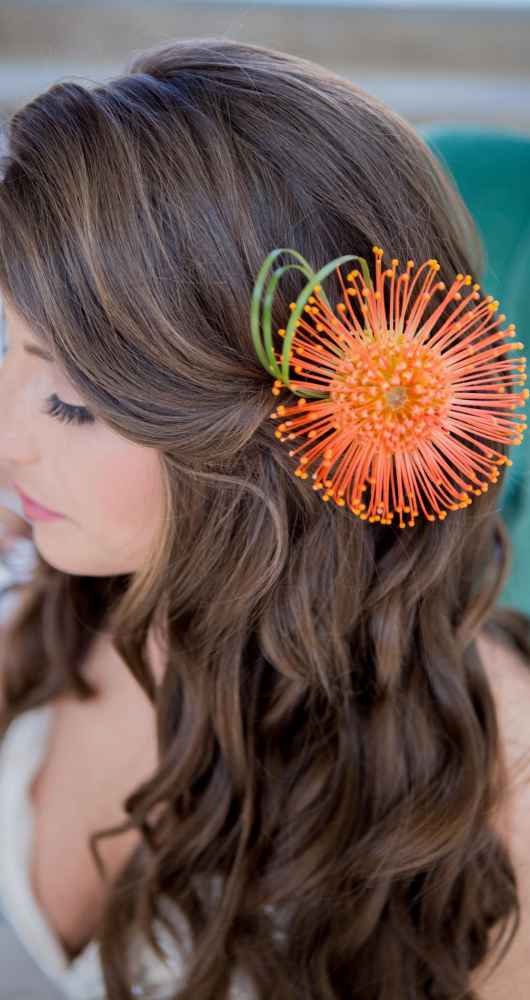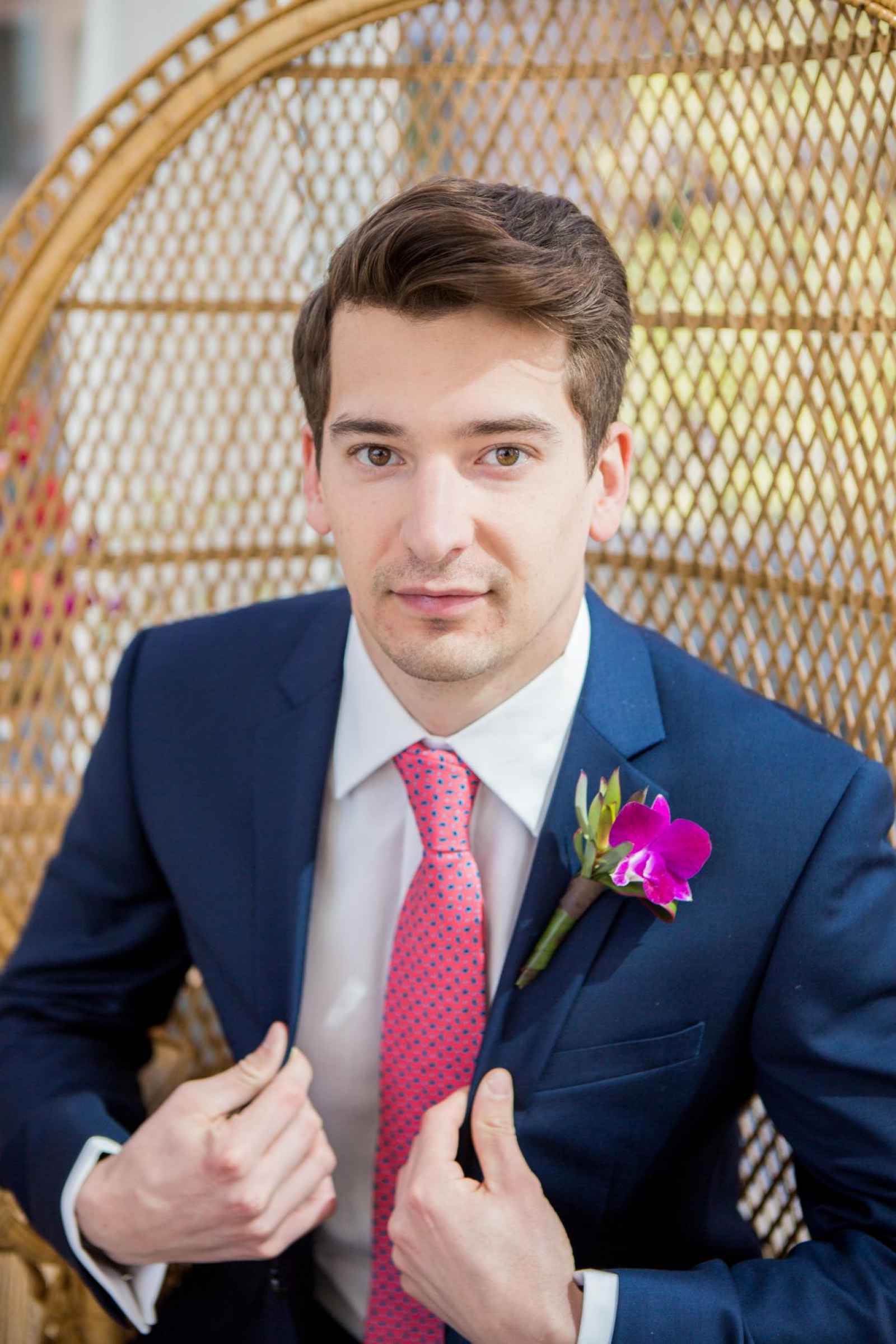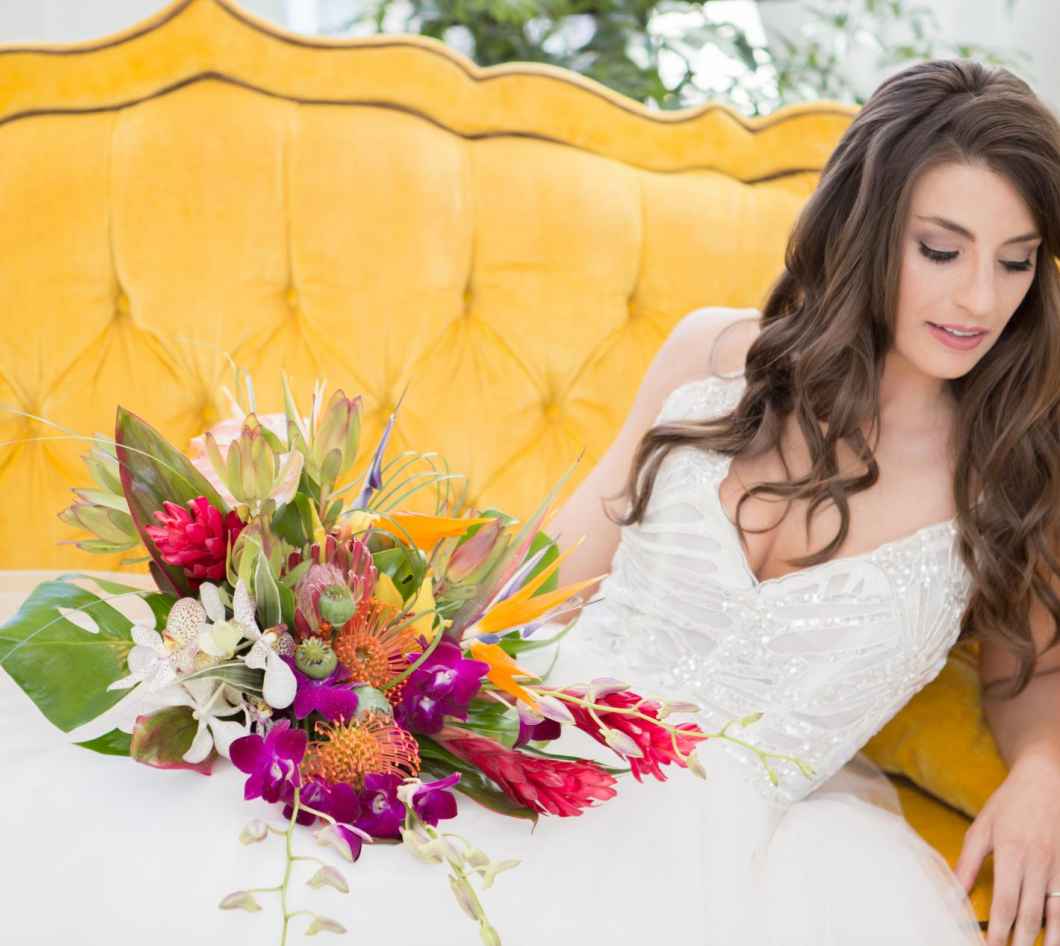 The Look
The gorgeous, lightweight tulle ball gown worn by our bride was a Jim Hjelm design from LUXEredux Bridal. Featuring a sheer, sequin-embroidered bodice, V-neckline, sequin straps, open back and sweep train, this dress brought a level of elegance to the relaxed, tropical theme. The bodice, especially, reflected a leaf-like pattern in its detail. Leslie Hair and Makeup completed the stunning look with two different hairstyles—a natural, softly curled hairstyle and a romantically swept updo, showcasing the bride's feminine makeup, natural beauty and striking Kendra Scott jewelry. Each hairstyle was accented with vibrant, fresh florals. The handsome groom was picture perfect in a crisp blue suit from Andrew Davis Clothiers, one of our favorite menswear retailers, located in Bloomington, Indiana. A brightly-hued paisley-patterned tie added a perfect pop of color, while an orchid boutonniere was the perfect final touch.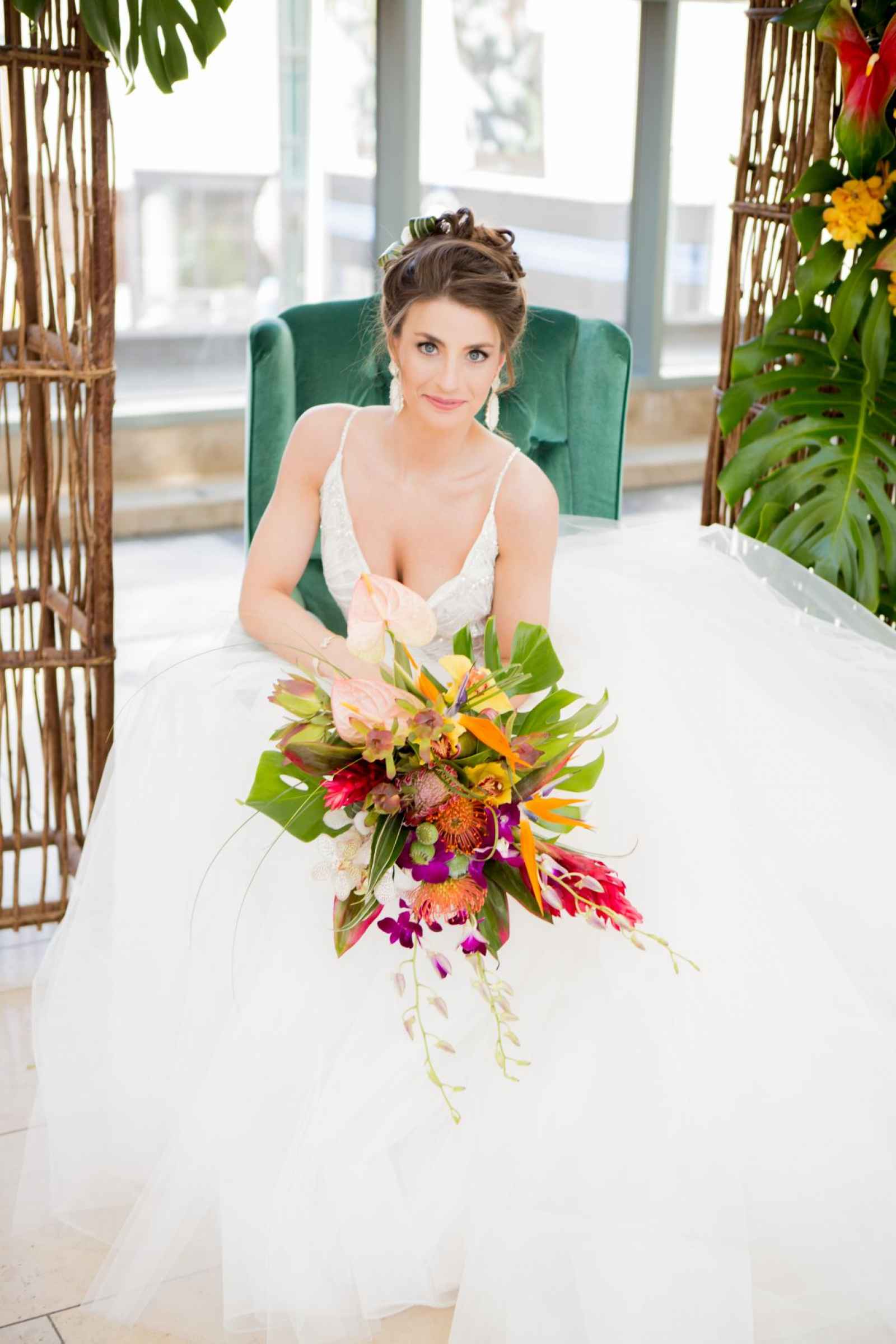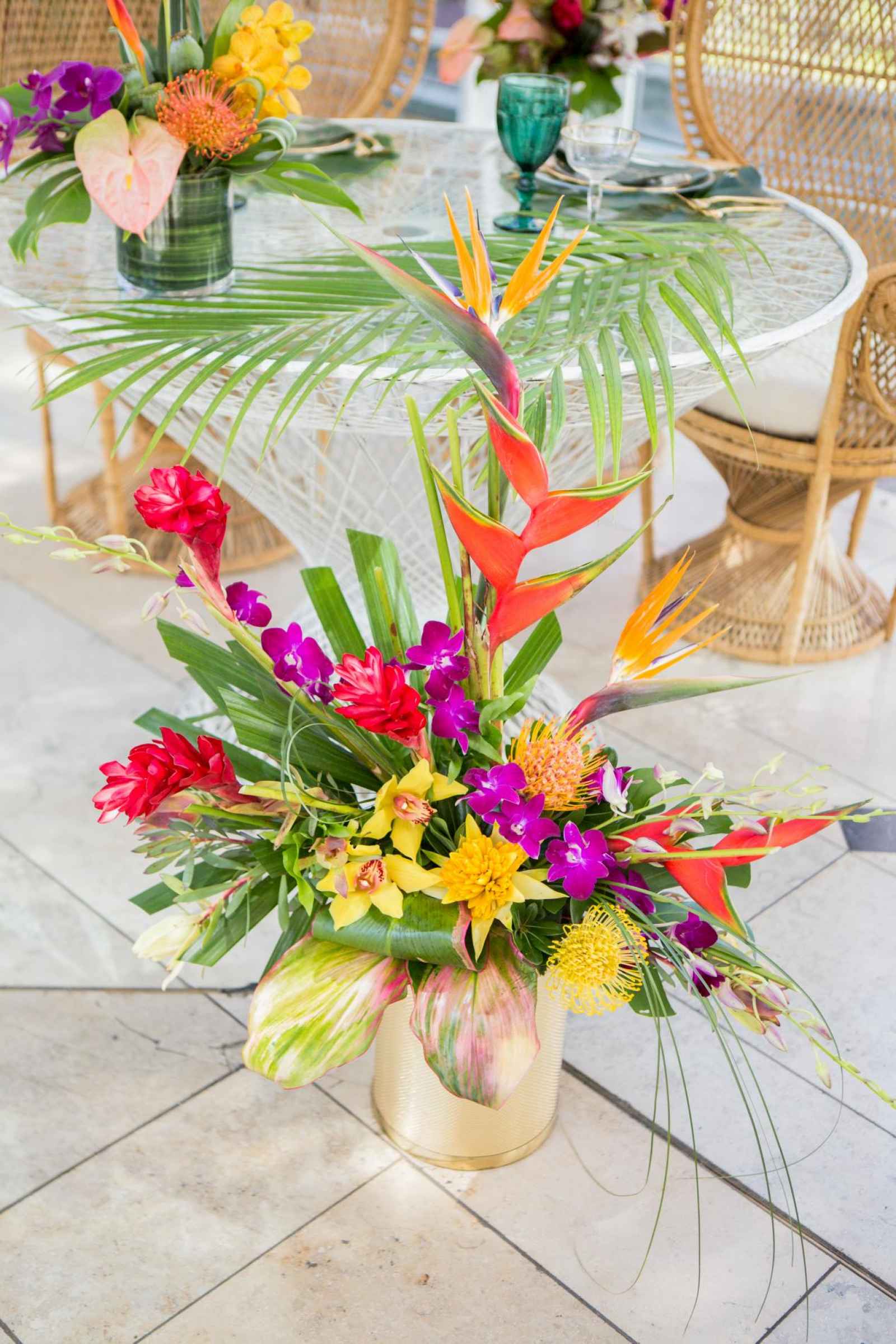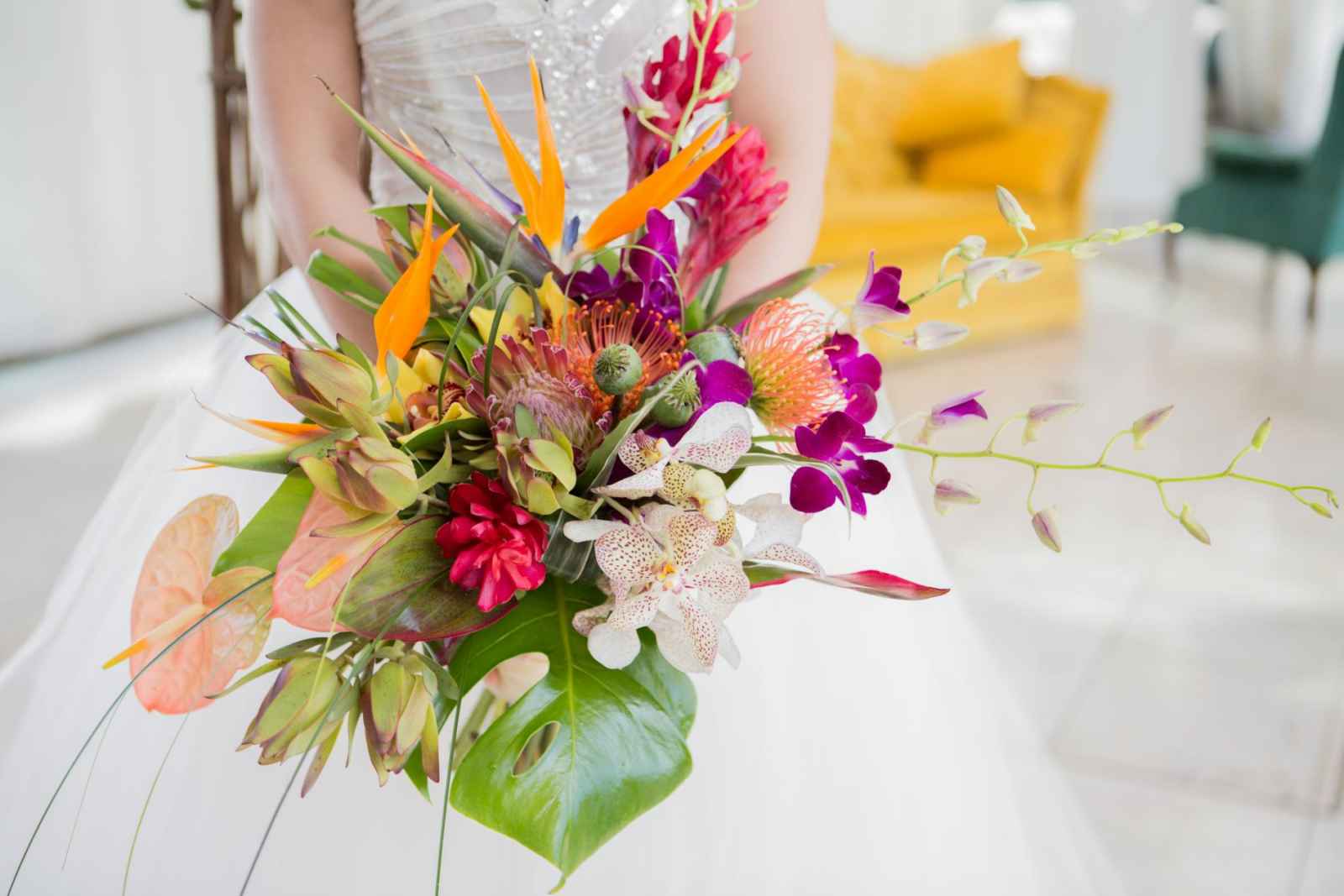 The Floral
In order to bring the feeling of warmth and vibrancy into the minimalist space, bright, tropical flowers were a key component infused into the overall design. Thanks to Sarah's know-how, we had the ideal person for the job with Linda of Accent Floral Design, as she had lived in Hawaii for 13 years. She expertly incorporated an abundance of orchids, Proteas and other interesting shapes into the modern botanical design. Sarah says, "The design of these types of arrangements are entirely different from other designs, so she was the perfect fit for this."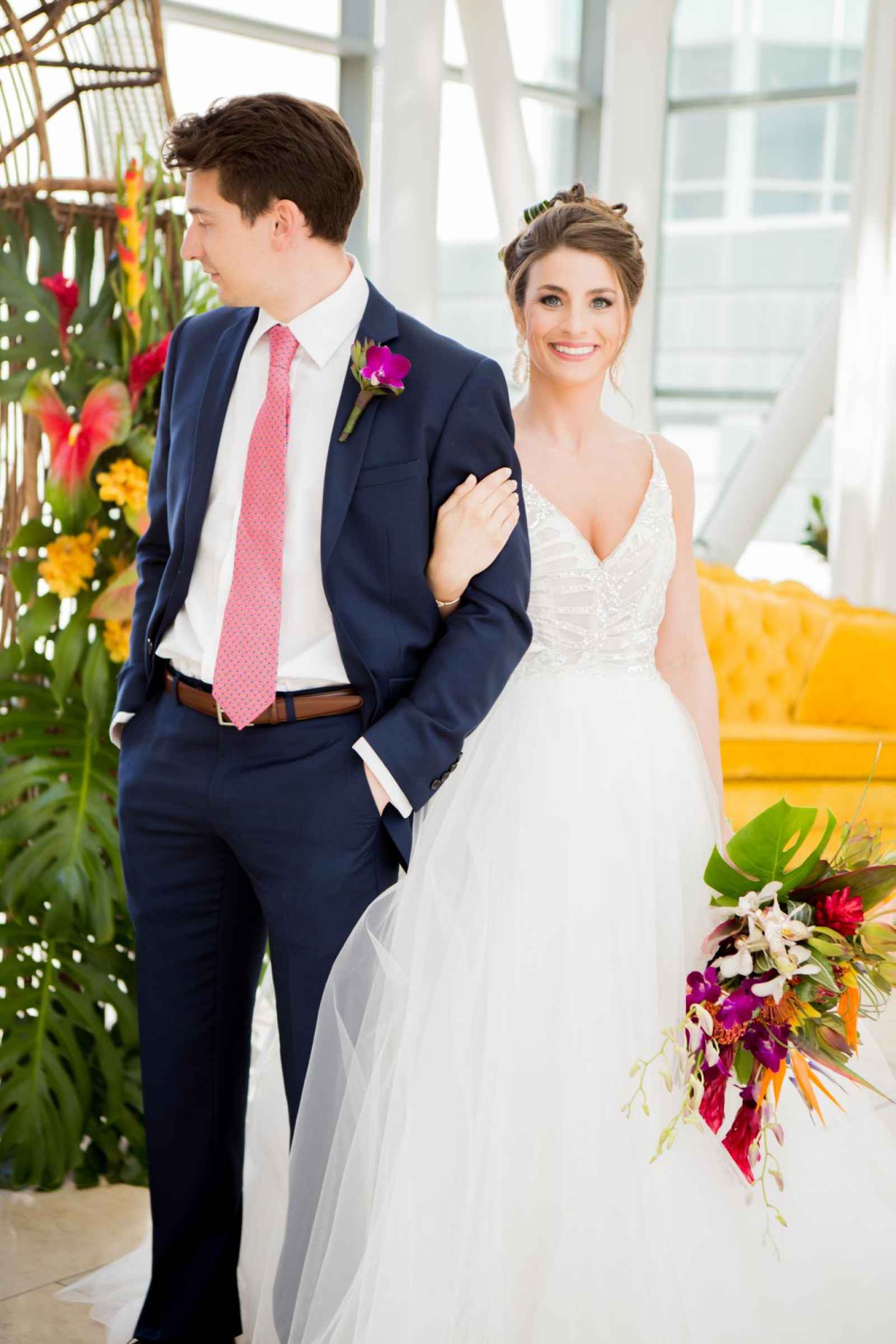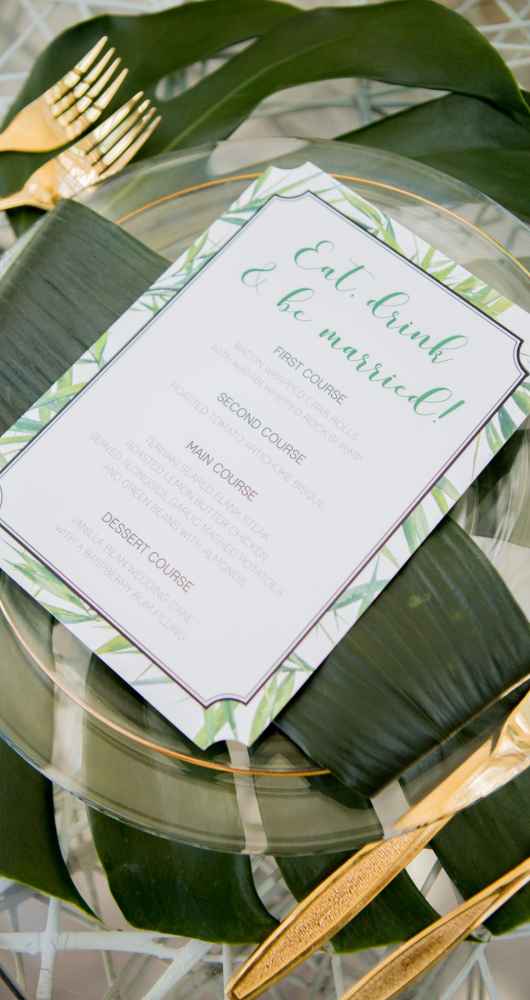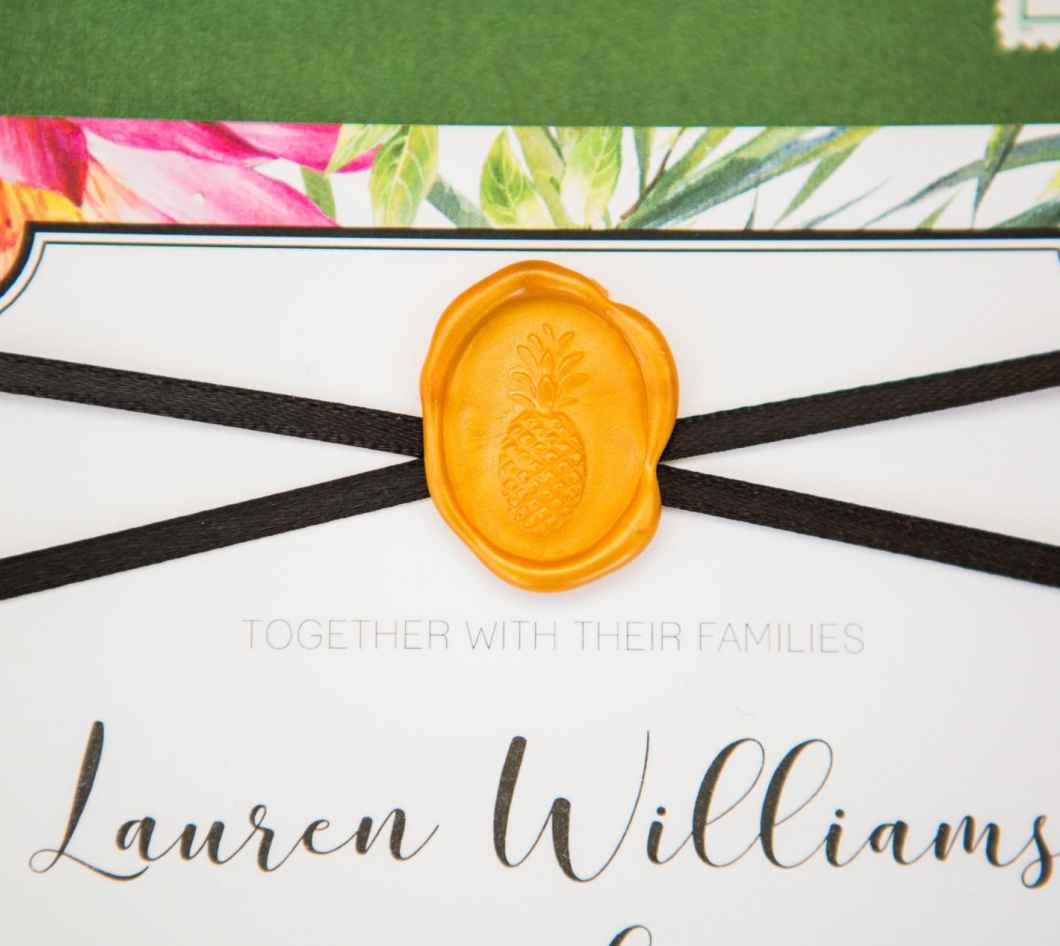 The Stationery & Signage
Athena Street Creative used the green of the Monstera leaf as the color inspiration behind the stationery's tropical design and paradise-inspired details. The black and white accents were a nod to the sleek, modern concept. Athena Street Creative also designed the gorgeous menus, table numbers and signage.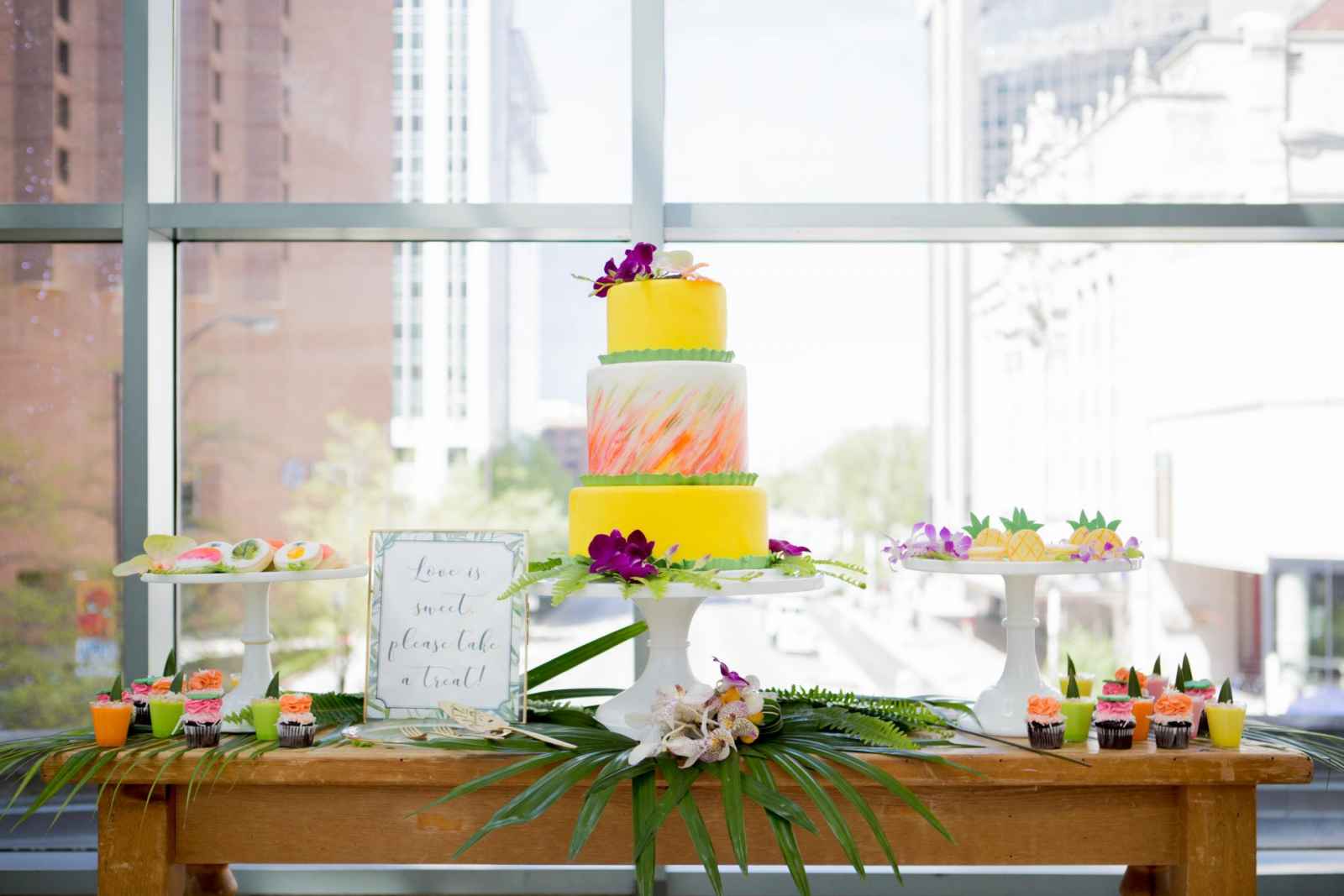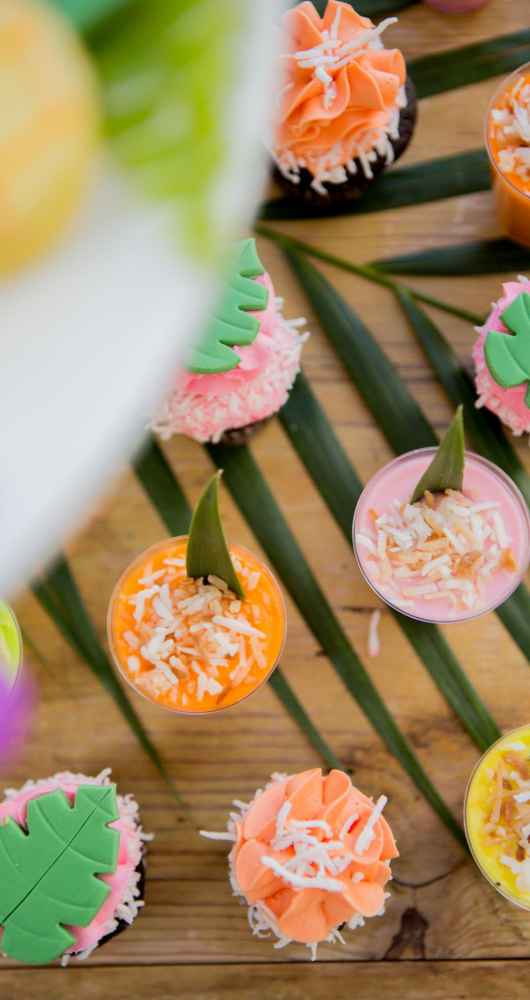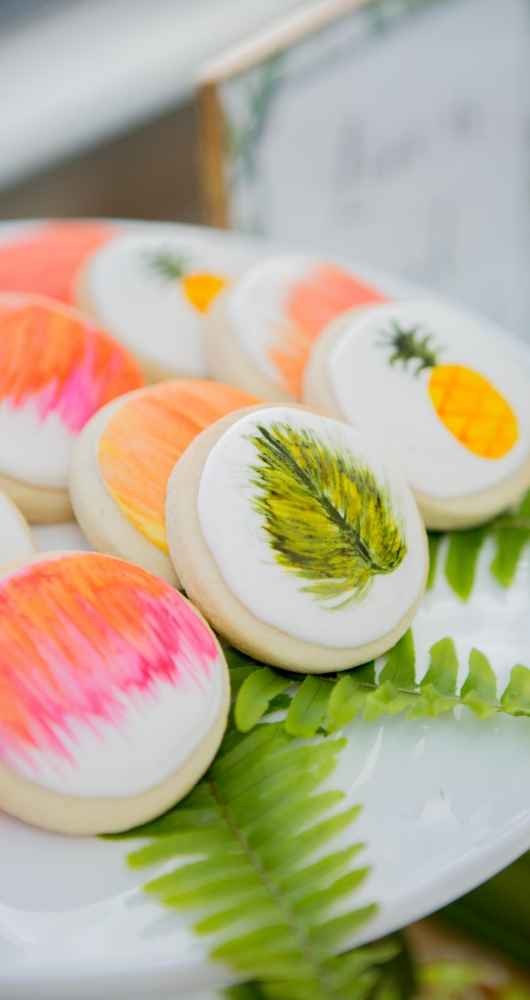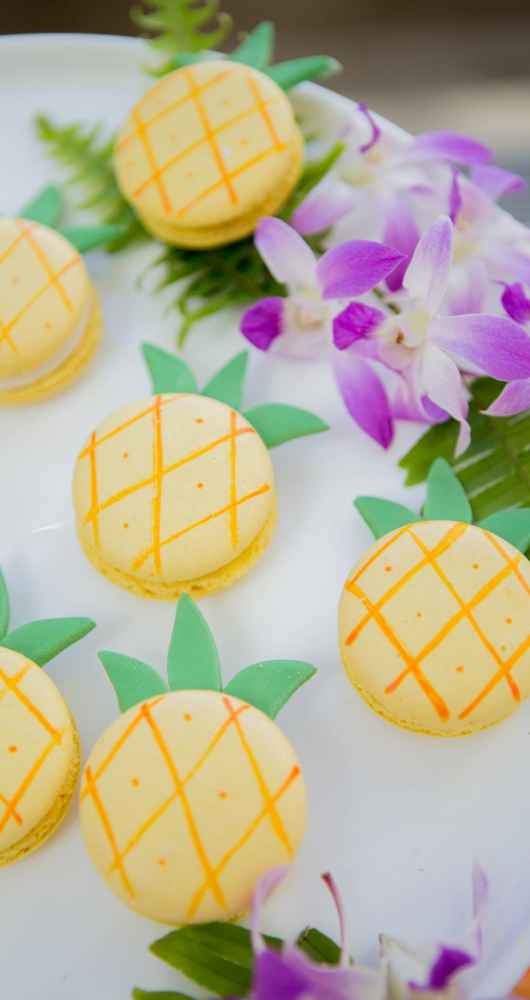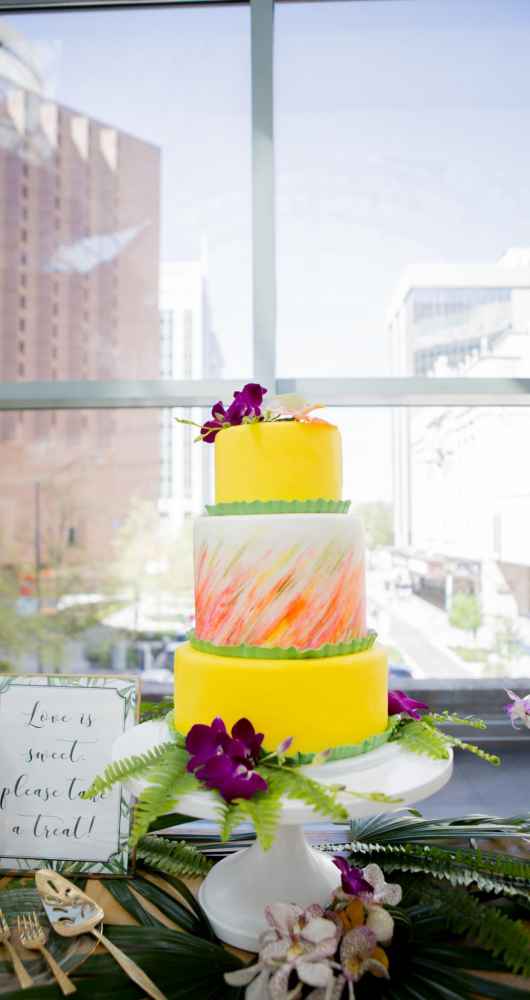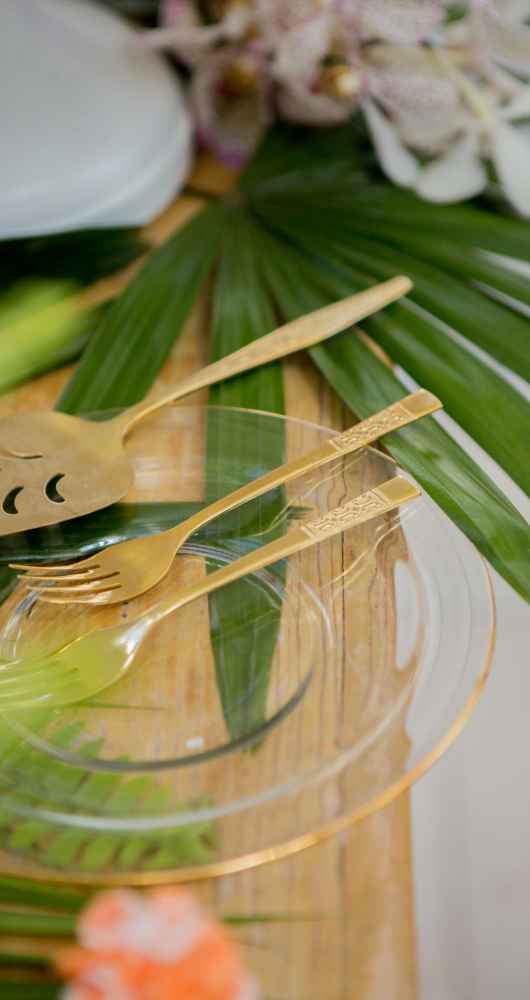 The Cake & Desserts
Our bright, lush theme called for equally bold desserts. Confectioneiress Cupcakes & Sweets provided custom pineapple French macarons and mini royal iced sugar cookies that served as fun accents to the brightly colored tiered cake. Toasted coconut panna cotta garnished with a pineapple leaf was an additional showstopper in the savory spread.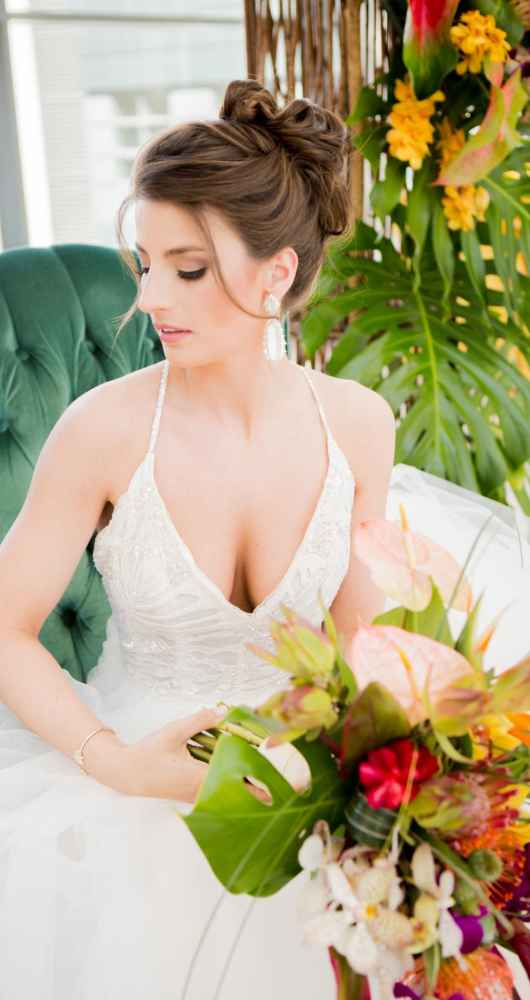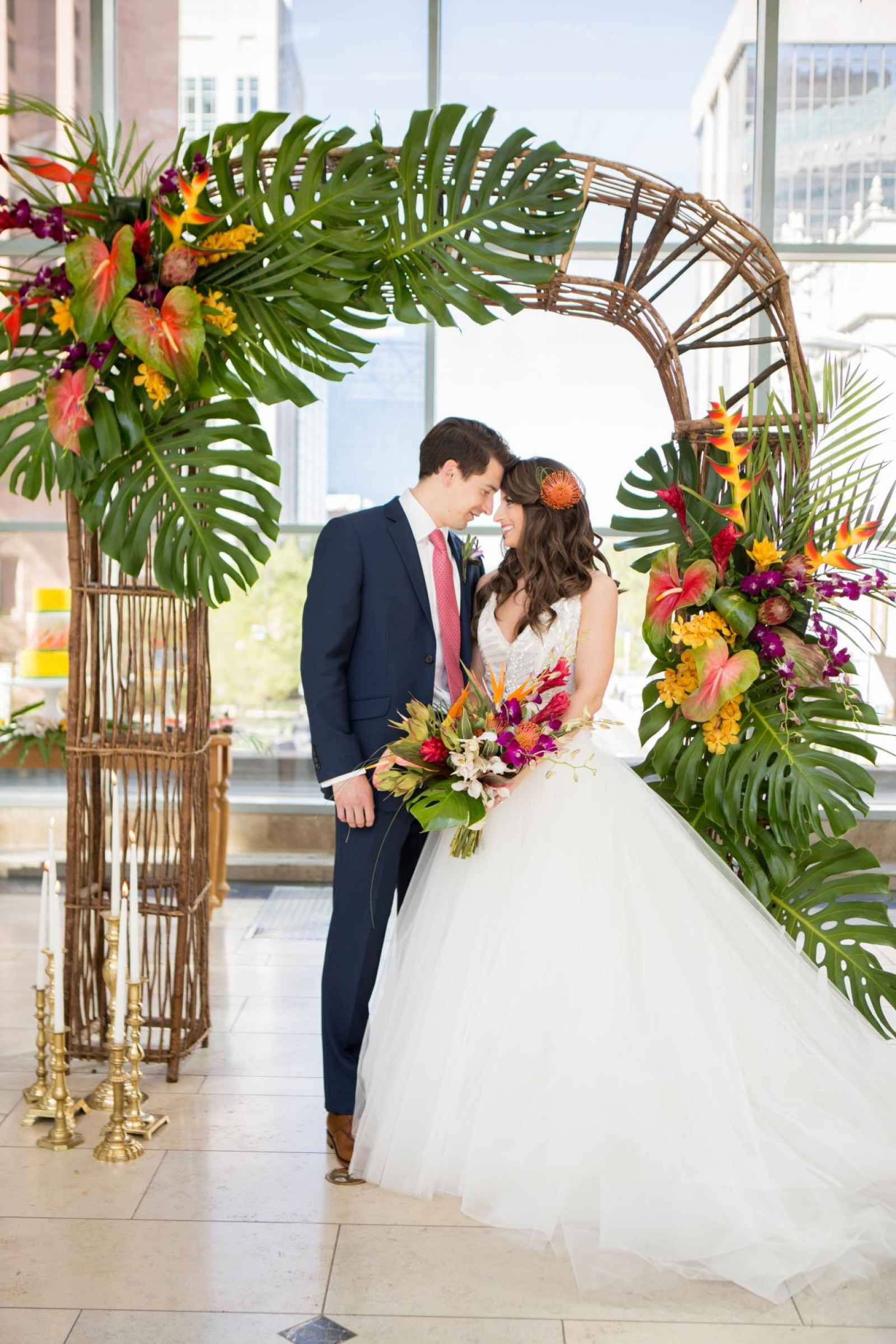 WeddingDay Magazine Cover Shoot at Indianapolis Artsgarden from WeddingDay Magazine on Vimeo.
are you a bride to be? 
We'd love to plan with you on weddingday-online.com. Let's get started!
 
are you a wedding extraordinaire? 
Join WeddingDay Magazine in inspiring brides by partnering with us! See how here.