Emma and Ben met at Northern Michigan University in 2010. "I would always see him in the school cafeteria and had the biggest crush on him," Emma recalls. "It truly was love at first sight. Our photographer, Kaleigh, was the one who found Ben on Facebook and, of course, I added him as a friend right away. The next day I noticed he was in the cafeteria by himself, so I sat down to eat with him. The rest is history."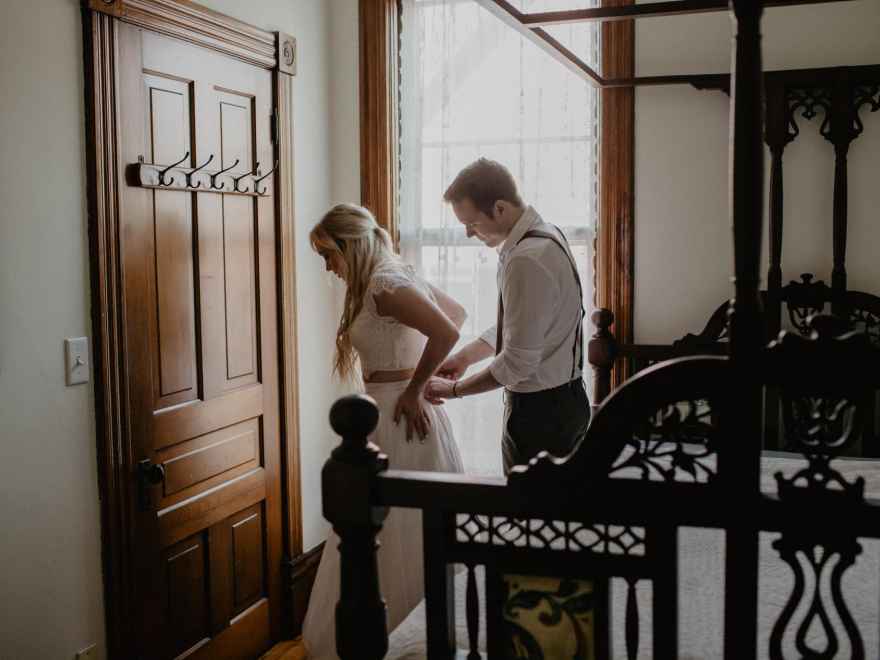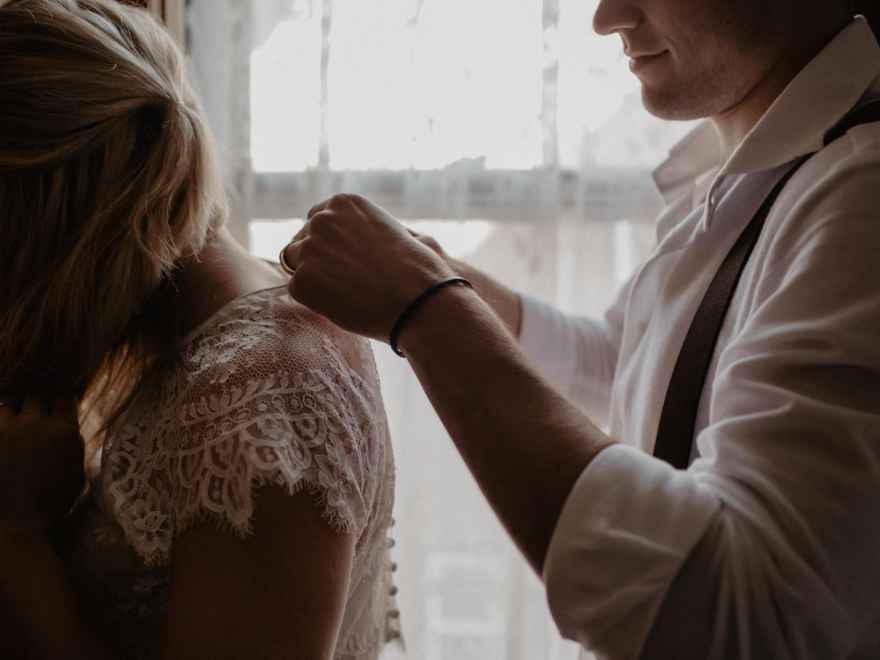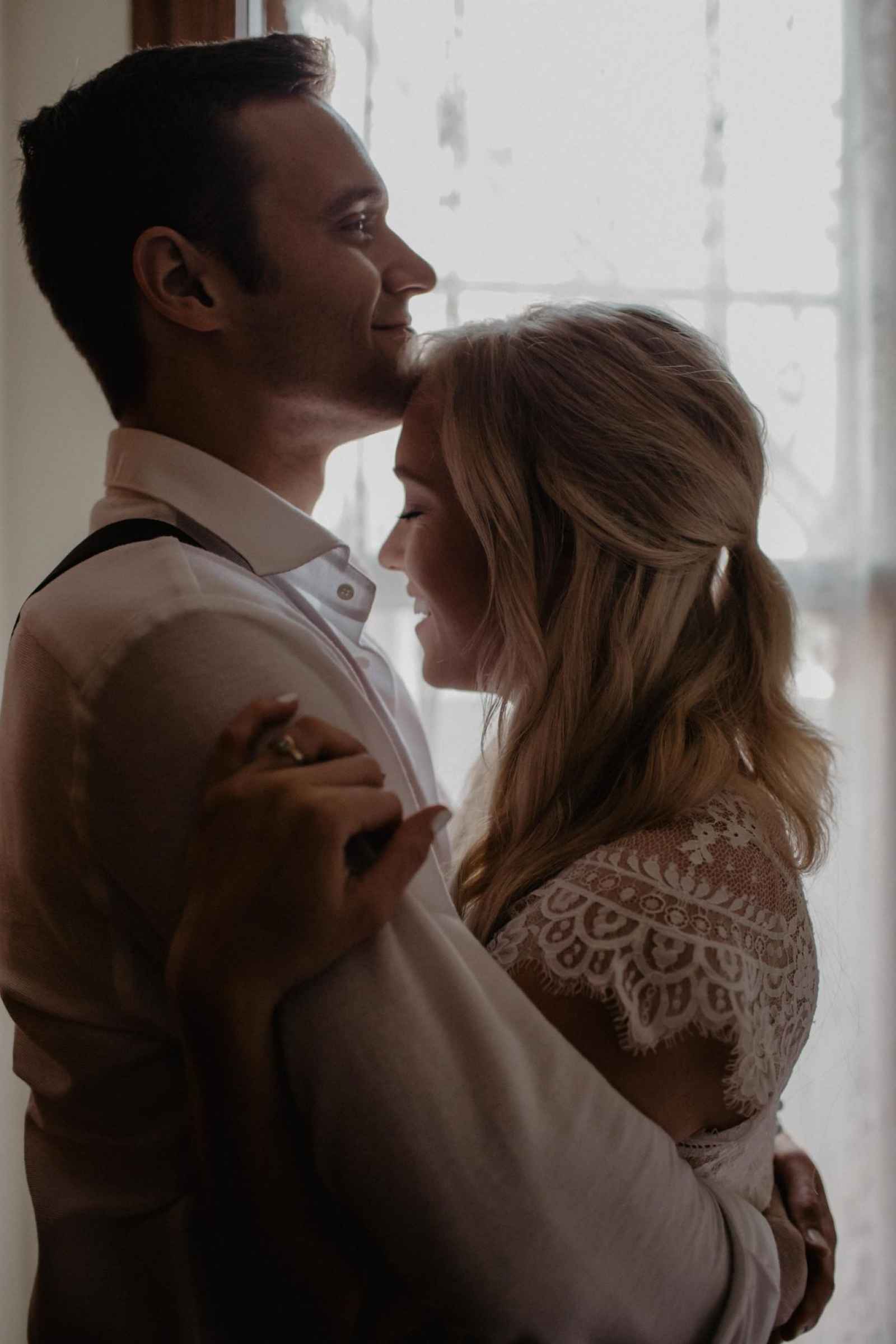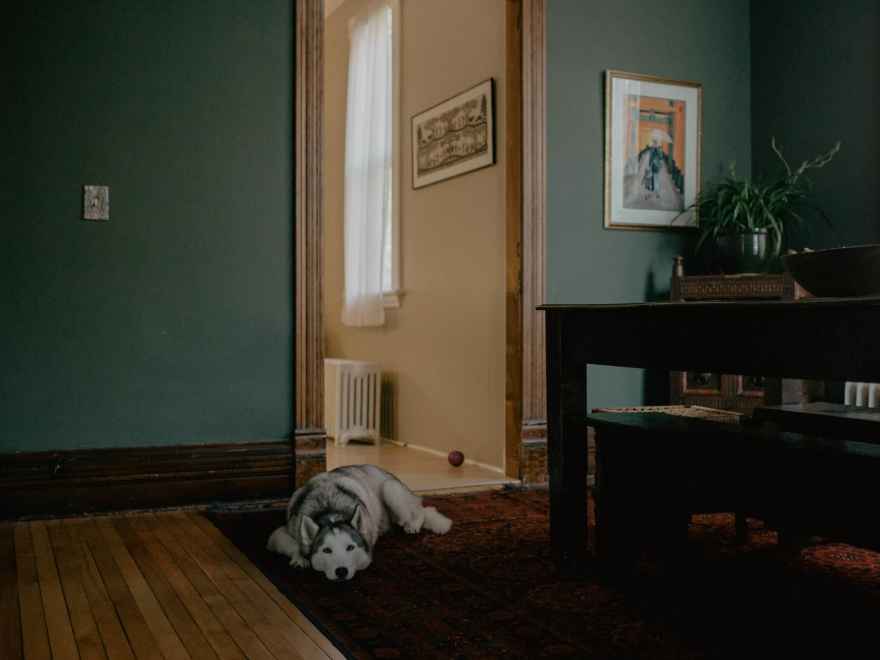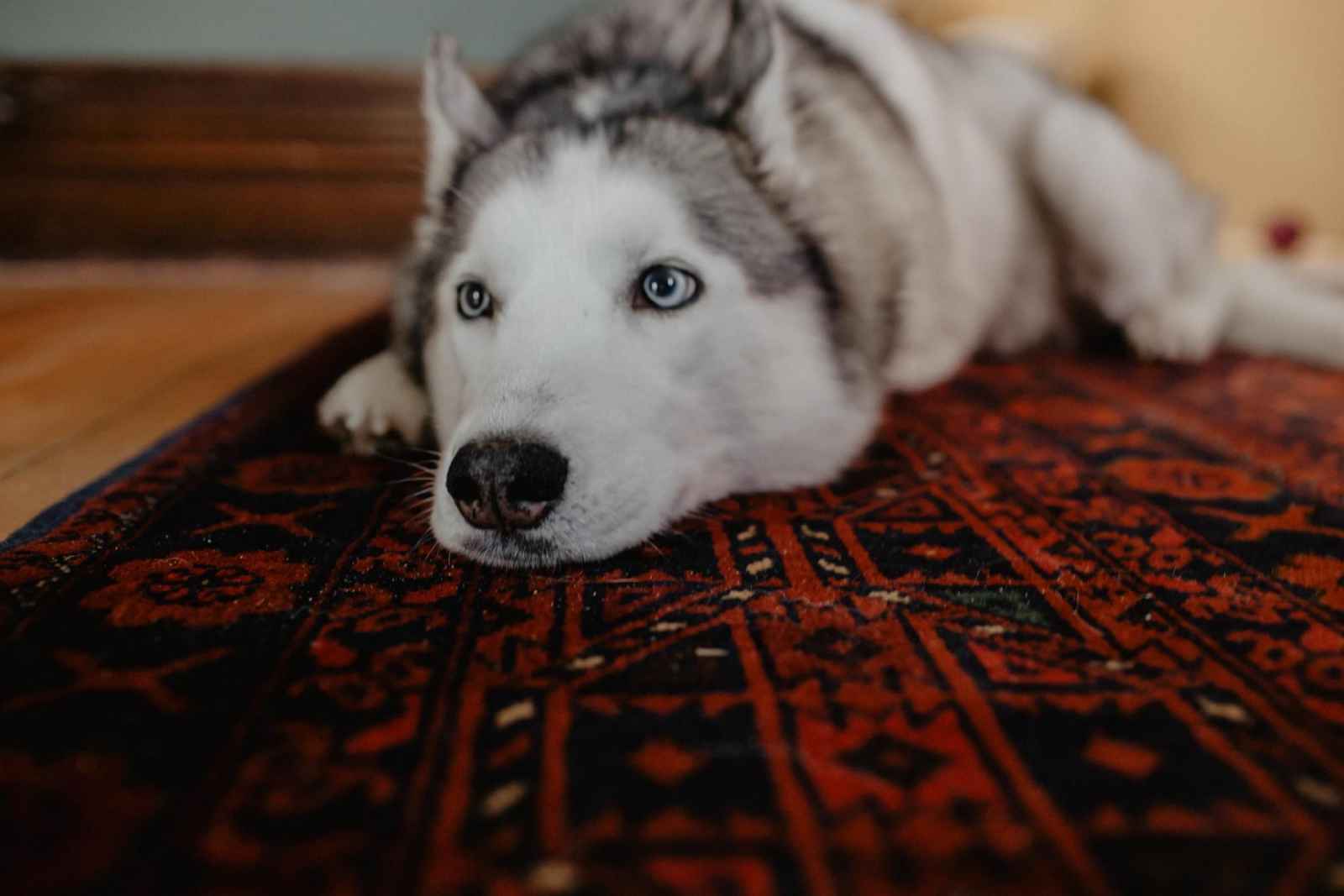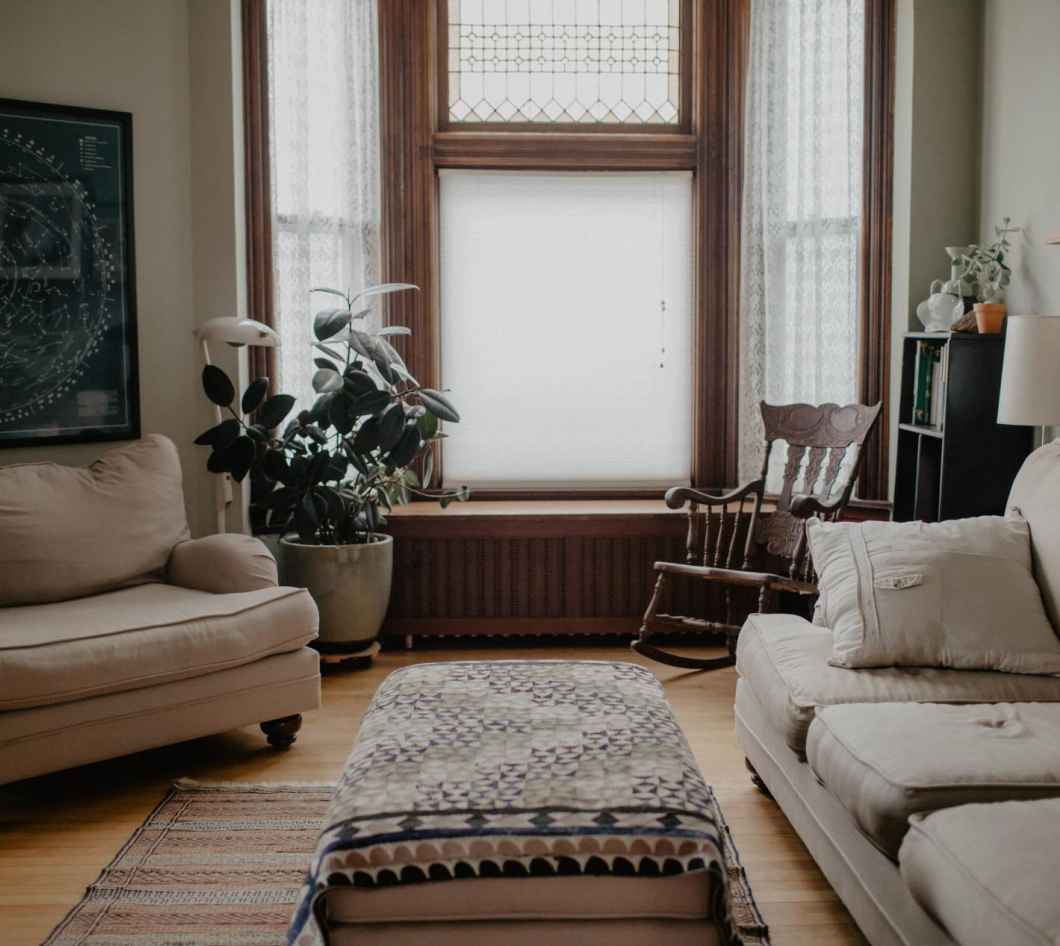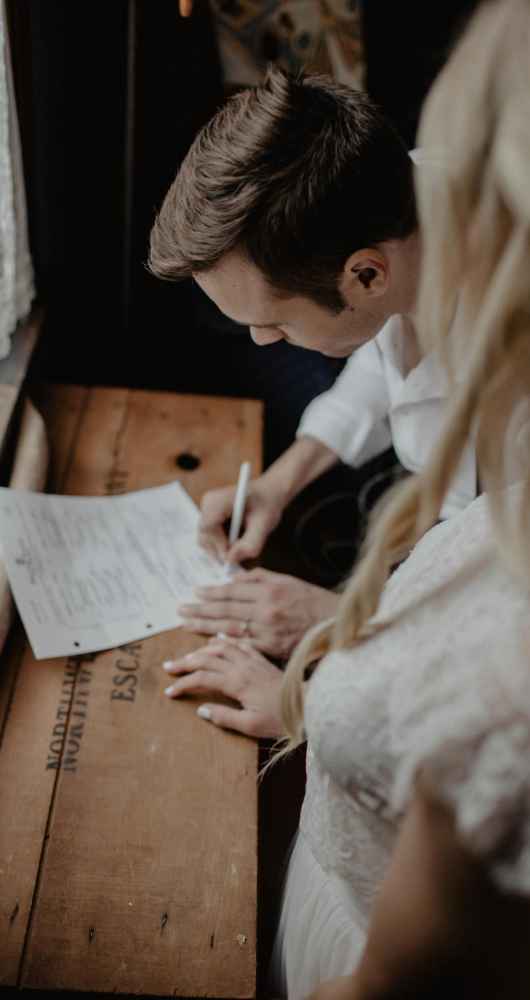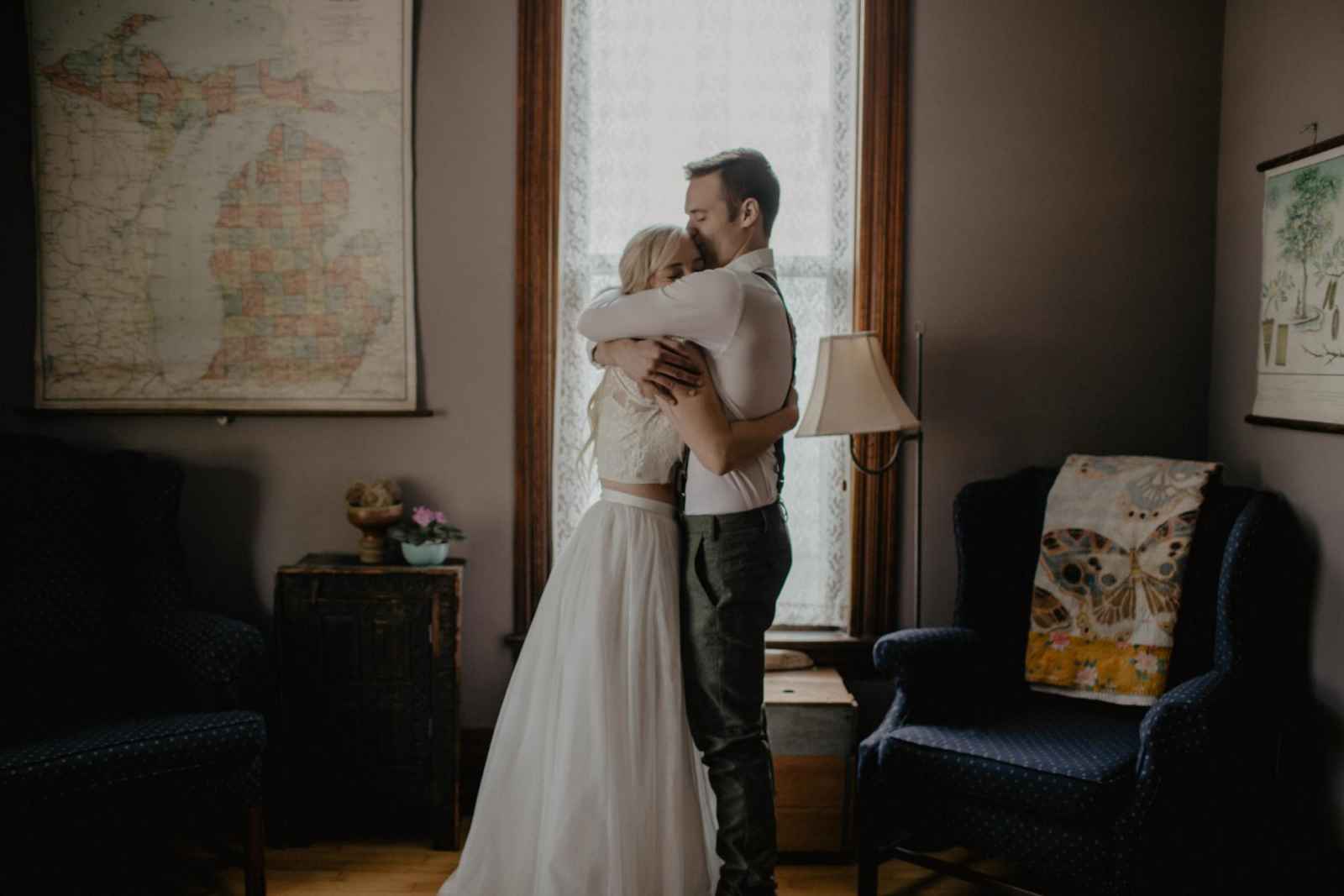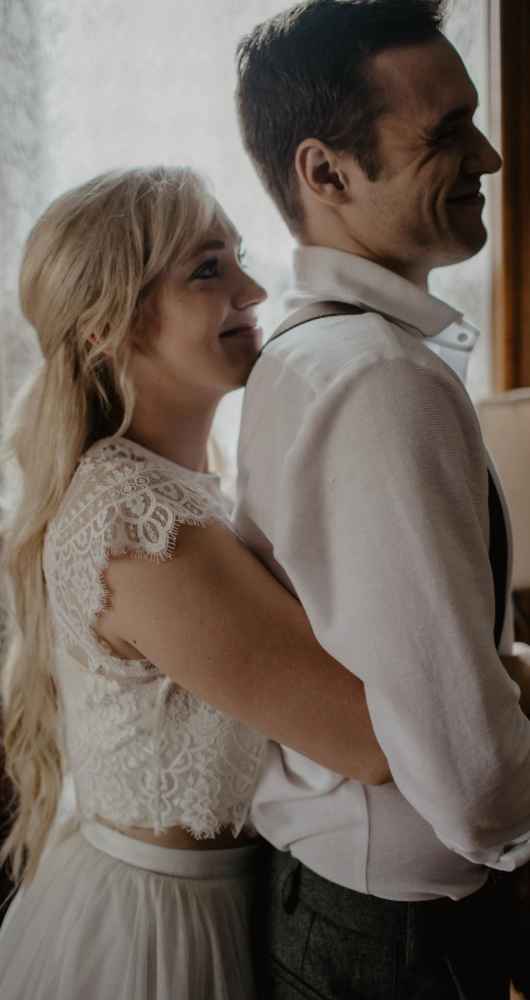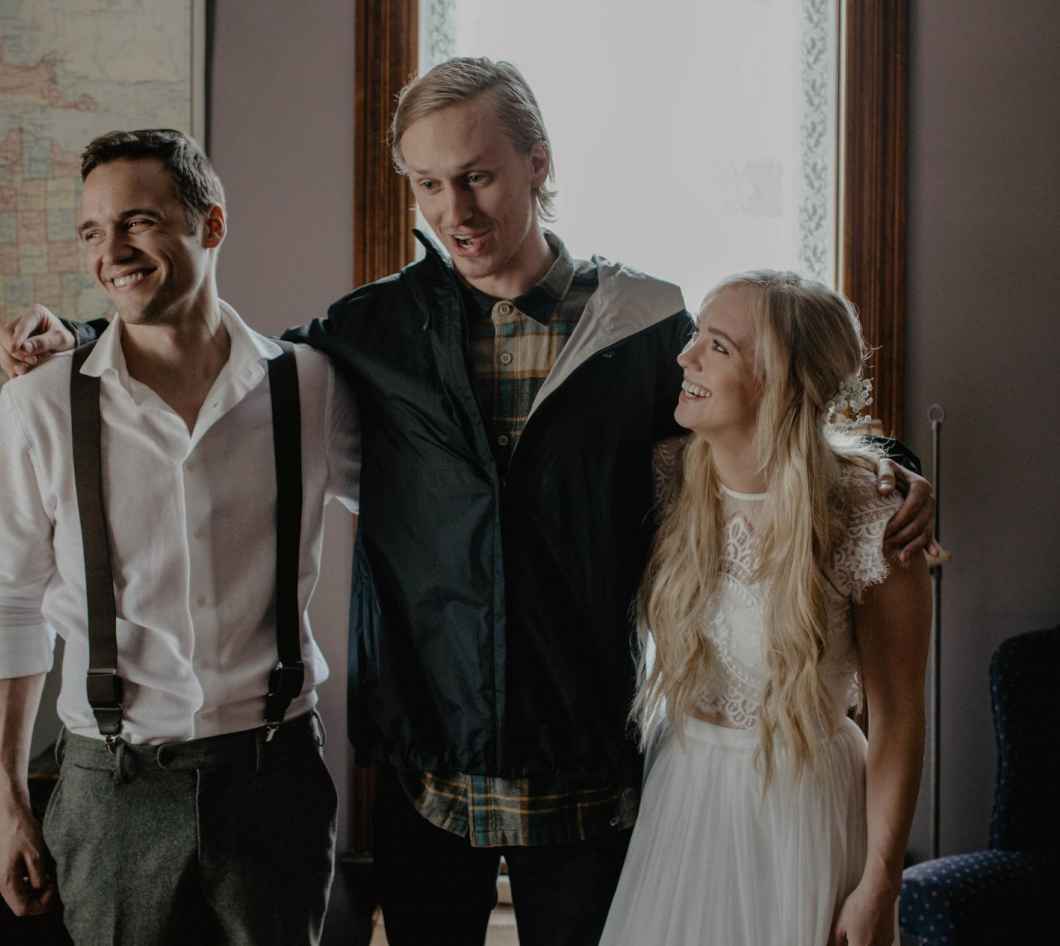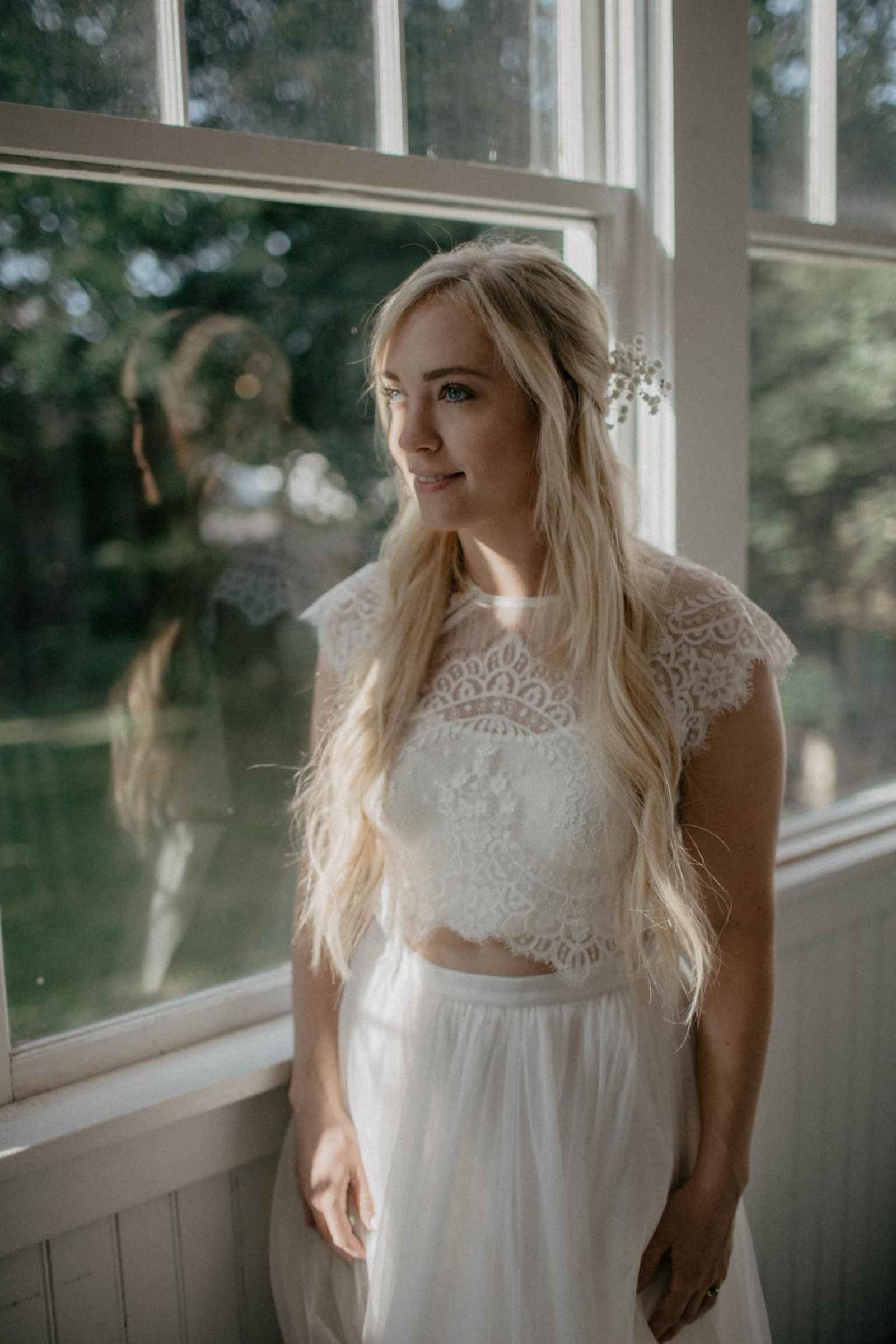 Every engagement story is unique and we love how sweetly simple and casual Ben's proposal was. Emma says, "I had just gotten back from Colorado when we received notification that my Alexis Russell ring was being held at a FedEx facility. Ben picked me up from the airport and we drove straight there. As soon as we got home, he couldn't wait to rip open the box and ask me to marry him. He made me close my eyes and when I opened them he was on one knee. We celebrated with pizza and Netflix."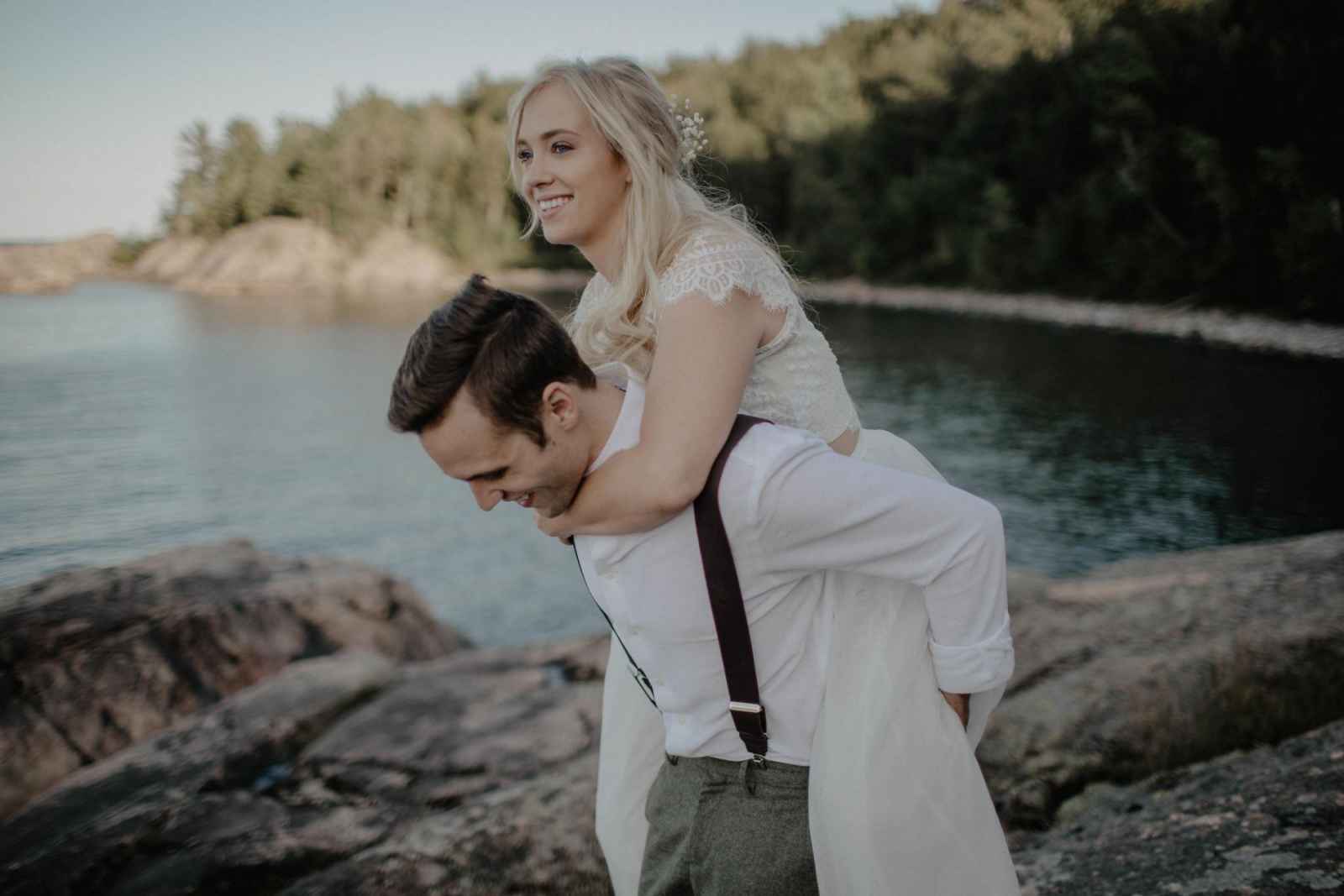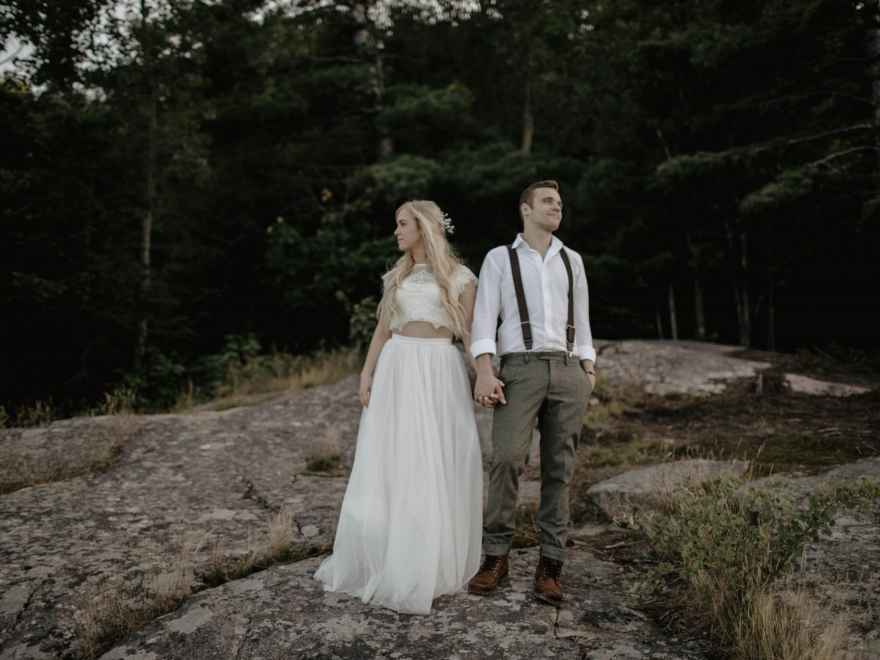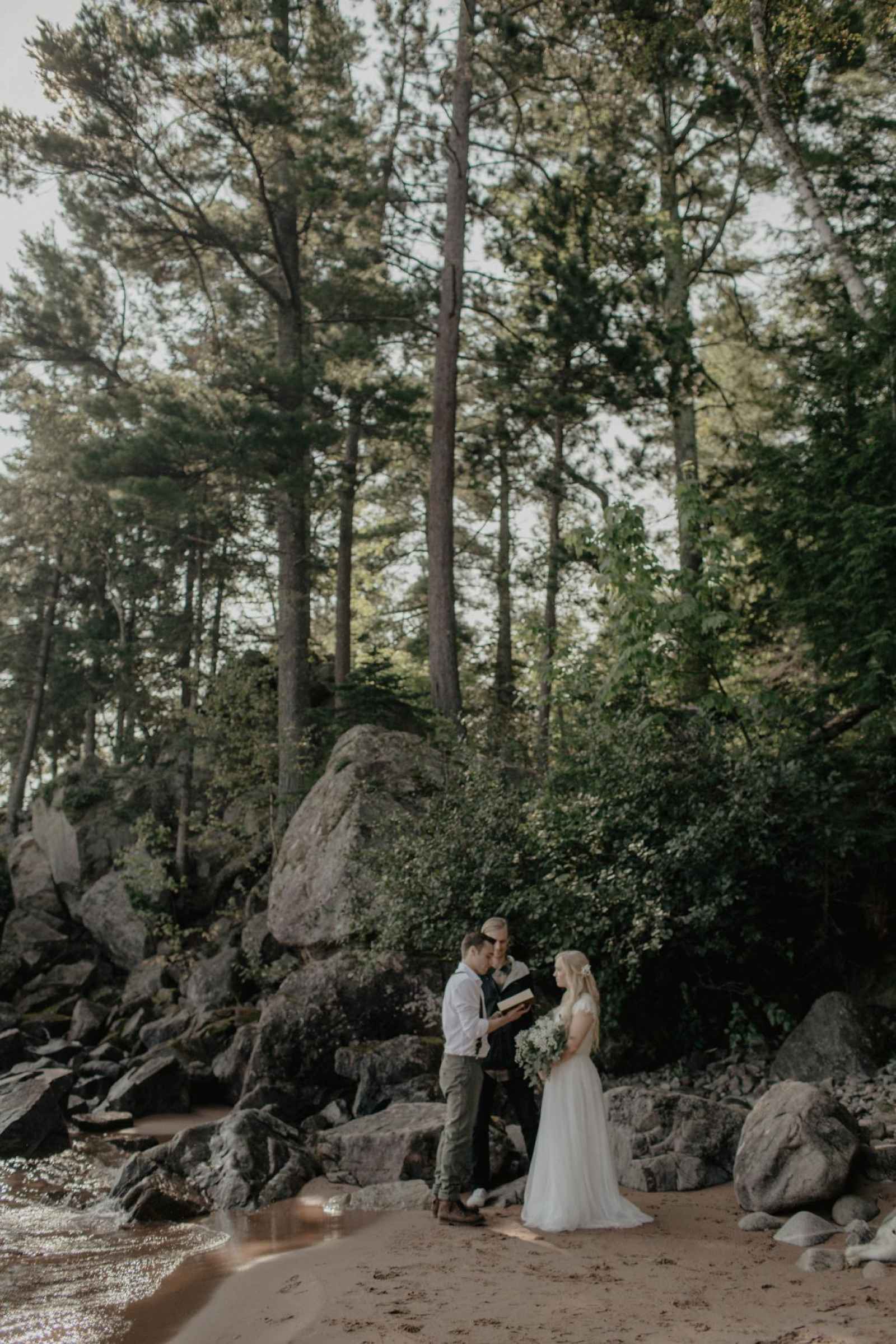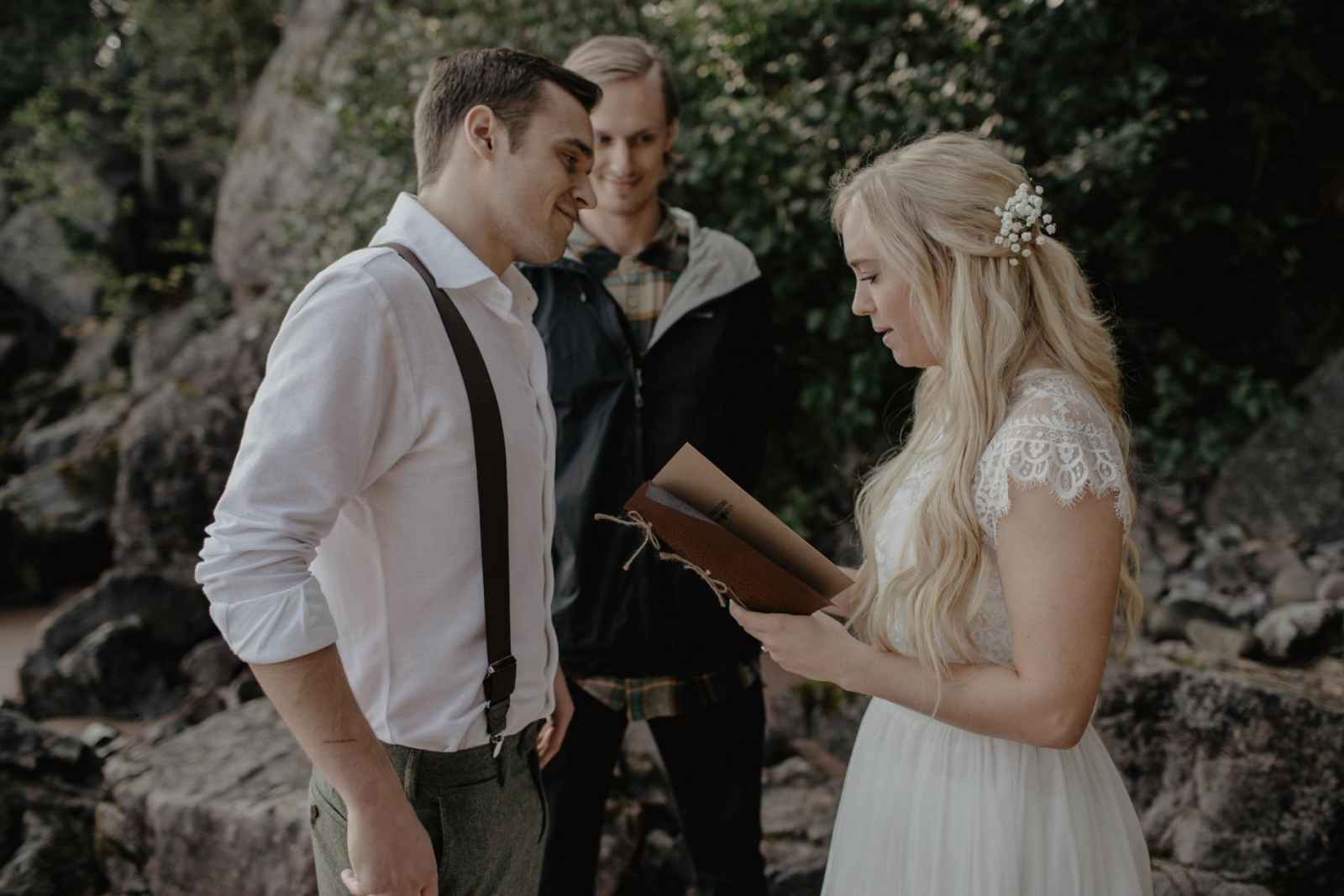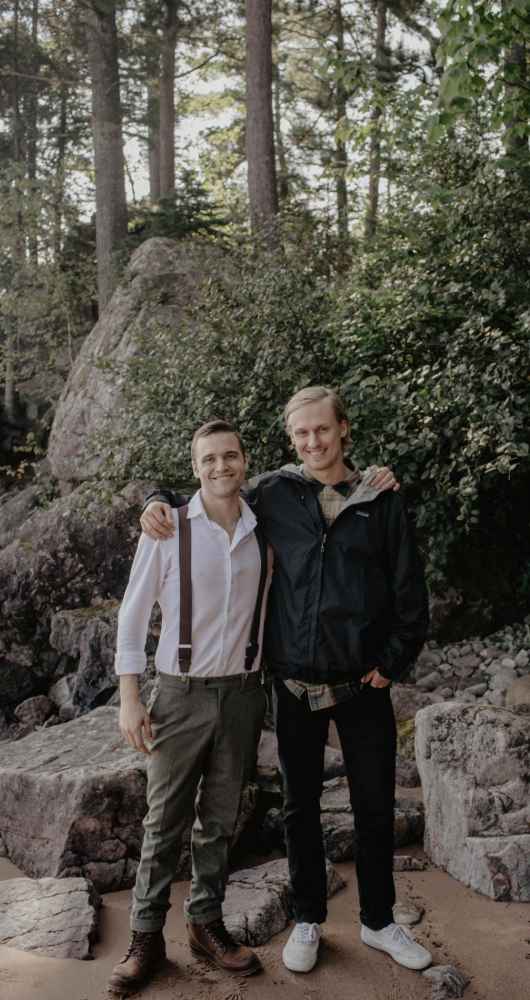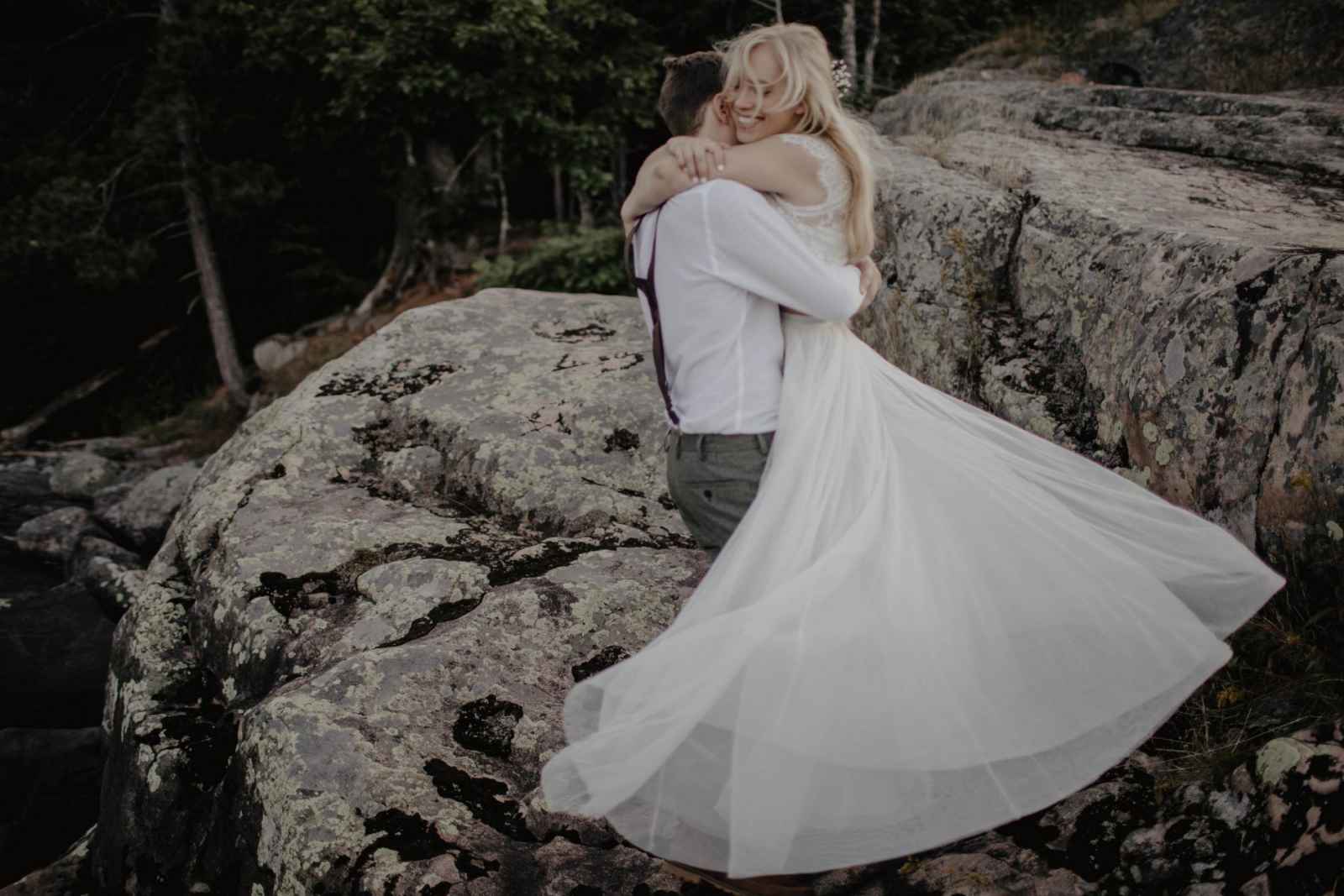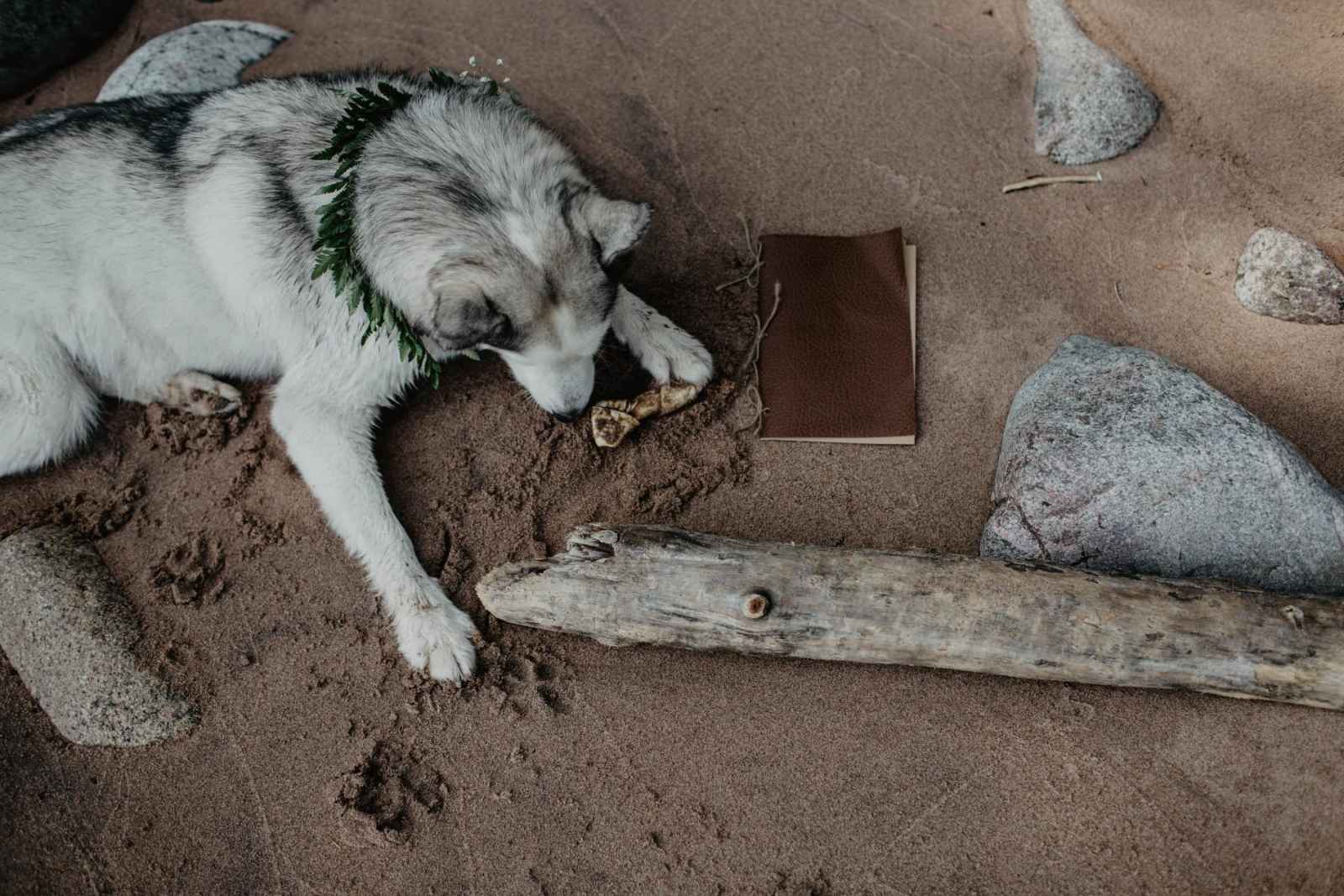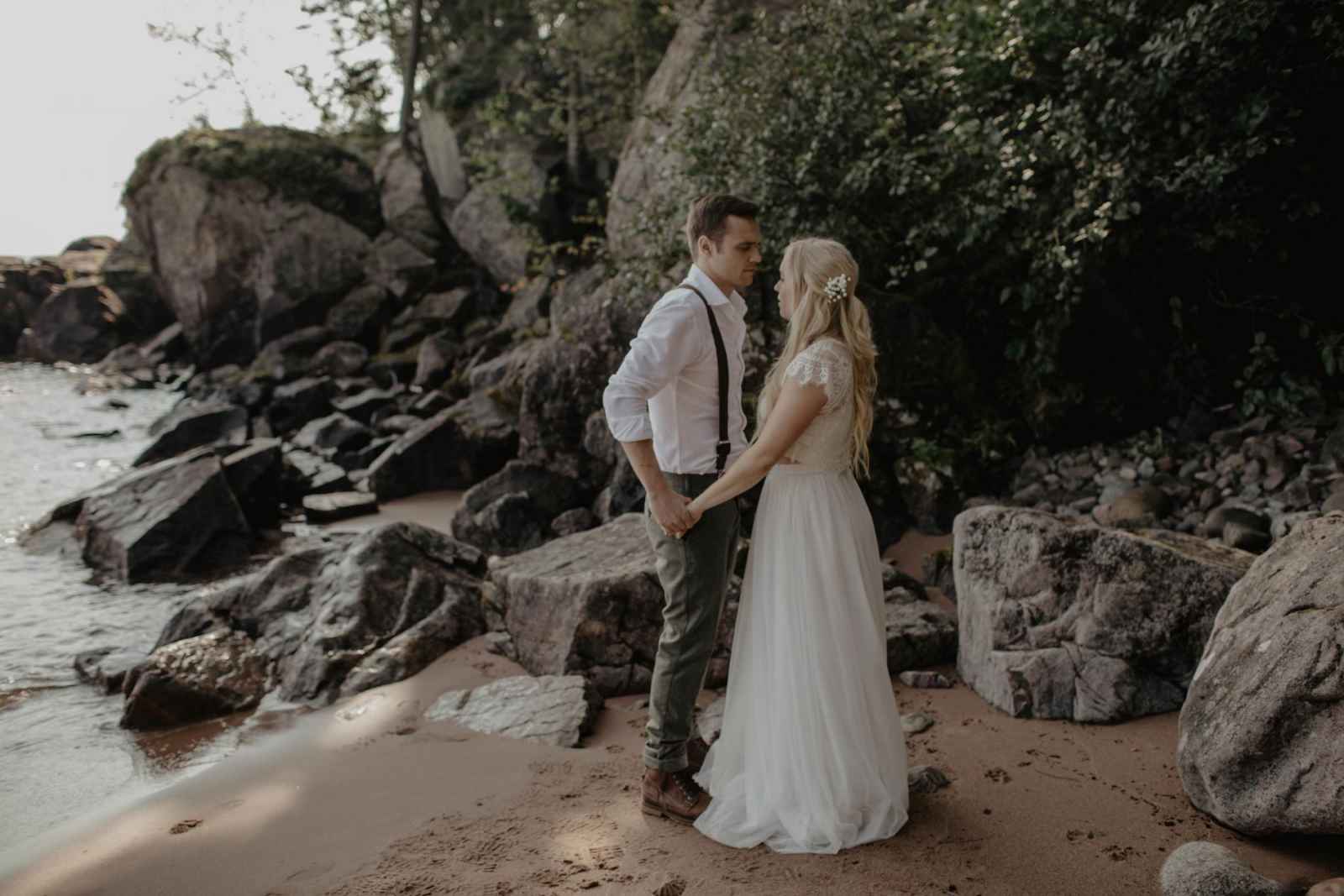 The theme of simplicity and intimacy continued with their wedding planning as well, so the overall process was quite easy for the newly engaged pair. What was important was that the couple remain near the woods and the beach. Emma explains, "We went hiking a few days prior to scope out the perfect spot. As soon as we found it, we knew. It was a secluded beach on Lake Superior surrounded by rocks and trees. Yes, we made our friends climb down a cliff for us, but it was totally worth it."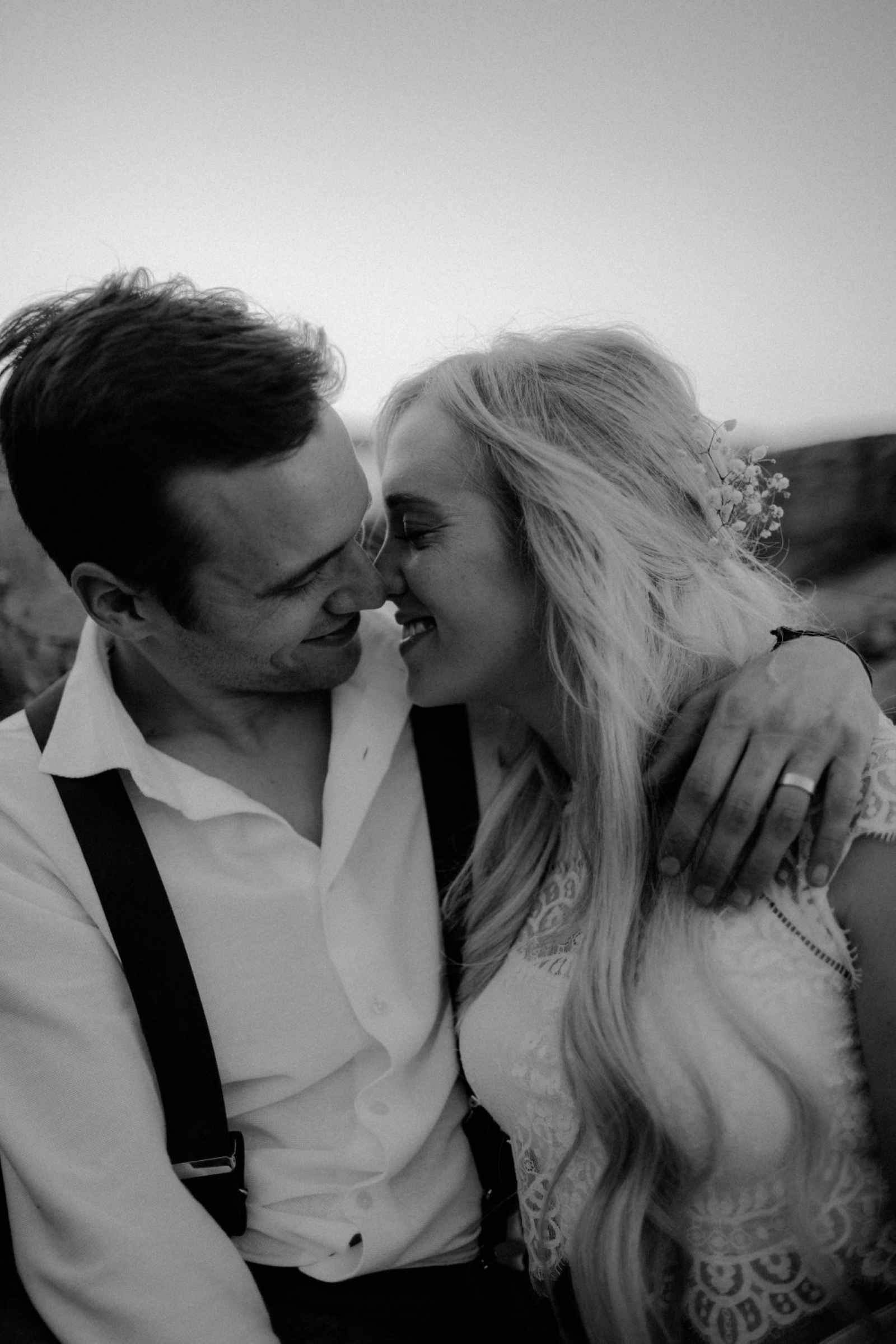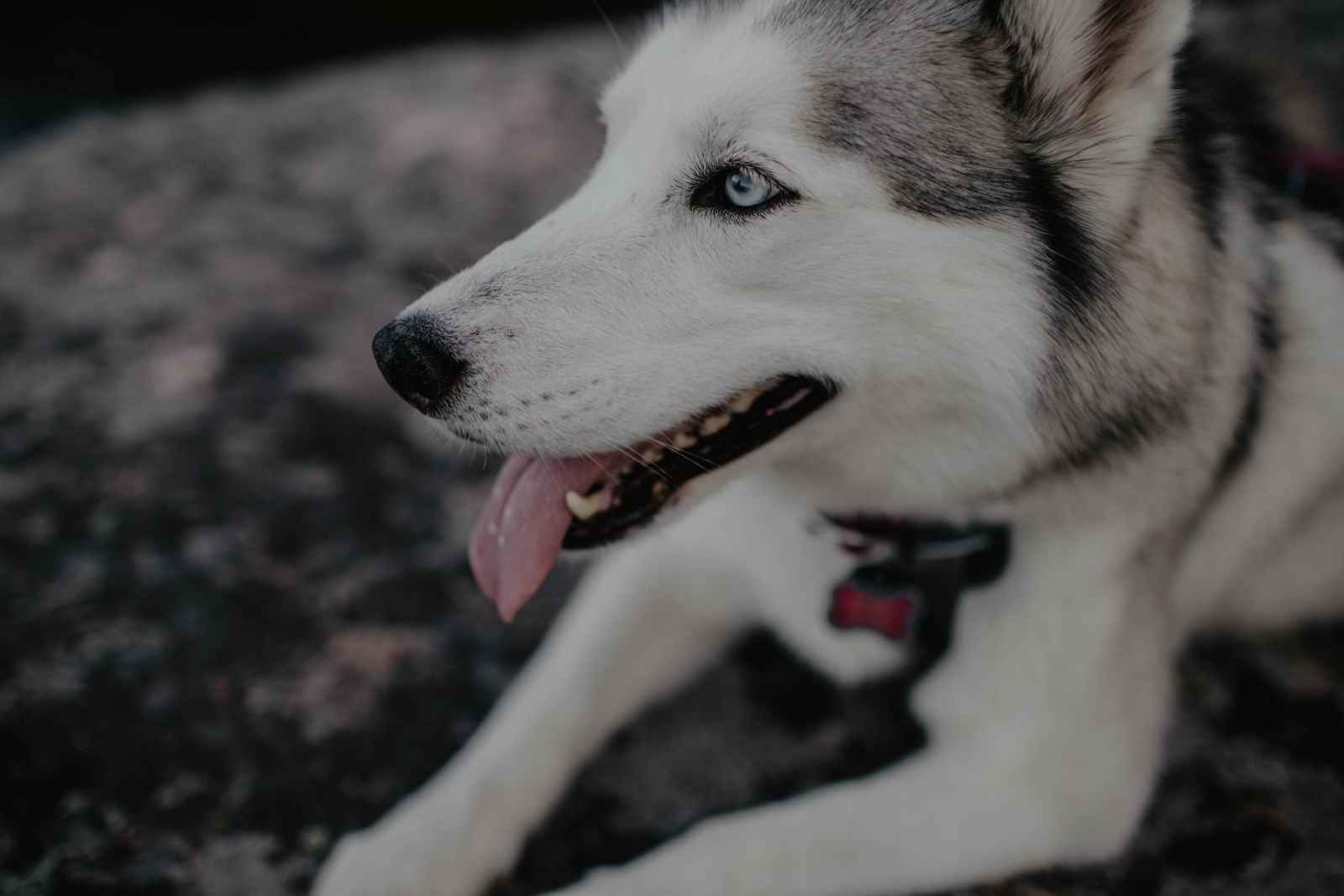 Emma knew she wanted a two piece dress, and when she tried on the BHLDN Italia Topper, it just felt right for her. "It was harder for me to find the perfect skirt," she says, "but I ended up ordering a tulle maxi skirt from Net-a-Porter and it was exactly what I was looking for. I got lucky!"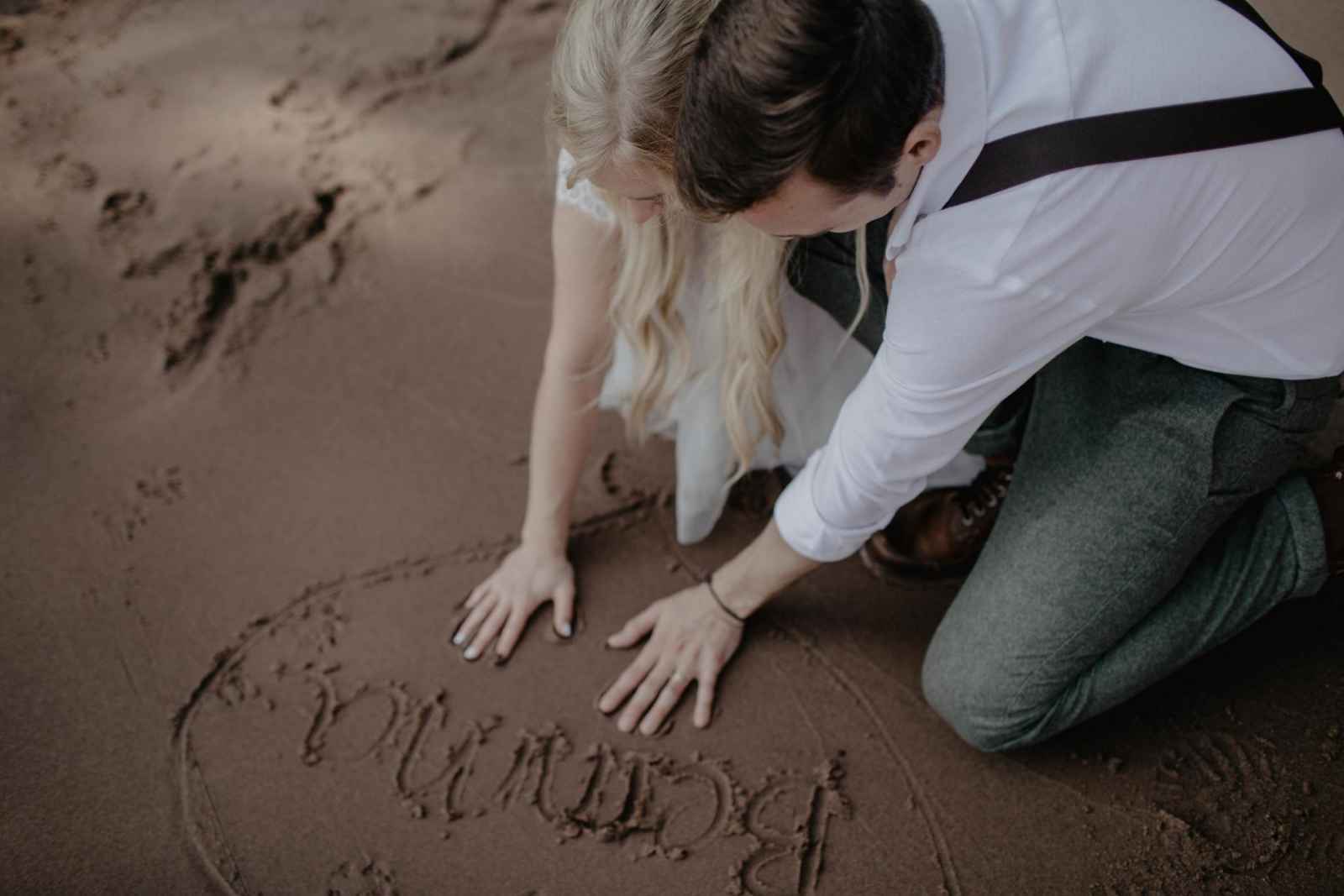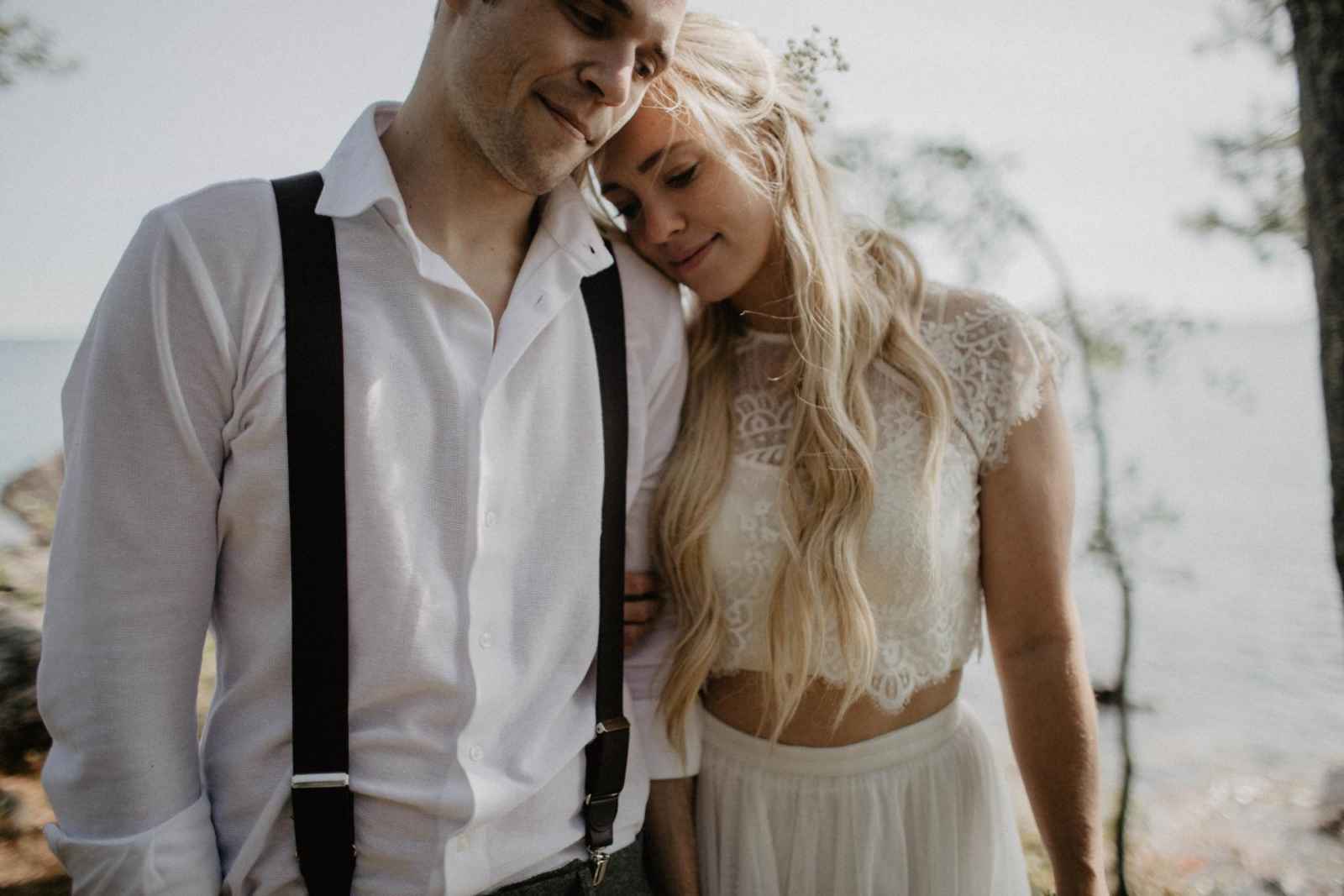 Creativity was also an important aspect of the planning. Emma says, "It was fun working together with Ben to plan all aspects of our wedding. We also made our wedding announcements and leather-bound book of vows. We knew we wouldn't be able to portray how we truly felt through our own words, so we each read our favorite poems written by Tyler Knott Gregson. I wanted my look to be very natural, so I did my own makeup and used my Beachwaver to achieve loose waves.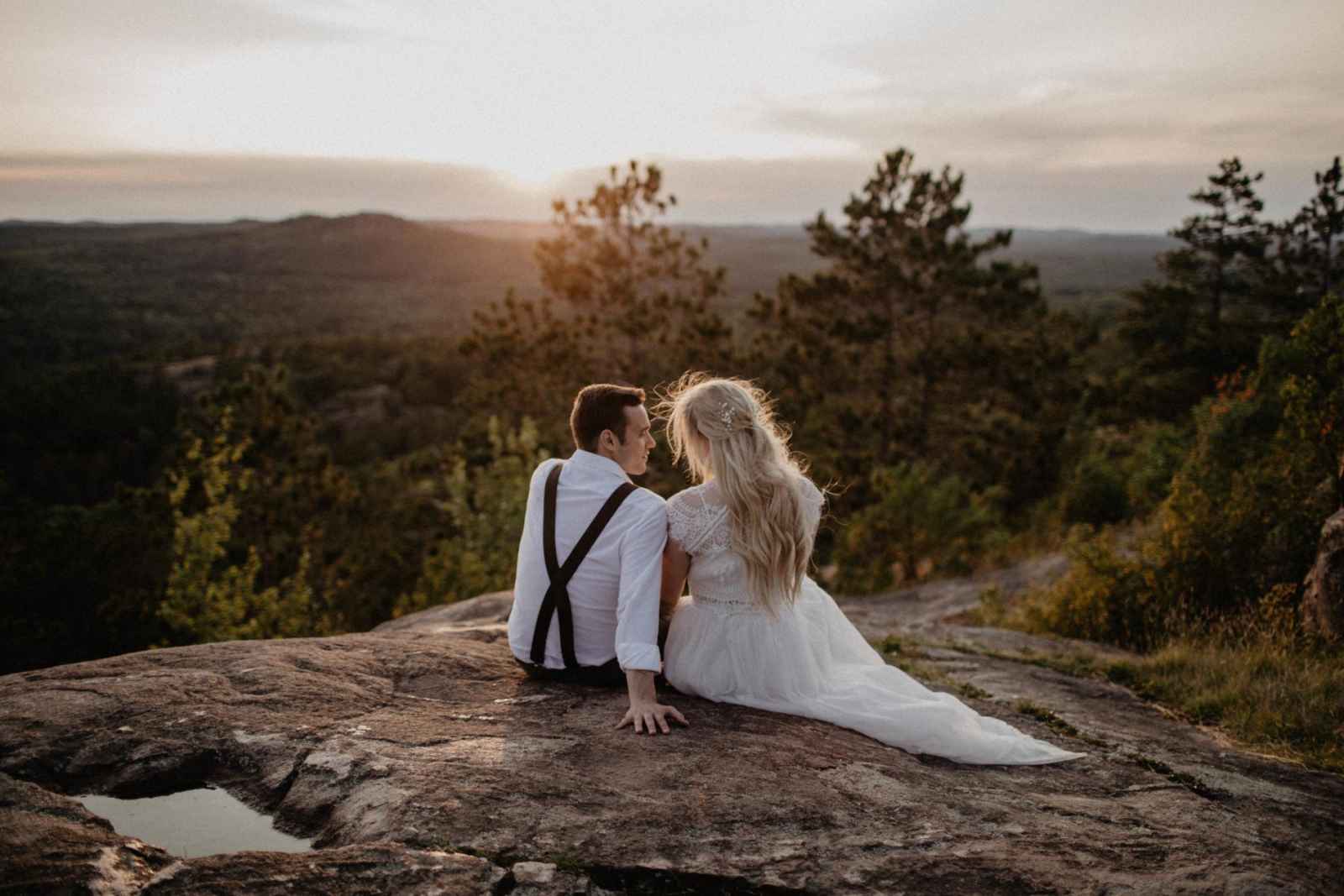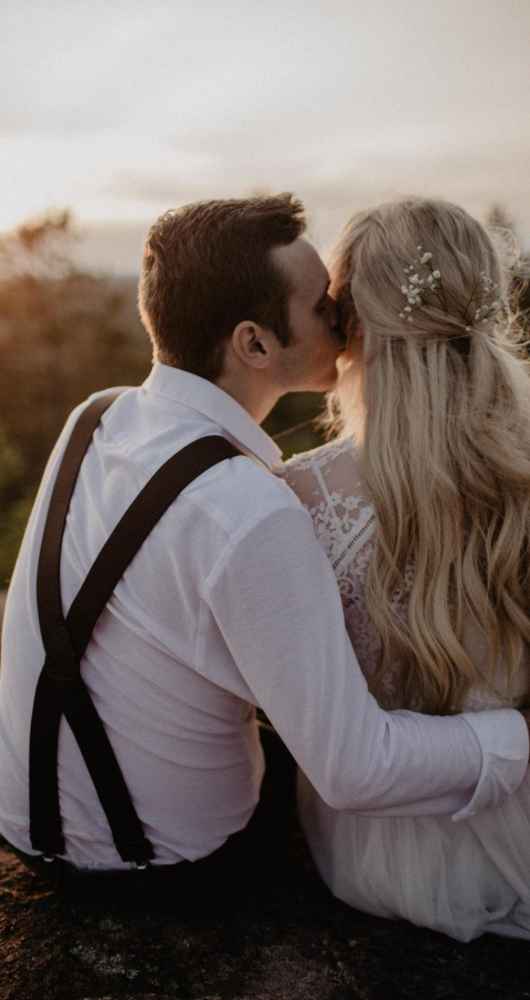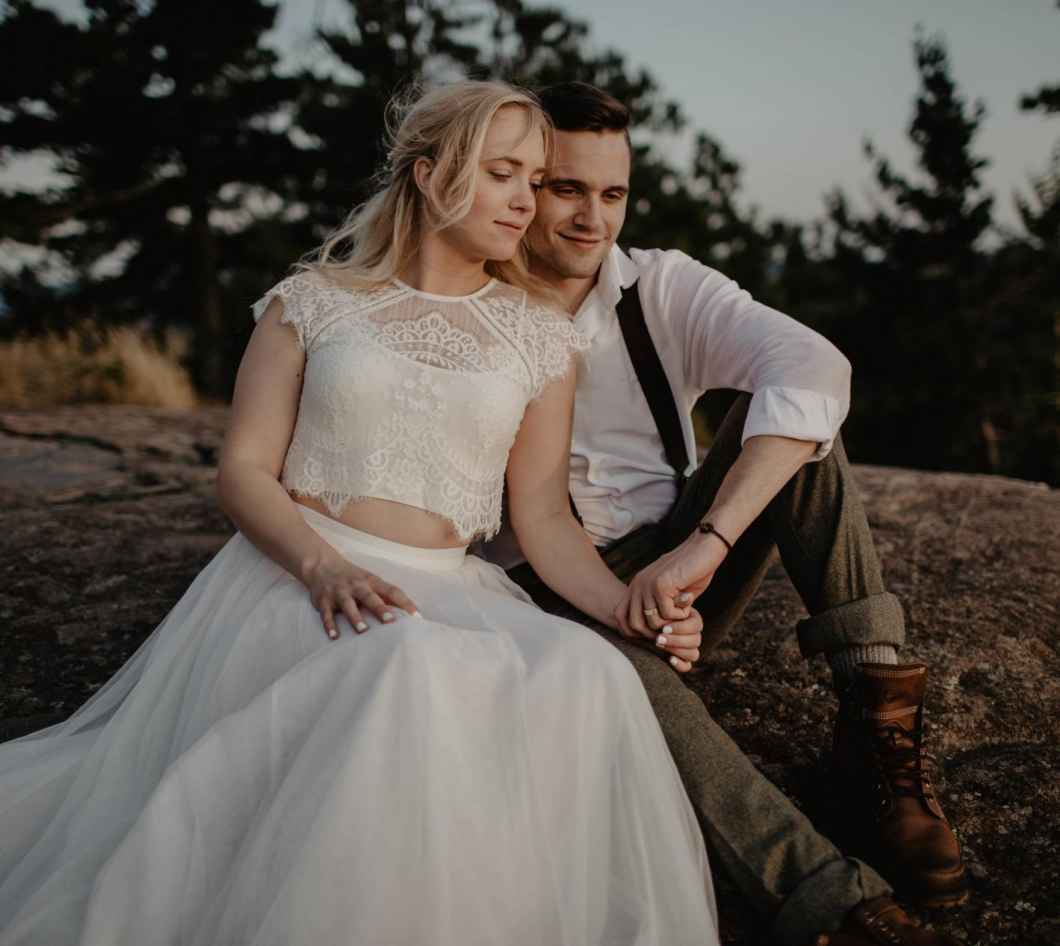 The unique touches throughout this wedding are truly evident and supported the most important aspect of the day—the couple's love and journey to forever. "The location, simplicity, and intimacy of the ceremony made it special to us," Emma explains. "Also, the company. We were lucky to have our friend and photographer, Kaleigh. Ben's friend, Erik, got ordained for our wedding and my friend, Karisa, tagged along. We also brought our Siberian husky, Shibby. Of course our fur baby had to be there! After the ceremony, Ben and I took a moment to stand on the beach wrapped up in each other's arms. This time alone was very special to us. We couldn't stop smiling and kissing and it was the perfect time for us to soak it all in."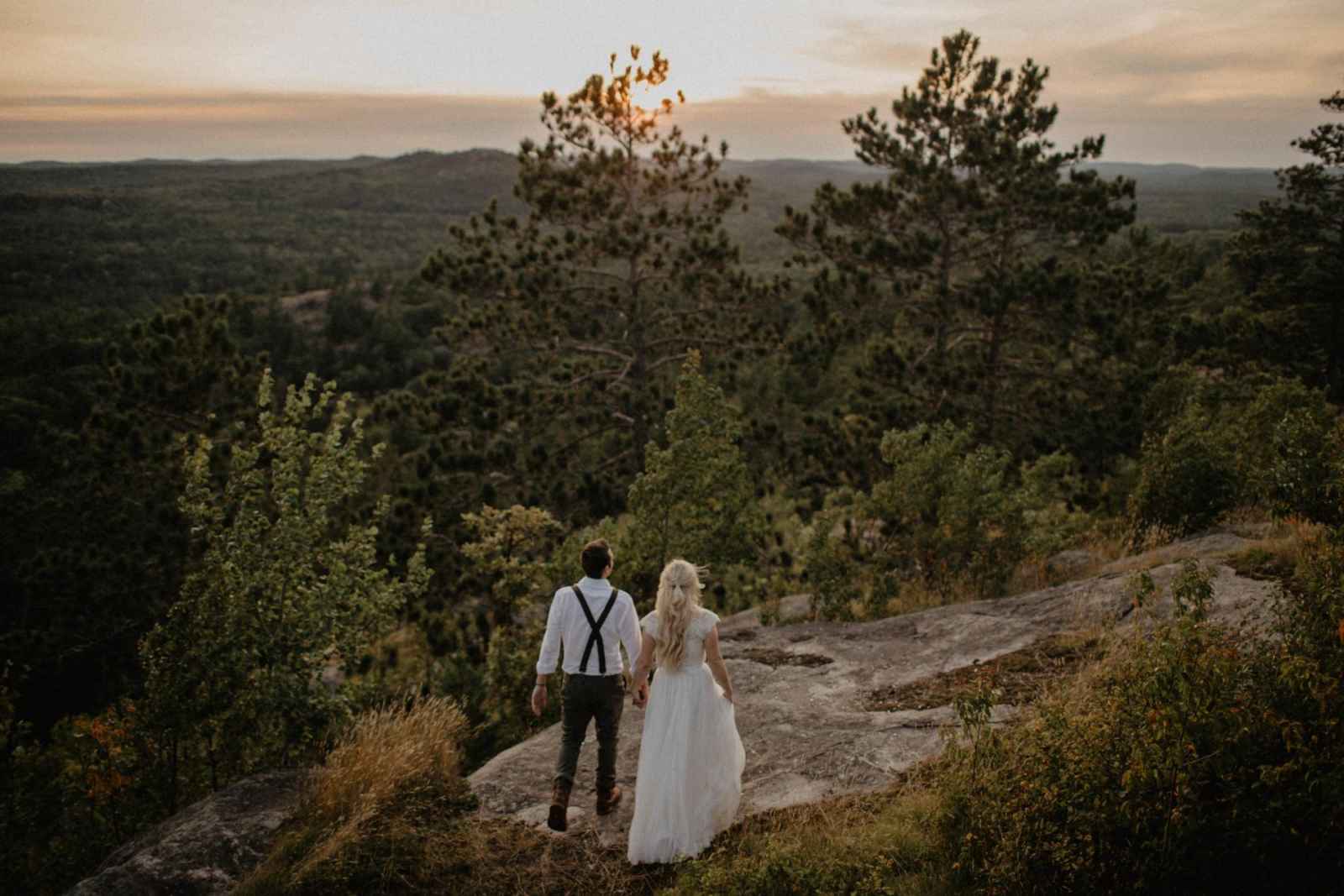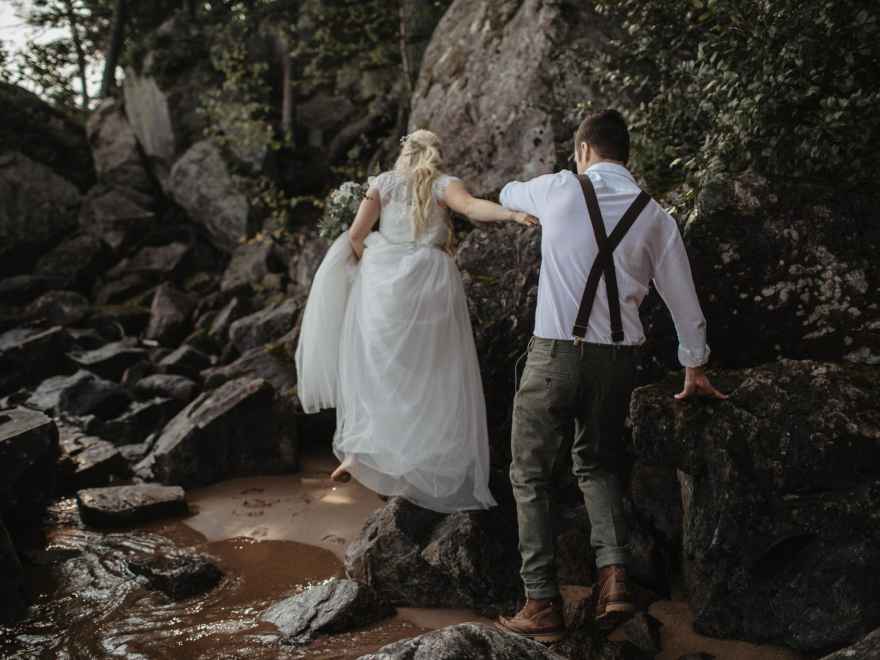 What We Love
We love that this couple took their challenges in stride. Emma says, "Planning a wedding is hard—even when it's as simple as ours. There was definitely a point where we didn't think we were going to have clothes for the big day. I didn't have my skirt until right before the wedding and didn't even have time to get it hemmed. Also, we initially planned on getting married September 2nd, but the weather forecast was a 90% chance of rain, so we moved it to September 1st at the last minute."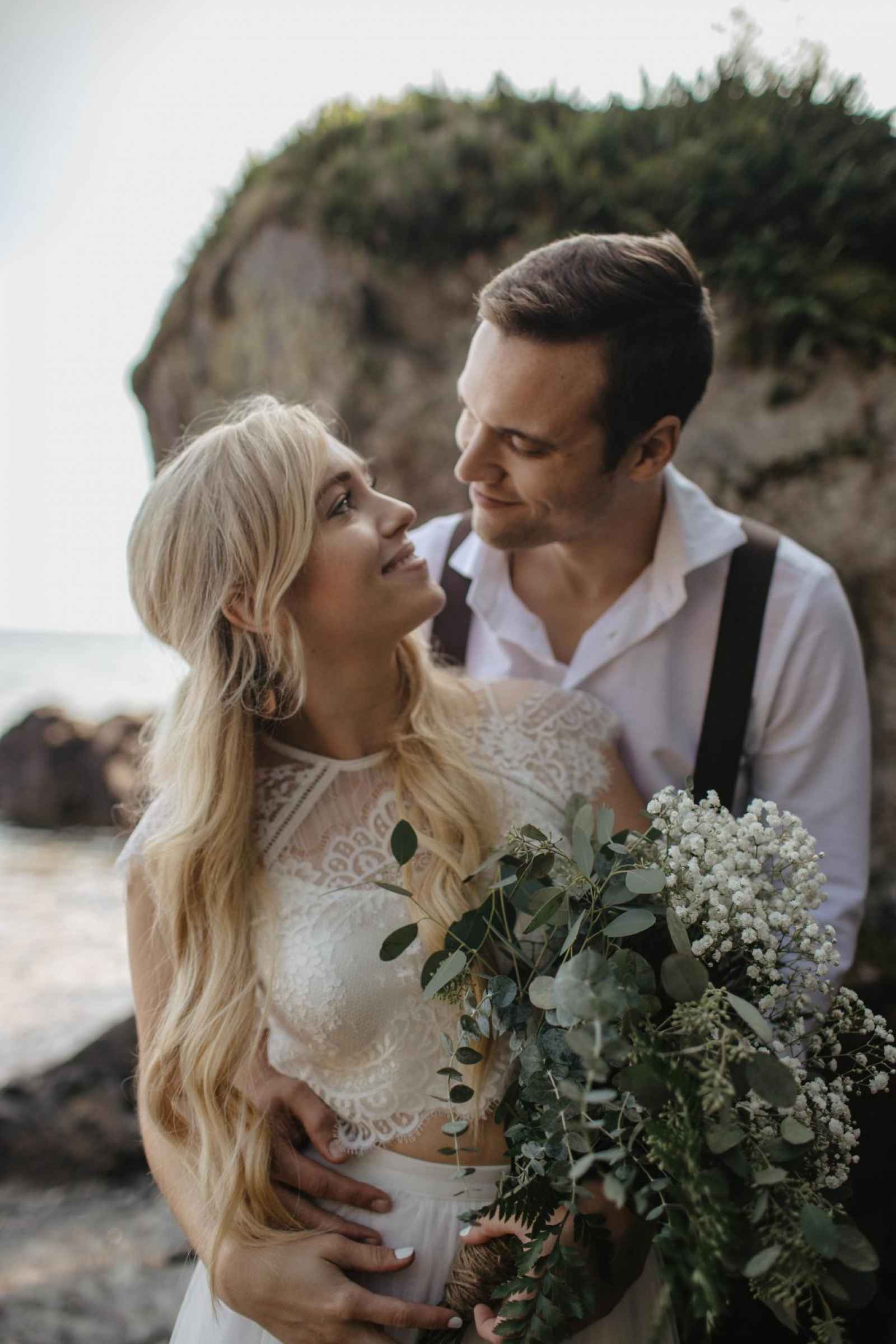 ADVICE FROM THE BRIDE
Emma says, "Stay true to yourself and plan your wedding in a way that is perfect for you. Don't ever worry about what others want or expect. Our family and friends were bummed that they weren't a part of the wedding, but they understood it was more important for us to have our wedding our way. It was important to me to take a moment and spend time alone with my husband directly after the ceremony and I recommend this to others. It's too easy to get caught up in the moment and swept away in the chaos, and this is an opportunity to hug, kiss, and absorb the euphoric feeling of forever."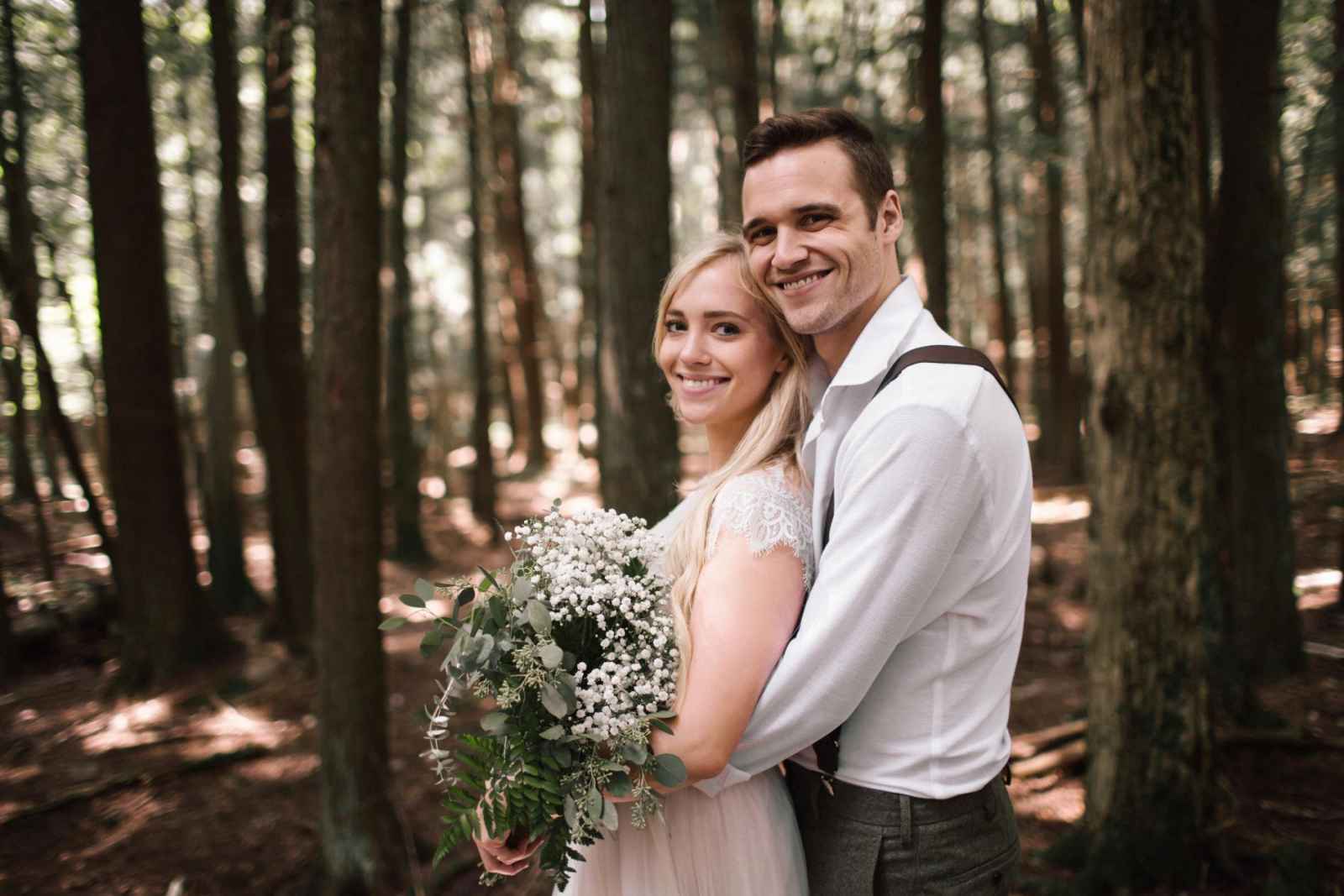 are you a bride-to-be?
We'd love to plan with you on weddingday-online.com. Let's get started!
 
are you a wedding extraordinaire?
Join WeddingDay Magazine in inspiring brides by partnering with us! See how here.