Simple, Botanical Bliss: An Intimate and Elegant Affair
A family trip to Europe turned out to be life-changing for Kaiti and Nate, a couple who went to high school together and reconnected years later after attending different colleges. This trip with Nate's family provided them with the chance to see Germany, France, Scotland, and England—Kaiti's dream. But the true highlight for Kaiti was visiting Chatsworth house in Derbyshire, England—the setting for her all-time favorite book, Pride and Prejudice. She had no idea an even bigger dream was about to come true, and her Mr. Darcy would be proposing to her. With her beloved Chatsworth House in the background, Nate knelt down with his very own handmade wooden box and proposed. Needless to say, Kaiti was ecstatic he made her own love story come true!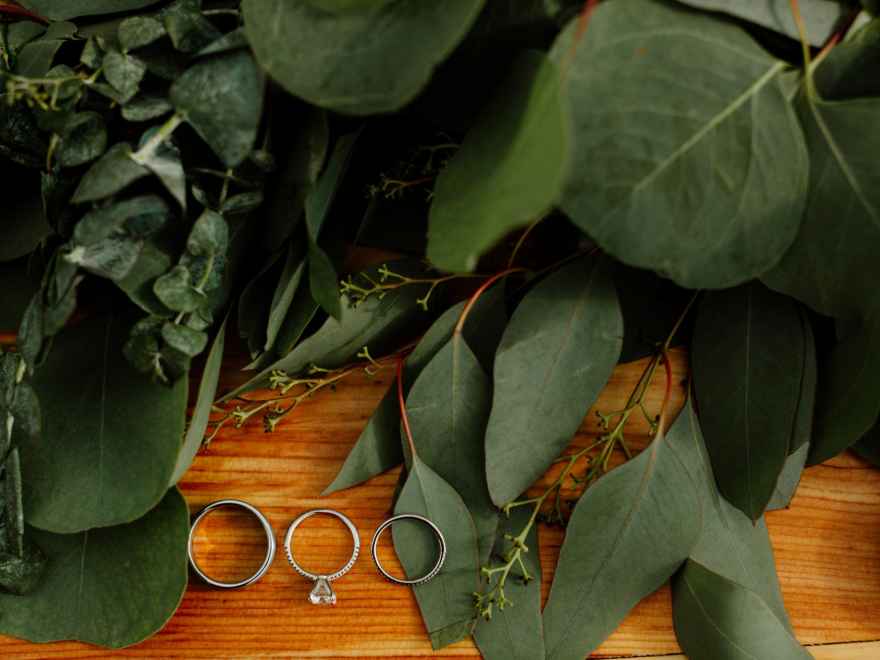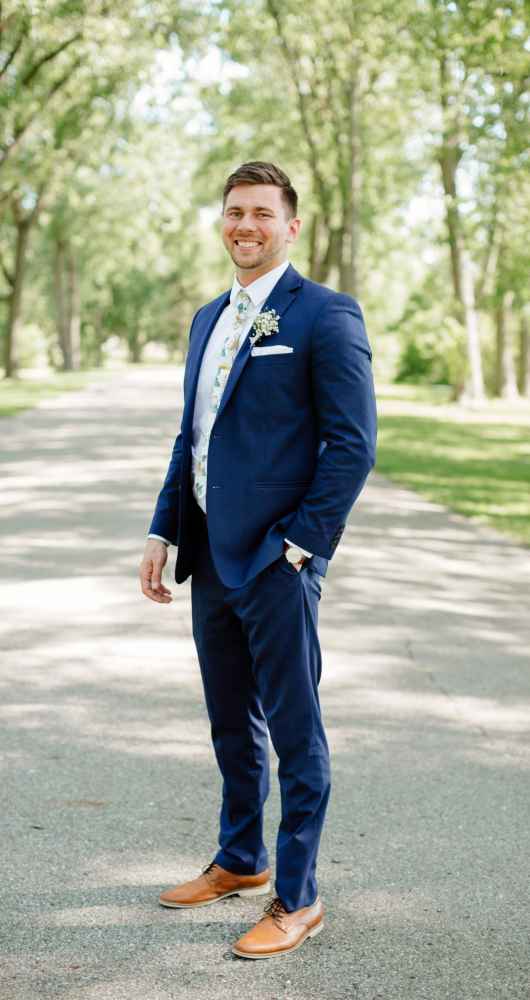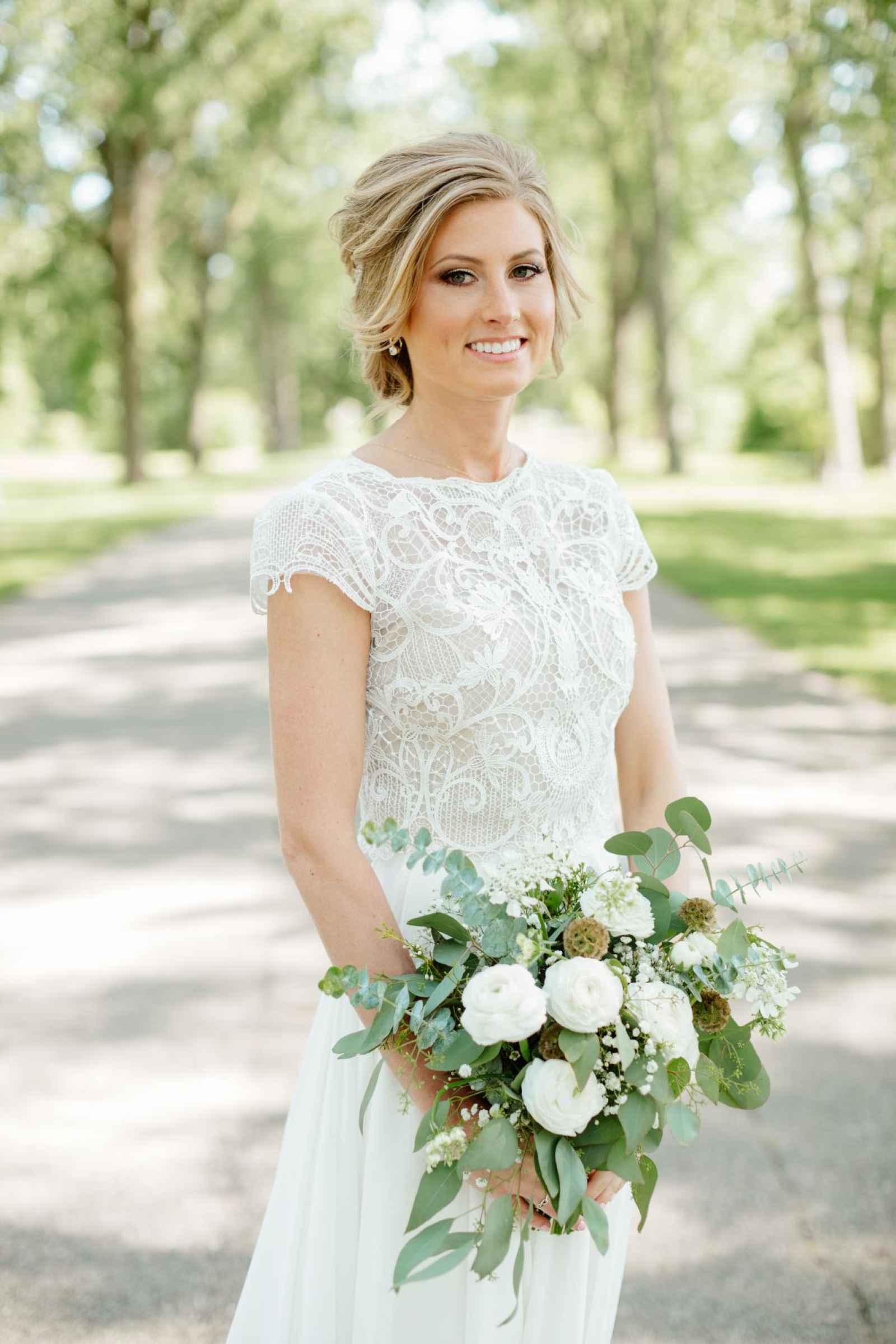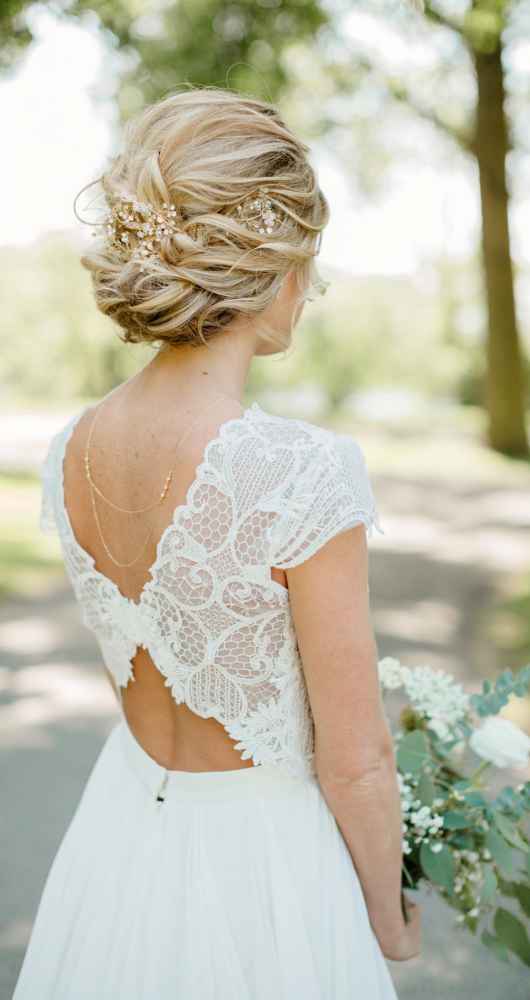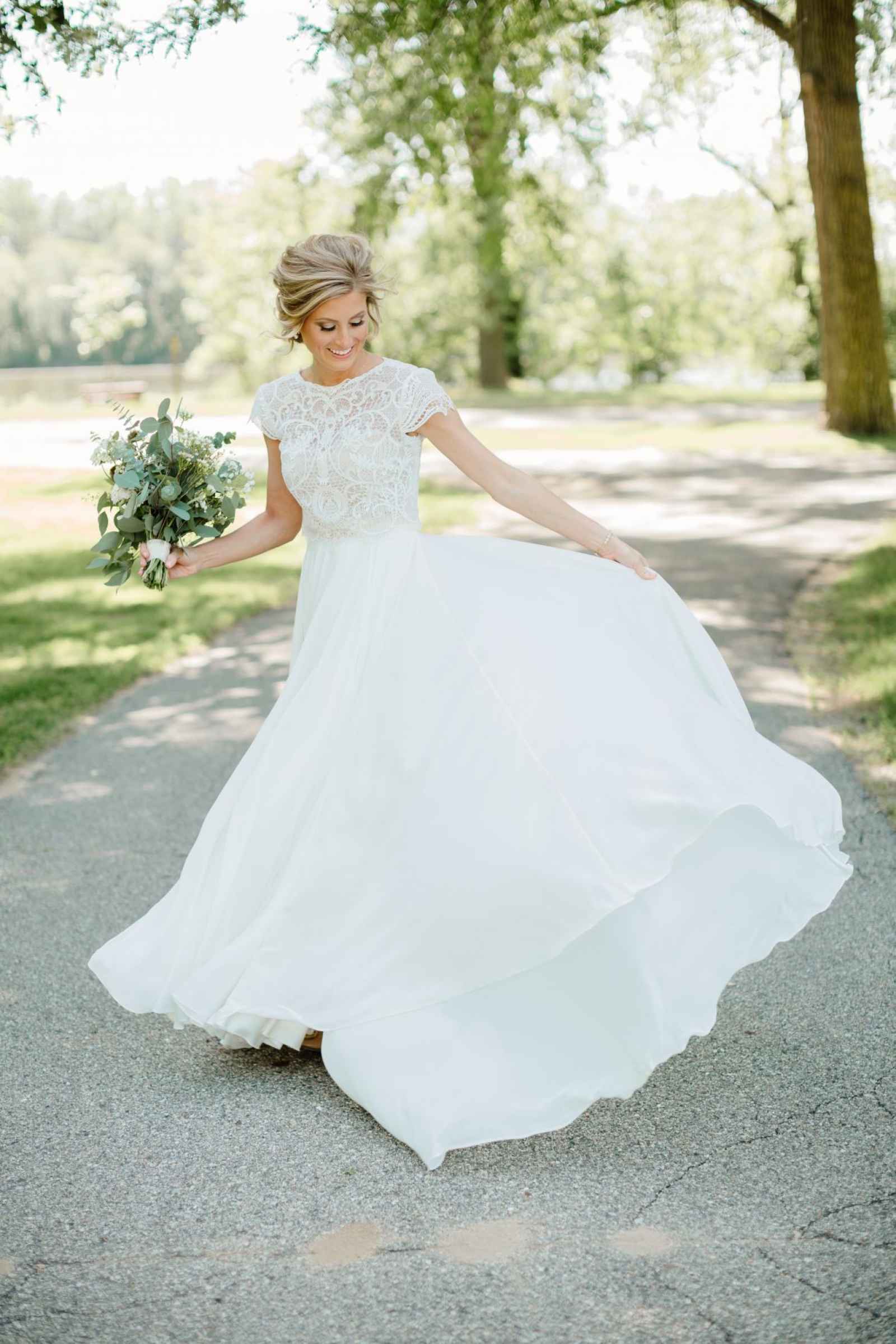 THE PLANNING
First deciding if they wanted a traditional wedding or a simple, romantic getaway, this couple decided on an intimate ceremony and dinner with 50 of their closest family and friends. The next task was finding a venue that would appropriately accommodate their modest group. The minute they toured Downtown Market in Grand Rapids, Michigan, they knew it would be perfect. "I started space planning, plotting layouts, color schemes, etc.—all before we ever left the venue," Kaiti, an interior designer by day, says. "The greenhouse had us hooked and I knew it would provide the perfect balance of intimate, simple, fresh and all around botanical bliss."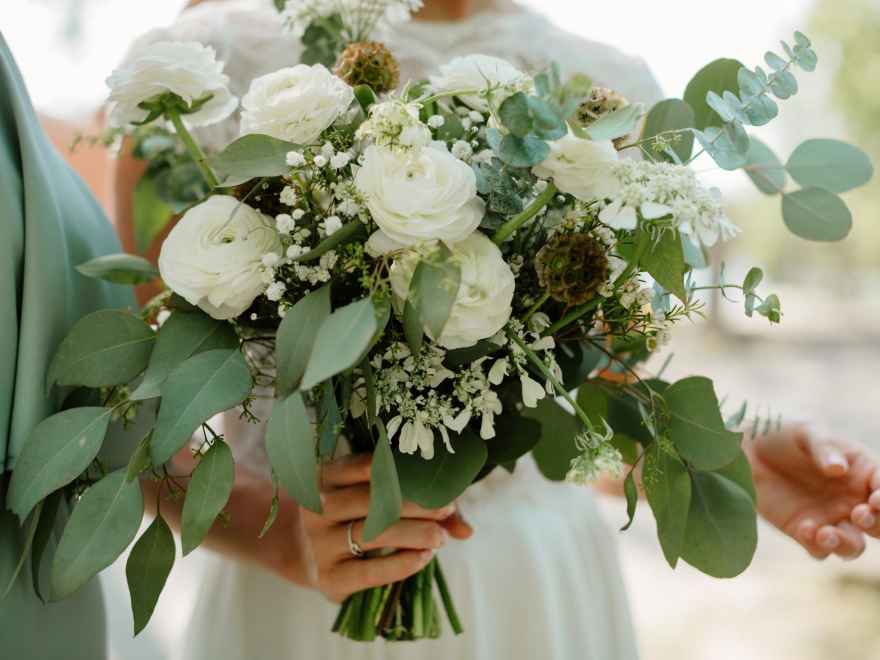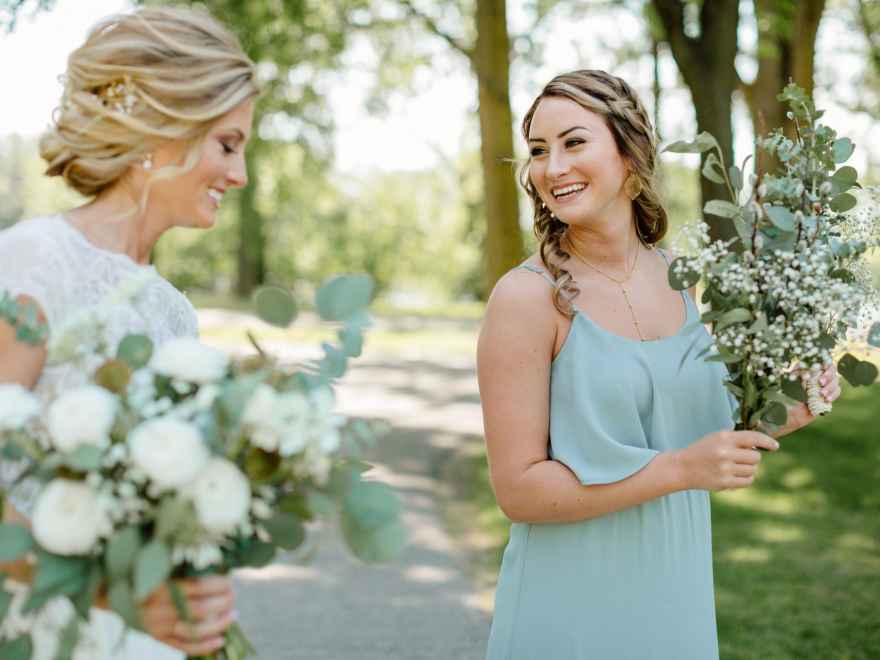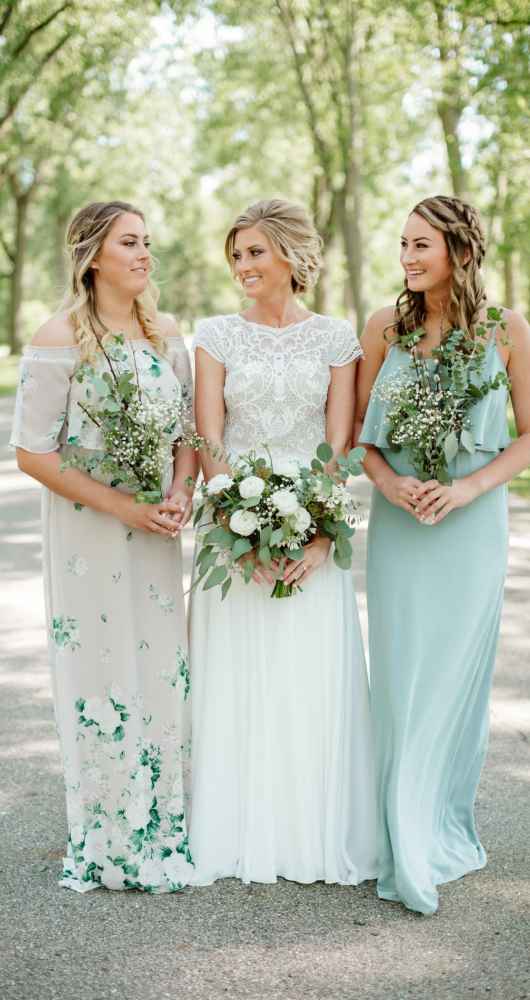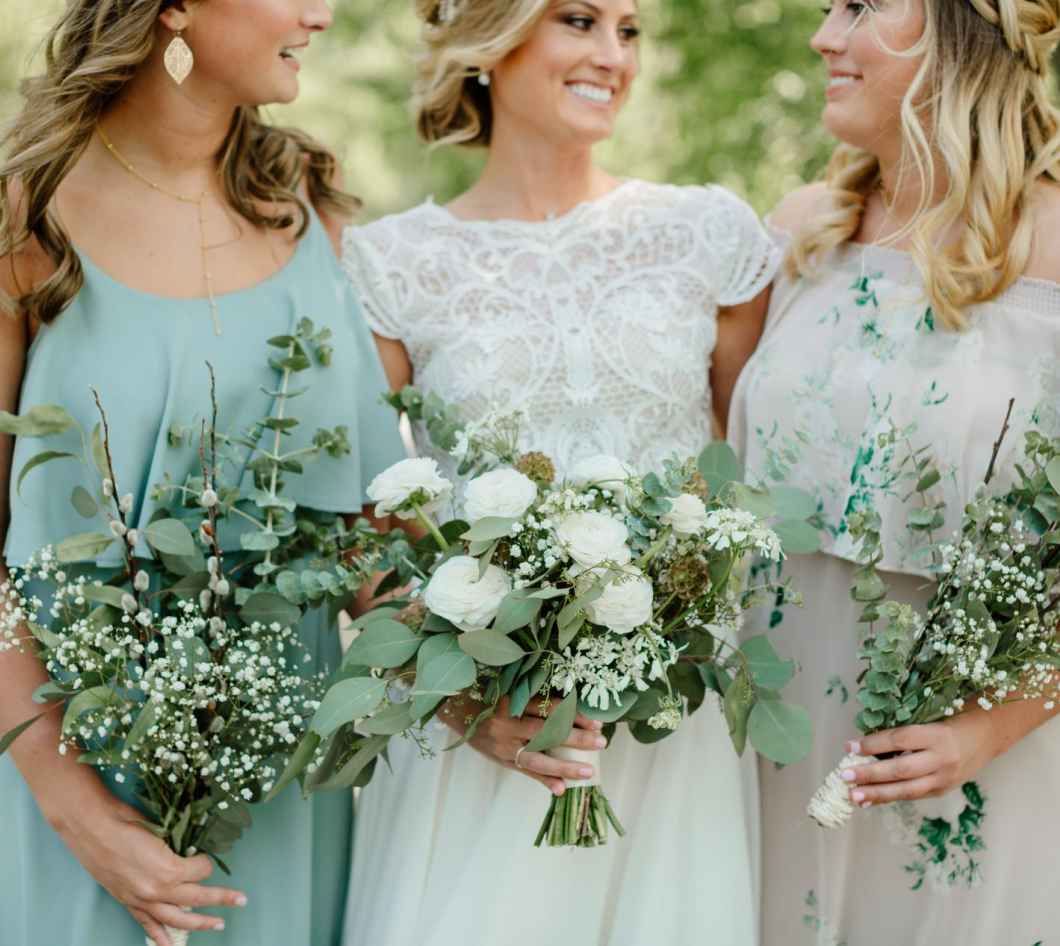 THE DRESS
Kaiti thought that her dress would be one of the hardest elements to nail down for the wedding but—thanks to her great team—she found the dress of her Pinterest dreams. "I always knew I did not want a full or fitted skirt," says Kaiti. "I wanted something flowy, comfortable and with a ton of movement. The old soul in me also loved the idea of a lace top to add a daintiness and hint of romance, but every dress I had found online had one or the other. I was beginning to think my ideal dress was a fictional Pinterest dream that was one in a million. I had found several bridal designers that I loved the overall look and style of their dresses and several of these lines were carried at Spring Sweet in downtown Holland, Michigan, where I ultimately found my dress." The JLM Couture top she discovered was a match made in heaven for her stunning Willow by Waters skirt. While it was sheer and meant to be a coverlet, the talented professionals at Great Lakes Wedding Gown Specialists were able to add a nude liner and tailor the entire vision into a dream ensemble.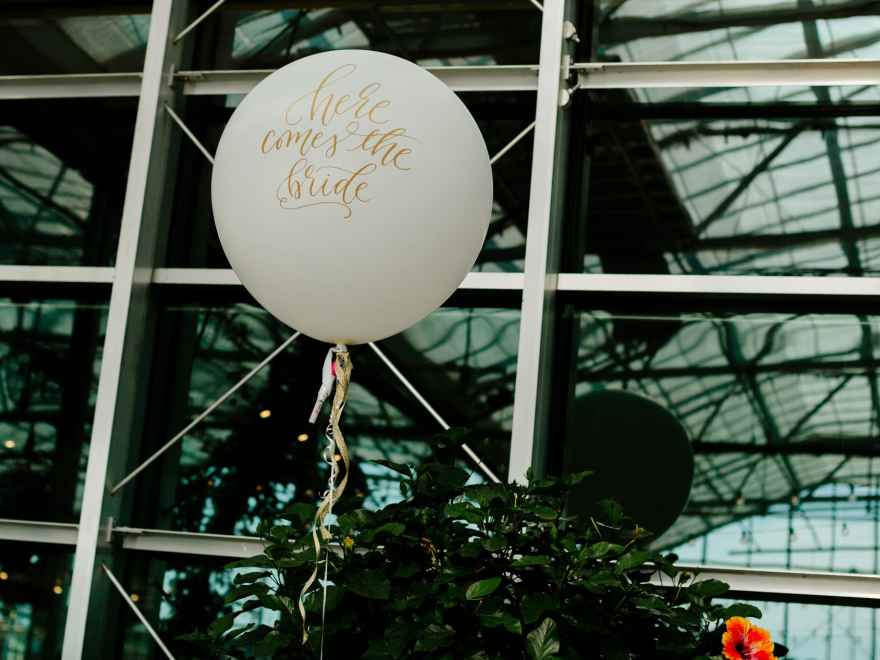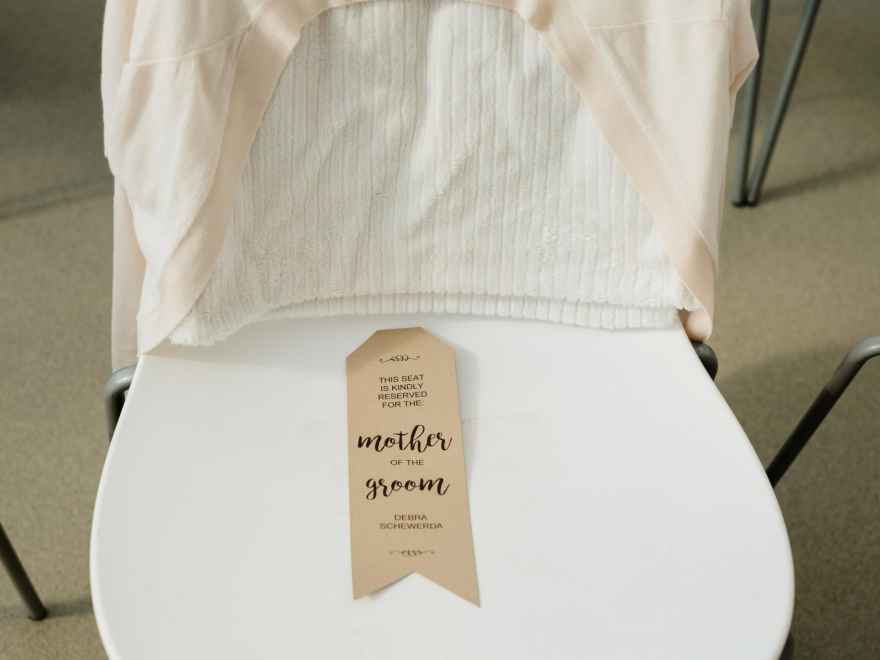 The Venue
The Downtown Market's greenhouse wasn't only open and airy, it offered a natural separation of vines and columns between the areas for the ceremony and reception. The outdoor terrace offered a unique spot for cocktails and hors d'oeuvres, mingling and an unexpected dance party—the perfect all-in-one package for the intimate ceremony.
Following their vision of a small, simple wedding true to their style, they let the allure of the downtown greenhouse aesthetic set the overall tone. Being natural planners, all the pieces came together easily for Kaiti and Nate as they crafted their intimate, botanical garden-themed wedding.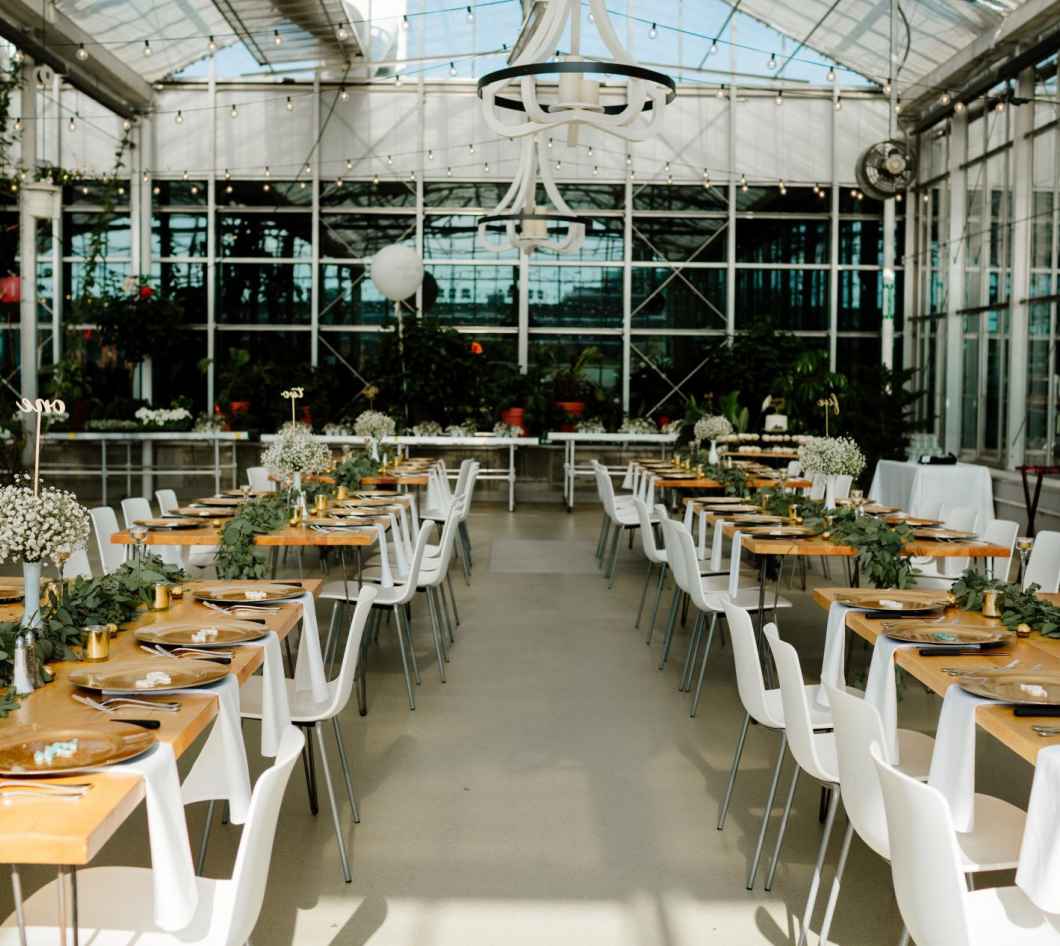 The DÉcor
Besides the chandeliers, this D.I.Y. couple also made most of the other detail items, including their own sweetheart and cake tables, unity tree stand and "Mr. and Mrs. garland." They also refinished an old mirror to place their table assignments on and designed their own card holder stand. The D.I.Y. theme continued with the bridal party bouquets, made by Kaiti's mom and the cupcakes and the bride and groom cake, made by Nate's aunt. Overall, the venue was kept simple with most of the color being derived from the natural elements within the space, including wood, florals, natural light and the gorgeous greenhouse vines.
Kaiti explains, "The look and feel of the venue also transferred over to the bridal details with a neutral palette that pulled in the gray and greens from the eucalyptus and greenhouse florals but also mixed in some subtle hints of gold that were intermingled throughout the reception details and bridal accessories."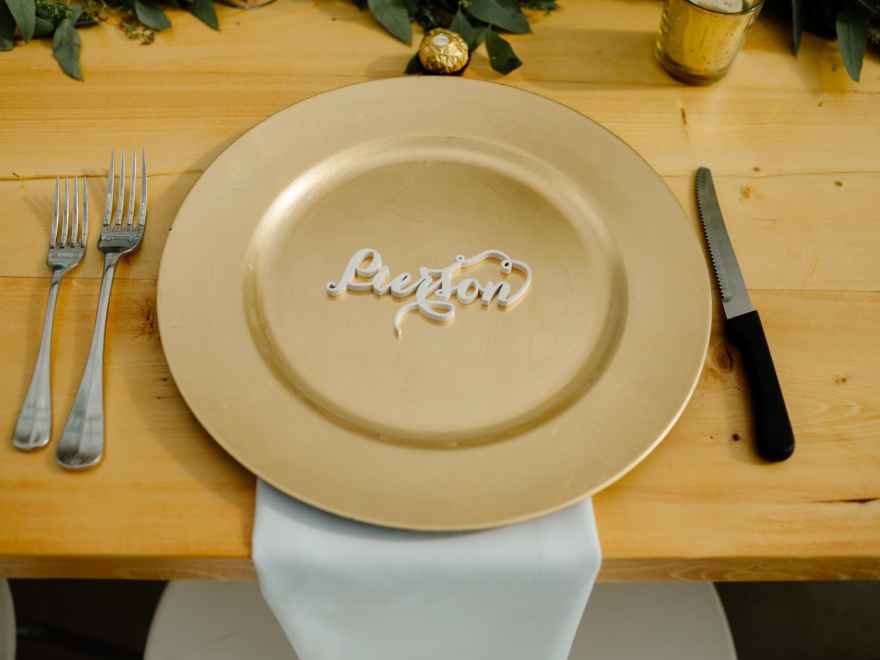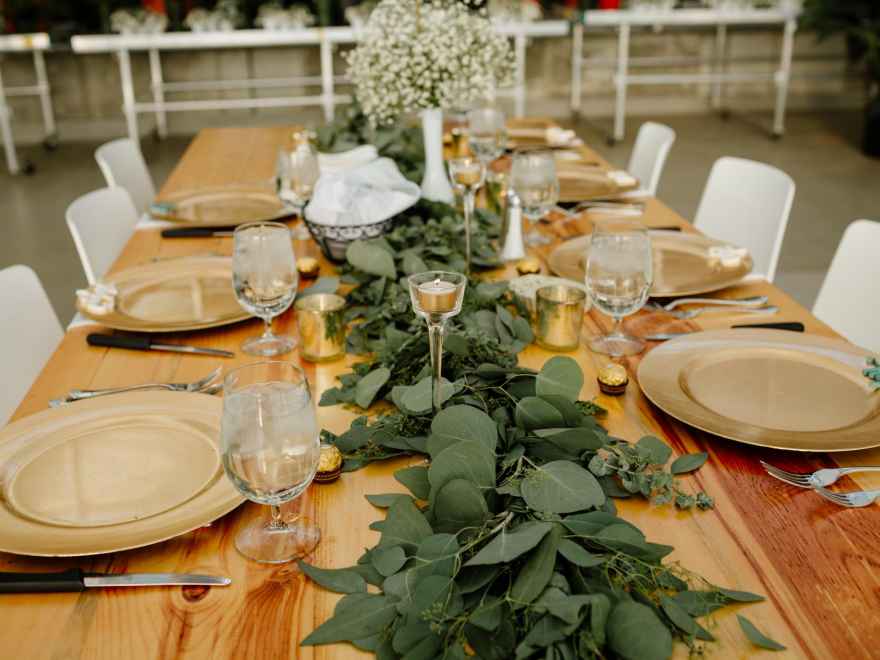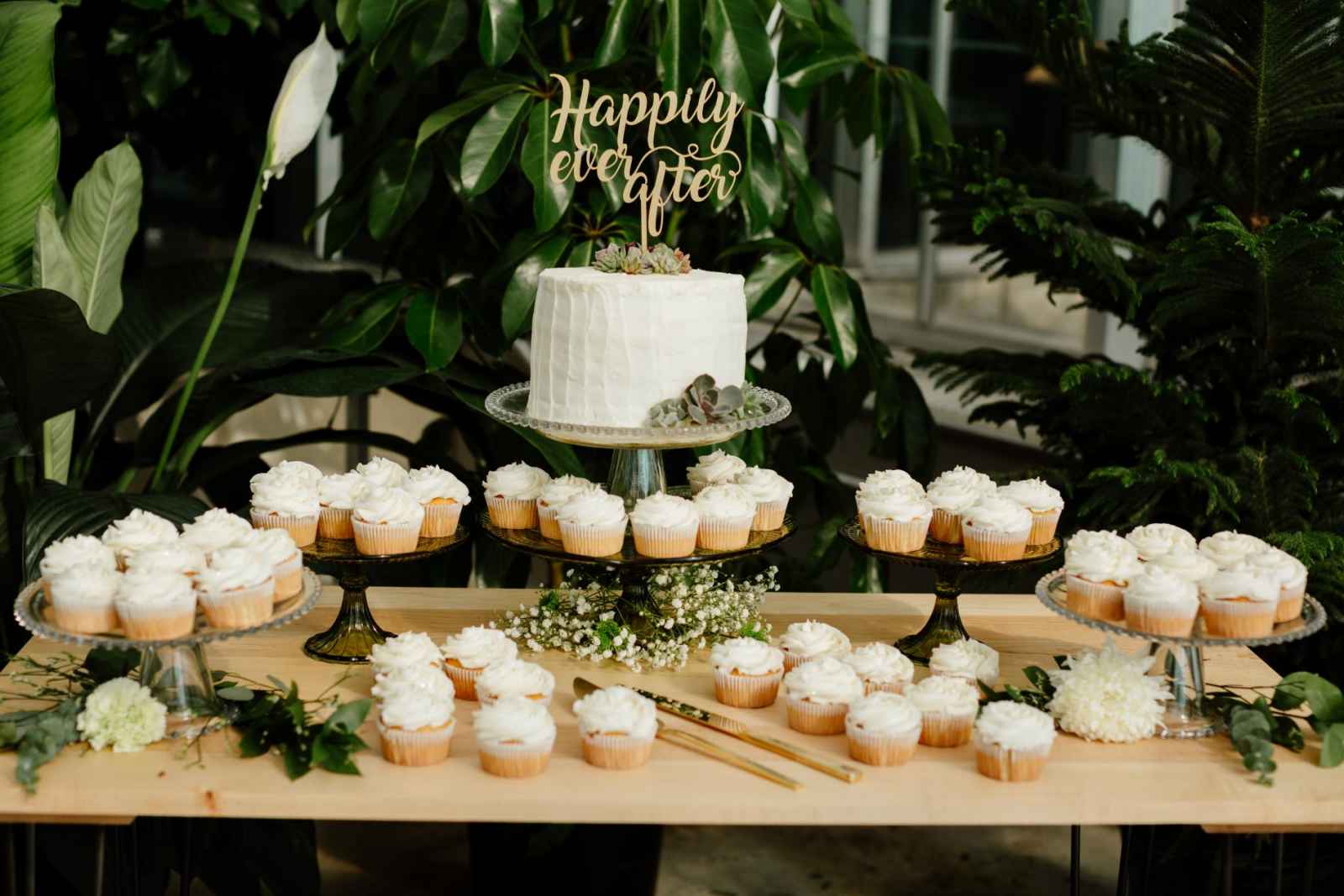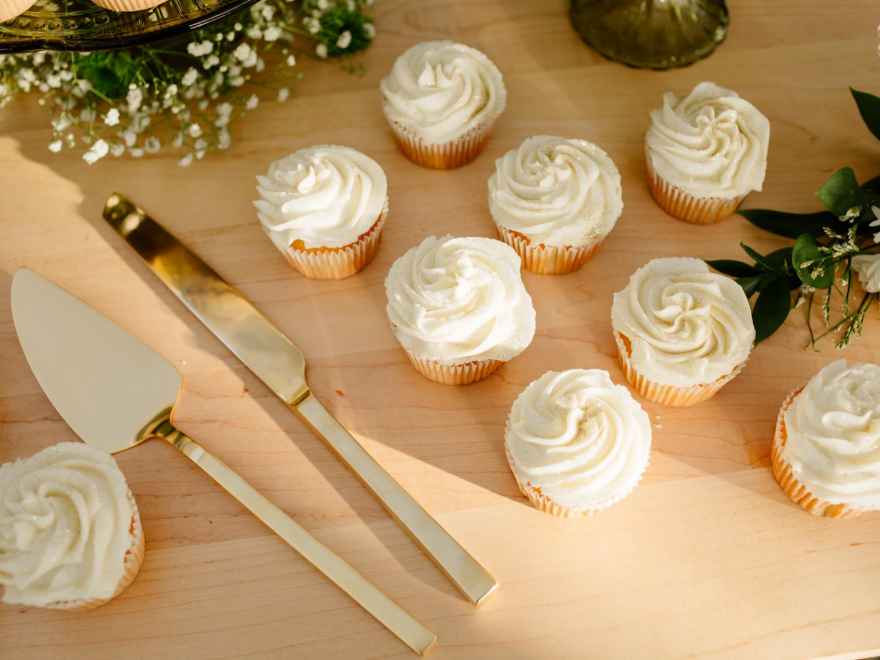 Special Touches
What do you do when your rental chandeliers are no longer available? You make them, of course! Kaiti's wonderful husband-to-be came to the rescue and—backed by his love of woodworking—offered to take on the huge task of making three gorgeous, custom wood chandeliers, exceeding Kaiti's vision. This bride not only loves that they showed up in so many of their photos, but that they ended up being a great conversation piece, too. "I can't wait to look back at our photo album with our children and tell them how special their dad made our wedding day," Kaiti says.
The intimacy and size of the wedding also made it that much more special to this couple, creating lifelong memories. Another bonus was that everyone was on a first name basis, as they were able to have laser cut names made from wood at everyone's place setting.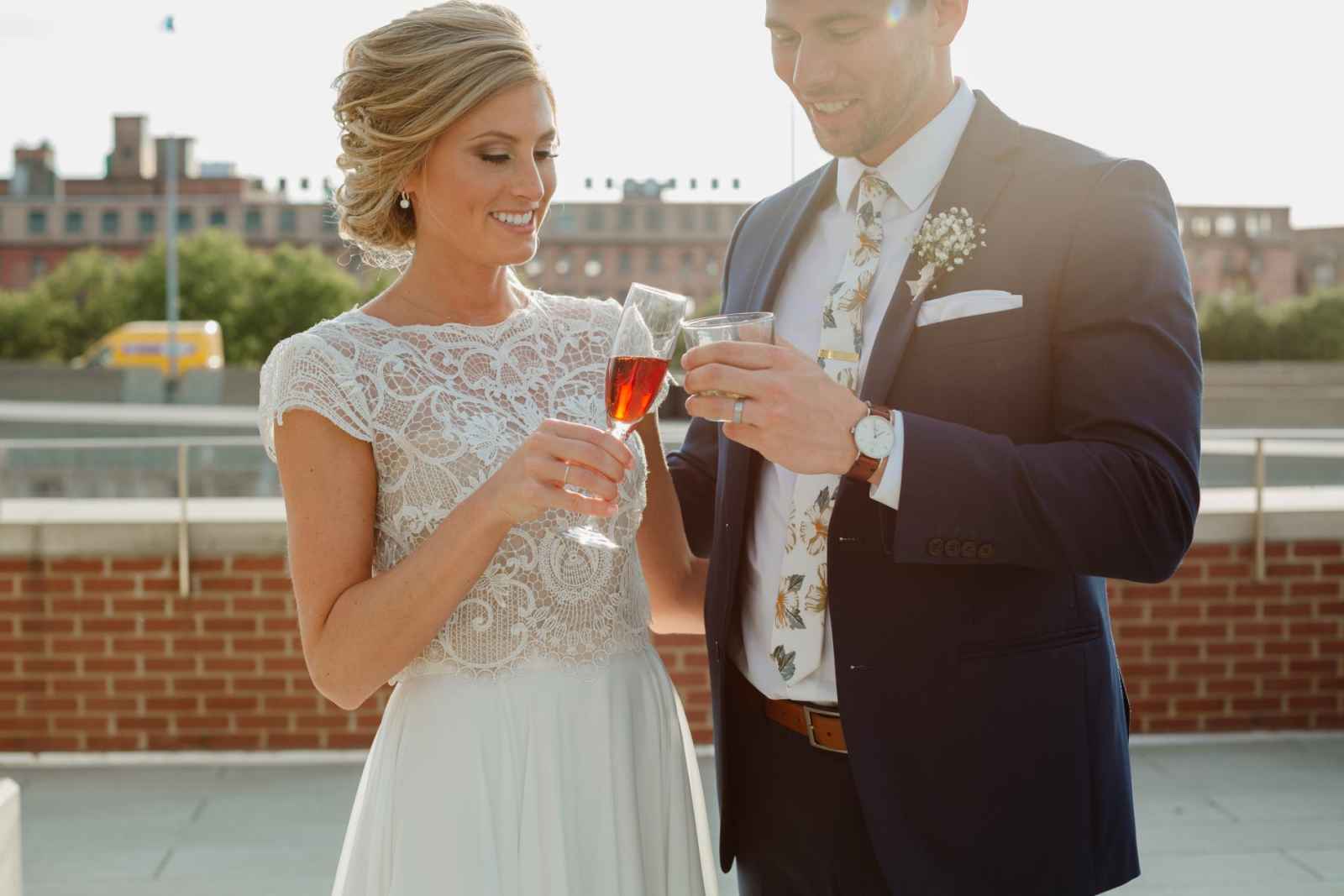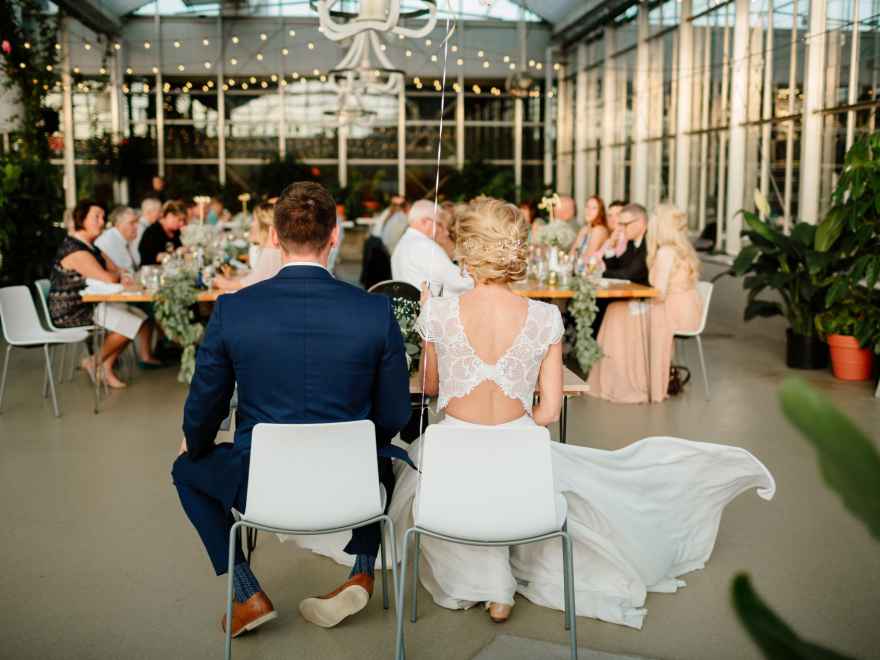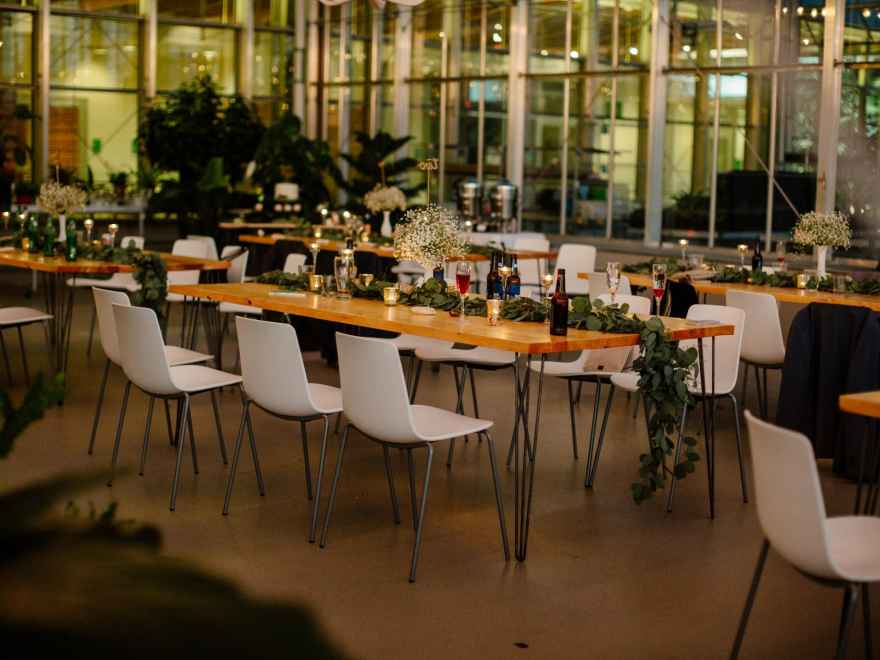 What We Love
We love this gorgeous greenhouse as much as Kaiti and Nate's guests did! From the botanical vibes to the wonderfully elegant palette, gorgeous Spring Sweet florals and great views, this wedding is as unique as it is gorgeous.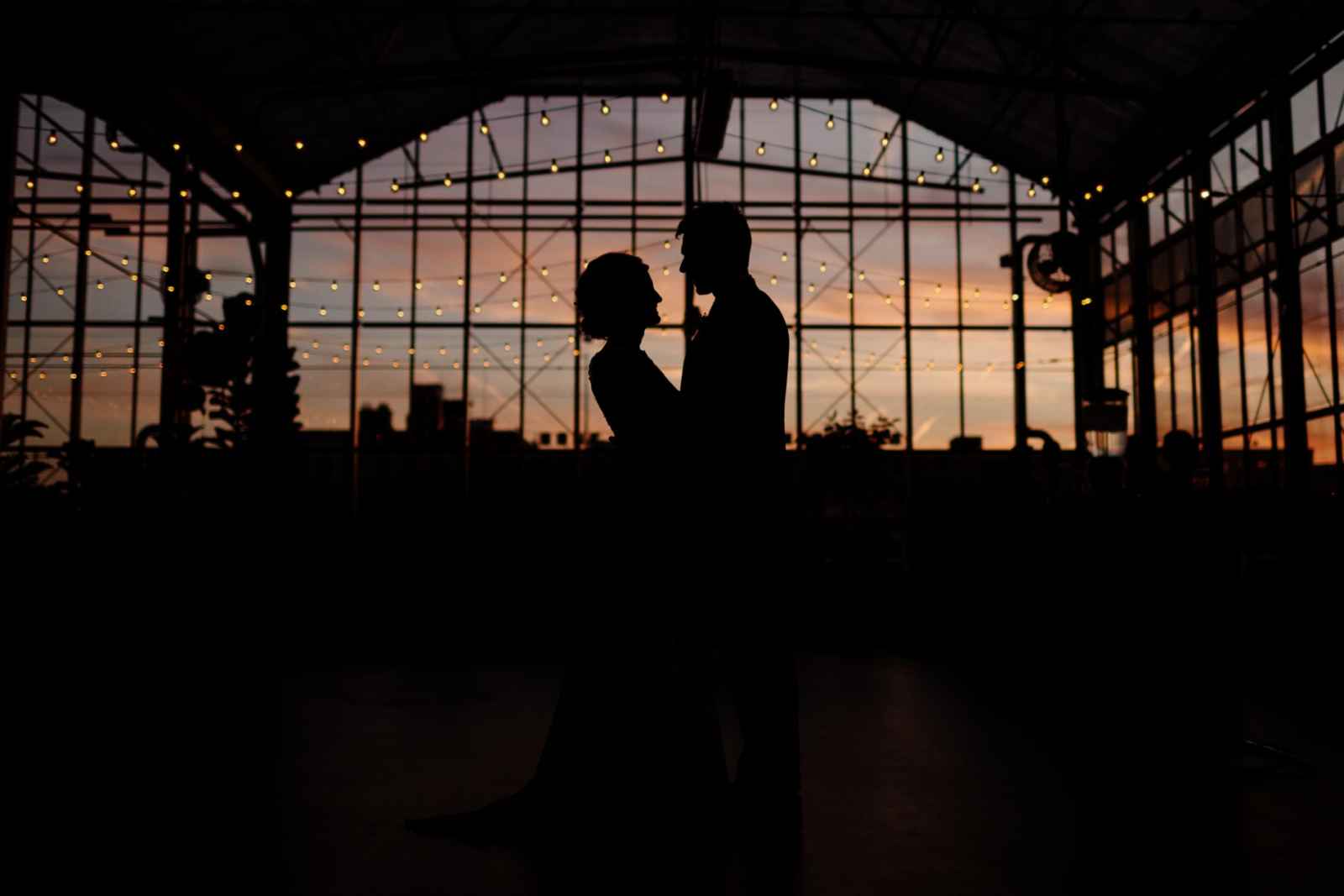 are you a bride-to-be?
We'd love to plan with you on weddingday-online.com. Let's get started!
 
are you a wedding extraordinaire?
Join WeddingDay Magazine in inspiring brides by partnering with us! See how here.