Perfect Match
Something as simple as a game of "Catch Phrase" was all it took to change Katharine Folger and Ryan Kavanagh's relationship from "just friends" to "happily ever after."
It was during a game night before their junior year at the University of Notre Dame that everything changed. When given the phrase "Perfect Match", Ryan found himself at a loss for clues. When time expired and he shared the phrase with the group, one friend voiced what everyone was thinking but no one else would say: "Well, why didn't you just say 'you and Katharine'? We would have gotten it!" Despite their momentary embarrassment, Katharine and Ryan knew he was right, spent the rest of the summer getting to know each other, and quickly became inseparable.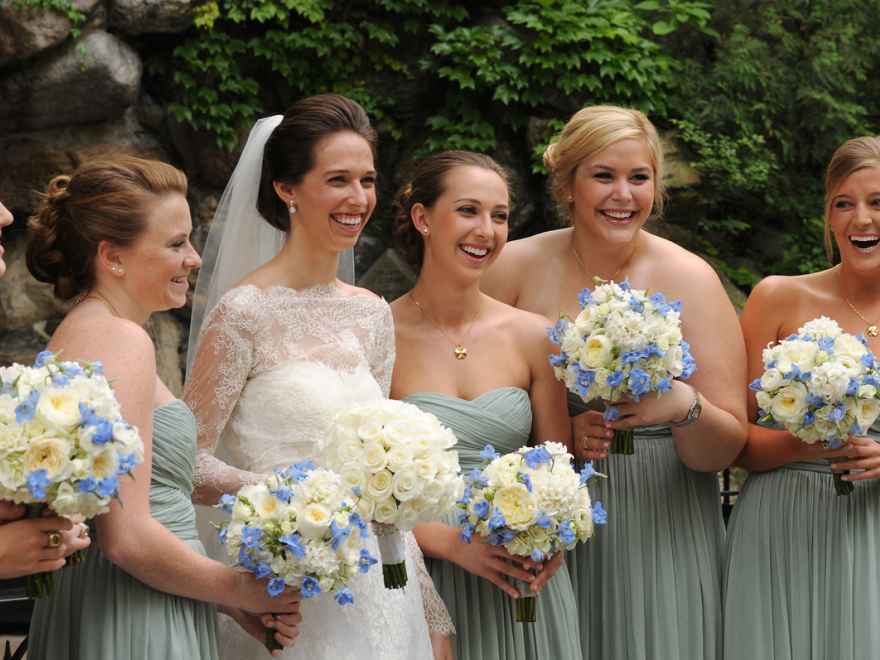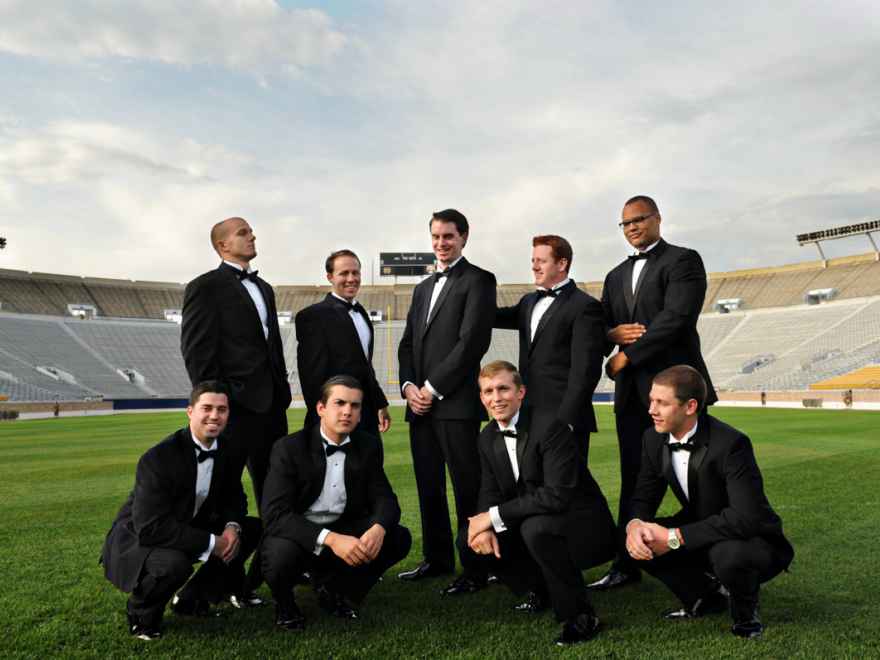 SIGNATURE SURPRISE
Since the beginning of their courtship, Ryan was in the business of surprising Katharine. Naturally, his proposal came in similar fashion. It was prior to the start of their final semester at Notre Dame when the two met in Chicago to spend some time together before returning to South Bend. Ryan led Katharine to believe they were meeting friends for dinner.
As they walked down Michigan Avenue on a chilly January night, Ryan suggested that Katharine wait inside the lobby of the John Hancock Center while he hailed a cab (and also to keep her at a safe distance – he didn't want her finding the ring). But once inside, he escorted her to the elevators to head up to the 95th floor. By now no stranger to Ryan's surprises, Katharine went along as if this was their plan. Once they arrived at the Signature Room, Ryan couldn't wait to pop the question. With beautiful 360-degree views of the city from the room's floor-to-ceiling windows, Ryan dropped to one knee and asked Katharine to be his wife. It may have been Friday the 13th, but that didn't matter. The day's "bad luck" was no match for the couple's love for each other.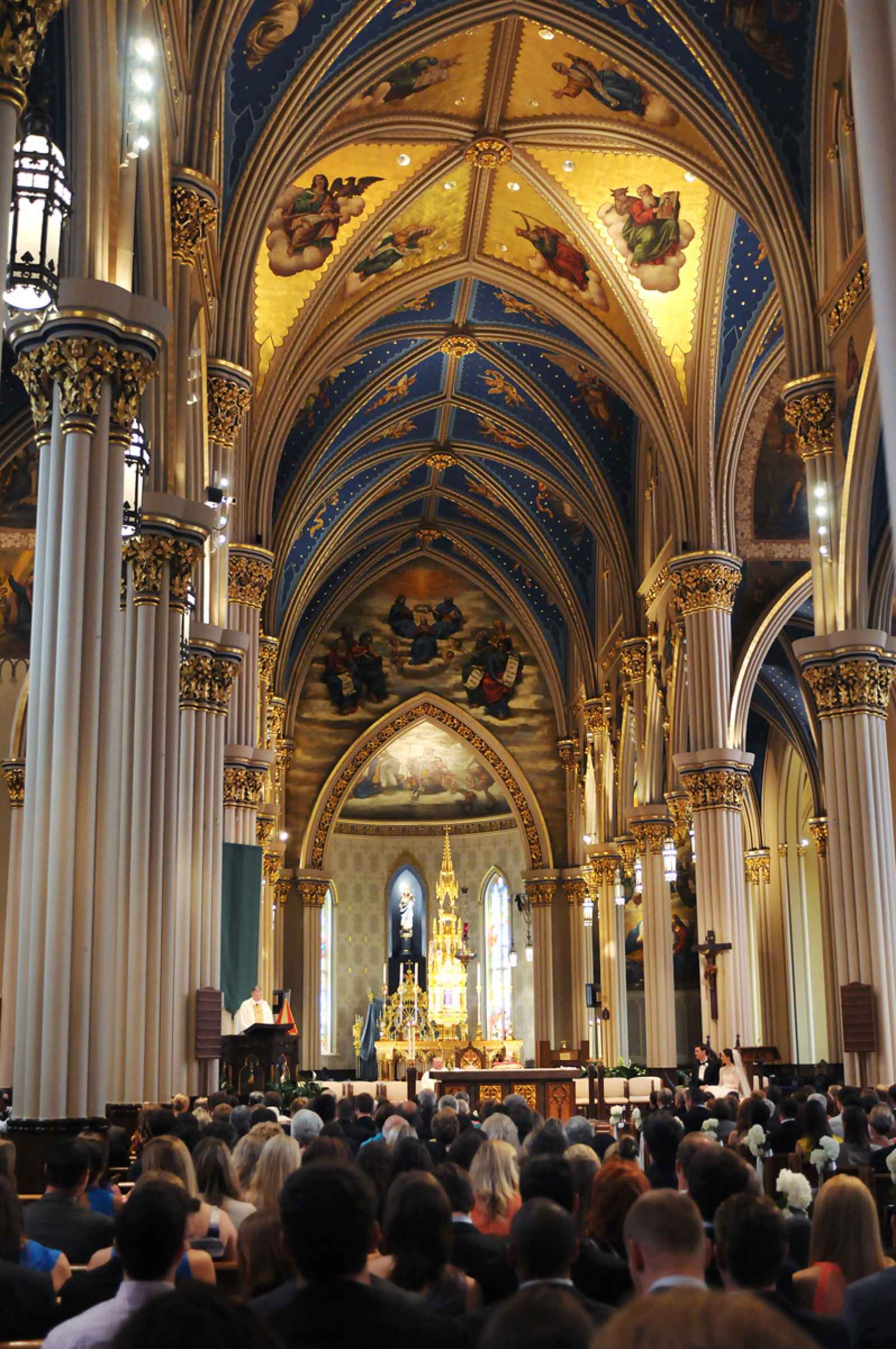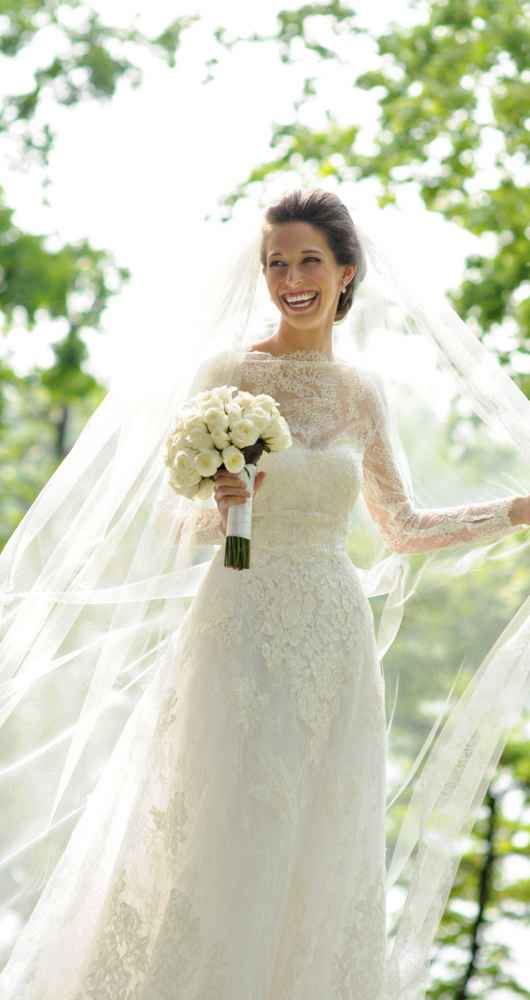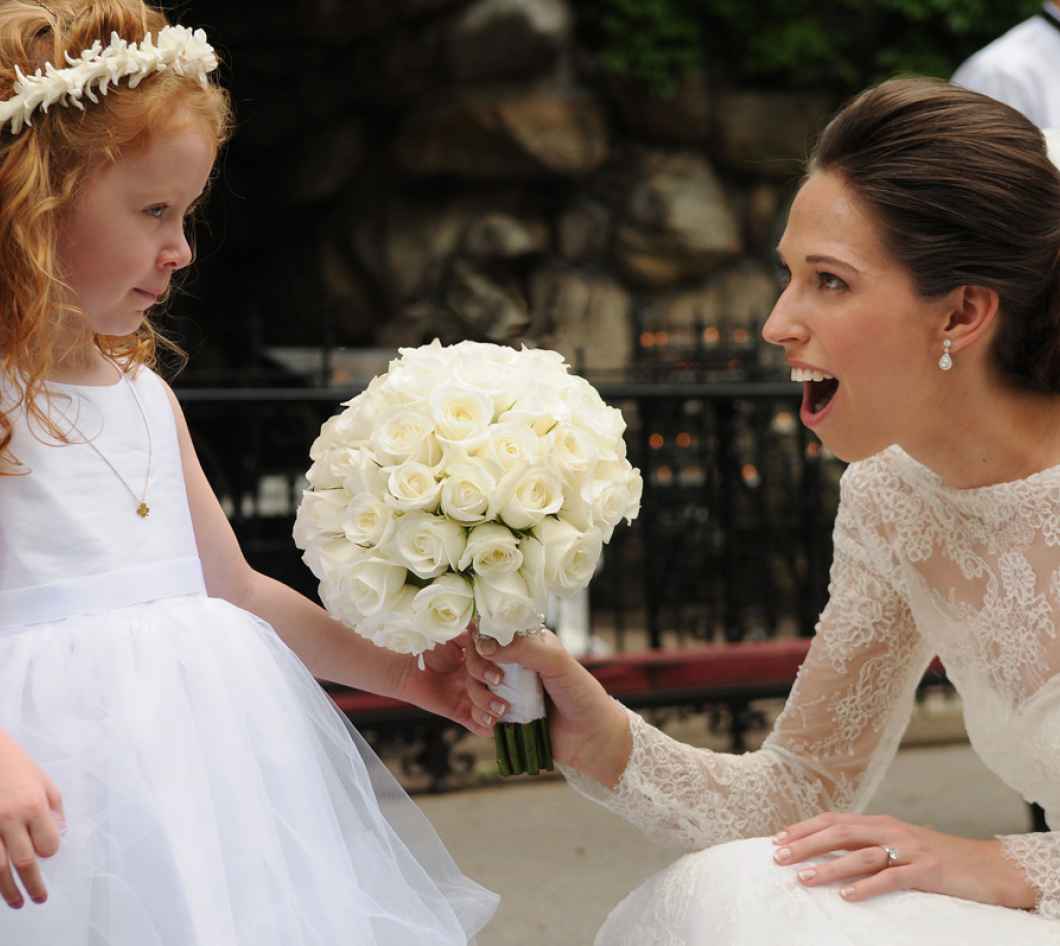 A SACRED HEART CEREMONY
There was little question as to where their wedding would take place. The Basilica of the Sacred Heart on Notre Dame's campus was special because it was where they worshipped as students. Its breathtaking beauty is legendary. Three clergy were present at the ceremony: one from each of their hometowns, as well as Rev. Wilson D. Miscamble, CSC, who officiated. Both were in a history class taught by Miscamble the same semester they got engaged.
Katharine and Ryan had their ceremony scheduled for 11:00 a.m. on June 15, 2013. "The 11:00 a.m. ceremony time gave us challenges and opportunities," Katharine said. "It meant a long day was going to start very early." But it also gave the couple more time to celebrate with friends and family. Following the ceremony, guests were greeted with mimosas and champagne at Club Naimoli at the Purcell Pavilion where a celebration lunch took place. But this was just the start of an all-day affair to celebrate the shared life of Katharine and Ryan.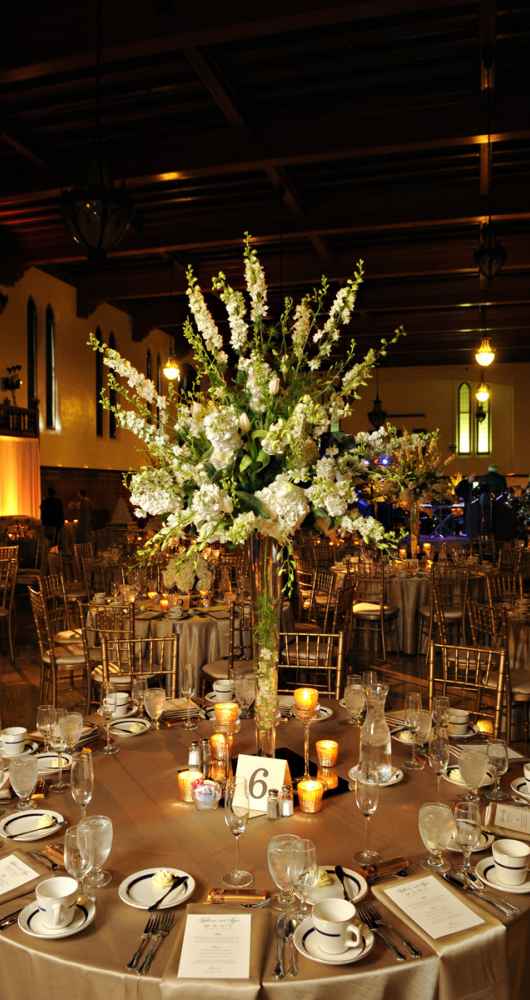 ELEGANT AND TRADITIONAL
After guests spent their afternoon resting or exploring, they returned in the evening to the South Dining Hall to continue the festivities. The neo-gothic building–complete with 35-foot ceilings, ornate chandeliers and beautiful oak beams–provided the perfect backdrop to bring their vision to life. Katharine described their wedding as "elegant and traditional with a few personal touches to make it unique and memorable." 
A color palette of ivory and green, accented with gold, created an atmosphere that perfectly balanced comfort and luxury. Two complementing centerpiece styles were used to create depth throughout the space. Smaller tables featured low centerpieces with a mix of ivory flowers including hydrangeas, larkspur and tulips, and were placed on antique mercury glass mirrors. Tall, dramatic floral designs surrounded by mercury glass candle holders in varying sizes adorned the larger tables.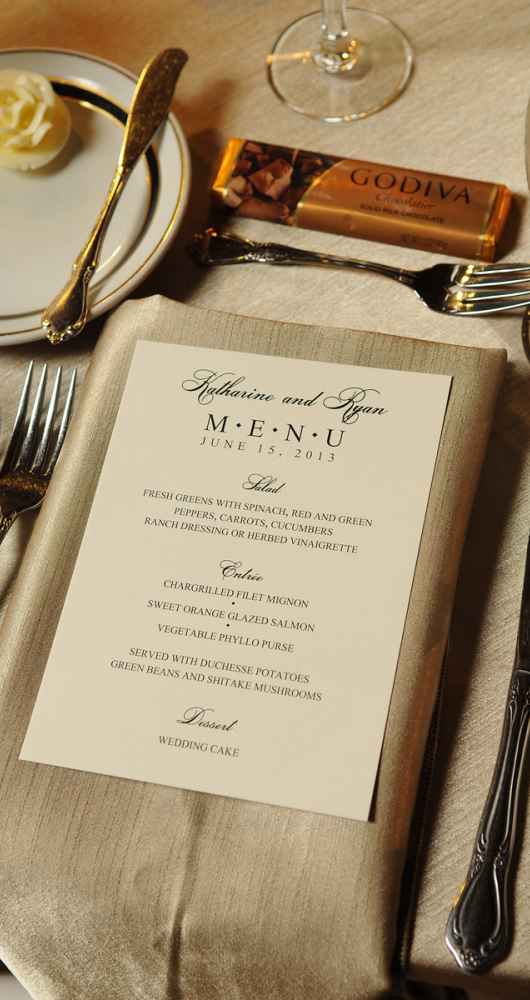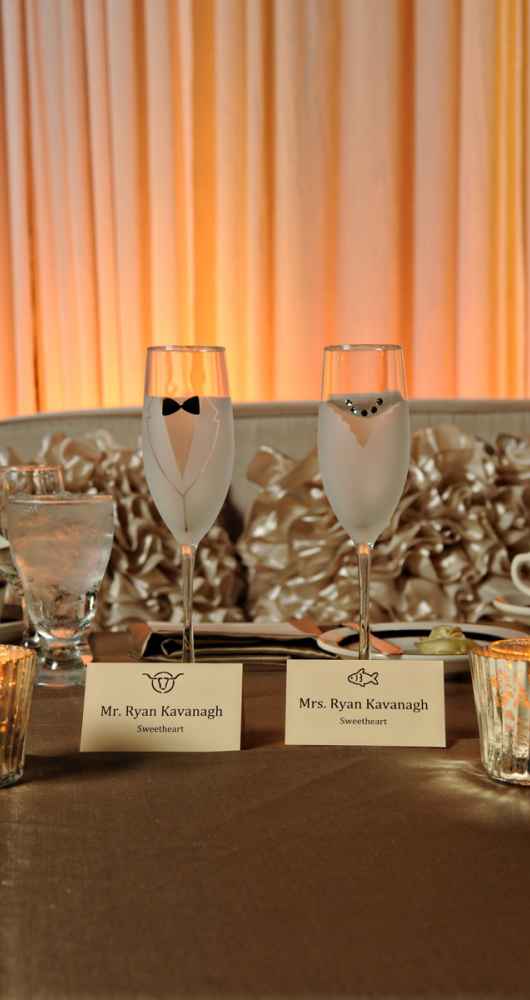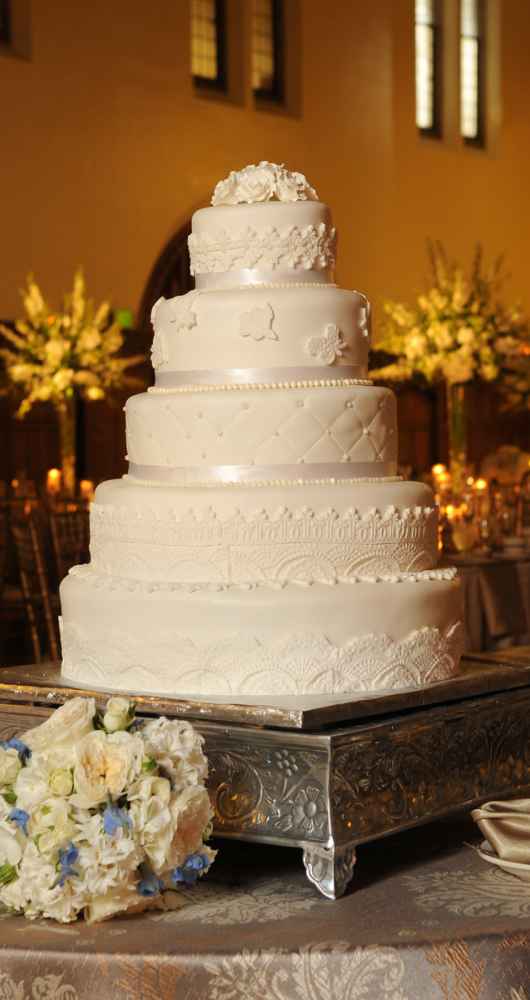 SOMETHING SPECIAL
"It's fun to incorporate unexpected surprises," Katharine told us. "So I had the idea, because we had so many Notre Dame friends coming, to get 'the most famous voice in Notre Dame Stadium' to make an appearance." Of course that voice belongs to retired Indiana Police Sergeant Tim McCarthy, who gives a clever and humorous pun-loaded driving safety announcement before the start of the fourth quarter of each home football game – and has done so for more than 50 years. While a voice recording would have suited the couple just fine, Sgt. McCarthy appeared in person and had the crowd's undivided attention. "The Irish fans went wild afterwards," Katharine said. "Even those who weren't familiar with Sgt. McCarthy could tell this was something special."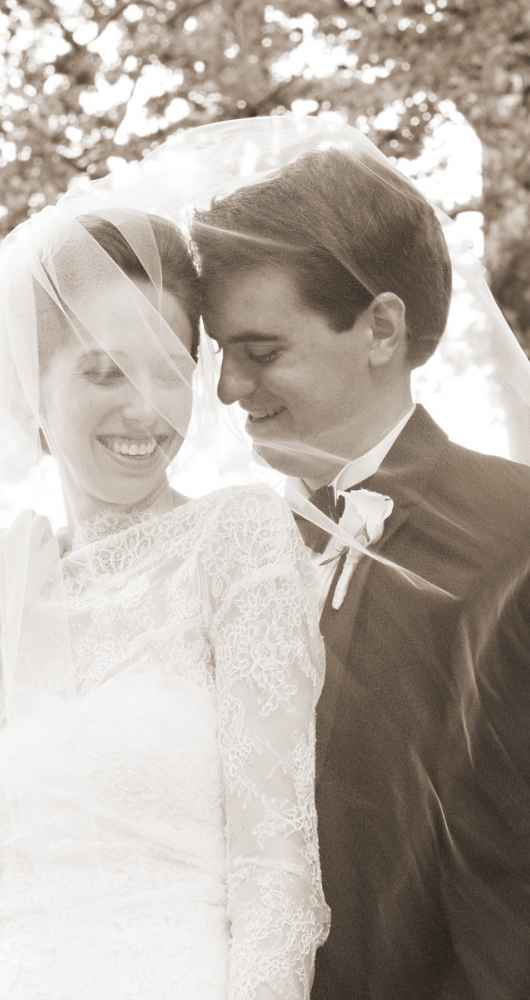 AN IRISH AFFAIR
The wedding weekend of Katharine and Ryan Kavanagh was a true Irish affair from start to finish. Their four years at Notre Dame were special to them for a number of reasons, but most importantly, it was where the two (with a little help from their friends) found each other. Naturally they went back to where it all began to launch a new beginning. Surrounded by their family and friends in a place that both hold so dear, Katharine and Ryan said "I do," and became husband and wife.