A Fairytale Garden Wedding: A Real Wedding at Laurel Hall
It was life-changing experiences as Peace Corps members that set Kim and Alex's hearts ablaze. Their love story reads much like a sweet, romantic movie. Two young Americans are both spending their formative years in service abroad and, while enduring the emotional ups and downs of their experience, they meet up each weekend. Sharing a mutual love of travel, food and movies, they grow closer and closer.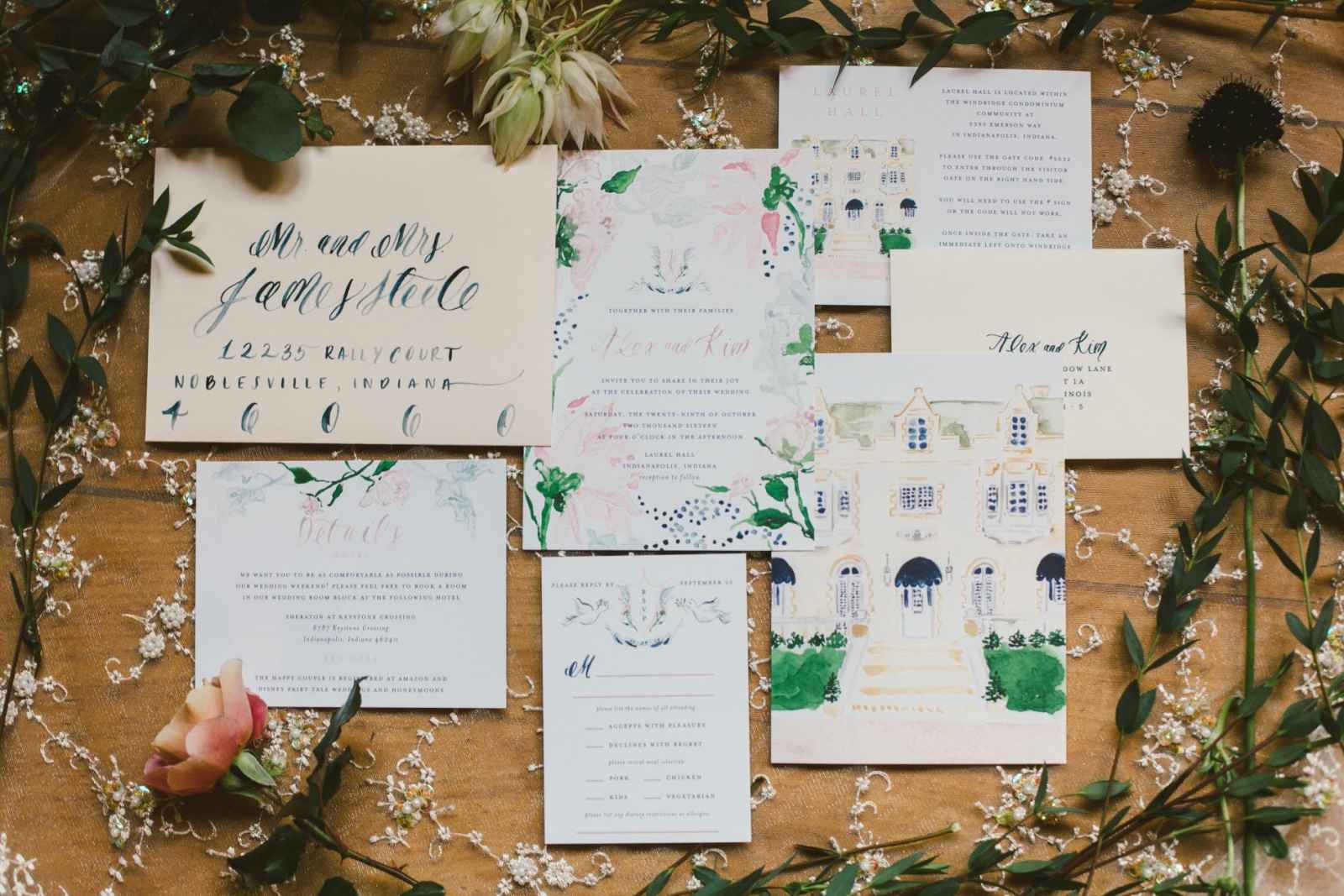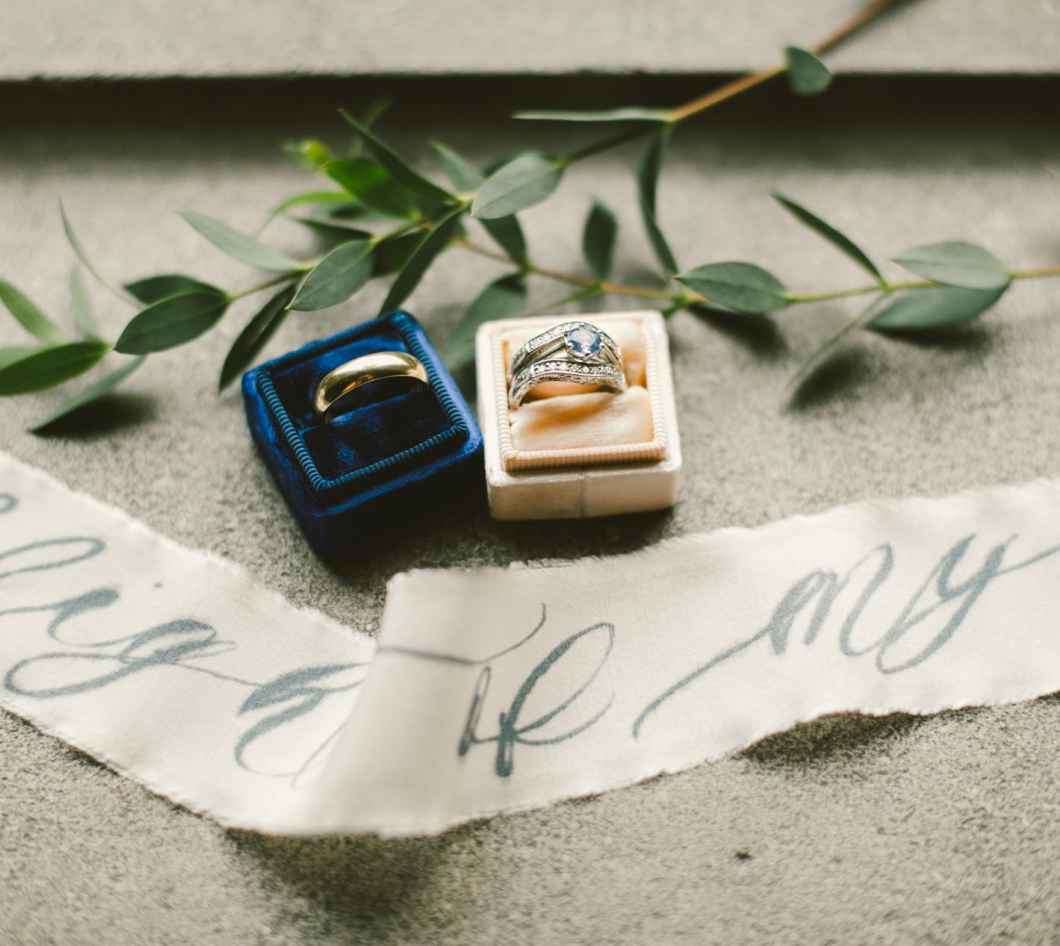 When describing the low-key and true-to-their-nature proposal, Kim says, "On Valentine's Day, when we had returned from Ukraine, Alex made my favorite food for dinner and proposed while the song from Twilight, 'A Thousand Years,' played on the radio. We kept our engagement to ourselves and waited until we had both been settled in the U.S. for a year, before we officially announced it to our families. This gave us time, as a couple, to enjoy one another and re-adjust to life in the United States before moving onto the next phase of our lives."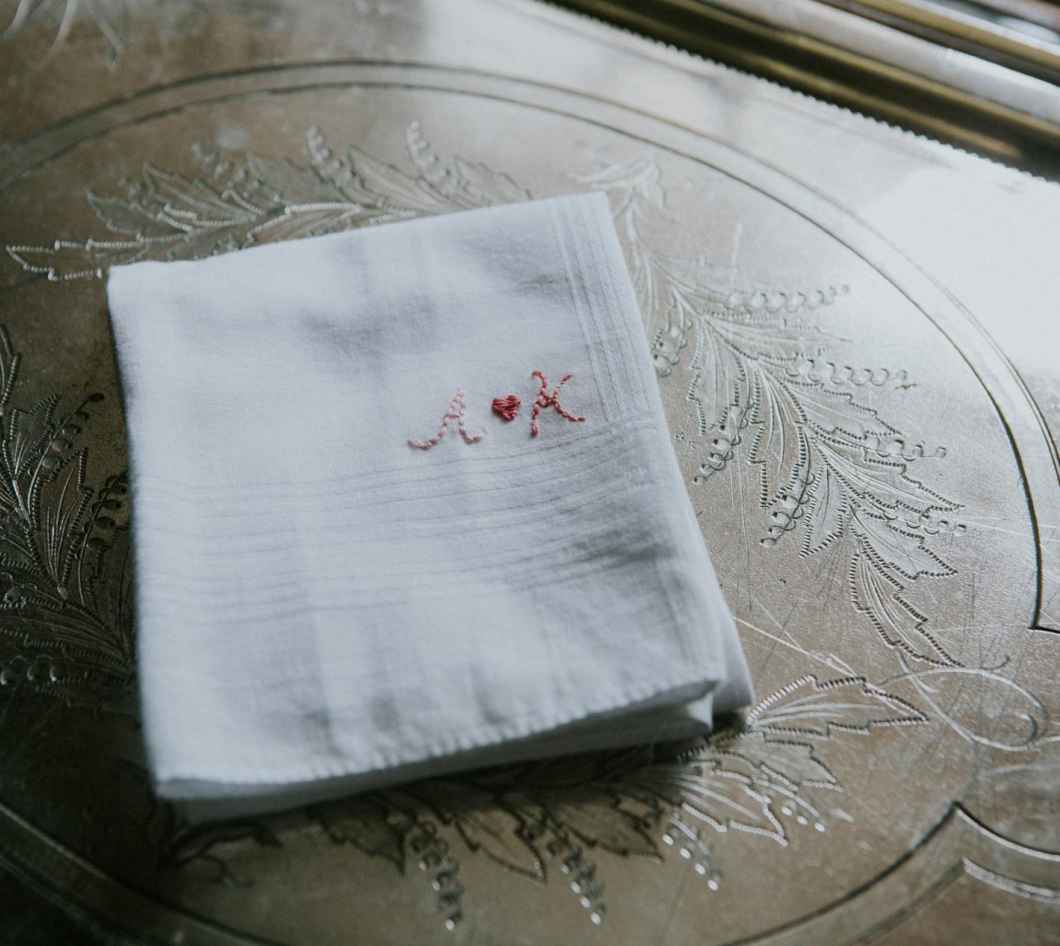 The Planning
Kim dreamt of a unique but timeless wedding of close friends and family, and she envisioned pastels, gorgeous florals and intimacy. "I started out on Pinterest, but what really gave me the best inspiration was reading the blogs of Indianapolis photographers and planners," Kim says. "Seeing actual Indianapolis weddings gave me the most realistic expectations on what to expect and also introduced me to some great vendors." As an out-of-state bride, this was a big help to Kim in terms of searching for vendors. Recognizing the value of a planner, the couple also turned to Tara of Tara Nicole Weddings to help them realize their vision. She was also a key resource when it came to the couple finalizing their "dream team." Kim says of the results, "All of our vendors seemed to understand us well and gave us a beautiful day from start to finish."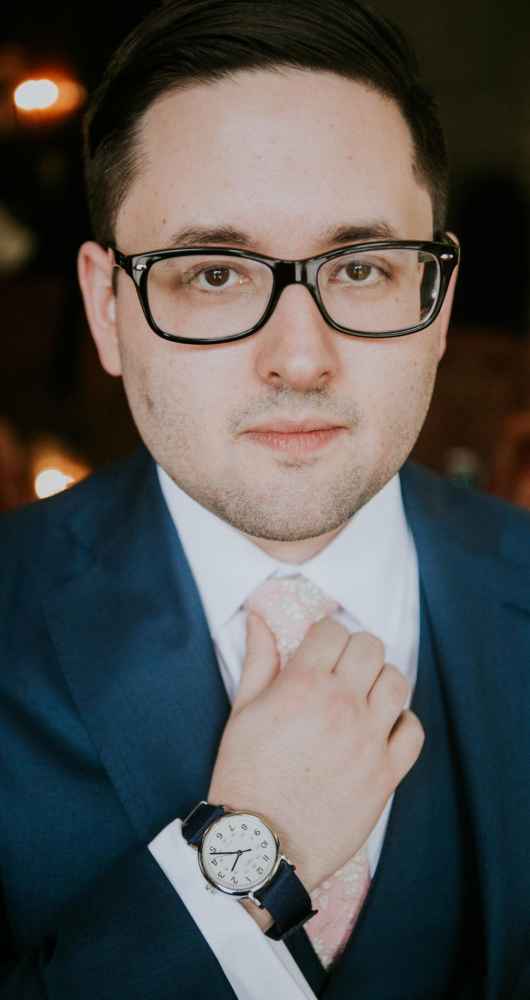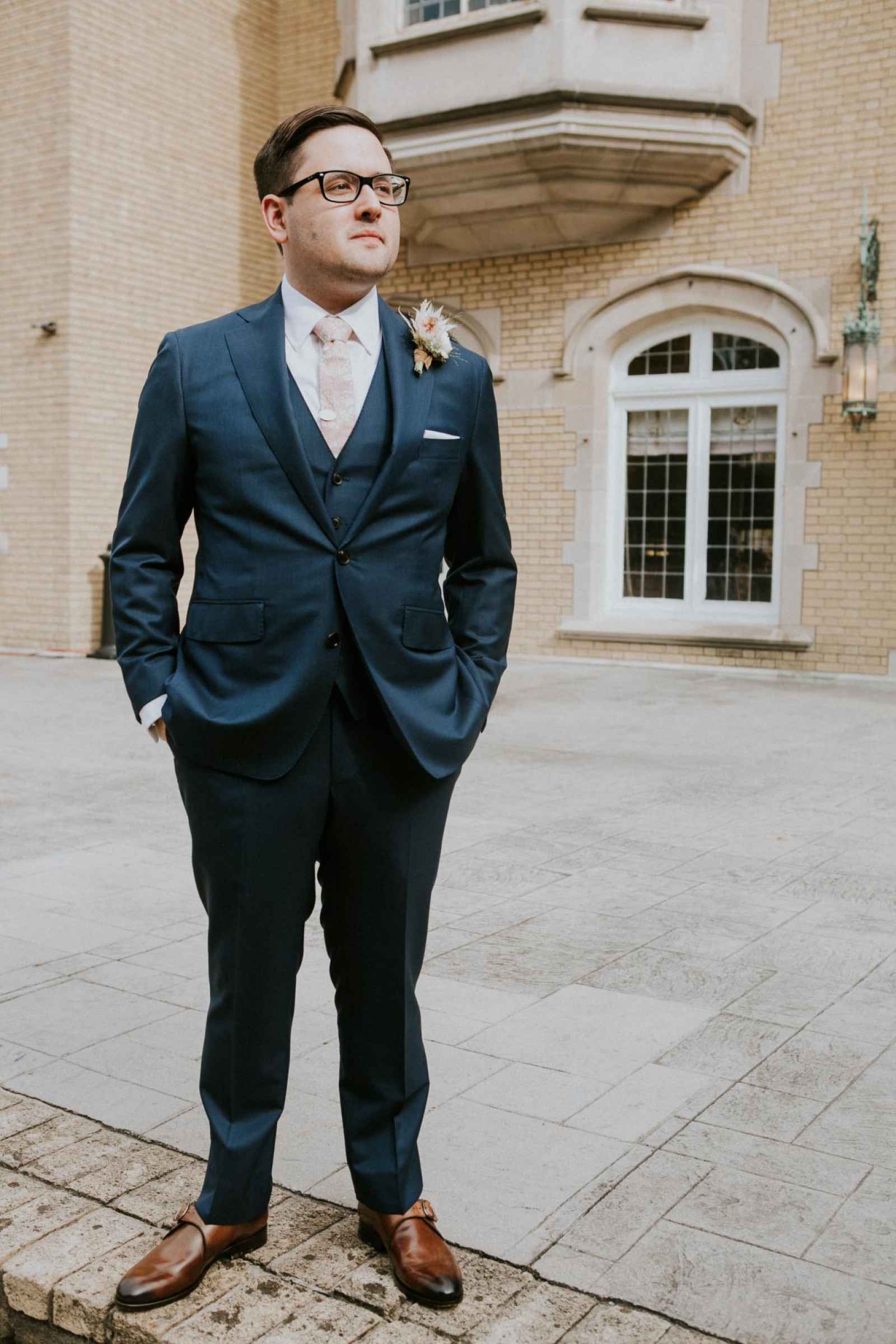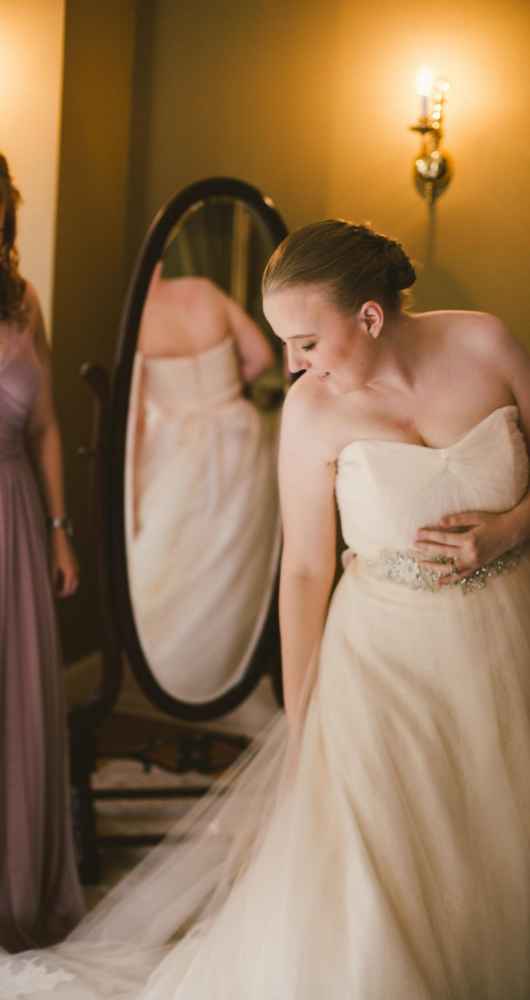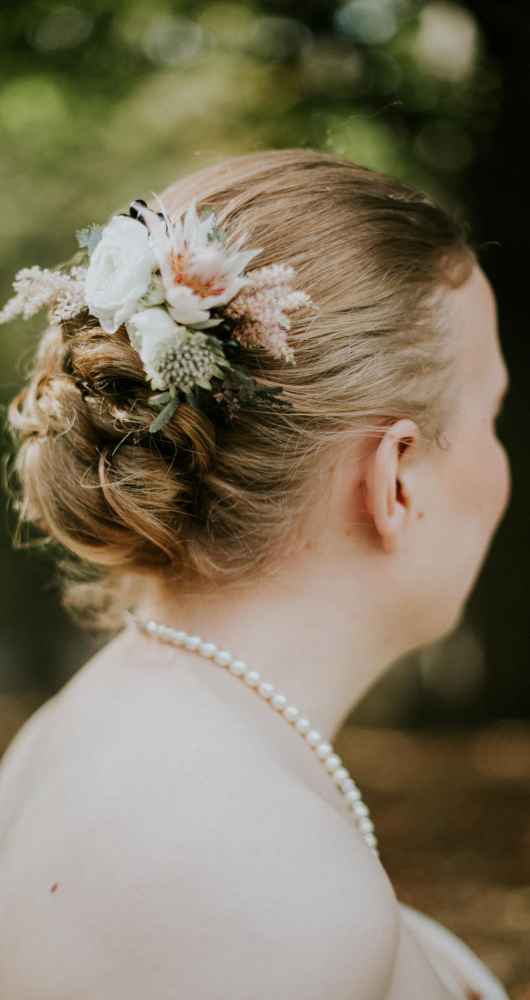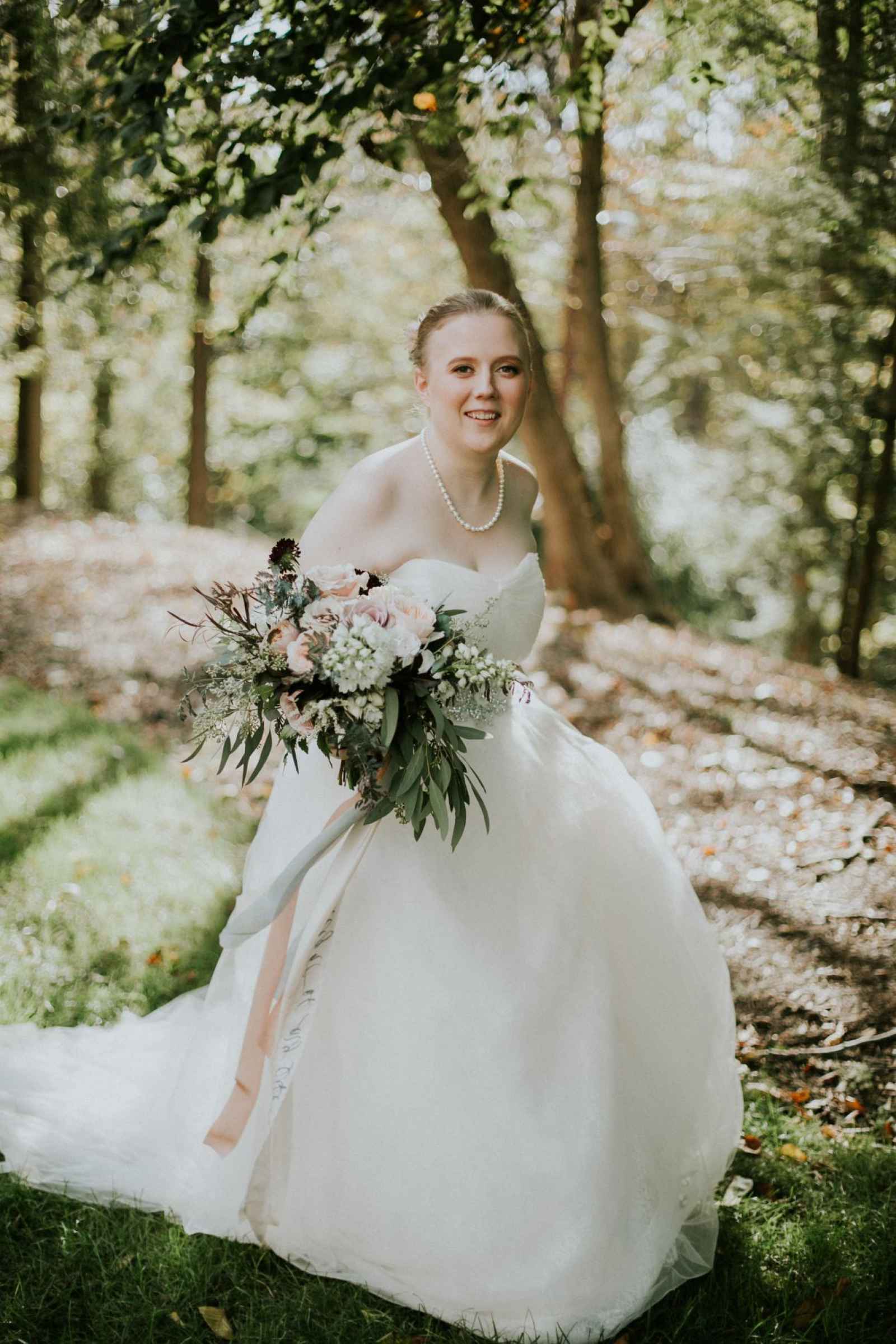 The Dress
Kim had the best of both worlds with her elegant Monique Lhuillier dress from Marie Gabriel Couture. It had the ball gown "feel" that she loved but moved and flowed more easily than other styles she tried on. She also chose a soft blush color—a hue that complemented her complexion perfectly. The flowing design exuded romance and was an elegant fit for her intimate Laurel Hall wedding.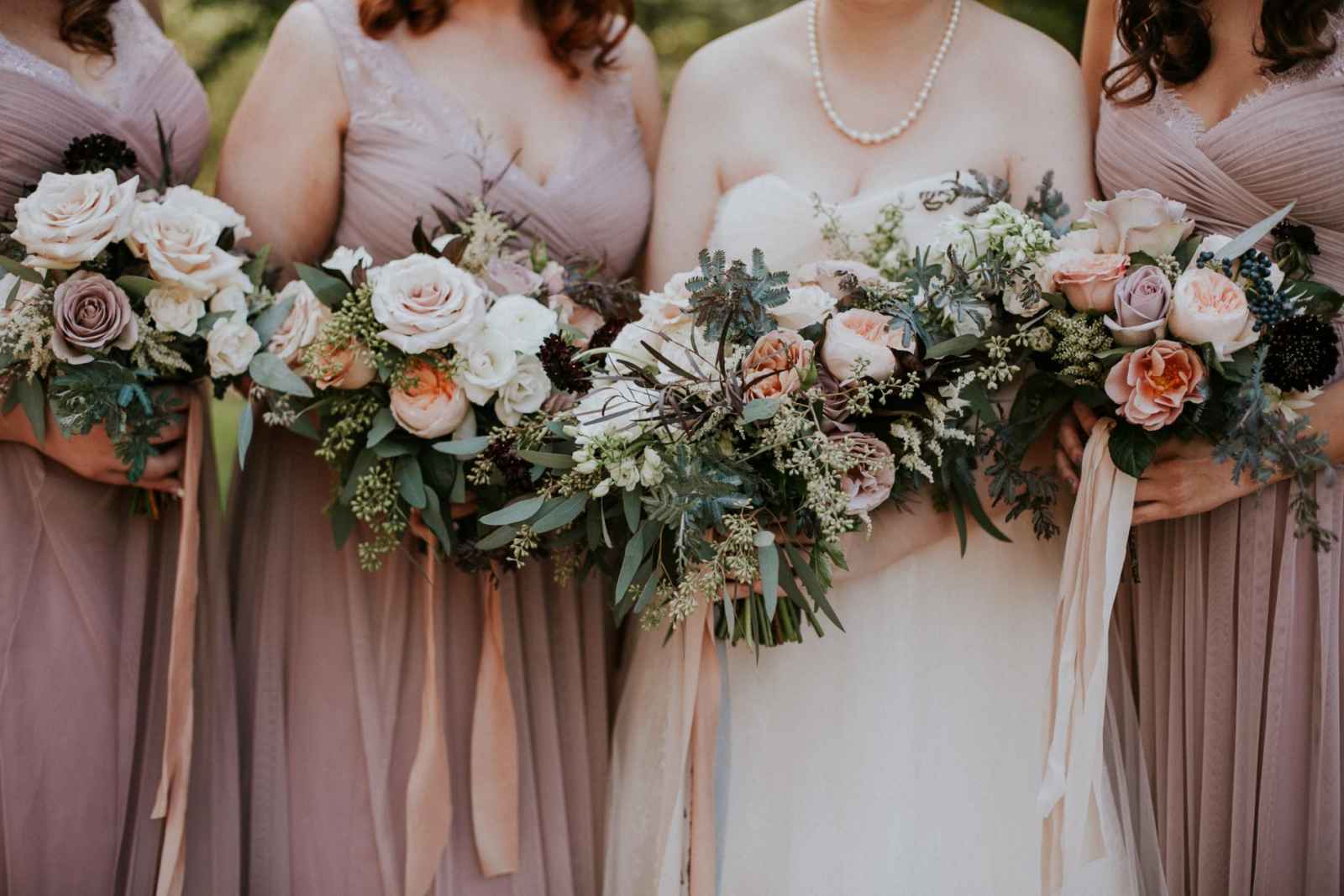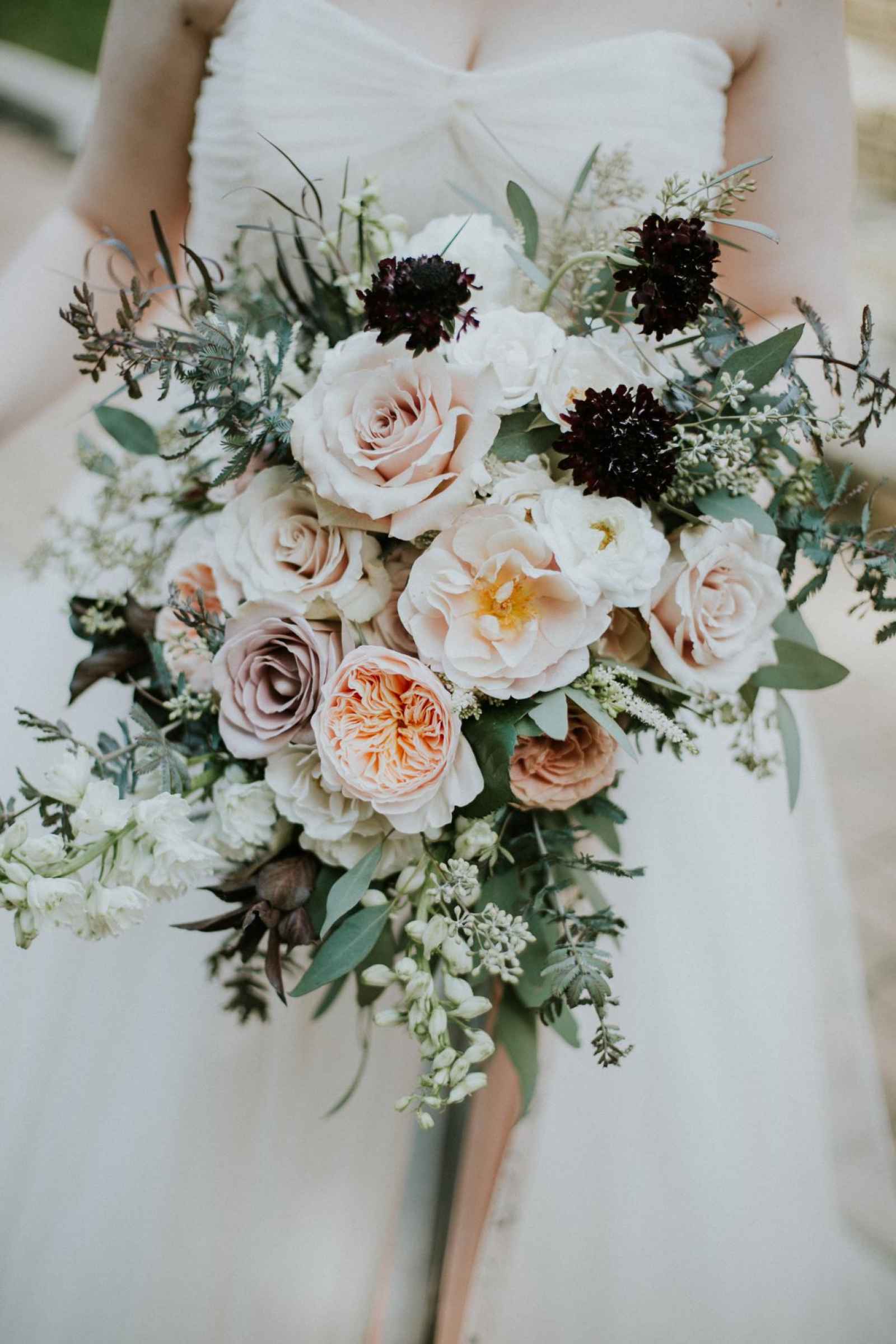 The Flowers
"We fell in love with our florist, Meg Connelly, from Meg Catherine Flowers after seeing her beautiful flowers on so many wedding photography blogs," explains Kim. "She just seemed to have such unique style and her floral arrangements seemed to be true works of art." The artful creations wowed with a variety of roses, ranunculus, blushing bride protea, Chocolate cosmos, Scabiosa, and silver sage, to name a few.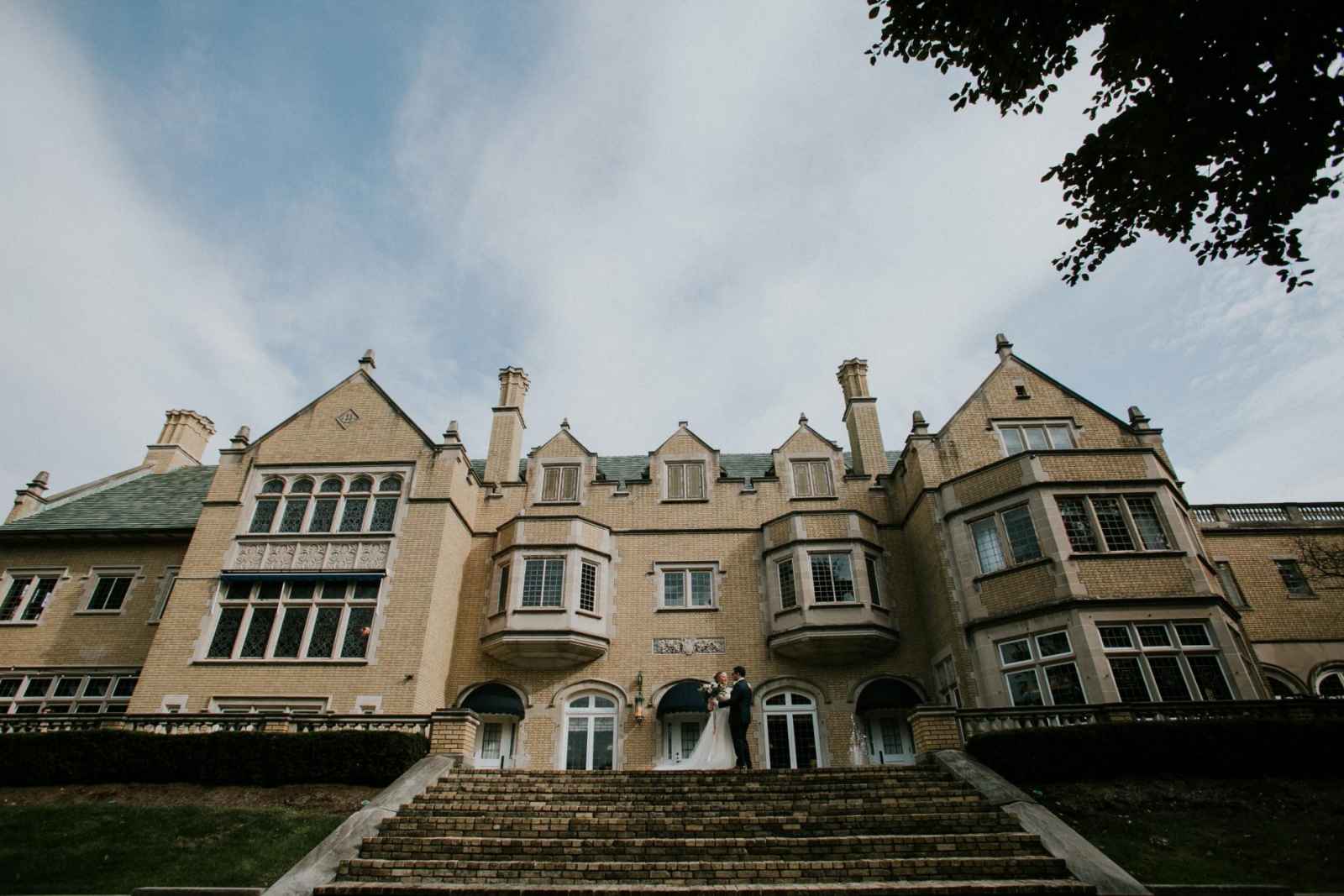 The Venue
Location was the first item on the couple's list when planning began. "At the time, Alex and I were working for the federal government in Illinois. Alex originates from New York and my parents live in Texas," Kim says. "So I was not a bride that began with a very specific location on where my wedding should be." They ultimately decided on Indianapolis as a central and affordable location and one that would be most convenient for their families.
After almost initially passing on Laurel Hall, Kim and Alex fell in love with it with a little help from their videographer, Brie Gowan of Blushing Films, who happened to show them videos of the venue. The hall's classic features suited their needs perfectly, serving as an ideal spot for their small guest count and on-site ceremony.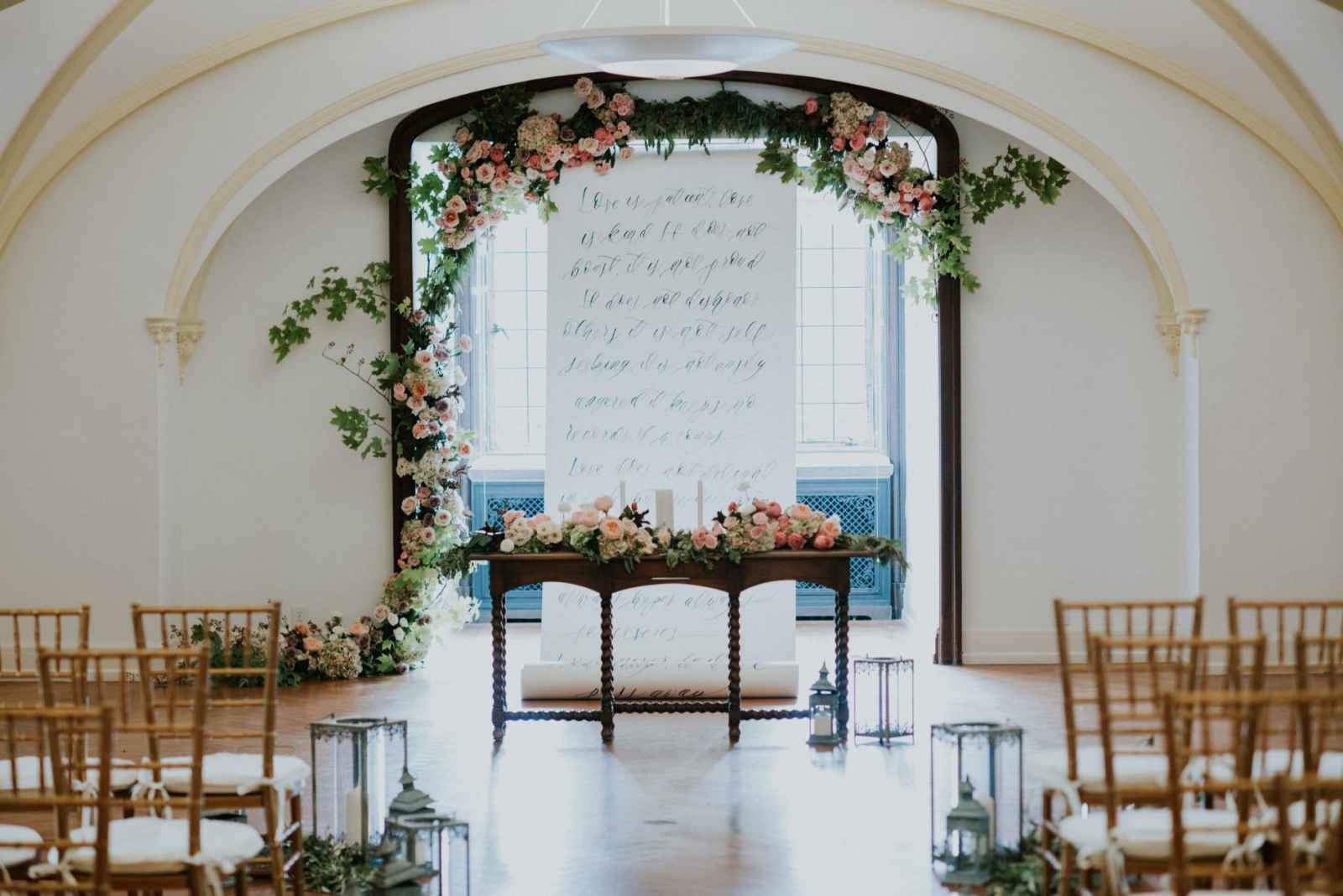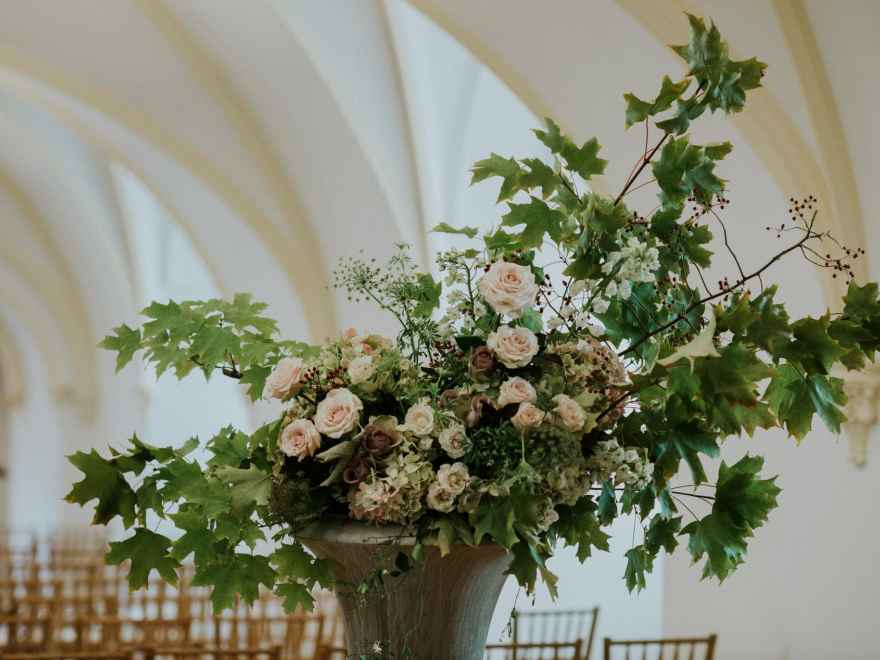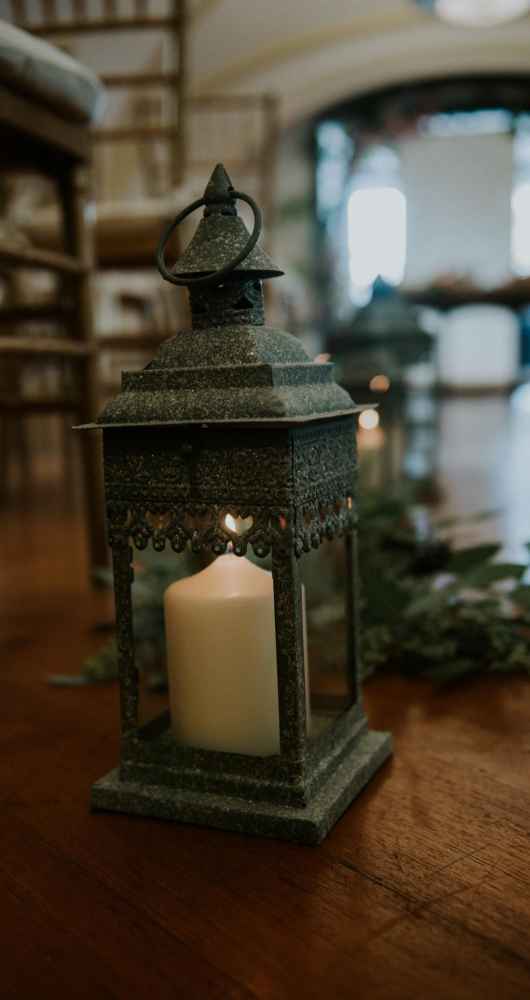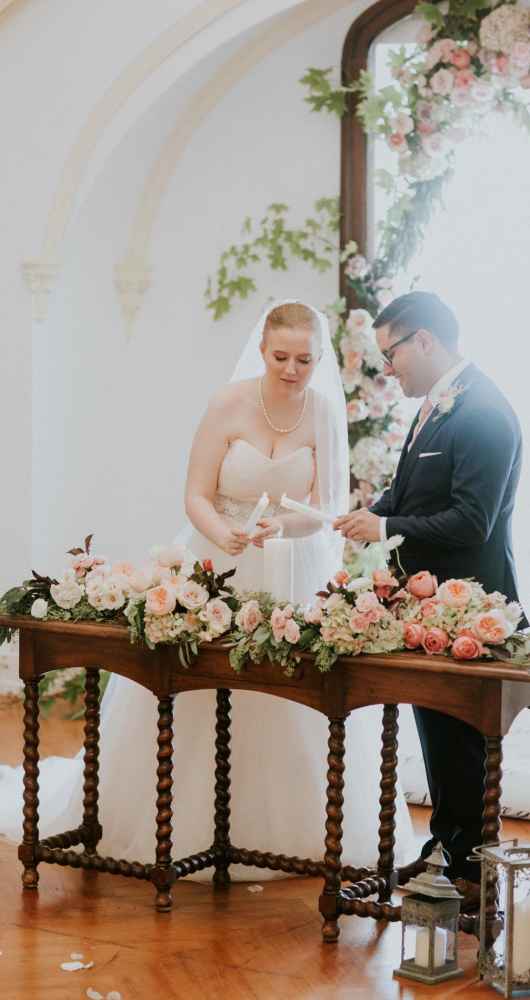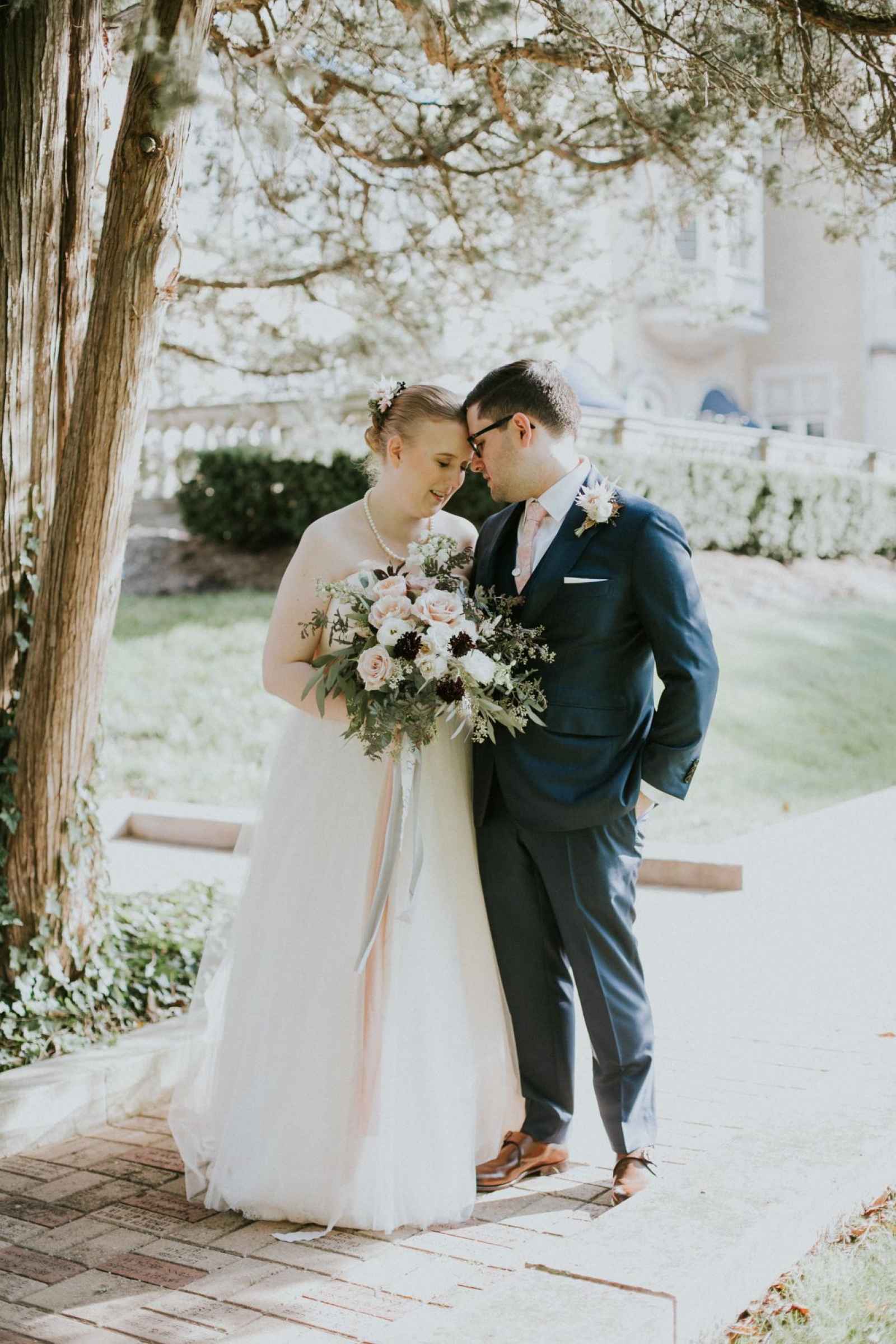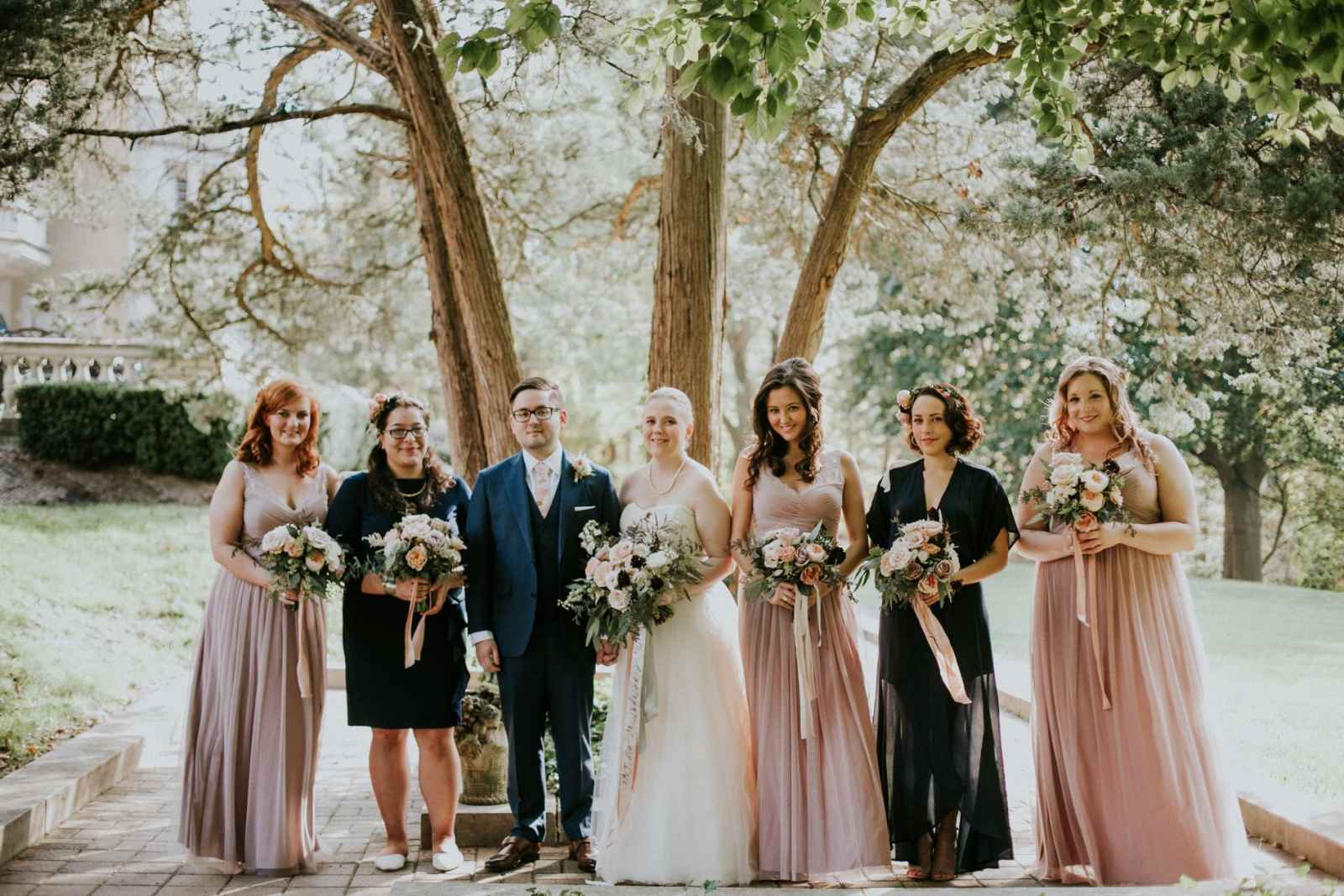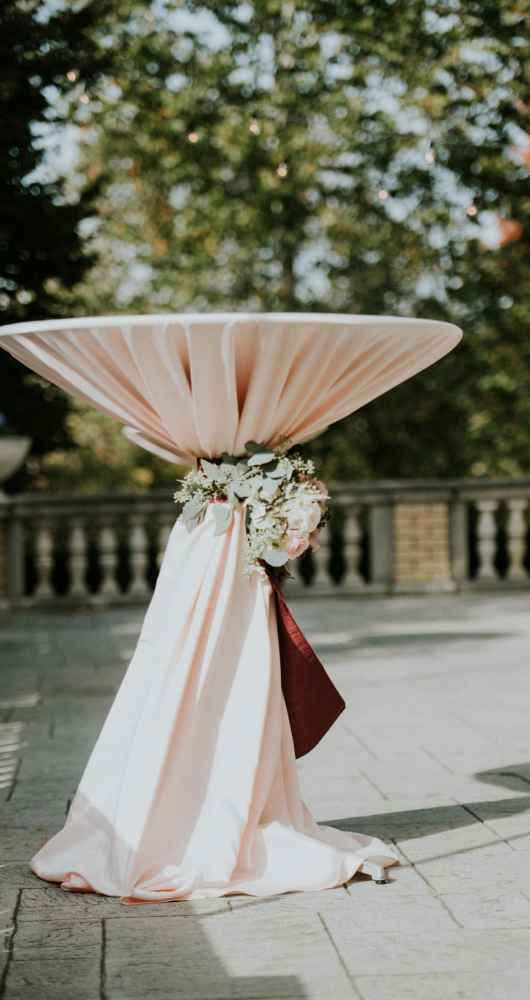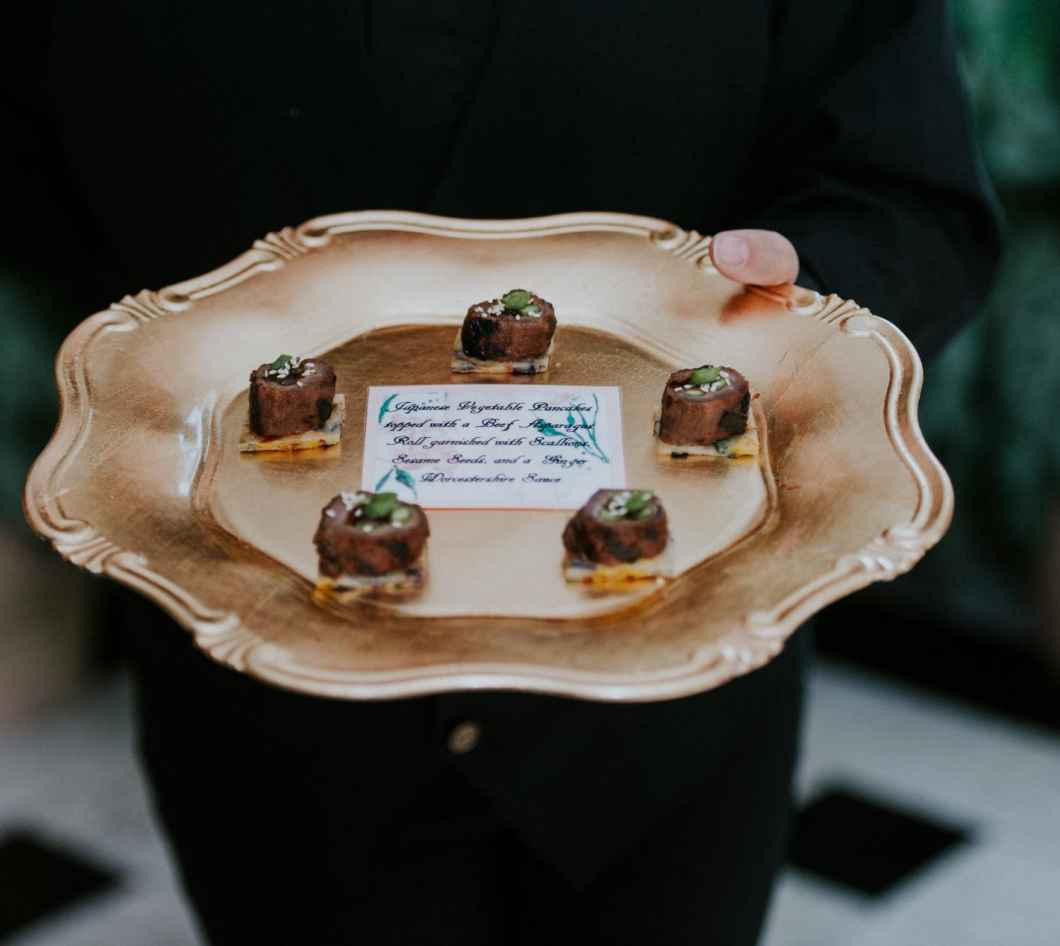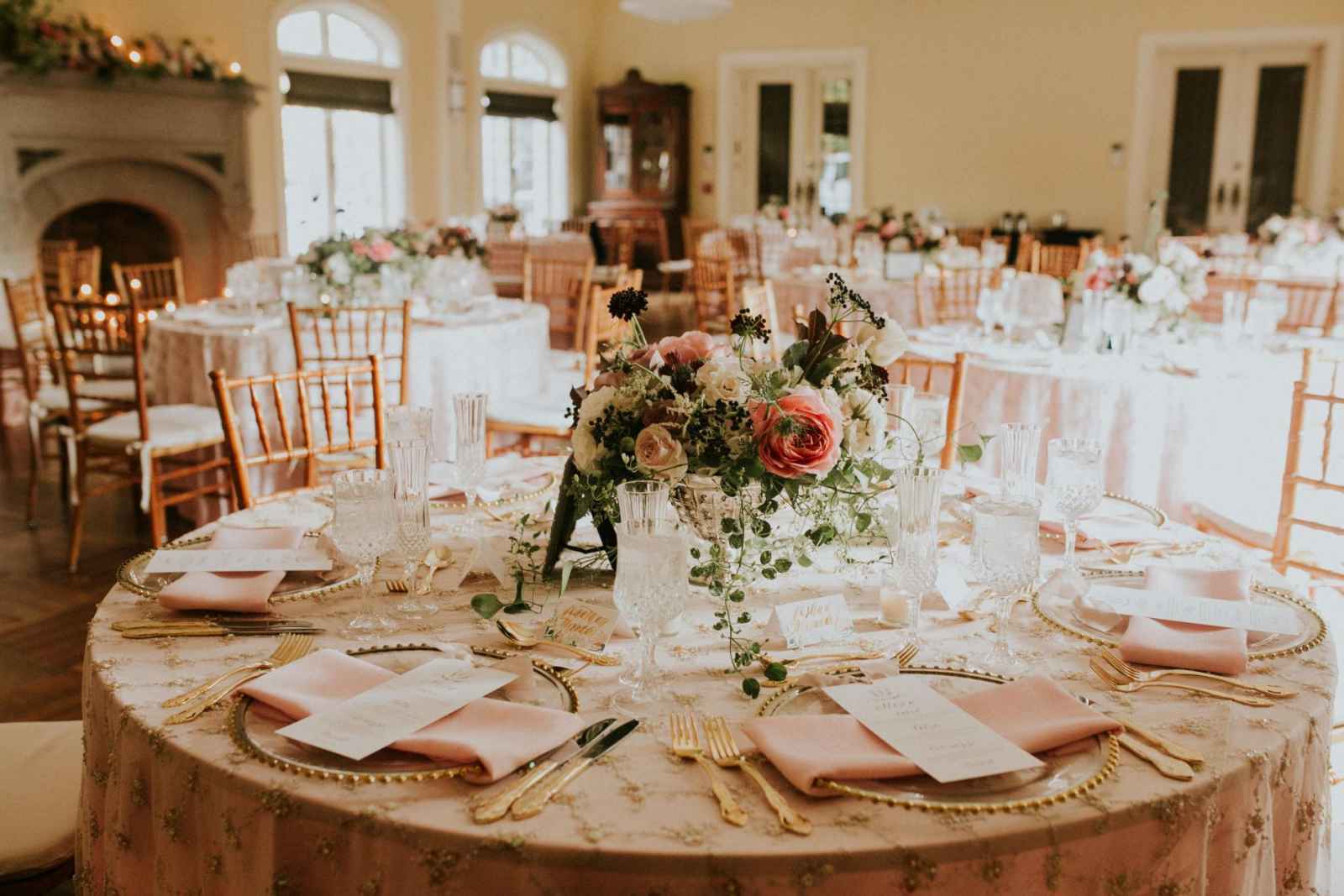 The DÉcor
Blush was just the versatile color Kim was looking for in her design. She also infused navy—a color Alex loved. "When we decided that we wanted our wedding theme to be sort of a romantic, indoor garden, our other colors seemed to fall into place from there," Kim says. Notes of gold and mauve played off of the design's main hues beautifully as the delicate florals and extra special details took center stage. The bride also took on a couple of D.I.Y. projects, including a memorial table and goodie bags for the kids who attended.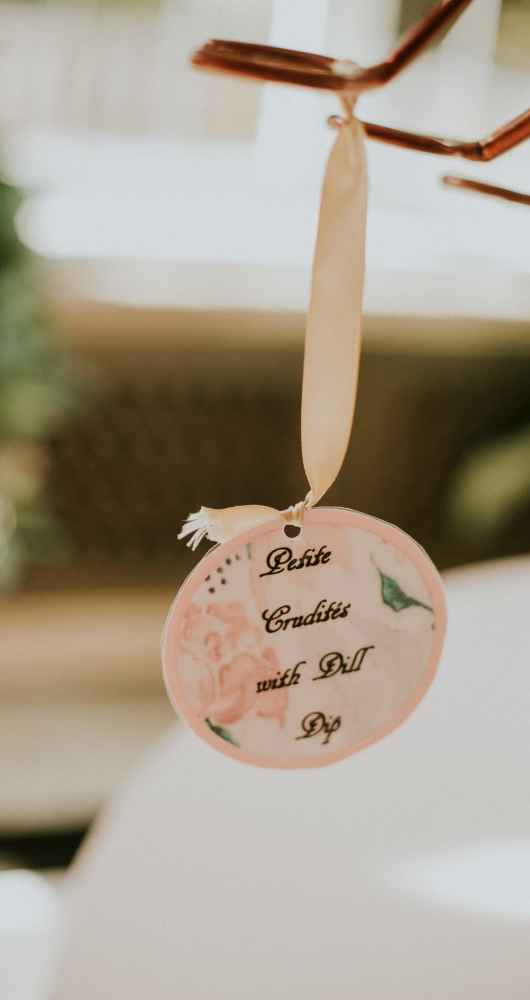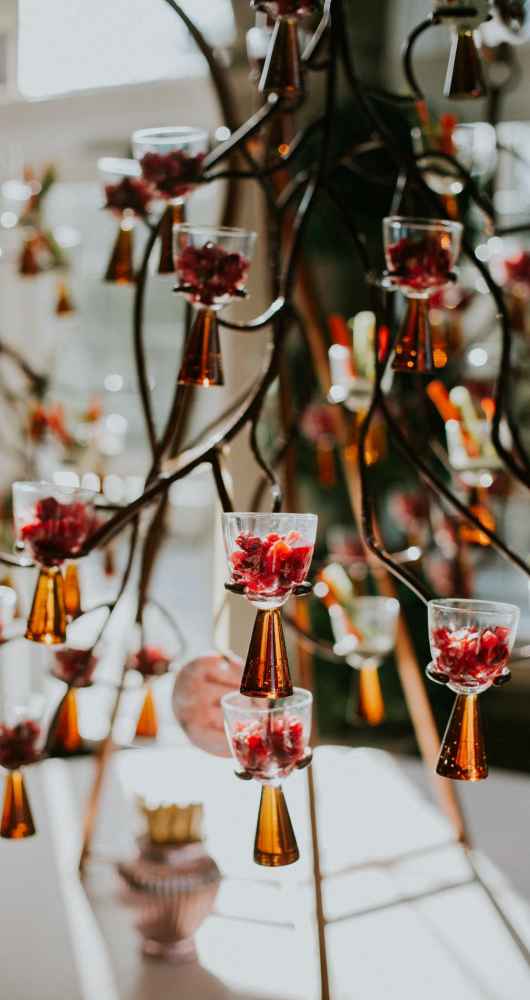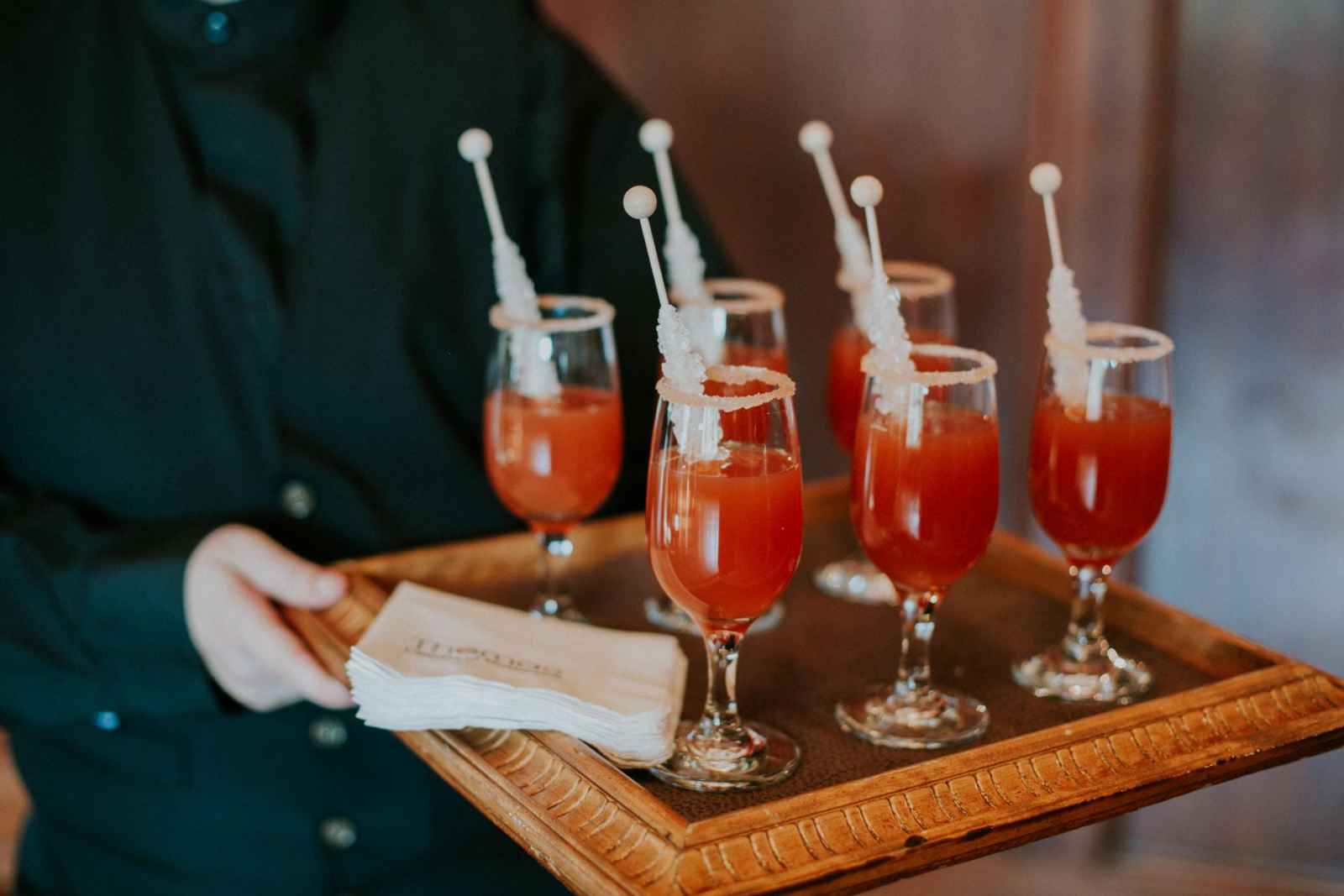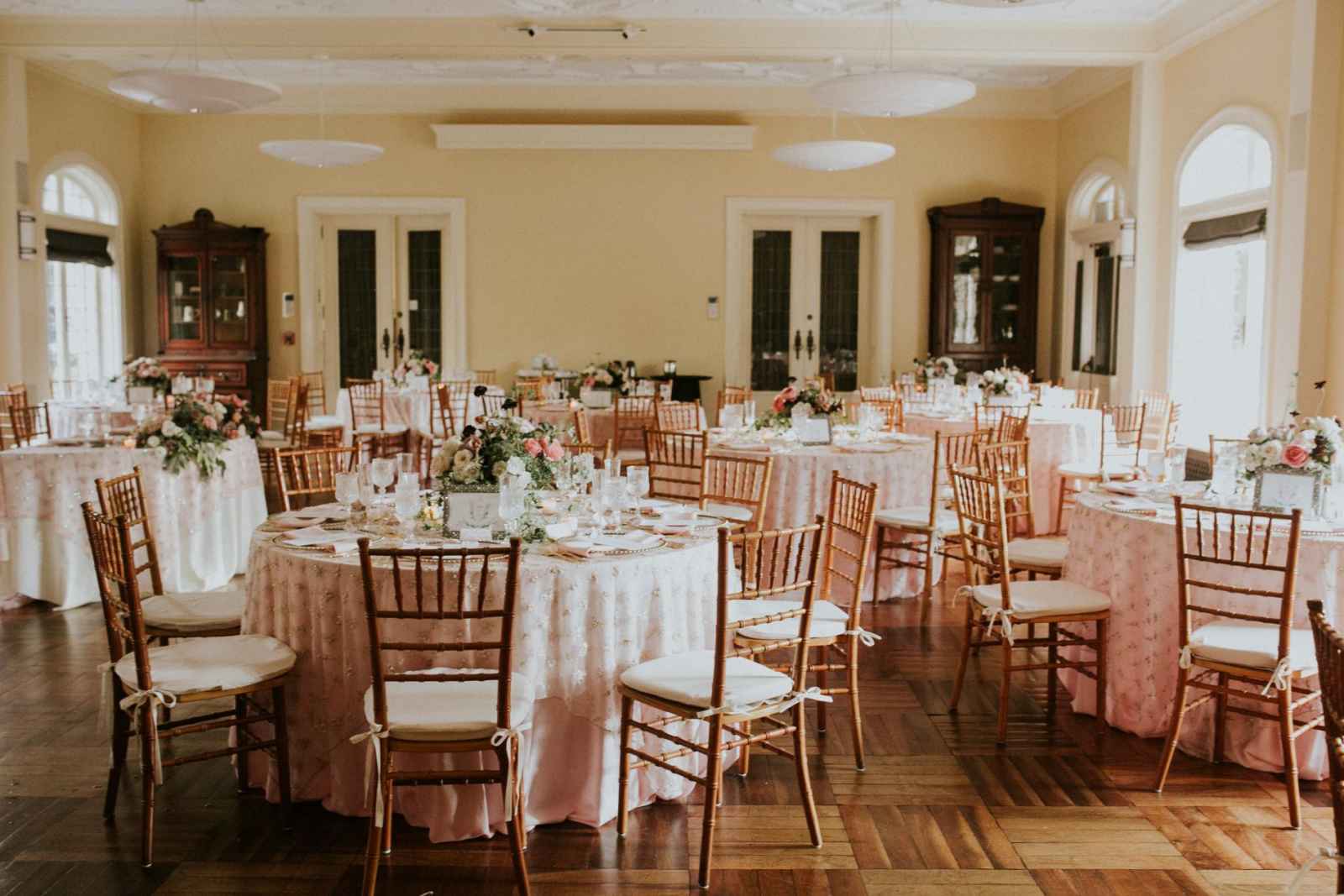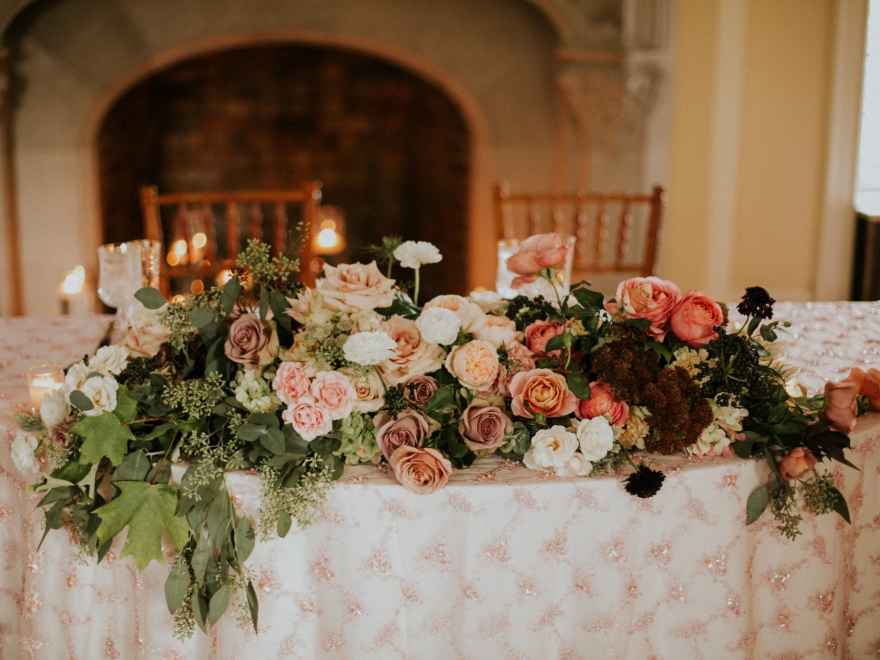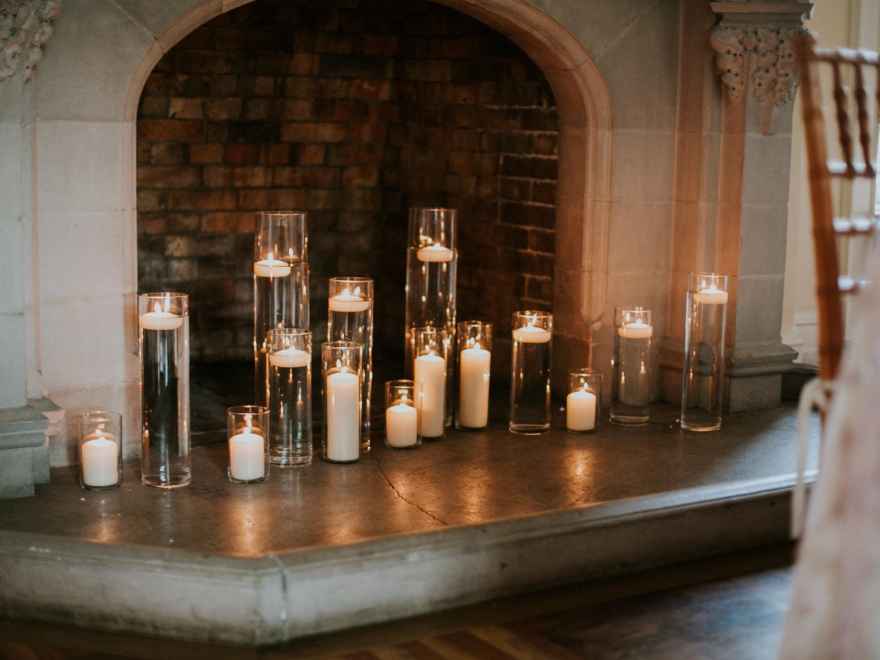 Special Touches
The dreamy, fairytale garden space would not have been complete without tributes to the bride's grandmother, who passed away from breast cancer just three months before the wedding. Kim says, "She was such a special part of both our lives and, quite honestly, one of my best friends." Jessica Peddicord of Simply Jessica Marie designed a custom calligraphy ribbon for Kim's wedding bouquet with the last words from her grandmother "You are the highlight of my life" inscribed on it. The couple purchased their wedding bands from the very same shop as her grandmother and mother—Victor Settle Jewelry. The jeweler also designed custom bands that resembled the same detailing on Kim's grandmother's wedding ring. One final touch was the nod to Disney. "My grandmother also loved Disney and she always joked her Disney spirit character was Mrs. Potts," says Kim. "We were sure to have our string quartet play 'Beauty and the Beast' before our ceremony started and my bridal entrance was to 'At Last I See The Light' from Tangled."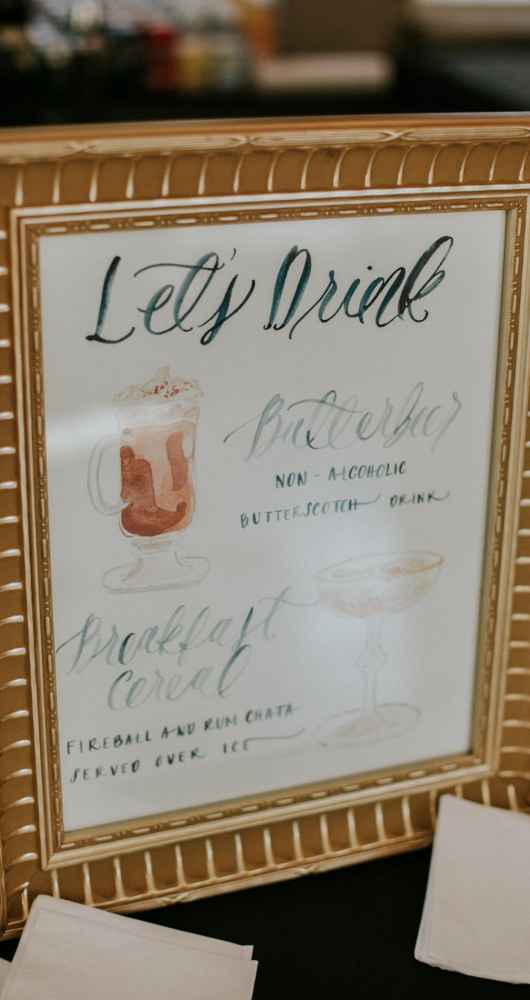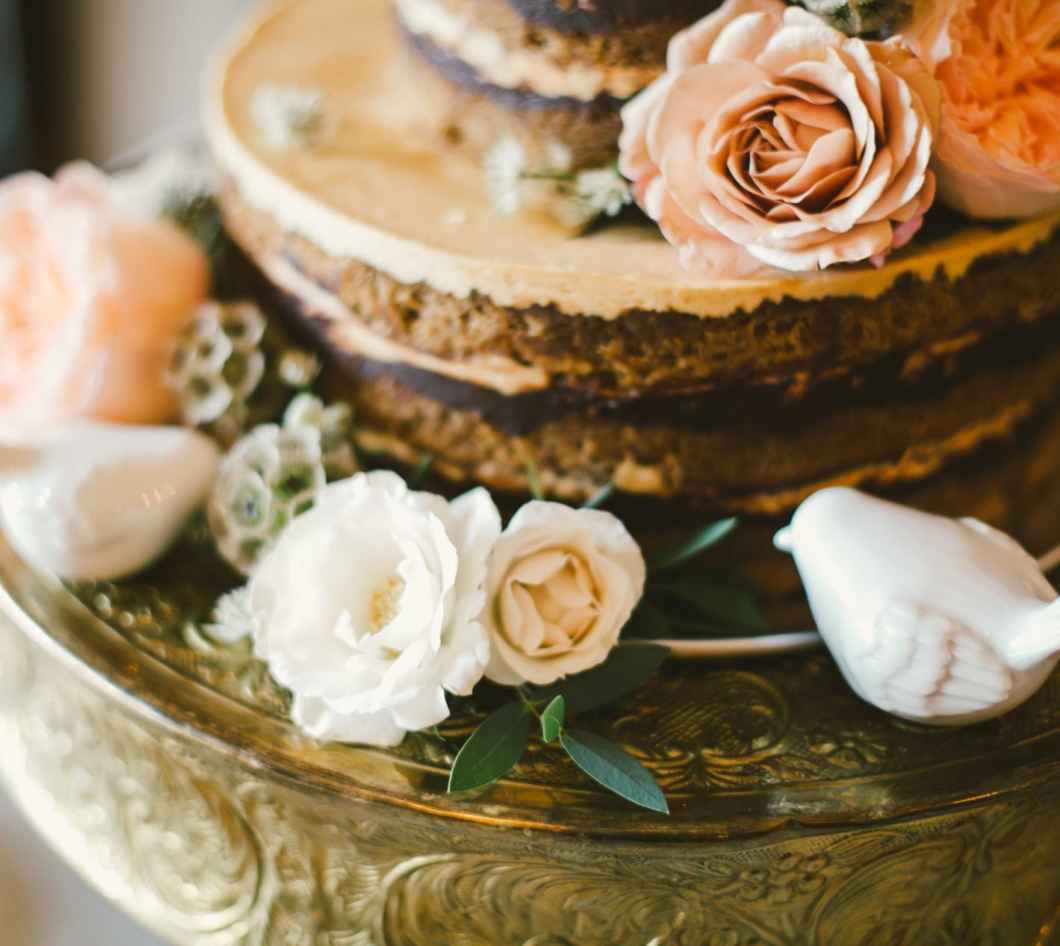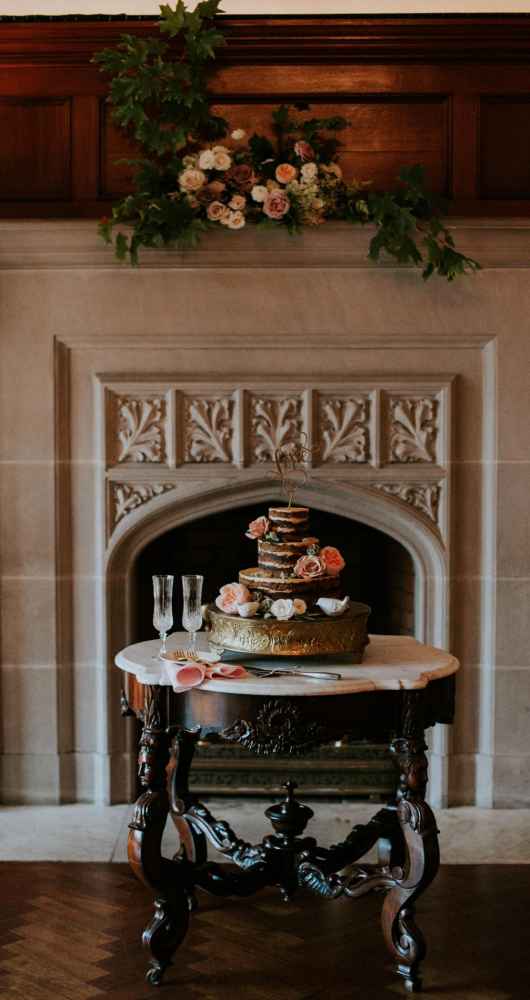 What We Love
Never underestimate the power of all the effort you put into your big day. Even though the small details are ultimately meant to please you, they don't go unnoticed! We love how this couple's hard work paid off and was remembered. Kim says, "People always compliment us on how gorgeous everything was and all the small details. Our venue really became an indoor garden."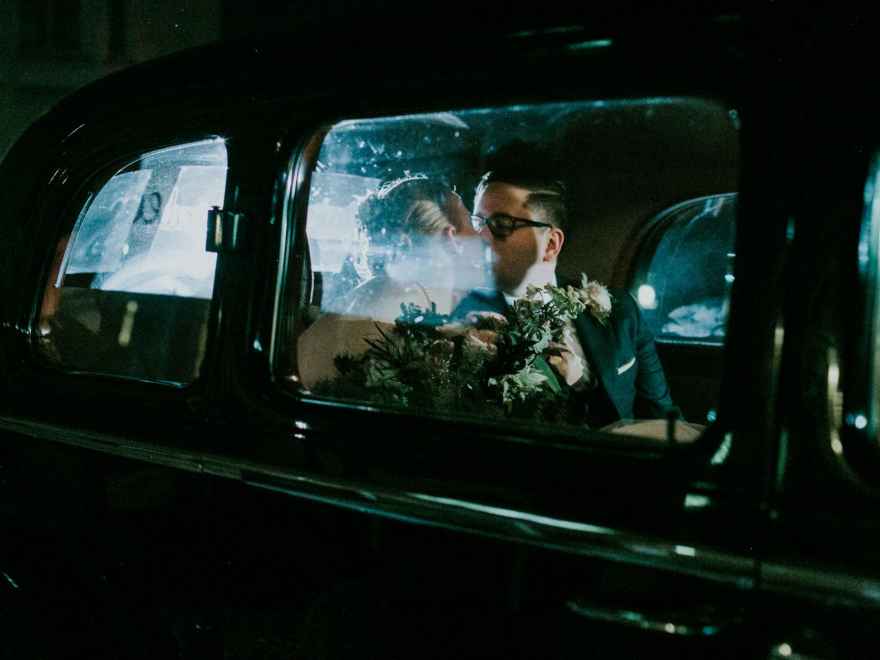 Full Film | Kim + Alex from Blushing Films on Vimeo.
are you a bride to be? 
We'd love to plan with you on weddingday-online.com. Let's get started!
 
are you a wedding extraordinaire? 
Join WeddingDay Magazine in inspiring brides by partnering with us! See how here.