A Vision of Romance at Traders Point Creamery
Lia and Christopher met in March 2010, when Lia started training at a new restaurant that was opening near her home where Christopher worked. "Our first conversation was in the tiny, little room in the kitchen where we had to roll silverware at the end of the night to get ready for the next day's shift," Lia says. "I'm pretty sure I stayed back there to help him roll all of the silverware, even though it was his responsibility."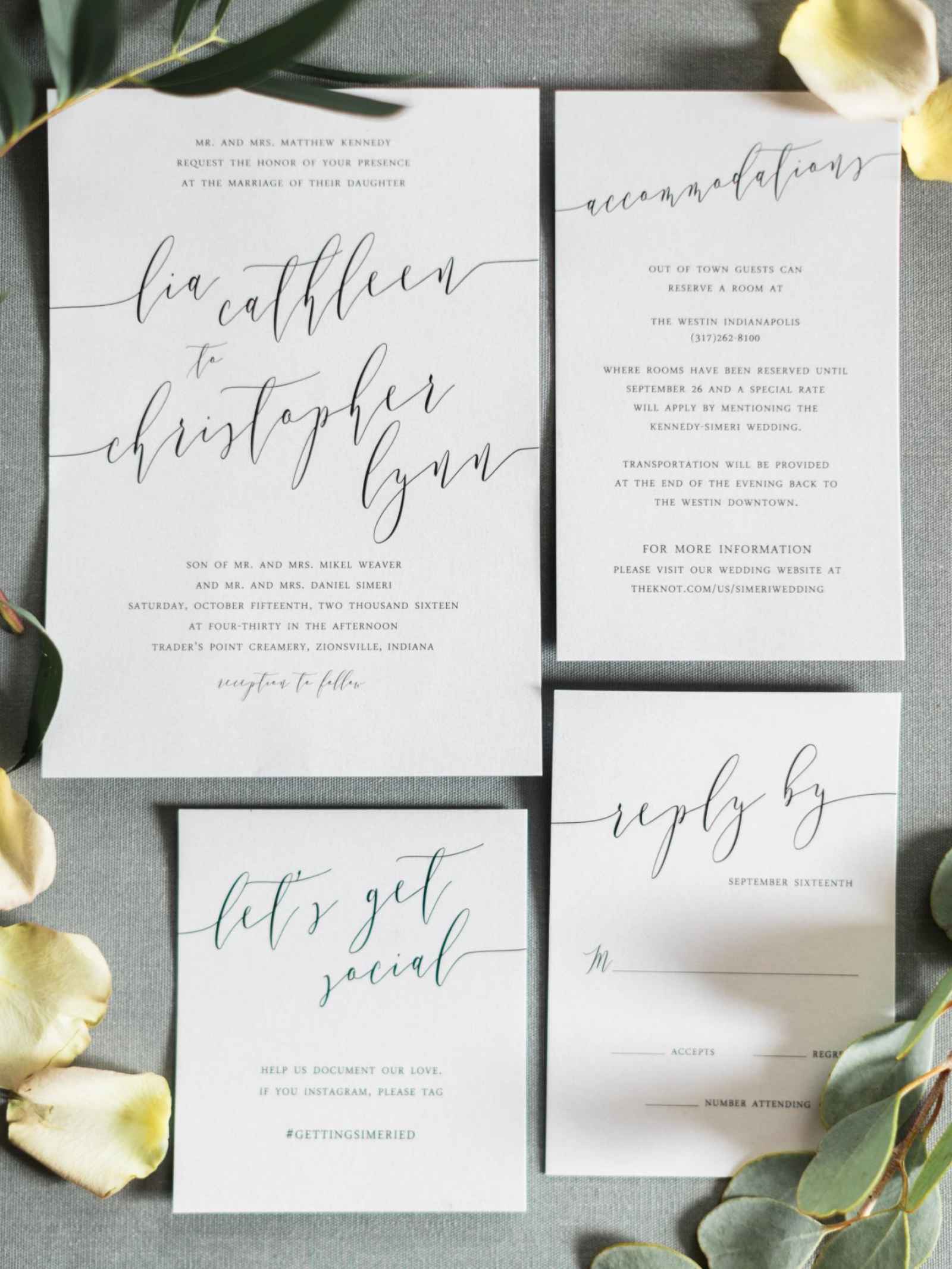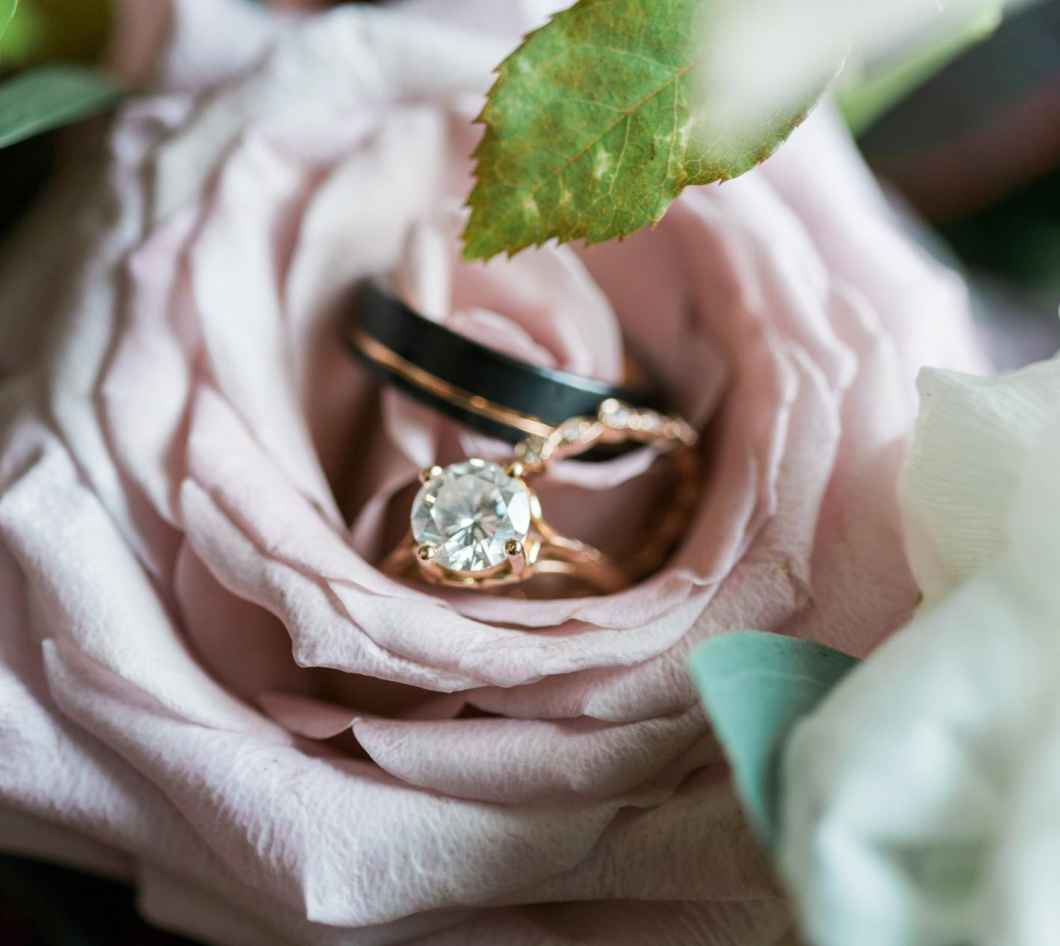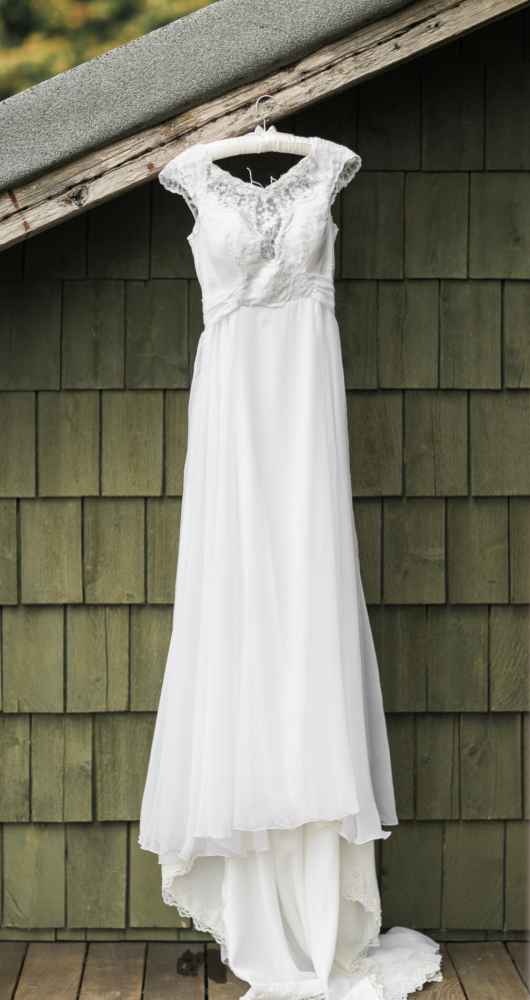 The Proposal
On their way to dinner one evening, Christopher drove Lia to a small park that she instantly recognized as the place where her dad proposed to her mom 35 years before. Christopher handed Lia a card—a special gesture she has always loved—and he began to drop to one knee while she read it. Afterwards, the happy, newly engaged couple (and their elated family members who were hiding behind trees) gathered at Christopher's restaurant, Simeri's Italian Restaurant, to celebrate. "When we walked inside, all of my friends and family were there for what they thought was a surprise going away party," Lia recalls.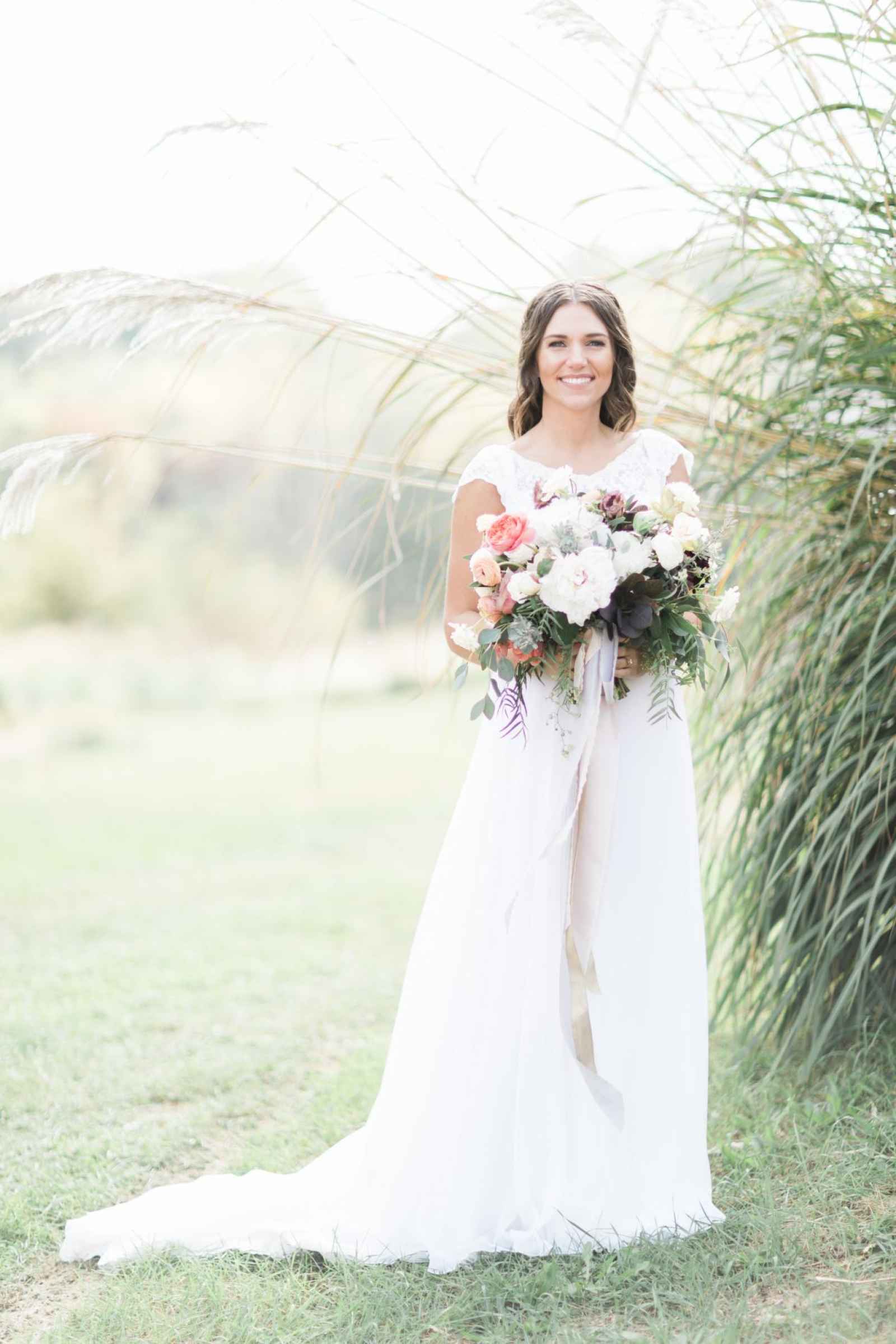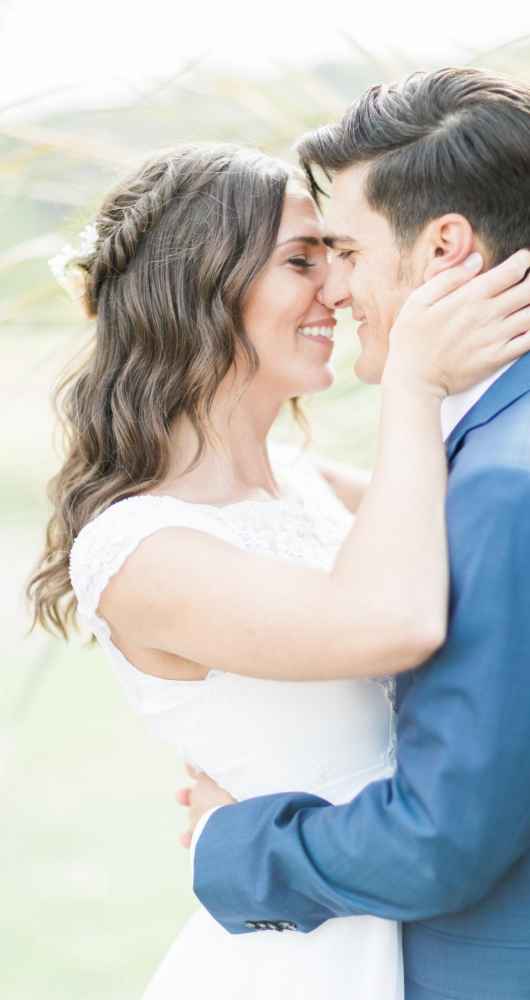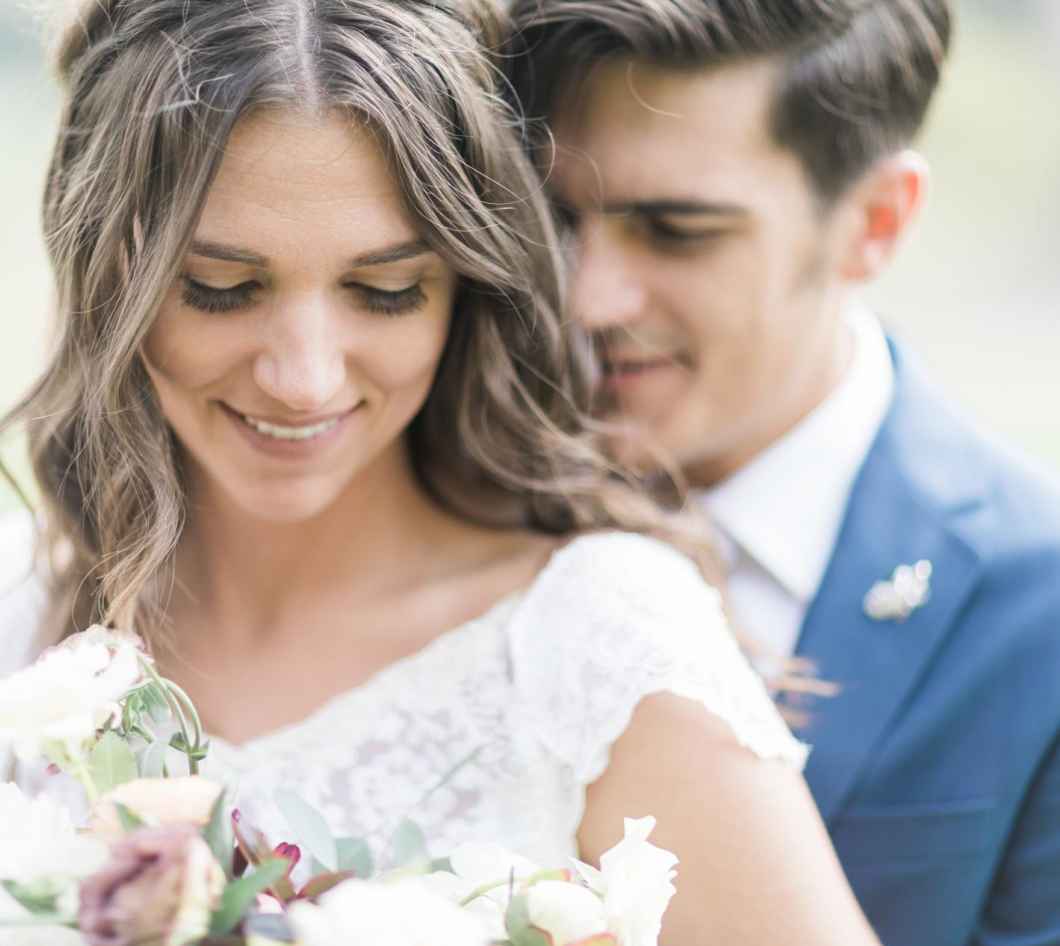 The Planning
Because the couple was only one short week away from moving to Pittsburgh, they knew they needed to select a venue and lock in a date quickly. "I knew that I wanted to get married outside, and I thought I might like the barn setting. So, I researched barns in the area, and my mom and I went to visit Traders Point first," says Lia. "Once I saw it, I didn't need to look anywhere else."
What ensued was a fine-tuning of Pinterest boards and zeroing in on Lia's ultimate vision. The venue even recommended Lia's planner, Rebecca Moreland Green of the Moreland Group and, in turn, Rebecca was able to recommend other vendors she worked with. Lia says, "My parents and my wedding planner, Rebecca, handled all of the actual planning after discussing my visions. They were so wonderful, and I can happily say that my wedding day was perfect due to them."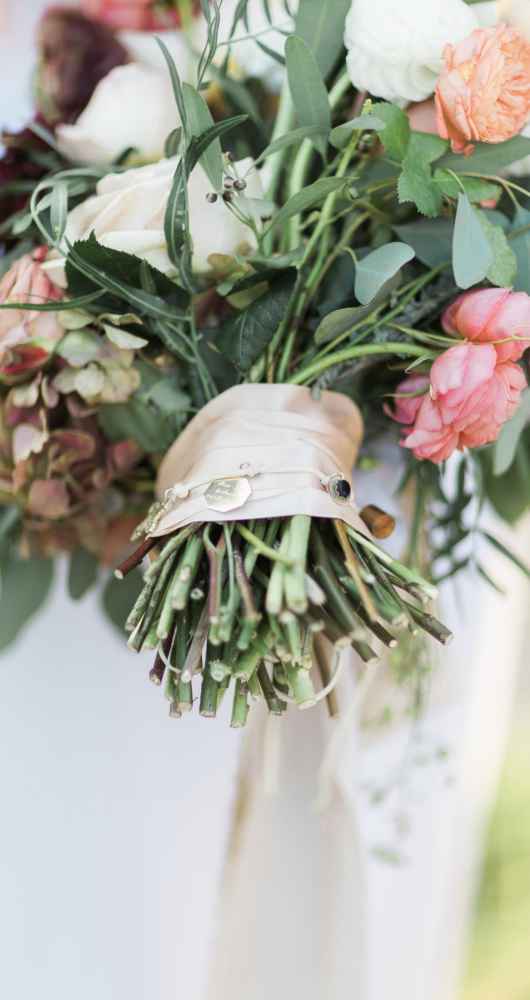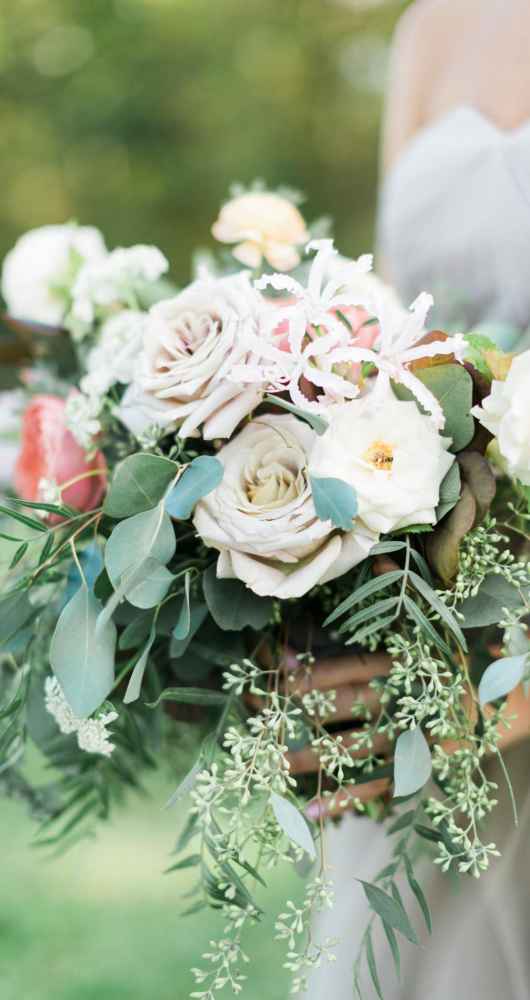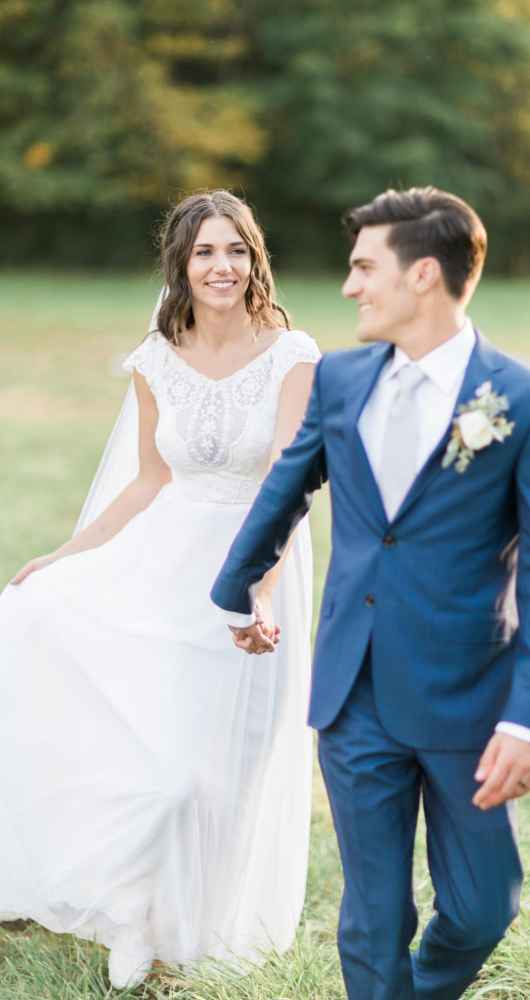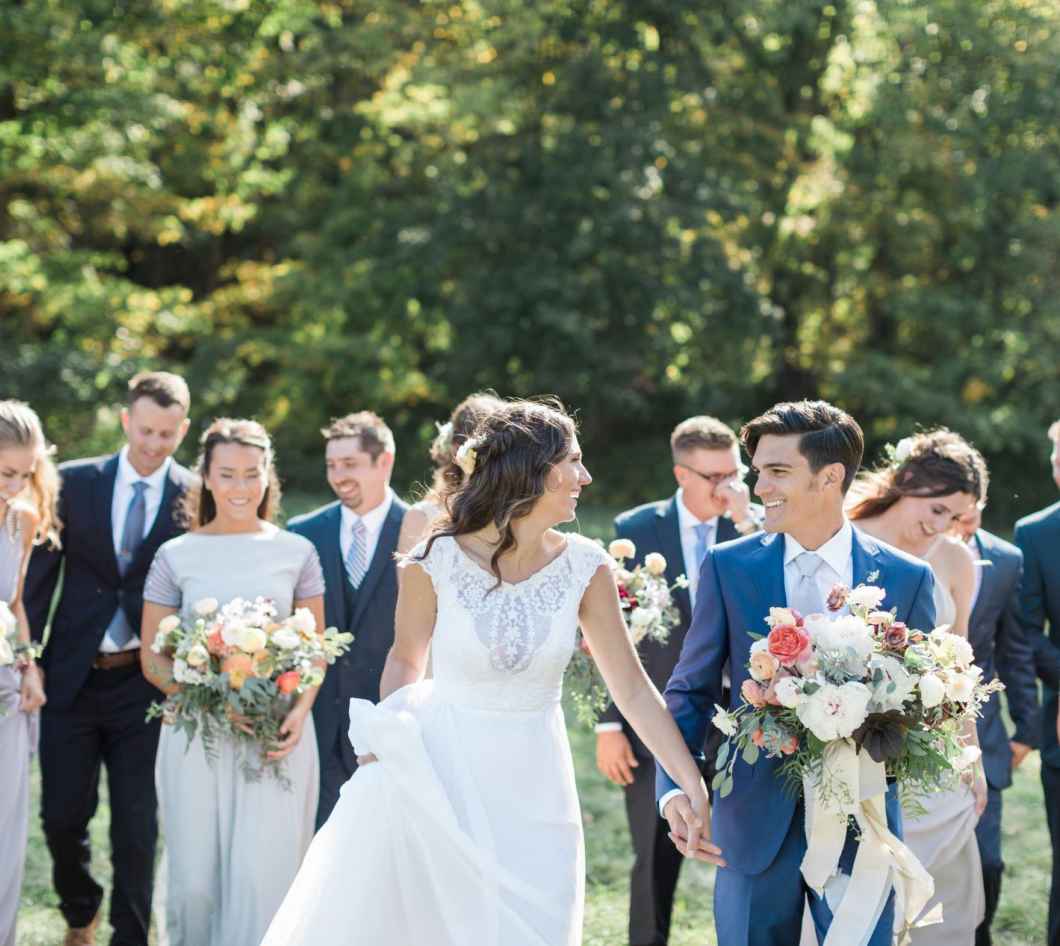 The Dress
Lia felt fortunate to have the opportunity to wear her mother's wedding dress. "I worked with Jen Rocket, a local seamstress in Pittsburgh to design and alter the dress," Lia says. "My mom said she never imagined that either of her daughters would wear her wedding dress. I took a picture of me on my wedding day, holding a picture of her on her wedding day. Pretty cool!"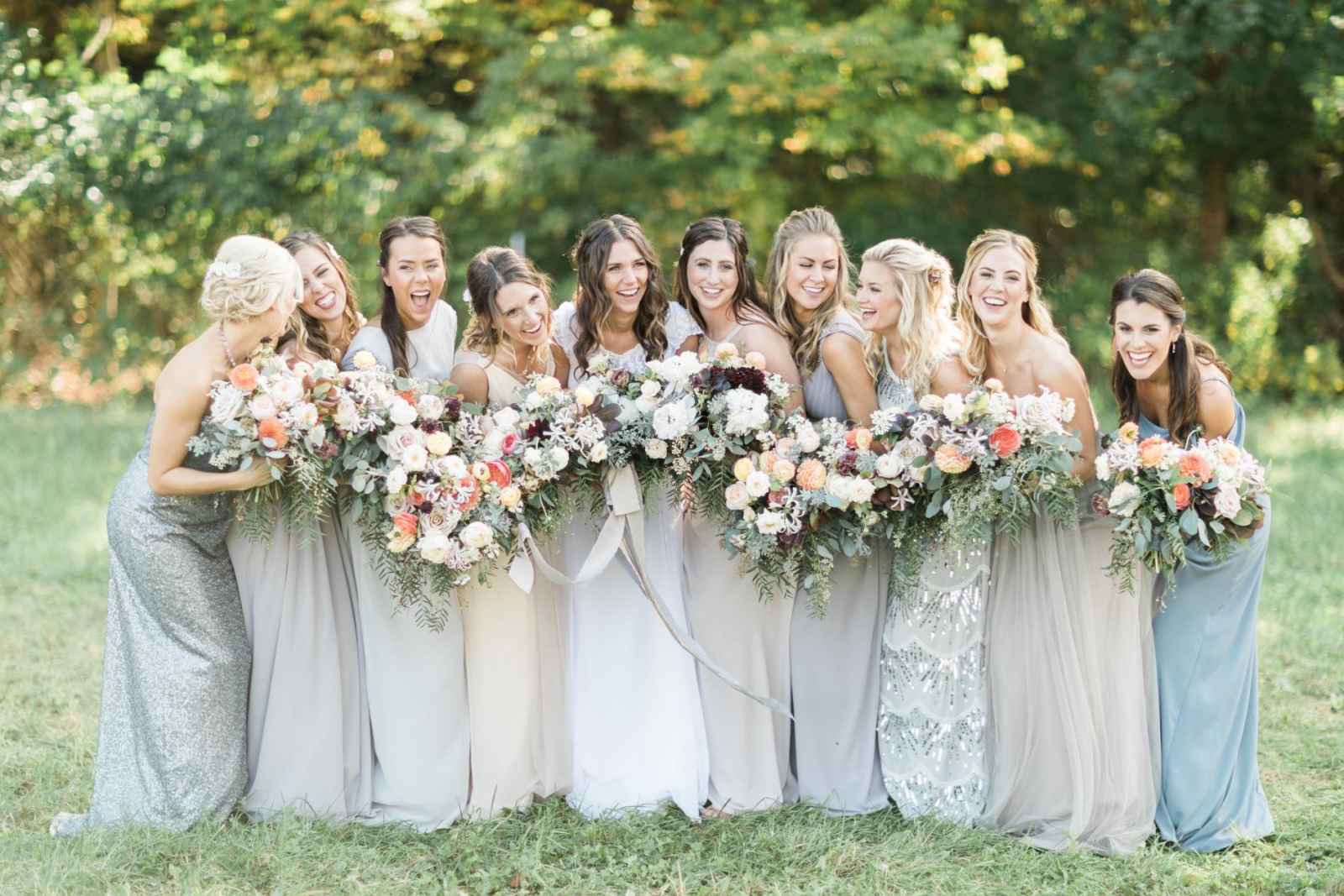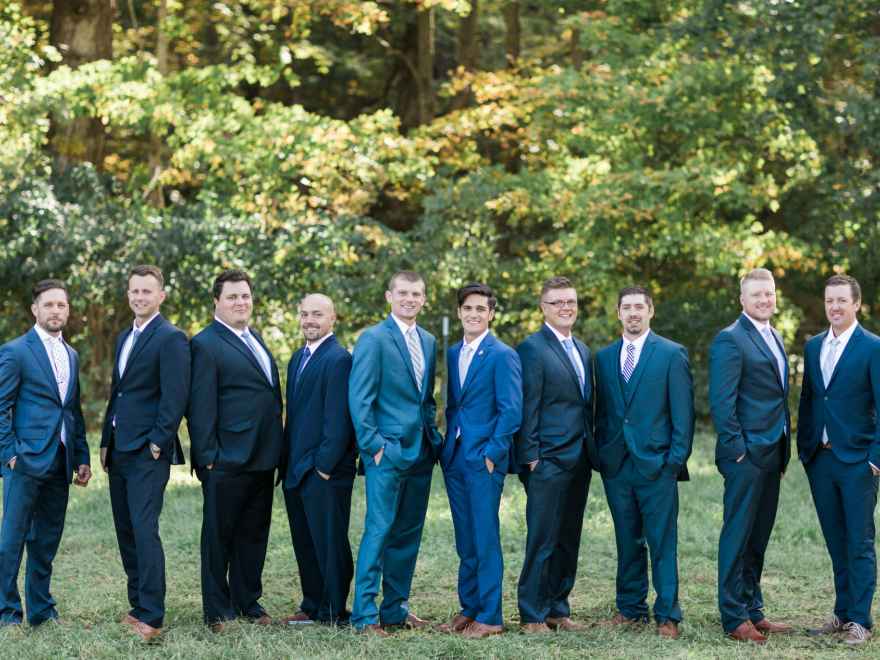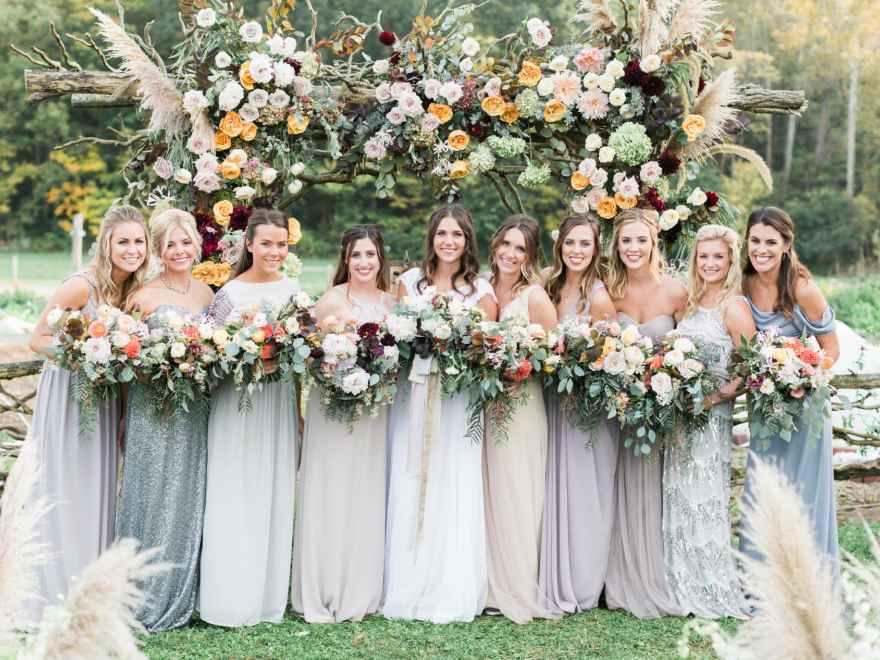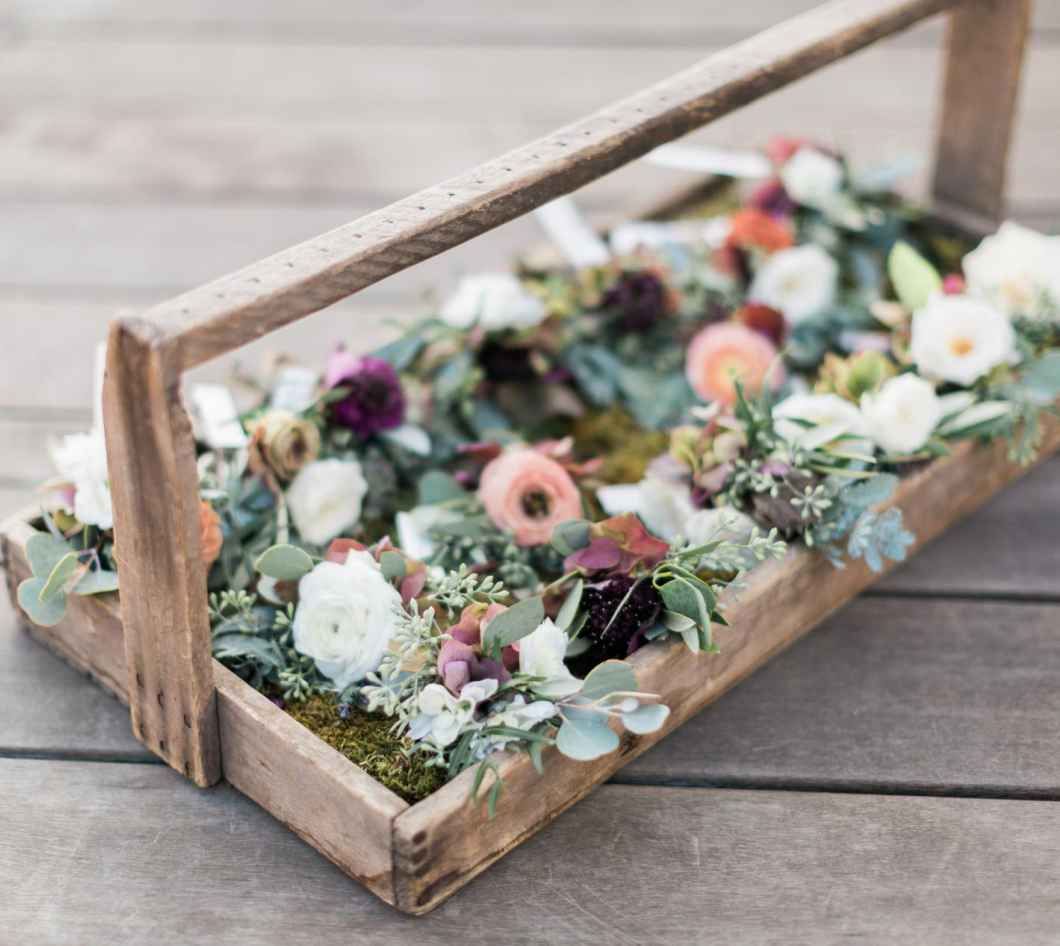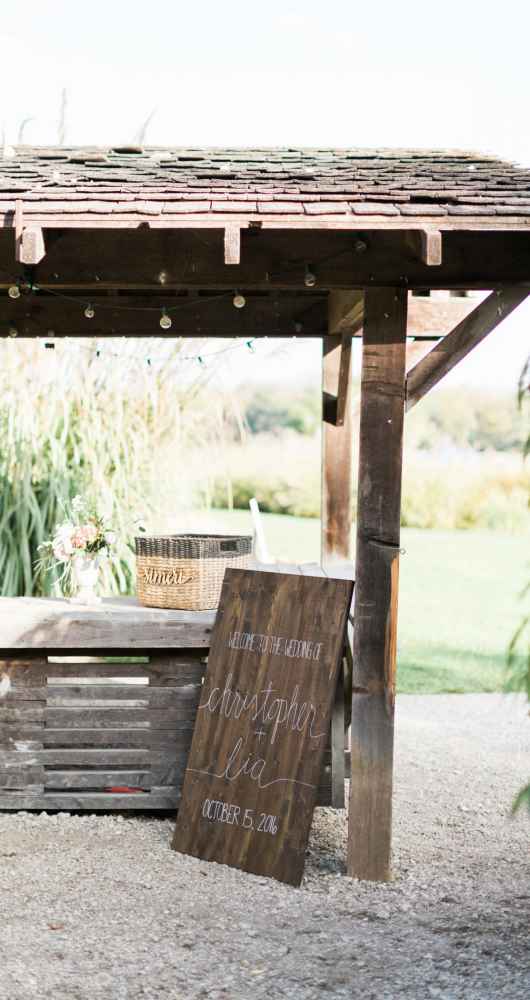 The Venue
When Lia first visited Traders Point Creamery, she was immediately romanced by the fact it was an actual dairy farm complete with mooing cows and real farm smells. "The blank canvas is what intrigued me," says Lia. "I am a designer, and I wanted to design my wedding. There were very little requirements by the venue to use their supplies, so I knew that I could design a wedding that was perfectly unique to me."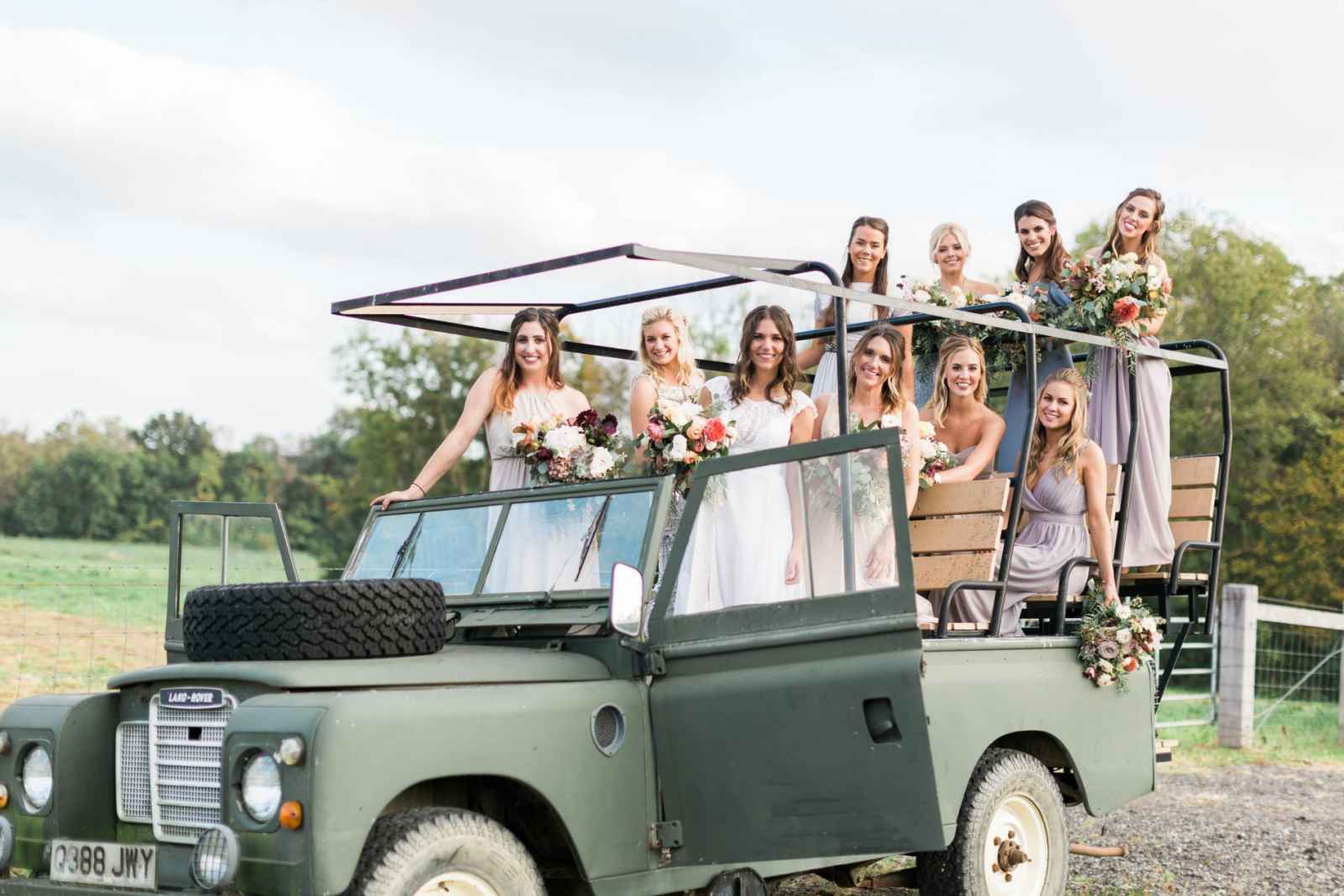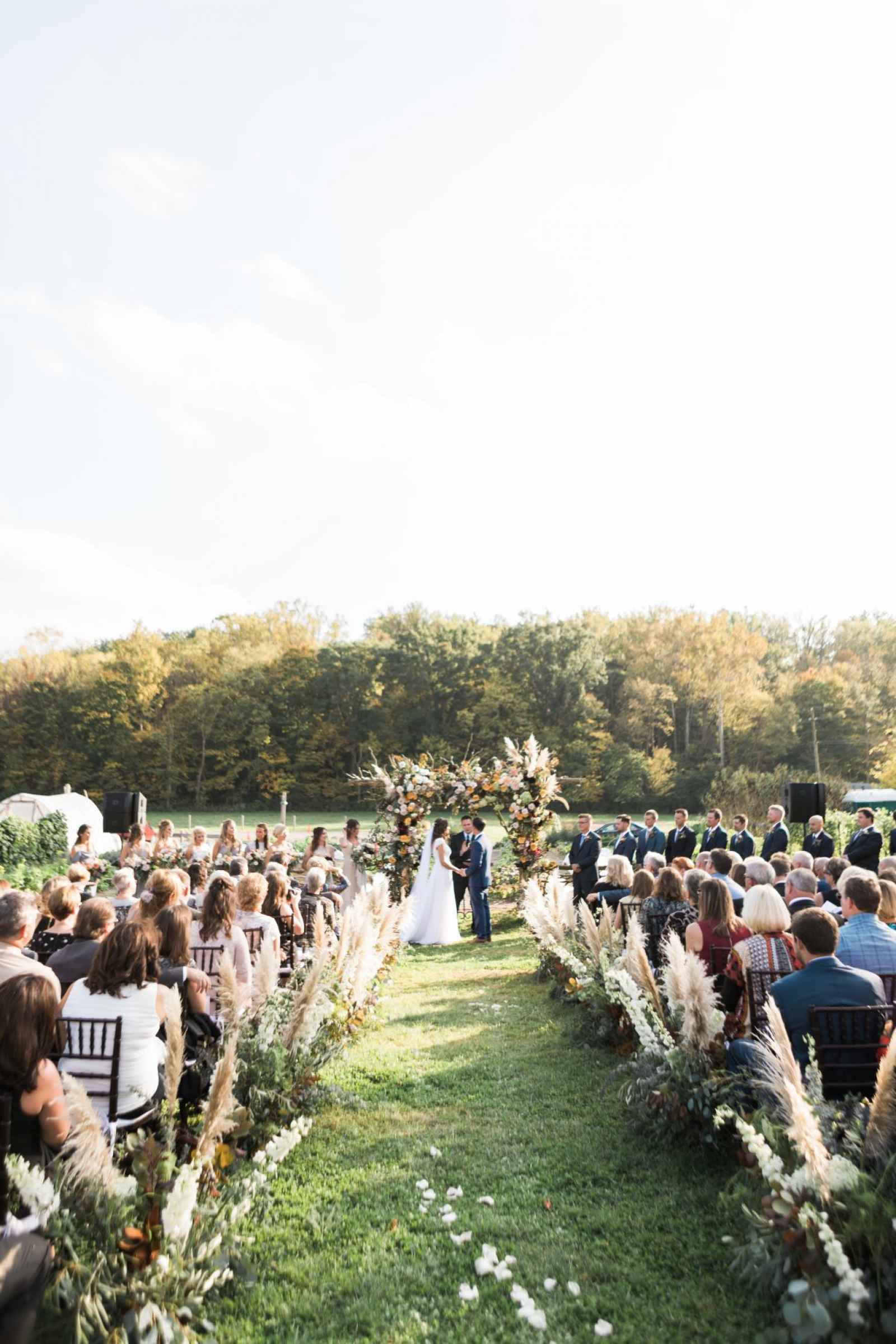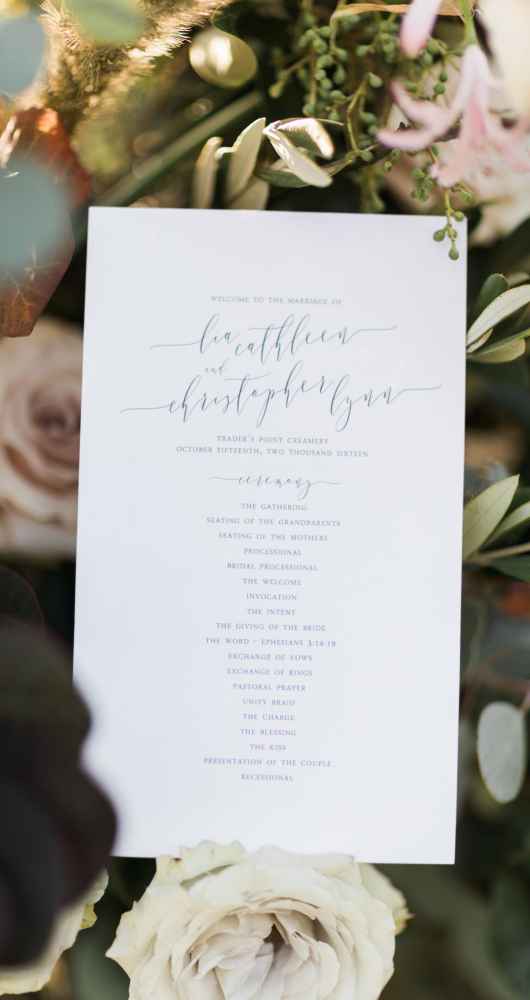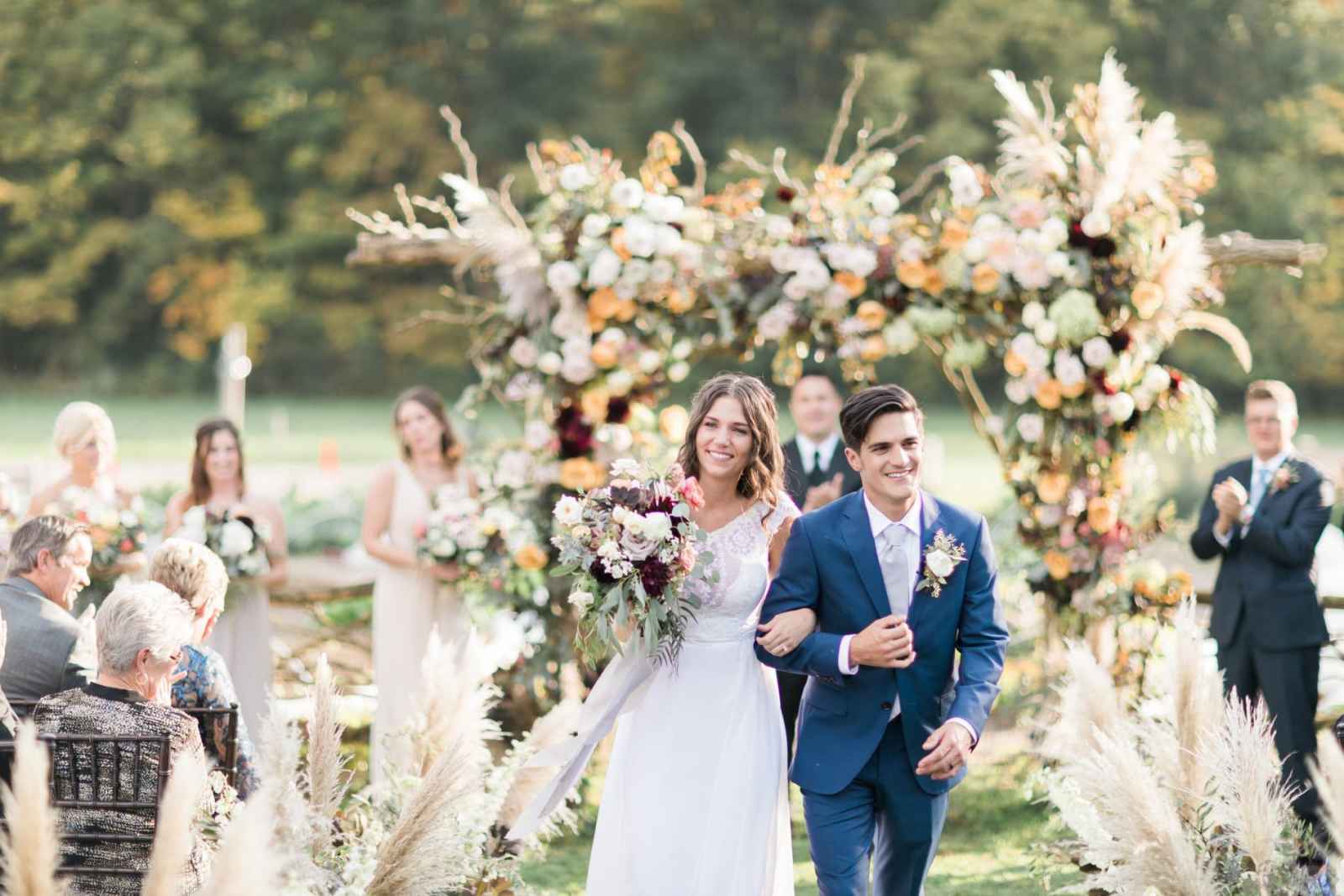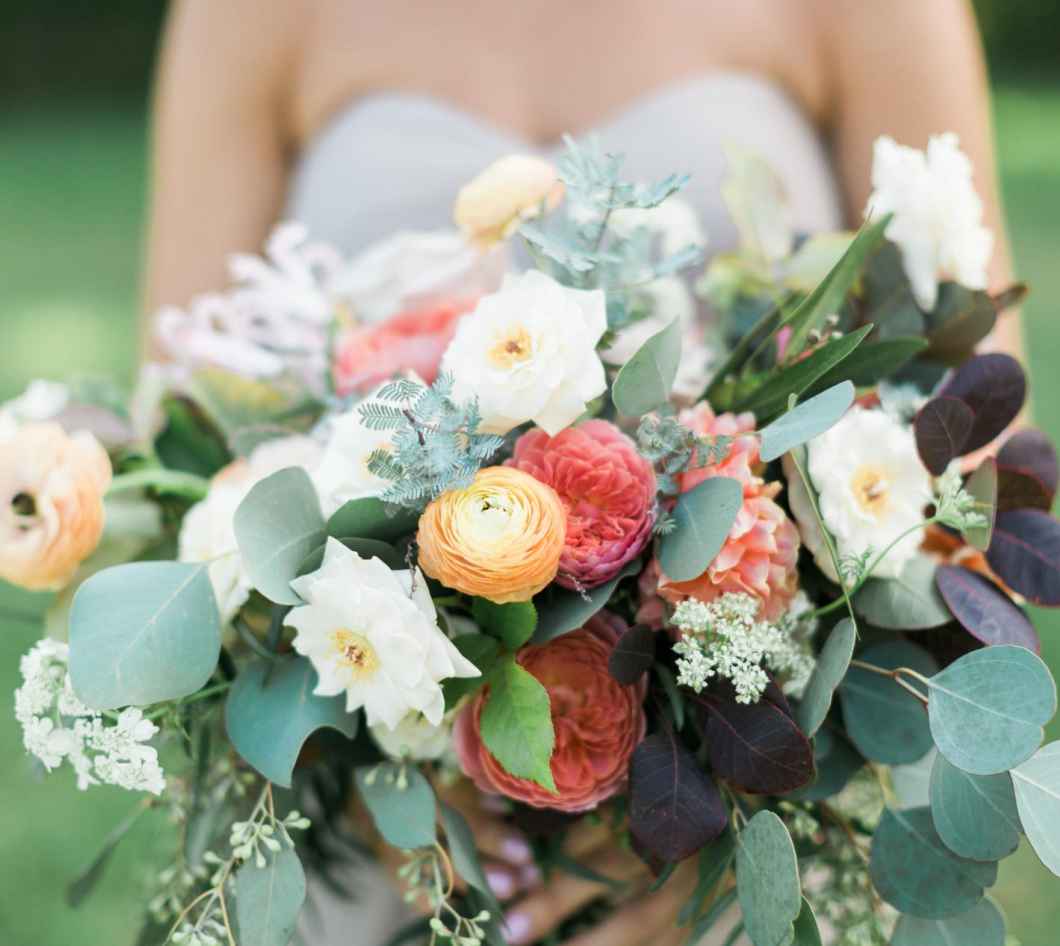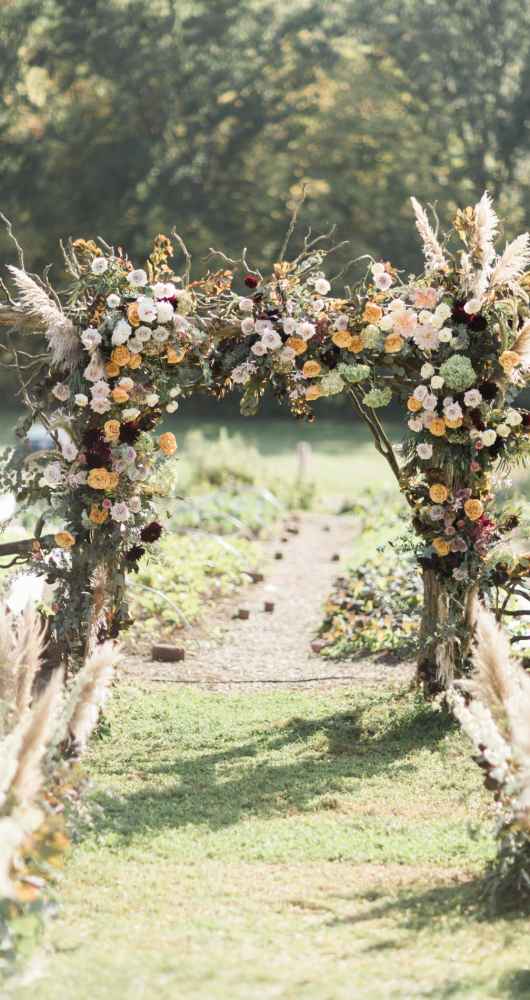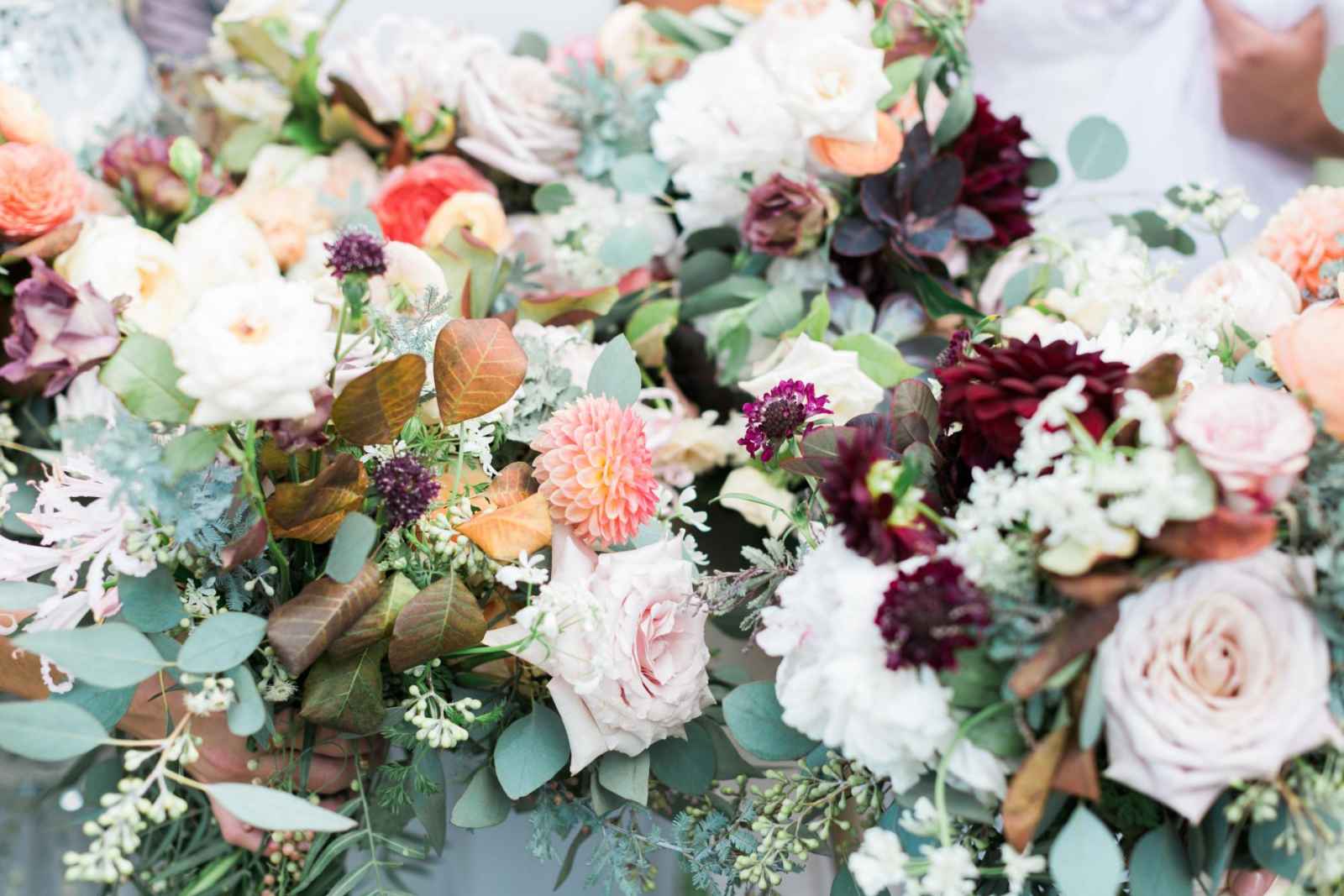 The Florals
In describing her dreamy florals, Lia says of Autumn Keller from Isibeal Studio, "She is an amazing artist. I was lucky enough to get ready in a space where I could watch her transform the ceremony setting. She spent hours creating the magnificent arbor for the ceremony, as she placed each flower carefully and would step back to view her work. Everything she creates is done with such fine attention to detail. She was worth every penny."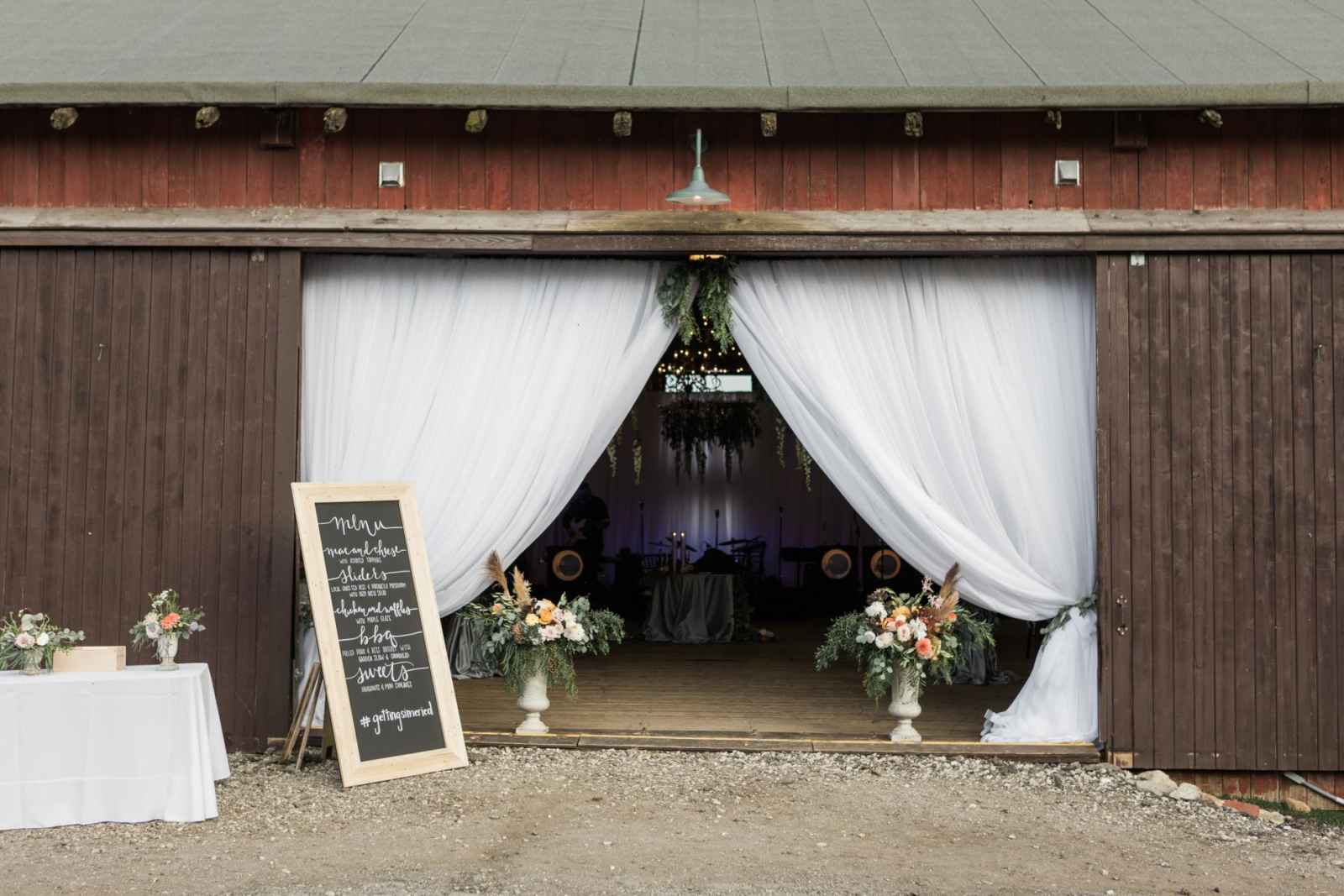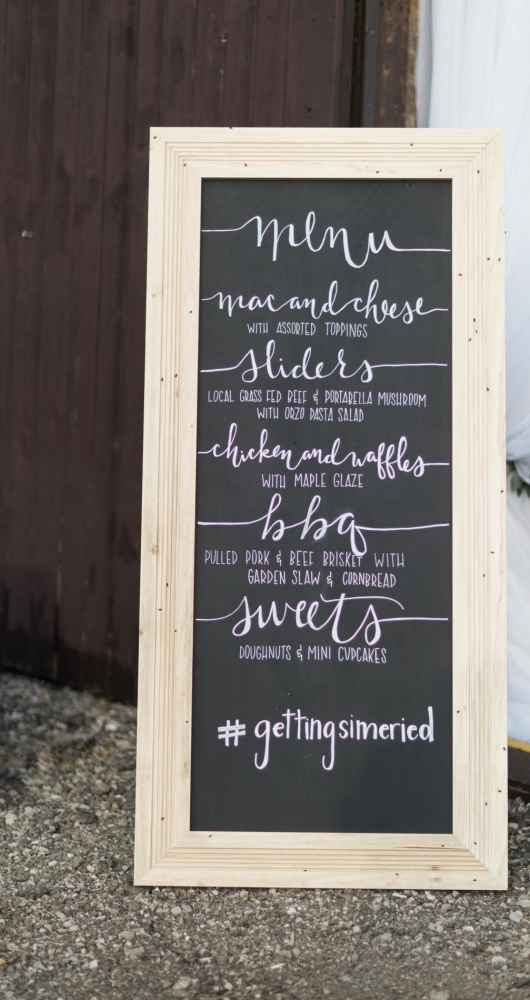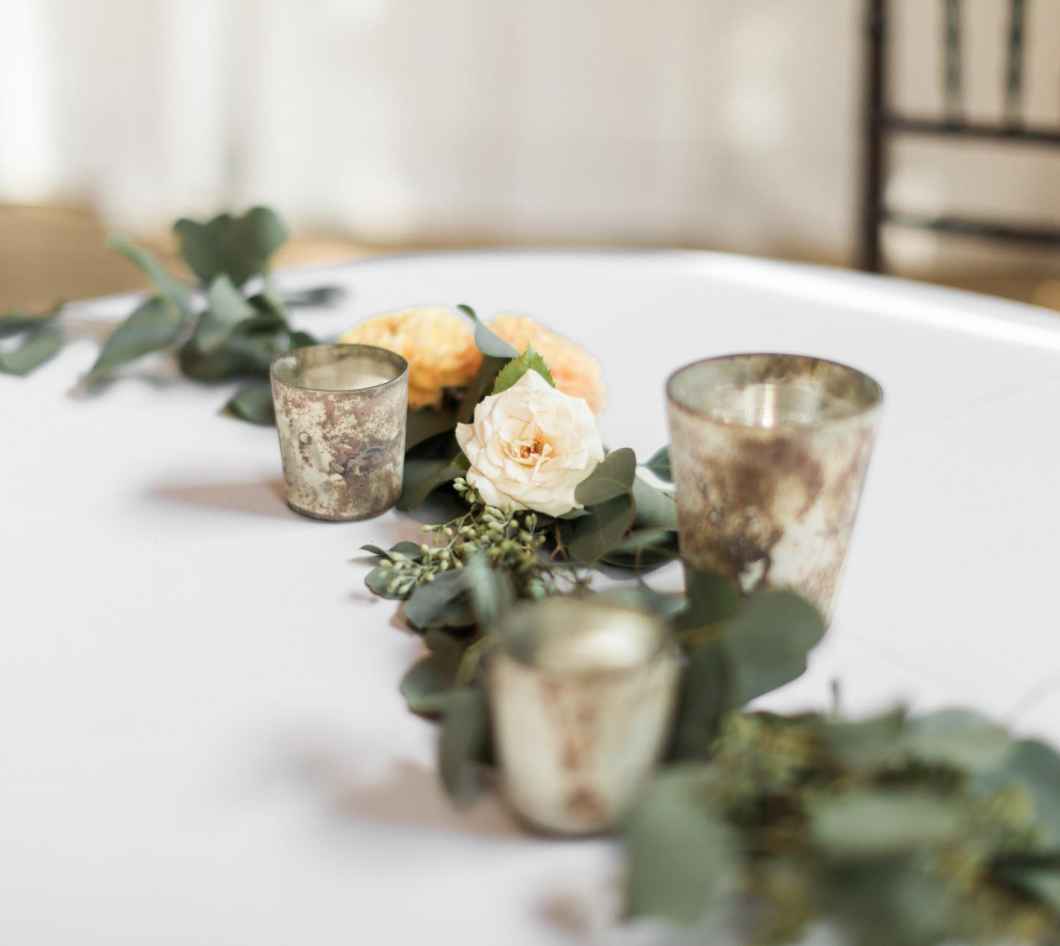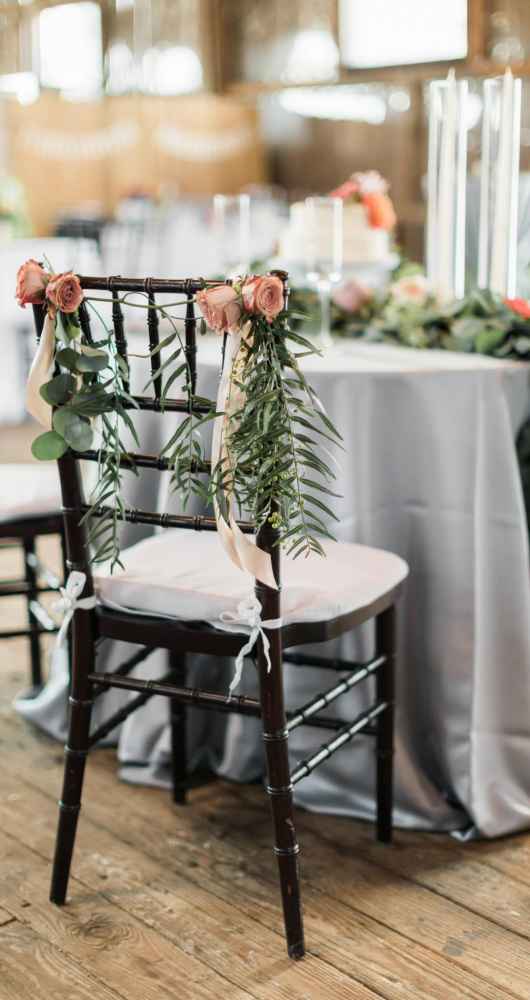 Special Touches
While there were quite a few personal and unique touches throughout Lia and Christopher's wedding, including Lia's wedding dress and veil, trinkets from each grandparent around her bouquet and her grandmother's diamond in her ring, one of the most special parts was the couple's minister, Mark who, along with his wife, was a youth minister and impressionable role model for Lia growing up. "Lucky for me, Mark and Carrie flew in from Tulsa, Oklahoma, making our ceremony so perfectly personal, and I believe everyone could feel the extra special touch that only Mark could have brought to my wedding." And the perfect final touch to their ceremony? The unity cross Lia and Christopher built together by hand.




Advice from the Bride
"Write down a list of 'must-haves' when you begin planning. Focus on getting these things exactly the way you envision. When you find yourself upset about something being wrong that is not on that list, know that you are wasting time and energy that could be spent on making those truly important things perfect."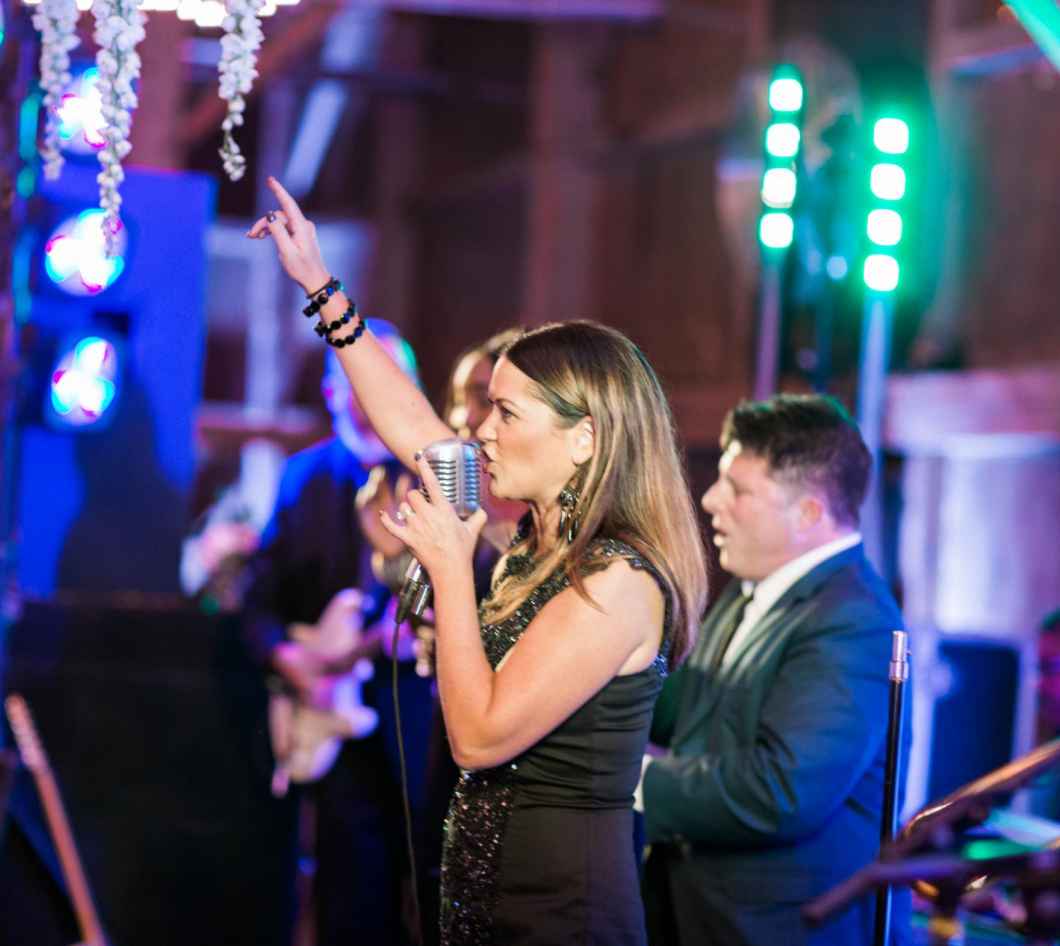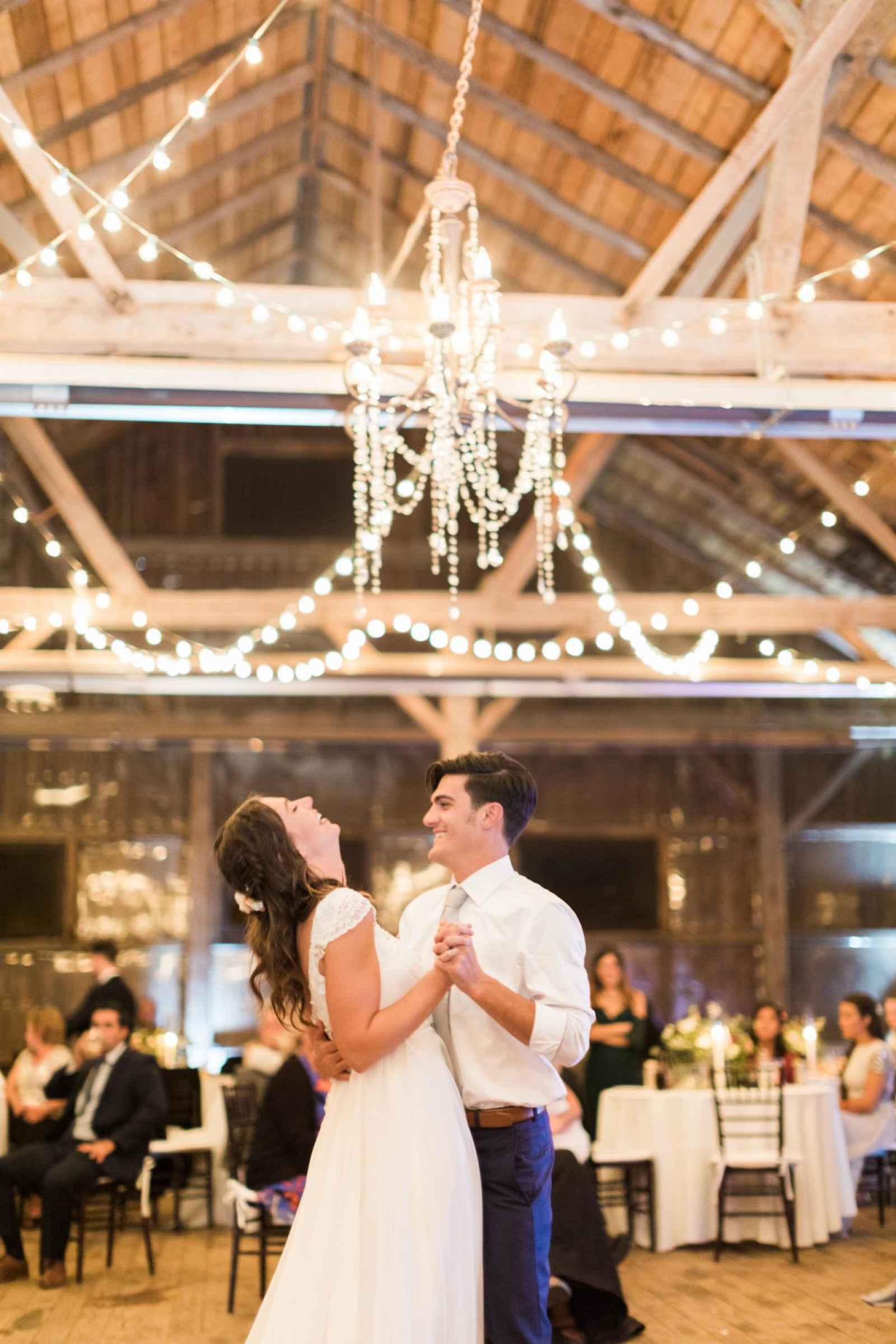 See the Video
Traders Point Creamery | Christopher + Lia from Northernlight Filmworks on Vimeo
are you a bride-to-be?
We'd love to plan with you on weddingday-online.com. Let's get started!
 
are you a wedding extraordinaire?
Join WeddingDay Magazine in inspiring brides by partnering with us! See how here.