A White Chapel Wedding
LANDMARK OCCASION
In a time when the simple act of ordering a cup of coffee can be dizzying, it's no surprise that planning a wedding can be pretty daunting. For Stephenie and Kaleb Lane, the solution was to focus on creating a celebration using neutral elements and elegant décor. Their white chapel wedding in the warmth of a Michigan September was an idyllic celebration of love.
Introduced by Stephenie's sister, the couple went on their first date in July of 2010. After a year of dating, they both knew that a wedding was in their future and started planning for their life together, but Stephenie says, "I didn't know where or when a proposal would take place."
In January of 2013, Kaleb continued his tradition of taking Stephenie to Fogo de Chao, a Chicago restaurant, for her birthday dinner. The couple stopped at Cloud Gate, the massive art piece in Millennium Park more commonly known as the Bean. Stephenie recalled, "When we got to the Bean, he hugged me and smiled as we looked into the reflections." To Stephenie's surprise, her and Kaleb's families appeared from the other side of the structure and Kaleb was down on one knee. After she accepted, the couple and jubilant families all enjoyed dinner together at Fogo de Chao.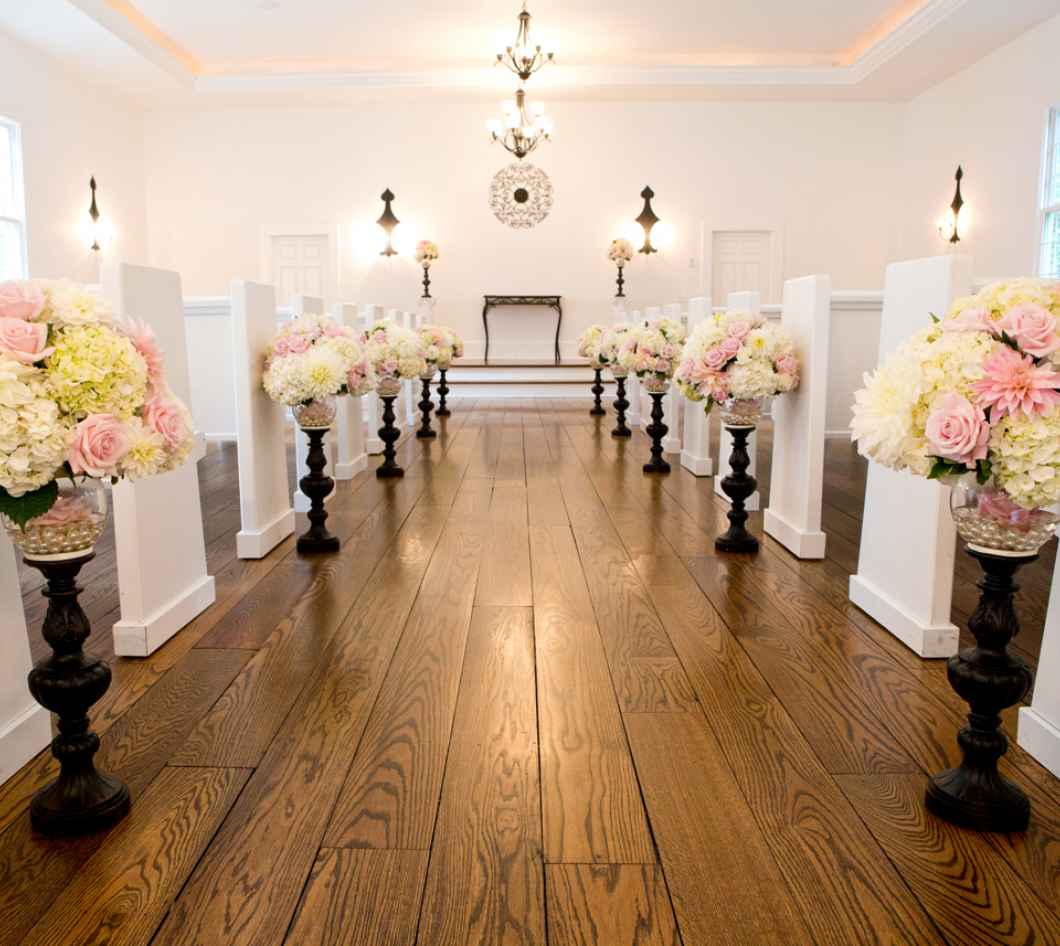 LOVE & LIGHT
Stephenie had to overcome a venue change during the planning process, but everything worked out beautifully when she fell in love with the Chapel at the Morris Estate while flipping through an autumn (Fall 2012) issue of WeddingDay. 
With its clean, white interior and large windows, few decorations were needed to make the ceremony feel elegant. Soft cream, white, and pink flower arrangements topped sturdy, carved flower stands lining the aisle. 
Stephenie and Kaleb made the most of their beautiful venue by having the ceremony in the chapel and the reception on the lawn. Underneath the white globe lights strung from the marquee were tables covered in taupe linens with simple white table settings. The twelve tall aisle decorations and four shorter versions were moved outside to be used as centerpieces. Each centerpiece was filled to the brim with peonies, dahlias, hydrangeas and roses.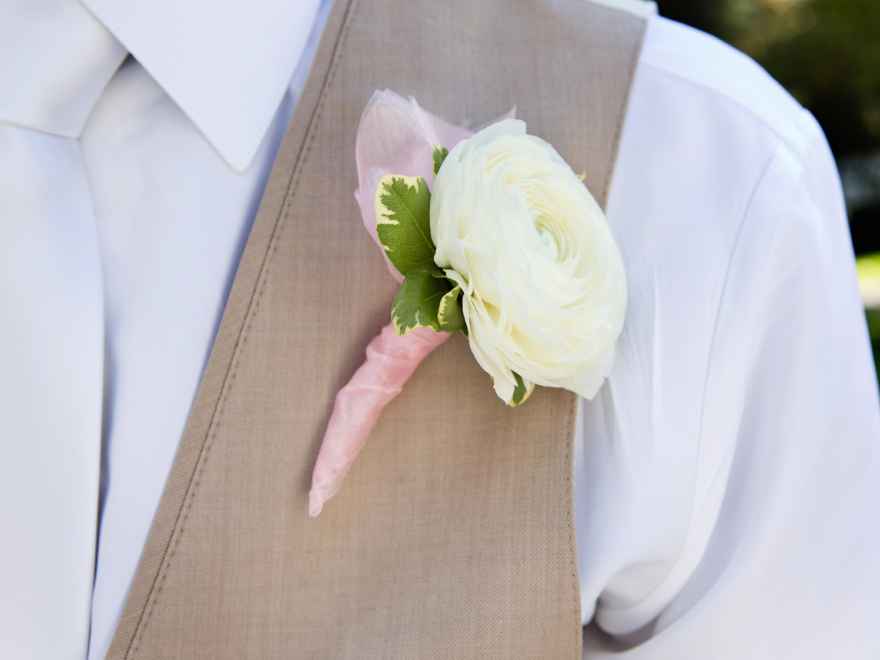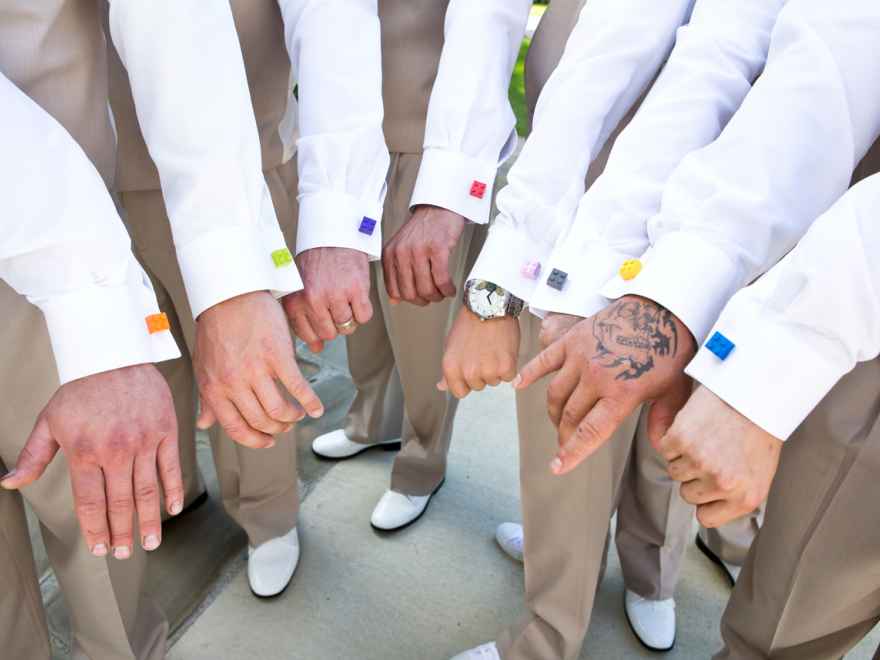 THAT SPECIAL DETAIL
The men were perfectly dressed for the occasion, in soft taupe vests sans jackets. They kept their style young and fresh by sporting Lego cufflinks and white converse shoes. Even the fathers donned the boyish cufflinks for the occasion. The pale blush chiffon dresses worn by the bridesmaids were romantic and soft.  
Stephenie had been searching online for months when she came upon Maggie Sottero and the perfect dress. All that browsing paid off when the first store she called had not only the designer but had that particular dress in stock. Stephenie says, "It was the first dress I tried on and it was the dress!" She had it personalized with several lovely touches- a piece of fabric from Kaleb's mother's wedding dress sewn into her own and embroidery with her and Kaleb's names and their wedding date sewn in.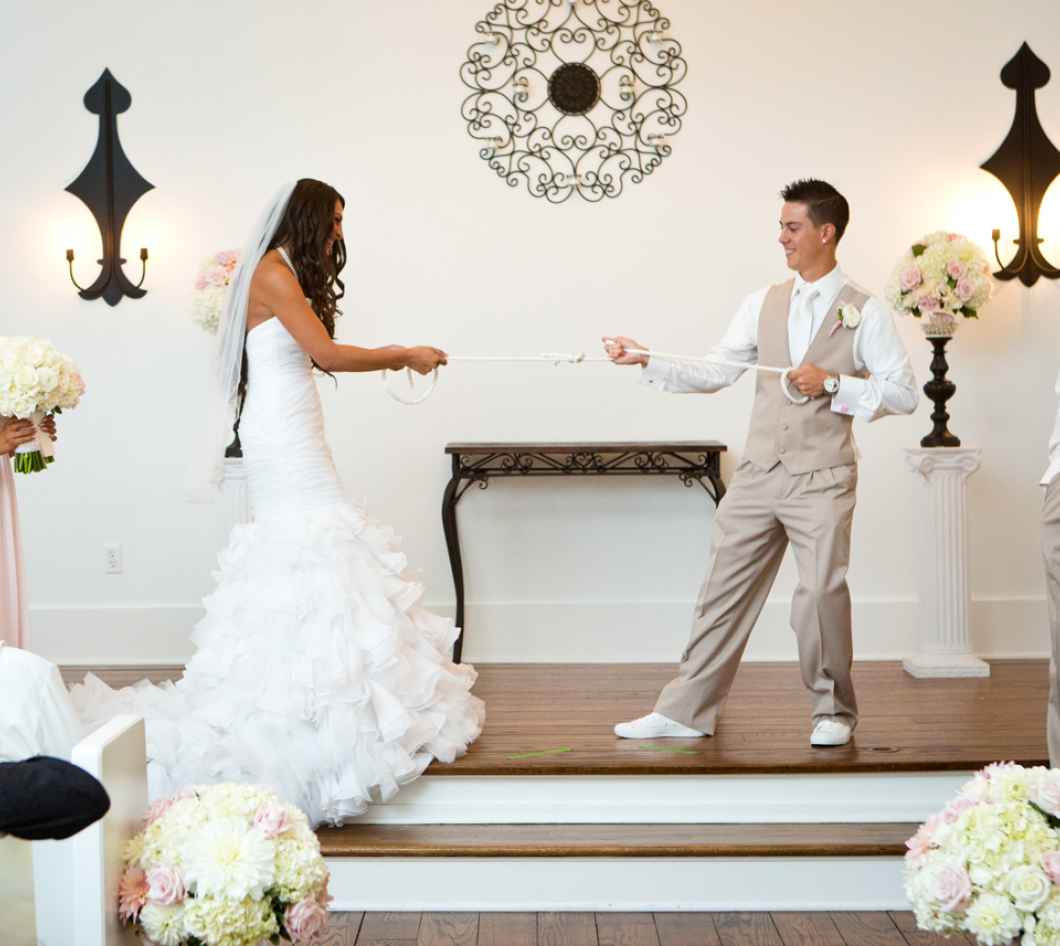 TYING THE KNOT
Surrounded by family and friends in the chapel, Stephenie's favorite memory was seeing the tears in Kaleb's eyes as she walked towards him down the aisle. They had not seen each other before the ceremony, and Stephenie said that when she saw him, "All I could think was 'I love this man' and I couldn't stop smiling." After saying their vows, the couple injected some playfulness into the ceremony by literally "tying the knot" using white rope. 
The party kicked off outside on the lawn with cocktails and a reception under the white ceiling of the tent. Kaleb's favorite moment was their first dance as a married couple to Jack Johnson's "Better Together." 
Stephenie says she loved everything about planning their wedding. "When I started planning I thought I knew exactly what I wanted, but I changed my mind a billion times. It was exactly what I wanted, but not like I had always imagined it. It was more!" Her experience is a good reminder that it's always good to be flexible, you might find that the changes make your day better than you had ever dreamed! 
Blog Sponsored By
Businesses Involved
Ceremony & Reception Location
Related Blogs