Freshly In Love: A Lush, Outdoor SoirÉe at Fernwood Botanical Garden
Ingeniously disguising his proposal plan as the result of winning a work competition, Mike whisked Theresa away on a lovely September weekend trip to New Buffalo, Michigan, complete with a wine tour. "We drove up and hopped on the wine tour, and after a few stressful hours for me and a couple of glasses of wine for her, we ended at Round Barn," says Mike. "I led her out between the vines and got down on one knee! It was such a great weekend in New Buffalo that we decided to come back a year later to tie the knot!"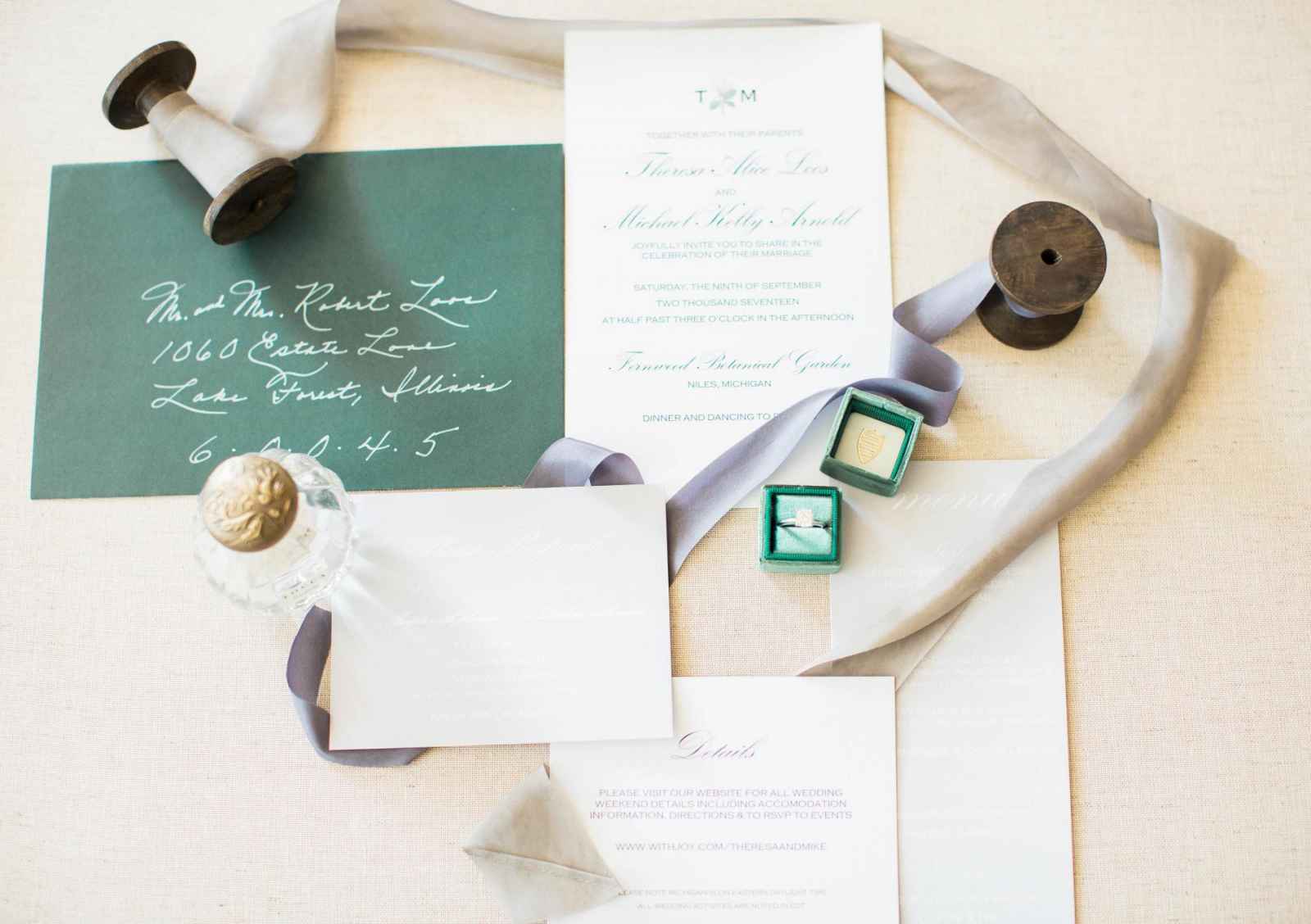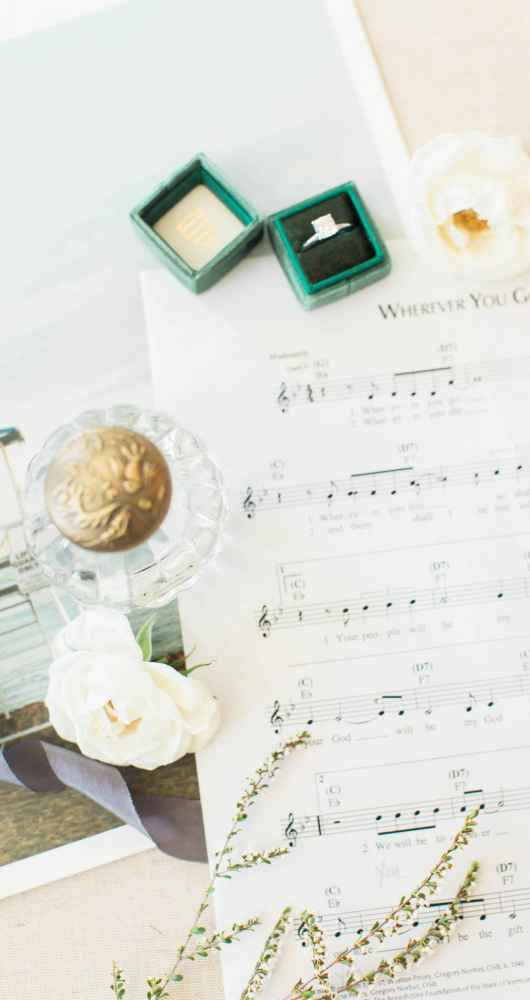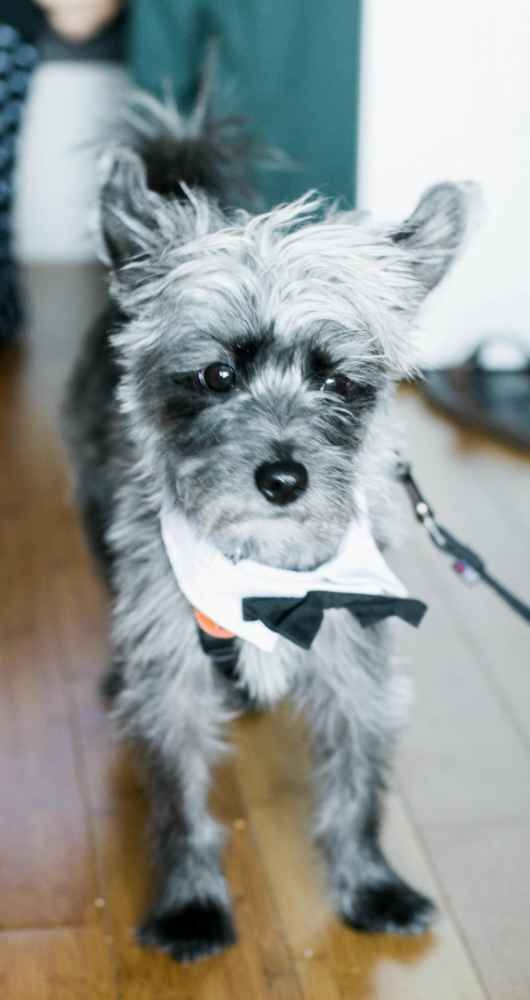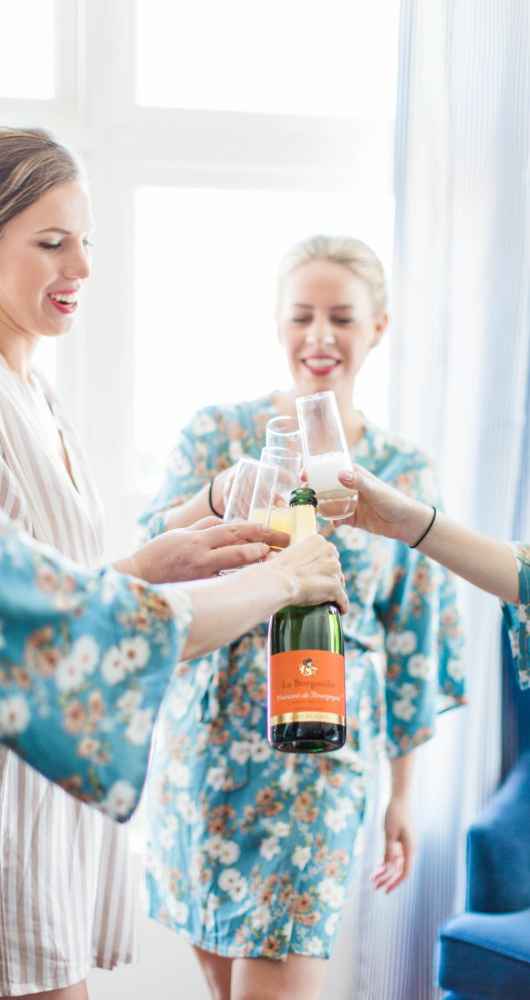 The Planning
For the couple, the planning process started immediately. "Before we even left New Buffalo that weekend, we stopped at a couple places to scope out a venue," says Theresa. "I spent hours searching Instagram for vendors in the Indiana and Michigan area through hashtags and location tags. I've never Instagram stalked so much in my life, but it worked, and I found almost all of my vendors through social media."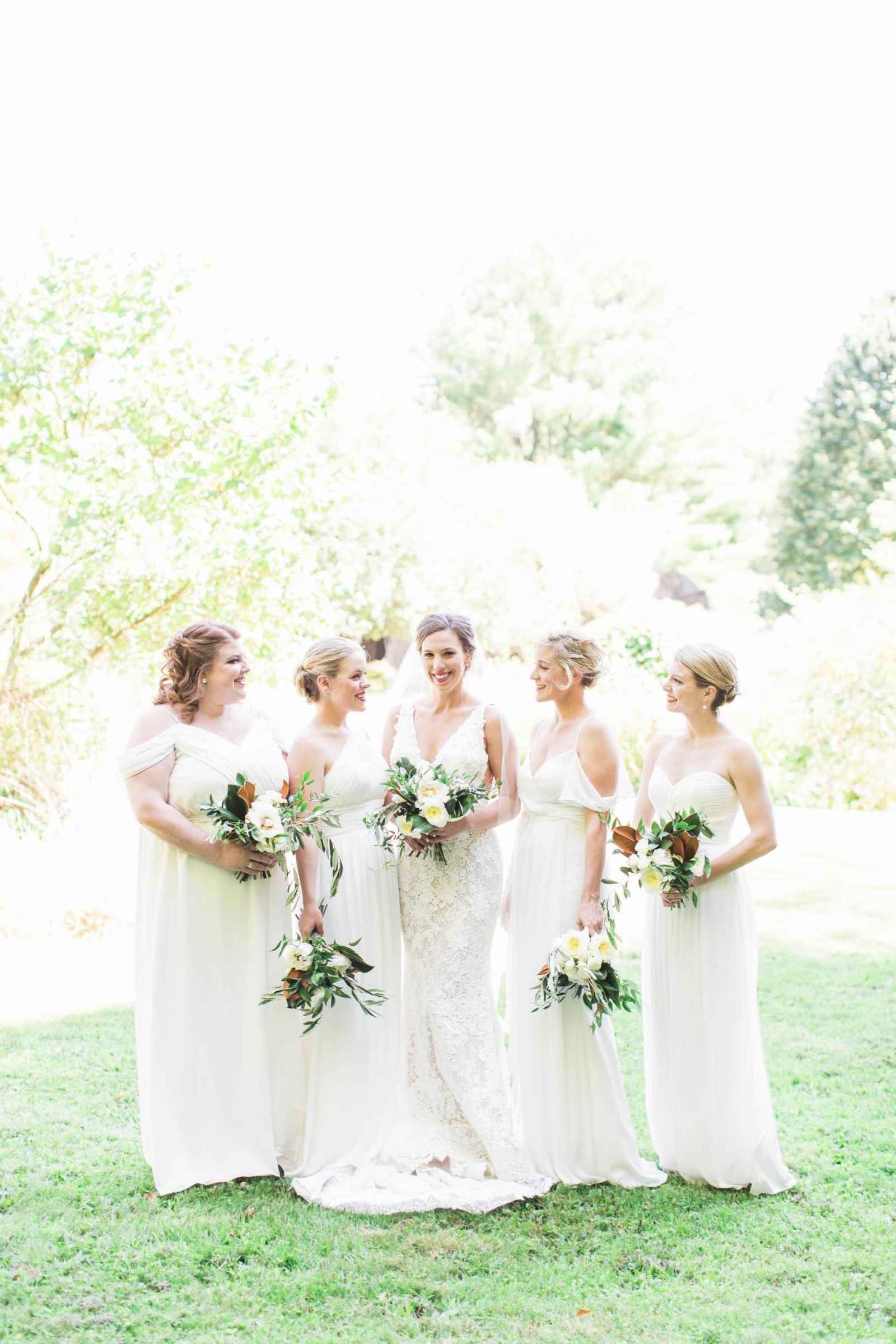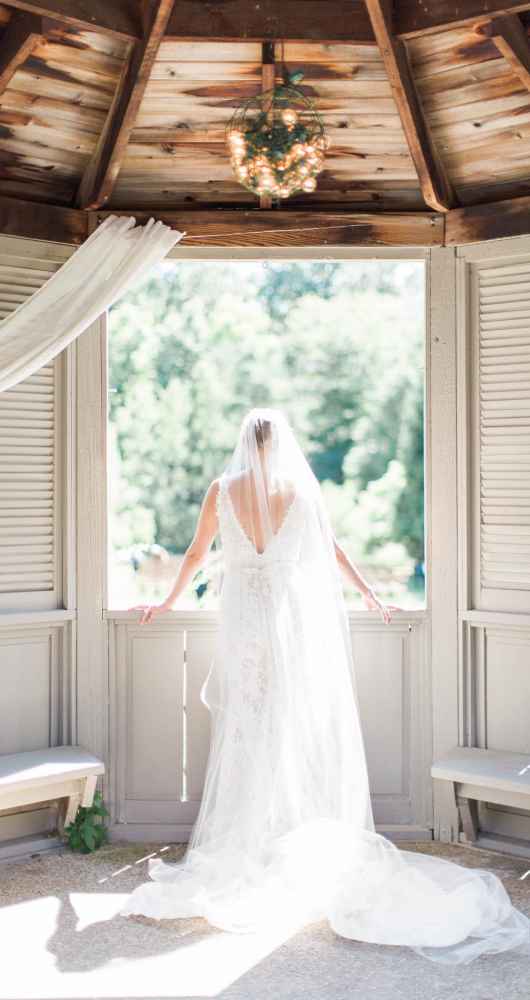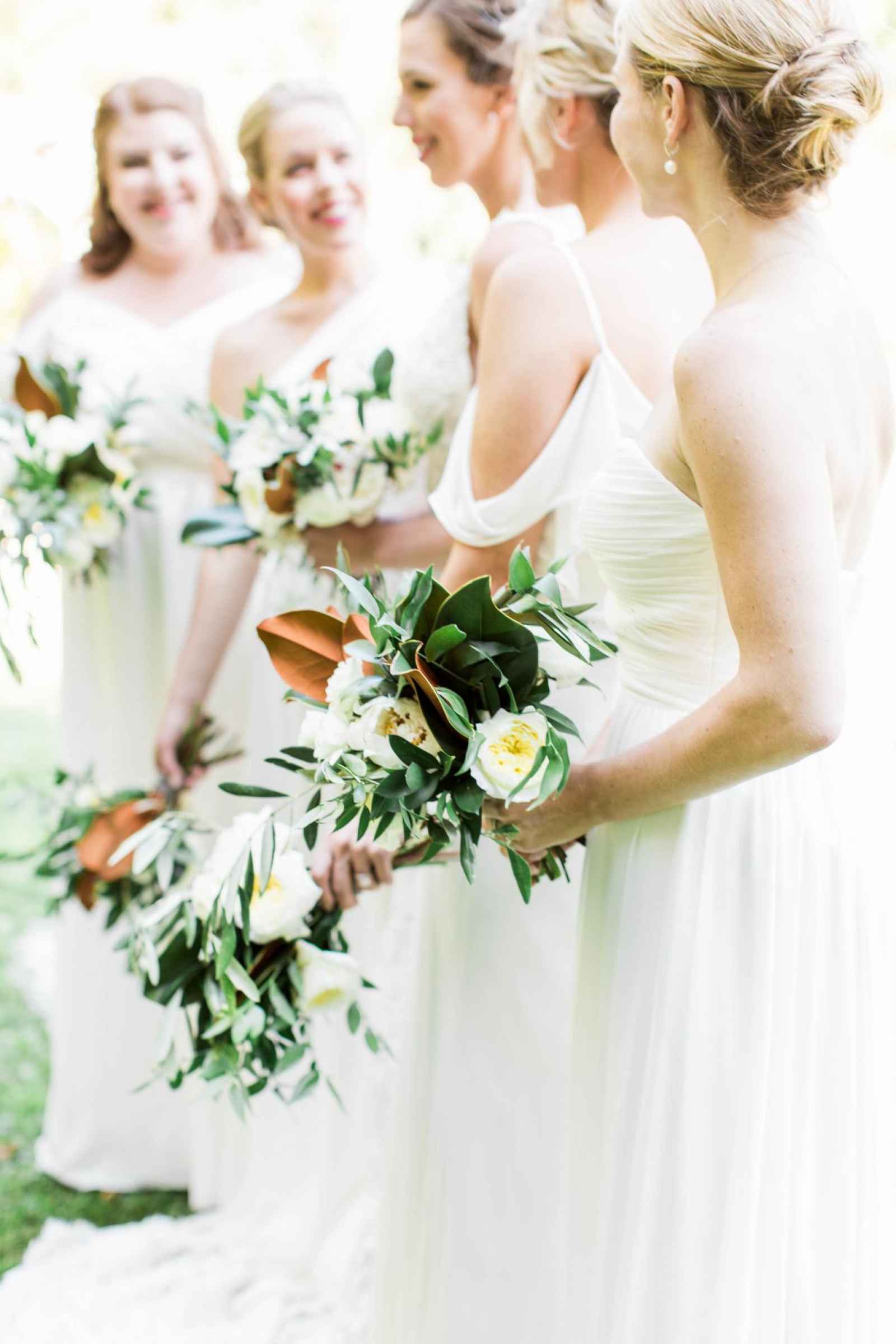 The Theme
In terms of aesthetics, the pair wanted something classic and semi-traditional but not formal or stuffy. "We wanted a few unique details that would set our day apart," says Theresa. "We chose copper and gray velvet accents, green and white floral arrangements and all white bridesmaid dresses. Mike even wore a green suit! We loved our cake table full of eight different cakes and black and white dance floor!"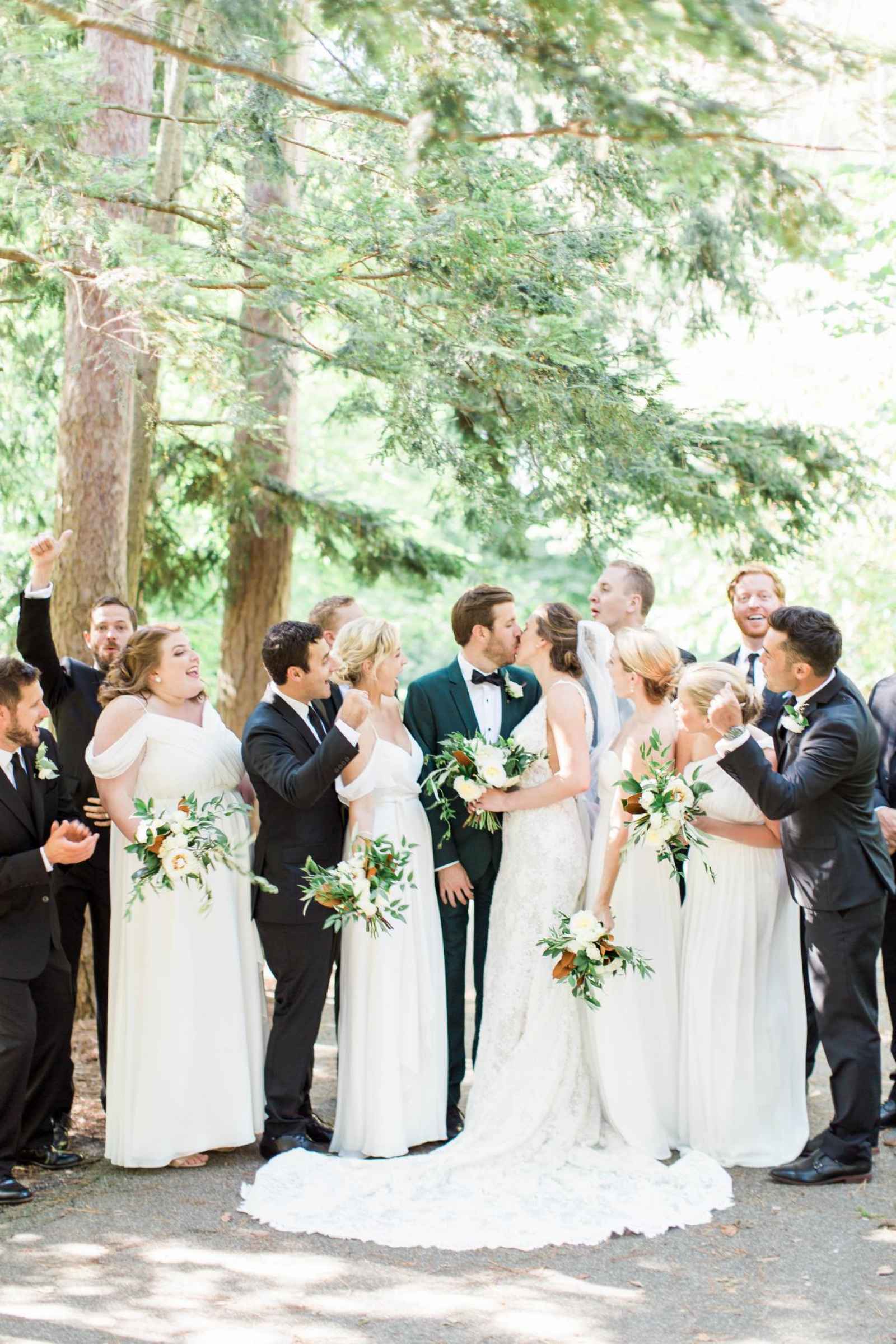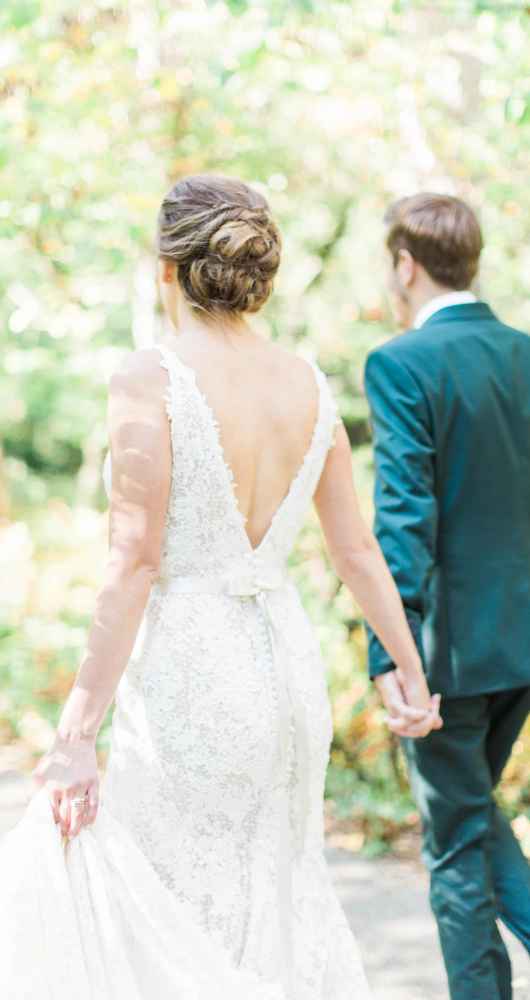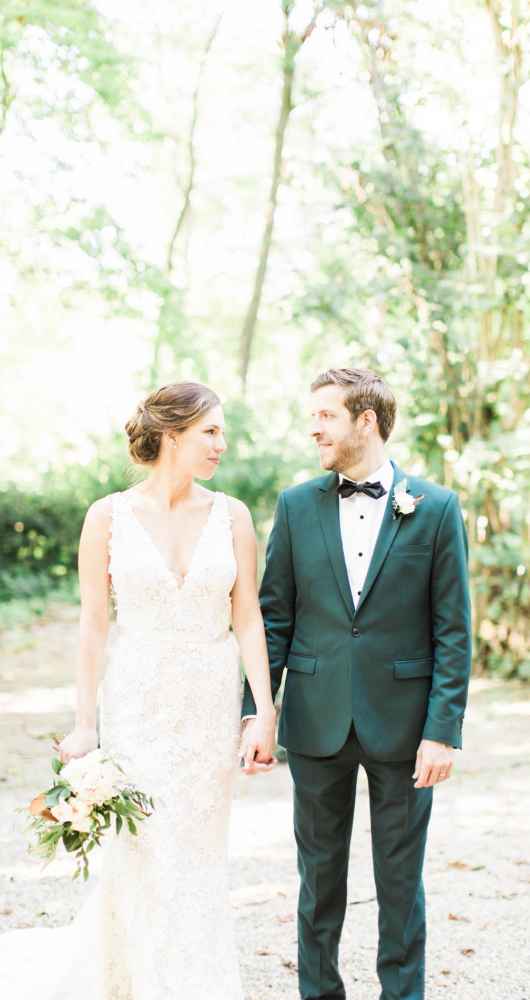 The Dress
Theresa knew that finding the dress would be one of the most challenging parts for her. "My grandma is a designer and I grew up sewing with her, so finding the right dress was daunting," says Theresa. "After several stops at various Chicago bridal boutiques with no luck, we made our way to Mira Couture for the Atelier Pronovias trunk show." When her bridal consultant added her favorite dress, the "Estela," to her batch to try on, the vision for her wedding suddenly became clear. "It was the first dress I had put on that I could see myself walking down the aisle in," Theresa says.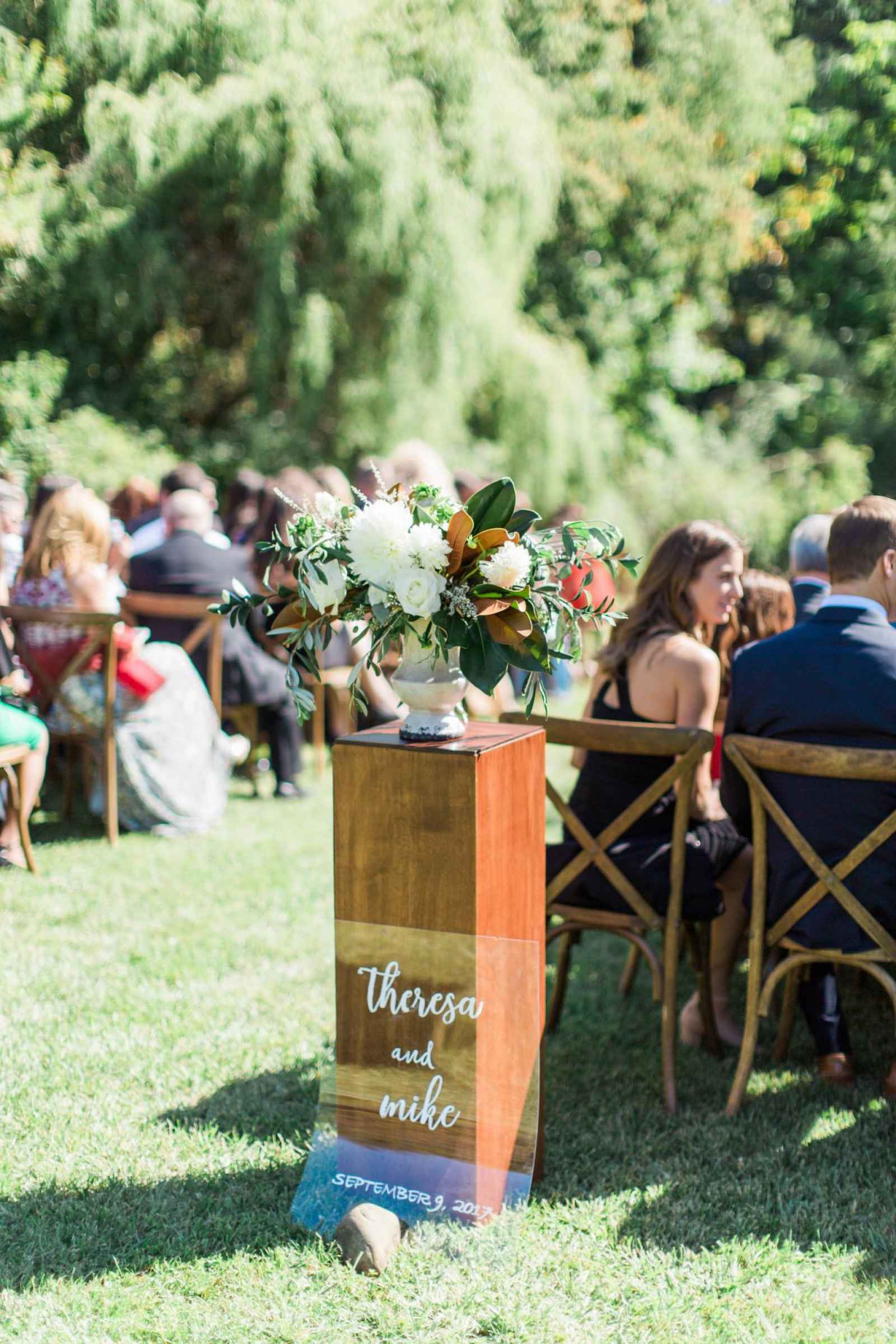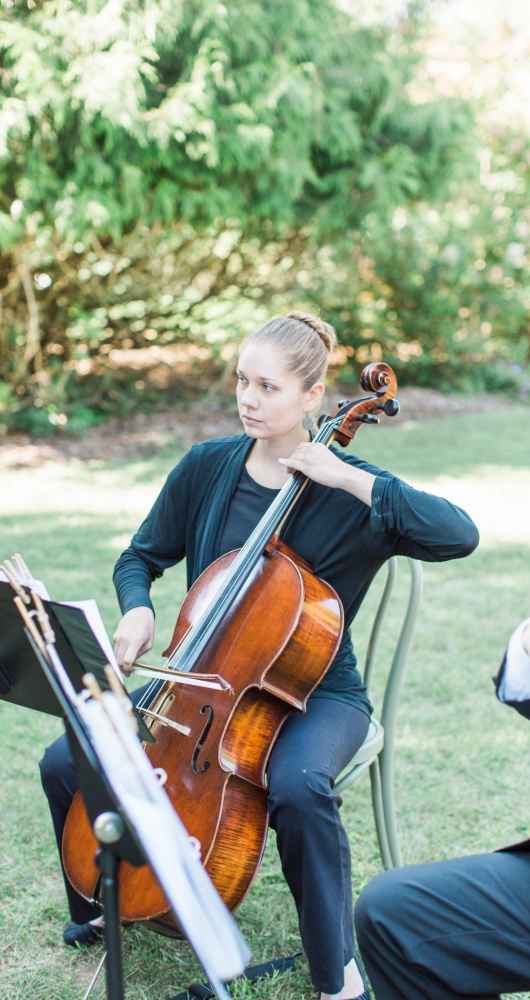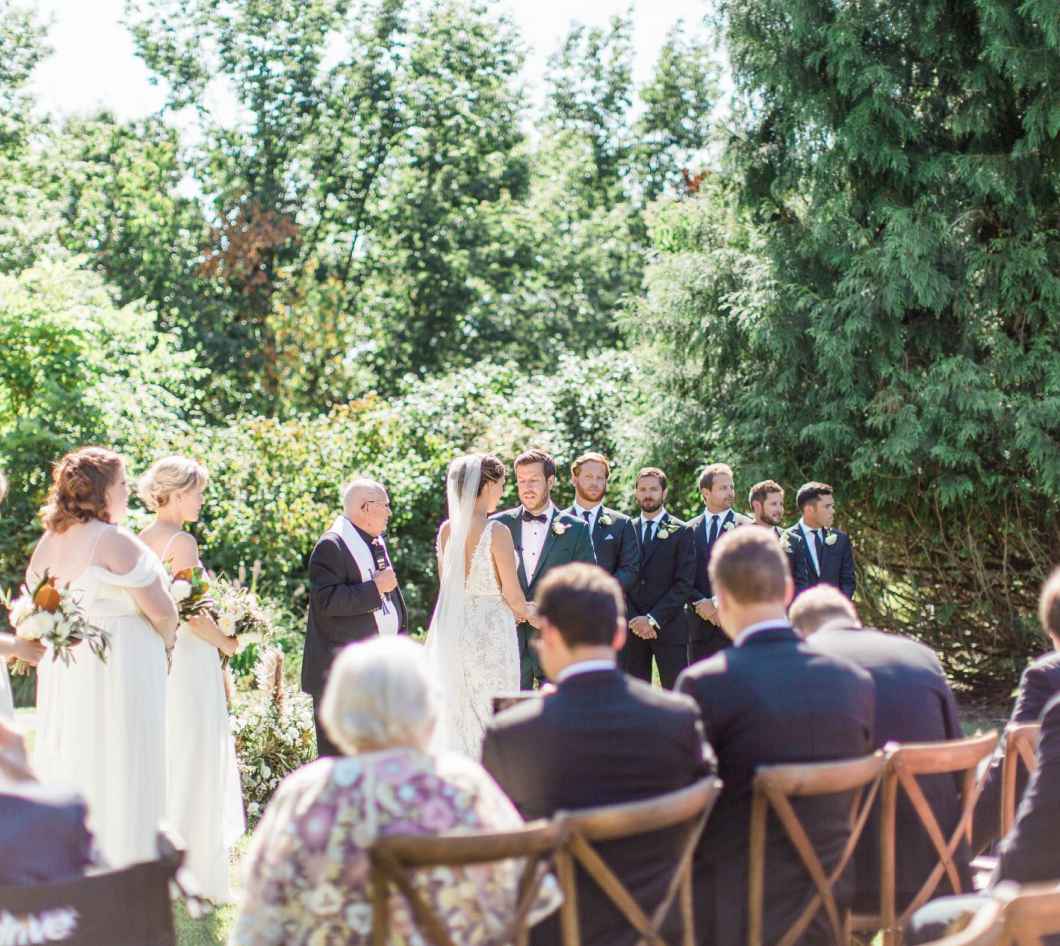 The Venue
"We searched high and low for our venue, and after really honing in on having an outdoor wedding, we found Fernwood Botanical Garden and Nature Preserve in Niles, Michigan. The gardens at Fernwood are beautiful no matter the season. Even though it was December, the grounds still got our imagination going. It was within 30 minutes of New Buffalo where our guests were staying and our other wedding activities were being held, so it allowed us to have both a summer beach theme and a lush garden backdrop all in one. We incorporated the many areas of the venue, with supplying our guests with a map of the garden and candy stations at certain landmarks, encouraging our guests to explore and use different areas for the ceremony and cocktail hour."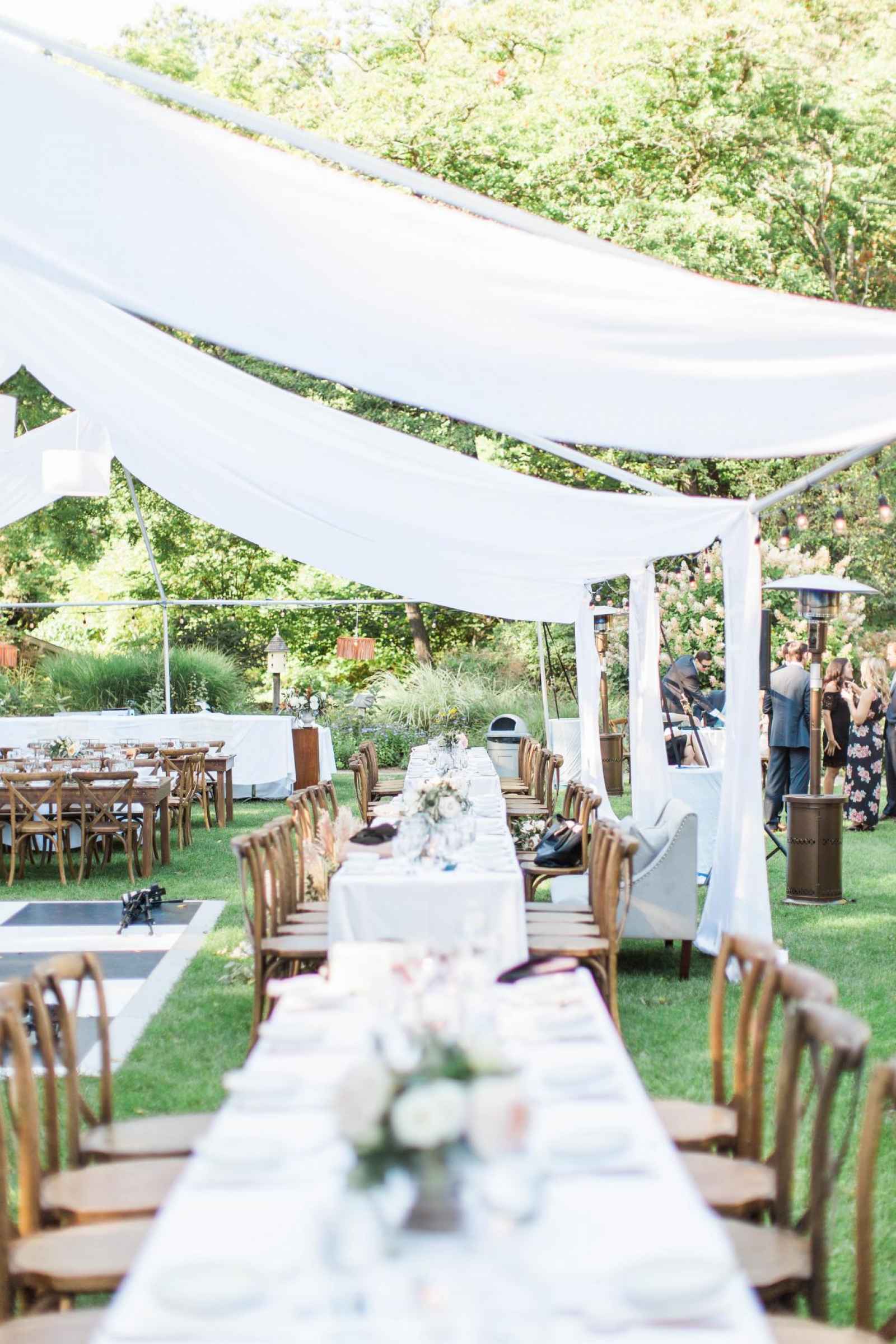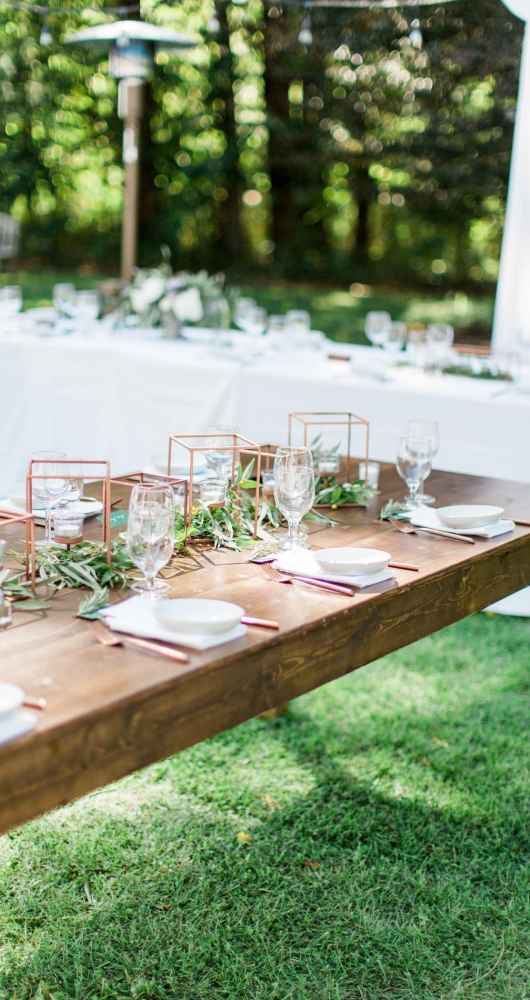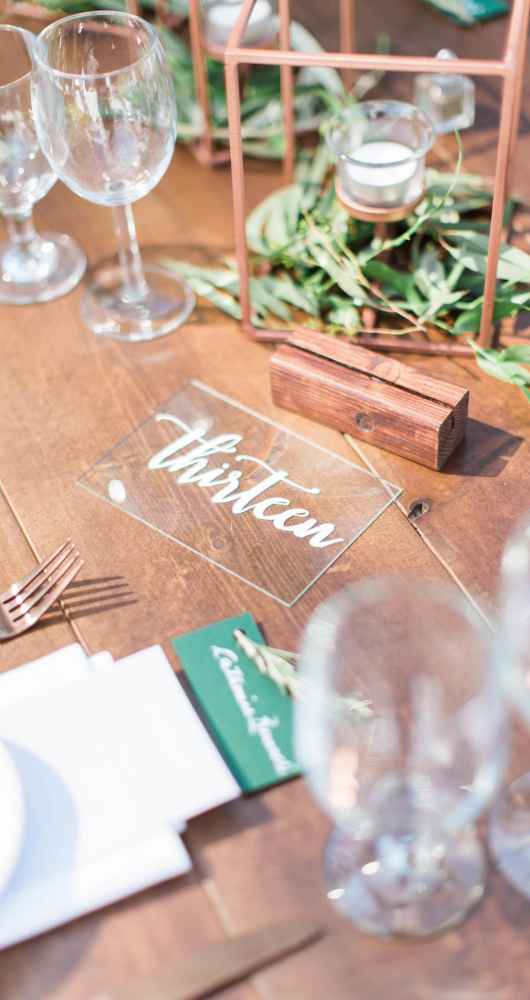 The DÉCOR
Theresa was thrilled when a picture of an al fresco, open air, draped tent wedding she had seen years before on Pinterest suddenly became a reality for her. And the finishing touches? Slate gray, copper accents and acrylic signs.
Theresa says, "We brought a huge trailer up from Chicago filled with décor (and alcohol!). My mom spray painted tea light holders in copper and we used big, white drum lights from Ikea to hang along the frame of tent. We brought all the cake stands, slates for charcuterie boards, pillows, linens, acrylic and wood table numbers—even the gray velvet loveseat we sat in! My whole family pitched in to make the wedding what it was."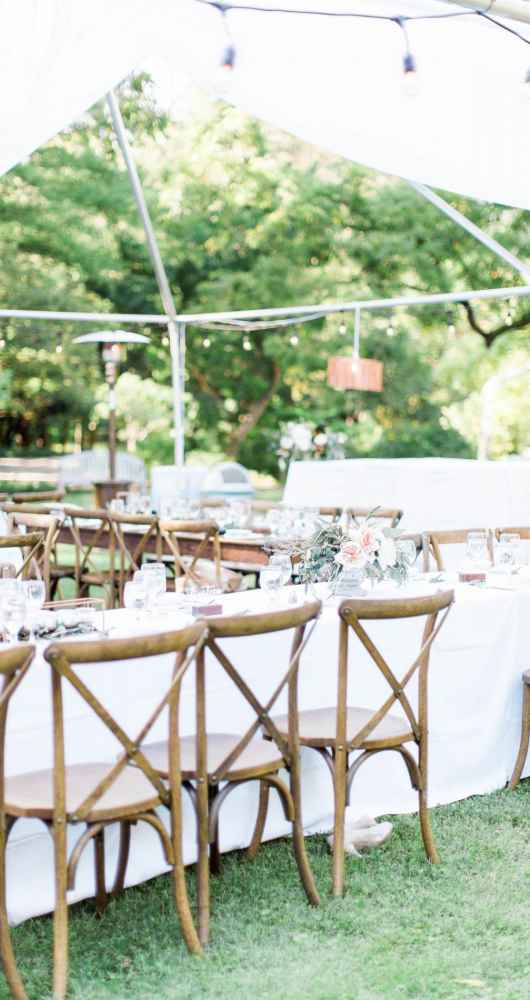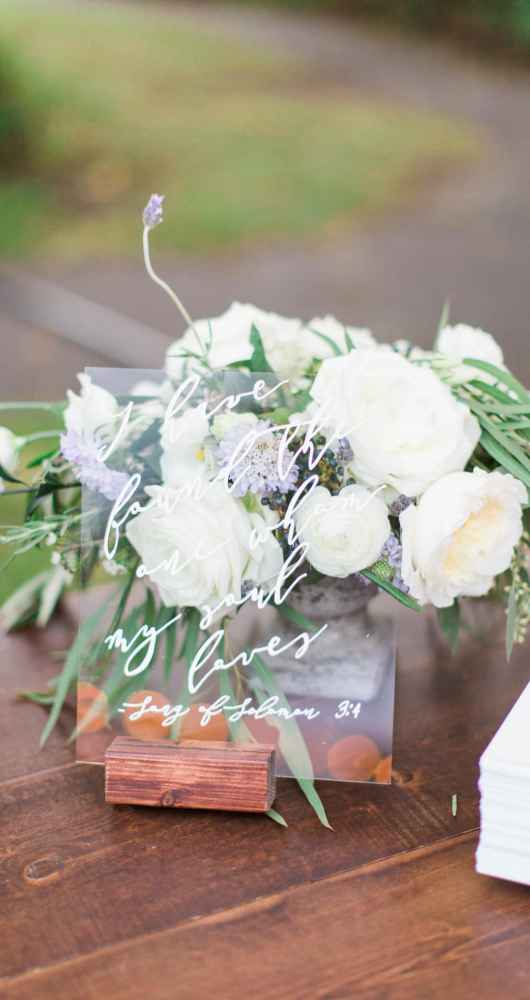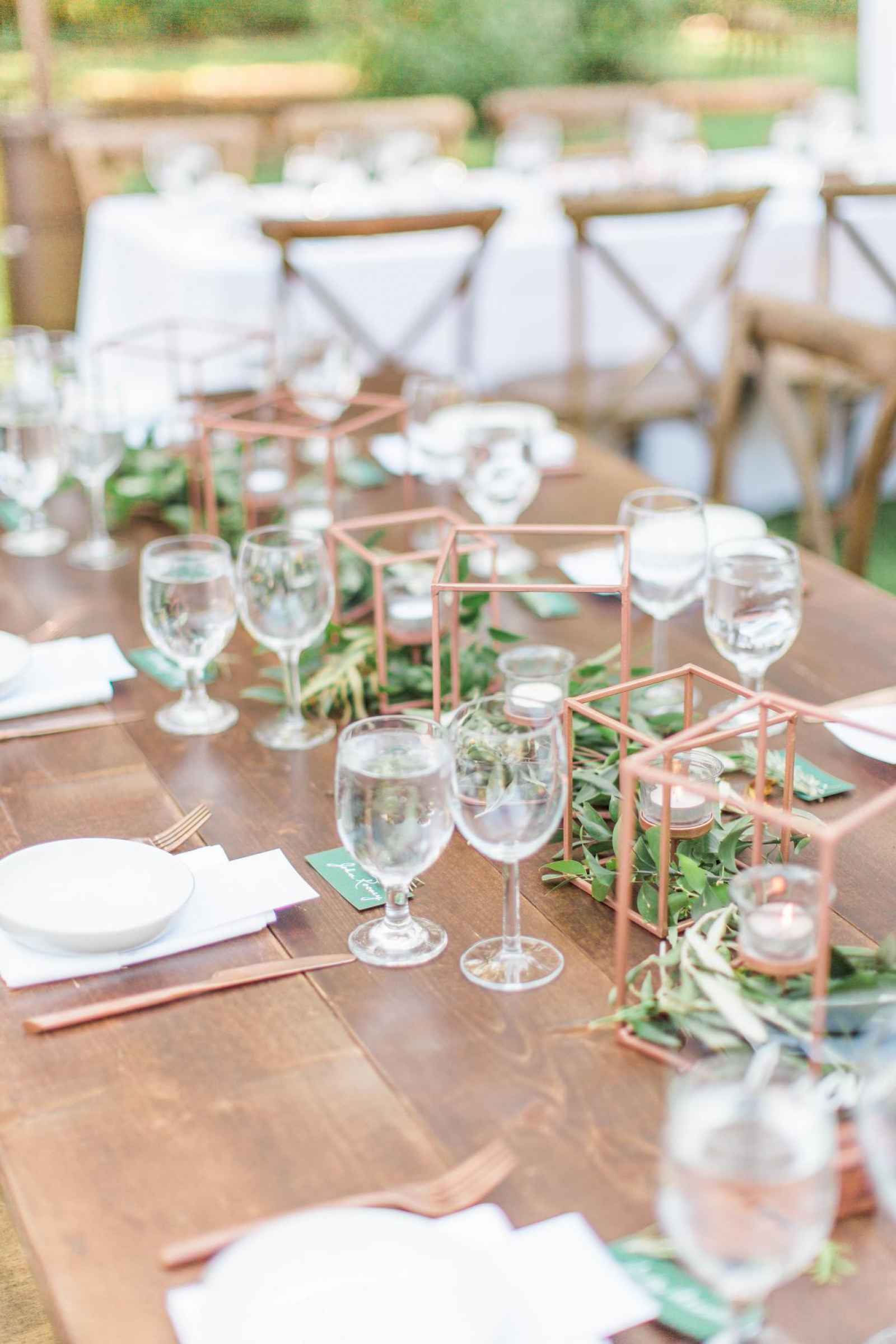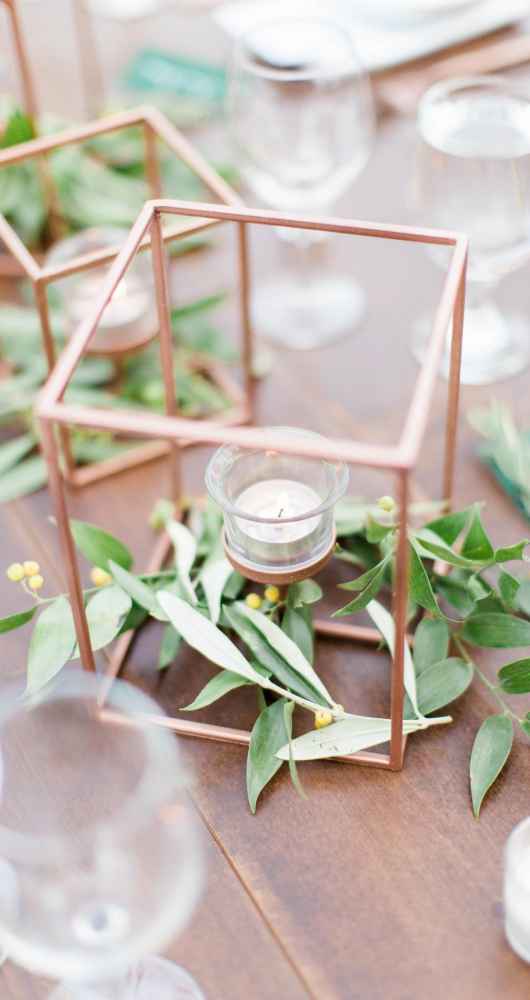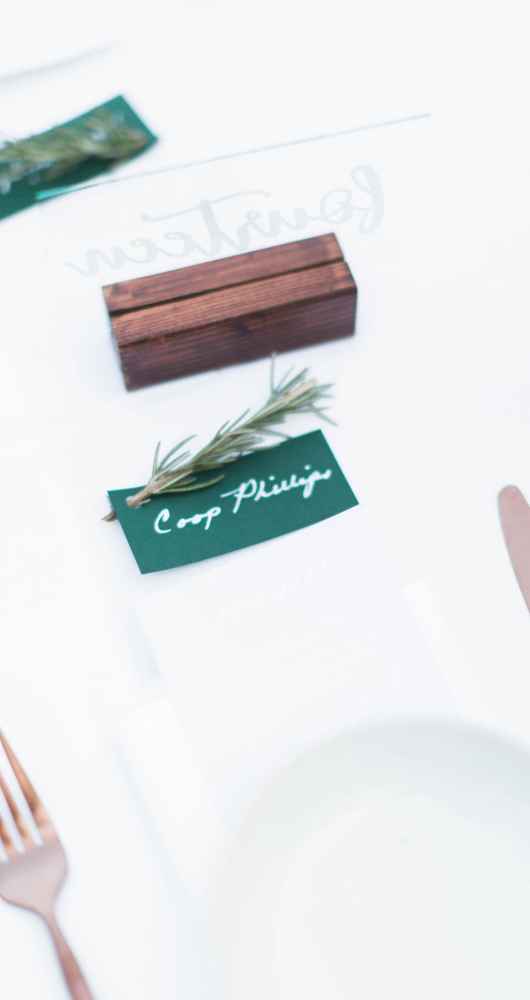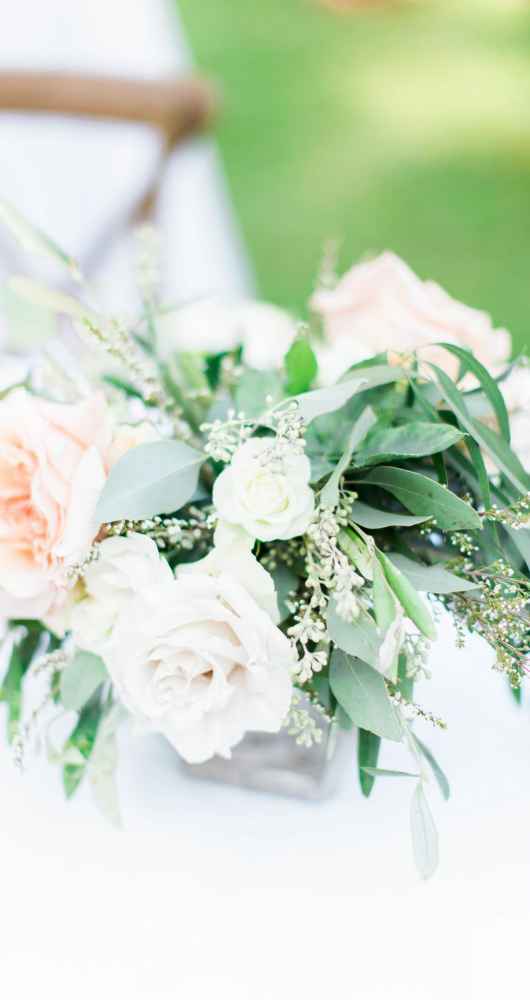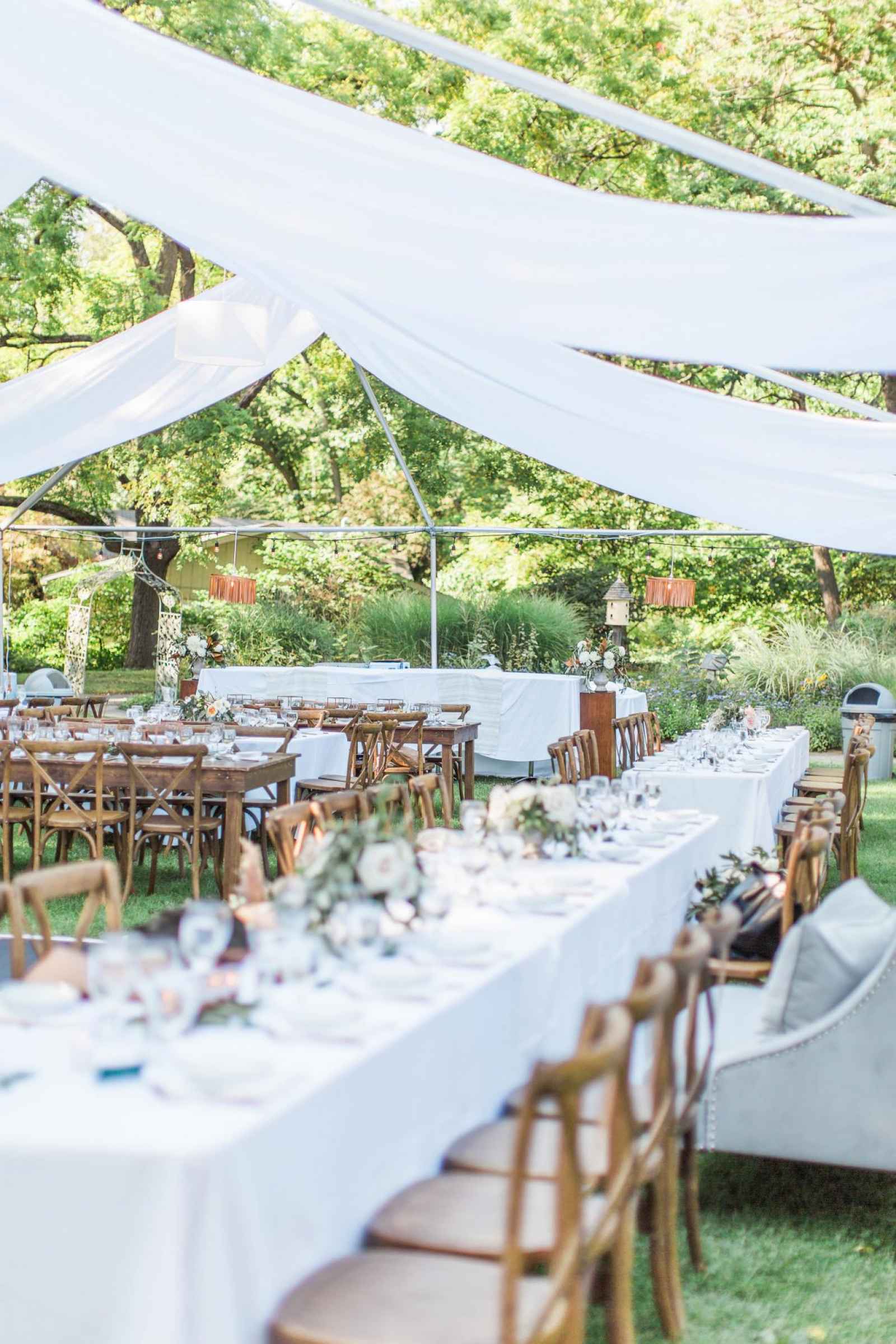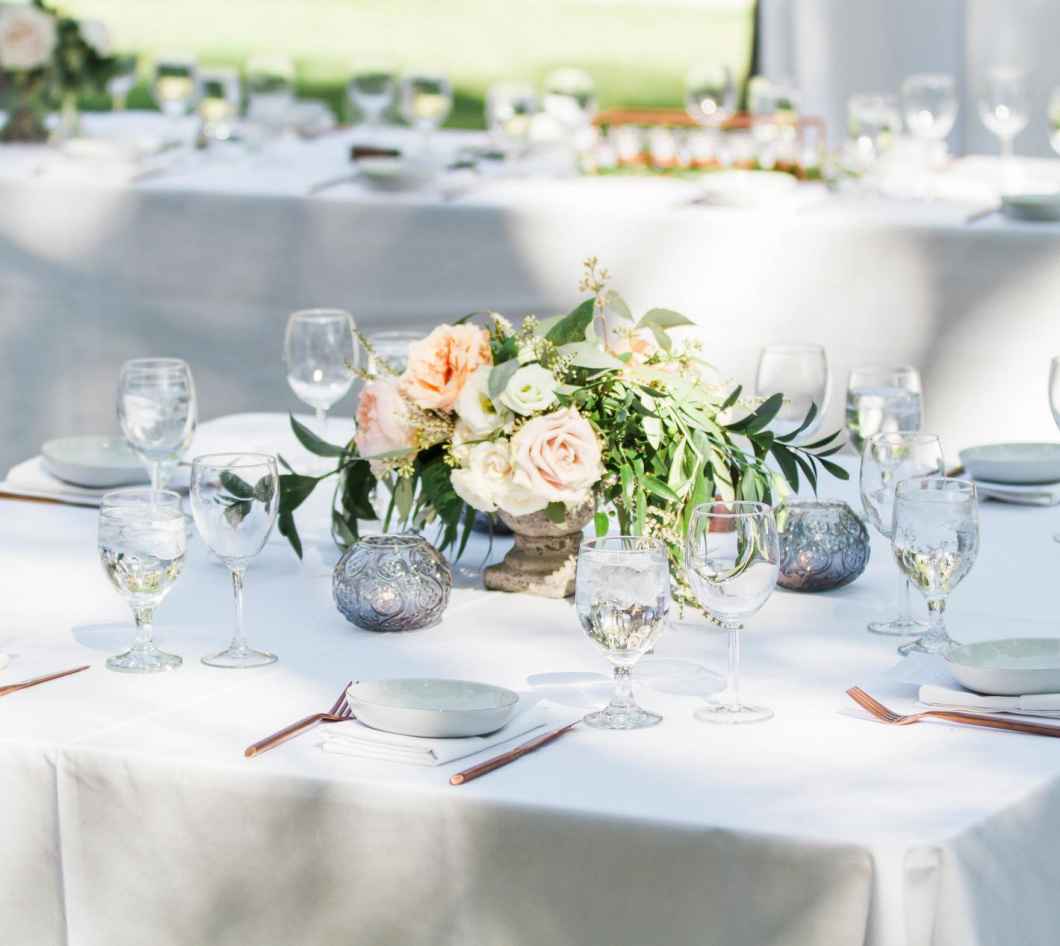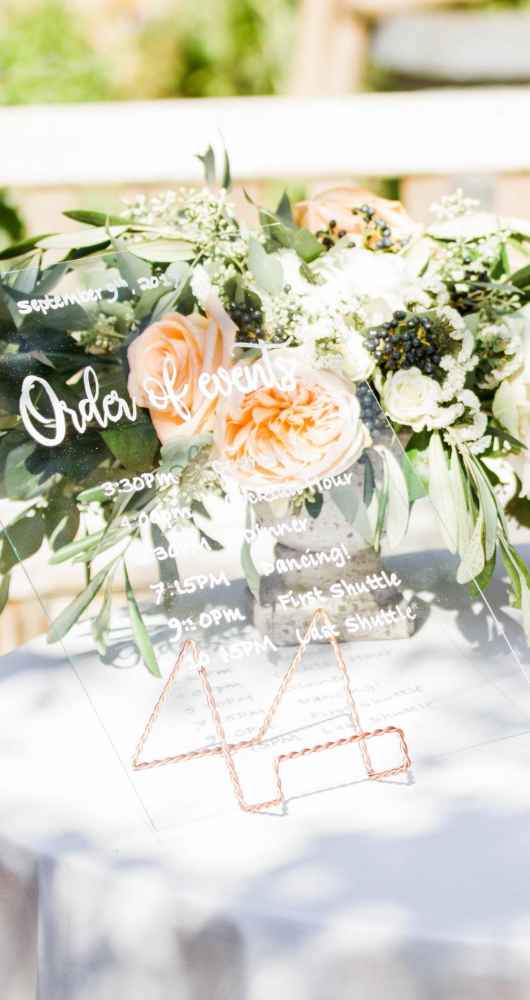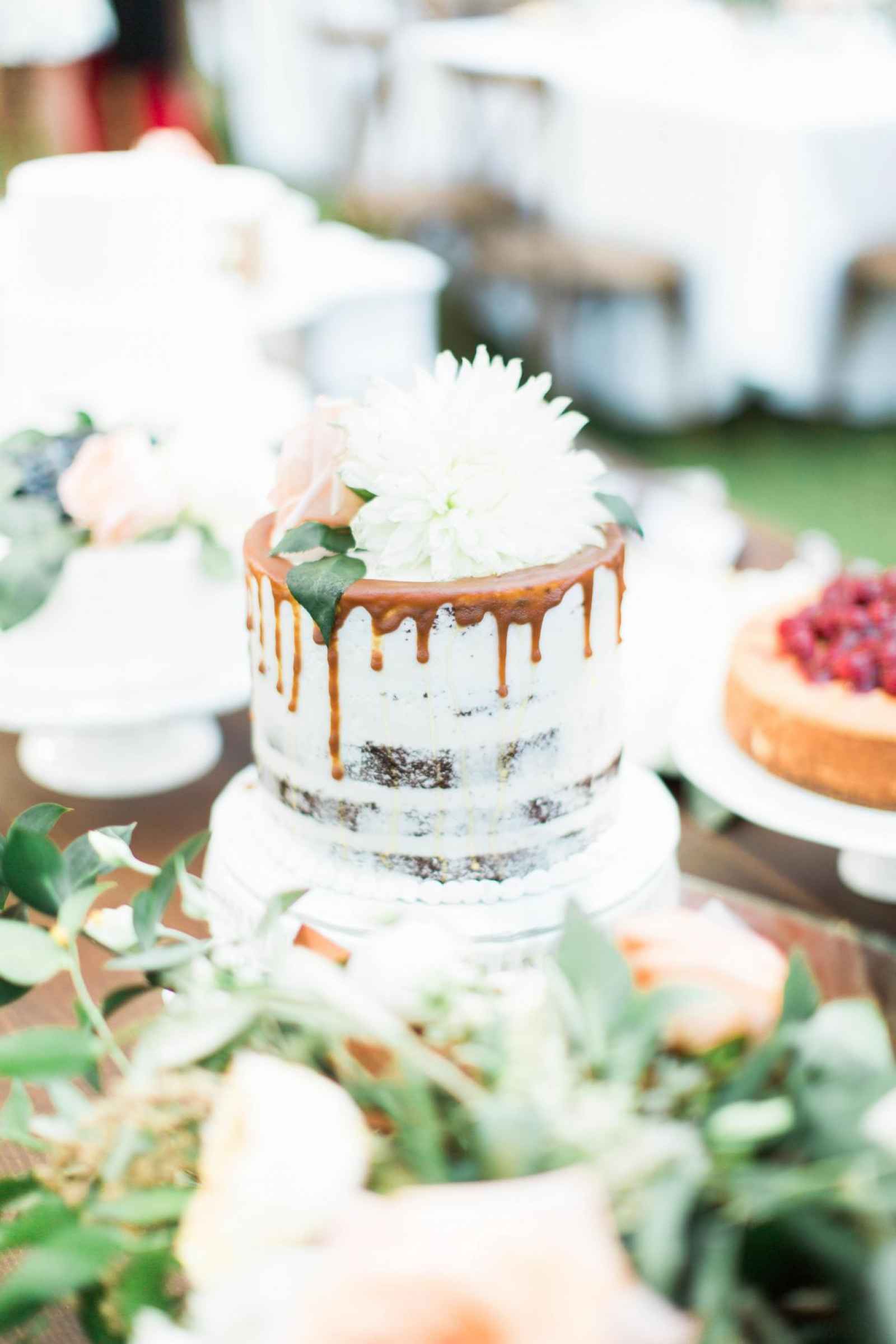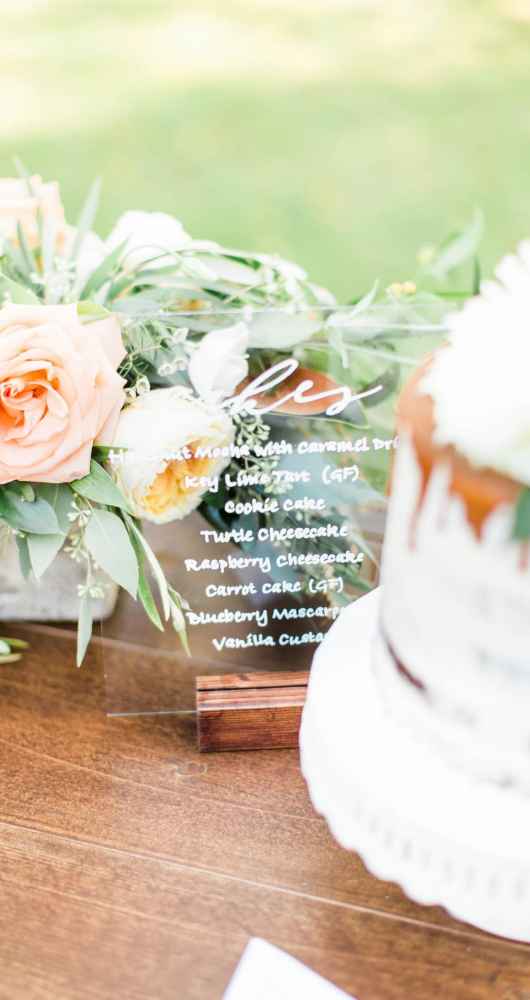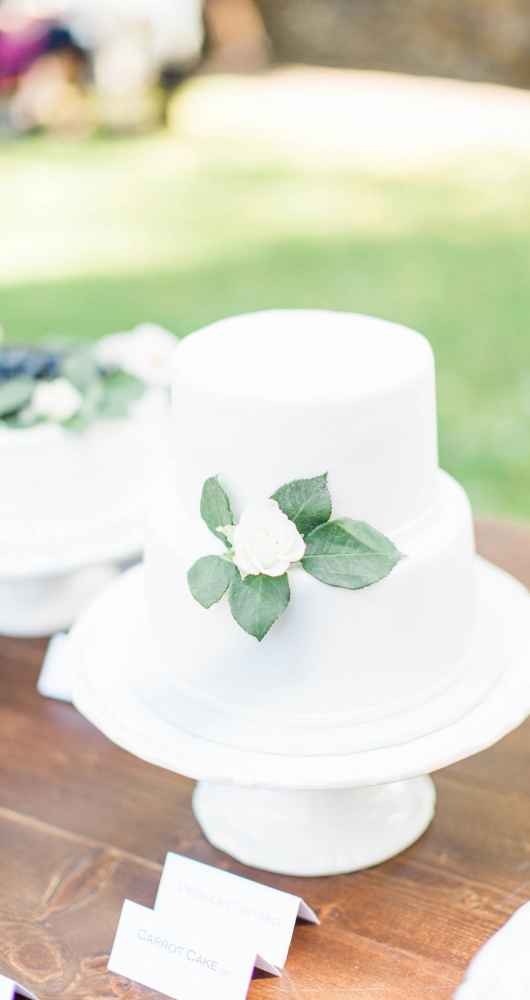 Special Touches
Because the couple and their families ended up doing a lot of the work themselves, Theresa and Mike were thankful for everything that was done to make their weekend so special. Their wedding date of September 9th also marked Theresa's grandfather's 95th birthday, so they brought in a special cake for him to help celebrate. Other memorable details included a string quartet for the ceremony and Theresa's mother, a professionally trained singer, performing the "Song of Ruth."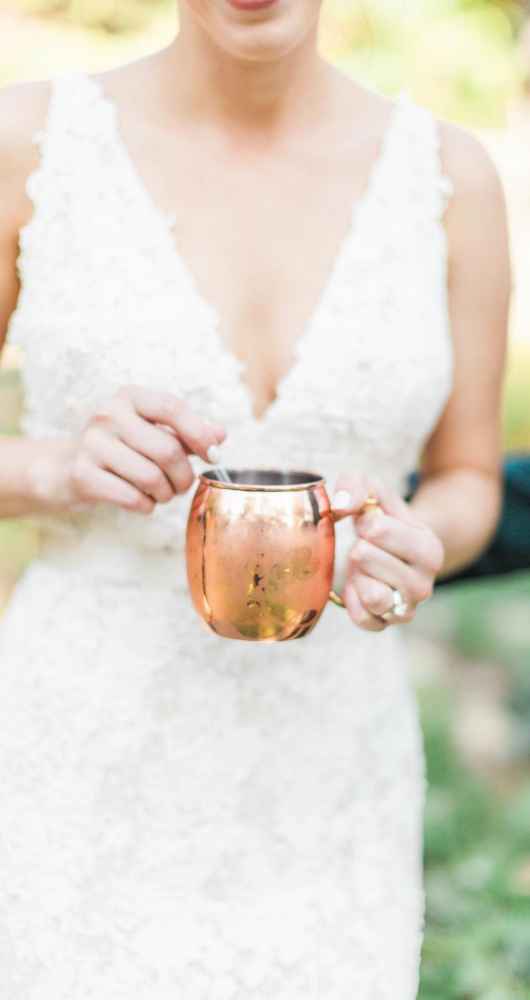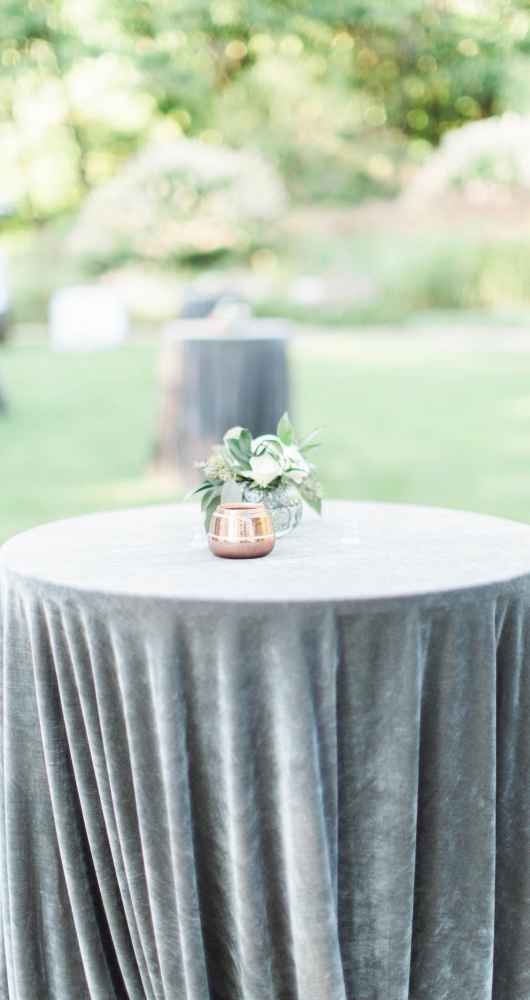 What We Love
Theresa says of WeddingDay, "It was a great source for local vendors that we otherwise would have had trouble finding. Every time we went up to Michigan, we grabbed a copy and still have them in our wedding folders!"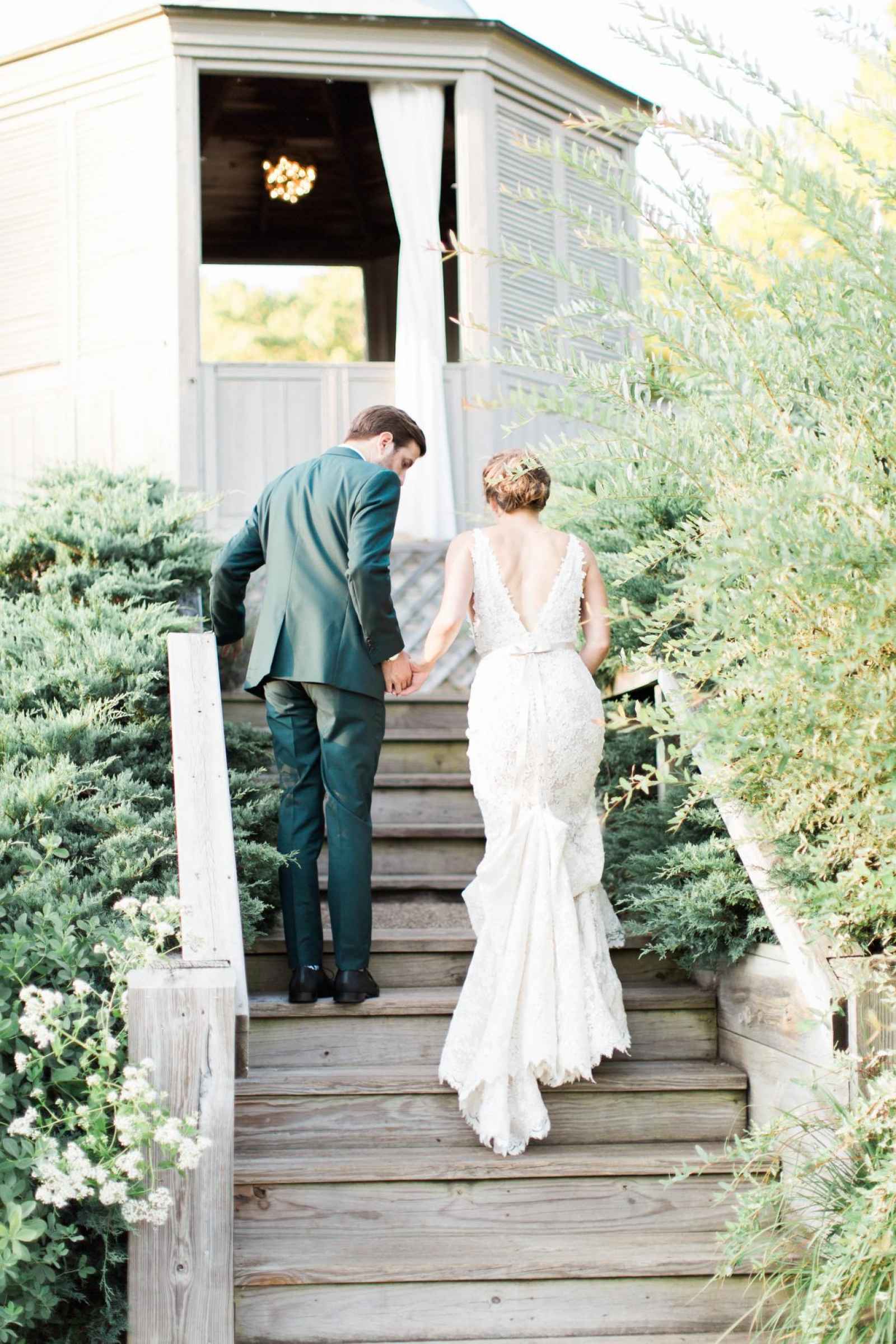 Advice from the Bride
"As most wedding sites will tell you, figure out what is important to you and your fiancé and prioritize and plan around that," Theresa says. "That can be very difficult since the pieces are mostly planned separately, but there were a few things that we really loved and wanted. Also, figure out how much work you want to do for your big day. We saved a lot of money doing so many D.I.Y. projects, but we were exhausted!"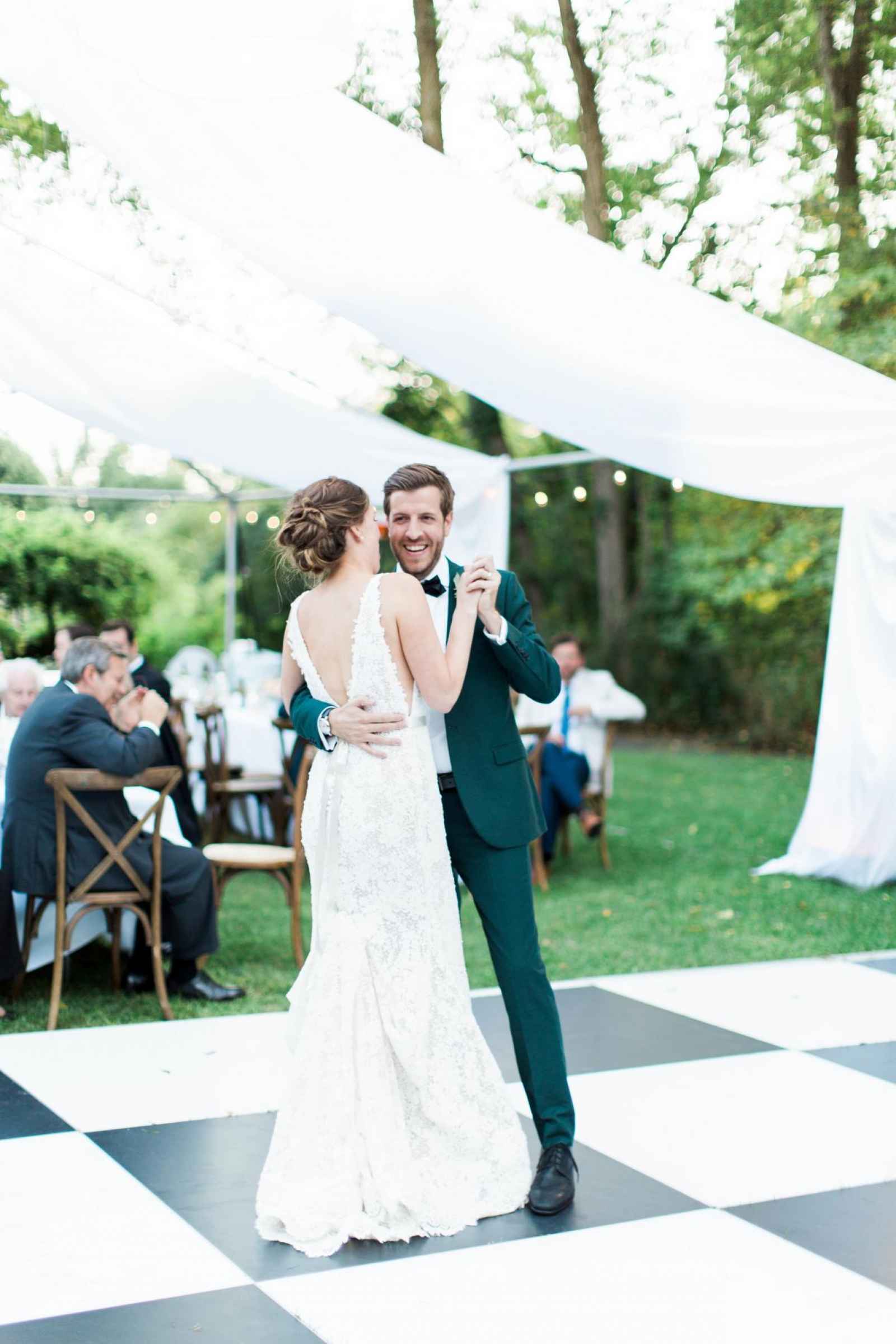 Theresa & Mike || Wedding Highlight Video from Shutter And Sound Films on Vimeo.
are you a bride-to-be?
We'd love to plan with you on weddingday-online.com. Let's get started!
 
are you a wedding extraordinaire?
Join WeddingDay Magazine in inspiring brides by partnering with us! See how here.