A Thousand Years of Happiness
FROM HESITATION TO ROMANCE
Tracy Cessna and John Allen's love story began in February 2008. "While I was out with my friends and John was out with his, John approached me and introduced himself. We talked for awhile and when he asked me for my phone number I was extremely reluctant, only because of the fact that we met at a bar," Tracy said. "He finally convinced me to exchange numbers and we talked via phone and email for a few weeks before we went out on our first date."
The two spent a Wednesday afternoon at the Indianapolis Museum of Art - a place neither one of them had been to before. "We arrived around one o'clock and really hit it off," Tracy recalls. "The museum closed at 5 and we were still there – neither of us realized we had been there that long and we still didn't want our date to end." John and Tracy decided to extend their date by going to dinner and watching a Purdue basketball game at a local bar. "I think our date finally ended at 2 am!"
What had originally started as a moment of hesitation gave way to romance. After their date, Tracy was convinced that John would be the man she would marry.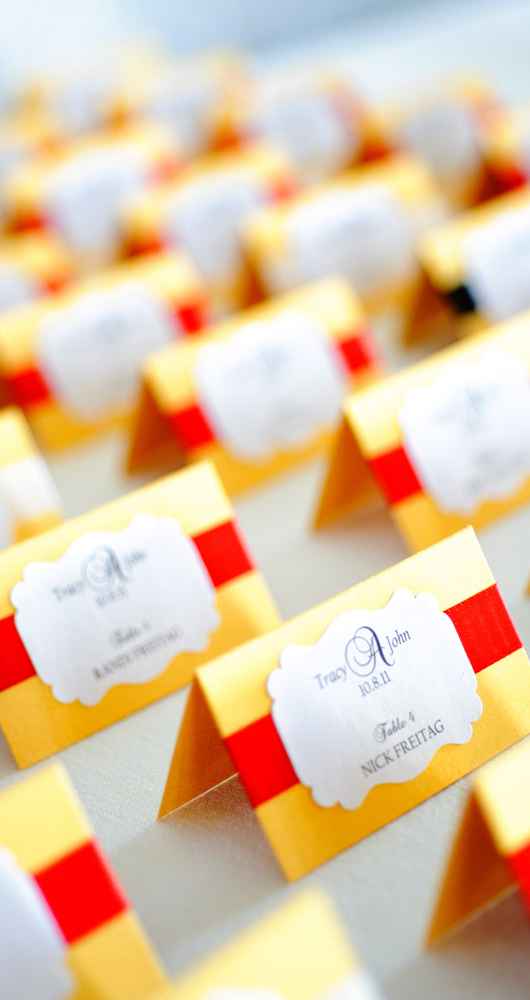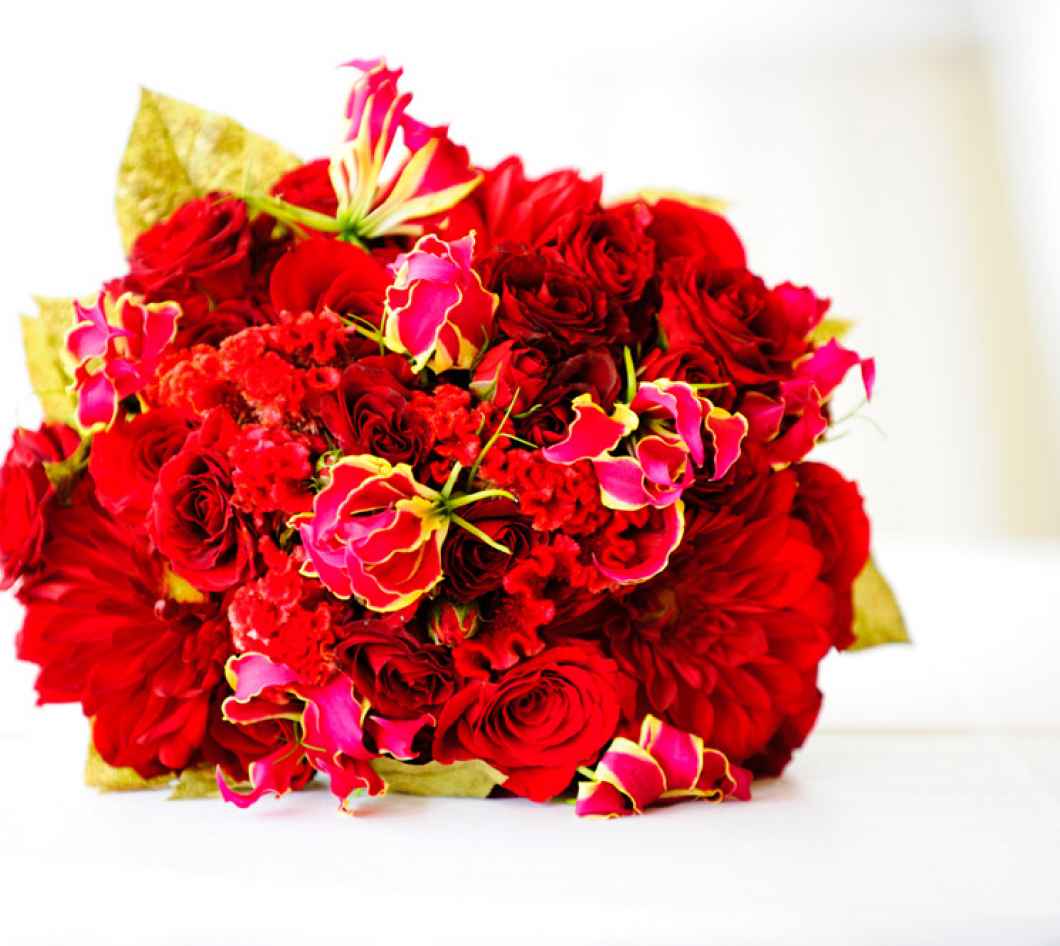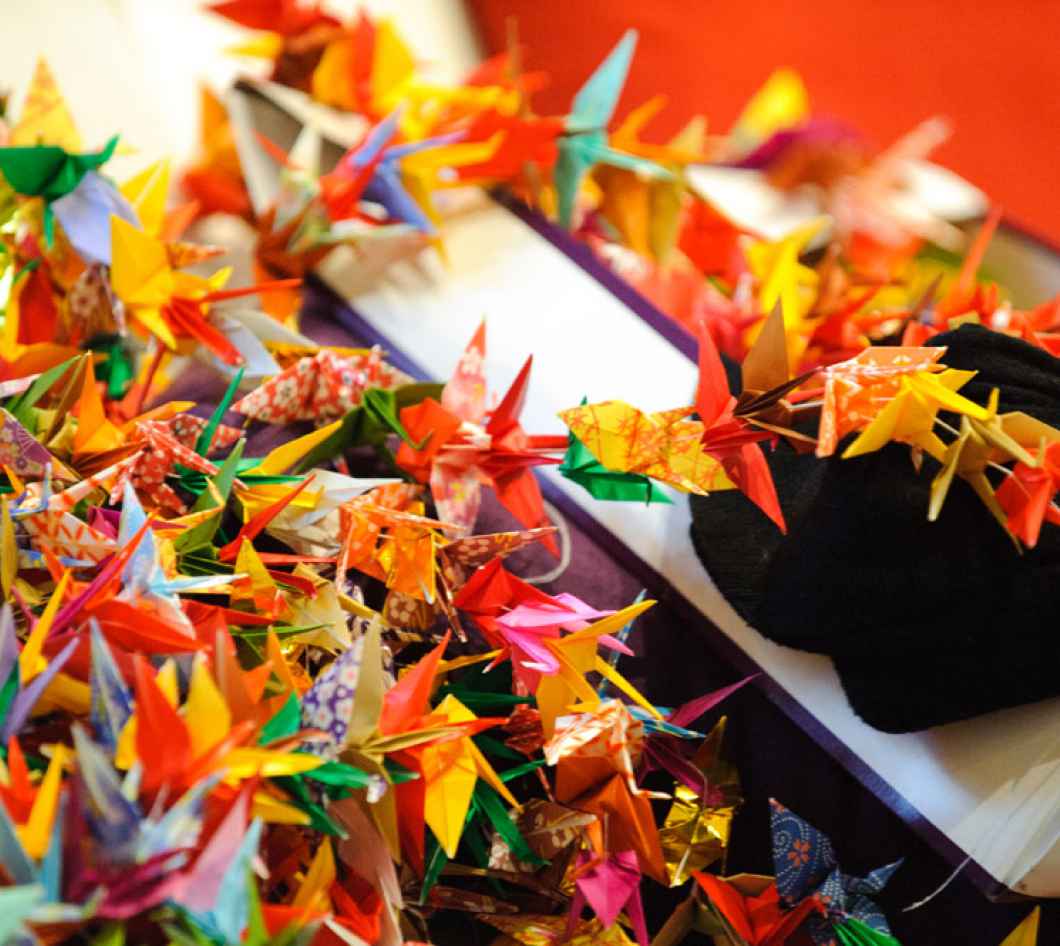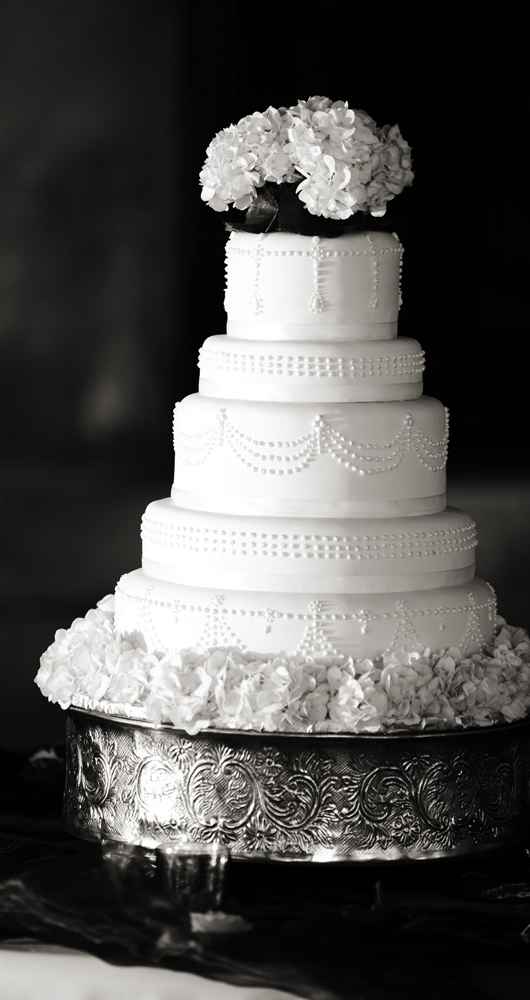 AN UNFORGETTABLE WEEKEND
When it came to their engagement, nothing went the way Tracy, or John, expected. They had planned a weekend getaway in Michigan and Tracy strongly suspected John would be proposing. But when everything started going wrong (bad weather, detours, getting lost and bad timing among other things) and there was still no proposal, Tracy became overwhelmed with the disappointment of her crushed expectations. The trip ended with a long drive back to John's parents, which included plenty of sobbing and not much talking, much to the distress of John. 
Finally, when they got back Tracy was able to verbalize that she was so upset because she had been expecting him to propose, and he responded with, "…that's what I've been trying to do all day!" Poor John had been just as frustrated as she had been with all of his plans falling through. When they both realized this, they began to laugh at the absurdity of the situation.
They decided to take a walk out to the lighthouse nearby to cap off what had been an exhausting, crazy day. However, due to extreme wind, rain and crashing waves the two were unable to reach the lighthouse. "We found a bench to sit on near the pier and John started saying romantic stuff, but I was only half paying attention because it was so cold and the sand was blowing in my eyes and in my mouth." In the midst of the weather John was able to get Tracy's attention as he  knelt down and asked her to marry him. He was answered with more tears and a speechless Tracy, emphatically nodding YES. 
"I can still remember how stressful, awkward and emotional that day was," Tracy said, "...but at the end of the day, we couldn't have had a more memorable proposal."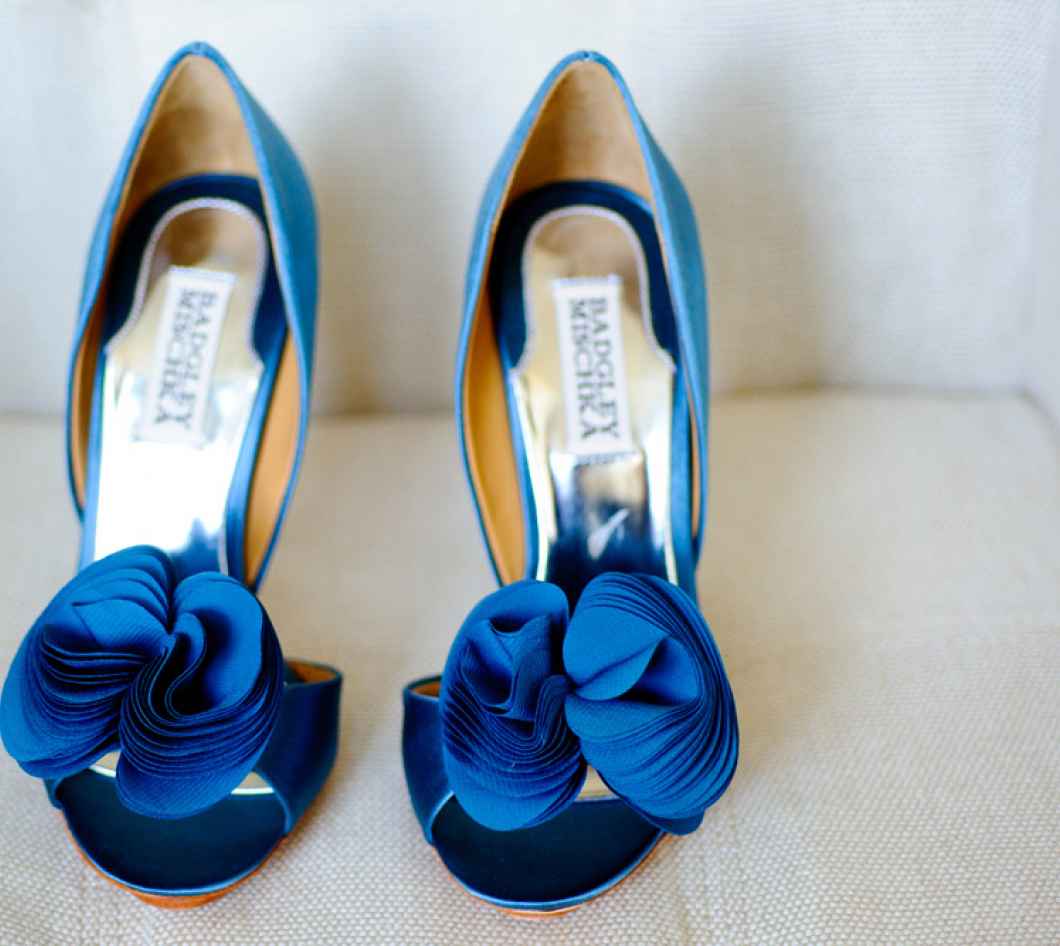 CASUAL ELEGANCE
Prior to their engagement, Tracy had always pictured their wedding in Indianapolis, where she grew up and where the couple resided. However, after a trip up to St. Joseph, MI, Tracy knew immediately that she couldn't pass up the picturesque and beautiful view she saw from the Veranda at The Whitcomb, a wedding venue overlooking Lake Michigan.
After the engagement and as planning started, the two finalized their decision to return to the Veranda for their fall wedding. With the help of a friend, who created idea boards for the color palette options, Tracy narrowed the colors to gold, a color she has always liked, and red as an accent color, to complement the various skin tones of the bridal party.
John and Tracy also knew they wanted their wedding to feel comfortable, casual, warm and welcoming to the 107 guests, all who were traveling from out of town. "Reflecting our casual personalities, we decided that casual elegance would serve as the inspiration for our overall theme."
Casual elegance was achieved as the couple's wedding day arrived. Following the evening ceremony, the newlyweds and their guests enjoyed a cocktail hour before settling into dinner and dancing.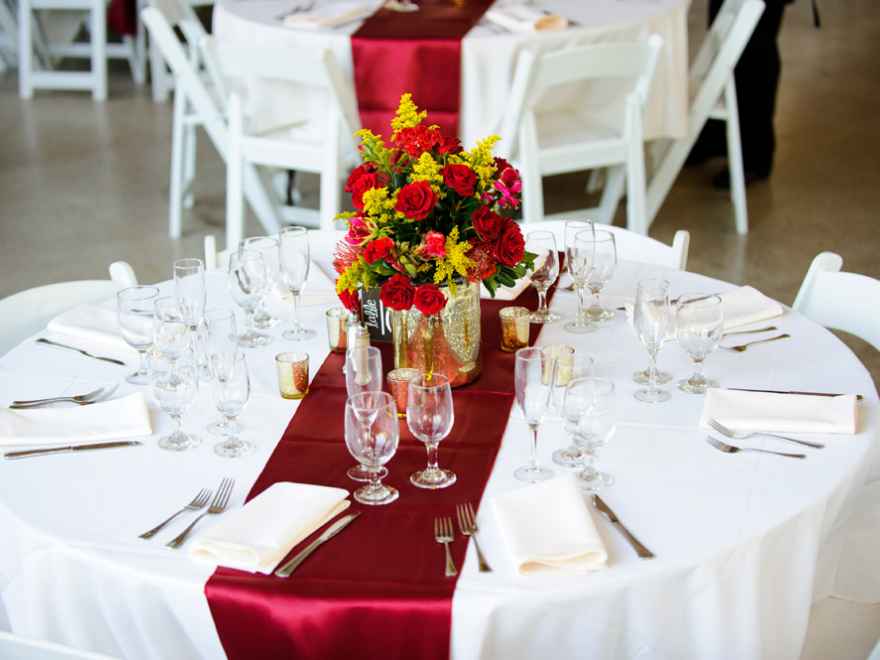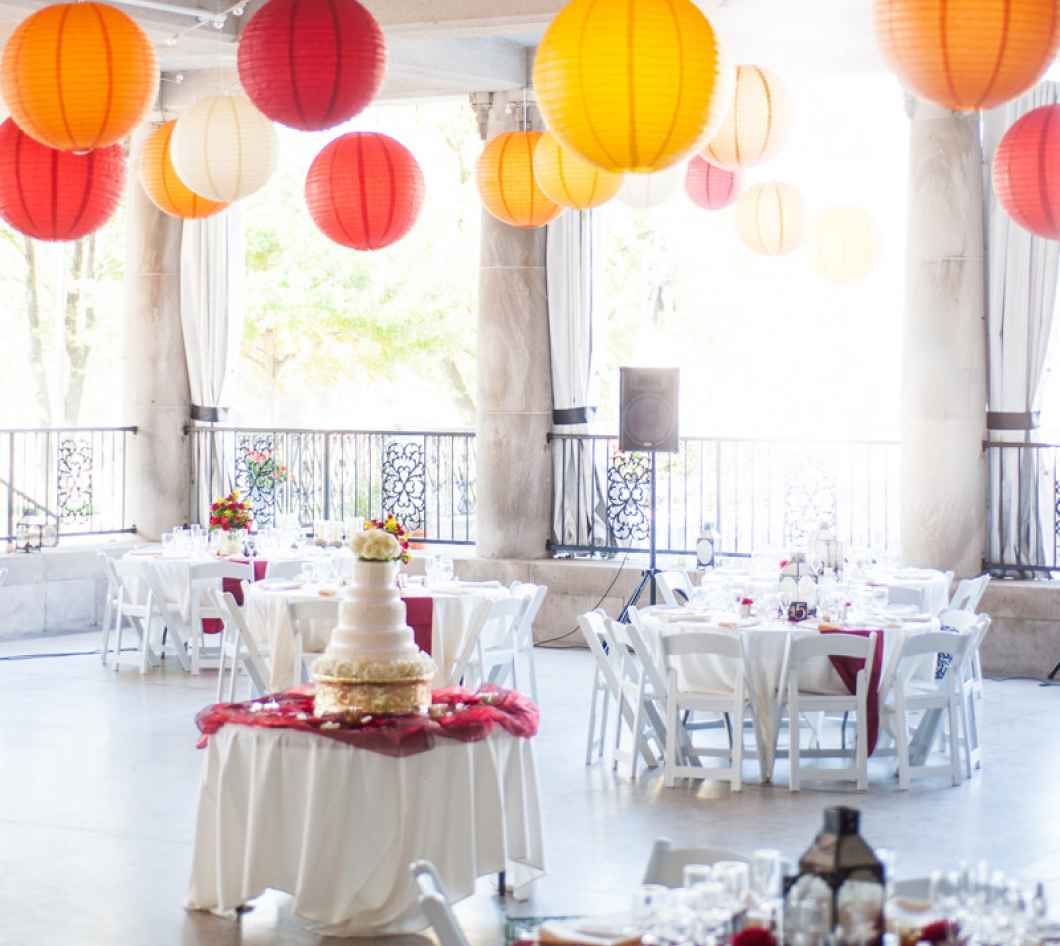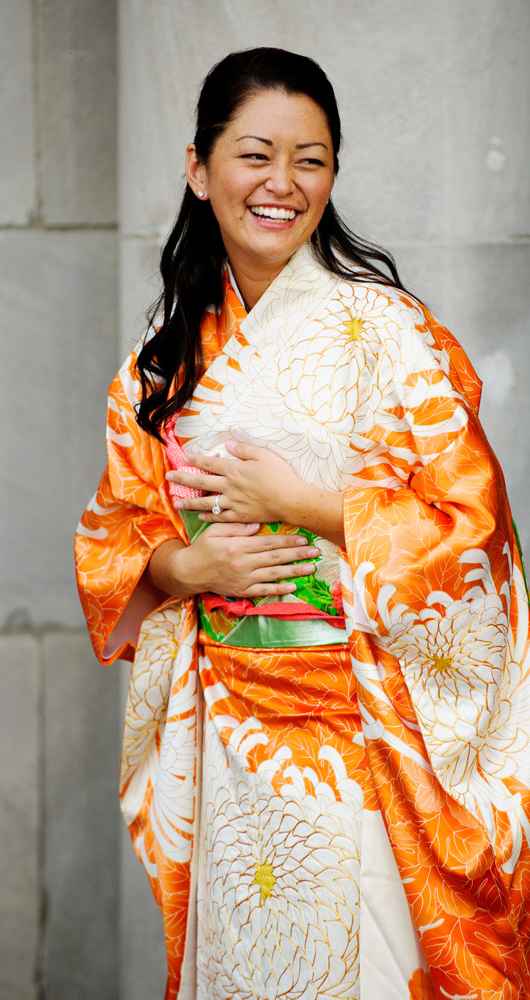 CULTURAL TIES
Tracy, who is half Japanese, wanted to be sure her heritage was recognized on her big day. Tracy wore her mother's kimono to the rehearsal dinner to honor her mom's family, most of whom still live in Japan and were not able to make the wedding.
Tracy explained, "A thousand paper cranes are traditionally given as a wedding gift by the father, who is wishing a thousand years of happiness and prosperity upon the couple. We incorporated this tradition by hanging the cranes from a tree that our florist created."
At the end of the day, the wedding between John and Tracy turned out to be a perfect balance between family, friends, traditions and new beginnings.