GRACED BY BEAUTIFUL ARCHITECTURE, UNIQUE DESIGN ELEMENTS AND A CLASSIC FEEL THAT CARRIES WITH IT THE ELEMENT OF TIMELESSNESS, THE EMBASSY THEATre, LOCATED IN FORT WAYNE, INDIANA, IS A ONE-OF-A-KIND SPACE WHERE BRIDES AND GROOMS NOT ONLY FEEL SPECIAL BUT CAN EXTEND THE SAME GRAND EXPERIENCE TO GUESTS AND LOVED ONES ON THEIR BIG DAY. IT IS A PLACE WHERE YOU FIND THE PERFECT BLEND OF MODERN AMENITIES AND UPSCALE, VINTAGE CHARM.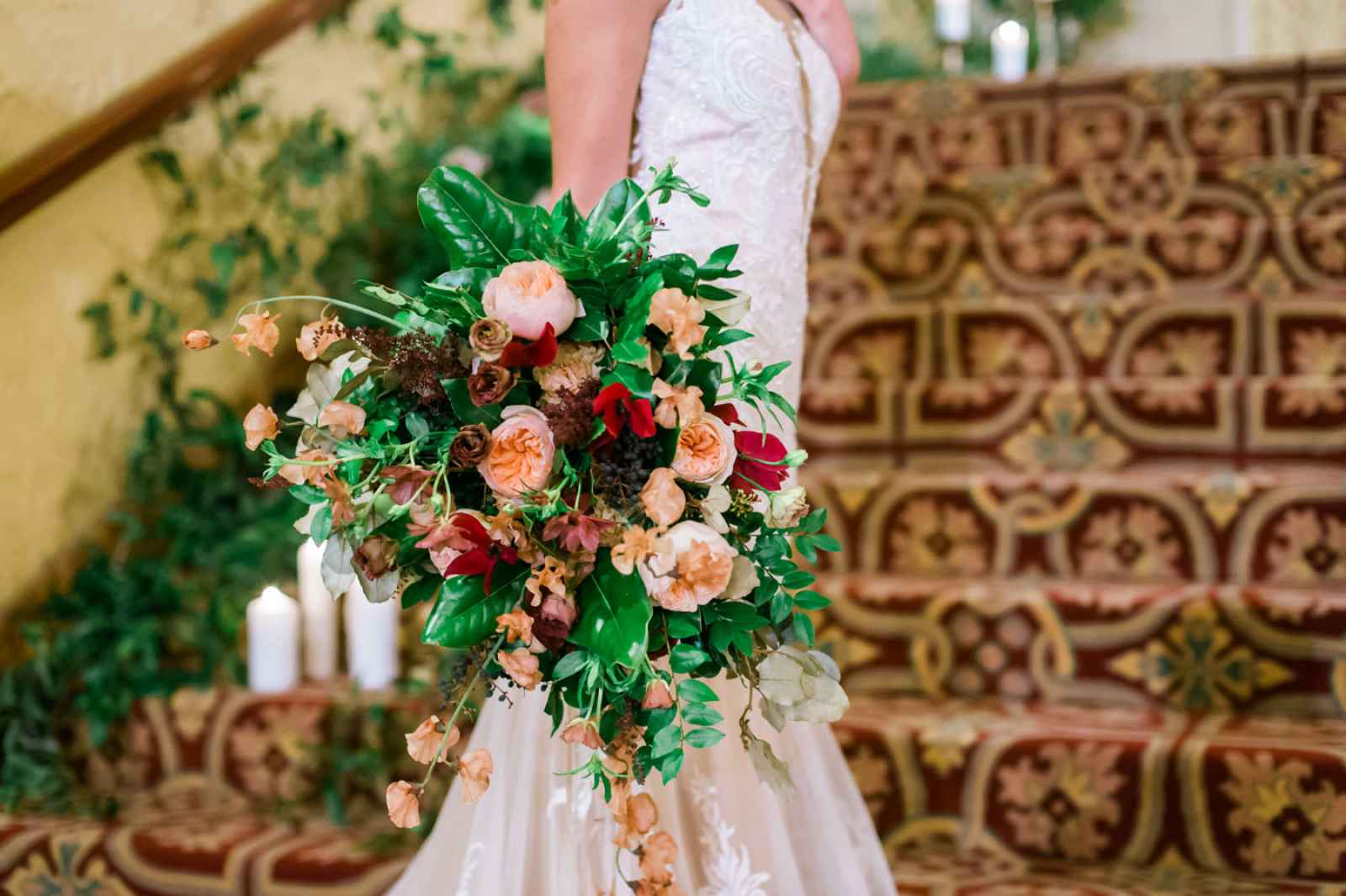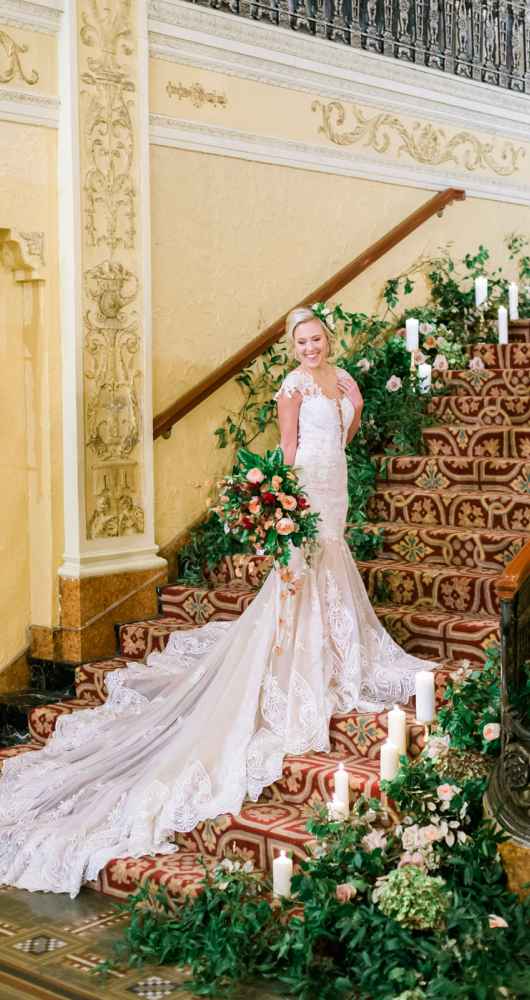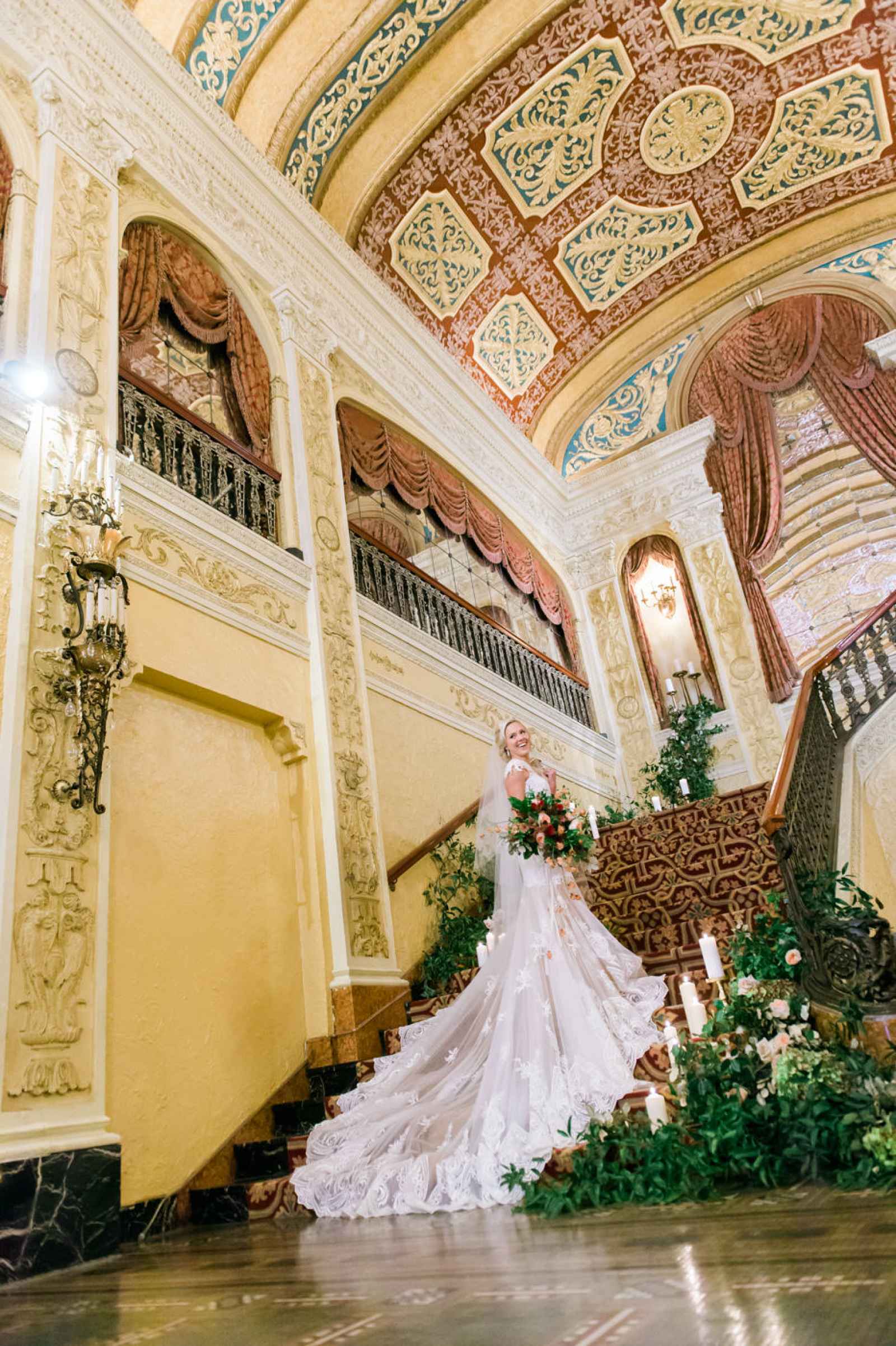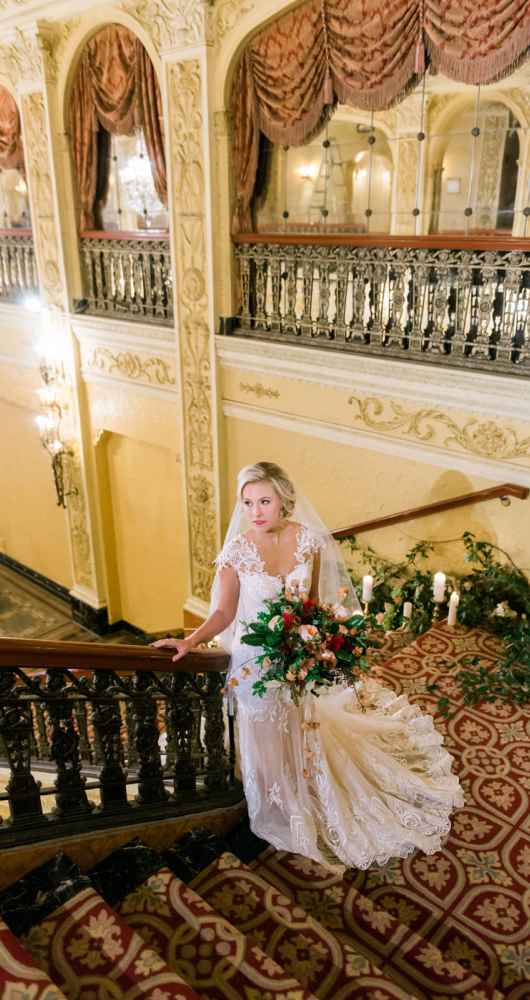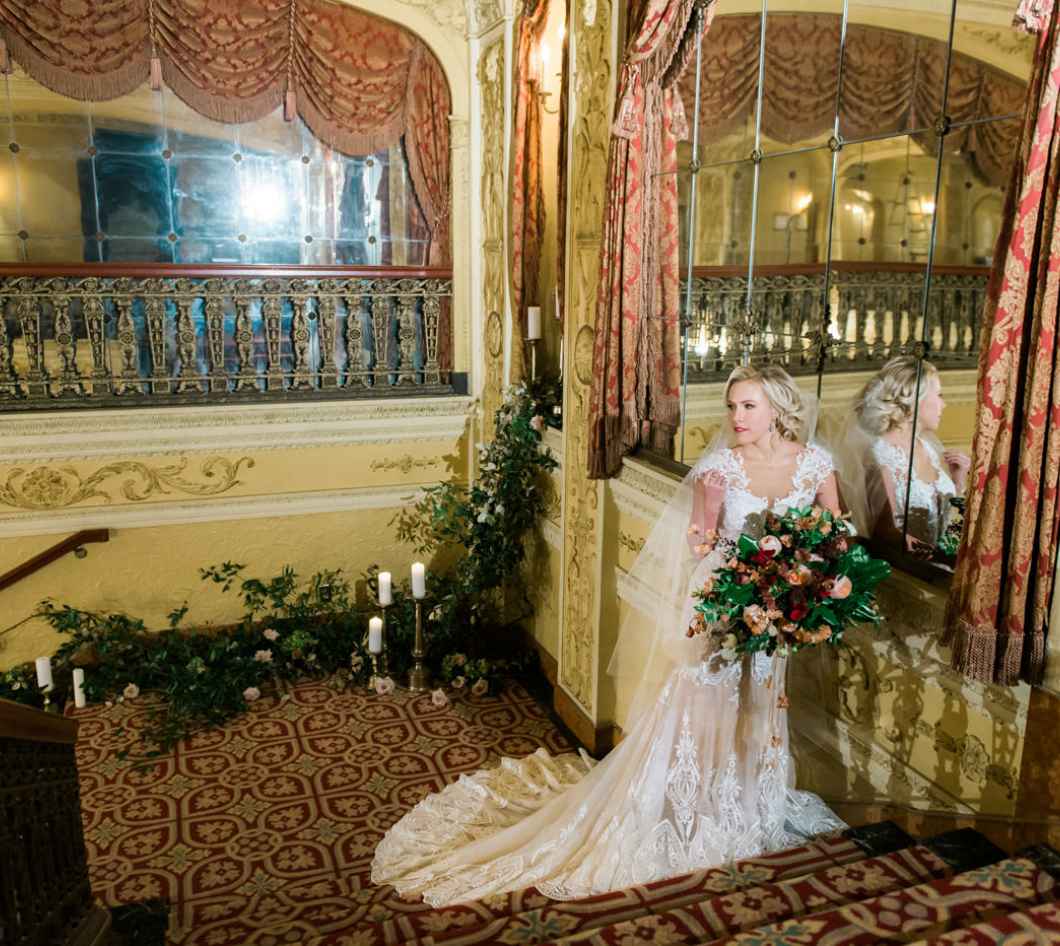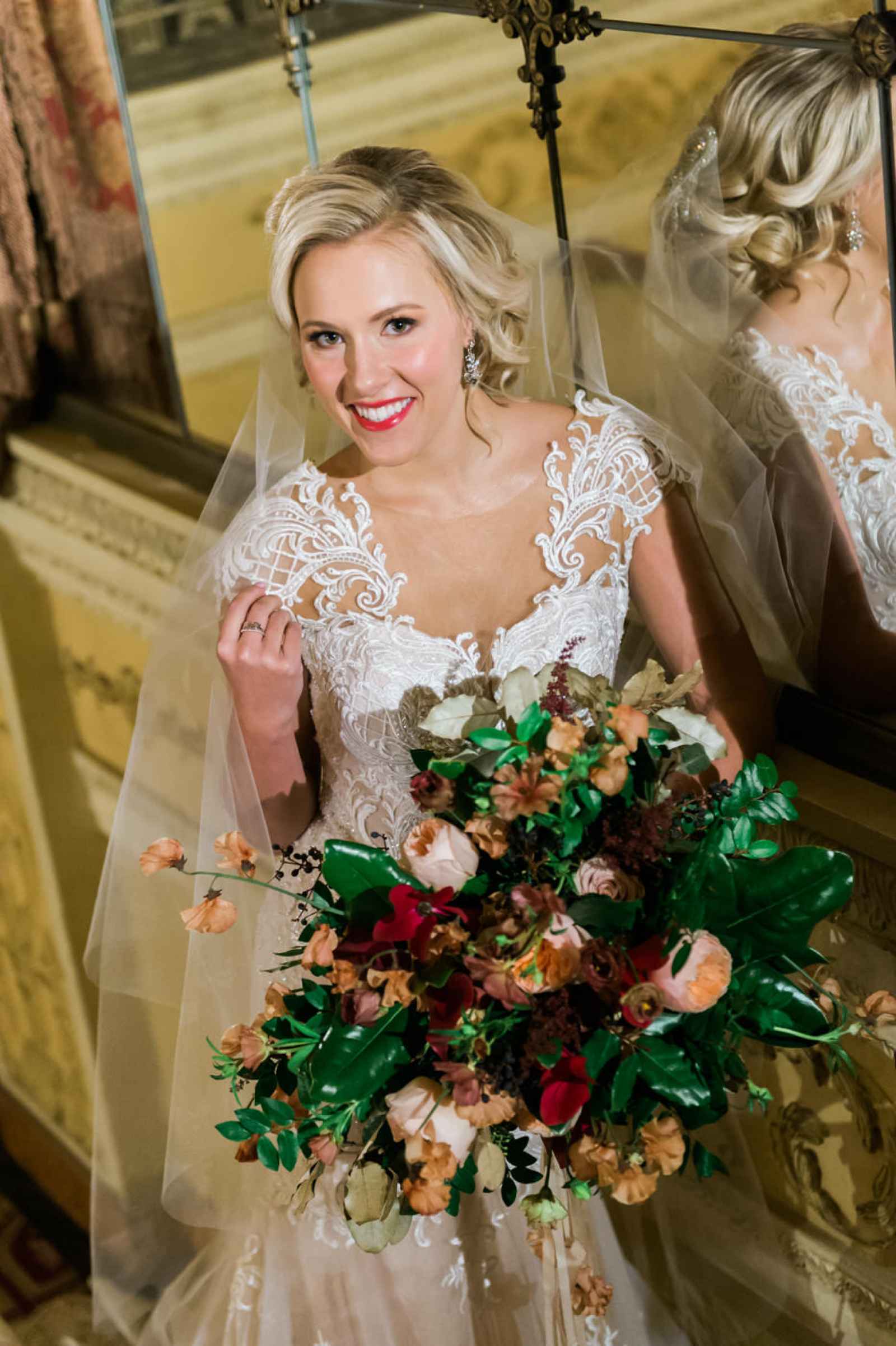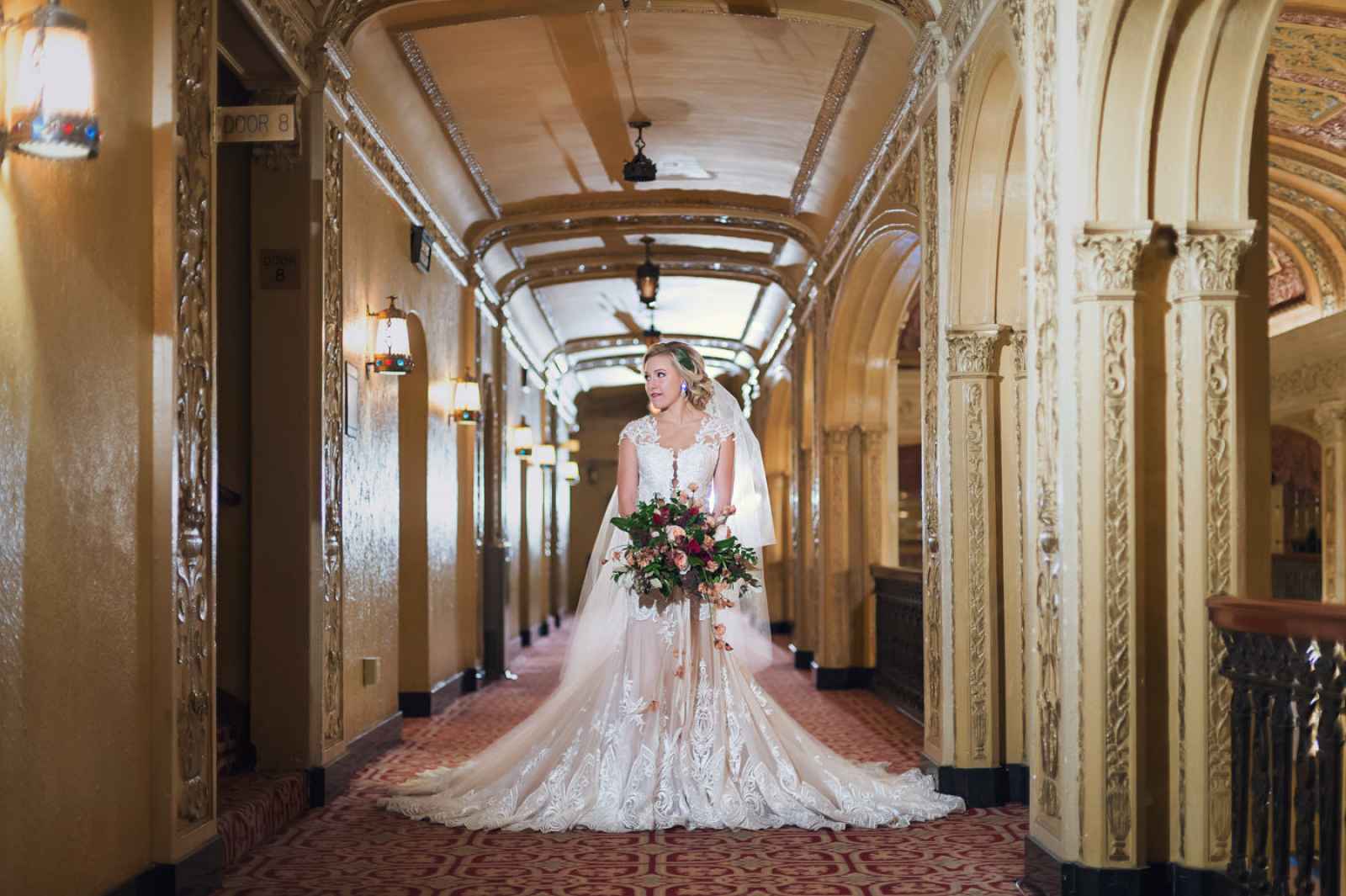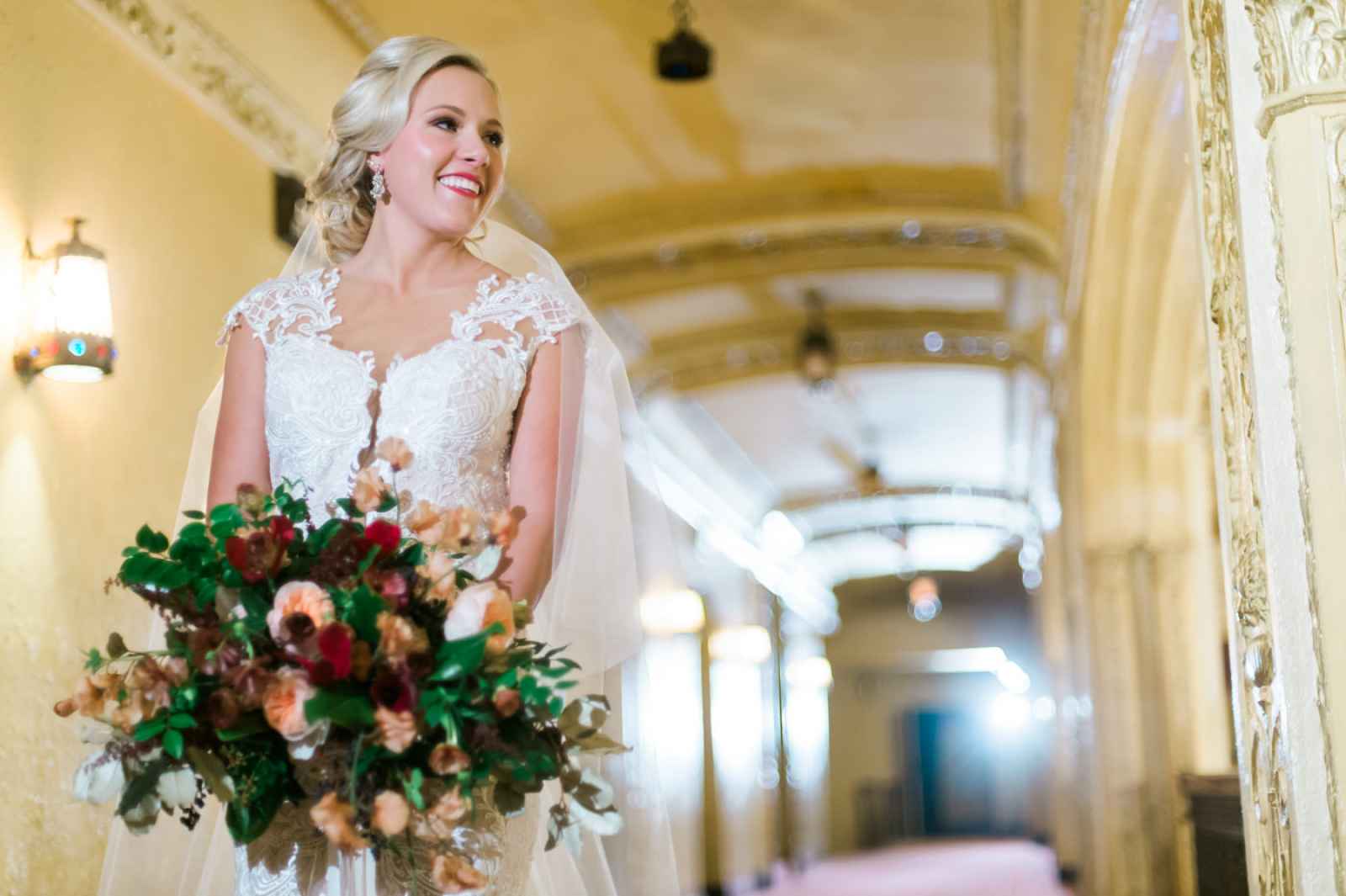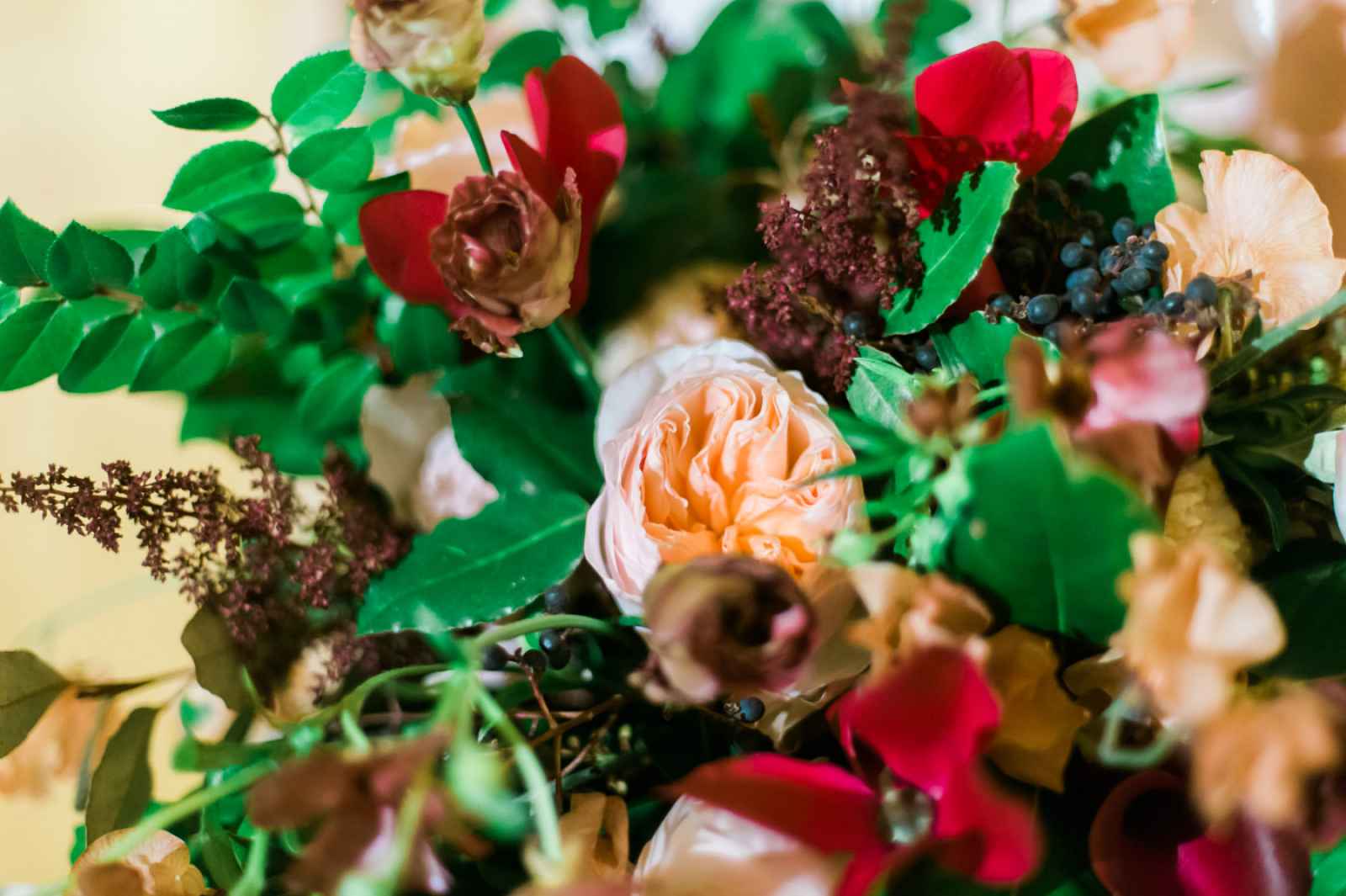 "The Embassy Theatre and Hotel Indiana is a nationally registered historic building," says Embassy Theatre's Marketing Director, John Hughey. "It was built in 1928 as an entertainment venue where patrons could travel to see a show and then stay overnight at the Hotel Indiana. Many famous acts have graced the stage over the past 90 years, including Doris Day and Bob Hope to current headliners like Jerry Seinfeld and touring Broadway shows. While the historical value alone is unique, it's the beautiful architecture and stunning details that draw our couples in. There's a feeling about standing in the Embassy that transcends time, so, in a word, it's timeless."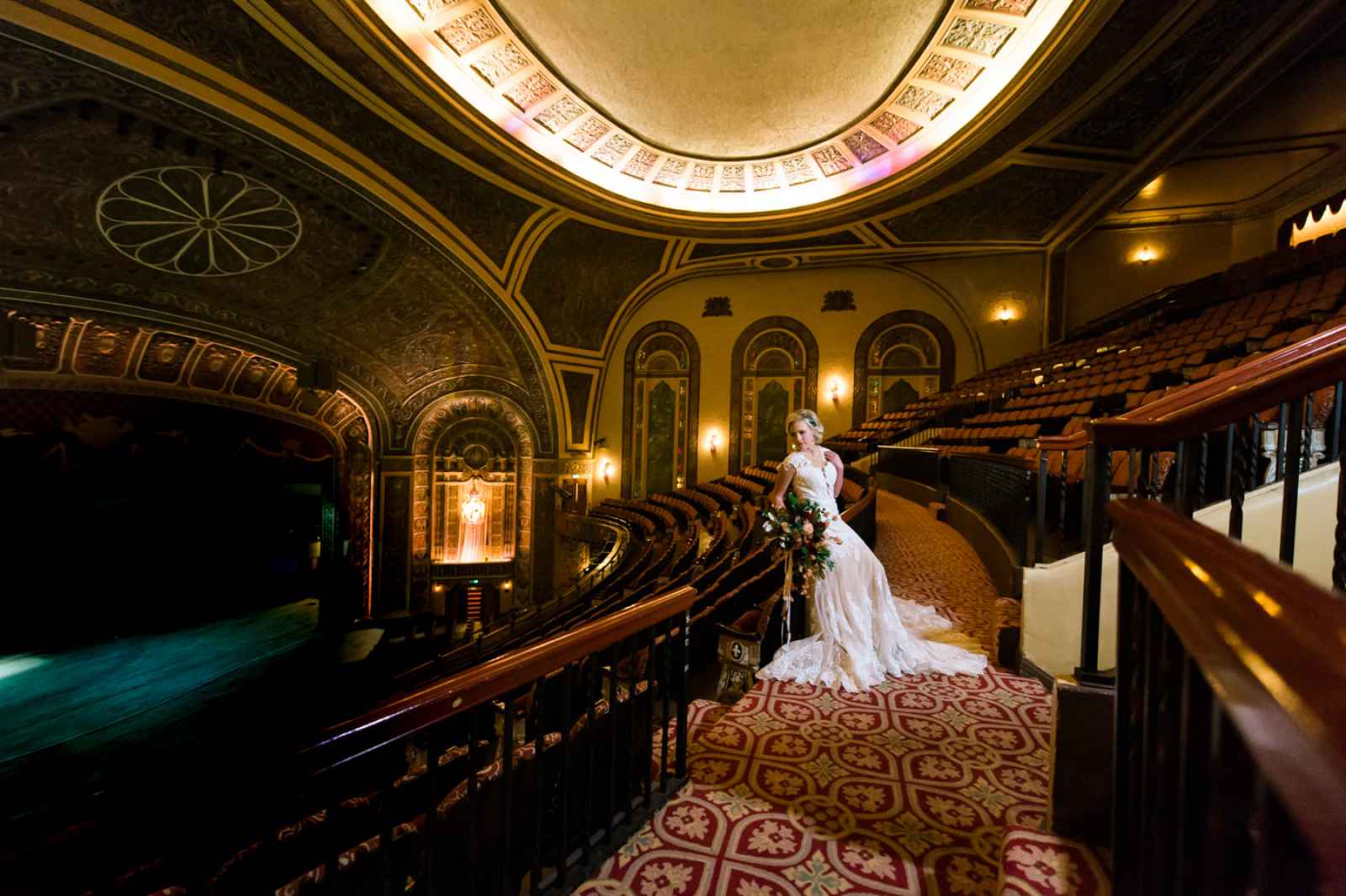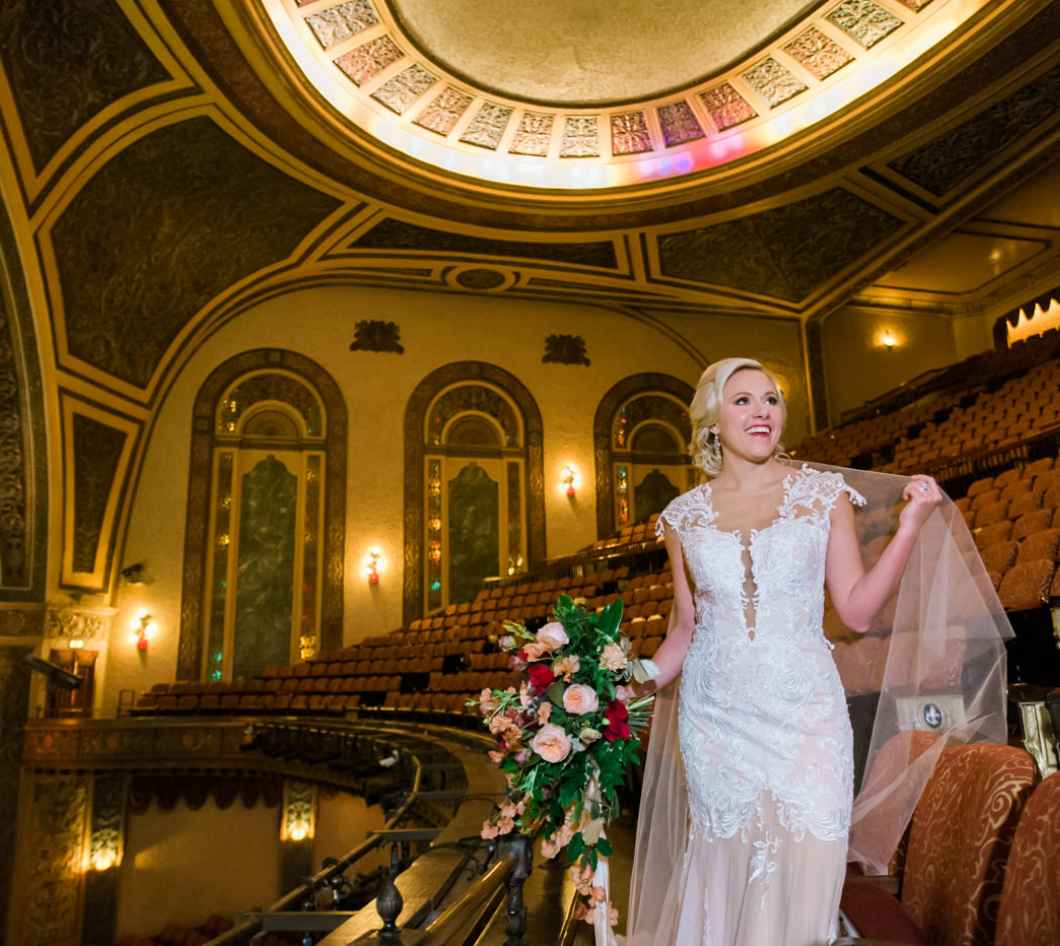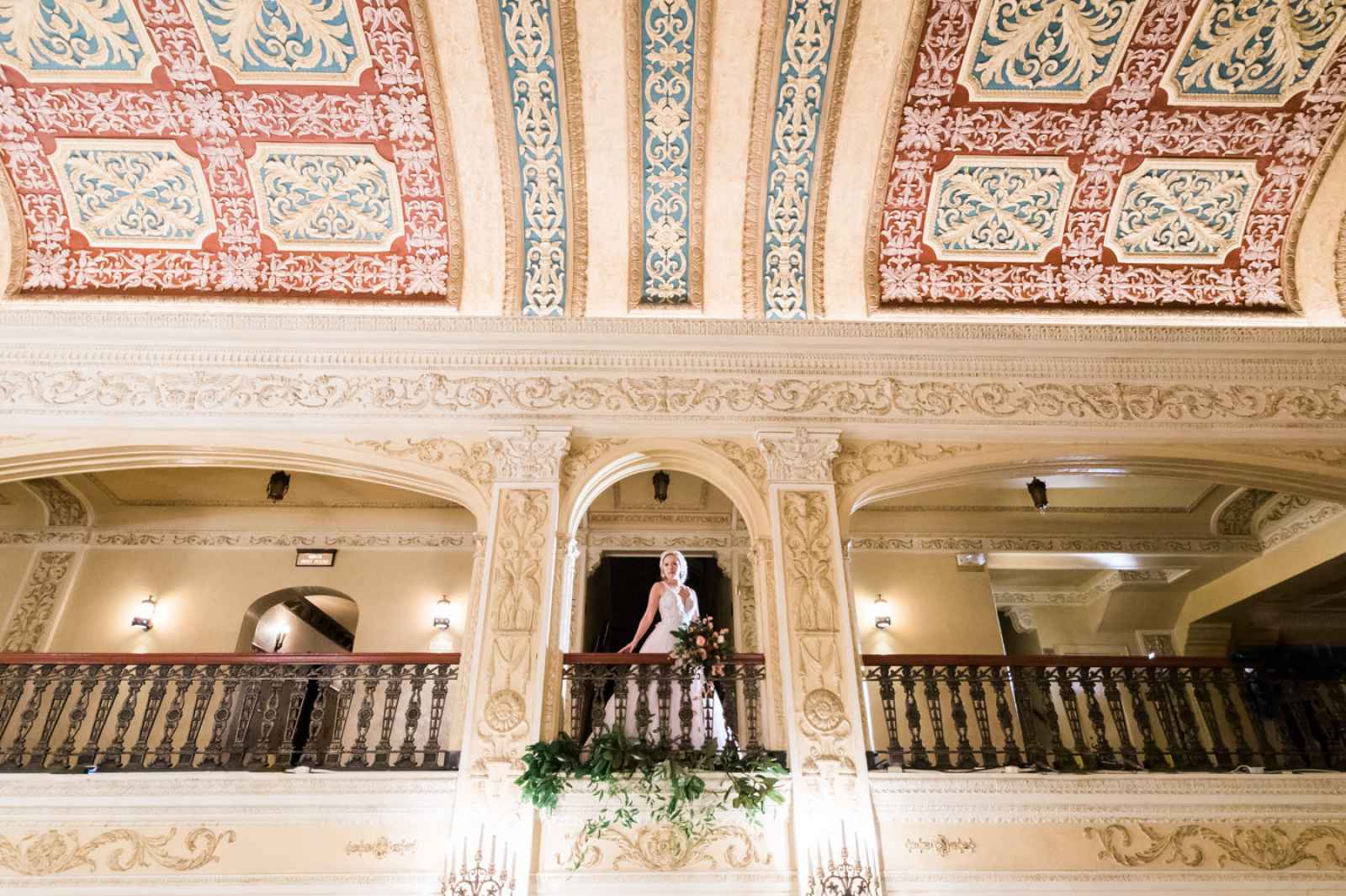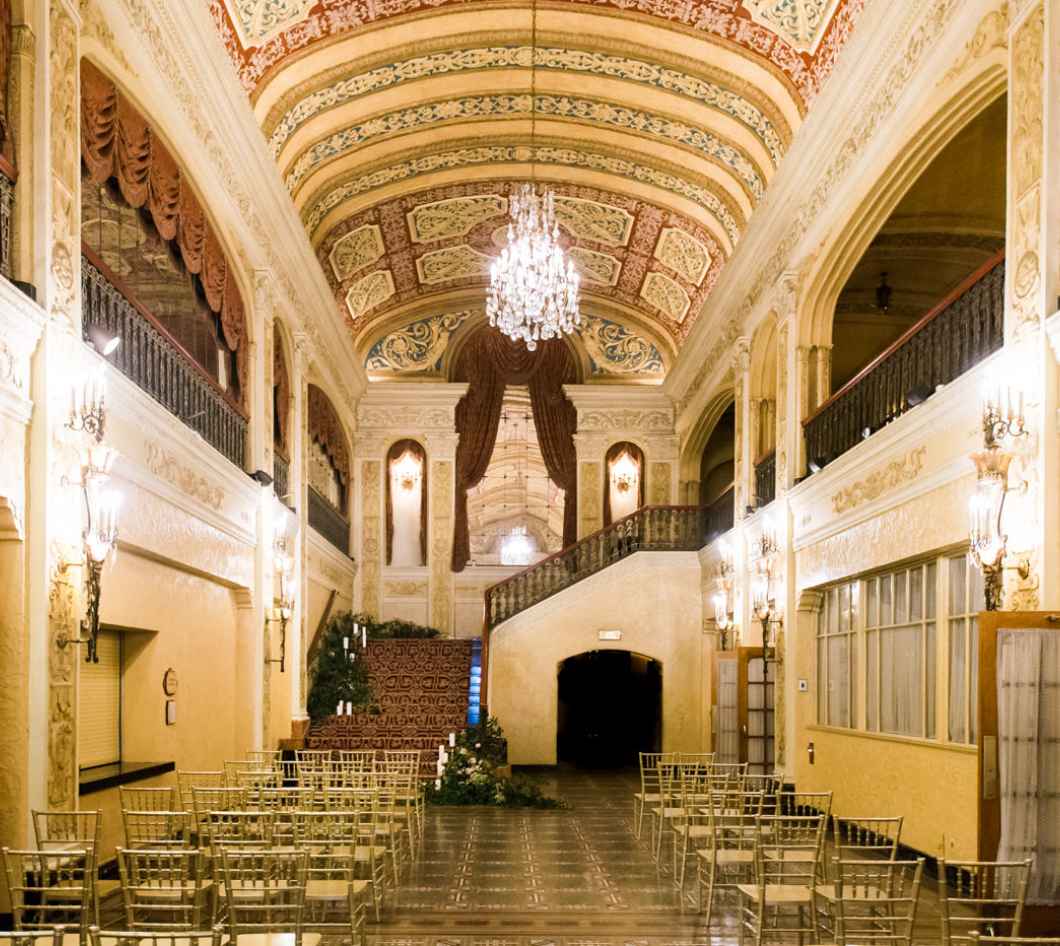 To showcase the venue's many unique elements and overall charm, we collaborated with Cami Geiger of Cambria Custom Events. She brought to life a vintage aesthetic reminiscent of the 1920s as part of this modern day, vintage-inspired style shoot. She says, "We were very mindful about mixing modern design elements along with the design elements found in the 1920s. We also worked very hard to implement design elements that complemented the beautiful architecture in the Embassy."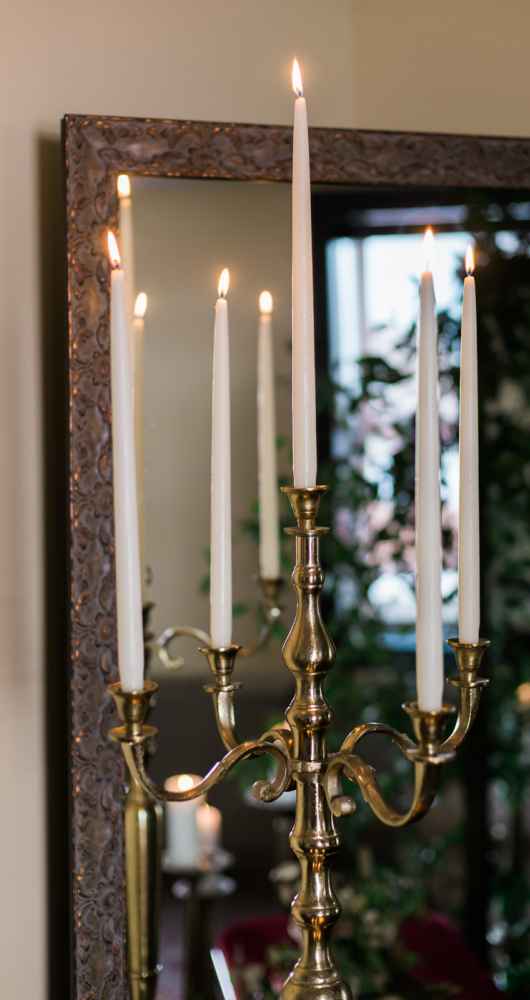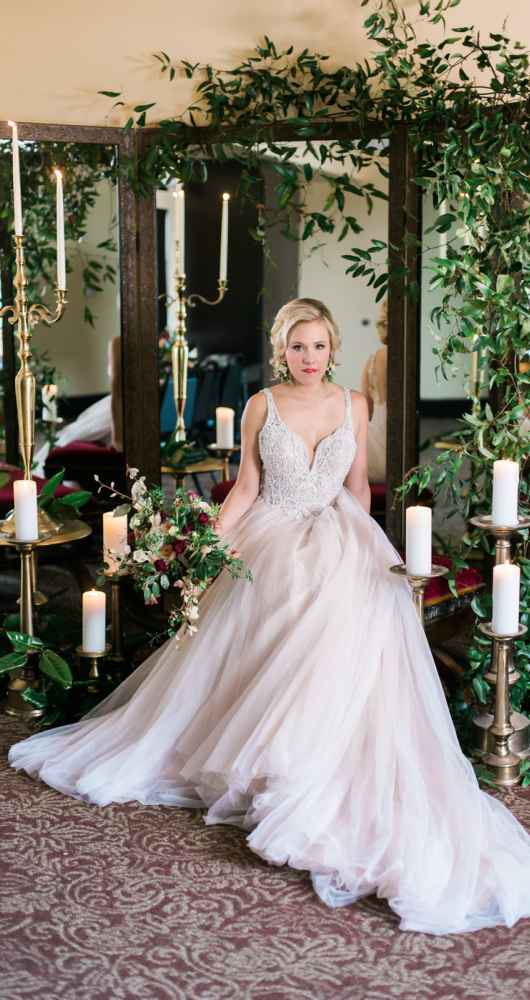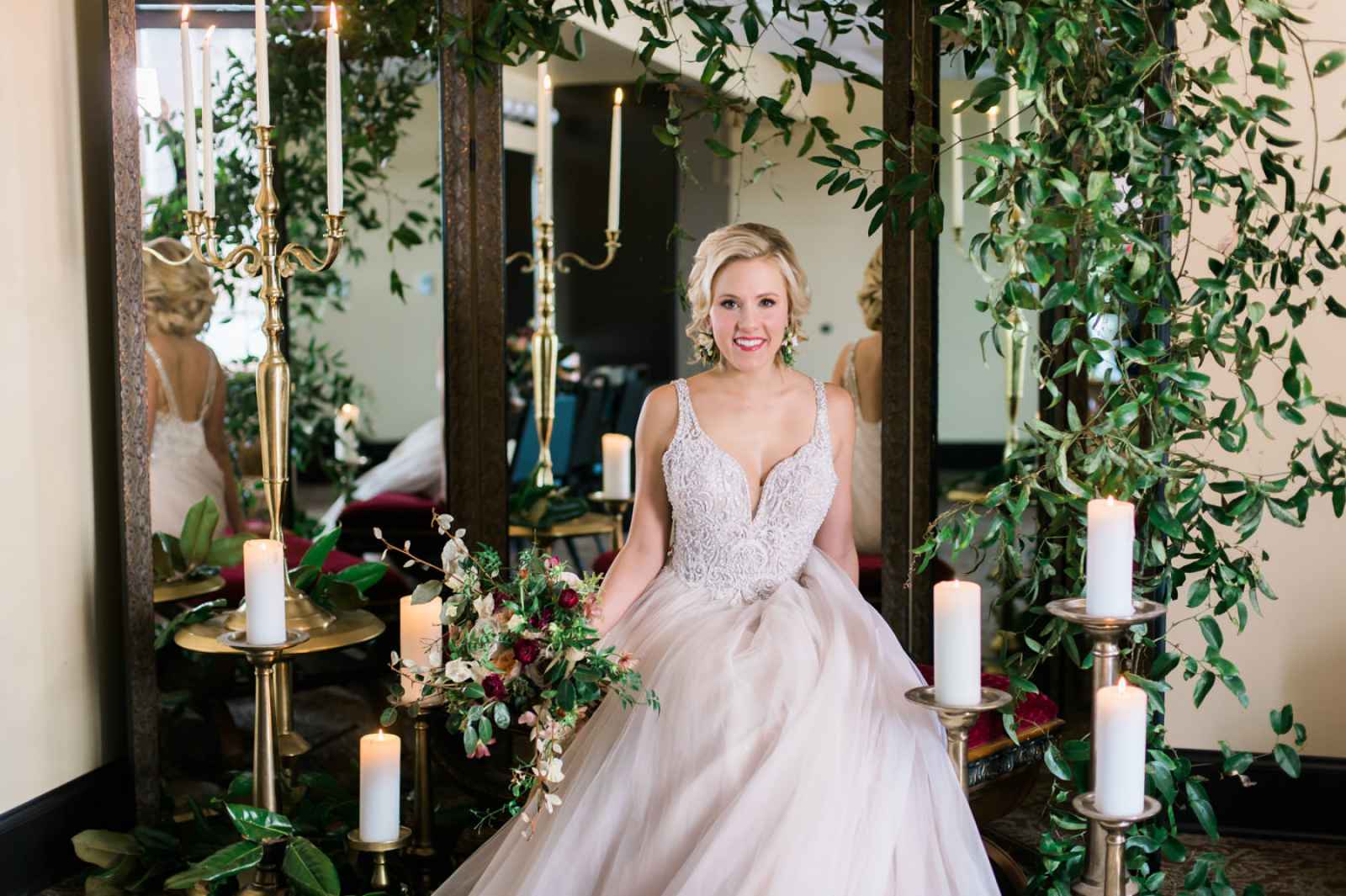 The shoot's mood was certainly instrumental in creating a specific ambiance. "Kelly Geiser from the Embassy Theatre really wanted to pull together décor elements that you would find when the Embassy Theatre opened 90 years ago," says Cami. John adds, "The style we chose was vintage. It is not just what's trending. Vintage is a state of mind. It's an aesthetic that can be appreciated and still relevant 20 years from now. It's classic, elegant and romantic. It's traditional and personal all at once...the Embassy Theatre may have even been the place where one of the couple's grandparents had their first date!"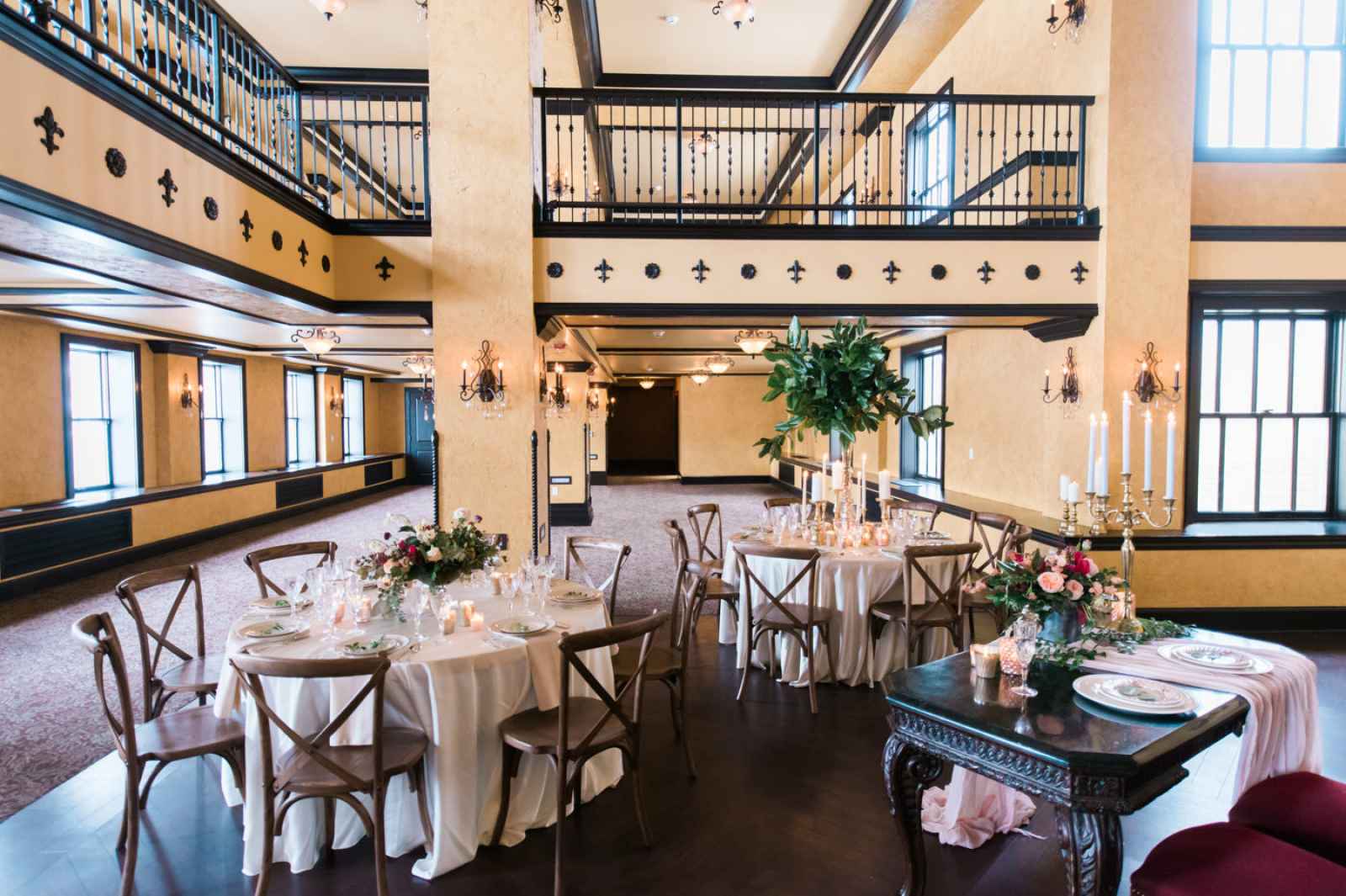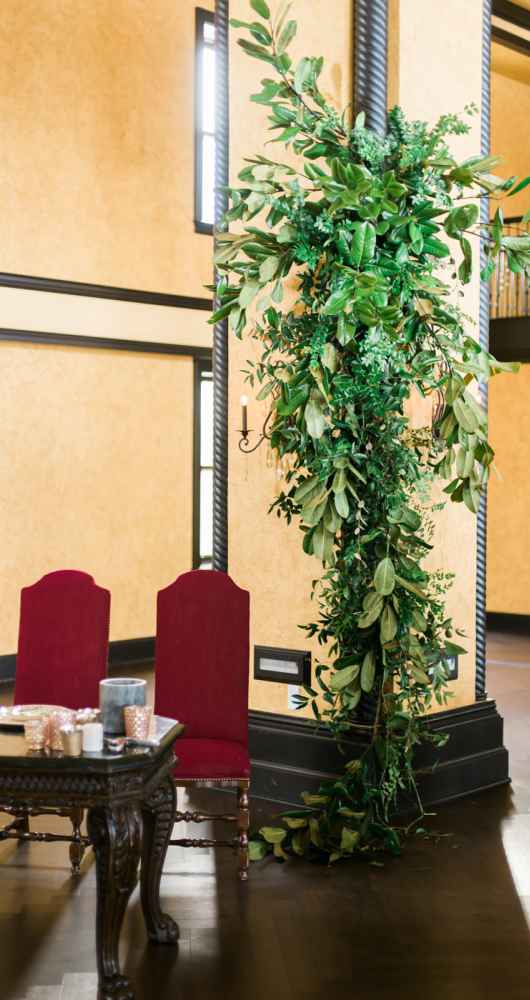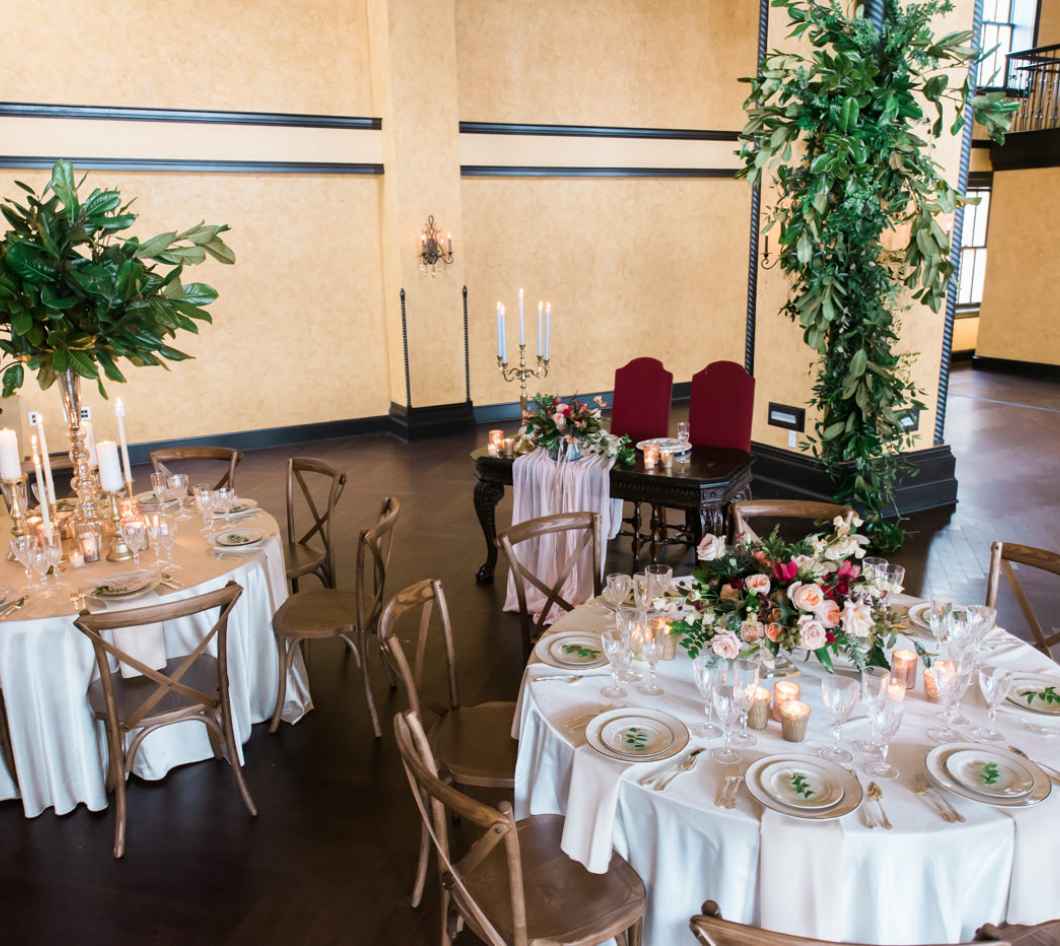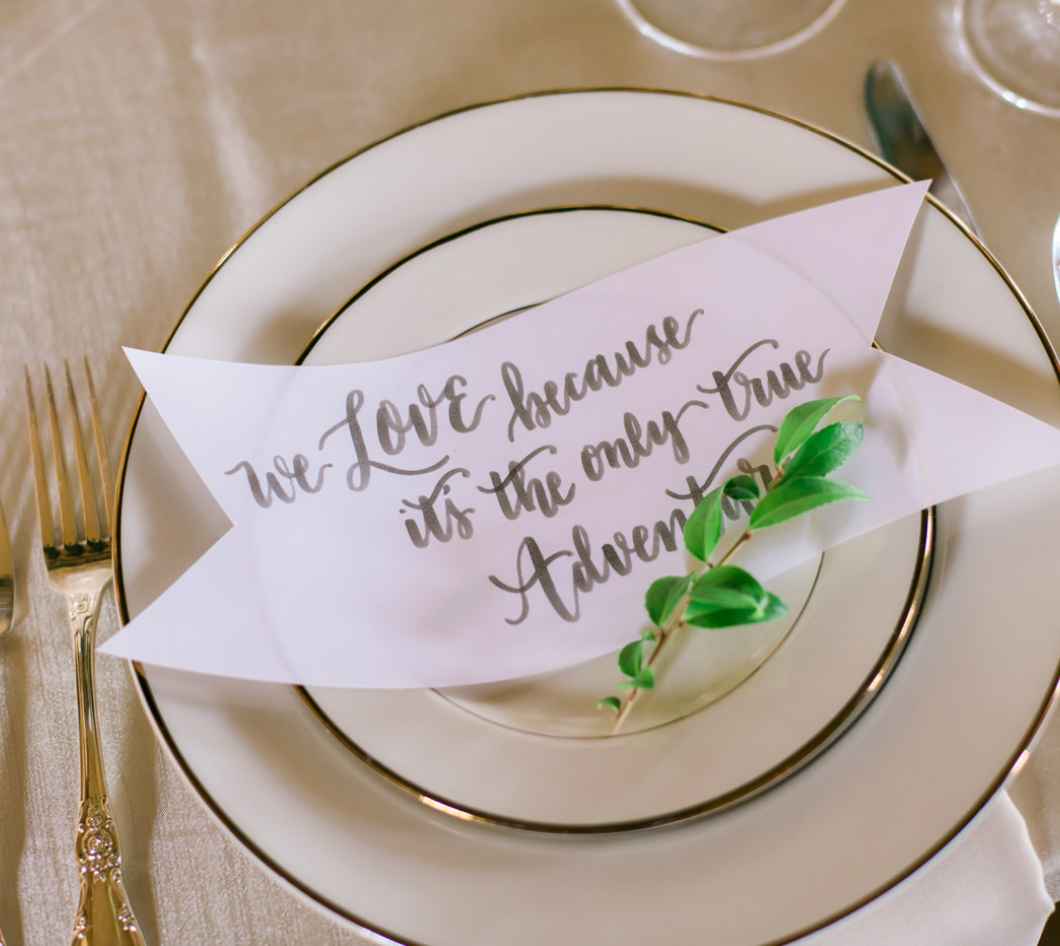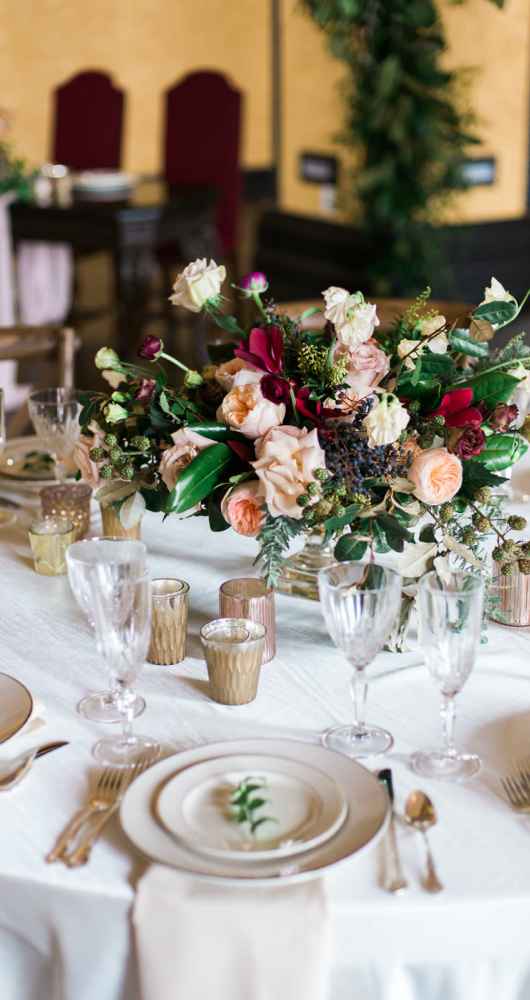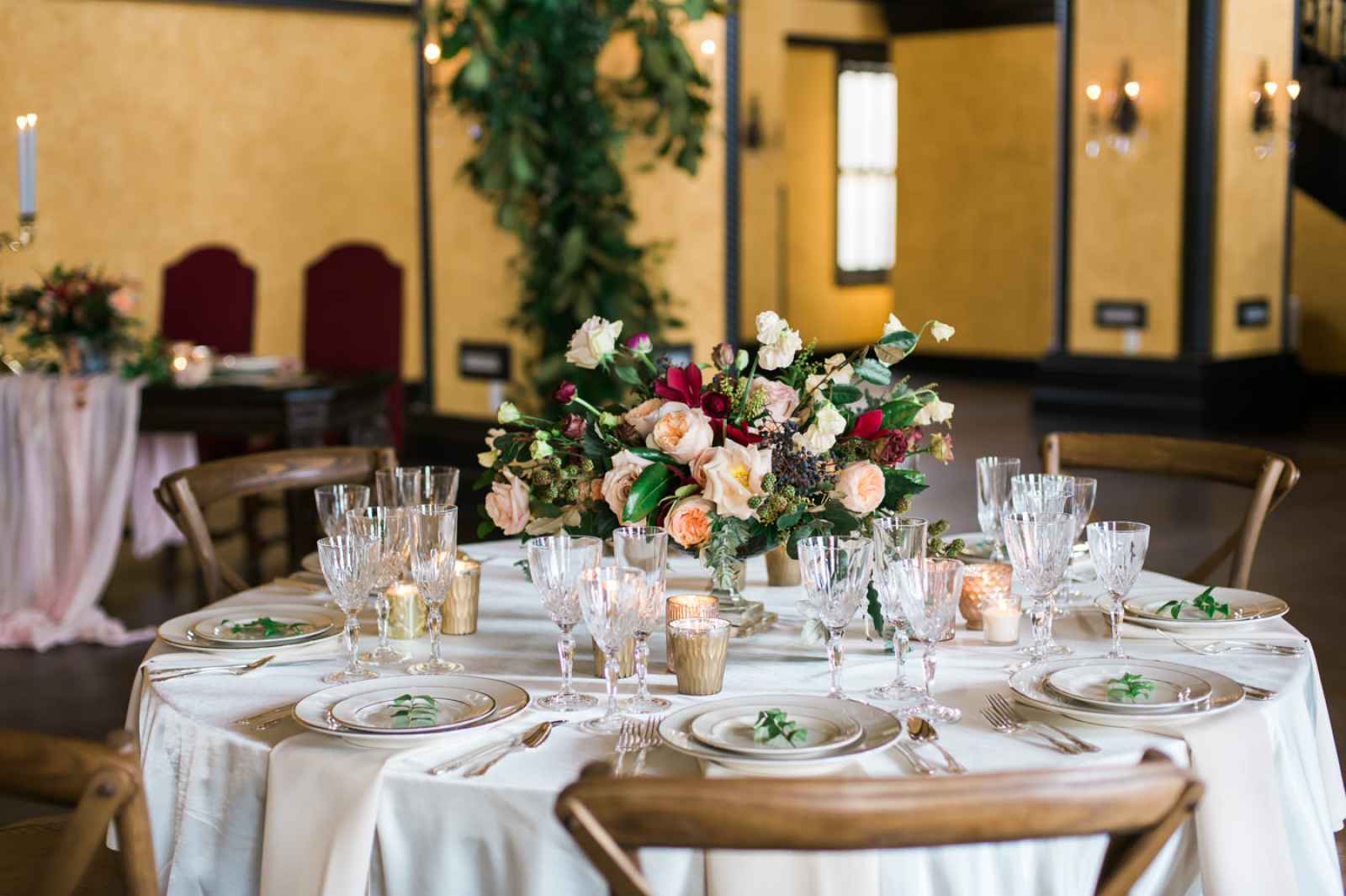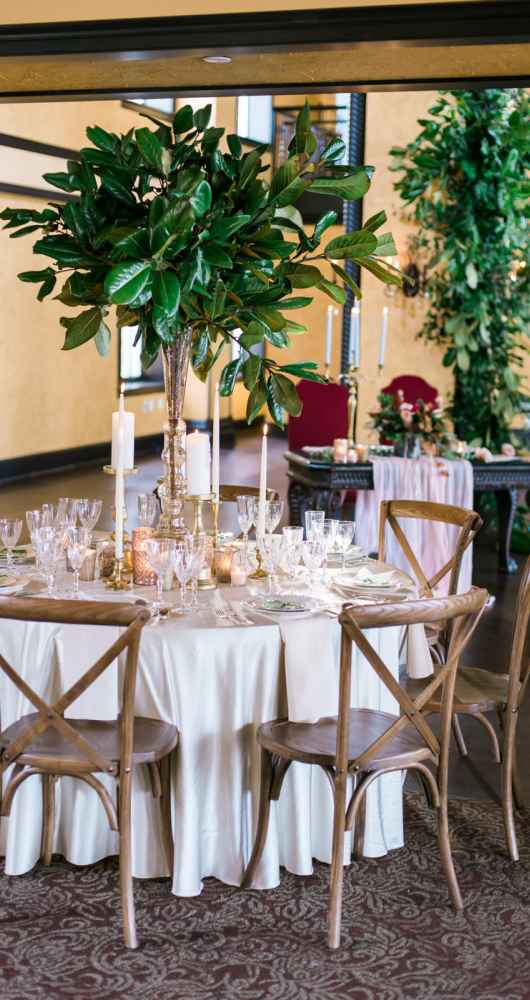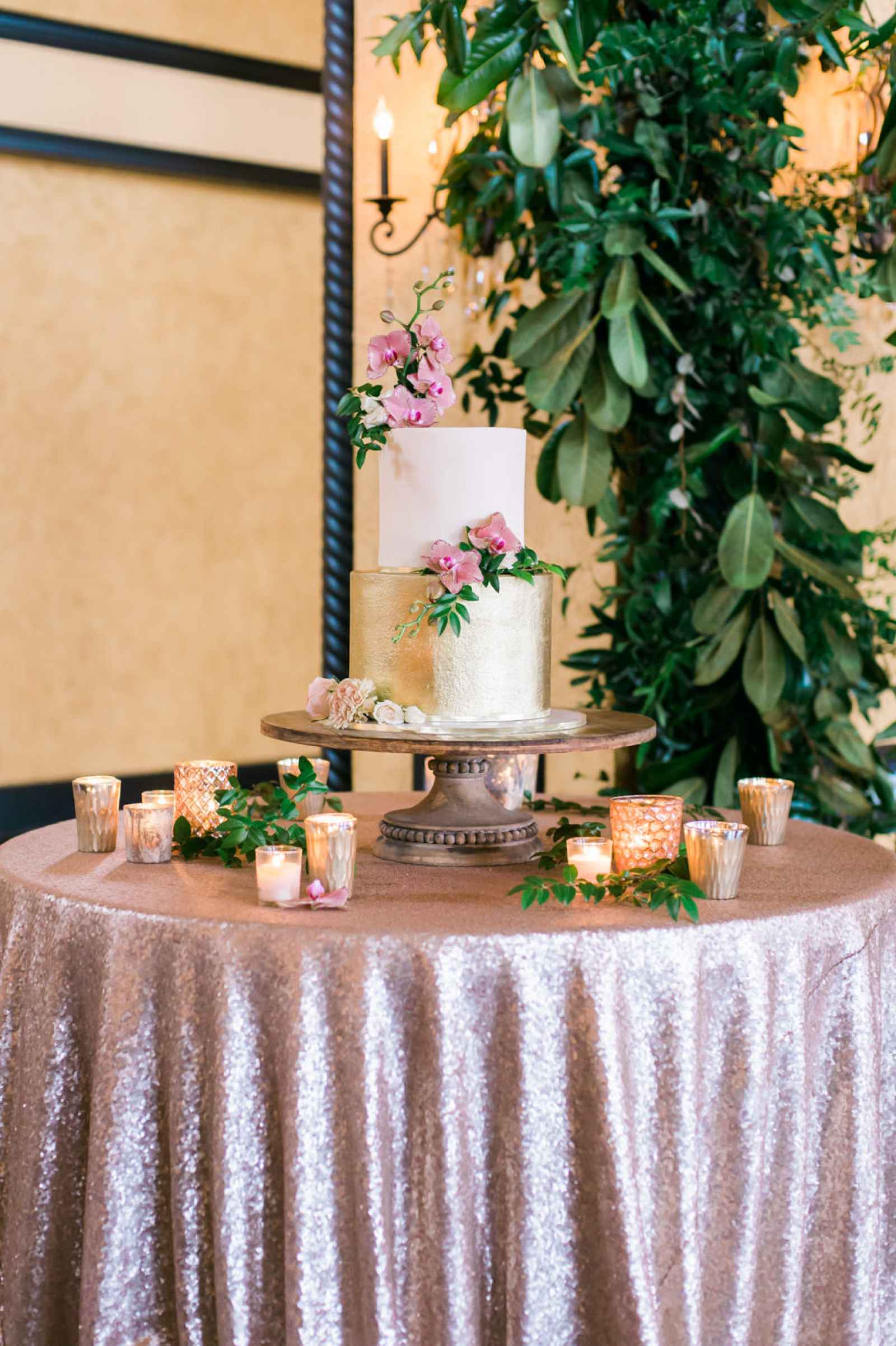 Designing a palette that complemented the venue's gorgeous interior and adding floral design styles that were popular in the 1920s were key aims for Cami and the team as the different decor elements further highlighted the intricate details of the grand space. John explains, "We opted for gold Chiavari chairs for the ceremony along with candlelight and greenery accents for the Grande Staircase. We wanted to show that while the space is beautiful all by itself, couples can still aspire to incorporate their own elements. For the Ballroom reception, we utilized our finished marble table and high back velvet chairs for the couple's sweetheart table and additionally incorporated beautiful vintage china to add a touch of drama. Guest tables were covered to the floor with champagne linens and adorned with beautifully finished wood chairs. The centerpieces were made up of various candle pieces and greenery as well as exquisite floral details. Every element of the tablescape played a role in creating an overall look that guests would be sure to notice."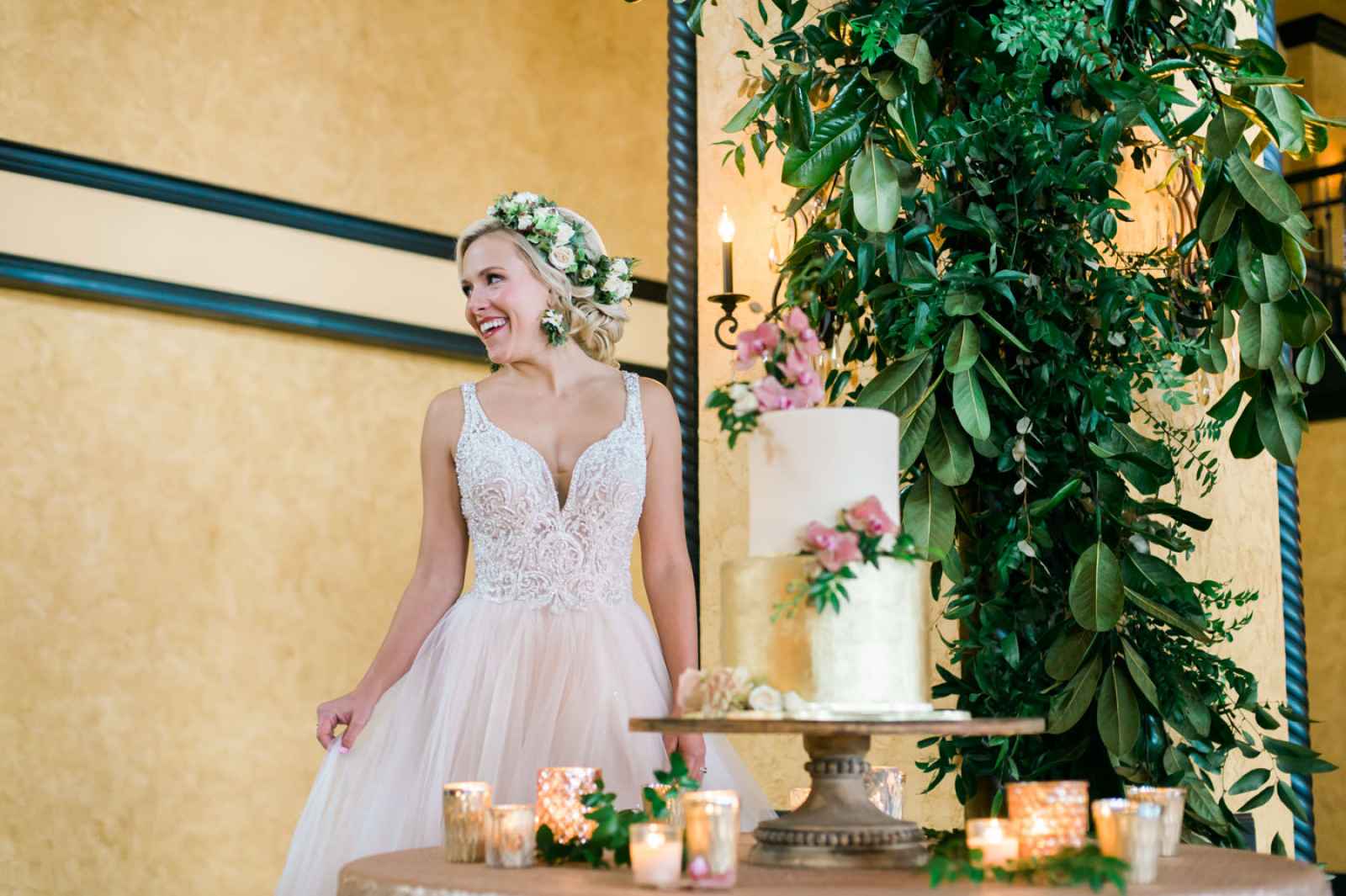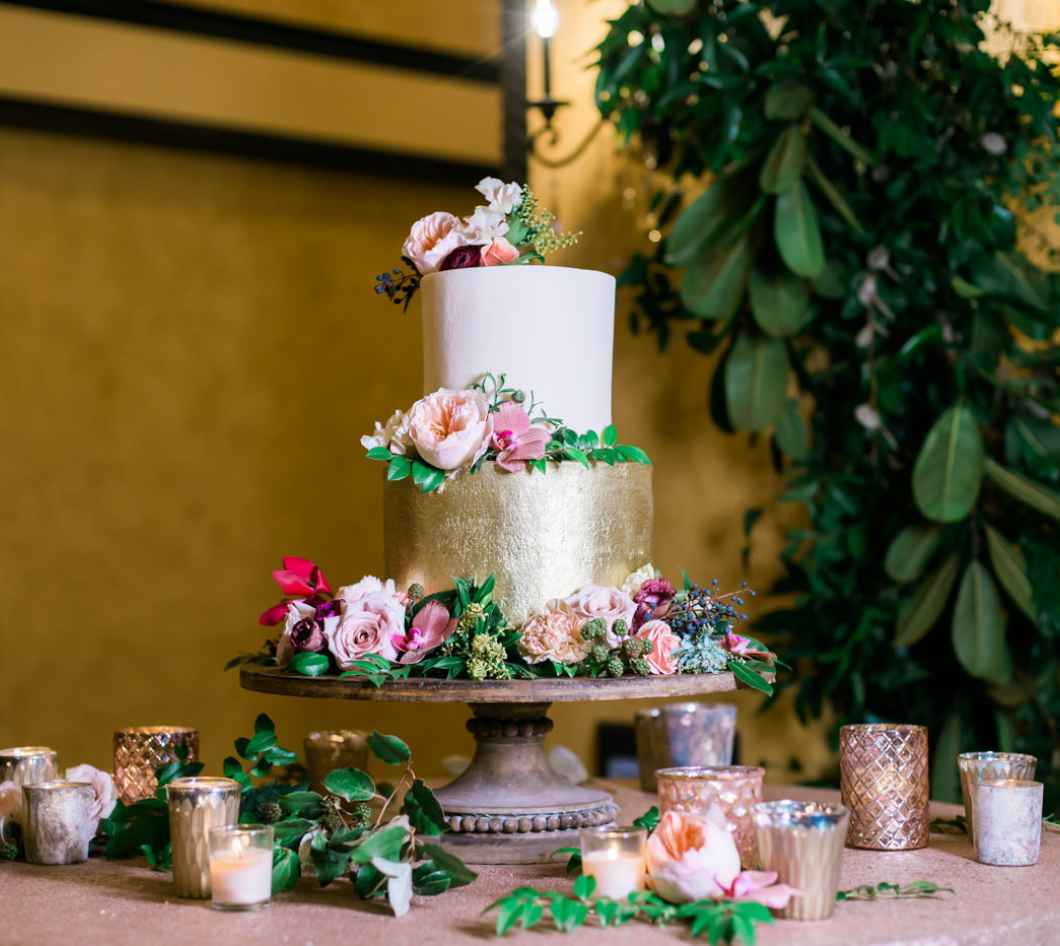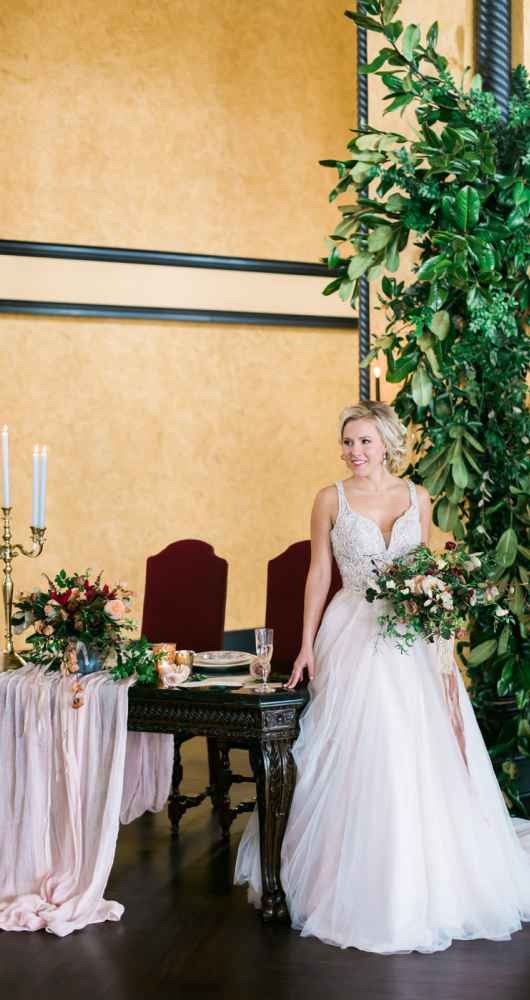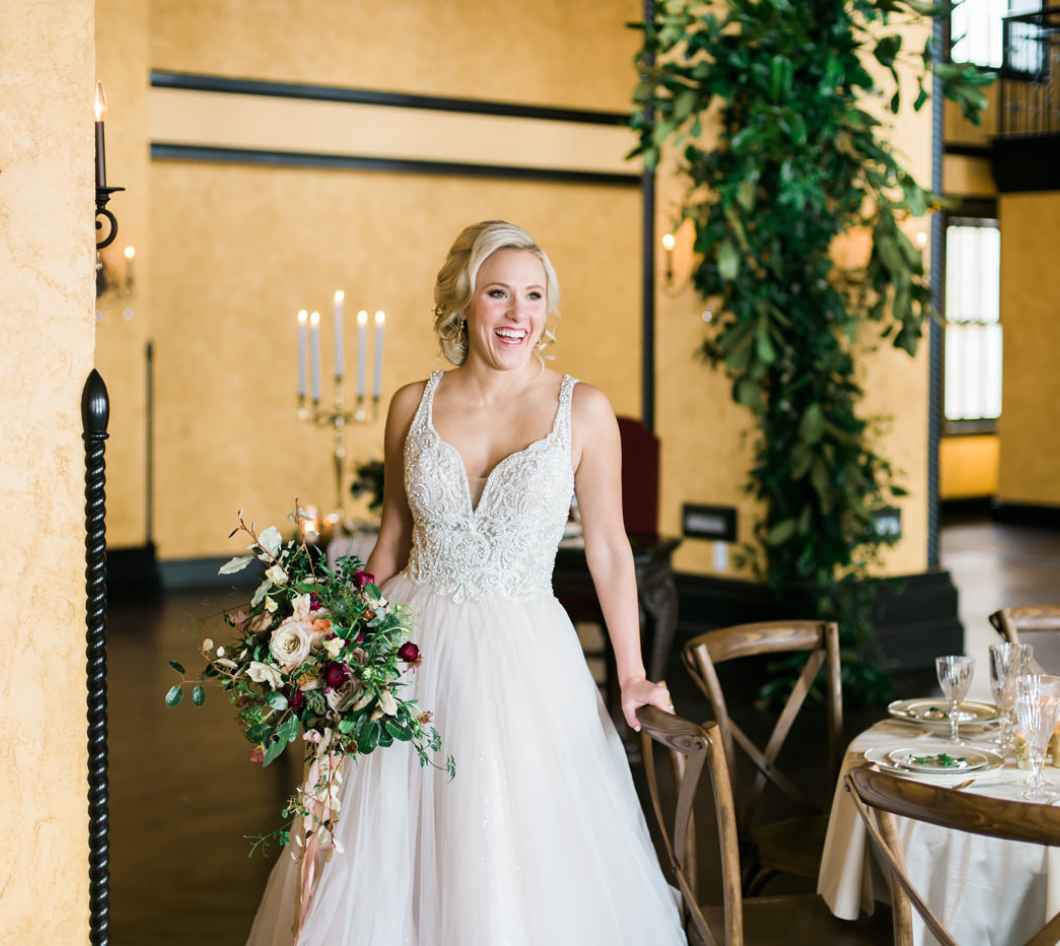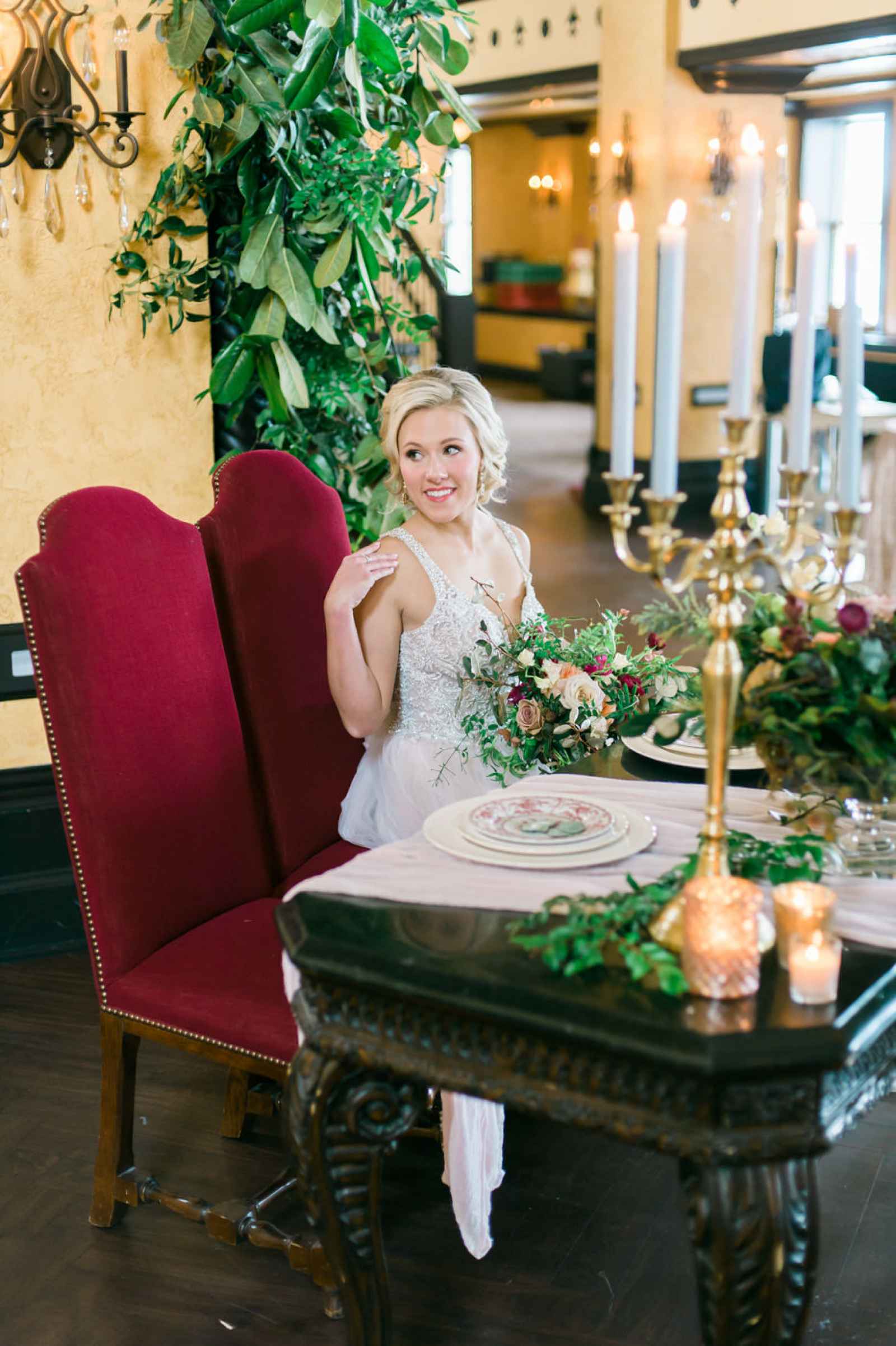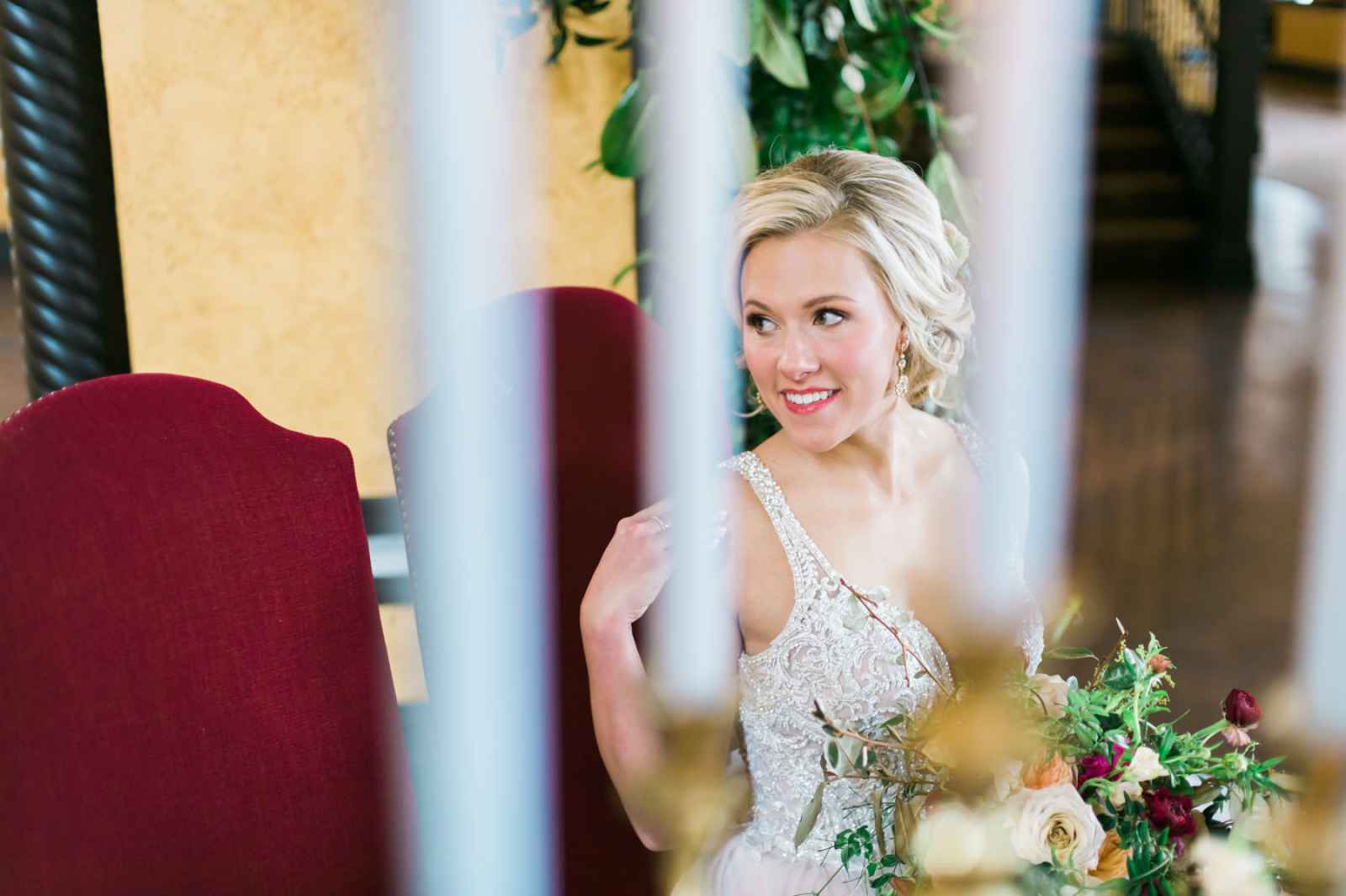 The Be Married designs included garden roses, ranunculus, sweet peas, astilbe, hydrangea, Pieris buds, passion flower vine, Scabiosa, Lisianthus, blackberry vine, Acacia and lots of Jackson Vine. Other details included the perfect stationery suite, designed by The HEDGE and a gorgeously neutral cake accented with fresh flowers, provided by Sassie Cakes. All Occasion Party Rentals provided floor length linens and napkins, elegant vineyard chairs, beautiful place settings and flatware.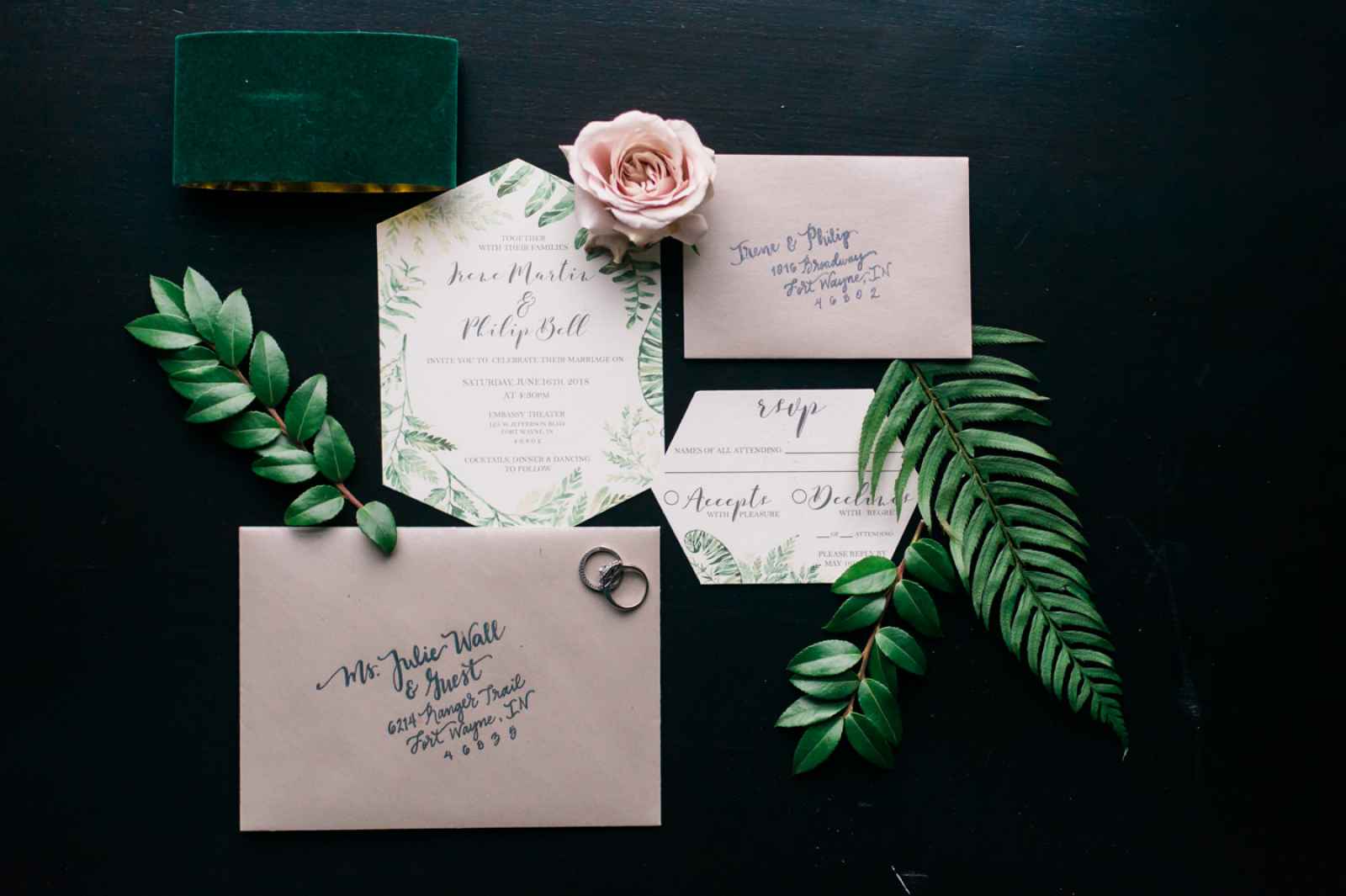 The shoot's ceremony was staged in the Theater Lobby where a gorgeous gown courtesy of One Fine Day Bridal & Gown Boutique featuring a cathedral train and a long, beautiful veil added a touch of drama, especially on the grand stairway. Cami explains, "The lace embellishments mimicked the design elements from the architecture in the building." She adds, "We fell in love with the wedding gown featured in the Ballroom because of the fun tulle skirting and beautiful bodice. We liked the elegant and cohesive elements it shared with the design plan for the Ballroom." John says, "We felt it very appropriate for the grand entrance into the reception and even more so for the rooftop setting or as we like to call it, the icing on the cake!" Andi Sherman of Something Blue Stylists kept the hair and makeup styling complementary of what you may find in the 1920s.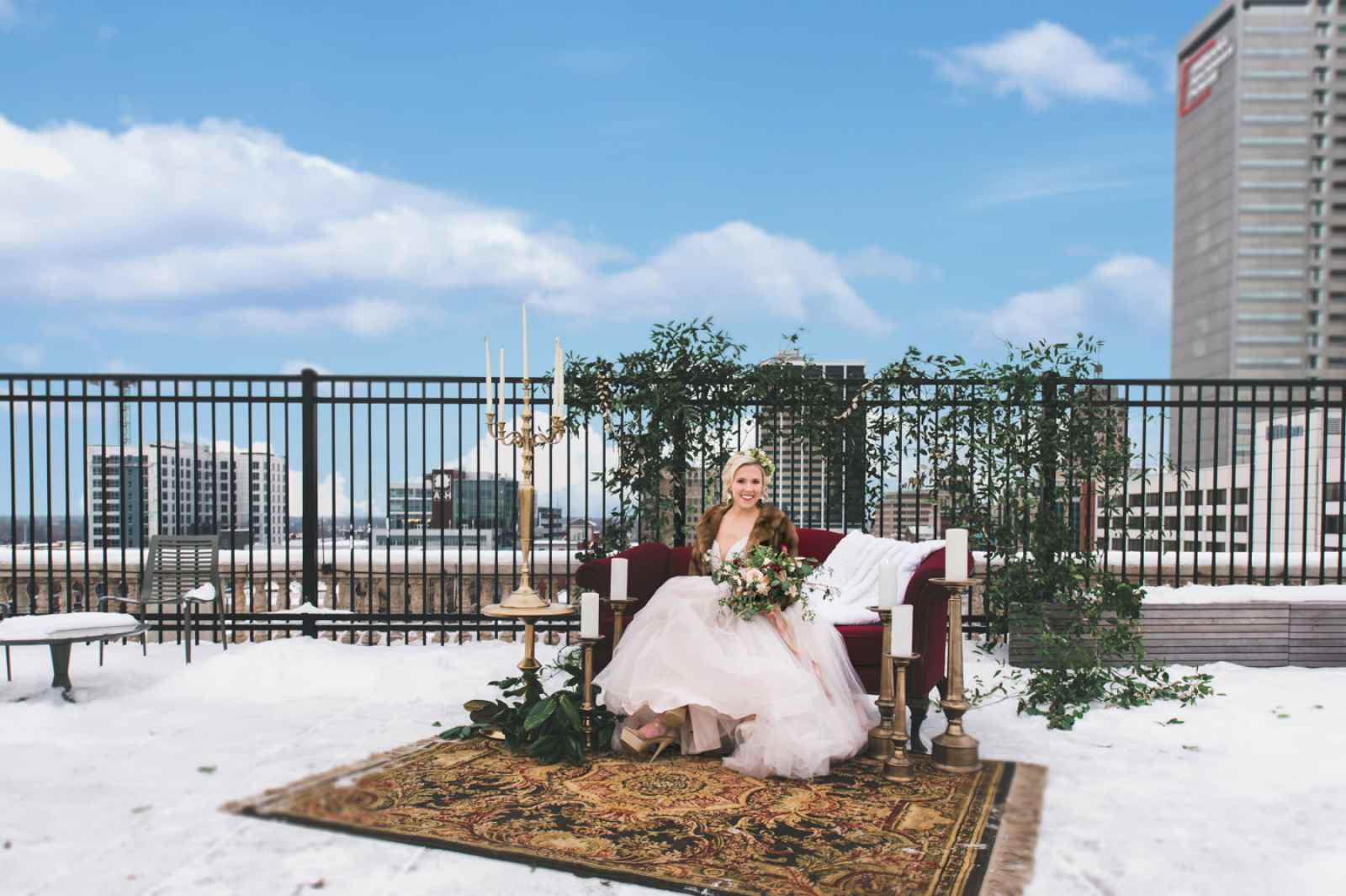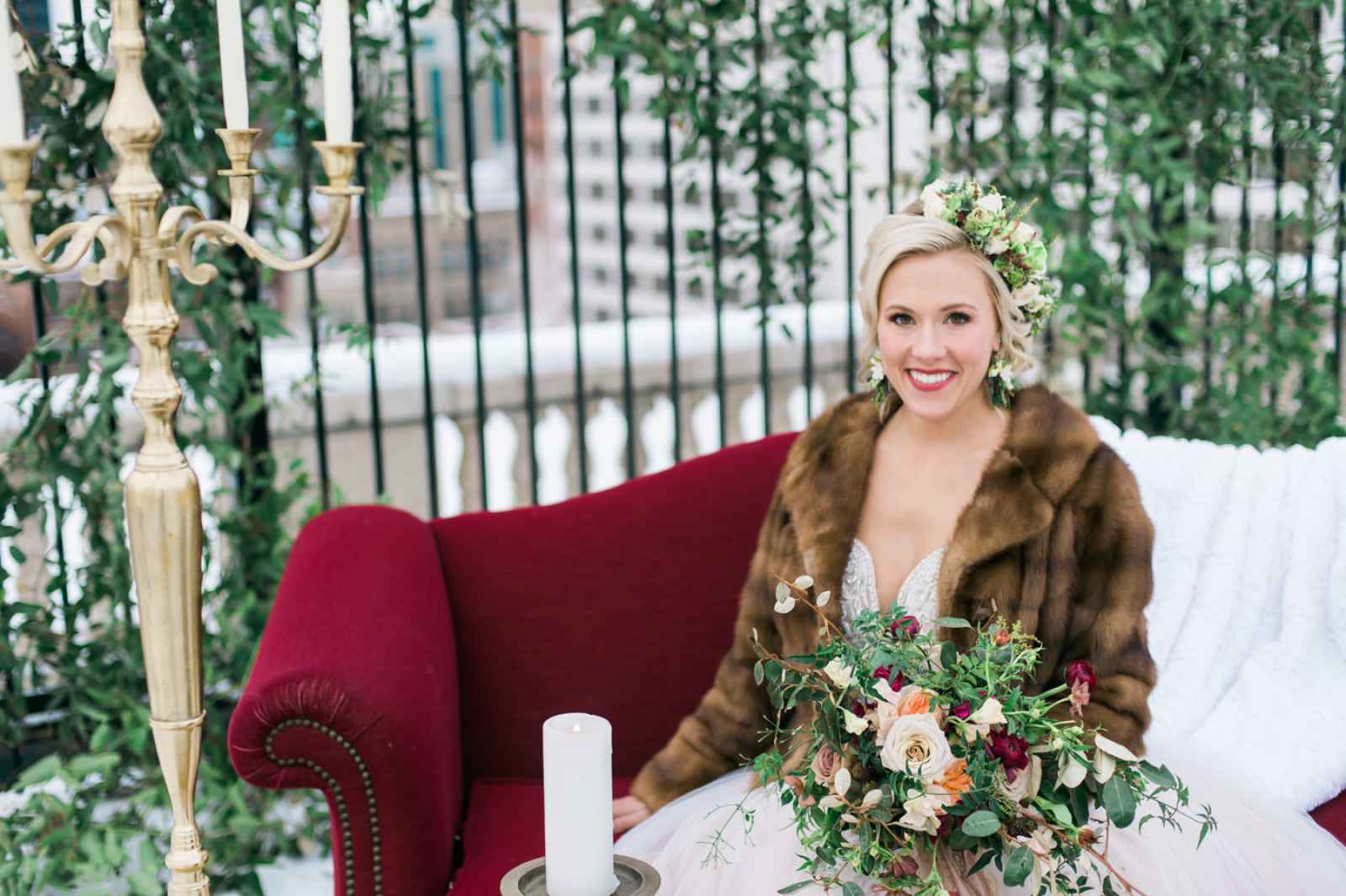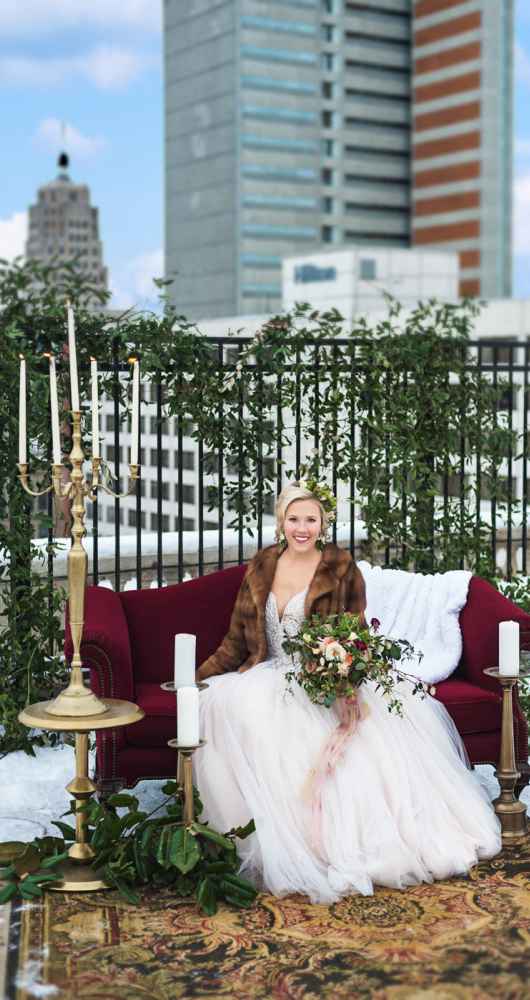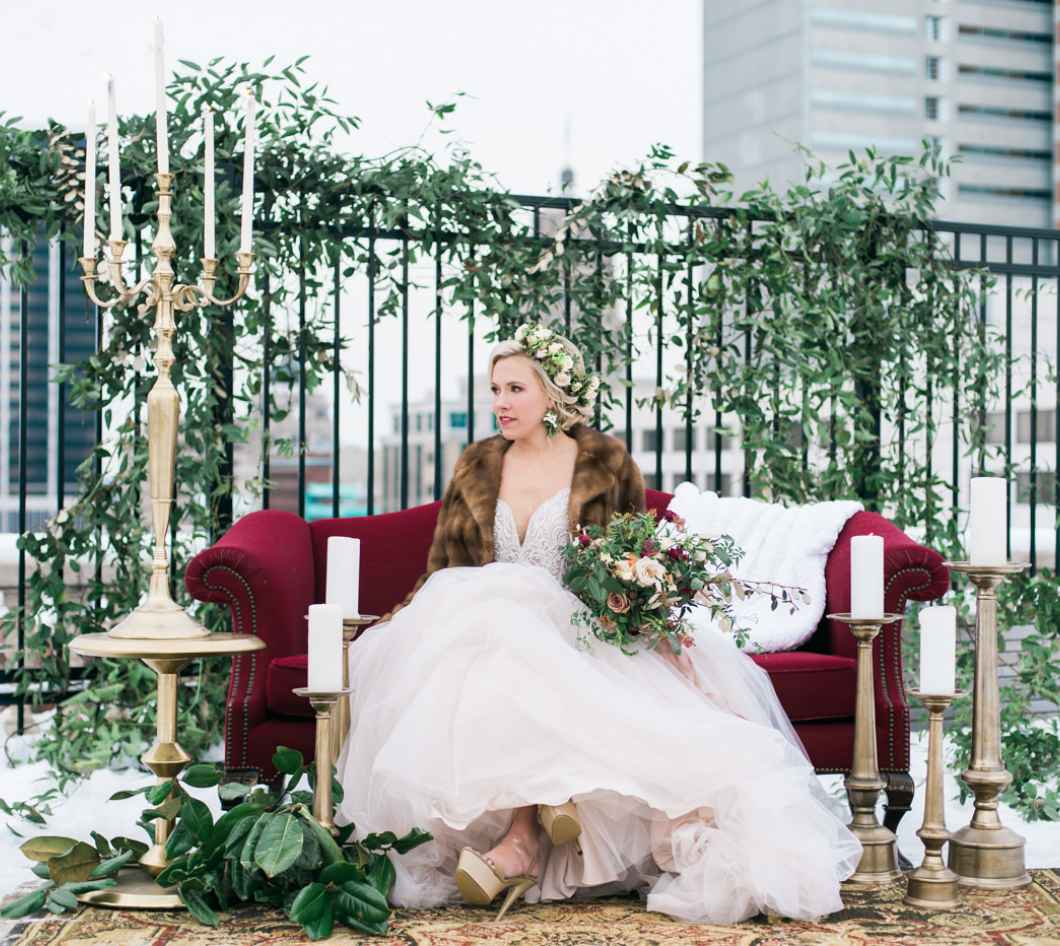 John says, "Likely our most favorite part of the shoot was the Rooftop. Rooftop spaces are trendy for sure and ours, atop the newly renovated Ballroom, is no exception. We chose to bring ours to life by incorporating an organic, 'lounge-y' area complete with the Embassy's red velvet love seat and area rug. The floral team draped the wrought iron fencing with large garlands of Jackson Vine. We shot in the middle of winter, so we managed to keep our bride warm by dressing her in a truly vintage fur coat. And lastly, but maybe the trendiest part of all, was the live earrings and hair pieces handmade for our bride. It was very 'big city' for certain!"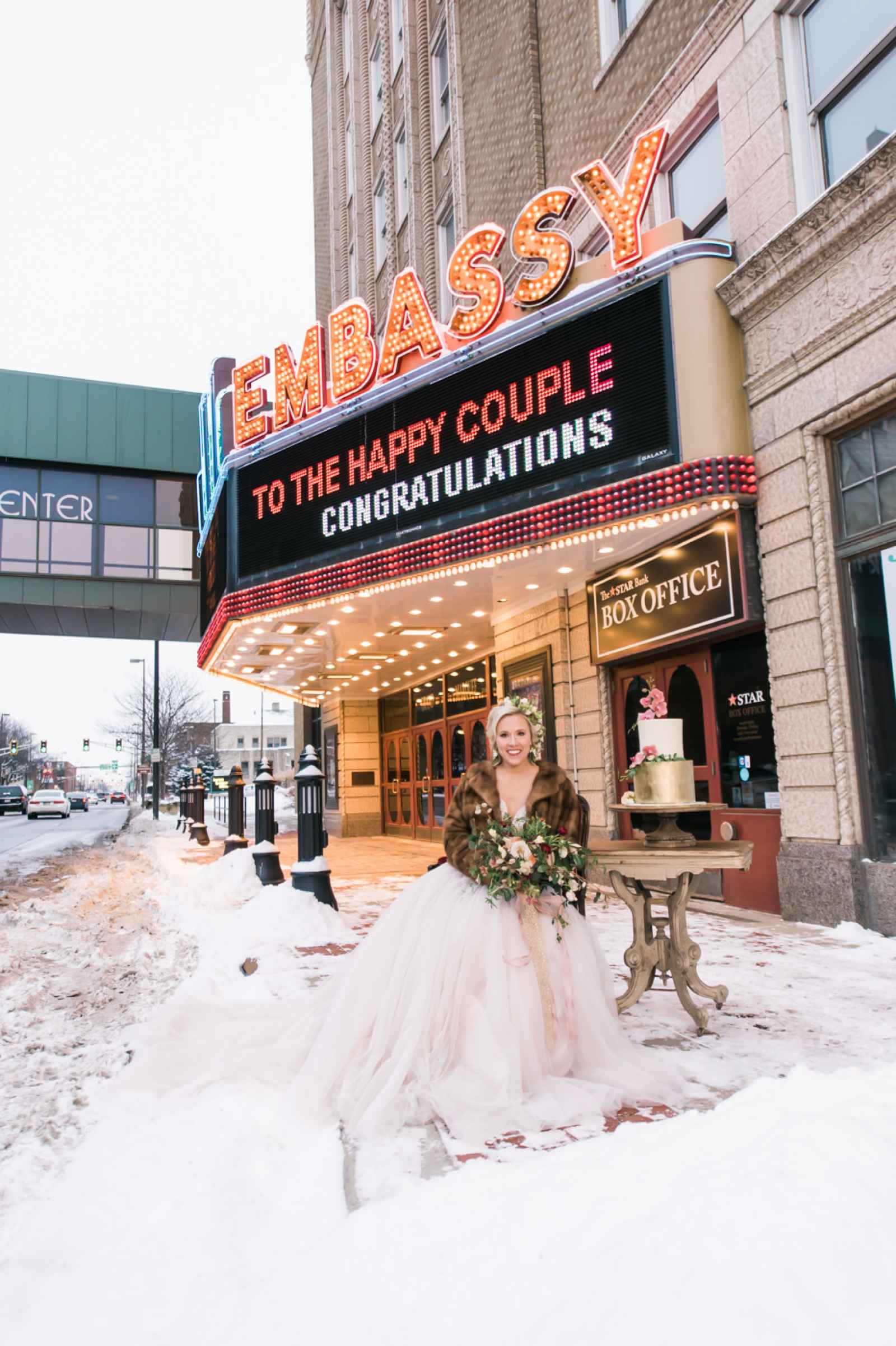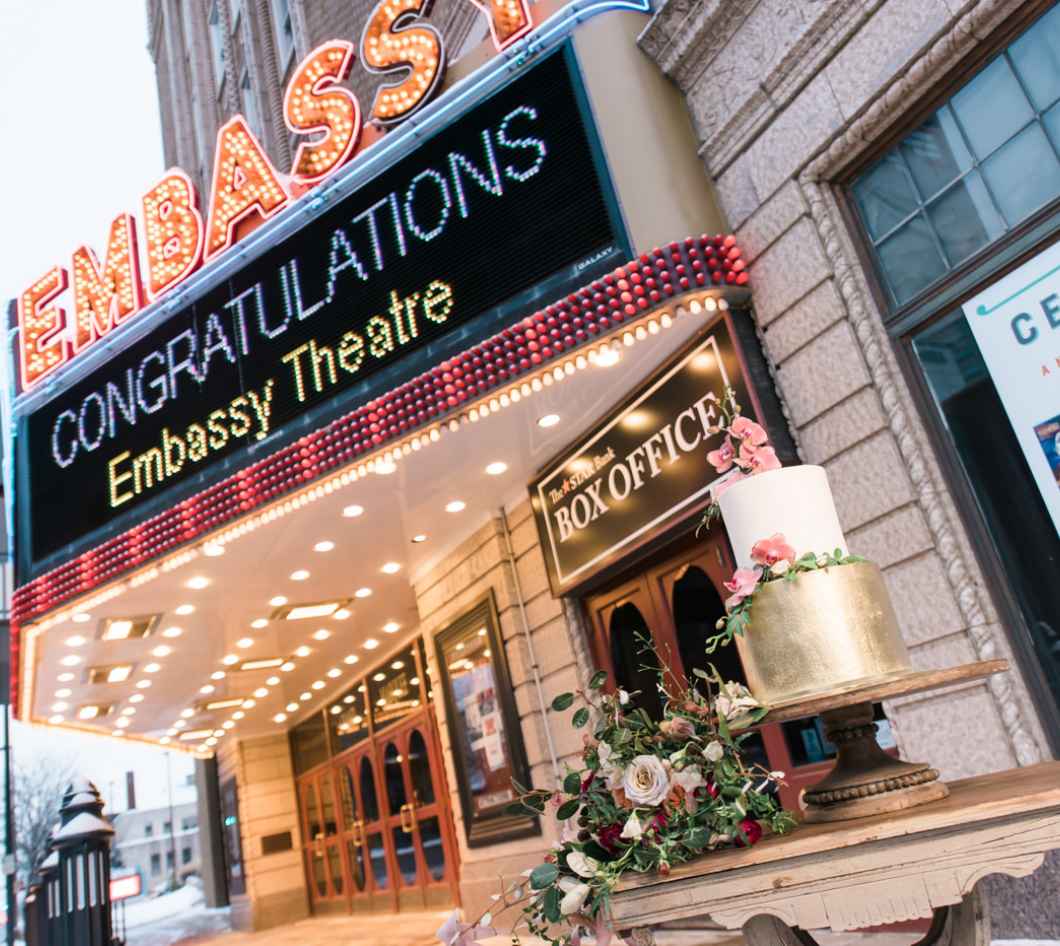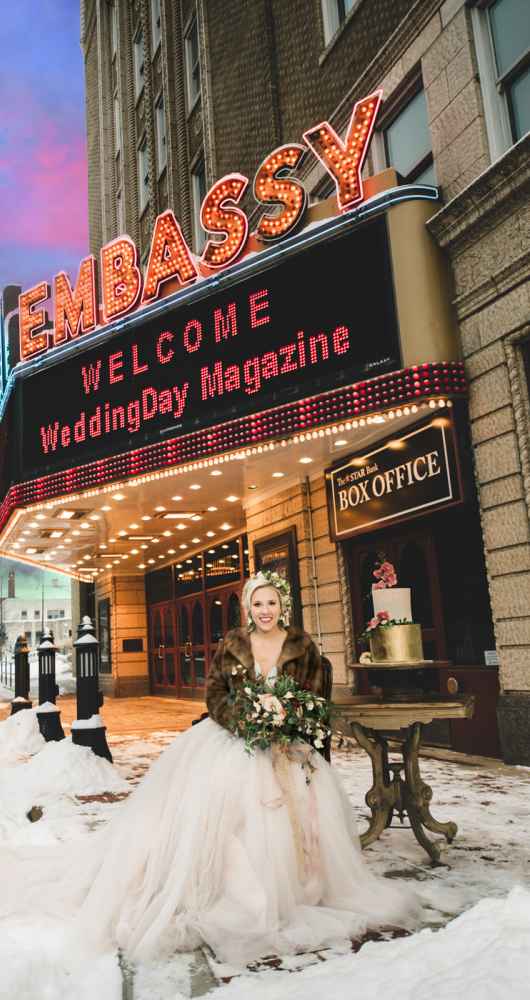 WeddingDay Magazine Style Shoot at Embassy Theatre from WeddingDay Magazine on Vimeo.
are you a bride-to-be?
We'd love to plan with you on weddingday-online.com. Let's get started!
 
are you a wedding extraordinaire?
Join WeddingDay Magazine in inspiring brides by partnering with us! See how here.