Built in 1875, The Sanctuary on Penn is a venue that is overflowing with real, old-world charm. Located right in downtown Indianapolis, it not only boasts a great location, it is an all-inclusive venue that will help you plan your wedding every step of the way.
 
Owner Scott Wheeler says of his magnificent venue, "The Sanctuary is much more involved in the planning process than most other places and will work to make things stress free from start to finish."
To bring The Sanctuary on Penn's old-world motif to life, we turned to owner and executive planner Sarah Farthing of All in the Details. The classy, art-deco style she envisioned was a perfect fit for the venue's beautifully rich and historic aesthetic. Sarah says, "Immediately upon entering the venue, I was struck with inspiration as how to best communicate the grandeur of the space and at the same time amplify its natural, historic beauty."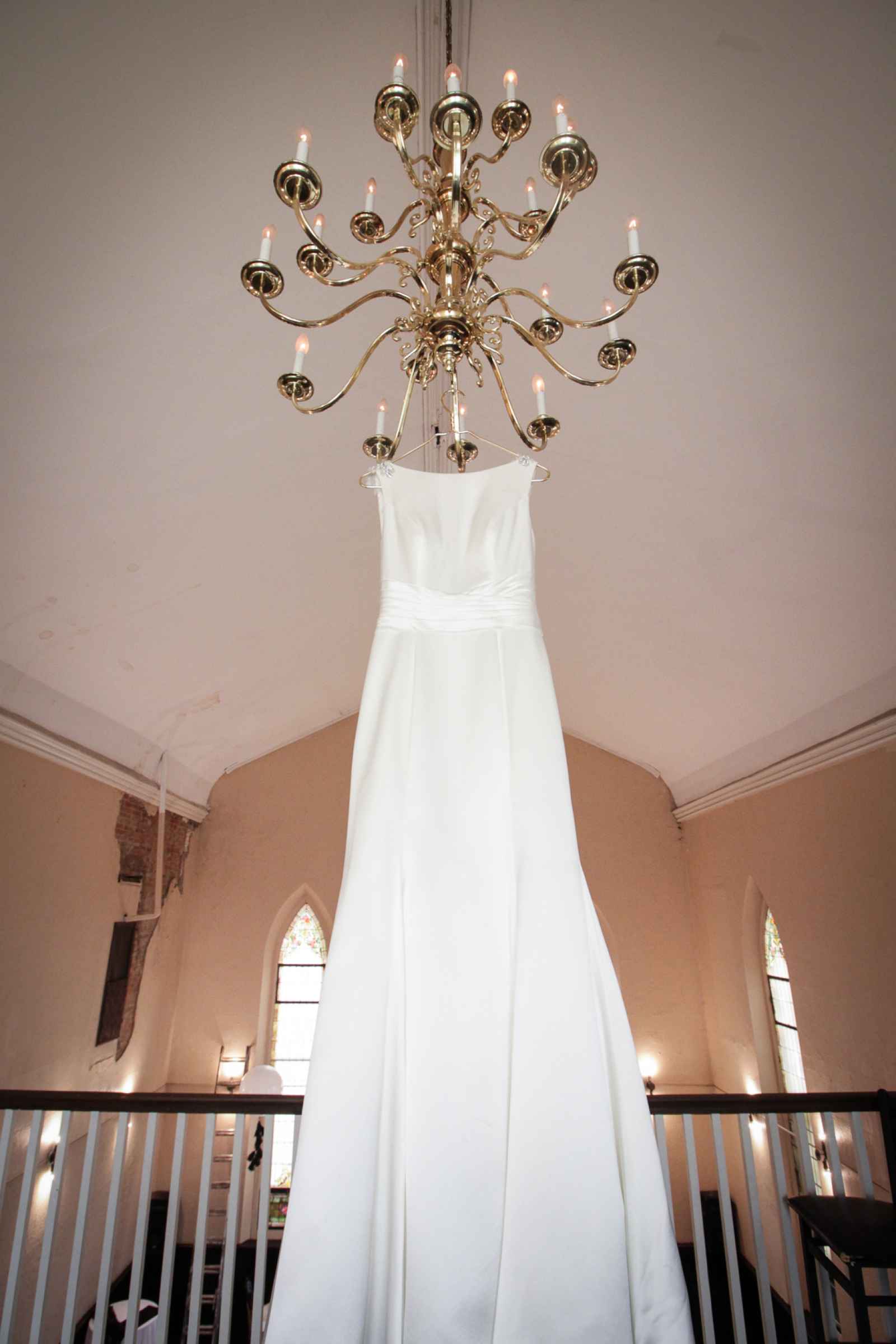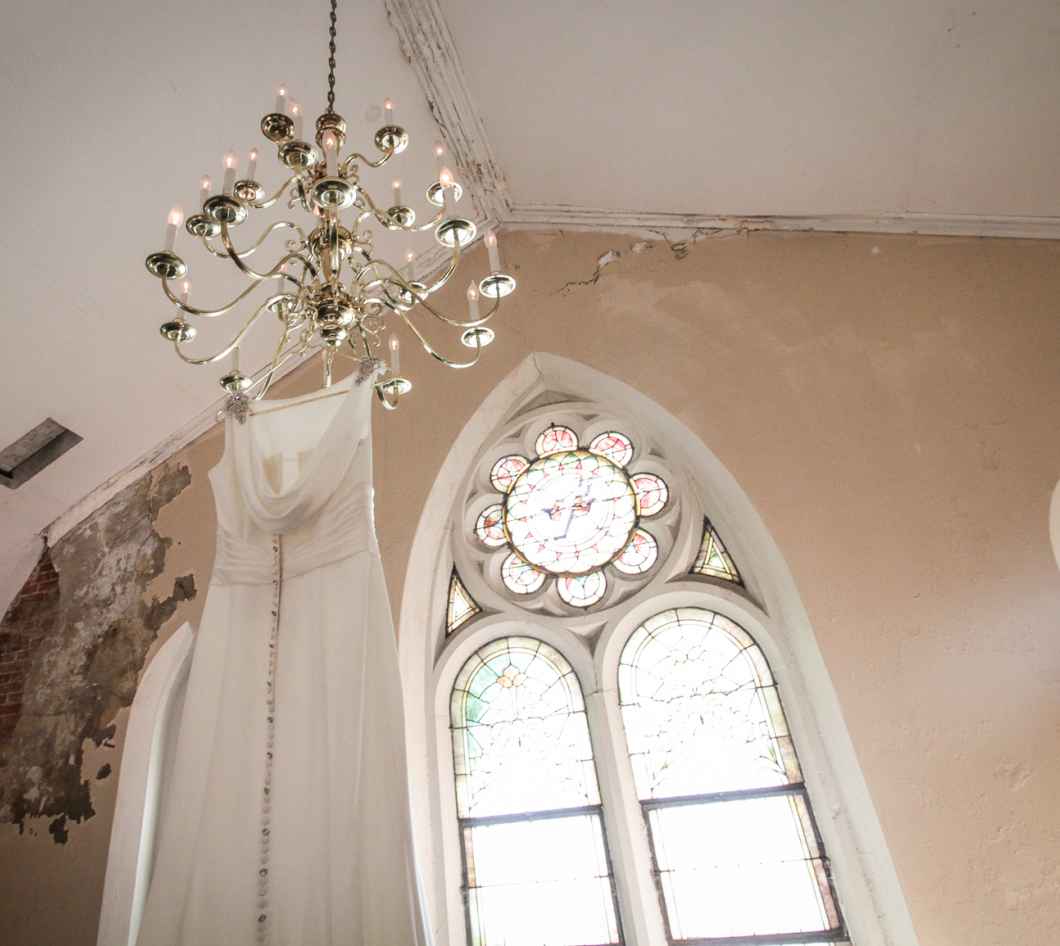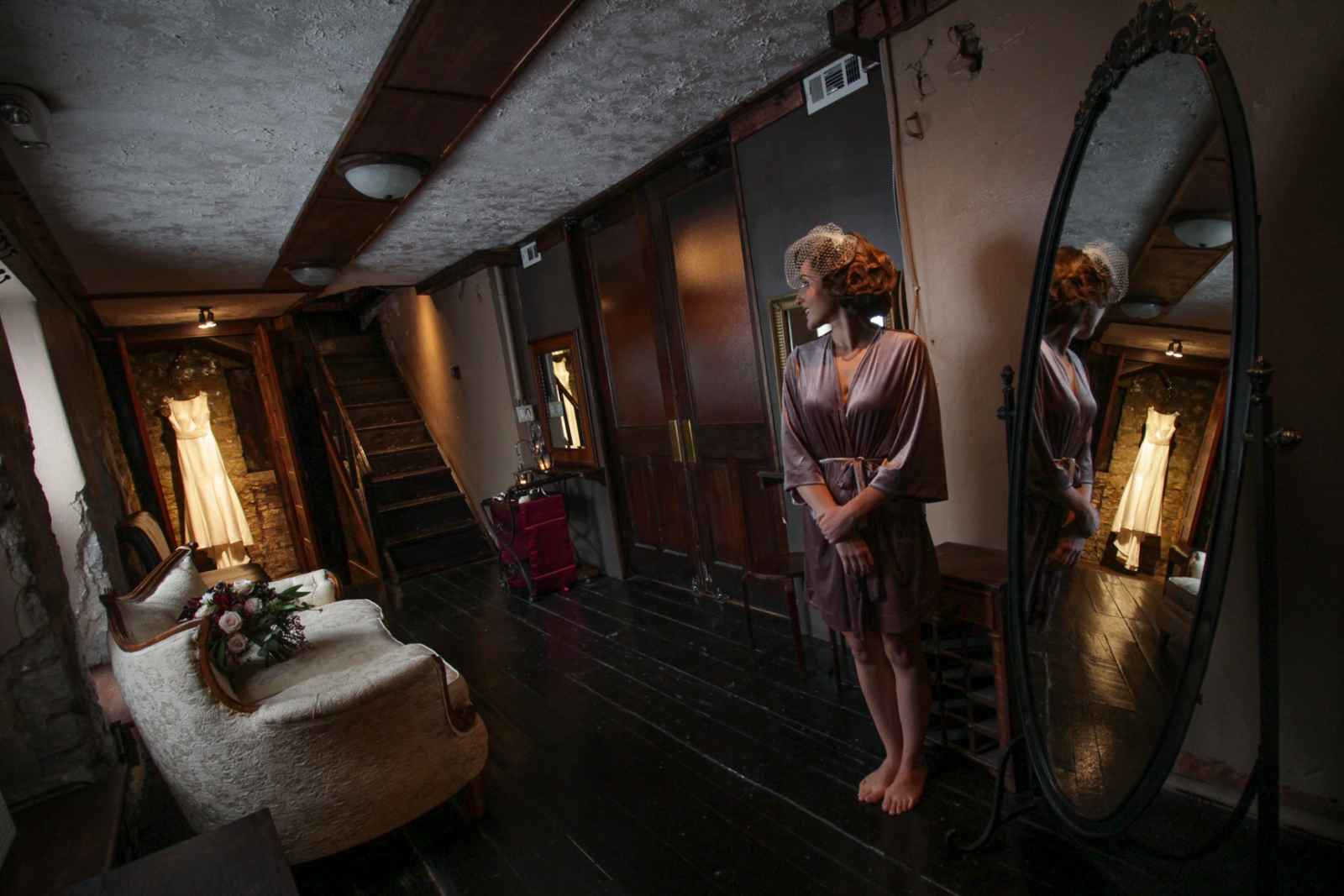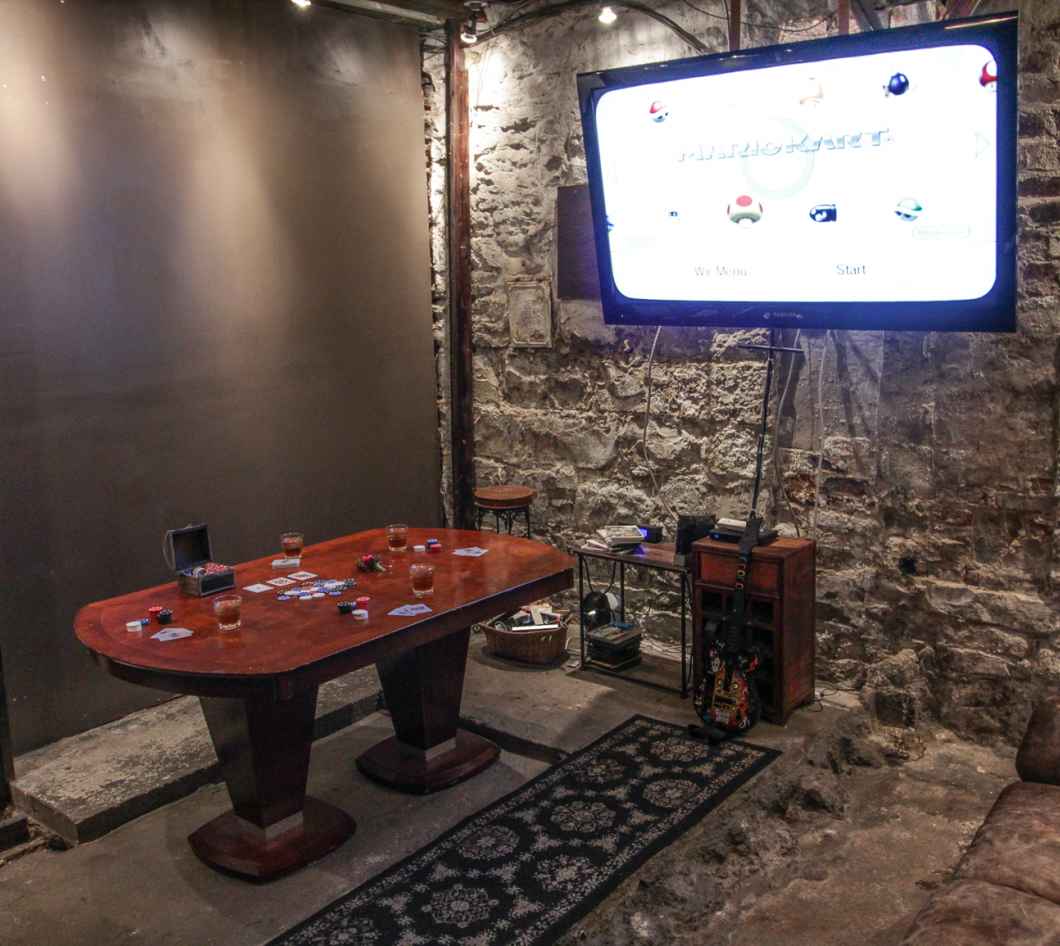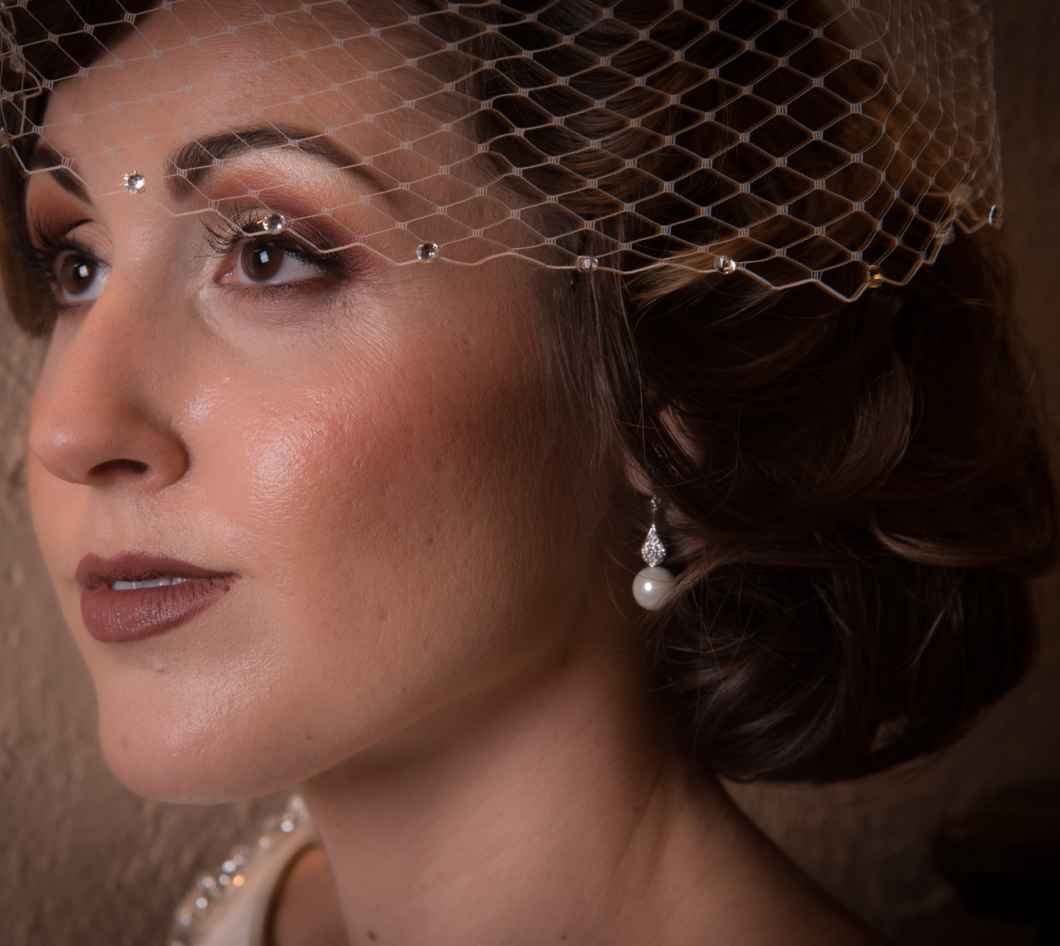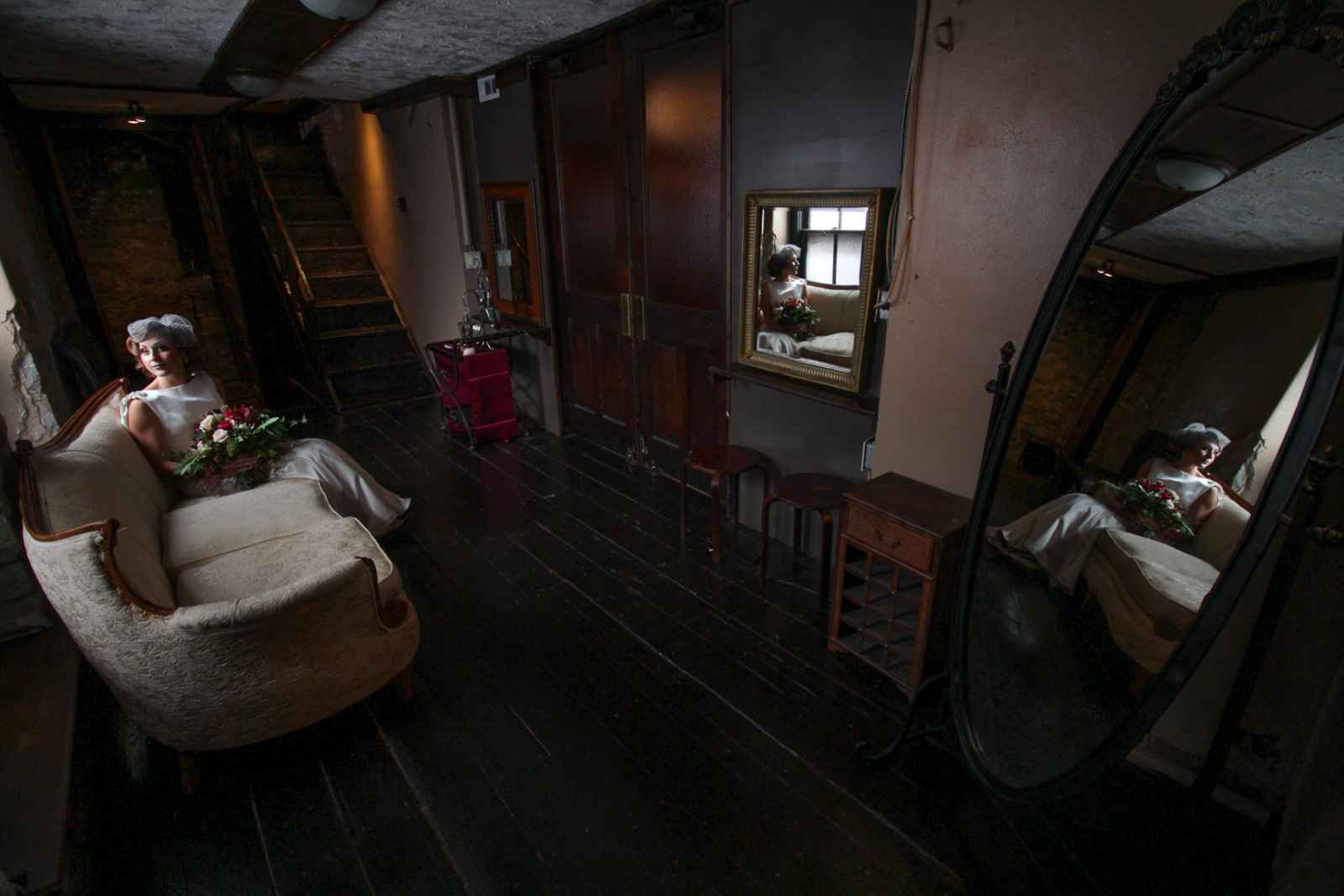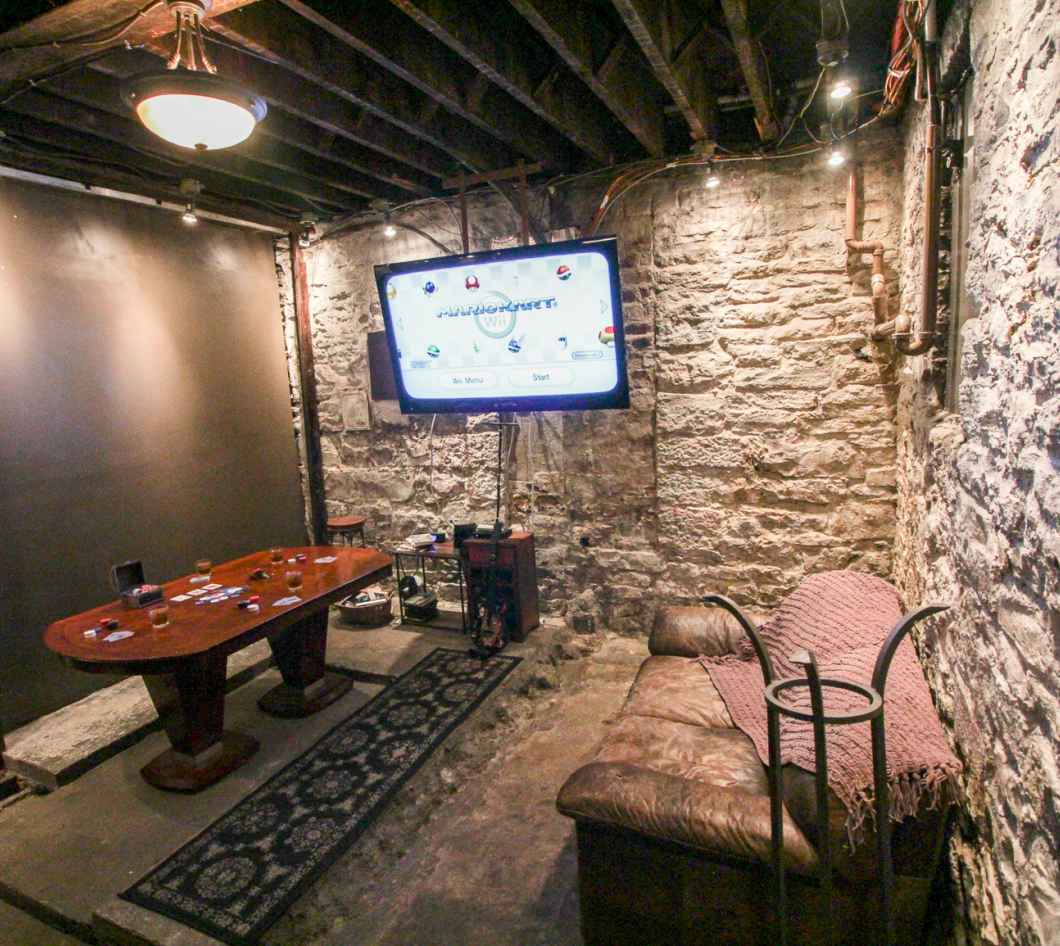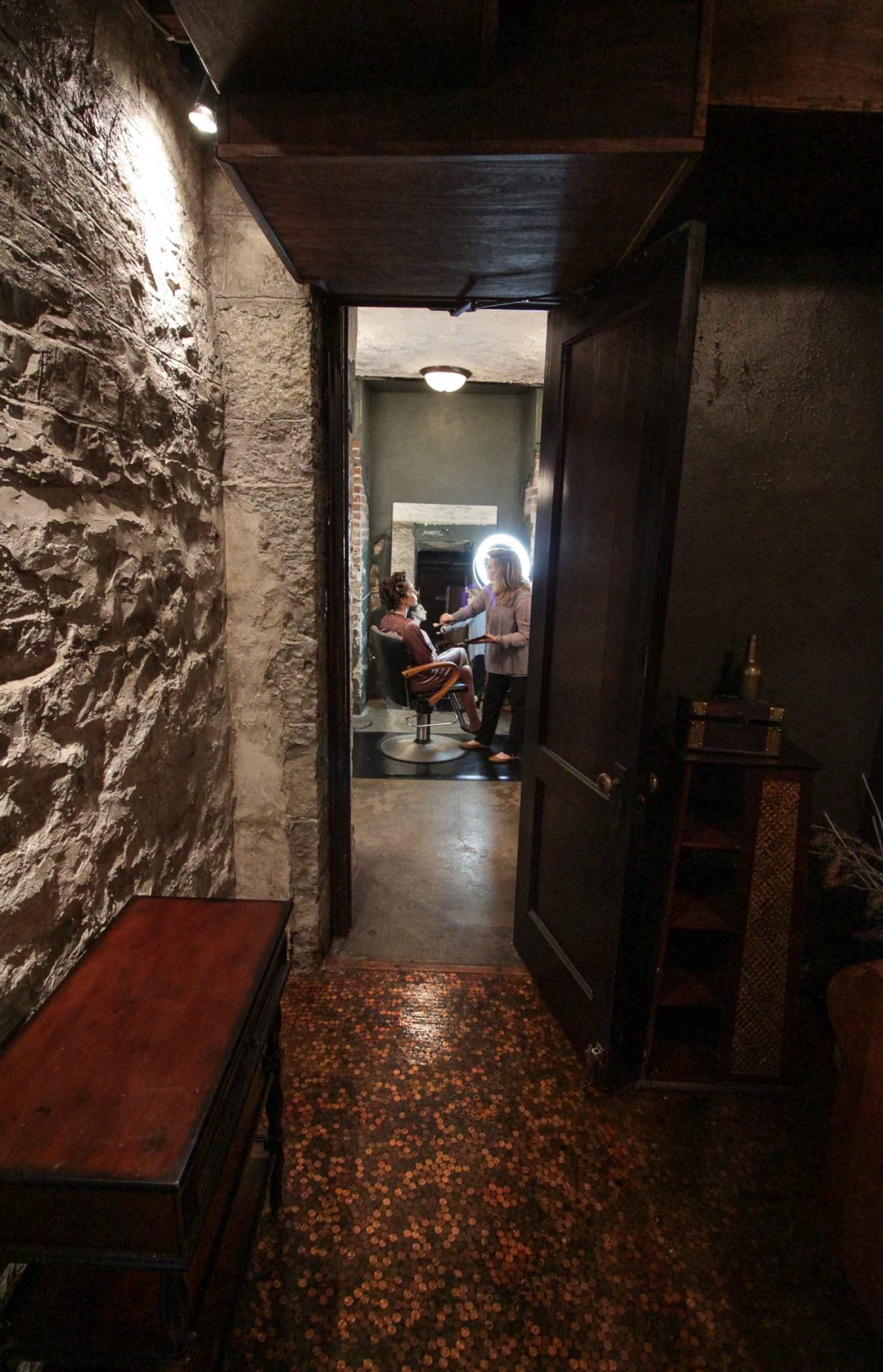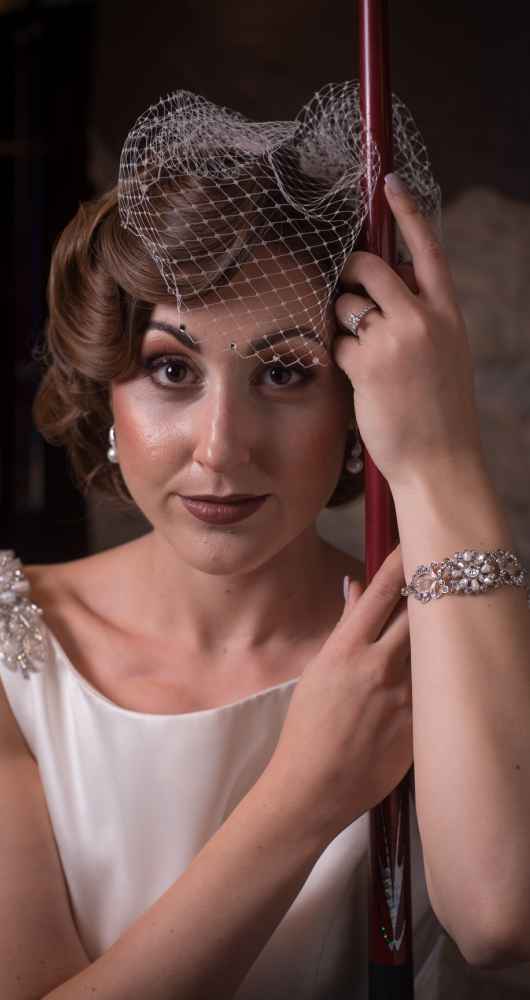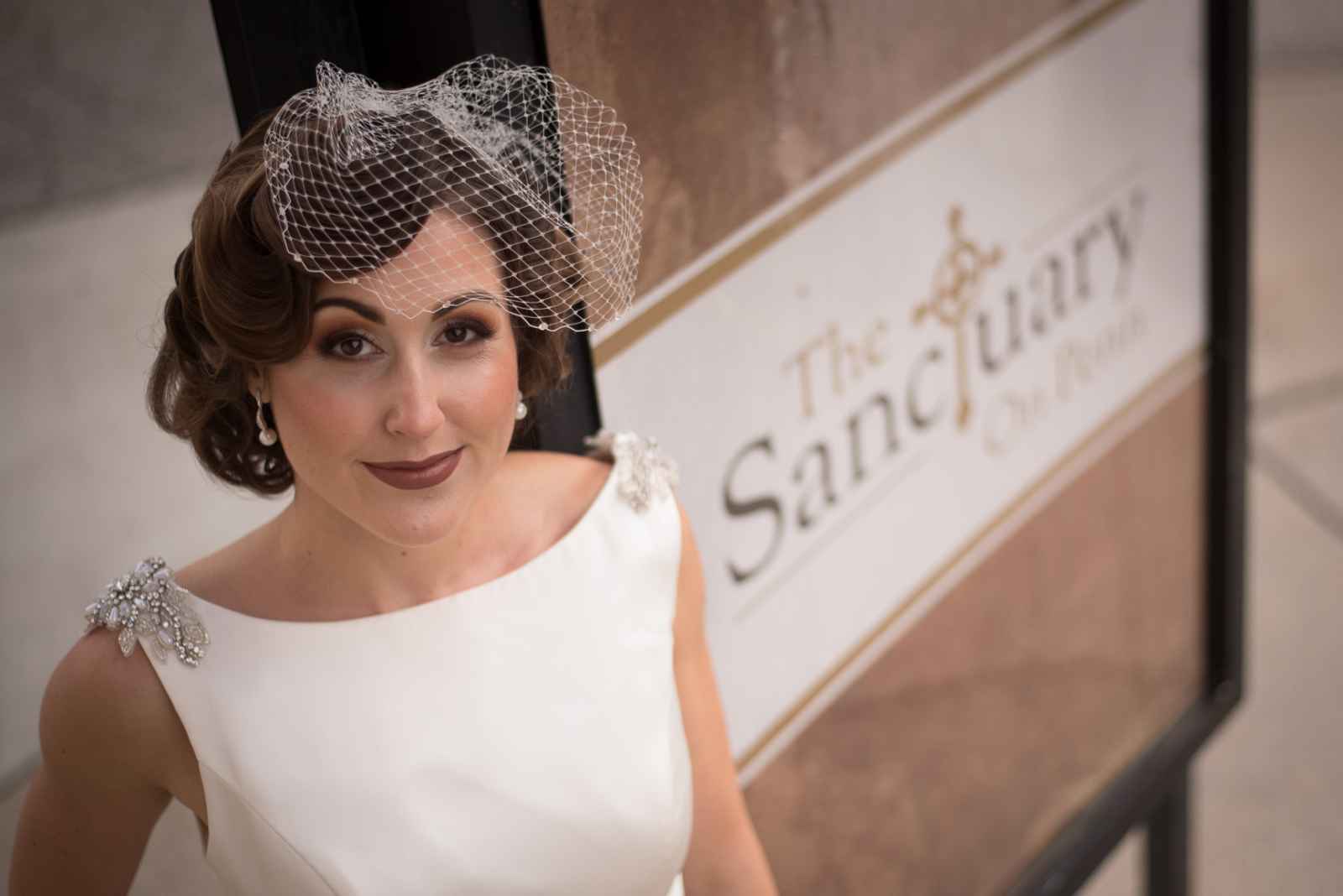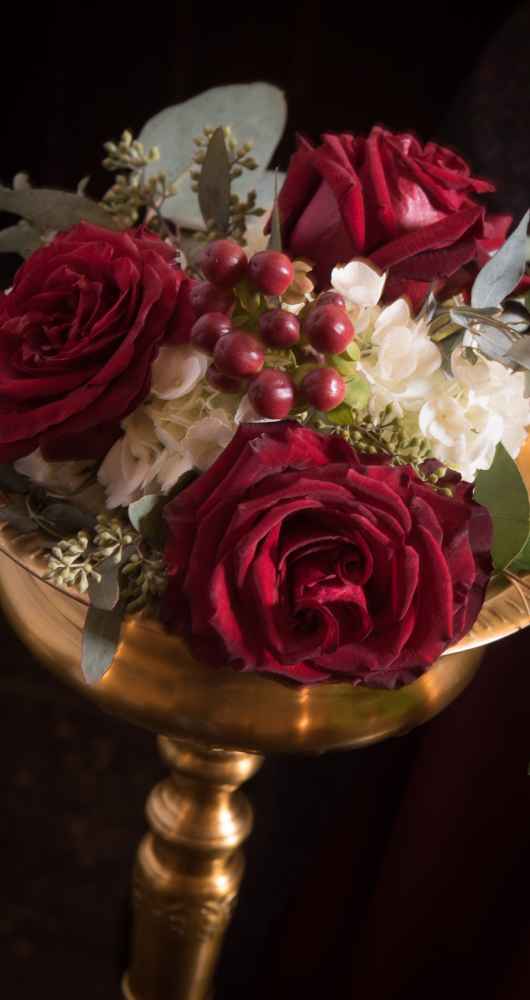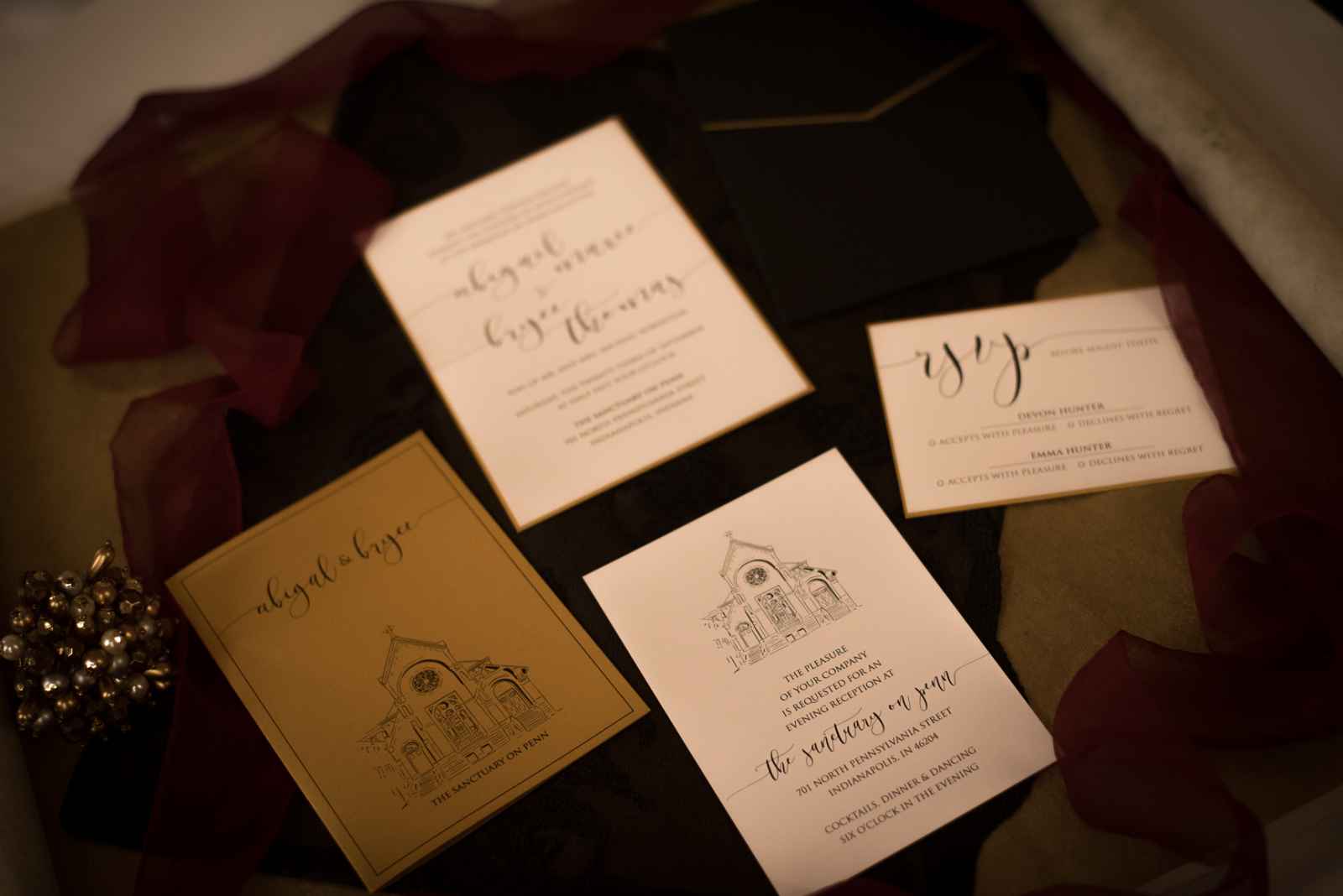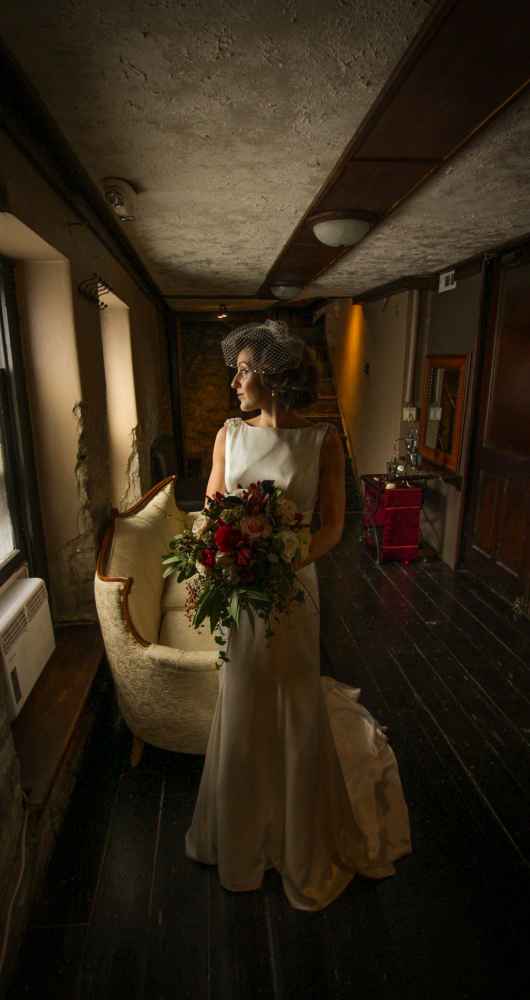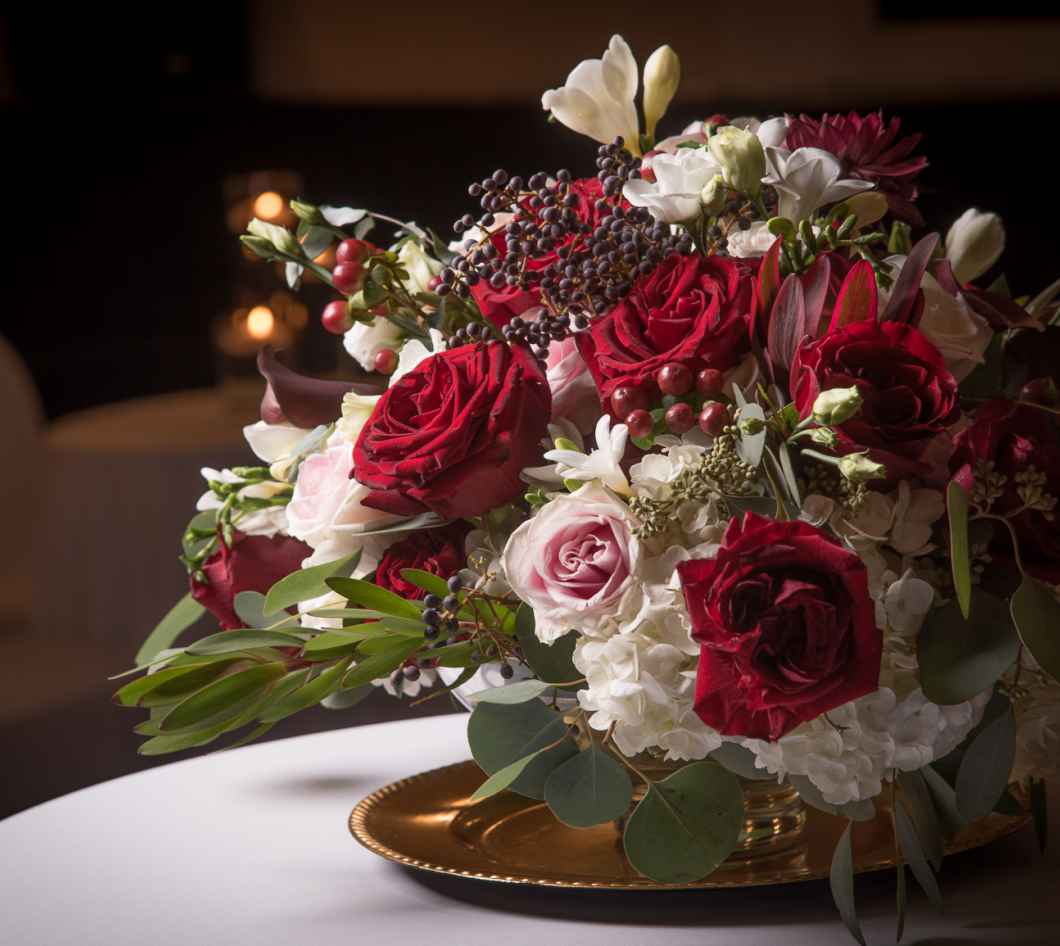 Sarah says, "I have done many style shoots before, but this was my first time being honored to do one for WeddingDay...While I was delighted to collaborate with new vendors, that in itself does bring along challenges. Until you have worked with someone before, you don't really know how well your styles will meld with one another. Of course, I had nothing to worry about because the vendors that had been assembled were beyond fabulous. In fact, we worked so wonderfully together that there are some future collaborations in the works."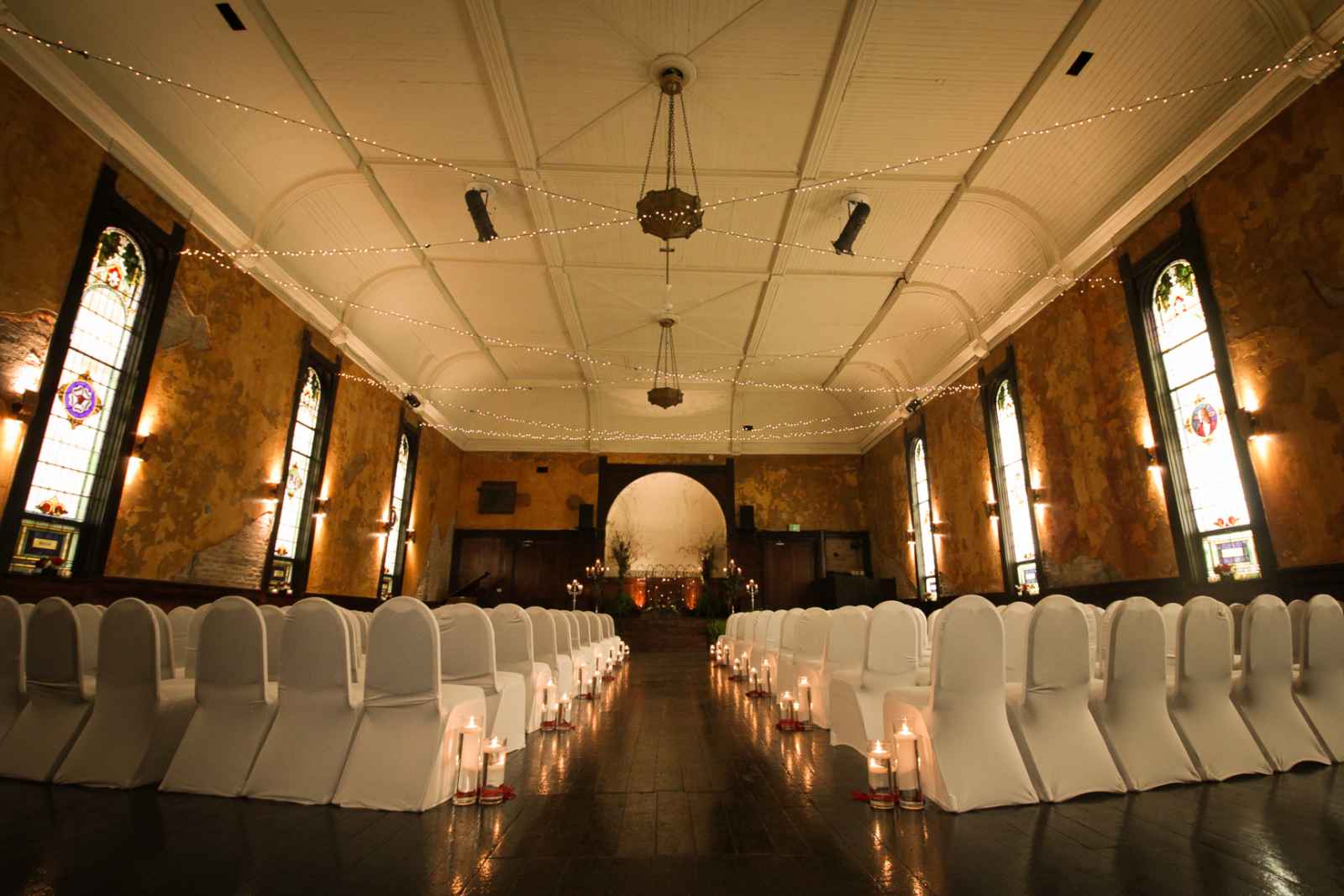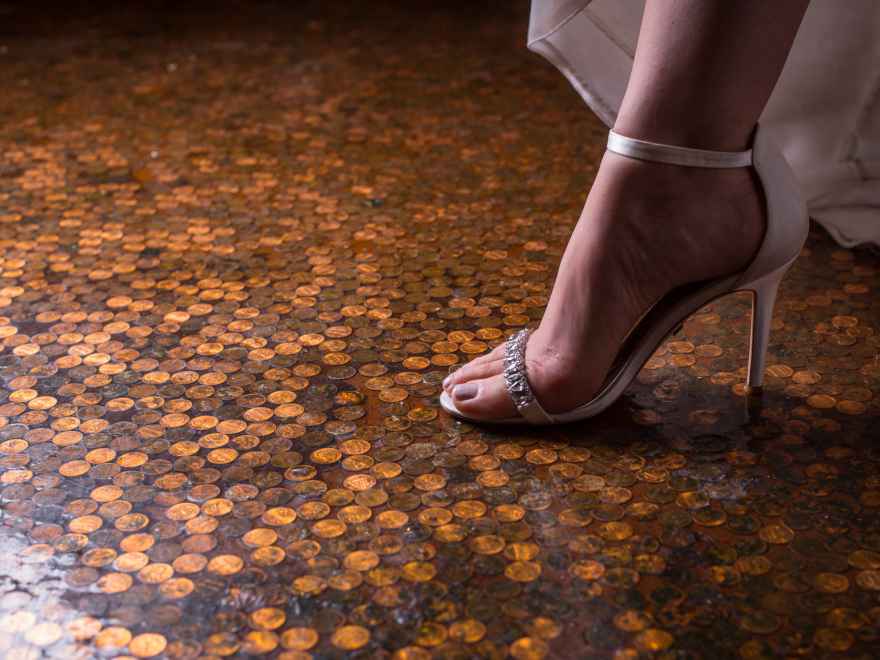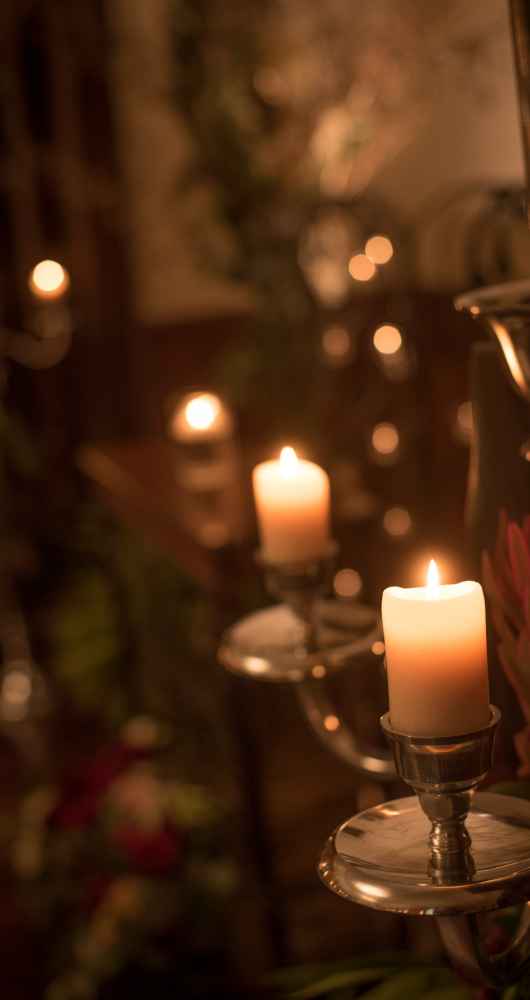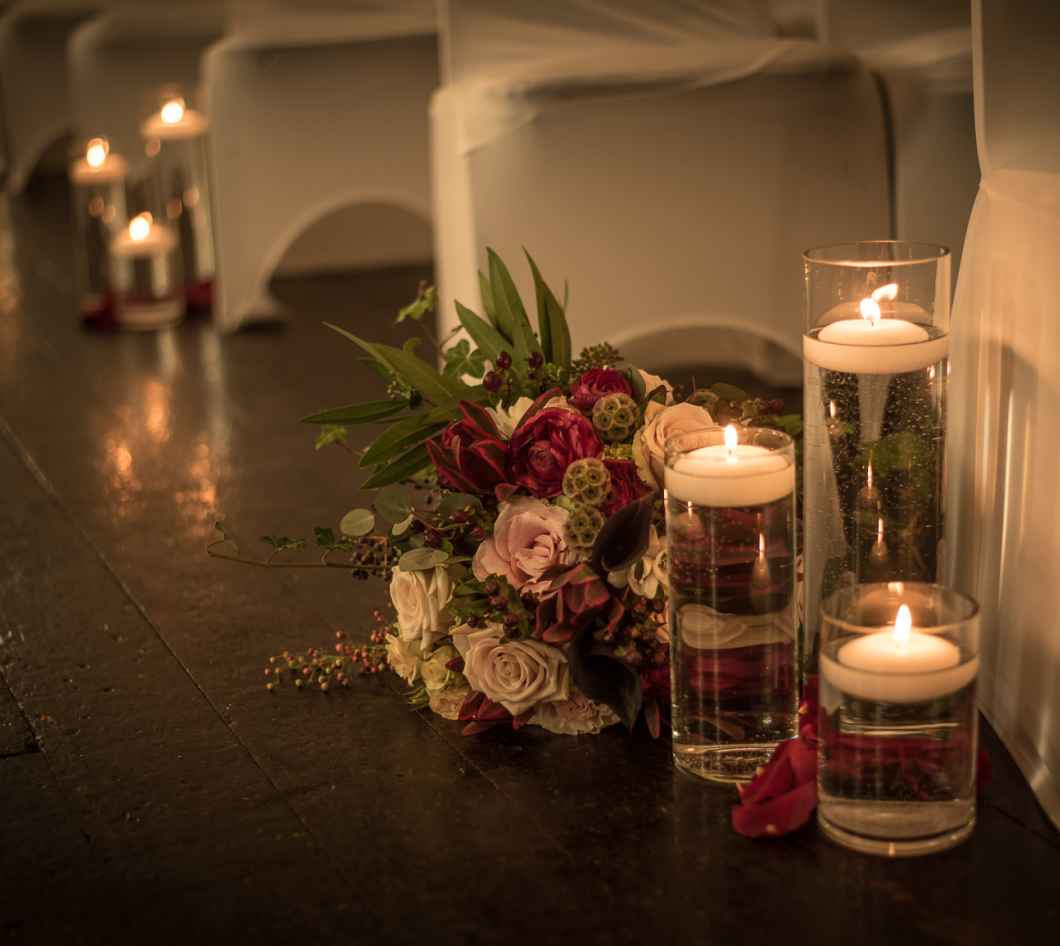 Sanctuary's in-house florists were brought in because they knew the space, and did a fabulous job of pulling the main room together with their stylistic choices. Sarah says, "I wanted drama, and they certainly delivered. Exceptionally lush and richly toned pieces were found throughout the venue, thanks to their creativity."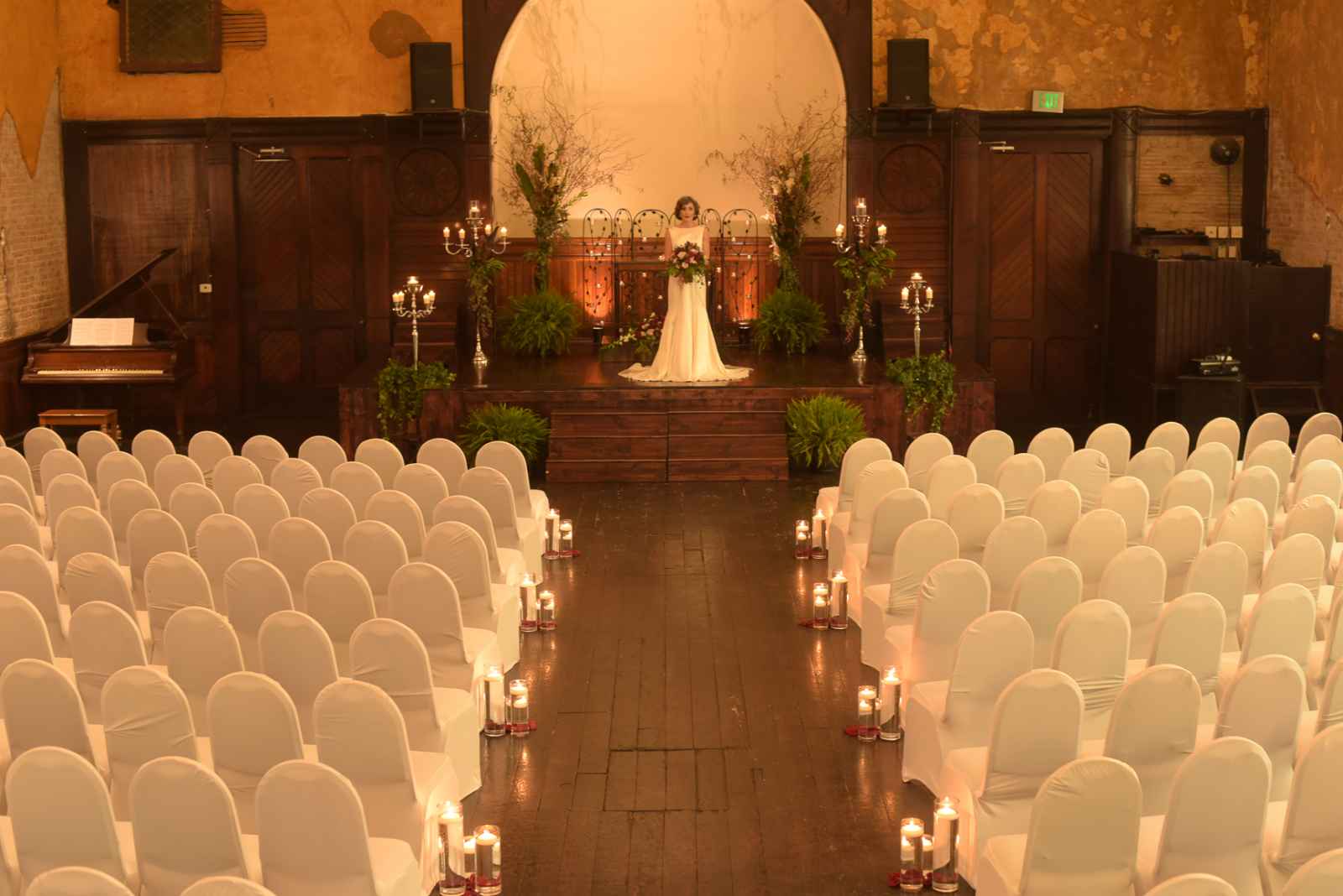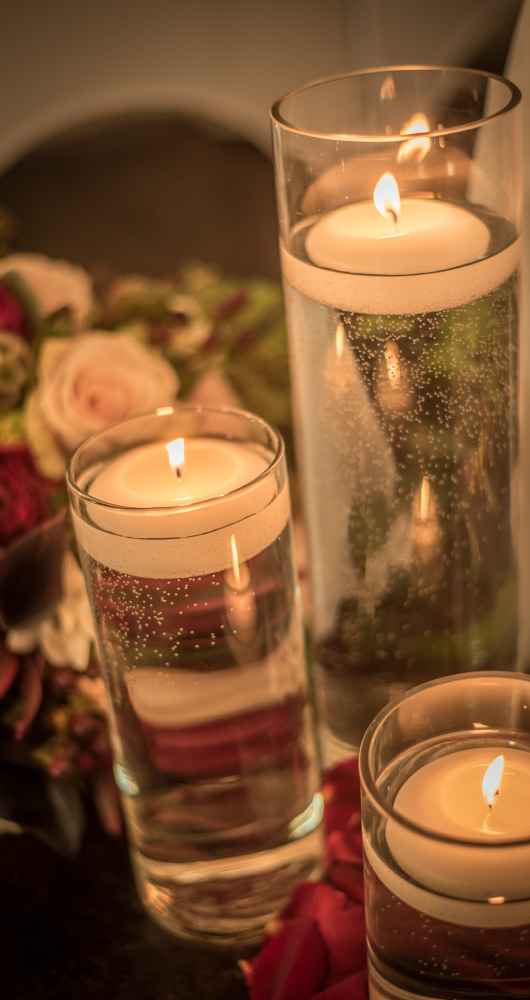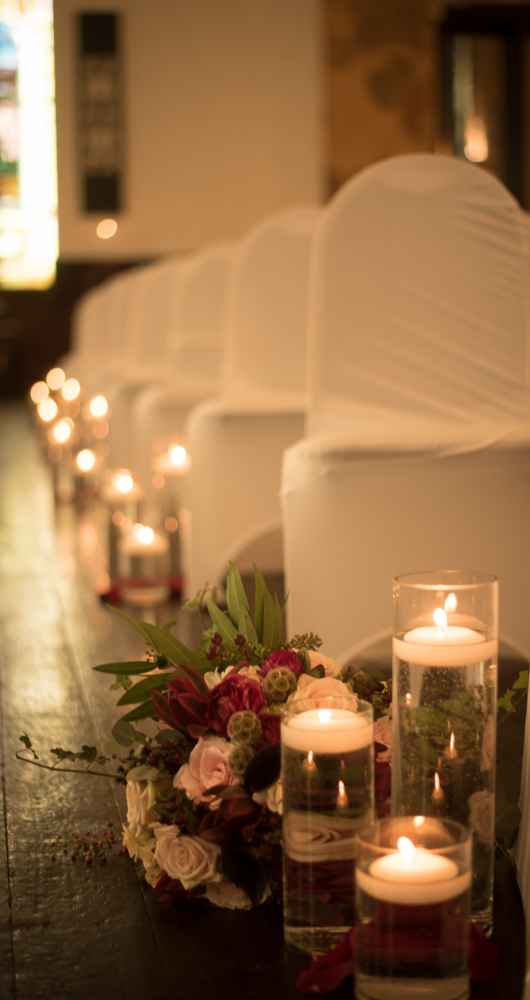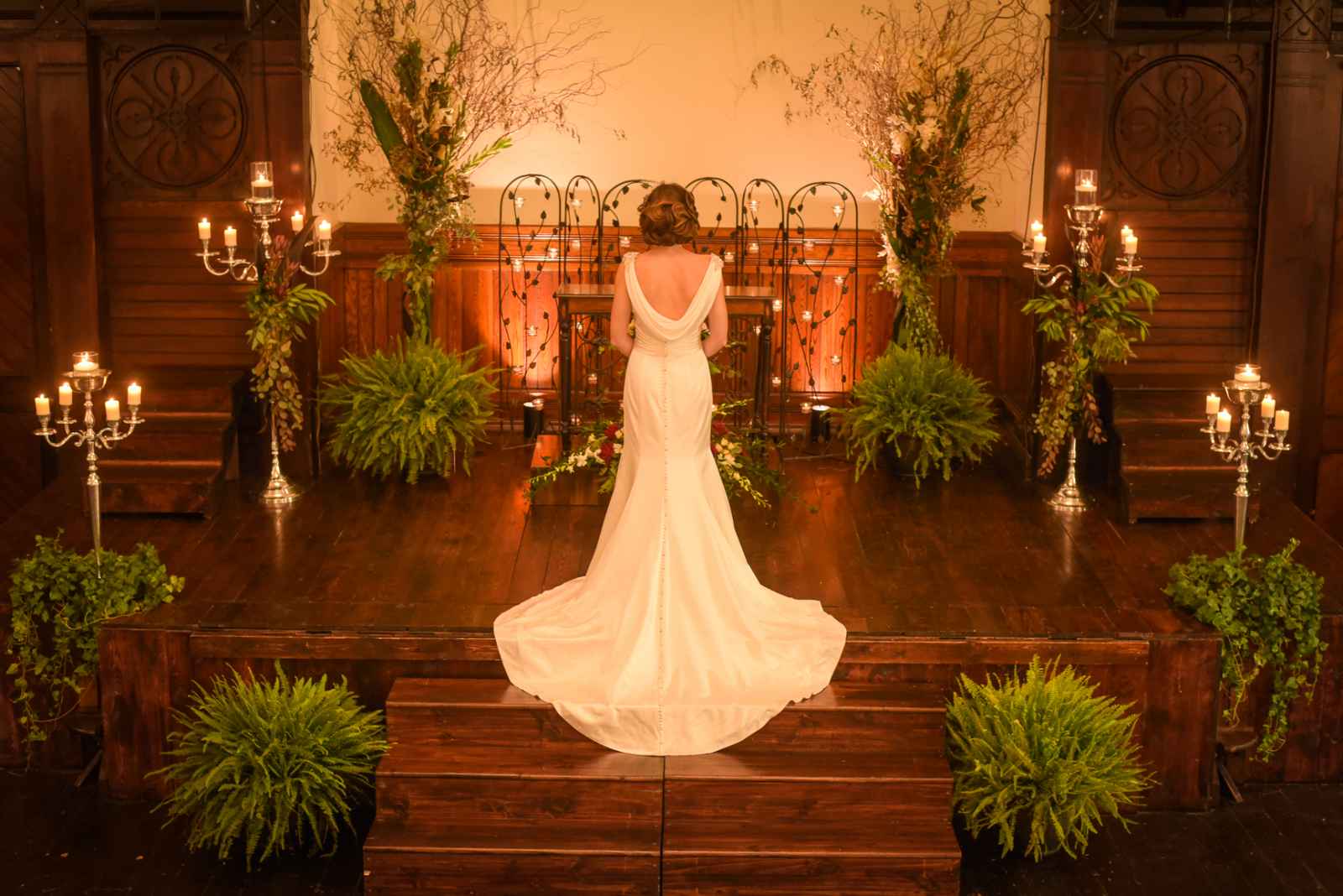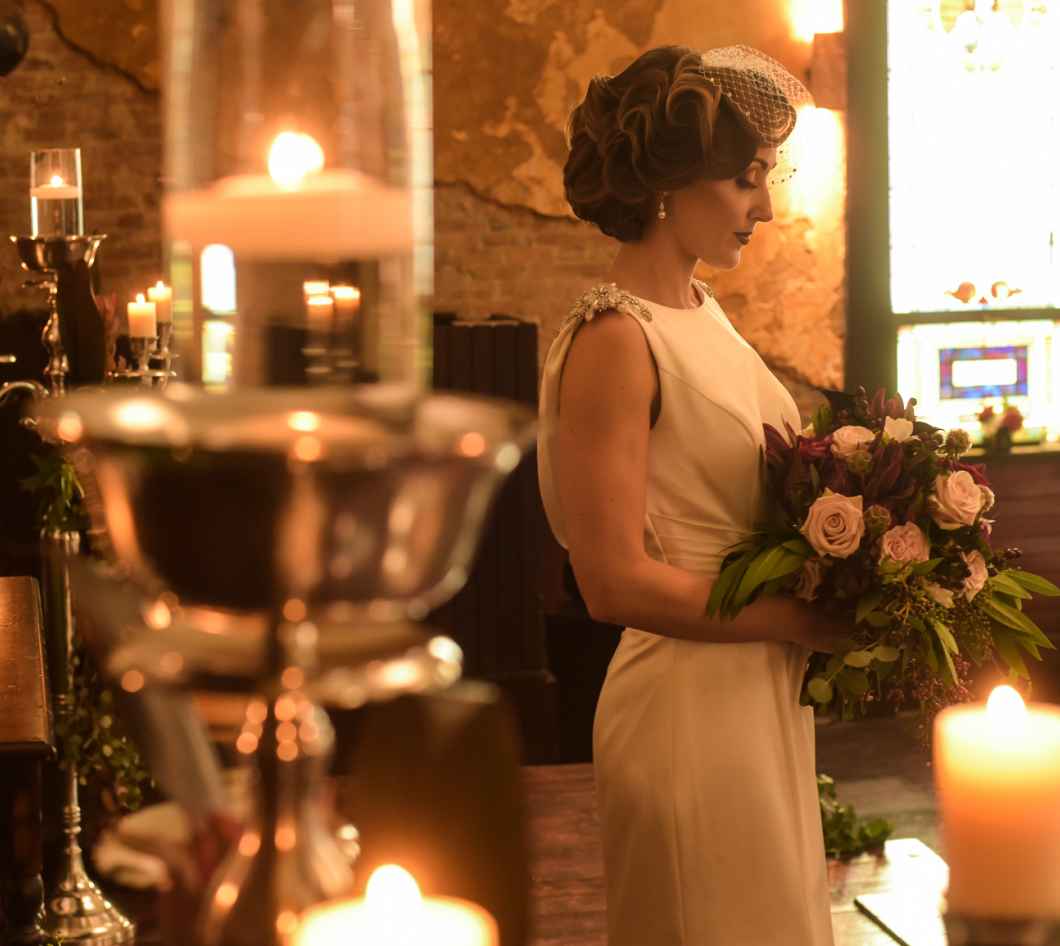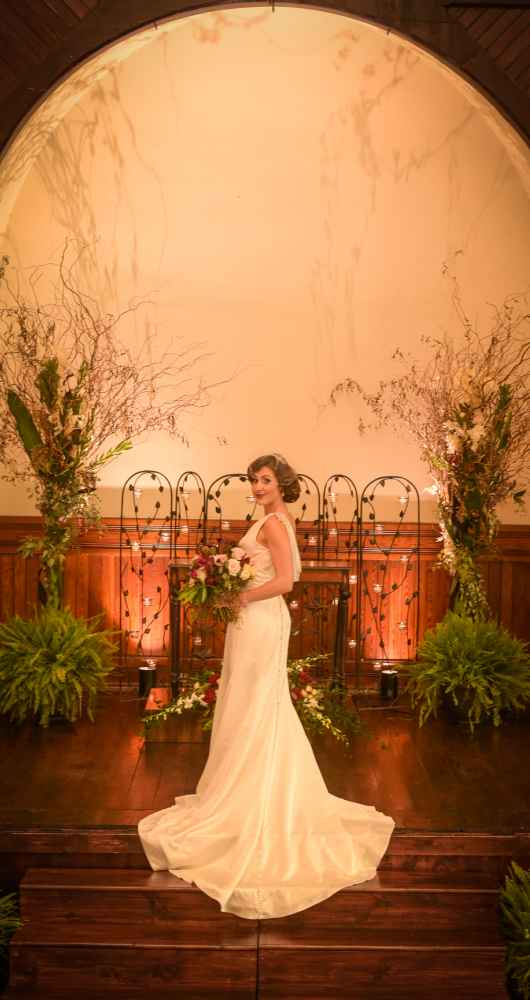 "I'm a huge fan of movies from Hollywood's golden age," says Sarah. "It's no wonder then that I drew inspiration from classic actresses like Katharine Hepburn, Grace Kelly and Lauren Bacall for this style shoot. That inspiration combined with the rich wine color scheme seen throughout lends itself to a classification of old Hollywood meets Sonoma."

From The Sanctuary's unique amenities like the bridal suite, groom suite, hair and makeup room to other fabulous draws like its amazing bars (think pool table and great, lounge feel), people fall in love with all the unexpected aspects this venue has to offer. "I wanted to be sure to please the client by adequately portraying these advantages, but there were so many spaces to capture that the shoot was rather long," says Sarah. "Luckily, the photographer was willing to beautifully capture everything our hearts desired and then some."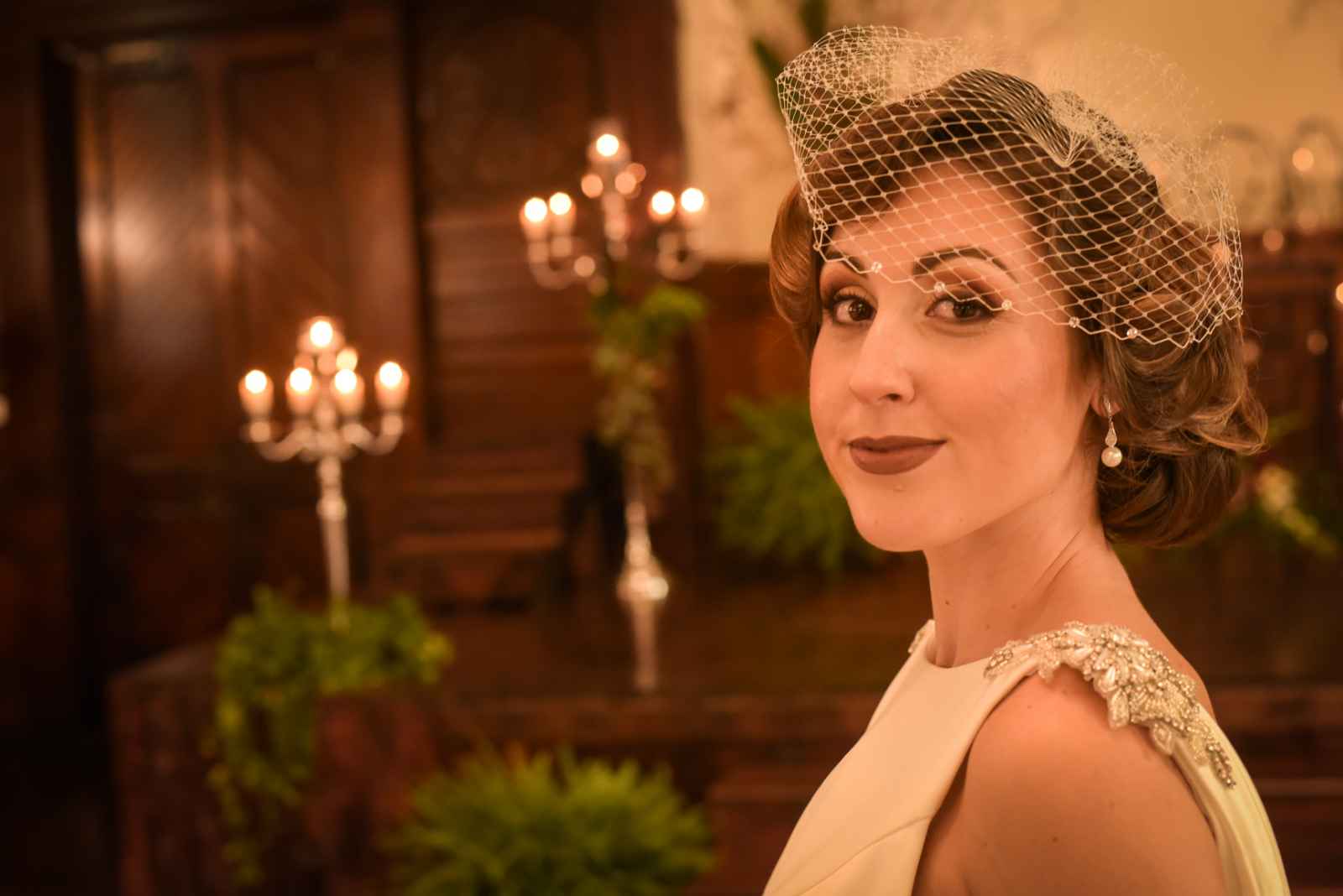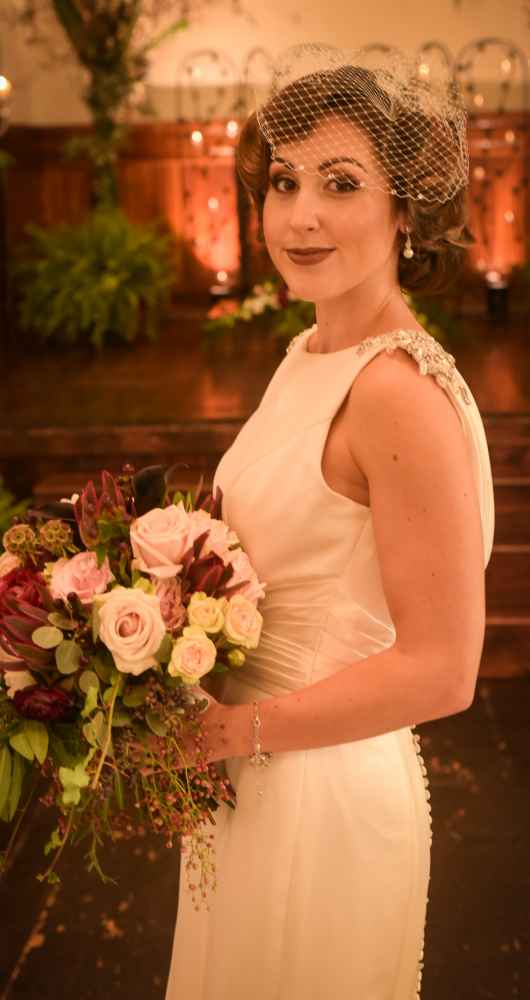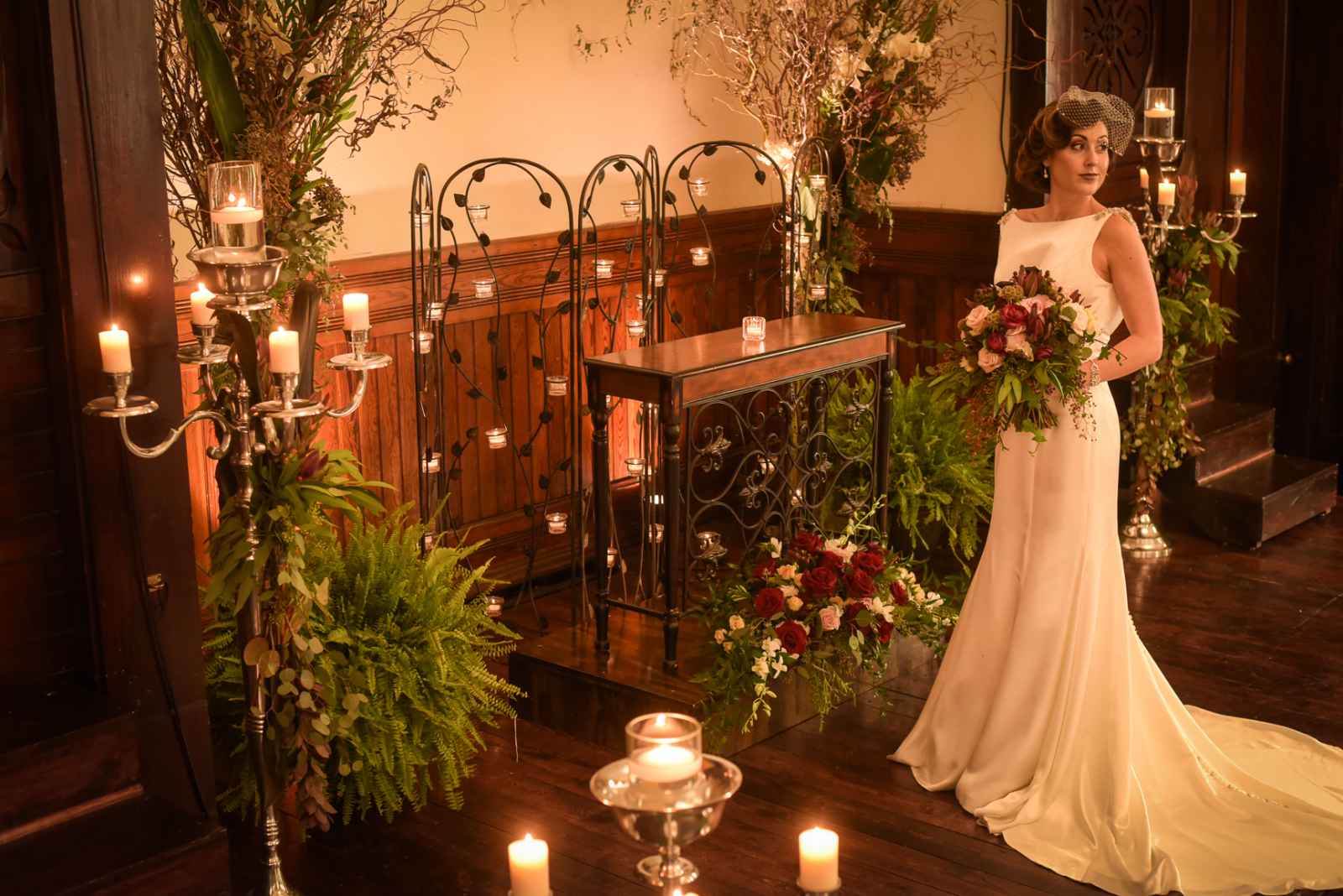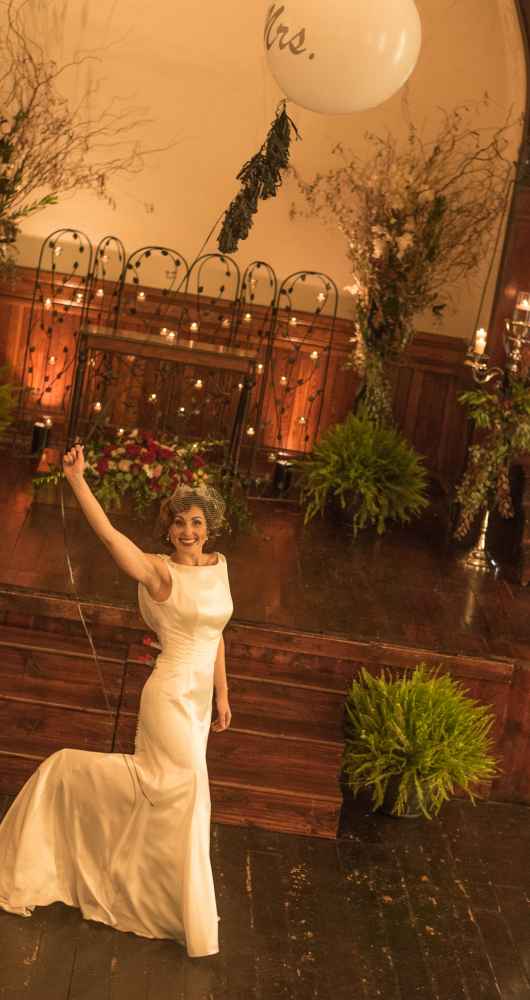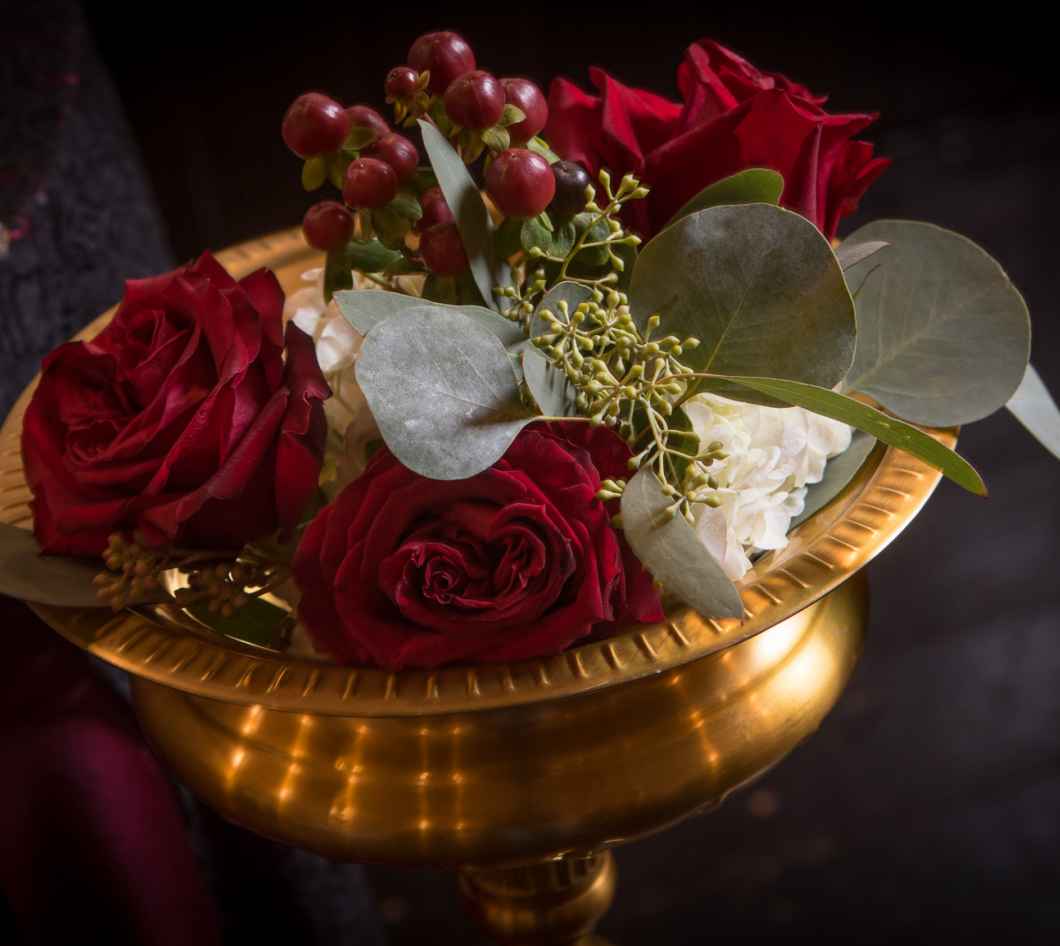 "Having been built as a church in 1875, the building itself exudes history from the moment you enter," says Sarah. "During my initial walkthrough, I quickly felt like I was immersed in another period—a more sophisticated time filled with candlelight, rich wine colors, simple silhouettes and above all, class. I wanted to stay true to the historic nature of the building so I built my style concept around this overall feeling and vision."
Sarah says, "Alyssa, the owner of Beloved Brides, and her staff were incredibly helpful and so knowledgeable about their vast inventory that it made the selection process both smooth and enjoyable." The bride stunned in a satin, mermaid Justin Alexander gown. The cowl open back and cascading satin buttons were the perfect nods to Hollywood. The look was completed with styling of sleek, old Hollywood waves accented by a birdcage veil while cabernet and neutral colors were infused throughout the makeup.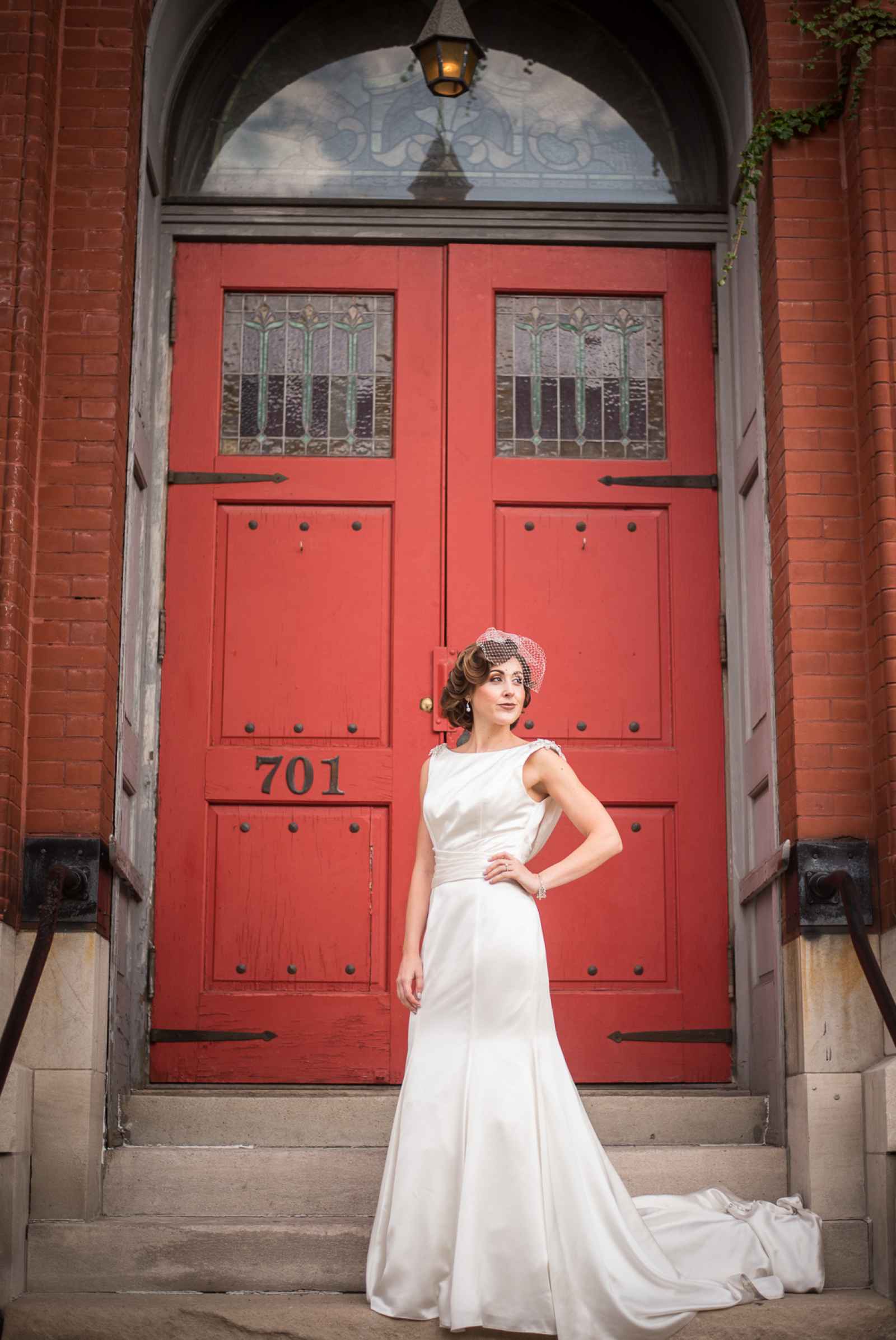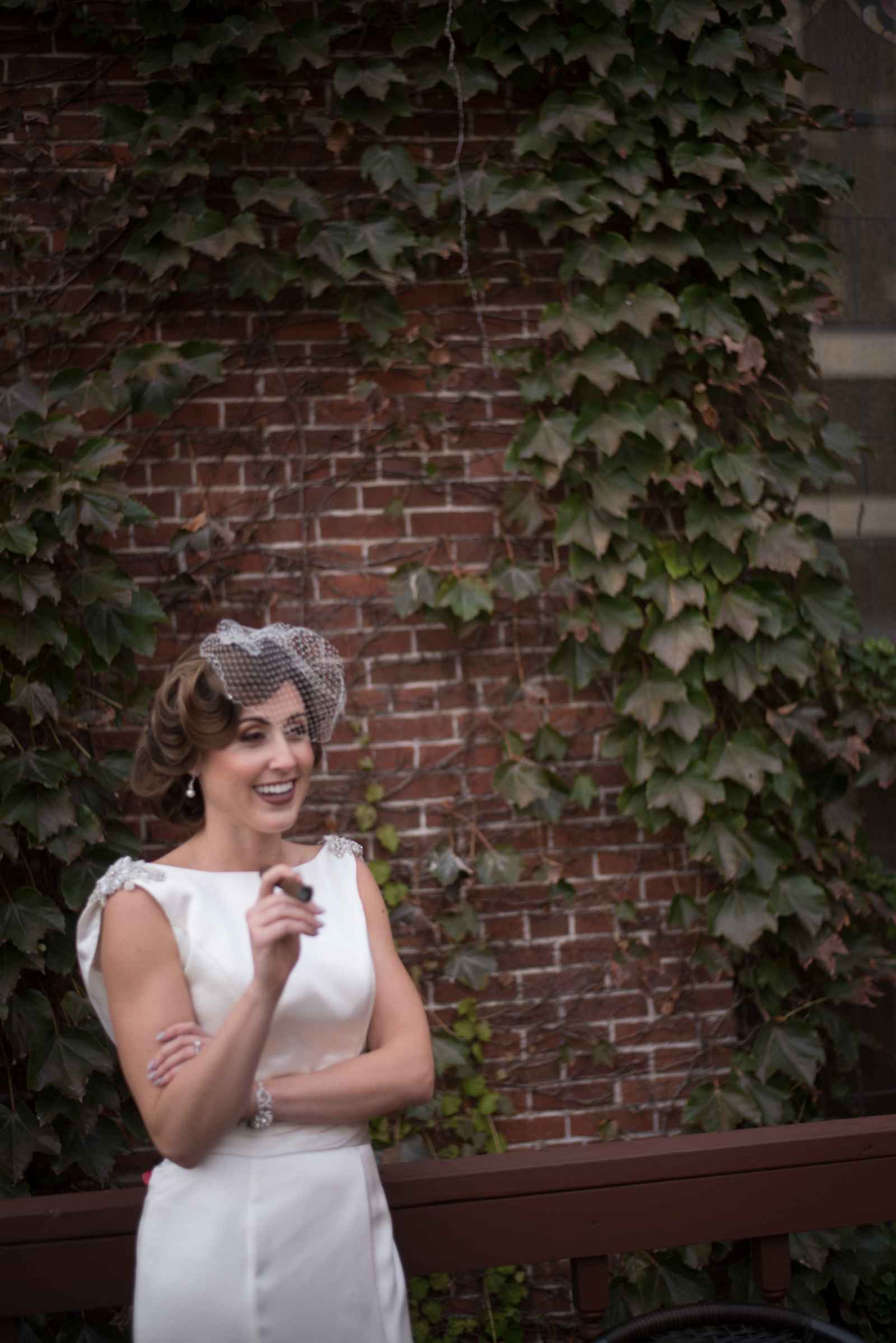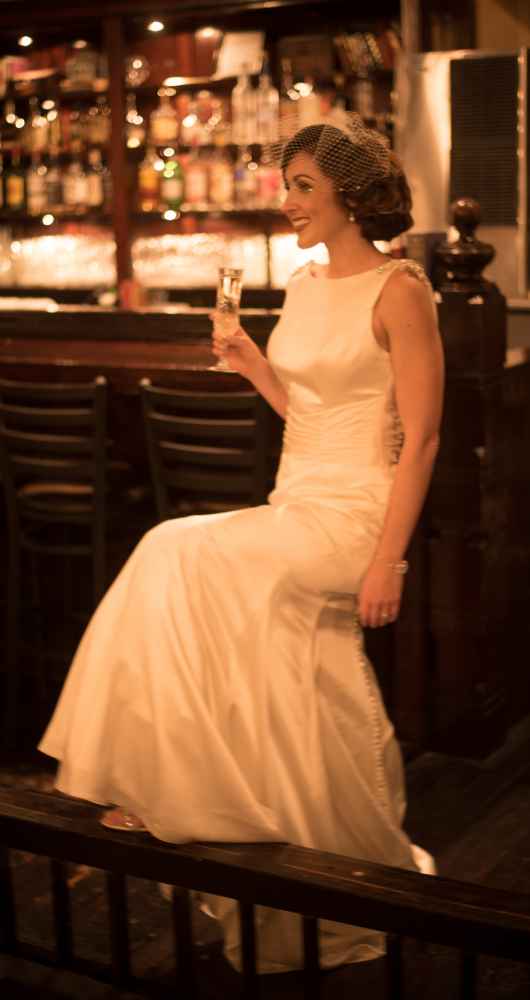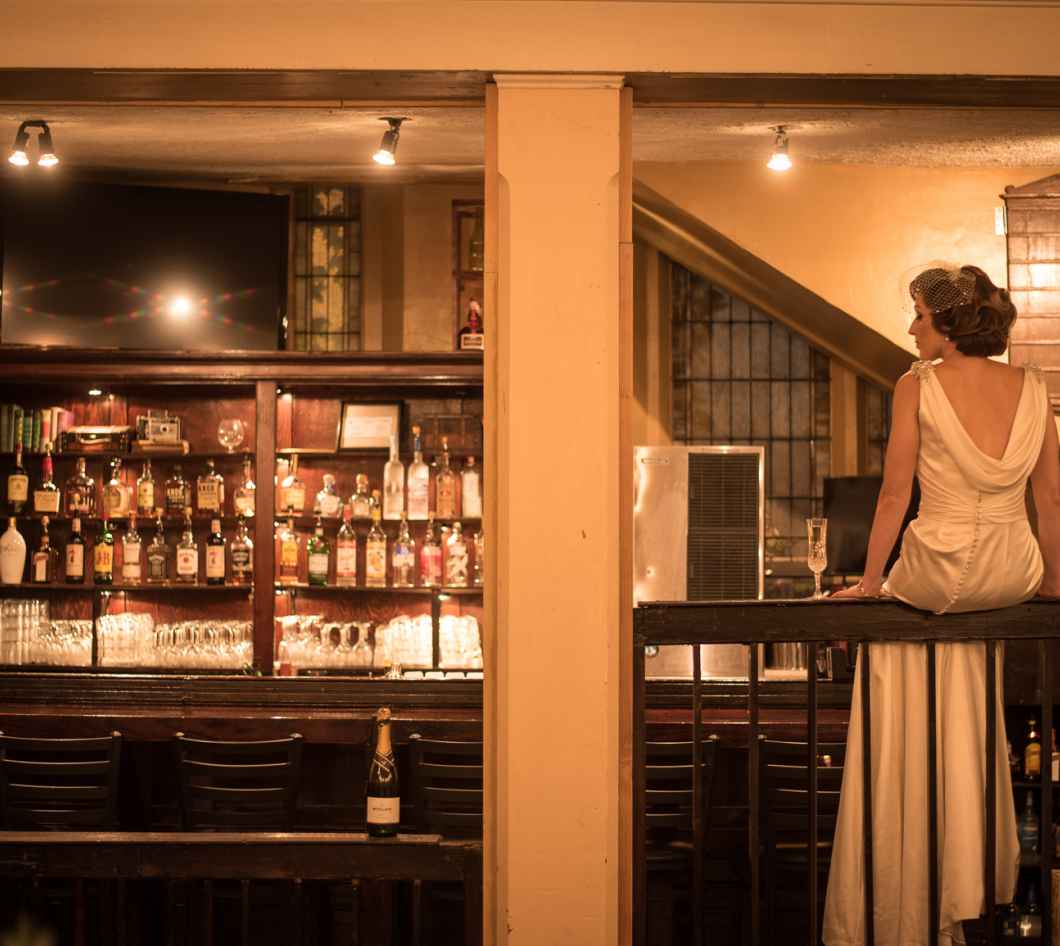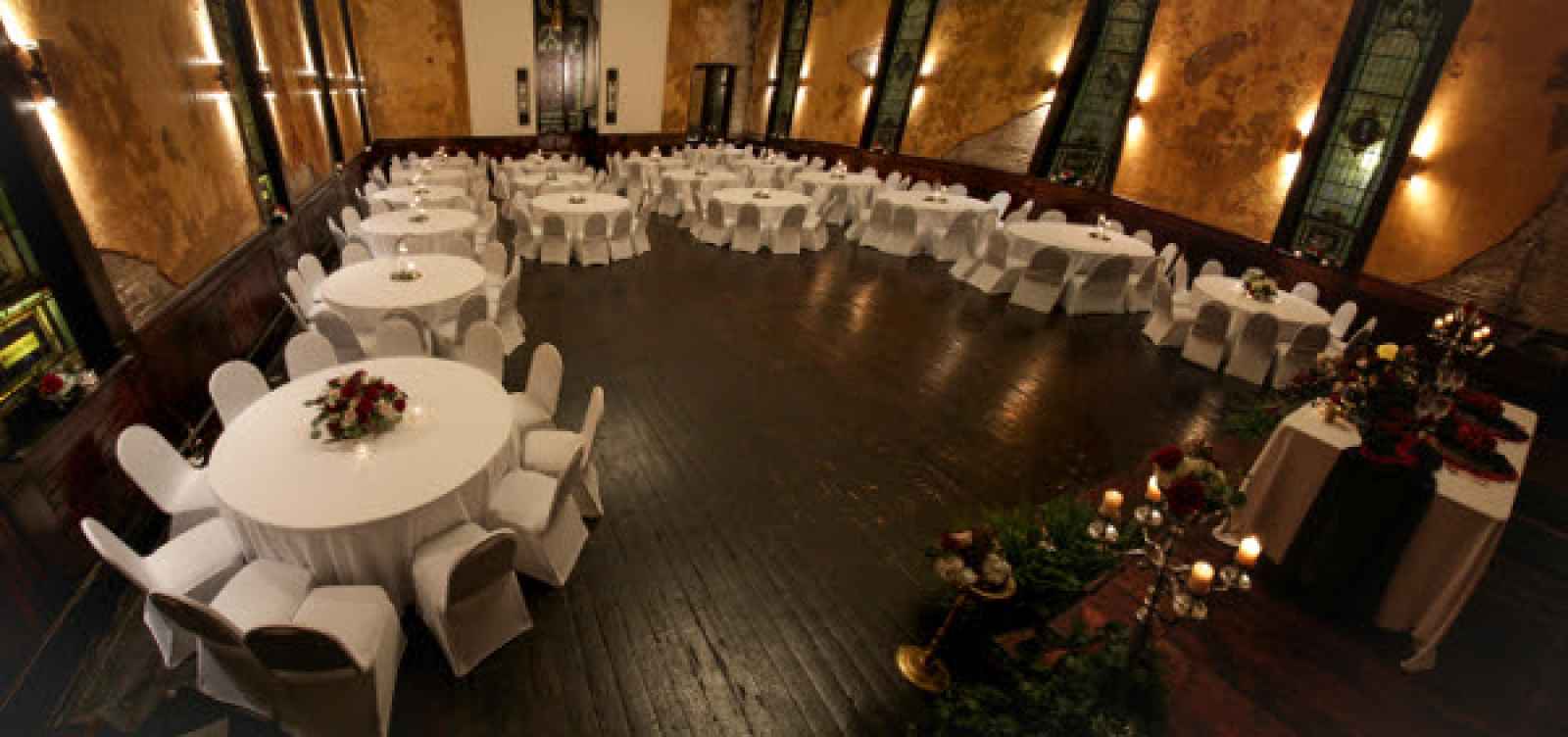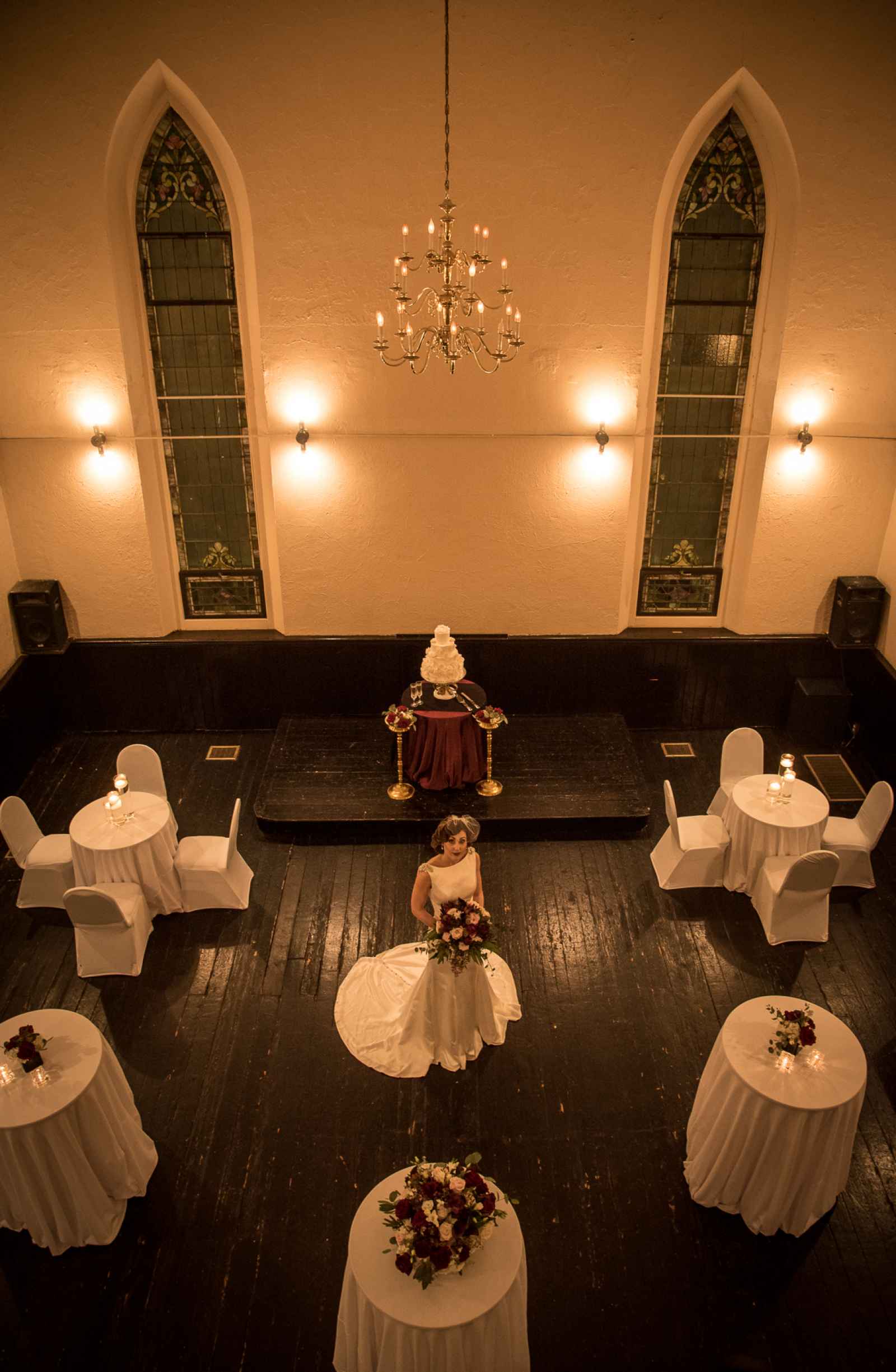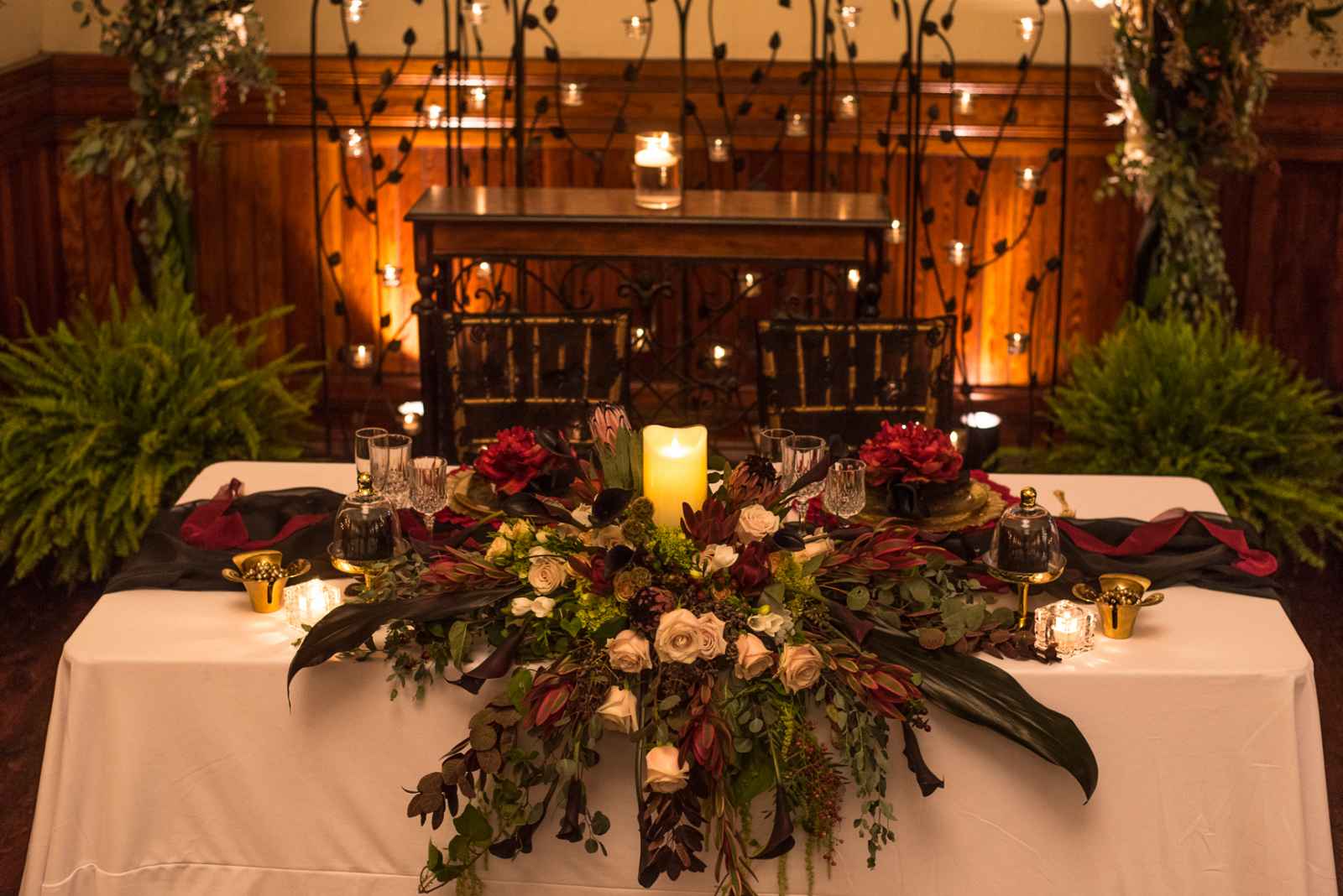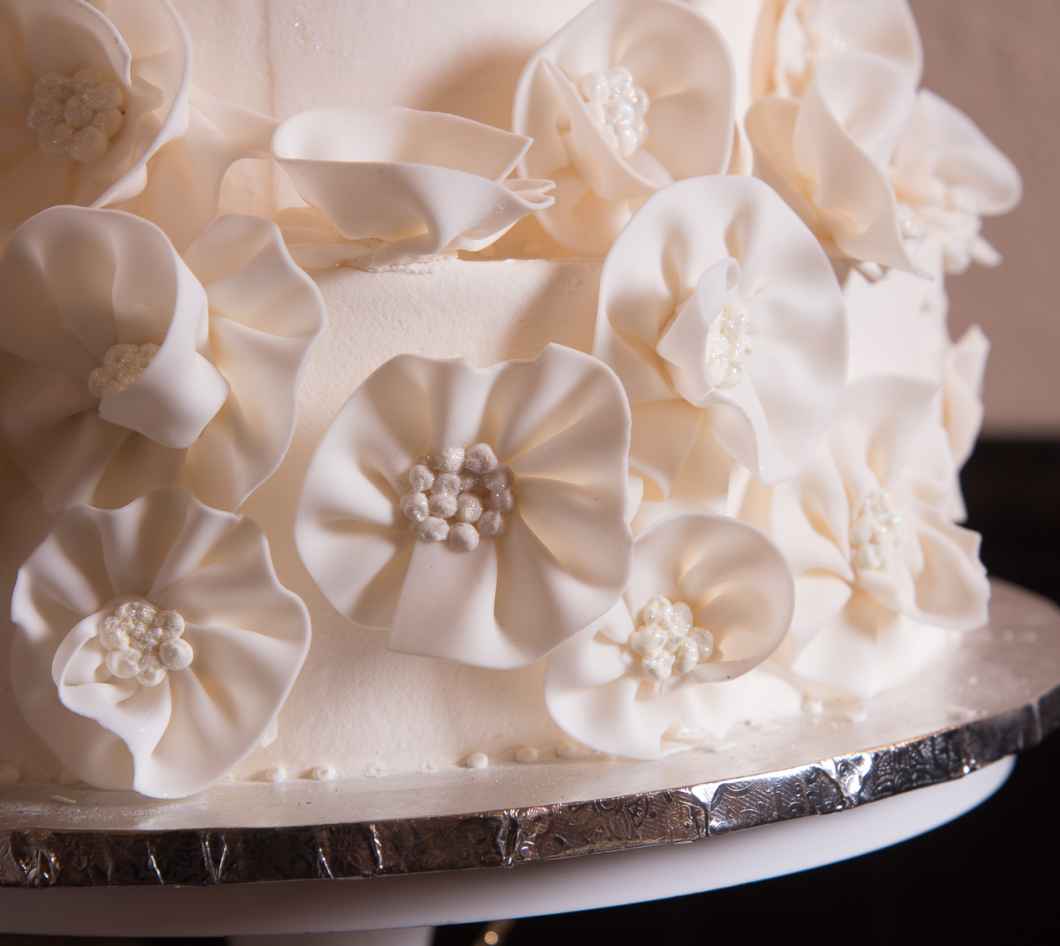 "Since I wanted the venue and the bride to serve as the main features of the shoot, I had to ensure that the cake played an appropriately themed, yet supporting role," says Sarah. "I have worked with Classic Cakes numerous times, and on every occasion they have produced a stunning piece that fits my vision and needs. This time was no exception. The elaborate gum paste flowers that adorned the four-tiered buttercream cake served as the perfect embellishment to showcase elegance, but at the same time, not overpower the scene. As an added touch, each flower was dusted with shimmer as a subtle nod to the flickering candlelight found throughout the space."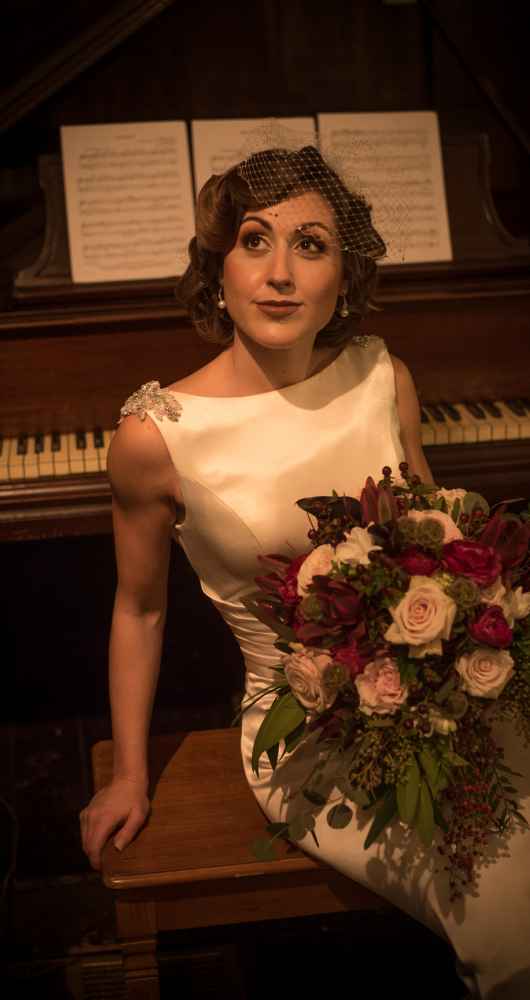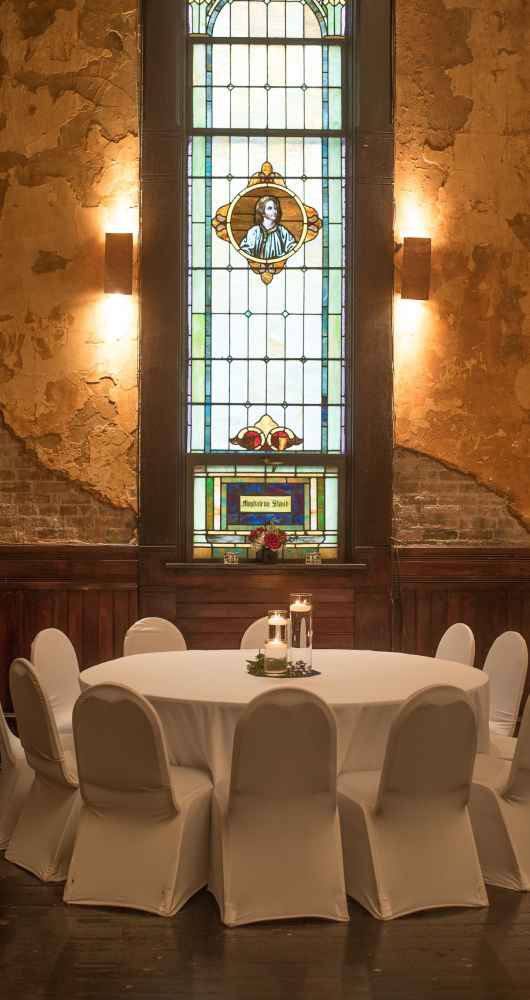 "It was very important to the venue that a blank slate of white be utilized for all of the tables so as to create focus on the scope of the space," says Sarah. "To honor this wish, a lot of natural candlelight was utilized as accents. The exception to that, however, was the alter, sweetheart table and cake table. I was able to obtain these stunning and magnificently large silver candelabras to flank the alter from WOW Factors Event Furniture & Décor. They were so wonderful that I kept them for the sweetheart table as well. Regarding the sweetheart table, I wanted to utilize this instead of a king's table so as to give the couple an intimate setting inside such a vast space."
The sweetheart table was covered with a onyx velvet linen and accented with burgundy lamour napkins as well as gold sea sponge chargers all by BBJ linen. The napkins were cinched with dramatic, floral napkin rings from Pier One. Also from Pier One were the equally vivid floral placemats and the gold rimmed china. To complete the table, regal abbey gold flatware, black stemmed champagne flutes and acro cut crystal stemware were provided by A Classic Party Rental. The picturesque setting for the couple was made whole with two gold chiavari chairs from A Classic Party Rental that were topped with black Chantilly lace chair caps provided by BBJ Linen. Not to be outdone, the cake table was draped in luscious burgundy lamour with a black downton shimmer lace runner courtesy of BBJ Linen. Finally, side accompaniments of brass candelabras from A Classic Party Rental drew attention to the cake area having been topped with arrangements by Post Road English Garden.
Eileen of Noteworthy Expressions designed a vivid invitation palette of black, gold and white, and Laura with Laura Reilly Calligraphy was tasked with hand drawing a beautiful and intricate sketch of The Sanctuary on Penn for the ceremony program.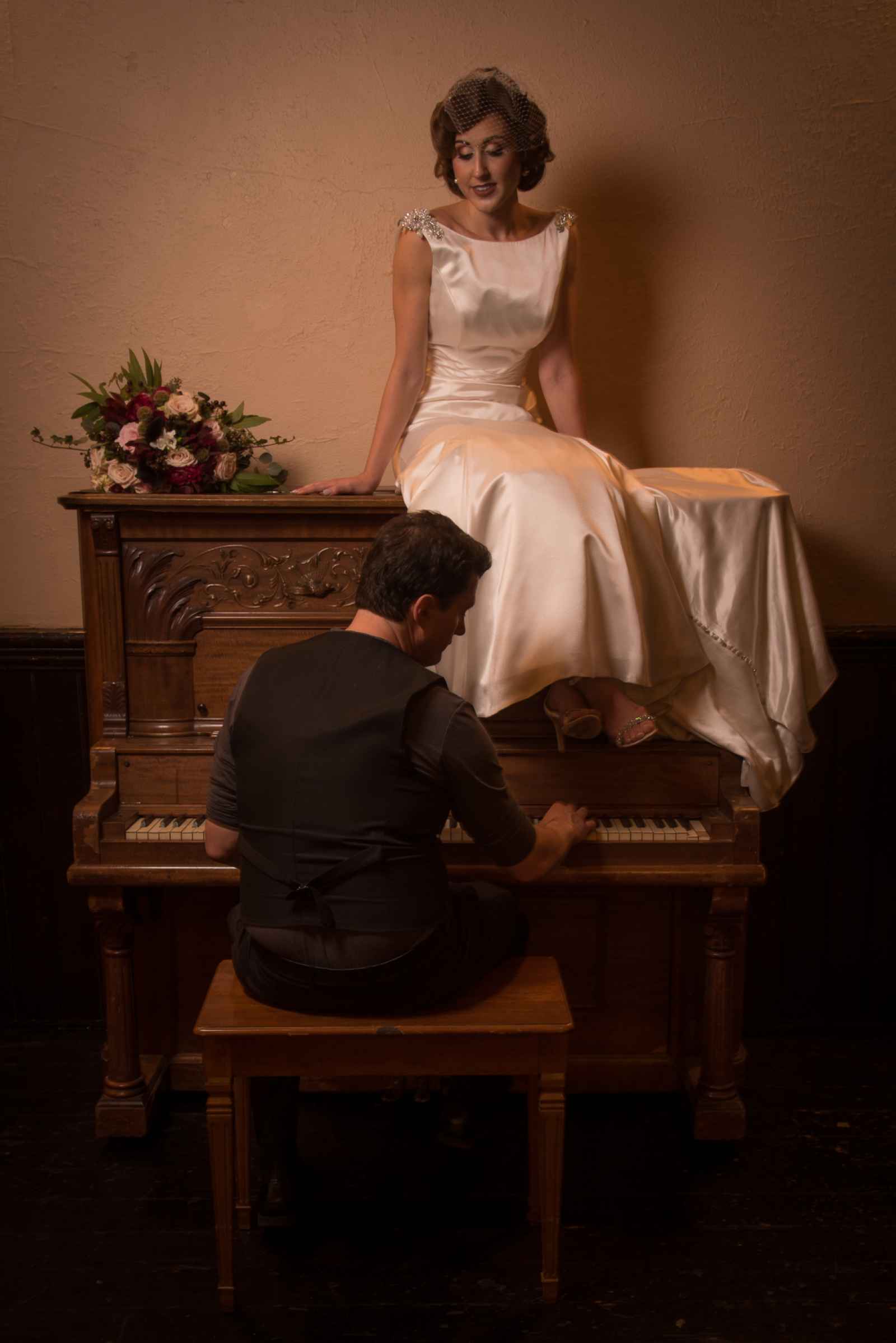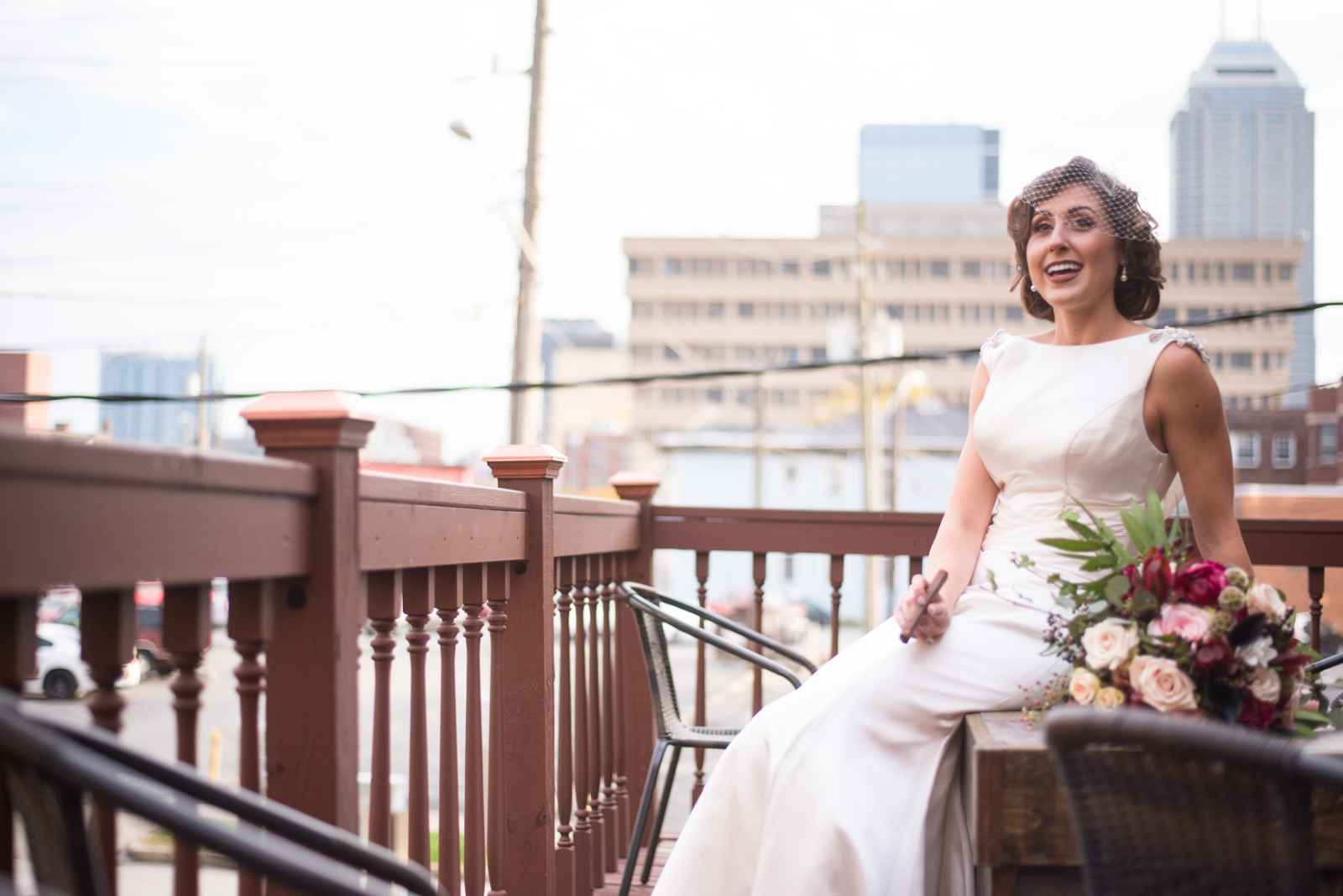 are you a bride-to-be?
We'd love to plan with you on weddingday-online.com. Let's get started!
 
are you a wedding extraordinaire?
Join WeddingDay Magazine in inspiring brides by partnering with us! See how here.