The Vision
All it took was a quick glance at a watercolor wedding invitation and we fell head over heels proving that love at first sight is quite possible. What was once simply a method of painting has transformed into an artistic direction for weddings and it's not just limited to the stationery, either. The watercolor trend has seeped into wedding cakes, flowers, table décor and even linens. Once our editorial team started exploring the possibilities of watercolor, it turned into one of those can't-stop, won't-stop ordeals. 
Our minds were made up: the whimsical, watercolor inspiration deserved a place in our hearts and on our cover. We enlisted the creative direction of planner and designer Jenah Pfeiffer of In My Red High Heels, a creative design company in northern Indiana. A collaborative effort was established between a team of wedding vendors who rose to the challenge of designing watercolor elements that would be complementary, yet not competitive with one another. The end result was a bursting kaleidoscope of pastels in every direction.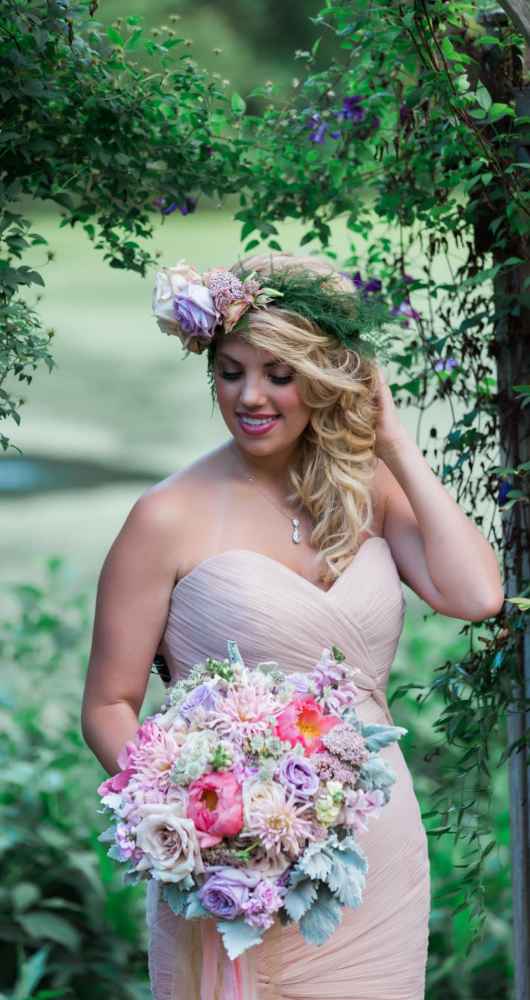 The Floral
The flower details, designed by Marco Alexzondra, were an essential element as they had to accent the watercolor tones while being careful to not overtake them. The floral rings, bouquet, centerpieces, and the bride's headpiece were carefully created using pink, white and lavender larkspur, snapdragons, a variety of special roses, poppy pods, lisianthus, peonies, air plants, and many, many more.
The DRESS
The model wore a Watters Starla gown from Here Comes the Dress that showed off the runway's hottest dress trend at the moment: rose gold. It featured lovely blush tones that blended effortlessly with the soft color theme and showed off a full skirt adorned with floating rosettes adding drama and texture to the gown.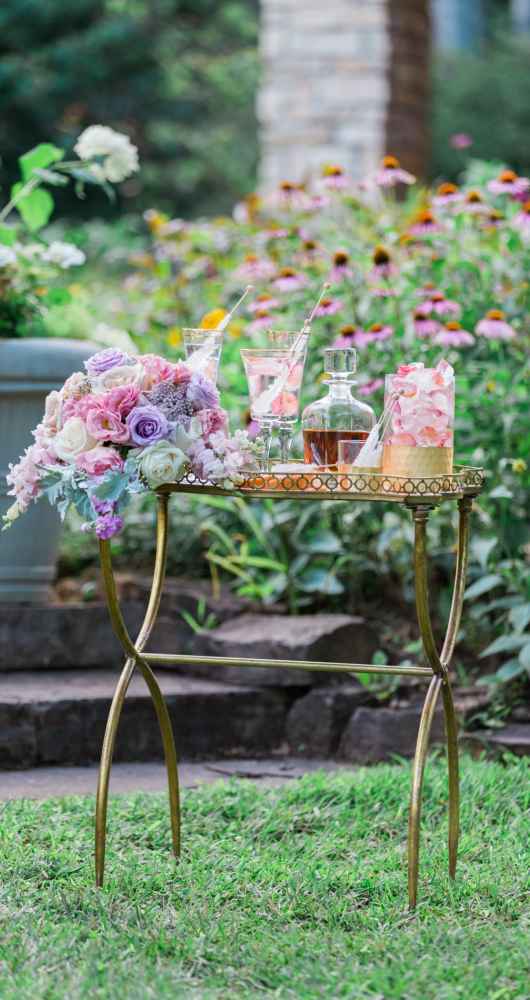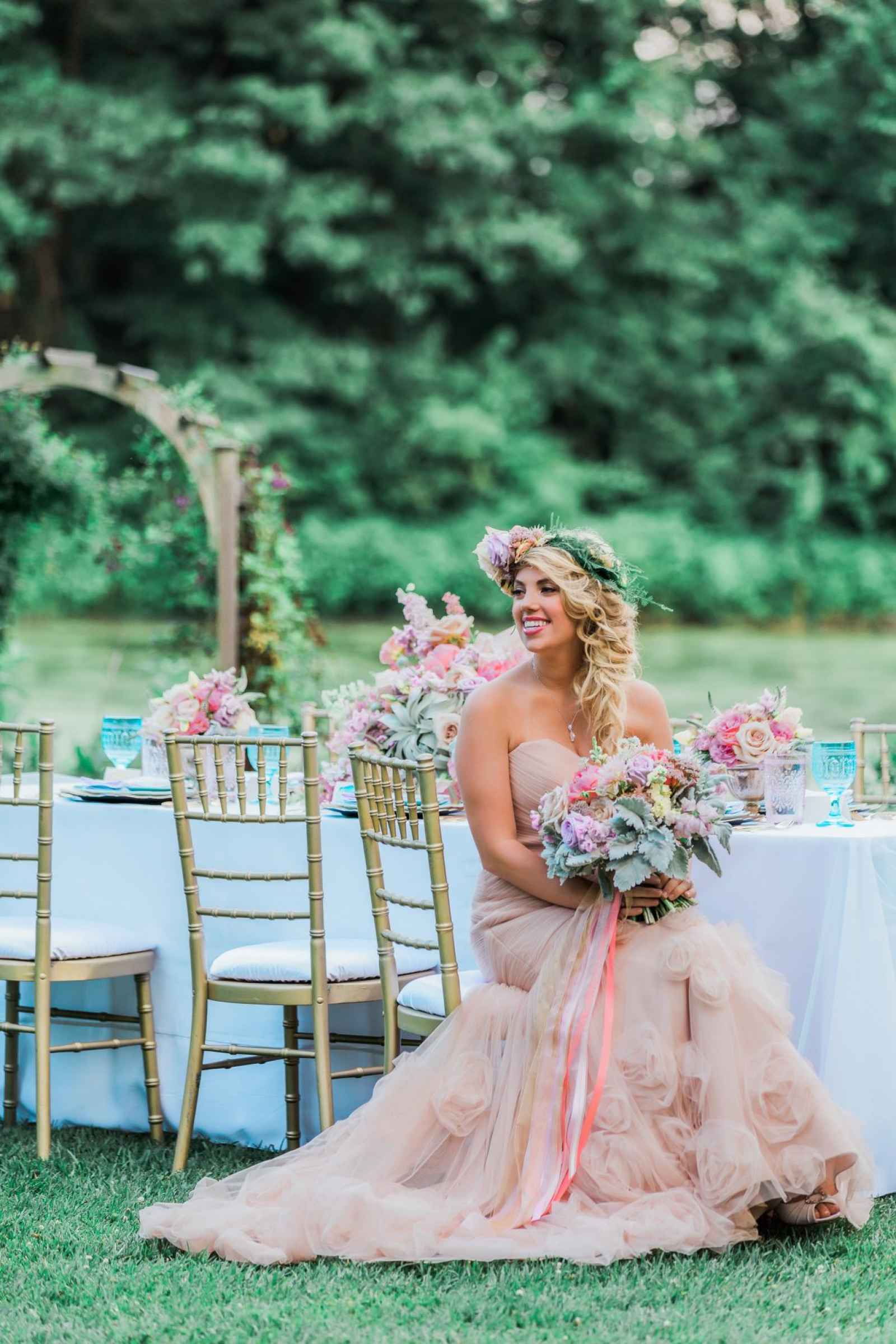 the DÉcor
Pretty details were evident every which way you turned throughout this cover shoot. Each of these details, large and small, were important to the overall look. The tablescape was created with the intent to bring the color palette full circle and to add dimension and texture. This was done with baby blue plates paired with gold chargers, gold silverware, the table cards, a tulle table overlay, and duo-toned wine and water glasses. The napkins were also hand-dyed using watercolor paints.
A watercolor backdrop embellished with floral rings was added behind the cake table offering an artistic element. The other showstopper was the dainty bar cart that held charming cocktails with rock candy stir sticks, fruit slices and flower petal ice cubes.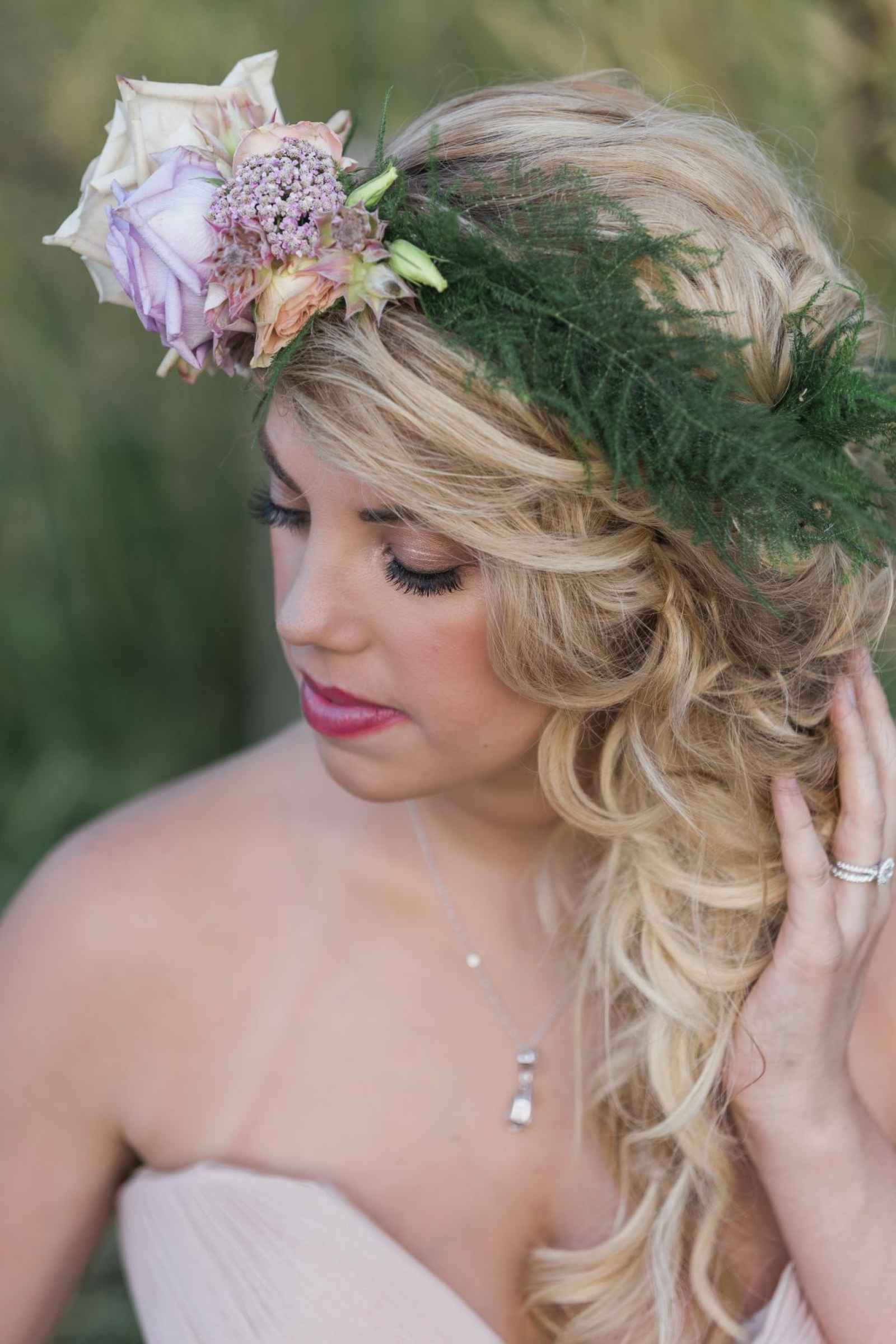 The Hair & Makeup
The bride's hair was actually done by her sister. The model and her sister own Under the Veil, a traveling salon offering onsite hairstyle services. To match the fairytale look of the shoot, the bride's hair was styled in a messy, side-swept fishtail braid. Meanwhile, the makeup by Bethza Professional Makeup made use of nude tones and a bold lip color.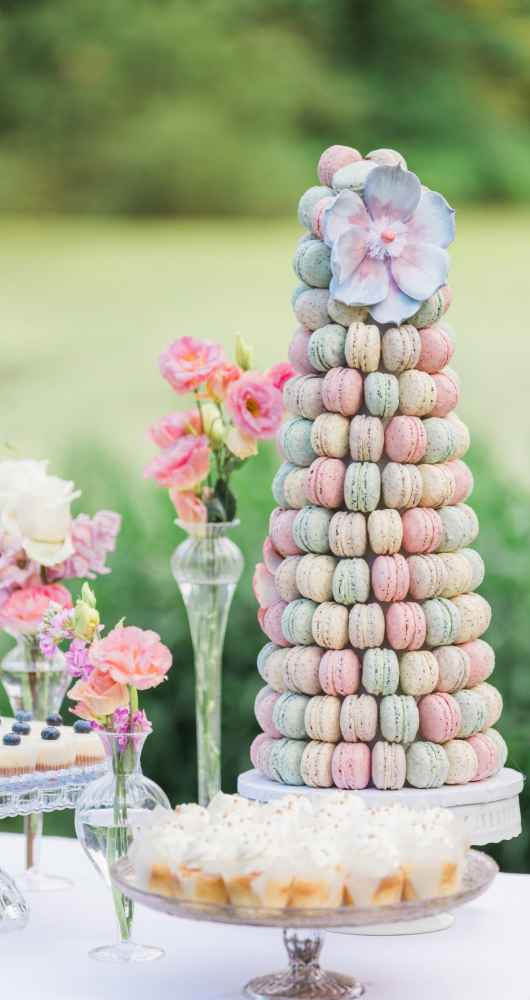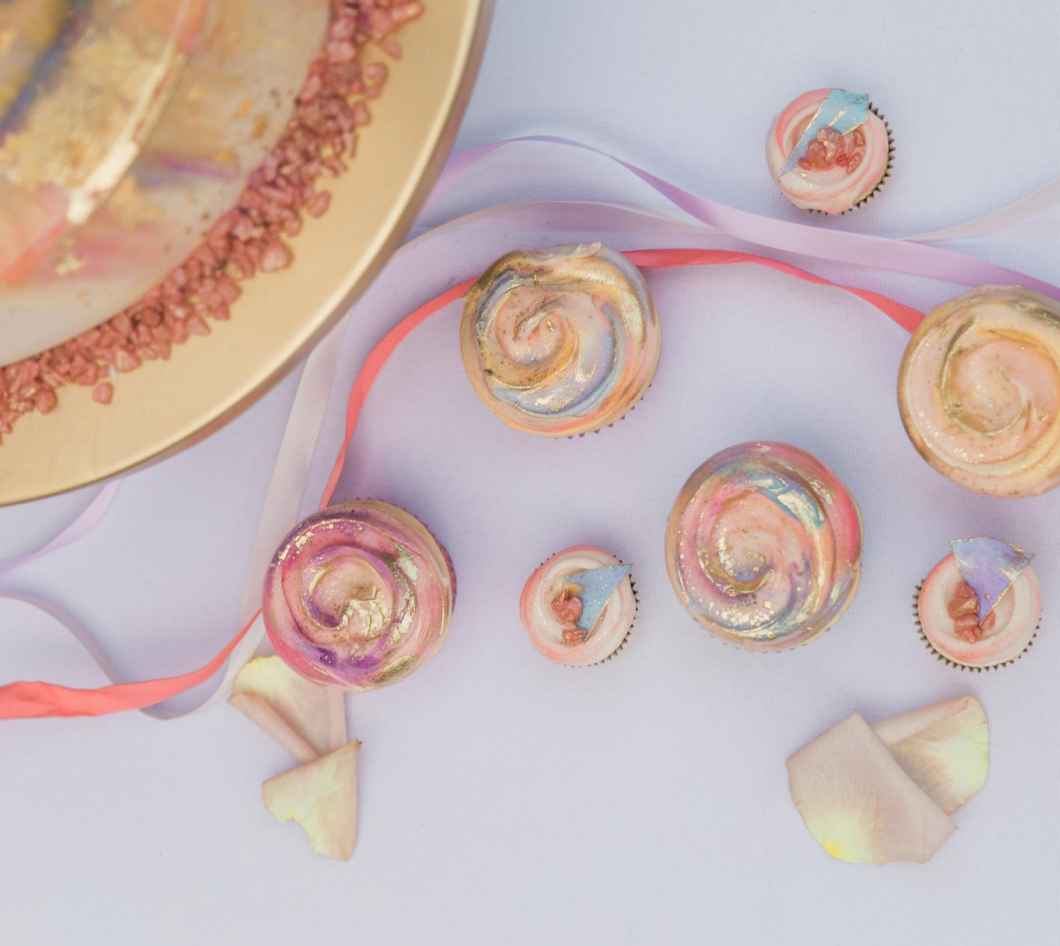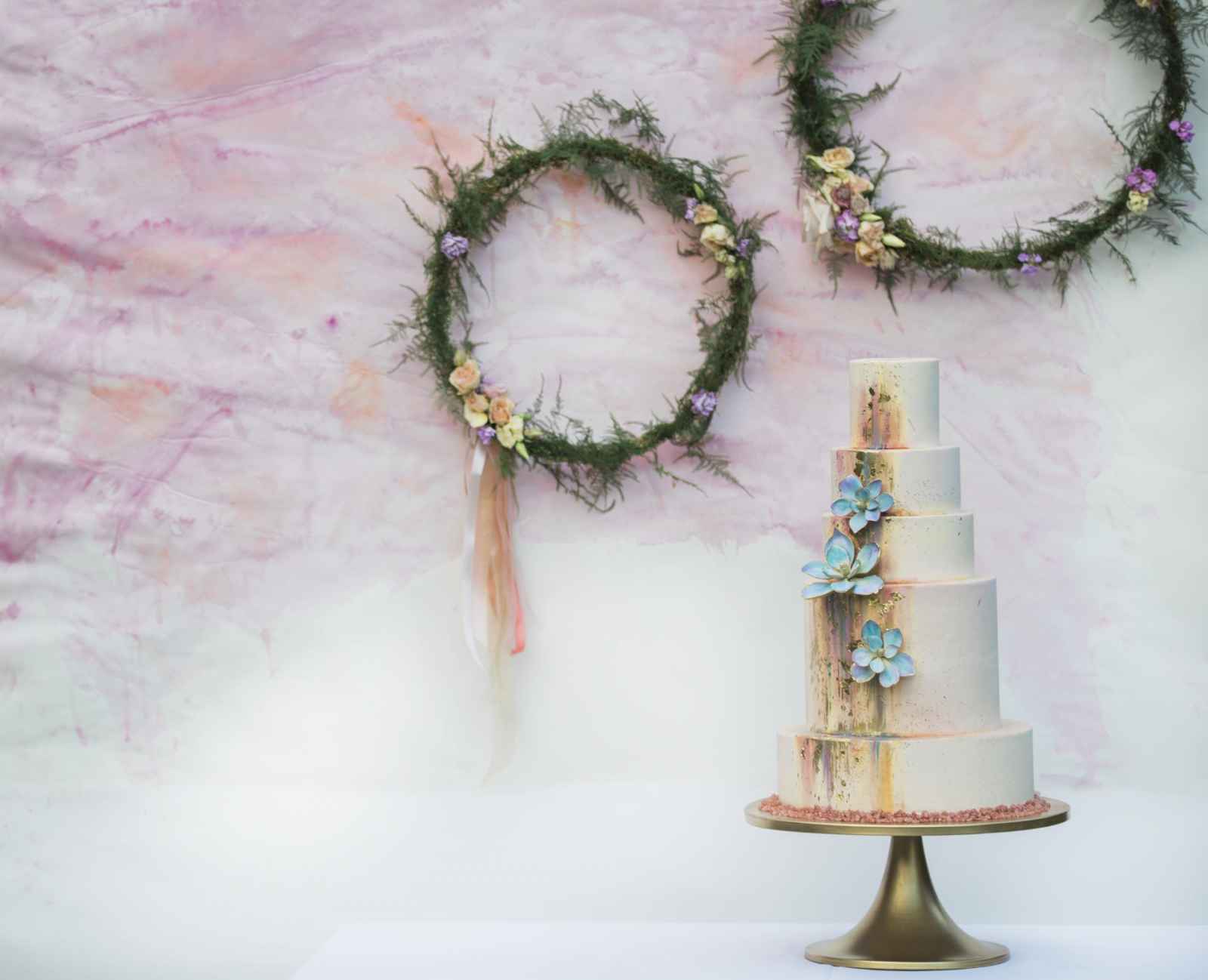 The Cake & Desserts
The impressive dessert displays stole the spotlight in this cover shoot. Designer Desserts created a five-tiered, watercolored cake with cupcakes that demonstrated authentic artistry while Wildflour Bakery fashioned a monumental macaron tower along with other bite-size desserts.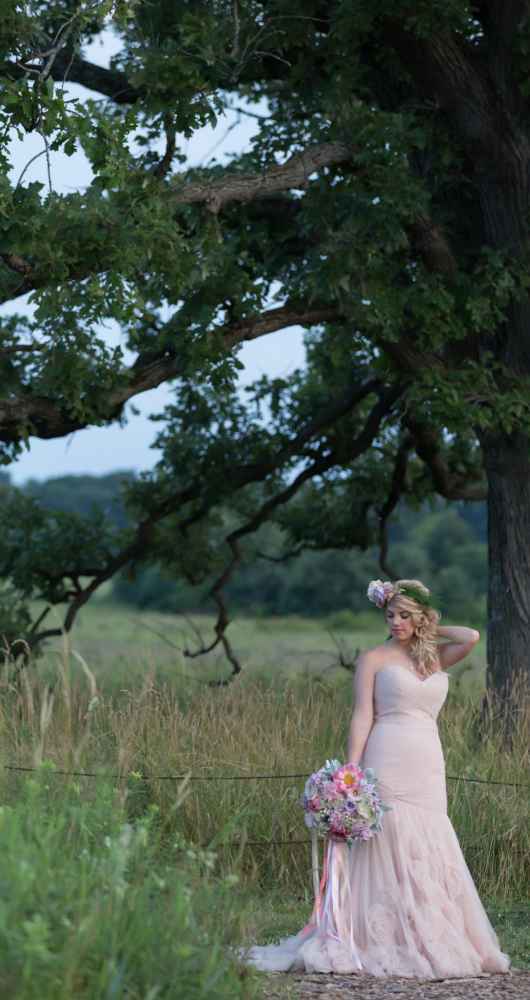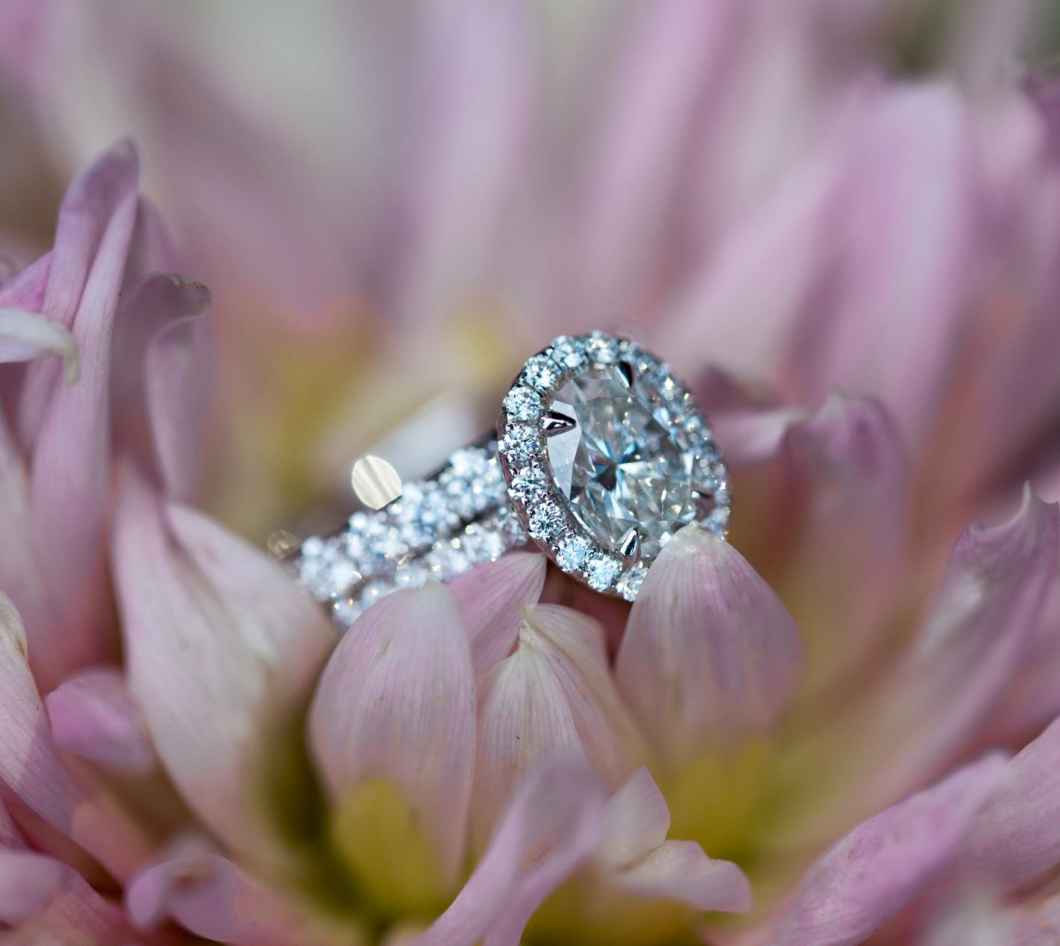 The Venue
To welcome the whimsical feel, a natural open setting was necessary. That environment was found in Taltree Arboretum and Gardens, a natural preserve in Valparaiso, Indiana. Taltree boasts gorgeous grounds of formal gardens, prairies and woods. This shoot made use of the Joseph E. Meyer Memorial Pavilion, surrounded by gardens and a sprawling lawn featuring vibrant and native plants all around.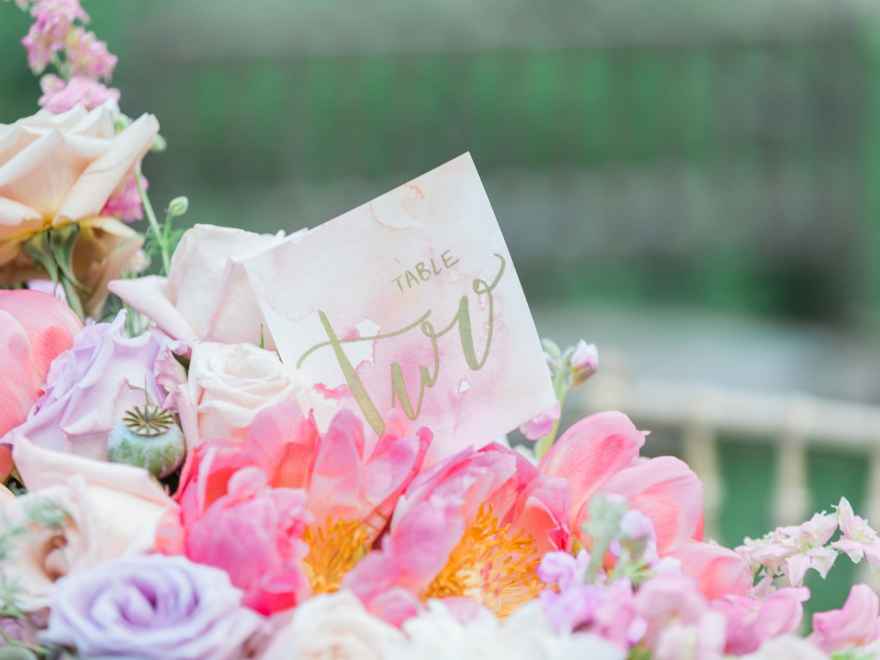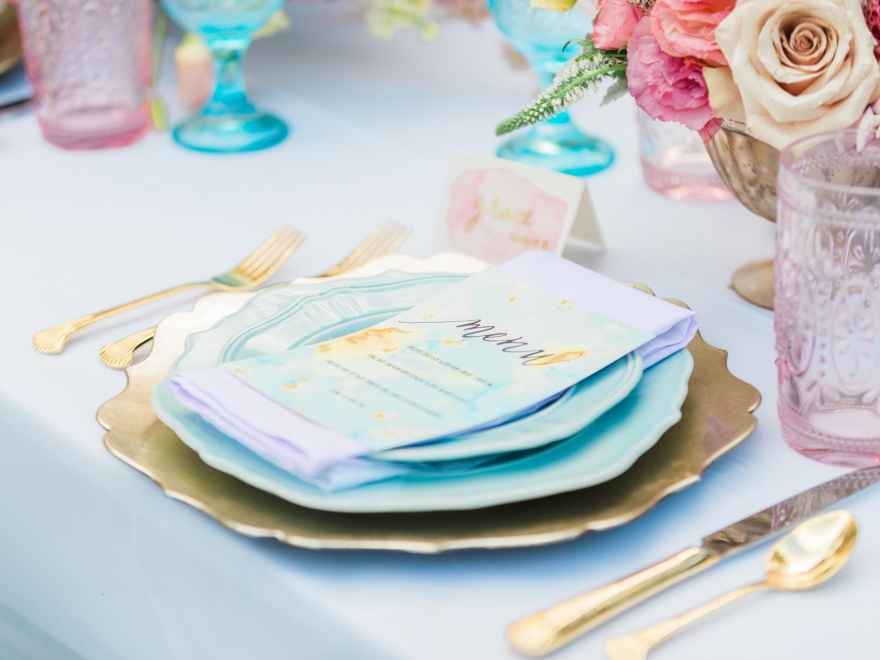 The Stationery
Watercolor prints were the inspirational foundation for this cover shoot, so the expectations were high for how the print elements would turn out. As fate would have it, we located a local artist who specializes in watercolor art. Shalmai Keim, owner of Love Shalmai in Goshen designed the invitation suite, menu cards, escort cards and table numbers using an array of light pastels and gold foiling.
are you a bride-to-be?
Obsess and plan with us on weddingday-online.com. Let's get started!
 
are you a wedding extraordinaire?
Join WeddingDay Magazine in inspiring brides by partnering with us! See how here.