It's going to be your perfect day. Just perfect! And beautiful! And fun! And don't forget the weather–that will need to be gorgeous, too! There's no doubt these are just some of the expectations swirling through the minds of brides when facing the wedding planning process head-on. So, where in the world do you begin? For many, choosing the perfect space to house all the day's love and happiness, food and drinks, family and friends, and–of course–dancing the night away, is the first step. After all, it's that very place that will be featured in many of your photos, wowing your guests, setting the tone for the day's festivities and, ultimately, providing the services you are seeking and paying for!
When it comes to choosing the right venue, some couples have their hearts set on a space that will allow their personalities to shine. Some want what's classic and traditional. The D.I.Y.-ers out there love the idea of doing everything themselves and, for others, an all-inclusive venue is the way to go. While one bride dreams of a grand space, another craves a cozier setting. The reasons behind choosing  a venue are clearly countless and with so many venue options out there, it's important to know what it is you are getting before making that all-important decision. To help, we are zeroing in on the reasons why banquet halls and ballrooms continue to check the boxes on many brides' lists. While they are a classic type of venue, they continue to attract many types of brides. Read on to learn more about their appeal and how they continue to stand the test of time.
Convenience of accommodations 
Do you ever wish you could just hop into bed after a wedding or big event? Well, with these venues you can sometimes do just that!  Banquet halls or ballrooms affiliated with hotels or a bed and breakfast often offer room blocks, making the celebration that much more convenient and easy for the bride, groom and their guests, especially those from out of town.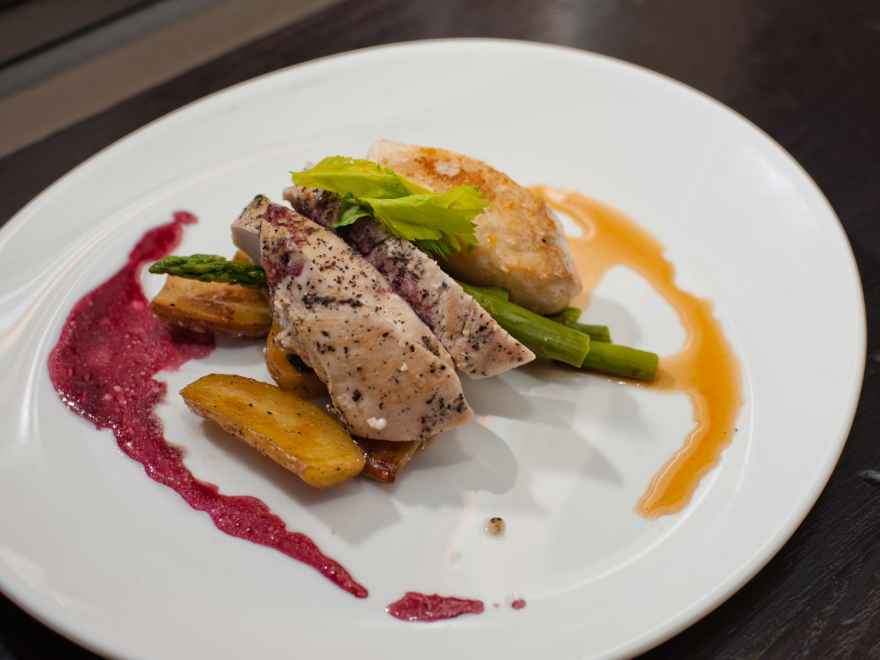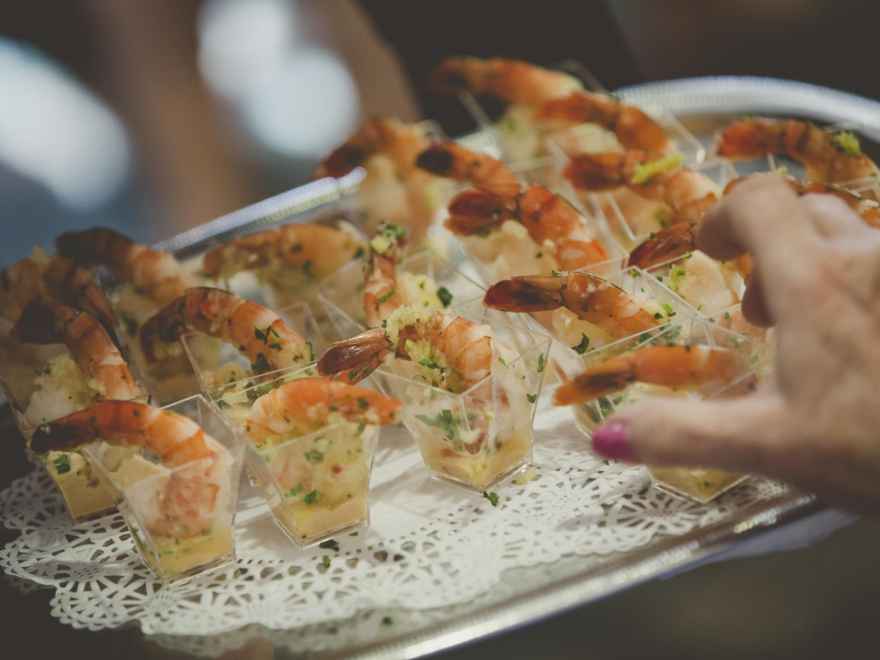 Full-service and all-inclusive wedding packages 
Typically, "all-inclusive" includes all the vendors, coordination and professional staff it takes to plan the entire scope of a wedding. At some venues, it may go so far as to include everything except the bride and groom! It is worth going through the details with a member of the sales team to ensure you are clear on everything this entails. It is up to you to decide if you will be satisfied with the end results. For example, are you getting the best deal with the options included or it better to go with individual vendors? Are you saving just time, money, or both? Take note that extra fees may or may not be included, so make sure you comb through the details carefully.  Whether you are someone who knows, hands down, you want your venue to take care of everything (think linens, tables, chairs, napkins, projectors, lighting, gourmet catering and more!) or you are unsure, it might be nice to know you have options with this category of venues! Also, if you would like certain offerings like linens and chair coverings, but you prefer to use your own cake vendor, many venues will work with you by offering customizable options.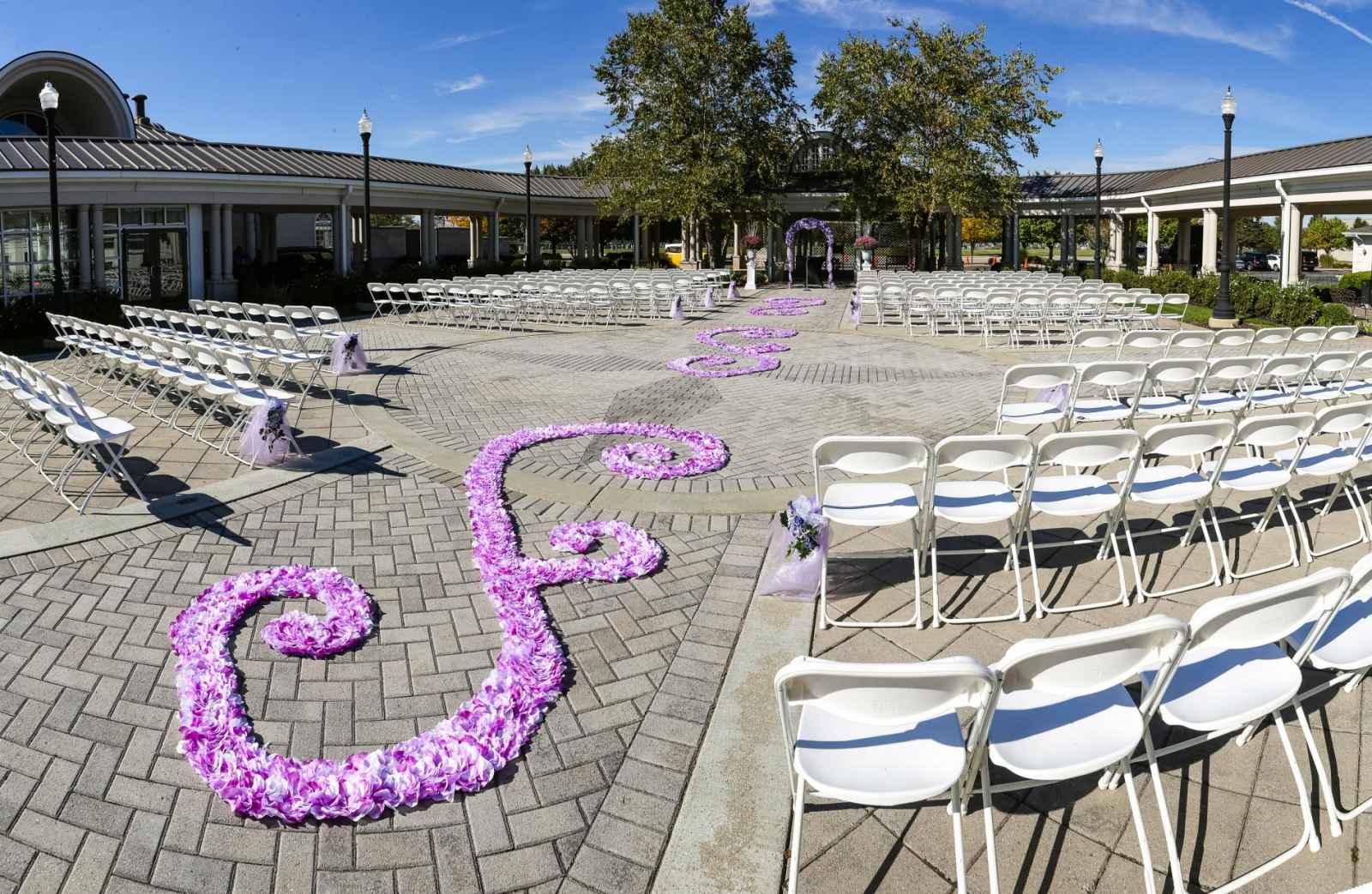 Outdoor can be an option 
Do you dream of a lush garden setting or an outdoor ceremony, but fear what Mother Nature might decide to do on your big day? A banquet hall, ballroom or hotel with an outdoor space might be just the venue you need. The space might be available for a ceremony, extra seating, mingling, cocktail festivities or all of the above. Check with your venue to see what they offer and find out what their rain plan is, if they do allow for something significant like a ceremony or cocktail hour. For those who prefer variation in their wedding day scenery, moving from a ballroom to a rotunda to a courtyard can add interest, different places for guests to mingle, mini vignettes for photography or a place to escape with the groom for a moment of fresh air!
Variety
Let's face it, no two banquet halls, ballrooms or hotels are exactly alike. The best part about this category is the variety of venues available. Each has its own characteristics that makes them unique and sets them apart. If you dream of a historic, vintage space, you can find an established venue with tons of character that matches your tastes. If a modern space is what you desire, a sleeker building with clean lines might be just the inspiration you need to plan the rest of your dream wedding. Look at online galleries to get a sense of the banquet hall, ballroom or hotel space or visit in person, if you can, to get a first-hand look at the details and sense of atmosphere.
Size can vary 
Whether it is an intimate gathering or a large celebration, most banquet hall, ballroom and hotel venues have the ability to not only house various sizes of events but also customize their packages accordingly. Ballrooms can be transformed to fit a certain theme or style and larger rooms within banquet halls and hotels can be closed off to create a more intimate setting. The versatility involved is also important as RSVPs change last minute. A large venue with flexibility can more easily add a table of ten with matching linens and chairs!
Meeting your needs 
These venues are dedicated to making your dream wedding come to life, whether it be the perfect color of linen, location of dance floor, right style of chairs or adding specialty glassware. Banquet halls, ballrooms and hotels are designed to accommodate. They provide classic and timeless atmospheres that simply ooze the feeling of a special celebration! Whether your look is fancy and glamorous or simple and timeless, the on-site coordinators and venue staff will guide you in deciding on all the pretty details!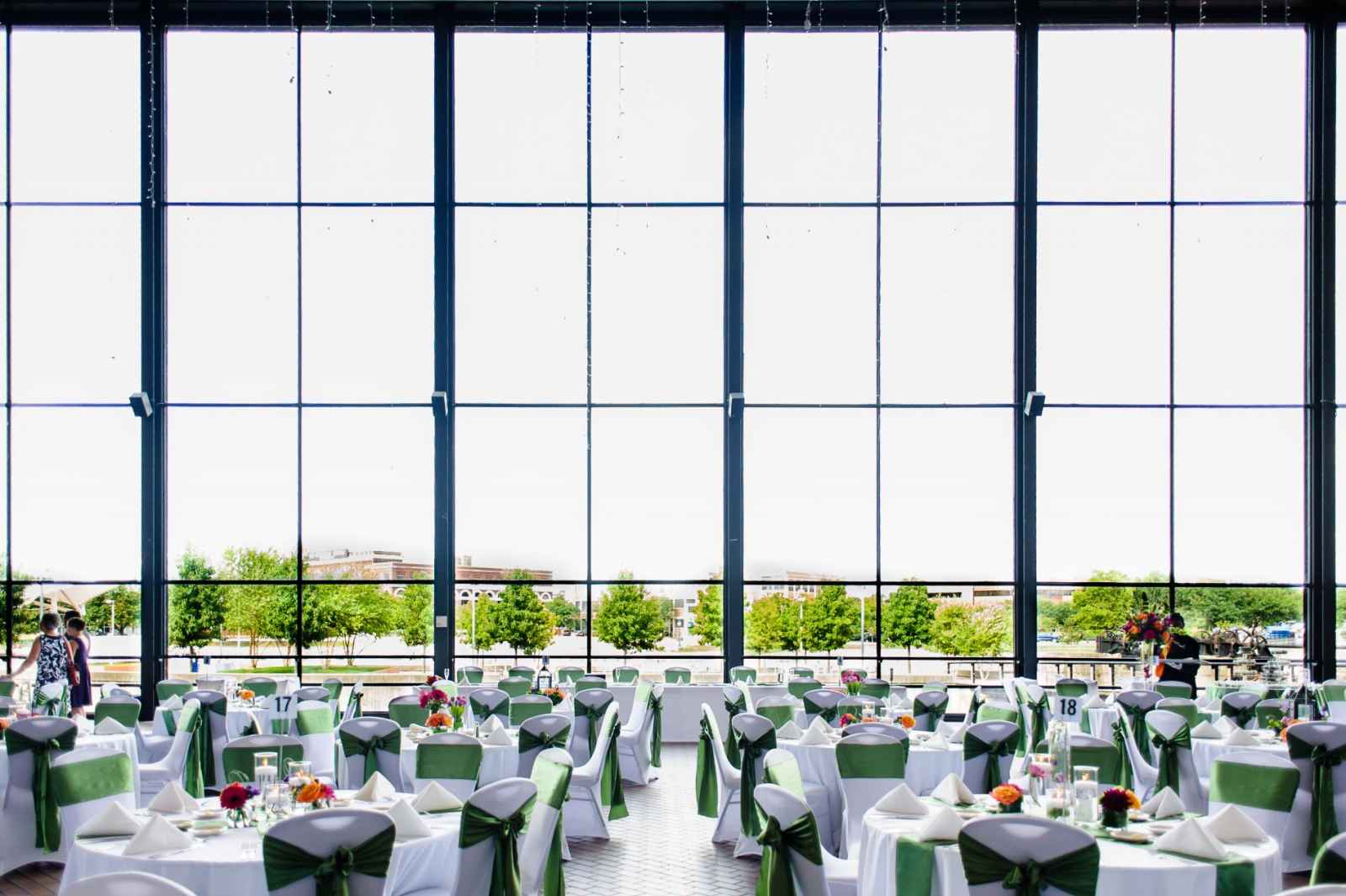 Blank canvas appeal 
Banquet halls, ballrooms and hotels exist to suit the needs and tastes of many different people. It's no wonder that they are designed the way they are, allowing a couple to really incorporate their own tastes in terms of color palette, floral, table arrangement, lighting and more. While some do have a distinct décor and style, others can have a more neutral, but still beautiful space to play with. It's amazing how the space can look one way for one wedding and then be completely re-vamped for another wedding the very next night. Some may even have various rooms to choose from with entirely different looks. The bottom line is, if the building itself isn't exactly unique, you can still achieve that distinct look, feel and style you want in the venue space. Maybe ask to review photos of all the different weddings that have taken place there, to help you visualize the design you are going for.
Decorating is a breeze 
The options for décor can vary from one venue to the next, but often a bride can choose from the venue's offerings, whether it be linens, napkins, flatware, candles, etc. while adding her own touch with centerpieces and floral, leaving fewer details to worry about. Dependent on the size of  the venue, some may have exclusive providers of both floral and décor so, again, it is up to you to review the details and decide which venue meets your needs. An added convenience is that setup and teardown is also often included, leaving more time to relax and soak in what really matters both before and after the big day! If a bride is adding personalized decorations or has her own appointed florist, a decorating time is typically allotted the morning of. 
On-site wedding planners or coordinators 
Considering all the countless hours involved in planning a wedding, large or small, keep in mind that wedding planners and coordinators are a major help in the planning process. What's great about these professionals is it is their job to know what you want for your big day and then make it happen! Armed with tips, timelines and emergency items in tote, they thrive on efficiency and covering every single detail. Especially if you are someone with a busy life as it is, they can come to the rescue with their know-how, experience and professionalism. What's great about an in-house planner or coordinator is that they are well connected with vendors who are affiliated with the venue and have planned and executed many events in the space before. Their familiarity will be priceless and it is likely they have the best advice in terms of what will work best in that space. Check with the venue to see how often you will meet with the planner and the extent to which they are involved.
Host your reception at these Ballrooms, Banquet Halls & Hotels
Central Indiana Venues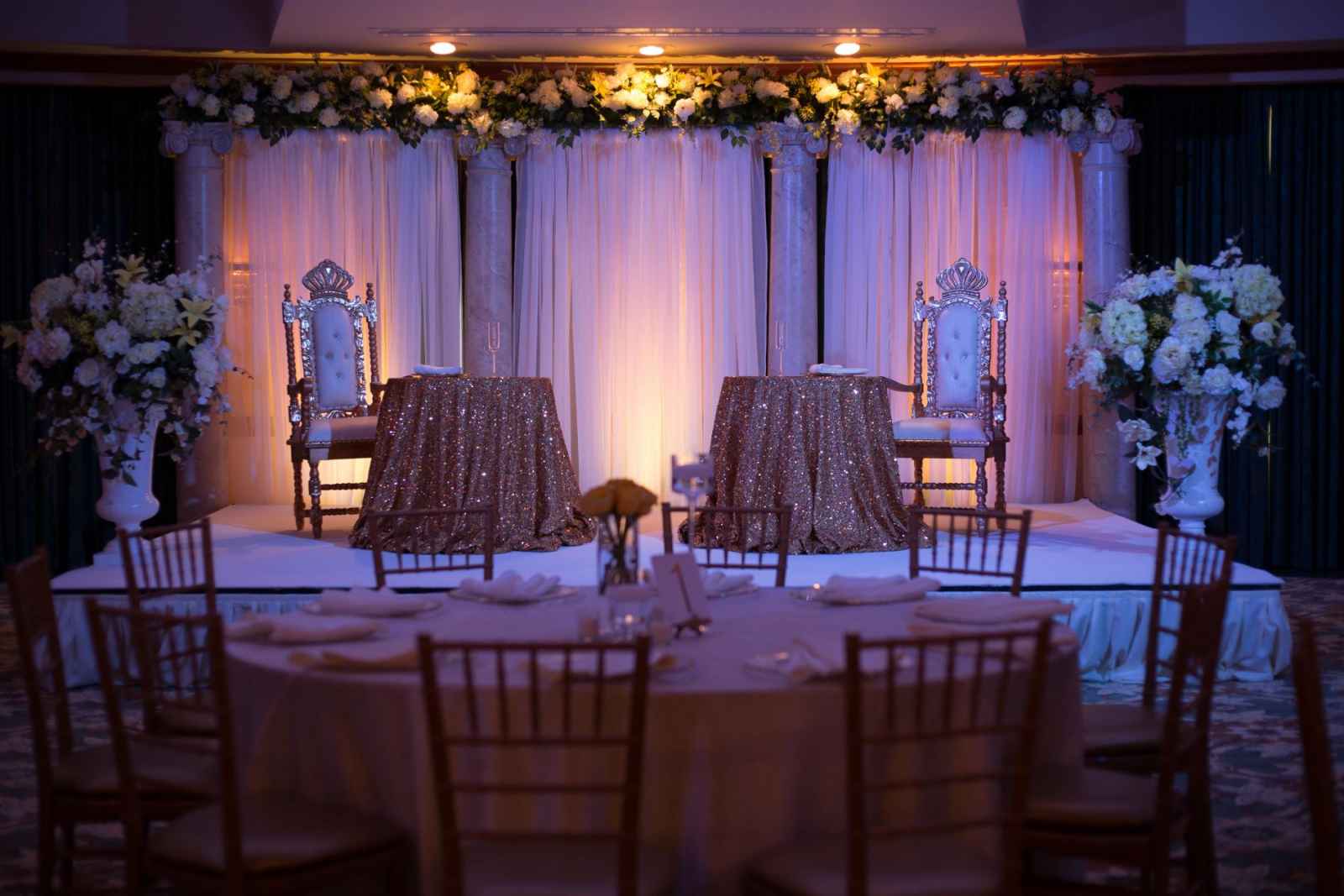 Community Life Center 
The Community Life Center is located a short drive from downtown Indianapolis. The center has a three-story Crystal Tower with an attached courtyard plus a rotunda and ballroom. Adorned with 84 chandeliers, The Community Life Center is no stranger to elegance, making it the perfect venue for every wedding. 
10612 E. Washington St., Indianapolis, IN 46229
317.396.3726  •  clcindy.com
Hampton Inn Indianapolis Downtown
Located in the heart of downtown Indianapolis, The Hampton Inn offers over 3,000 square feet of event space. Their friendly staff can assist with planning and off-site catering and a free, personalized webpage makes booking rooms online easy.
105 S. Meridian St., Indianapolis, IN 46225
317.261.1200  •  hamptondt.com
Fountain Square Ballroom 
This elegant and historic space, located in the heart of Bloomington, accommodates up to 150 guests. An open floor plan, downtown views, charming details and affordable packages are just some of its great offerings.
101 W. Kirkwood Ave., Bloomington, IN 47404
812.332.0053 •  fountainsquarebloomington.com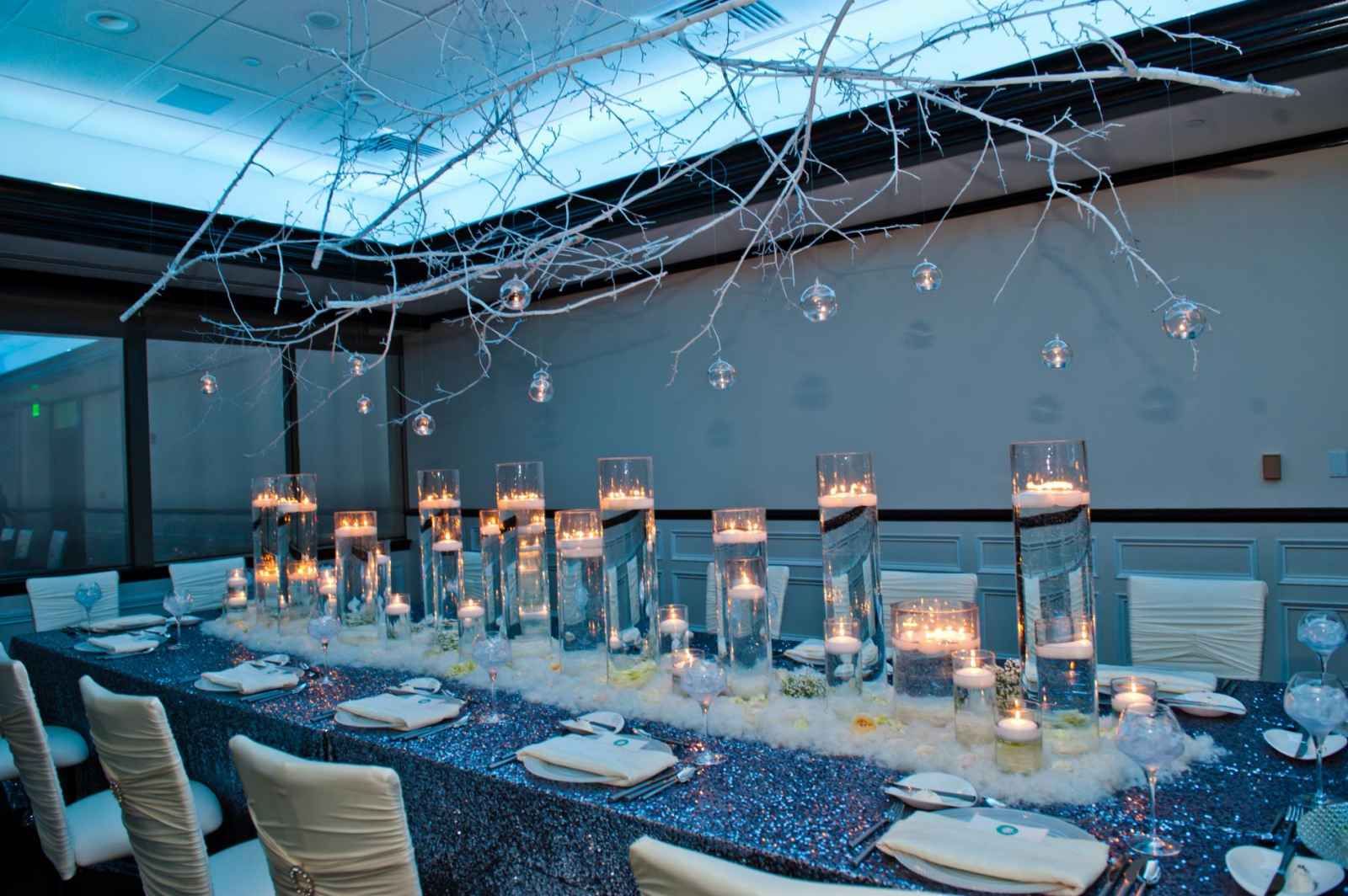 Empyrean Events & Catering 
Empyrean is located in downtown Fort Wayne. It is a modern event venue with floor-to-ceiling windows and memorable 360-degree view of the city. Some extravagant features include a water wall and built-in fireplaces. This venue has a "city essence meets chic" style. 
110 W. Berry St., Fort Wayne, IN 46802
260.444.4688  •  empyreaneventsfw.com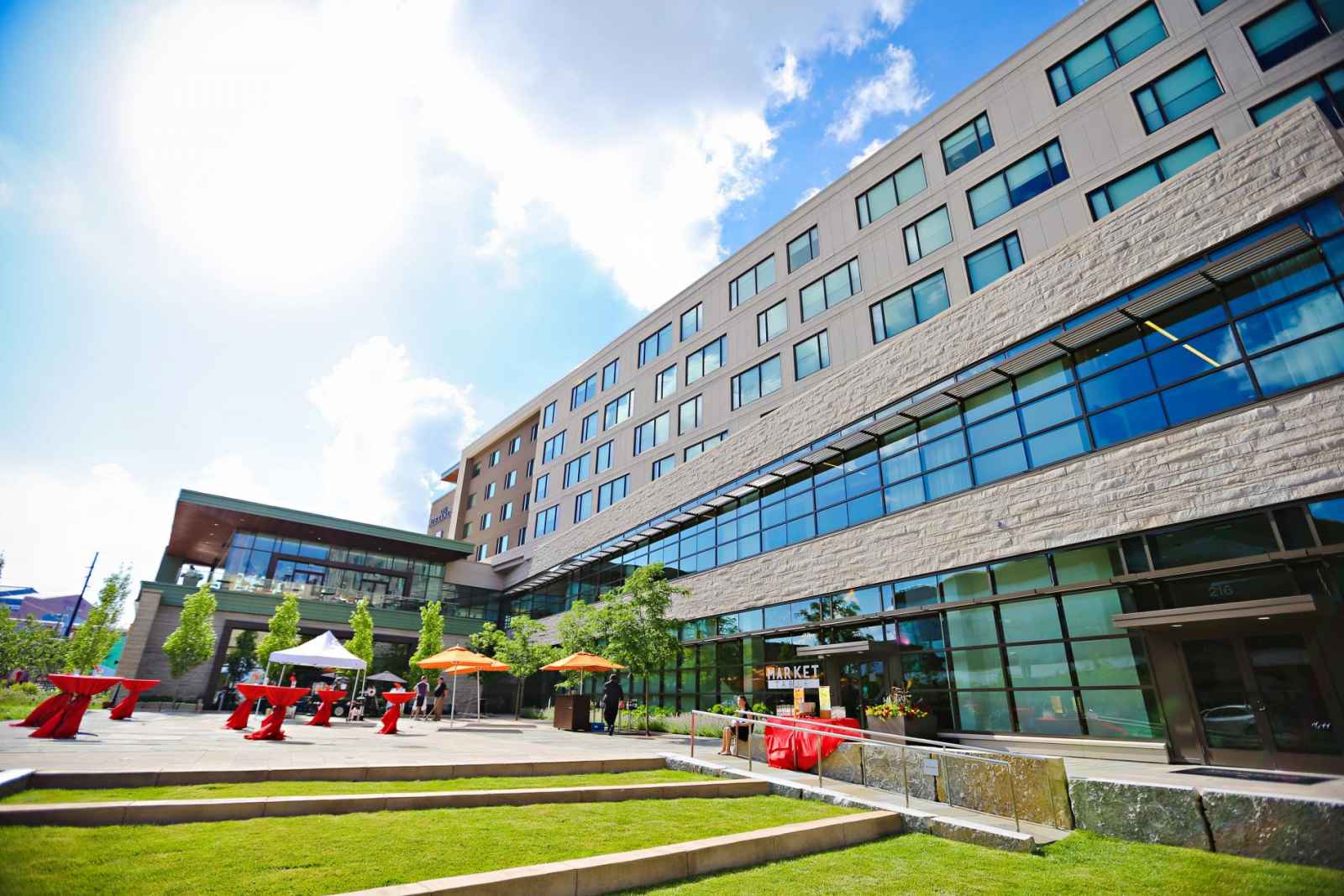 The Alexander
The Alexander is Indianpolis' newest downtown hotel with floor-to-ceiling windows and outdoor plazas. They offer wedding packages with a two-night stay in the bridal suite and a wedding specialist available to work with each bride.
333 S. Delaware St., Indianapolis, IN 46204
317.624.8200  •  thealexander.com
Omni Severin Hotel 
Over a century old, the Omni Severin Hotel knows class. A marble staircase and Austrian crystal chandelier are a few captivating features of the event space. Omni Severin also has an exclusive wedding catering menu, matching the food to the regal setting. Located in the heart of alluring downtown of Indianapolis, no space is more magnificent. 
40 W. Jackson Pl., Indianapolis, IN 46225
317.634.6664  •  omnihotels.com/hotels/indianapolis-severin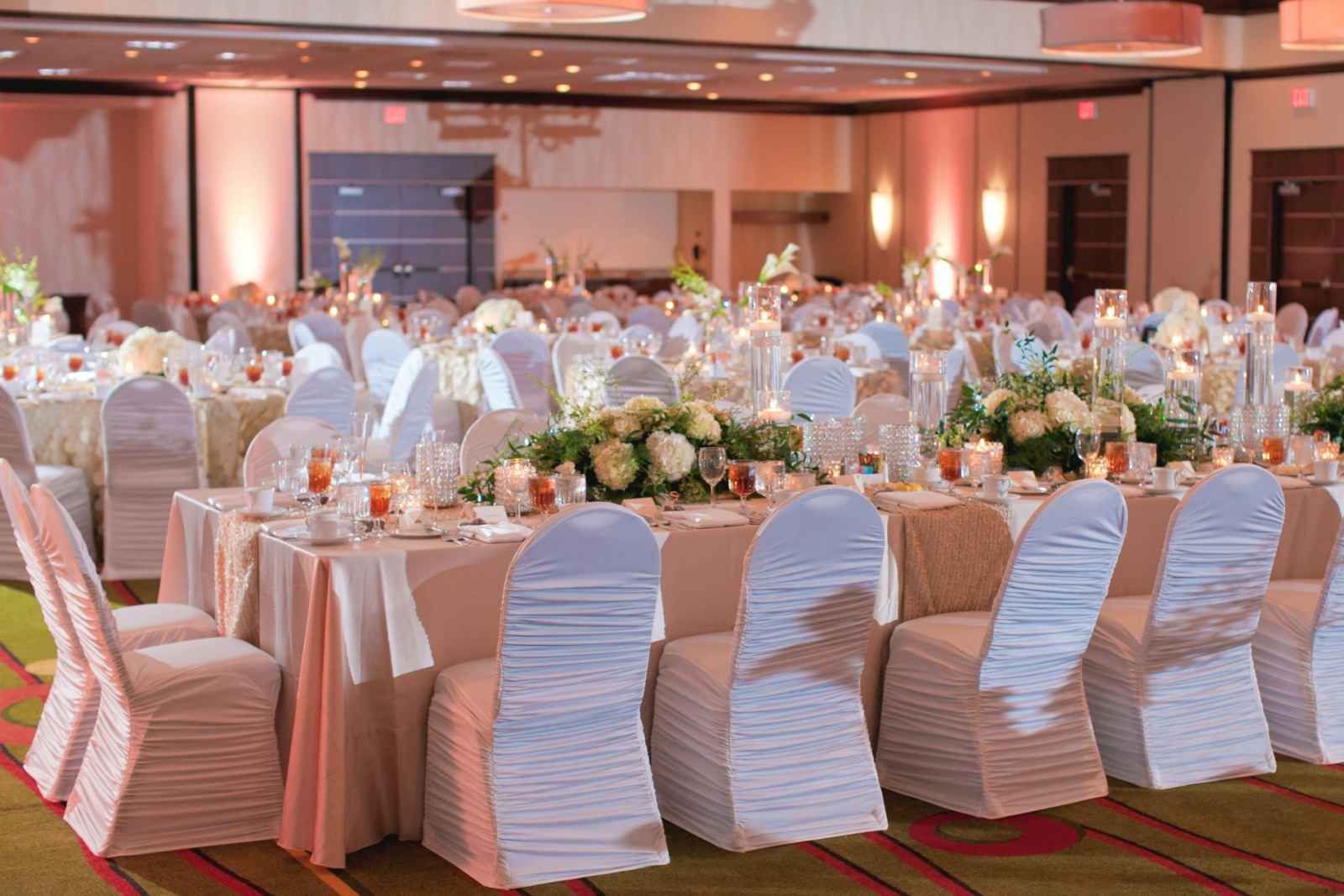 Renaissance Indianapolis North
The Renaissance Indianapolis North has 15 event rooms and can host up to 700 guests. Their extravagant ballroom is glamorous and their catering team has the capability to make individualized menus. Additionally, they have AV equipment to play videos for your wedding.
11925 N. Meridian St., Carmel, IN 46032
317.816.0777  •  renaissance-hotels.marriott.com/renaissance-indianapolis-north-hotel-carmel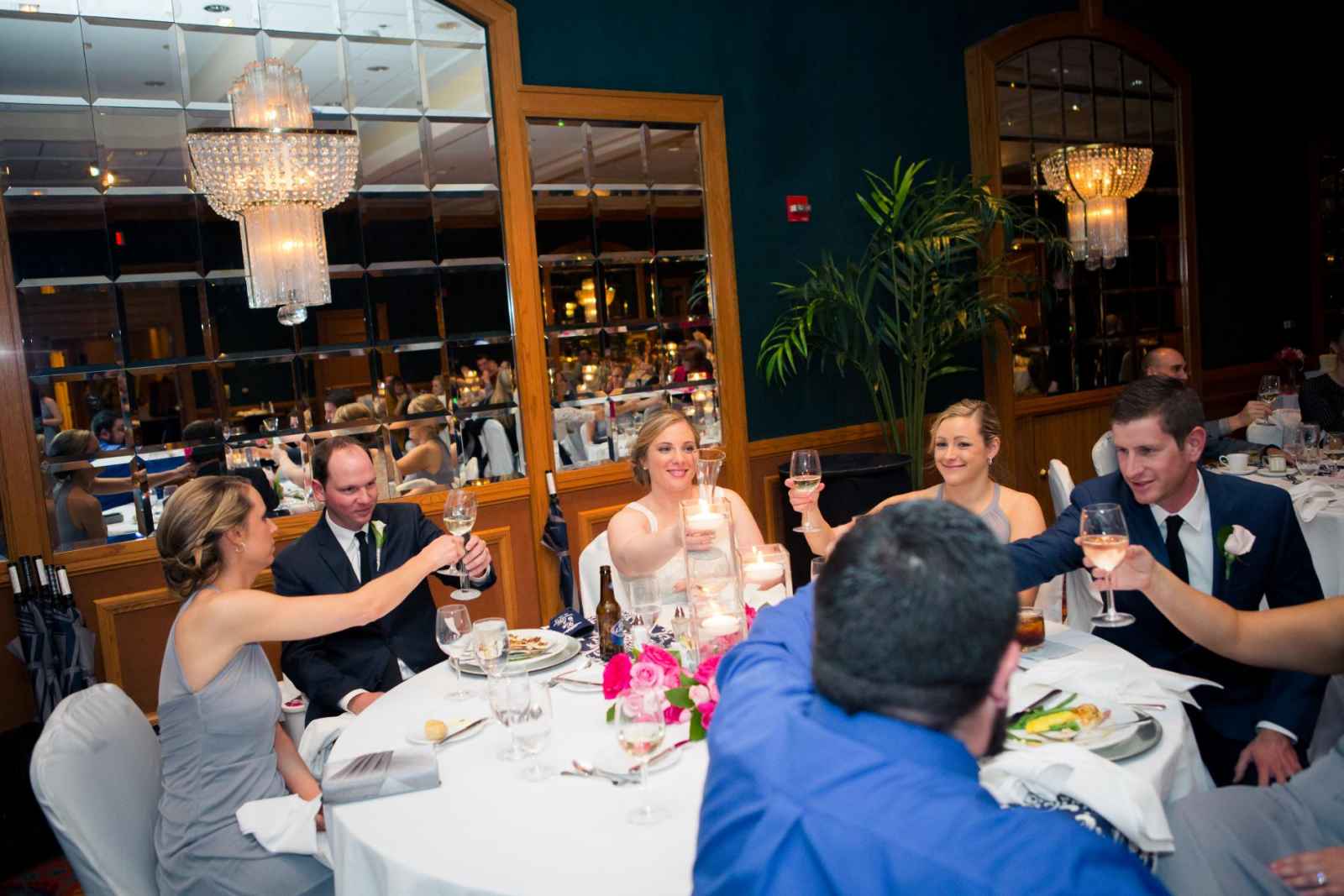 Hilton Indianapolis Hotel & Suites
Available to host up to 300 guests, the Hilton Indianapolis Hotel & Suites is in the middle of downtown. You can certainly host a grand wedding in the 4,700-square foot Victory Ballroom. They also have a catering team that can design a delectable menu for your wedding.
120 W. Market St., Indianapolis, IN 46204
317.972.0600  •  indianapolishilton.com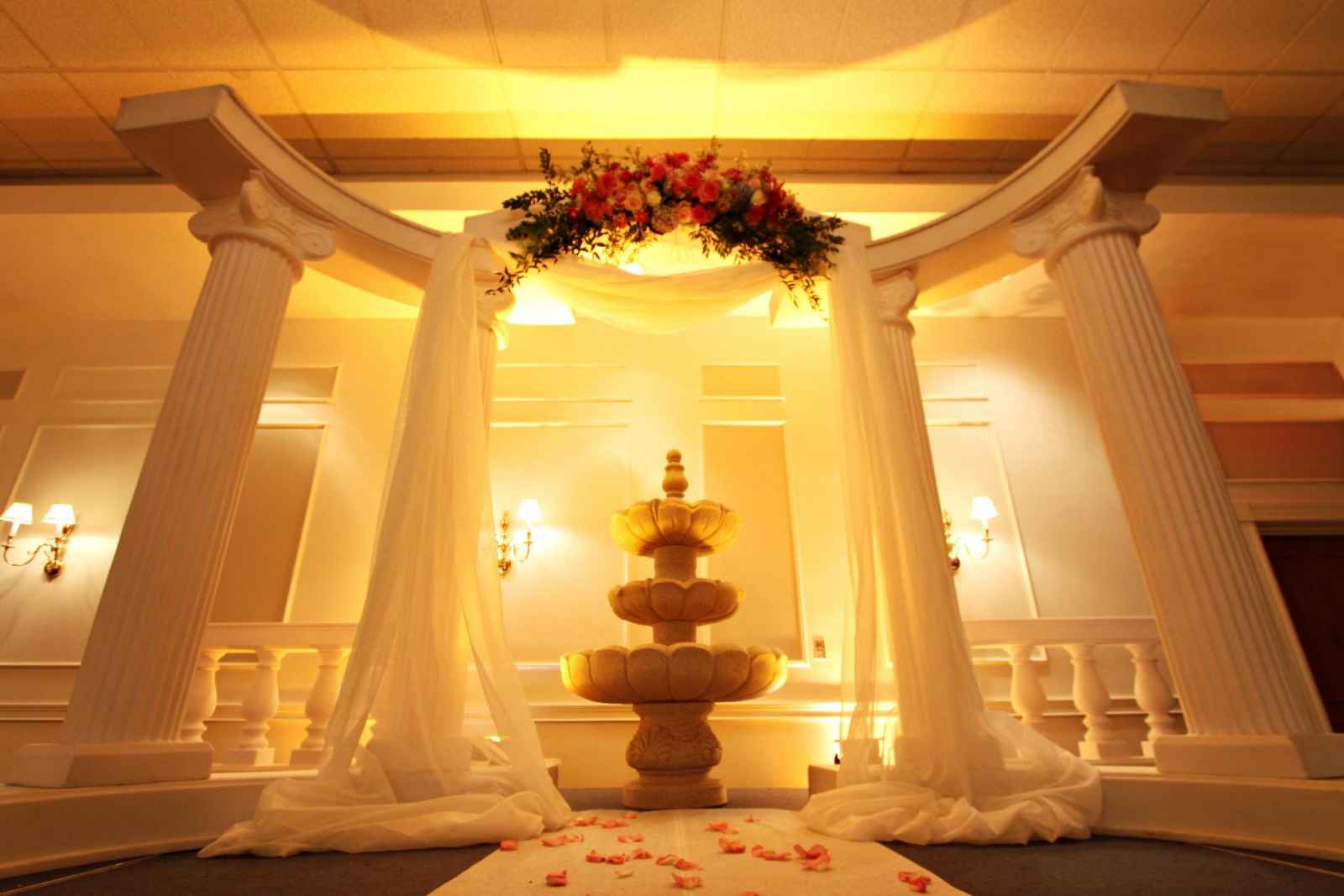 502 East Event Centre
As the largest event center in Hamilton County, 502 East Event Centre offers a variety of packages for their clients. With luxuries like a personal event coordinator, in-house catering, and bridal and groom suites, 502 is the ideal location for a wedding.
100 Byrd Way, Greenwood, Indiana 46143
317.843.1234  •  502east.com
JW Marriott Indianapolis
Located in downtown Indianapolis, the JW Marriott is ready to help create your special memories with their wedding packages. They offer on-site meetings before the wedding to make sure everything is in order. Their packages include hospitality rooms for wedding parties, complimentary menu tastings, a dance floor and lighting. 
10 S. West St., Indianapolis, IN 46204
317.860.5800  •  jwindy.com
Conrad Indianapolis
At the Conrad Indianapolis, the Vienna Ballroom is an elegant and romantic space boasting 18-foot ceilings and chandeliers from the Czech Republic, which are embellished with 800 multi-faceted Preciosa crystal balls. The ballroom can hold up to 300 guests for weddings. The Indianapolis Artsgarden's seven-story glass atrium is a glamorous component to the Conrad. A bride and groom will be wowed with a photo opportunity on the rooftop of the Conrad. 
50 W. Washington St., Indianapolis, IN 46204
317.713.5000  •  conradindianapolis.com
Hampton Inn & Suites - Kokomo
The Hampton Inn & Suites of Kokomo offers two different rooms for large events. The rooms are blank slates that can be decorated. They have 105 guest rooms and a pool, perfect for wedding guests. Your guests can also receive complimentary use of the business room and a hot breakfast. 
2920 S. Reed Rd., Kokomo, IN 46902
765.455.2900  •  hamptoninnkokomo.com
Northern Indiana/Southwest Michigan Venues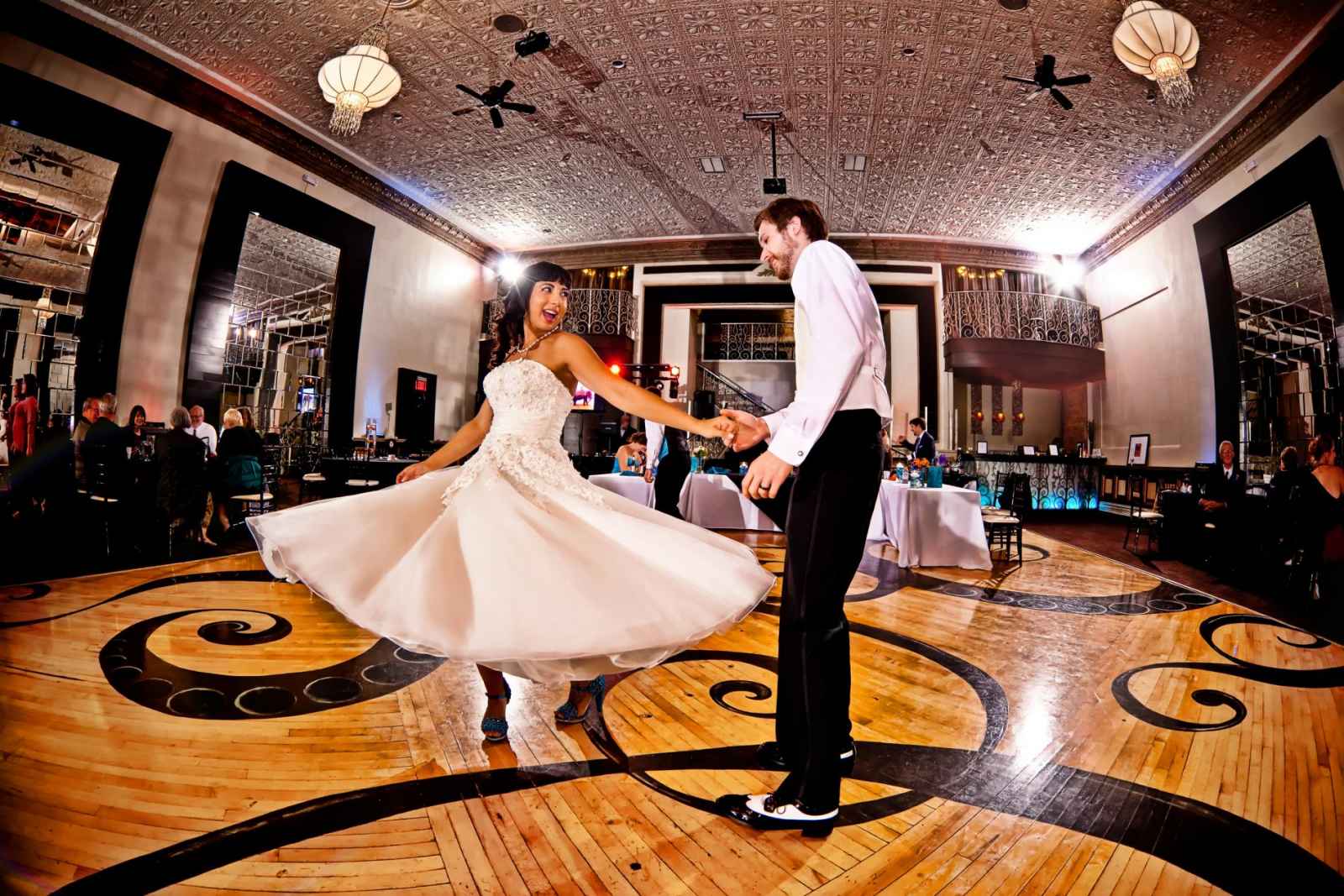 The Allure
Housed in a building constructed in 1920, The Allure has ballrooms and lounges available for any event. They can host anywhere from 35-320 guests. They also have a private bridal suite and a balcony.
301 B. St., La Porte, IN 46350
219.369.6456  •  allureone.com
Blue Chip Casino, Hotel & Spa
Blue Chip Casino, Hotel & Spa is located in captivating Michigan City. Blue Chip offers customizable wedding packages, which can include spa services and luxurious hotel rooms. Their wedding planner can help organize every detail from the bridal shower to the reception dinner. With the ability to accommodate weddings of every size, Blue Chip is ready to make every bride's wishes a reality. 
777 Blue Chip Dr., Michigan City, IN 46360
219.879.7711  •  www.bluechipcasino.com
Century Center 
Located on the Saint Joseph River, The Century Center is equipped with two ballrooms, a hall and Island Park. They feature floor-to-ceiling windows in some event spaces, as well as a room that can be split into two spaces. 
120 Dr. Martin Luther King Jr. Dr., South Bend, IN 46601
574.235.9711  •  centurycenter.org
The Gillespie Conference & Special Event Center
The Gillespie Conference and Special Event Center can handle any event, offering a ballroom, garden and patio. This venue offers unique spaces with personalized service for each wedding. 
53995 S.R. 933 South Bend, IN 46637
574.232.7700  •  gillespieconferencecenter.com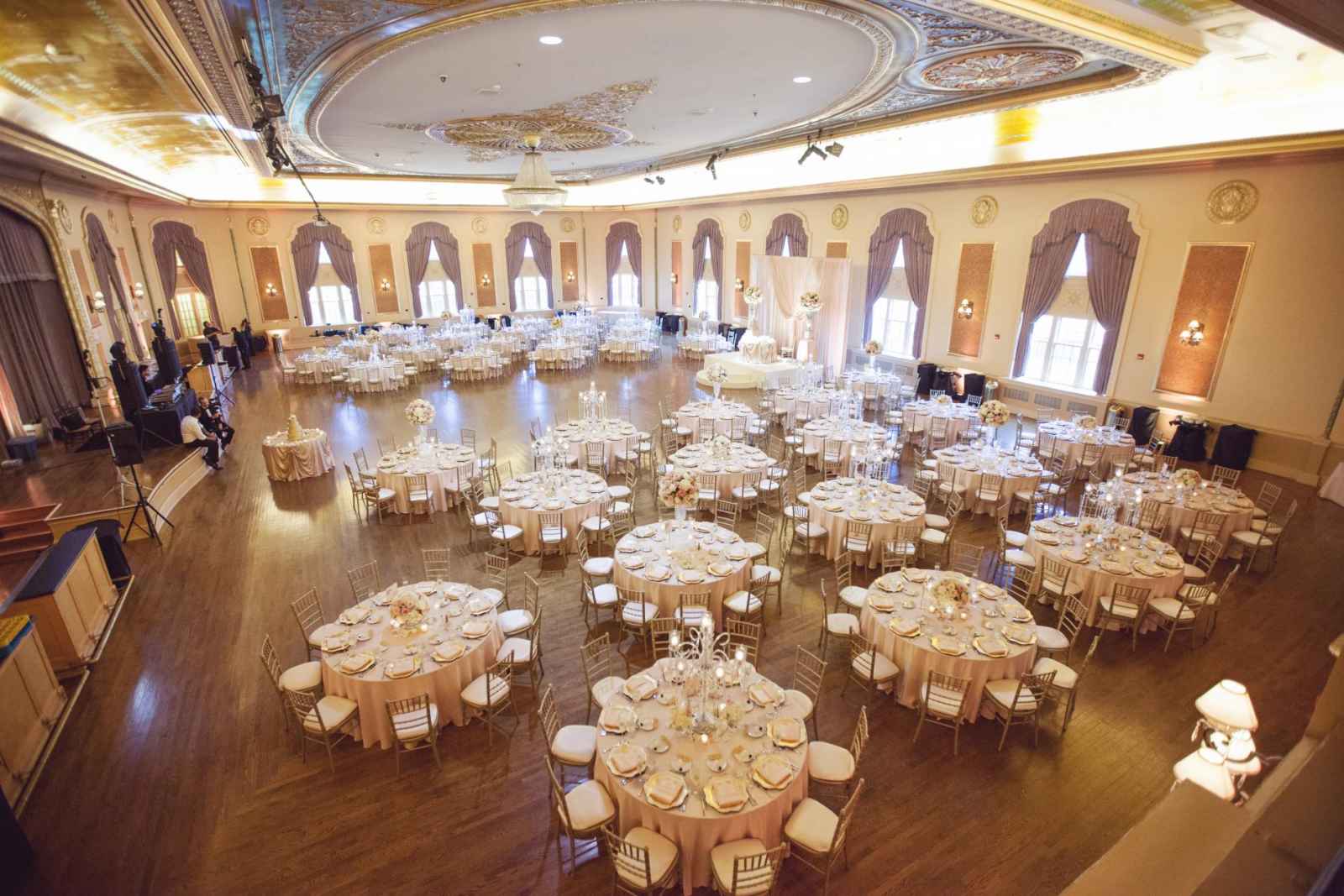 Palais Royale 
The Palais Royale is the perfect location for a bride that wants to have her reception amongst the charming downtown buzz of South Bend. A 30-foot high decorative ceiling adorns the ballroom for a glamorous setting and the venue promises to host only one event at a time. 
105 W. Colfax Ave., South Bend, IN 46601
574.235.5612  •  palaisroyale.org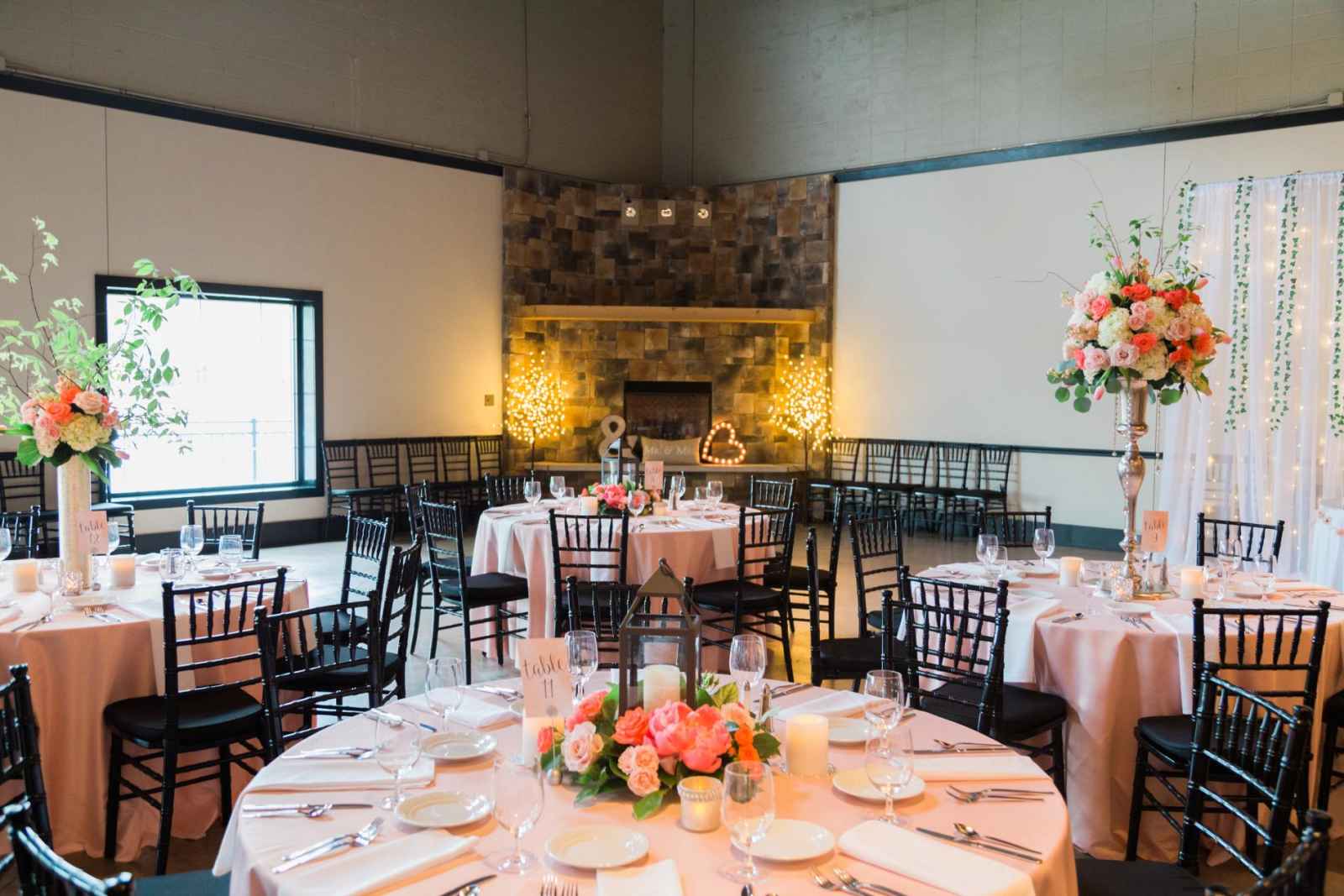 The Riverside Terrace
Offering the services of catering and planning, Riverside Terrace is the perfect venue for an all-inclusive occasion. With rooms that can hold up to 900 guests, this center is ideal for large guest-lists. 
426 Lincolnway E., Mishawaka, IN 46544
574.256.2271 •  theriversideterrace.com
Waterford Estates Lodge
The Waterford Estates Lodge is a dignified event space with a 200-room hotel. The ballroom holds between 100-400 guests and wedding packages include floor-length linens, bar service, buffet and more. 
52890 S.R. 933 N., South Bend, IN 46637
574.272.5220 • waterfordestateslodge.com
Shadowland Ballroom
Shadowland is located right off Lake Michigan. Its herringbone wood floors create a dazzling space that is equipped with AV equipment. A pavilion located on the dunes provides an extra romantic atmosphere. 
333 Broad St., St. Joseph, MI 49085
269.982.8500  •  shadowlandonsilverbeach.com
Comfort Suites, South Bend
52939 U.S. 933 N., South Bend, IN 46637
574.272.1500  •  choicehotels.com/indiana/south-bend/comfort-suites-hotels/in244
DoubleTree by Hilton, South Bend
123 N. Dr. Martin Luther King Jr. Blvd., South Bend, IN 46601
574.234.2000  •  southbend.doubletree.com
Hilton Garden Inn, Benton Harbor
1300 Cinema Way, Benton Harbor, MI 49022
269.926.5000  •  hiltonbentonharbor.com
Courtyard Marriott, Grand Rapids
11 Monroe Ave. N.W., Grand Rapids, MI 49503
616.242.6000  •  www.marriott.com/grrdt
Holiday Inn IPFW, Fort Wayne
4111 Paul Shaffer Dr., Fort Wayne, IN 46825
260.482.3800  •  fortwayneholidayinn.com
Book a Banquet Hall, Ballroom or Hotel
Find more venues in your area here.
are you a bride-to-be?
We'd love to plan with you on weddingday-online.com. Let's get started!