We got married at blissful barn June 17, 2017. Choosing blissful barn as our venue was one of the best decisions! From the planning all the way through the wedding day, everyone involved with blissful barn was amazing! Everyone commented on how beautiful and unique the setting was and how much they enjoyed having the freedom to be inside or outside, enjoying the grounds. You will not be disappointed if you book with blissful barn. Absolutely wonderful!
- Hayley Lowther, Bride

There's no question barns serve as a unique venue option for brides. But ensuring you are meeting your wedding needs and getting what you truly desire is something that still needs to be considered when choosing the perfect rustic space to house your nuptials. With Blissful Barn, you simply can't go wrong! Unrivaled beauty paired with modern conveniences, impeccable views, a natural, peaceful atmosphere and one-of-a-kind elements are coupled with all the authentic charm only an 1800's barn can provide.

Dying to have your wedding in a gorgeous, one-of-a-kind barn? Read on for more from owners Jerry and Sharon on why Blissful Barn is the perfect Midwest barn for your once-in-a-lifetime wedding!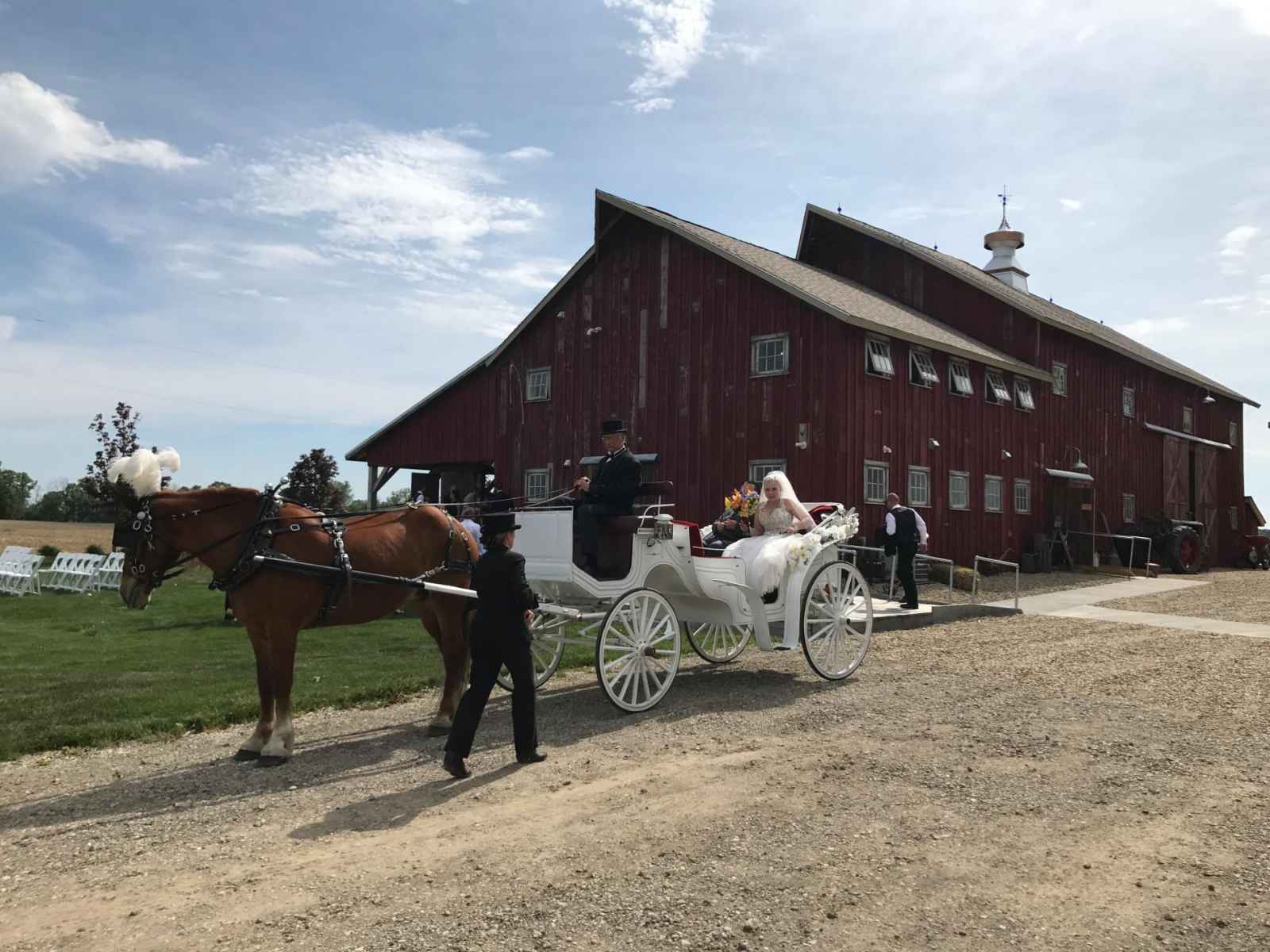 Please tell us a little more about the venue spaces you offer.
"The two-story barn retains the character and charm of its historic roots with its soaring, vaulted ceiling, hand-hewn beams, weathered plank walls, a custom wood spiral staircase and rustic, oak wood floors. The barn also offers the comfort and convenience of modern touches, including electricity, running water, handicap-accessible restrooms, (coming soon a state of the art sound system), wi-fi, and central air conditioning and heat for the bride and groom quarters and throughout the barn. The expansive 2,210 square foot interior and 2,000 square foot Grand Patio comfortably seats 200 guests or more.
Located in rural Three Oaks, Michigan, the Blissful Barn is surrounded by lush corn and soybean fields. The covered Grand Patio overlooks a sparkling stream, placid koi pond, and gazebo. The manicured lawn with landscape lighting, and verdant fields provide a romantic backdrop for photos. Whether you're planning the wedding of your dreams, an anniversary celebration, or a corporate party, Blissful Barn's rustic elegance provides the perfect atmosphere for your once-in-a-lifetime event."
What sets you apart from other venues in the area? Why should a bride choose you?
"At Blissful Barn, your wedding experience will bring you back in time 125 years to the rustic elegance of the mid 1800's. It is set back in the middle of corn and wheat fields on a dead end road, where all you hear is a gentle breeze of the wind rustling the leaves. This quiet and peaceful elegance of Blissful Barn provides you with everything you need to be comfortable during your special day—from central air and heat throughout, the two chandeliers, the modern bathroom facilities for your guests and our very custom one-of-a-kind wood carved spiral staircase to our rustic, one-of-a-kind props to personalize your very special day, including our 1942 running John Deere Model A tractor."
Are there any perks or benefits included with your venue?
"All props are inclusive at Blissful Barn."
What is your capacity? 
250
Do you have anything else exciting that you would like to share?
"NEW AT BLISSFUL BARN FOR MID 2017-2018 SEASON: Authentic farm tables with beautiful cross back chairs!
Our farm tables are made from 100+ year-old authentic, hand-hewn beams built the old-school way with oak pegs. You will not find any other farm table like ours anywhere. Now, complement the farm tables with our new cross back chairs to create the memory of a lifetime on your wedding day. We are offering an in-house special just for our guests only. As a bride at Blissful Barn, you can reserve the farm tables and cross back chairs for up to 60% off normal rental cost from other places. Our farm tables will rent for only $50 each and our new cross back chairs will rent for only $5 each. We have 22 authentic farm tables and 200 cross back chairs."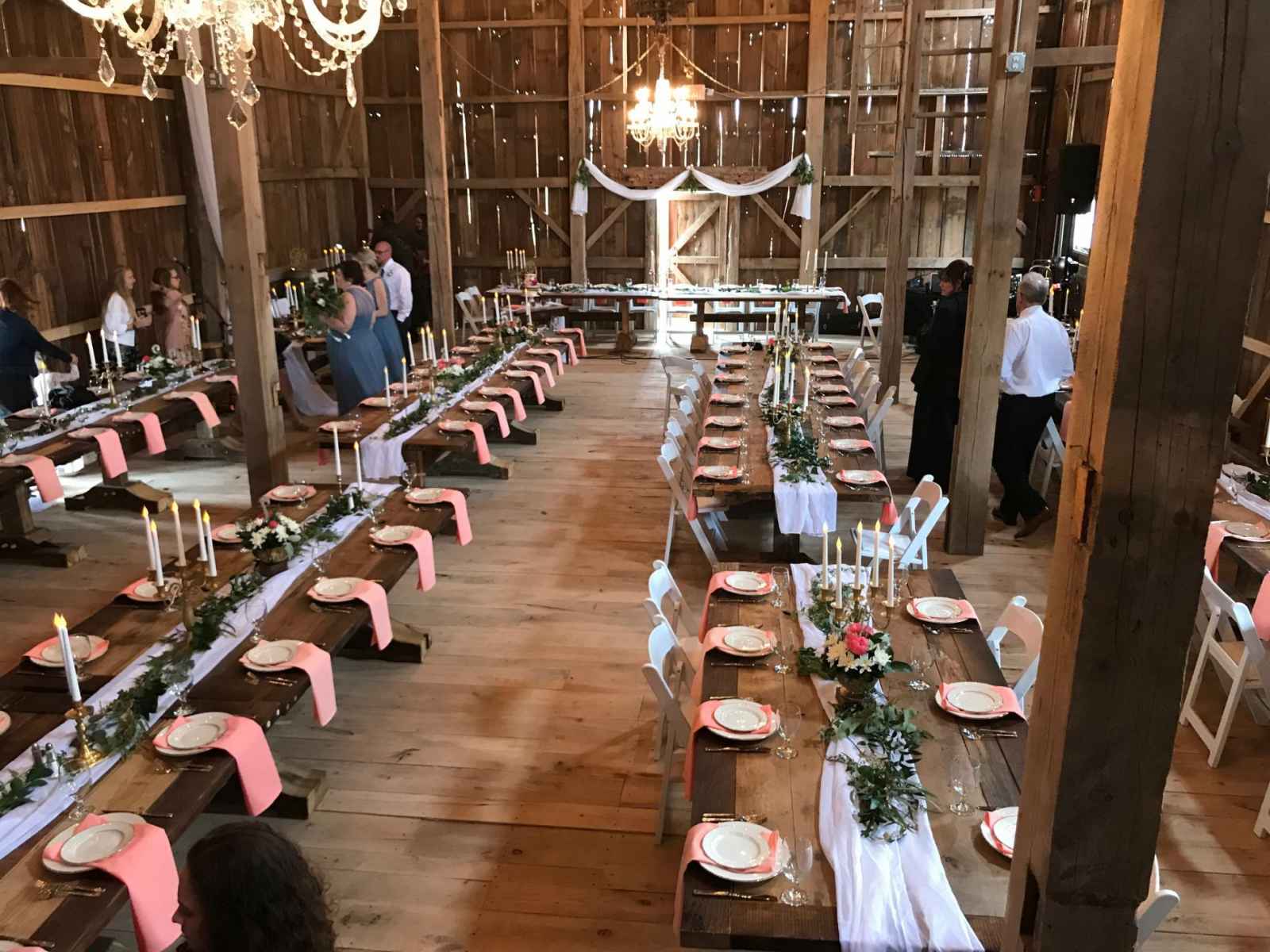 are you a bride-to-be?
We'd love to plan with you on weddingday-online.com. Let's get started!
 
are you a wedding extraordinaire?
Join WeddingDay Magazine in inspiring brides by partnering with us! See how here.