A decade ago, I was a 22-year old bride. At that point in my life, my biggest concern I had, leading up to my wedding, was trying to remember to wash my makeup off after partying all night, and occasionally remembering to wear sunscreen. I never worked out, but my dress, a svelte size 6, fit perfectly without alterations. My pre-wedding diet meant mixing Diet Soda with my Jack Daniels…because you know, that's how your metabolism works when you're 22.
Now, 10 years later, I'm a divorced mother of 2, and life has given me a fairytale romance I never dreamed possible. It was probably a few days after I said yes, that it hit me that I was going to be an actual bride again…and that I was…so…not…ready. I knew I desperately needed to step up my skin care game, and chose a botanical anti-aging regime and have religiously held to it. I have strived for 8 glasses of water a day, cut out ALL soda, and because of my dedication, my skin has a glow that I haven't seen in years. Yay me, right?
Now I know more then most, that we all have our "thing". We think our ears are too prominent, forehead too big, eyes are too squinty, and the list goes on and on and on. It's what keeps us from feeling truly our best, because it's the only thing that we really see when we look in the mirror. When we share our biggest insecurity, it usually comes as a shock to those around us. They never noticed, and frankly they think you're crazy. Ok, I get it, I really do. My thing? Well, to put it lightly, I have expressive eyebrows. I have used them the past 32 years to get my point across, give my kids silent warnings, express my confusion when my daughter combines prints with plaids, and to show everyone just how excited I am to see them! But do you know what expressive eyebrows get you?! A roadmap of fine lines and furrows along your forehead and what can only be described as a giant number 11 right smack in the middle of face.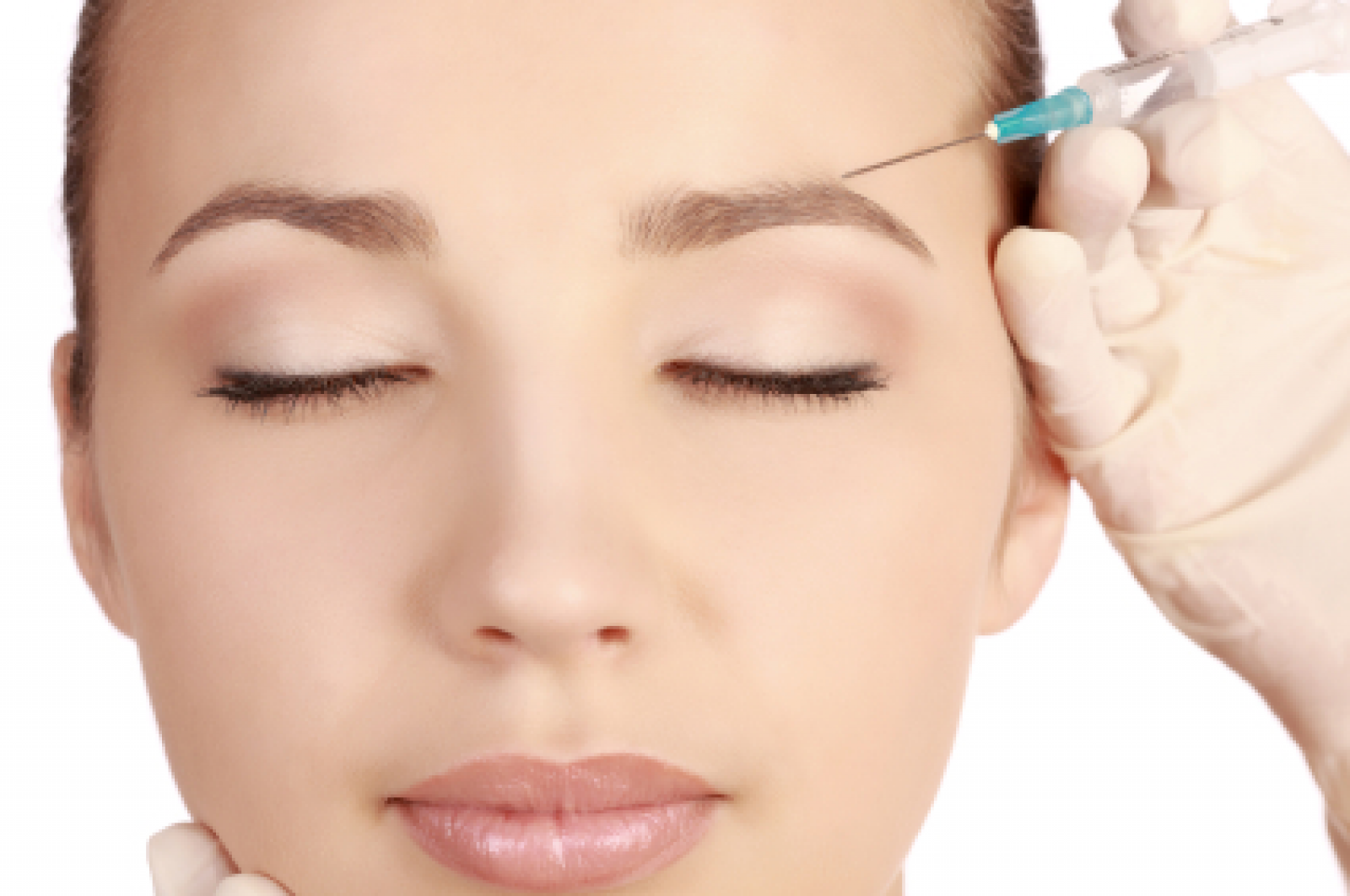 (Not me but you get the picture)
Now my skin care and lifestyle changes the past year leading up to my wedding really has made a huge difference! But…those…damn…lines! *Sigh* They literally stared me in the face every morning that I looked in the mirror, taunting me, and with only a couple months to go, I knew it was time to bring out the big guns.
The big "B".
Botox.
I did hours upon hours of research, and finally I called the ladies over at Bella Sante Medical Spa in Fort Wayne, and set up my appointment. The whole drive there, I would glance in the rear view mirror and my biggest insecurity stared directly back at me…and my foot became heavier on the gas pedal. Upon arrival I was greeted by the operations manager, Lynn, who was cheery and gorgeous, completely putting me at ease. I filled out all the fun paperwork and was promptly shown to a room by Carrie, my injection specialist. She asked me what I was looking for with my treatment, to which I am pretty sure I emotionally vomited all over her about my expressive eyebrows, feeling like I looked well into my 40s, and the stress of wanting to look fabulous on my wedding day. She suggested a type of Botox called Dysport, which she said would show results faster, and still lasted 3-4 months. After we decided on the right course of action for me, she went right to work. Within less then a minute, she was done, and I was the proud owner of a new mini ice pack and 60 ccs of Dysport! Pain was incredibly minimal, and I was in and out of my appointment in less then 30 minutes.
If only ALL of my wedding related appointments went that smooth!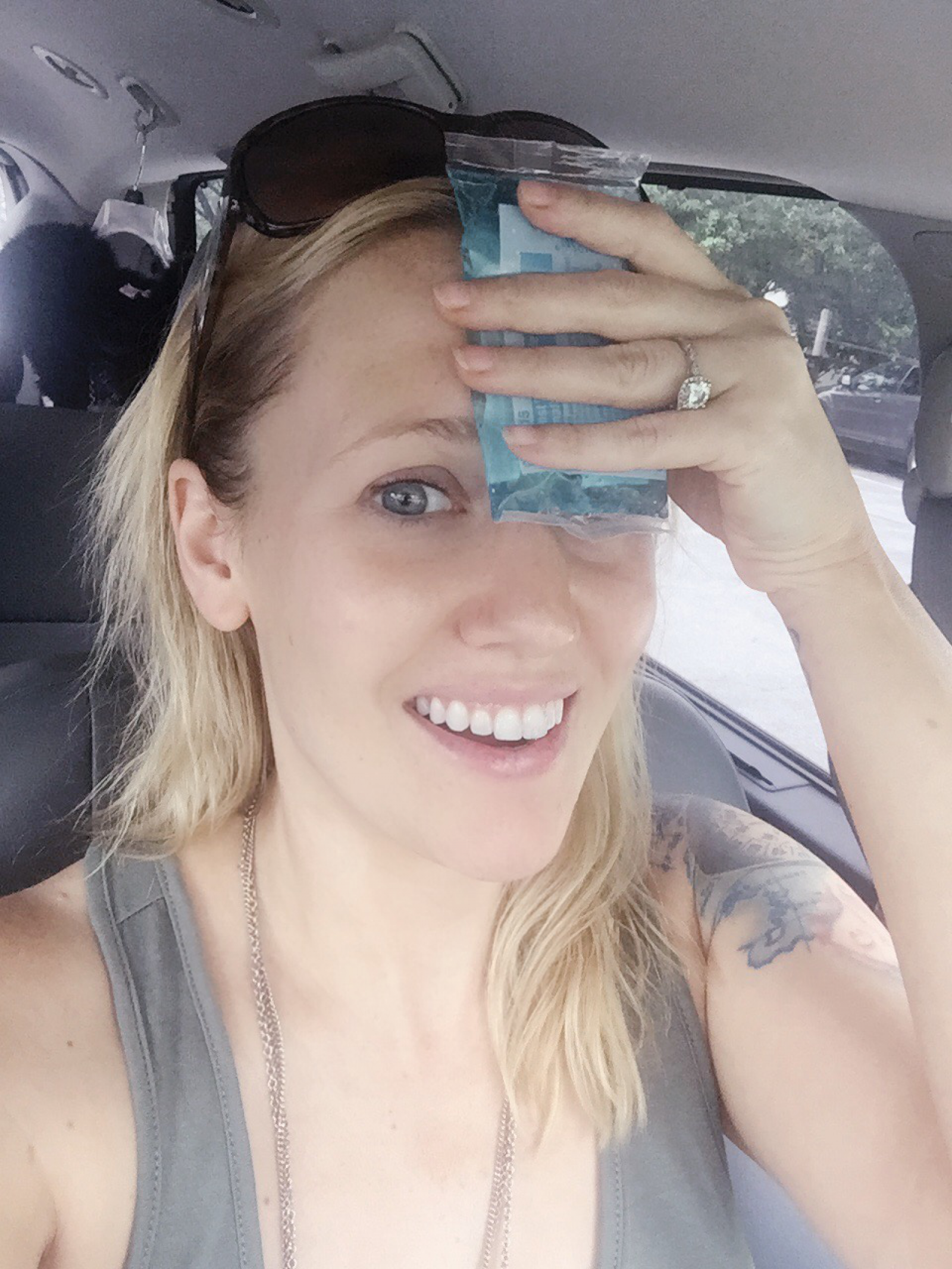 Me and my new ice pack!
So then began the wait. They told me it could be as little at 3 days and would take full effect in about 2 weeks. By day 3, I started to panic a little…my expressive eyebrows began to show lots of worry. Nothing seemed to be happening, but Carrie assured me that one day I would just wake up and look more refreshed…and you know what? Carrie nailed it on the head. Day 7, I woke up, and did a double take in my mirror. I wasn't expressionless, but my eyebrows looked visibly lifted and my forehead appeared slightly smoother. I sit here 3 weeks from my initial injection and every day I love the results even more. I realize that I have probably started something that will become a quarter annual expense for the foreseeable future, but the confidence it has given me is worth it's weight in gold.
So with this new experience under my belt and my wedding only a month away, my suggestion for fellow brides would be to not look at a calendar and take comfort in what may seem like months ahead of you…start your beauty regime asap. If you want Botox, do your research, and make sure you do it with enough time before the wedding, that if you decide you don't like it, you can skip the follow up treatment and be back to your (pardon the expression) old self in no time. As for me, I've got 1 month to go, which means final dress fitting, solidifying timelines, mapping out seating charts, and a whole slew of other minute tasks… and even if I was feeling a bit stressed, my eyebrows aren't giving me away.
-Andi Schafer
-Soon to be Mrs. Sherman-
Owner, Something Blue Stylists
www.SomethingBlueStylists.com