Conquering the Distance
It can be pretty challenging trying to plan a wedding with 2,000 miles between you and your venue. It can be even more challenging trying to plan a wedding with 7,000 miles between you and your fiancé. This was the situation Lisa Velte and Joe Kosek found themselves in when planning their University of Notre Dame wedding. Joe, an officer in the United States Army, spent the majority of their engagement serving our country in Afghanistan, half a world away from Lisa in Seattle. While many of us would be completely lost trying to plan a wedding from such a great distance, Lisa kept her cool, communicated with Joe every chance she could, and ended up having a perfect wedding. "If we had to do it all over again, we don't think we'd change a thing!"
A PICTURE WORTH 1,000 WORDS
Distance had always been a challenge for Lisa and Joe, but it proved to be one they could easily overcome. After a mutual friend commented on a picture of Lisa on Facebook, Lisa received a message from Joe and the two started communicating.  After a few emails, they found they had quite a bit in common. Lisa and Joe are both Double Domers–completing both their undergraduate and graduate studies at Notre Dame–and have numerous mutual friends, including Joe's sister and his former roommate. Having never met in person, they began speaking more online and then over the phone and sparked a connection. Despite living in different states, Joe decided to take a chance and ask Lisa to meet him. Lisa decided to be just as bold and take him up on his offer. The two met at the Grotto at Notre Dame on July 22, 2010, and the rest is history.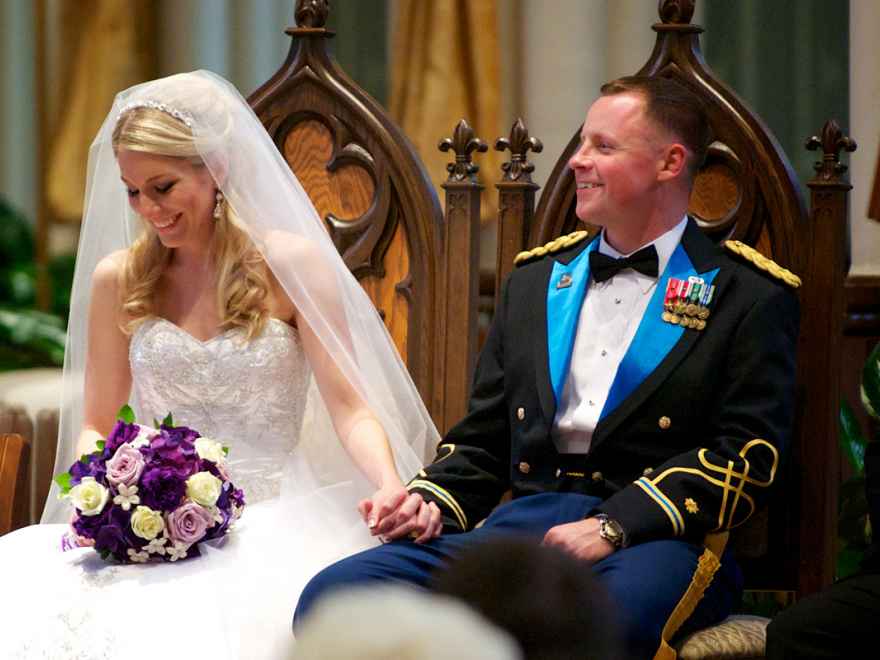 NEW YEAR, NEW CHAPTER
Lisa and Joe knew if they connected as much in person as they did online, ultimately they would get married. "I told Joe I wanted to marry him five days after we met in person," Lisa said. "I just knew in my gut that it could work between us." They had talked about it often and Lisa even designed her own engagement ring (with her jeweler), but the timing of the proposal was a mystery. The two had planned to return to Notre Dame in mid-February 2012, so Lisa figured that a proposal would come when they were back on campus.
Plans changed, however, when Joe received a call before Christmas 2011 that he would be deployed back to Afghanistan and could no longer return to South Bend. They spent New Year's Eve in Austin, Texas that year with dinner reservations at the historic Driskill Hotel. Lisa was sure that this was where Joe would ask her to marry him. She was just a few hours off, however, as Joe popped the question earlier in the afternoon on the steps of the iconic Clock Tower on the University of Texas campus.
MILITARY AFFAIR
Lisa and Joe knew they would say "I do" at the Basilica of the Sacred Heart on Notre Dame's campus and secured a date of May 25, 2013 for their ceremony. But they also ran into some challenges in their preparation, namely the distance – not only from each other, but also from South Bend. "Fortunately, I had the world's best matron of honor who lives in South Bend and was able to take care of so many things for me in town."
While some aspects proved difficult, others were quite easy. Joe's dedication to the military was a great influence in their planning, as they knew they wanted to incorporate a number of military traditions. A saber arch, missing man table at the reception and Army toasts were included. The couple even cut their cake with a cavalry saber. Joe also wore his Army officer's mess dress for the ceremony.
These influences carried over into the décor as well. "I wanted a classic elegance," Lisa said. "I didn't want to do anything too trendy that I would look back on in 10 or 20 years and think, 'What was I thinking?'" A color palette of purples and Caribbean blue was carried out through floral and linens in the reception space. "We had flowers sunk in cylinder vases on mirrors with votive candles. Nothing that unusual or extravagant, but they looked beautiful throughout the room." It was exactly what the two wanted–to create a space of simple elegance.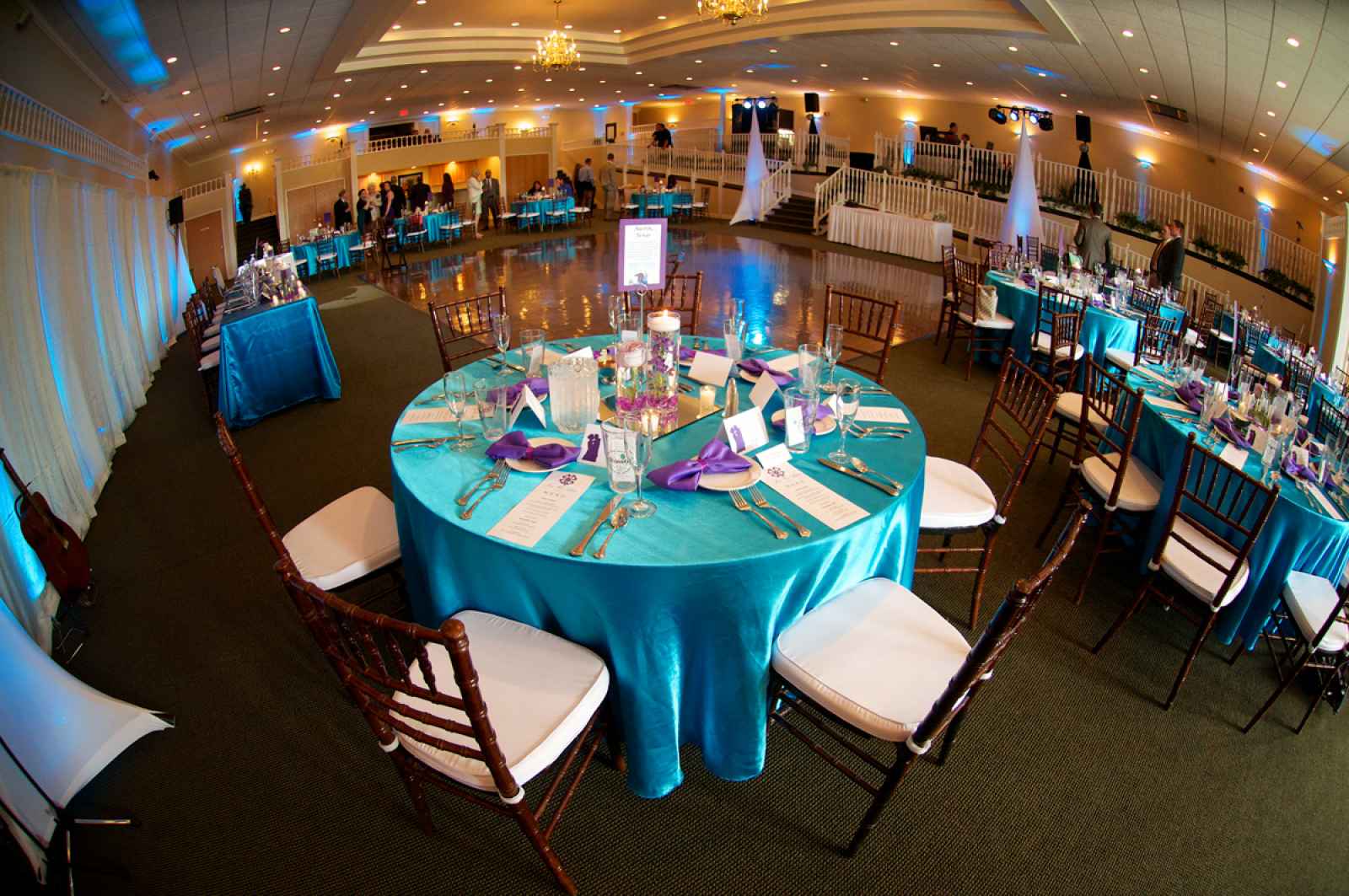 PERSONAL TOUCHES
The story of Lisa and Joe was a unique one, and they wanted to incorporate personal touches in their big day. "Joe and I had a long-distance relationship for the entire time we were dating and engaged, so we cherished the time we got to spend together," Lisa said. "So instead of numbers, the tables at the reception were labeled with cities where we'd spent time together. Each table had a sign with the name of the city, a short story about our time there, and a picture of us together in that city."
While they spent much of their engagement and planning on different ends of the earth, they were truly collaborative in their wedding planning and made the day their own. Communication had been strong between them from the start and it only grew stronger from across the ocean.