When you have the opportunity to get dolled up for your own personal style shoot, placed in the hands of the talented, seasoned photographer and treated like a princess, you take it, right?! I mean, what girl wouldn't?!
There's just one thing, though—this is a boudoir shoot. You aren't getting dressed up, but down...down to the bare essence of what makes us all human, beautiful and uniquely us. That's right—some degree of your naked form. No matter how you define what that looks like (there are many ways to artfully capture the beauty of the human body, after all!), that is boudoir photography in a nutshell. And it seems to be a genre that is definitely gaining more and more power. While popular, however, many women still struggle to overcome various apprehensions that might be holding them back from benefiting from boudoir. Well, worry no more!
We are so excited to have partnered with Less is More Boudoir to experience boudoir first-hand and to provide honest reviews to all you real women out there who are considering this for yourselves. Read on to get an inside look at all the fun we had, the awesome results and why you shouldn't hesitate on booking your own personal session with Less is More Boudoir today...You can thank us later!



​
Carri's Review:
Before the Shoot
When I committed to this opportunity, I was nothing short of super excited to finally experience something that's been collecting dust on my bucket list. But while I'm usually up for new adventures, I think any hesitation I was feeling simply came from wanting to feel comfortable. By the time it took place, I would be almost 28 weeks pregnant with my second child after all. There's no doubt it's a beautiful stage in life that I was thrilled to capture with the art of maternity boudoir photography (my moments of shedding a tear or two during the session proved that!). However, I wanted to feel myself and worried that might be a little tough while undergoing the major body transformation that is pregnancy. But when I first spoke to Livia of Less is More Boudoir (a fellow mama of two, I learned), I absolutely knew I was in good hands! I not only appreciated her professionalism but her fun, down-to-earth personality and passion for what she does.



As Livia and I discussed all the benefits of this type of photography, it became even more clear on why women should treat themselves with boudoir and how many stages of life represent the perfect time to book your session. You just trained for a half marathon and have a rockin' bod...go for it! You are slimming down for the gown (or anything else) and love the shape you are in...treat yo'self! You are pregnant and want to freeze that special time...don't let the moment pass you by! I also realized how beneficial it would be to encourage other women to take that leap once I experienced it myself. After all, I believe we should love the skin we are in—no matter where we are at in life!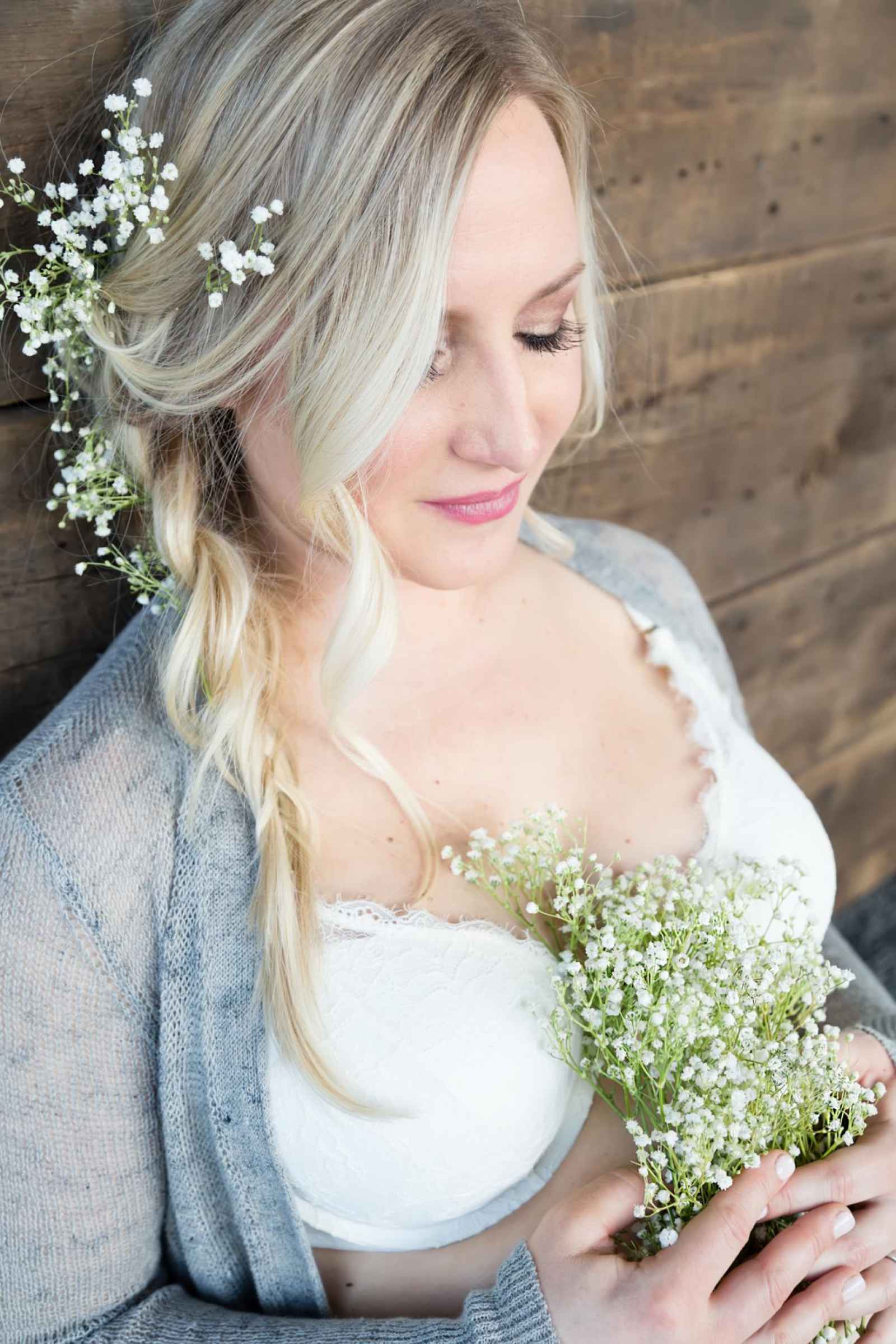 Most importantly, I got to know Livia, why she loves what she does and her motivation behind the lens. This conversation was something I learned Livia does with all her clients. She explores what you are looking to achieve and leaves the door to collaborating wide open, welcoming any ideas you might have—of which I had many (thank you, Pinterest!). Bottomline, Livia is super accessible and ready to deliver just what you want. And like one of your best girlfriends, she is just a text, phone call or email away!
 

Arrival
After collaborating with Livia on wardrobe items, sharing my Pinterest board and discussing last minute details such as florals, outfits, etc., I was even more excited for the shoot. The day of, she checked in with cute text messages to let us know how excited she was and that it was going to be an awesome day! 
Lucky for us, we were treated to a suite at the brand new Ironworks Hotel in Indianapolis, a trendy, one-of-a-kind, luxury boutique hotel that had us oohing and ahhing from the second we pulled up! And when I arrived, Livia's warm welcome was unexpectedly special. I'm talking complimentary robes, fresh flowers, yummy snacks, an on-site hair and makeup artist, wardrobe changes—the whole nine yards!
As makeup artist Emmy Makes People Pretty began her work on the hair and makeup designs, I was able to relax to music, enjoy some laughs and discuss ideas for my shoot while we all got to know one another (think mini slumber party, ladies, lol). And when hair and makeup were completed, the results were gorgeous. I had the look I had envisioned—soft, natural and glowing (imagine my appreciation as a tired mama!). Emmy was not only sweet, super-talented and professional, I truly enjoyed working with her and Livia as they made such a great team!



During the Shoot
What I appreciate most about Livia's approach and style was that she is able to tailor it to her individual clients and their specific goals. There was no question when it came to her skill. But I loved that she had the ability to pick up on the style and mood I was going for and also allowed me the time I needed (being the delicate, pregnant flower I was!) to change or select my next look. I also appreciated her making me feel more than comfortable. Her comments about how beautiful my outfit or I looked were truly genuine. Feeling her authenticity shine through in those moments was enough to bring some tears to my eyes...and hers (crazy hormones aside!). I'll never forget the overwhelming feeling of being taken care of, made to feel gorgeously special and looking at my sweet baby bump—all while listening to the soft jams in the background. Bottomline, my advice to all women—and especially mamas—is to never second guess treating yourself to this! Embrace your body and have fun while you're at it!

***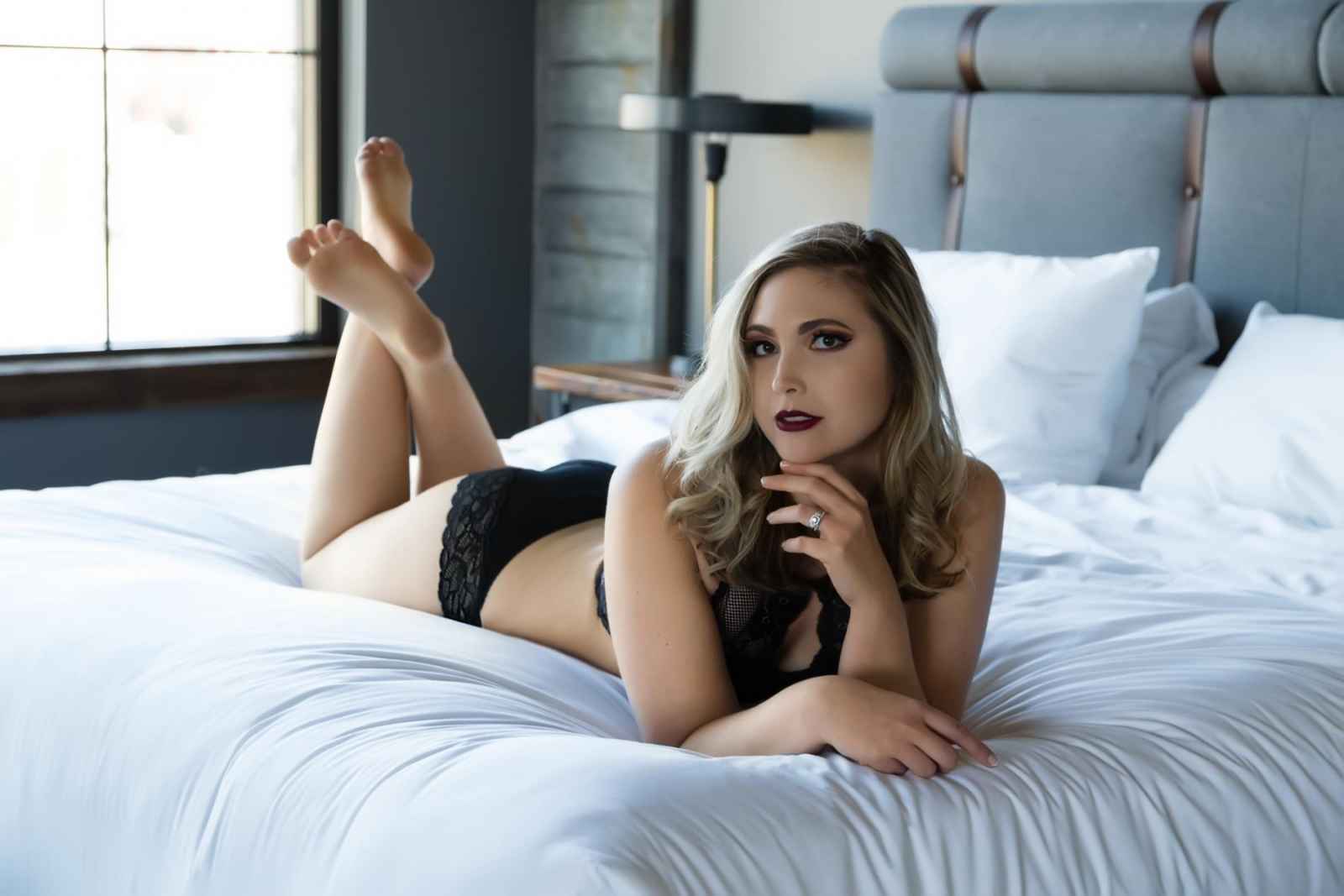 Kaitlyn's Review
Let me just start by saying, if you're currently thinking about doing boudoir, if you've ever thought about doing boudoir or if you think you might, at sometime in the future, consider doing boudoir, then I have two words for you: DO. IT.
Now, I know what you're going to say. "I'm not in shape." "I don't feel sexy." "I'm too scared." (Insert all other lame excuses here). I went into this process with all of these same thoughts. I assure you, all women feel this way. And I also assure you, you will NOT still feel like this when you're done with your shoot. Why? Because Livia of Less is More Boudoir simply ROCKS at her job.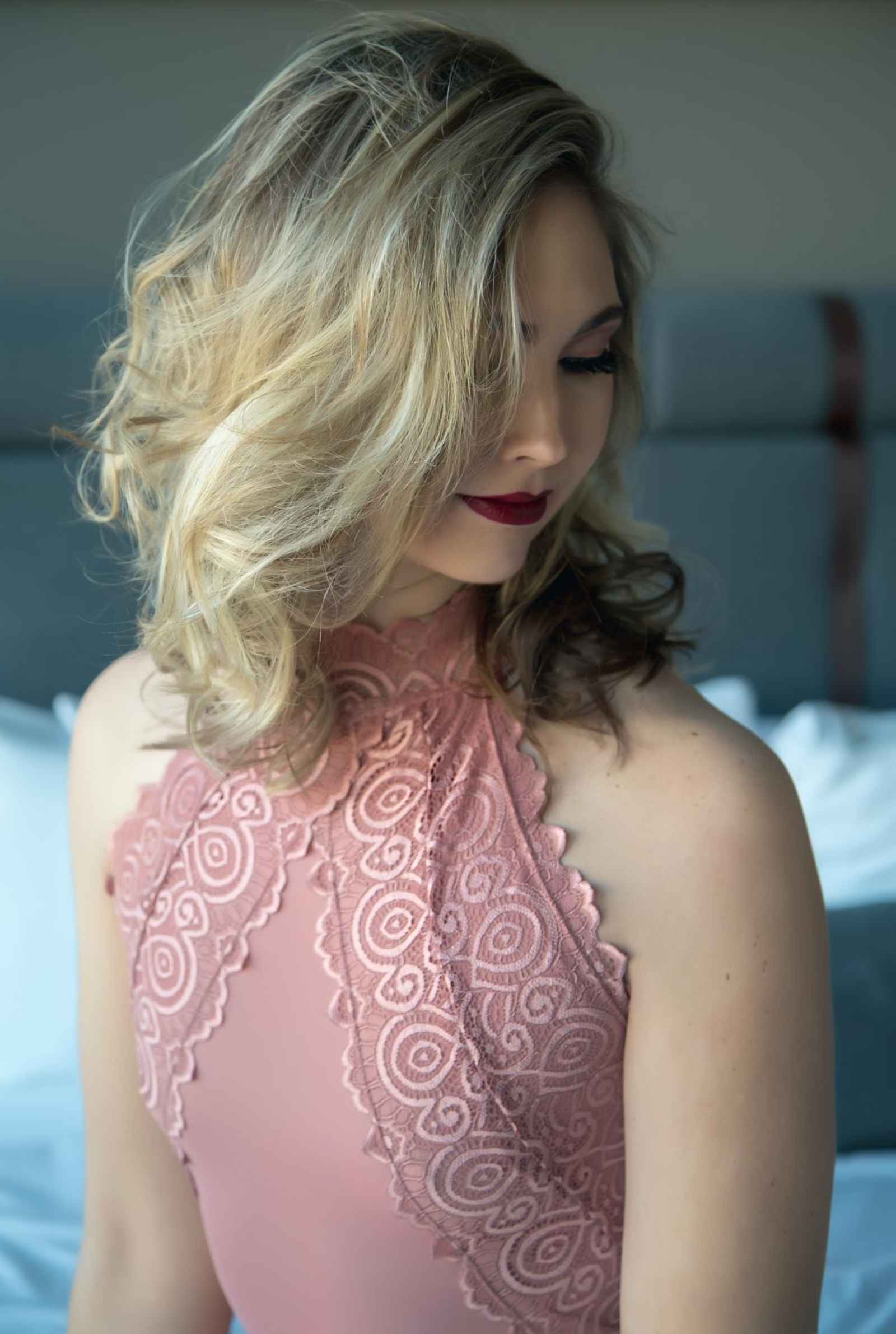 BEFORE THE SHOOT
First things first. When you book with Livia, she is going to make you feel like the most important person on the planet. In an initial phone call with her, she gave me a run-down of everything I needed to know from advice on selecting lingerie to how to prep the little details (ring cleanings, nail polish guidance, etc). She encourages you to do some research—find out what style you like, poses you want to do—and send them to her. If you're wanting someone hands on and involved, then Livia is the photographer for you, as she encourages you to text pictures to her as you find inspiration (as often as you want!). She will chat back and forth with you leading up to your shoot, getting you nothing short of pumped for the day ahead.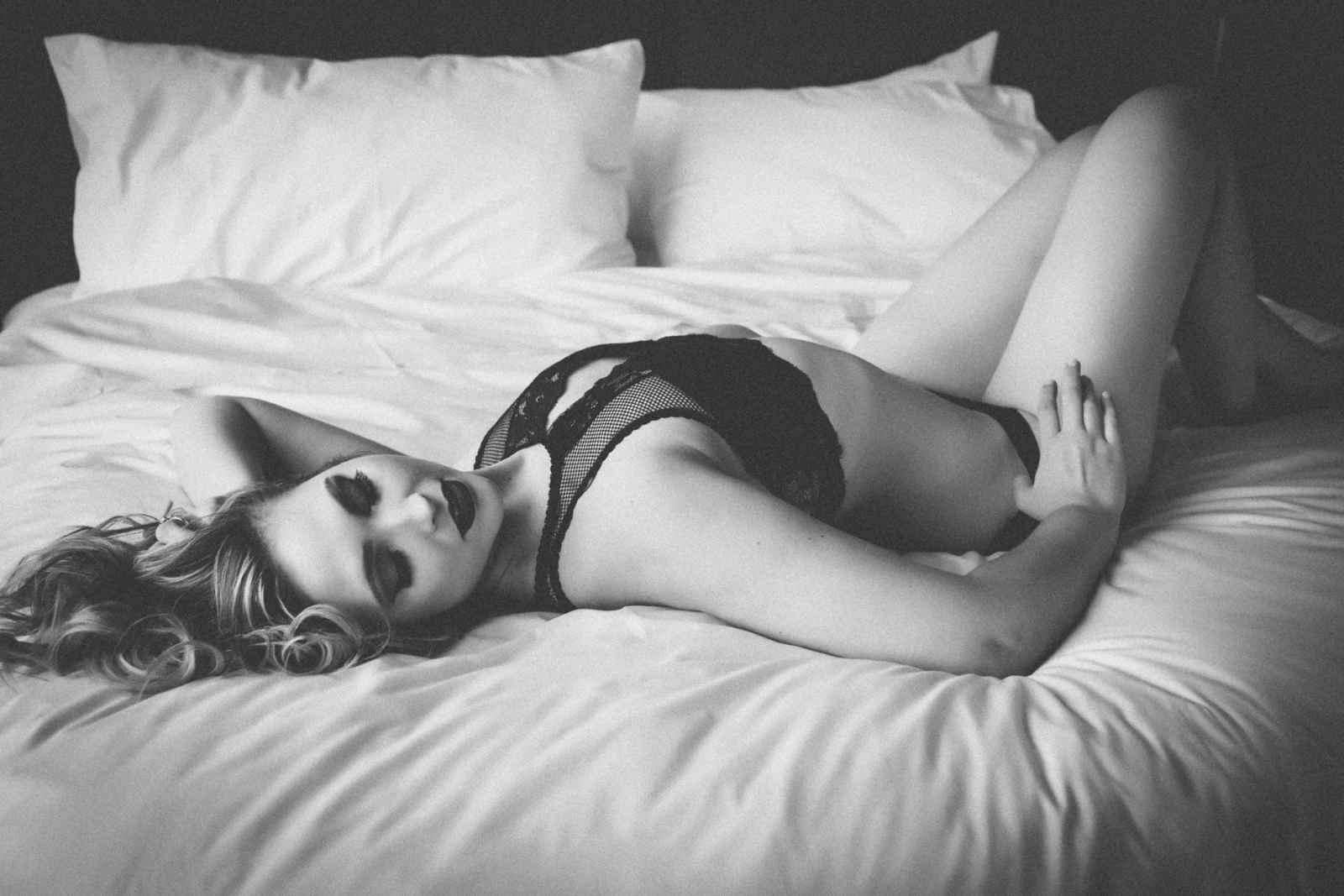 DURING THE SHOOT
Needless to say, once the day finally arrived, I was READY. Most of the initial nerves had gone away, due to Livia's preparedness and communication. She arrived to the hotel, a bundle of energy, with tons of snacks and music/speakers in hand. Another bonus of booking with Livia? She arranges for a professional hair and makeup artist (shout out to Emmy Makes People Pretty!) to get you looking your best before you step in front of the camera. The process of getting dolled up was more than fun. Livia brings a cute, satin robe for you to wear while you get primped and jam to the tunes of your choice.
When it was time to start shooting, Livia was ready. She had printed all of my inspiration images I sent her and had them laying out for us to refer to. She had me start with my most conservative outfit–a strategy to get me warmed up and eased into the shoot–however after one or two clicks of the camera and her constant hollers and compliments, I forgot I'd never done this before.
I know most women's biggest concern is wearing so little in front of someone they just met, but I assure you, when you book such a talented and personable photographer like Livia, you feel like you've known them for years and the concern goes completely out the window!
After THE SHOOT
So, the shoot is over and that's it, right? You patiently (or not so patiently) wait weeks for the arrival of your images and hope and pray you love them? Not with Livia! I kid you not, the very next day she was texting us sneak peeks of our finished, edited photos (insert heart eyes emoji here). I cannot say how nice it was to have that immediate reassurance that the shoot—and final photos—went as amazing as I had thought! Fast forward to Monday and she had the entire set of 20 delivered (a mere 3 days post shoot) and, needless to say, I absolutely loved every single one of them!
Moral of the story? Book the boudoir session. Married, engaged, single—it is SO worth it and something you will undoubtedly cherish forever. I mean, how cool will it be to look back on the images in 25, 30...50+ years and remember this moment in your life. Trust me, you will not regret it!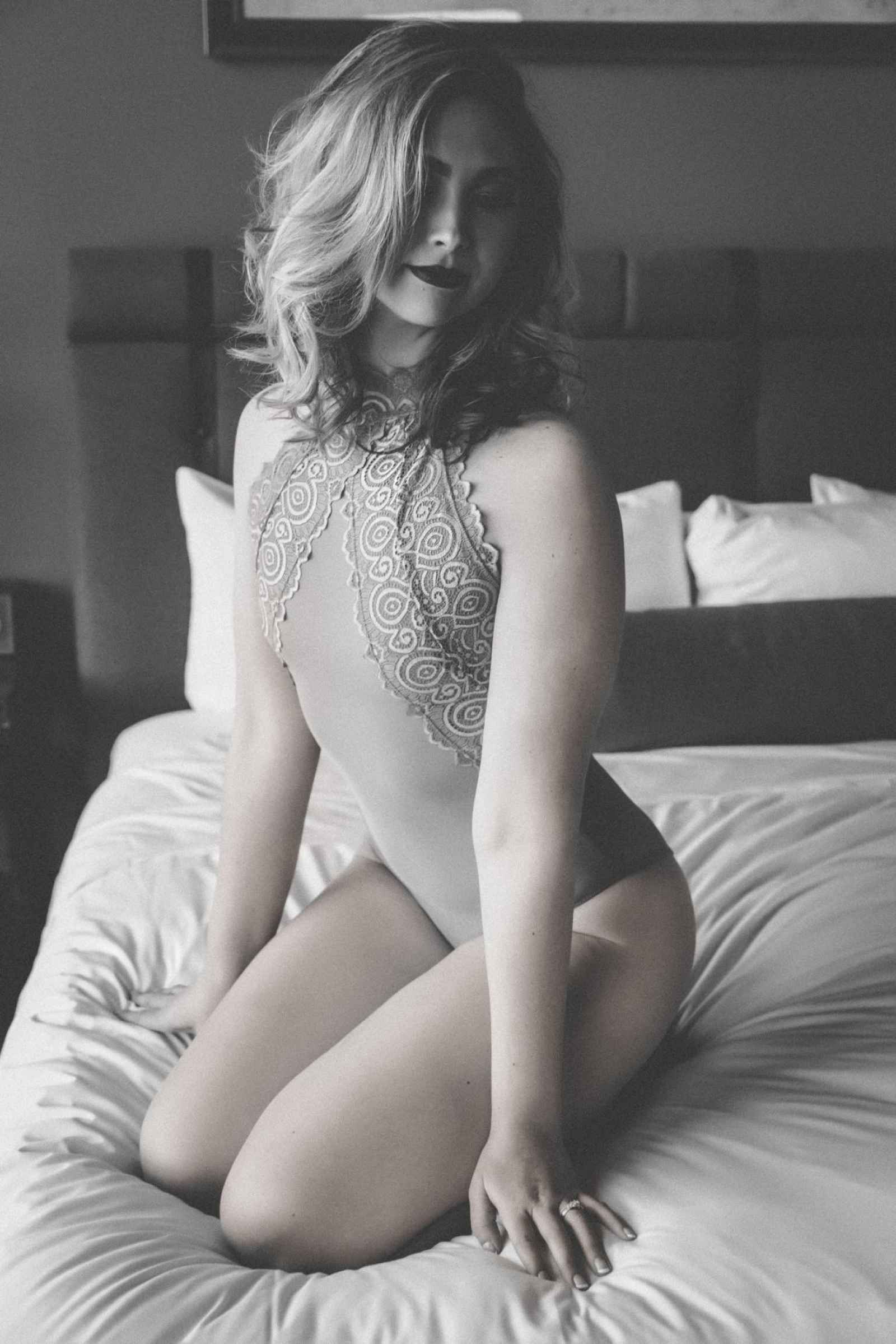 Additional Beauty Tips
There's obviously some prep work involved on your end prior to a boudoir session. What's a photo session dedicated to you if you haven't completely pampered yourself? Yes, we mean nails, a facial, waxing...whatever will make you feel shiny and beautiful! We had the privilege of working with Nicholas J. Salon, located in South Bend, Indiana and Madwax of Granger, Indiana to prep for our fun-filled day. The talented Christina Clark at Nicholas J. Salon & Spa was super friendly and treated us to gorgeous light pink (Carri) and French (Kaitlyn) gel manicures at their impressive Eddy Street Commons salon, and Kimberly Menoski, owner of Madwax body waxing studio, had such a welcoming, professional demeanor. What's great is her experience, cozy salon, menu and price points—offering everything you would need to feel your best (we love the cute names, too like the Minx, Foxy and Mama-Bare!), and we also loved the results!
 
*****
Interested in learning more about Livia Villanueva, the photographer behind Less is More Boudoir, or want book a session? Contact her today!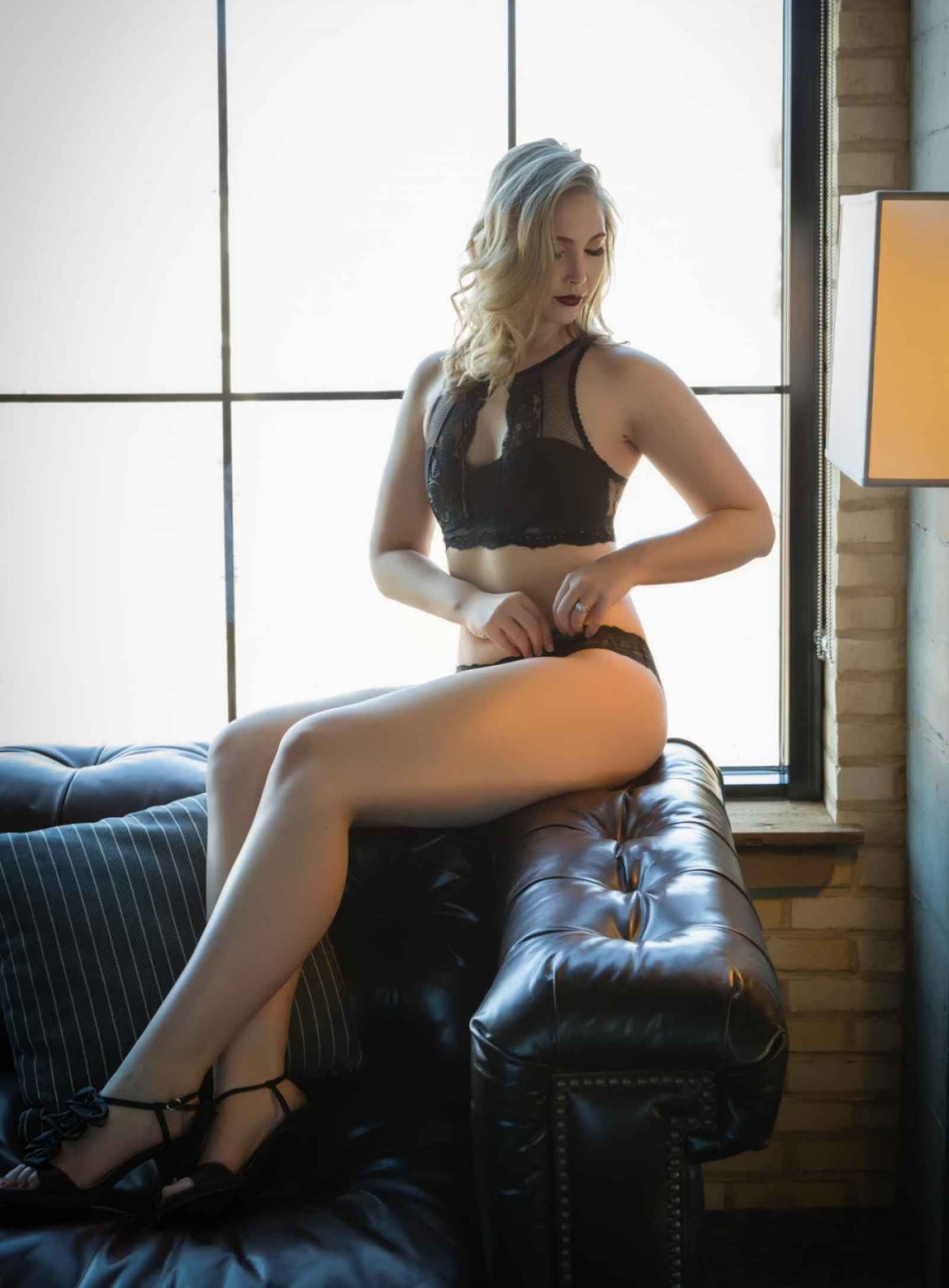 would you like us to review your product or service?
We'd love to partner with you! Contact us here!
 
are you a wedding extraordinaire?
Join WeddingDay Magazine in inspiring brides by partnering with us! See how here.