A setting sun peeking through wooden beams. Cathedral and vaulted ceilings dressed with romantic stringed lights and chandeliers. Bars made from whiskey barrels and pallets. Historic origins with modern amenities. Acres and acres of serene countryside. They called it a trend—a movement that would soon be on its way out by the time the following year's wedding trends were introduced. They said that countryside places and rustic spaces would fall out of step with brides who would certainly grow weary of mason jars and cowboy boots. "They" are the experts who predict what's on the horizon for what's in and what's out in the wedding industry. And sometimes, they are mistaken.
Barn weddings arrived on scene in a subtle manner a few years ago, but their popularity continues to gain rapid momentum, and not just with brides looking for the casual, rustic experience. Nowadays, couples are revolutionizing their barn weddings to include every type of wedding theme, while incorporating their own take on tradition. Perhaps that is the enticement of the barn wedding—it can be as elegant, as casual, as rustic, as lavish, or as personalized as a couple wants it to be. That thought alone breaks every stereotype that surrounds the barn wedding. They can no longer be defined or limited within the boundaries of burlap runners, mason jars, chalkboard signs and D.I.Y. Instead, they serve more as a blank canvas where couples can envision and create.
The demand for barn weddings reflects a significant shift in the wedding industry which suggests that couples are deviating from the norm. Instead, they are embracing their own styles and daring to venture beyond tradition and cookie-cutter weddings. The diamond-in-the-rough characteristics that come with barns allows brides to easily visualize their wedding in the venue. And that blank canvas is the perfect backdrop to design a wedding that is an authentic reflection of the couple. Ballrooms, country clubs and hotels seem to carry an expectation of extravagance and luxury while barns are easily personalized and transformed to become whatever it is that the bride wants it to be.
More and more couples are now expressing their desire to simply create an experience for their guests. In other words, they really want their friends and family to have fun. And while that certainly can be done within the confines of any venue, it comes naturally within the barn setting with fire pits, animals roaming throughout the grounds, outdoor spaces for yard games, and overnight accommodations. There is just something about attending a barn wedding that tells guests they are going to have a good time.
The barn wedding "trend" hasn't wavered much in the past years. Instead, the "trend" continues to refashion itself by being a flexible space where brides can virtually design their own venue with any trend or non-trend they want.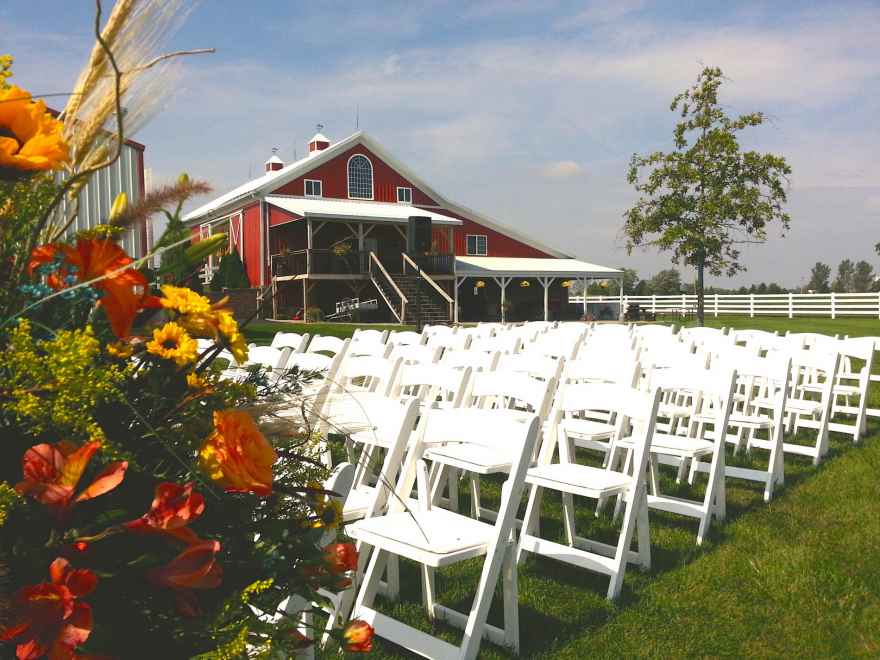 11 barns to host your reception
Lakeside Occasions
Lakeside Occasions is a restored dairy barn built in the 1800s in the heart of Amish country; it still contains much of the original woodwork and has been renovated to provide a cellar for ceremonies, a stage for the wedding party, a converted silo and feed room for the bride to get ready and a balcony that offers panoramic views of Emma Lake.
2595 S 625 W, Topeka, IN 46571
(260) 336-0038  •  lakesideoccasions.com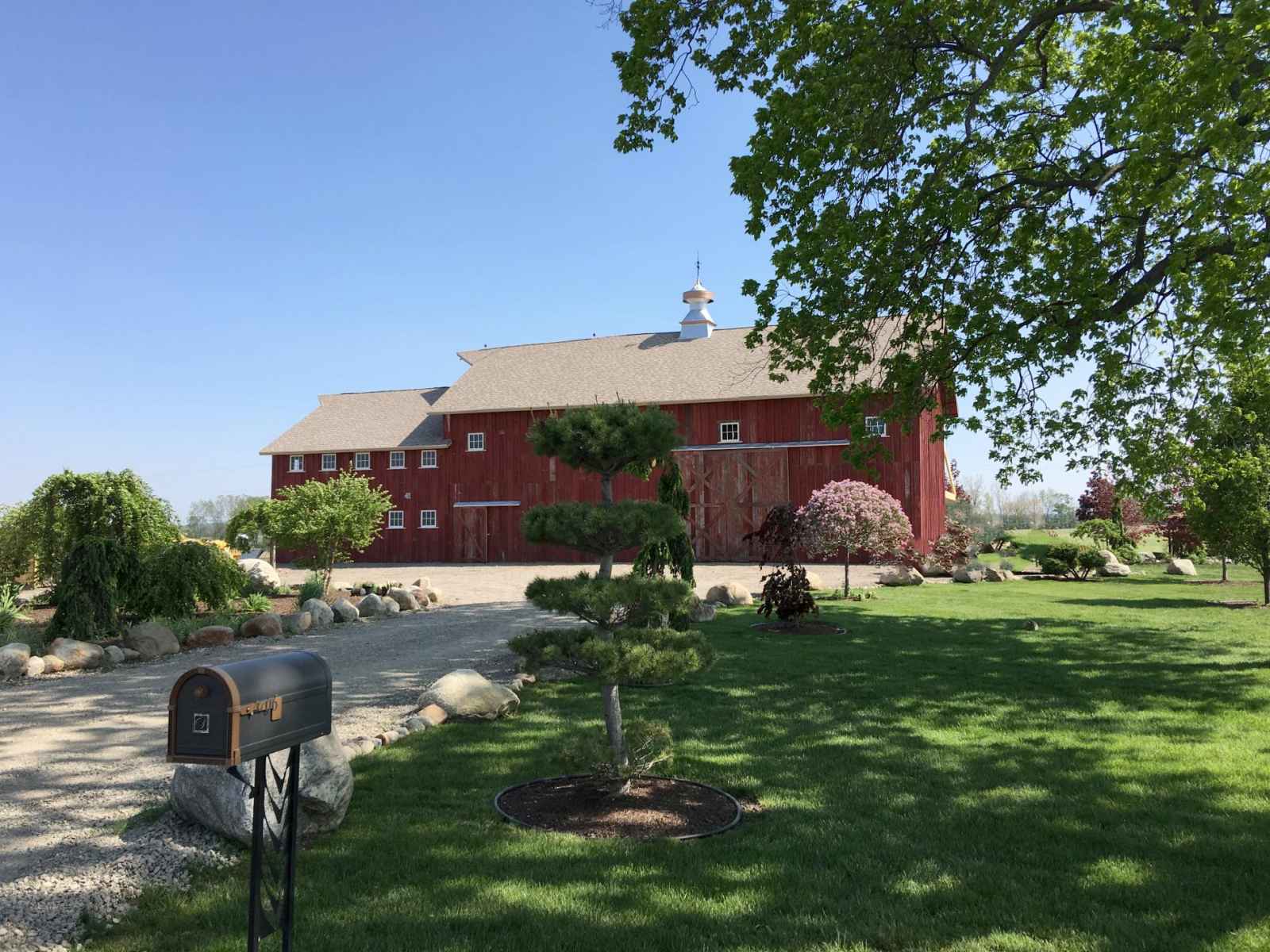 Blissful Barn
Blissful Barn was originally built in the 1800s and has just finished renovations in time for the summer wedding season. This two-story barn offers space for up to 200 guests and includes amenities like bride-and-groom suites, restrooms, WiFi, electricity, sound system and more. The three-acre grounds feature a sparkling stream, koi pond, gazebo and surrounding fields. 
4706 Watson Rd, Three Oaks, MI 49128
(269) 759-4682  •  blissfulbarn.com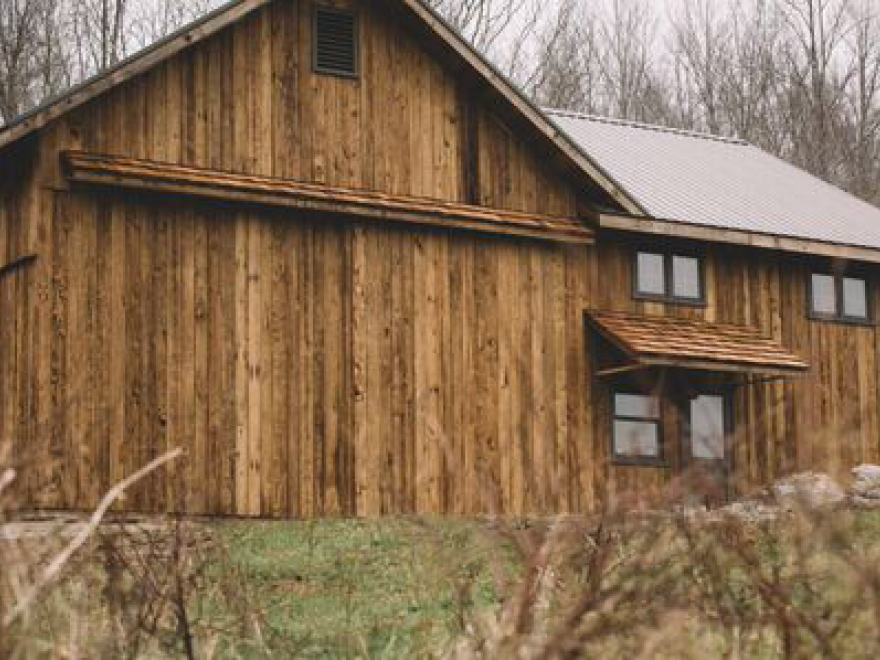 Martin's Barn on Knob Creek
Martin's Barn is an exclusive lifestyle venue recently completed in 2015. The barns and grounds feature an authentic nineteenth-century barn moved from Pennsylvania to the Indiana farm, luxury groom and bridal suites, a modern bar, rolling dance floor and amphitheater, heat and air conditioning, along with extremely spacious guest areas.
555 Little Salt Creek Run, Bedford, IN 47421
(812) 508-9868 • martinsbarnonknobcreek.com
Happily Ever After Barn Weddings and Events
Happily Ever After Barns offers two locations southwest of beautiful Bloomington. The first barn is a family farm located off a secluded private road. The second is located at Lamplight Country Village. The interior features a one-story, shabby chic atmosphere with a beautiful loft. 
5290 East State Road 58, Elnora, IN
(812) 606-6969 • happilyeverafterbarnweddings.com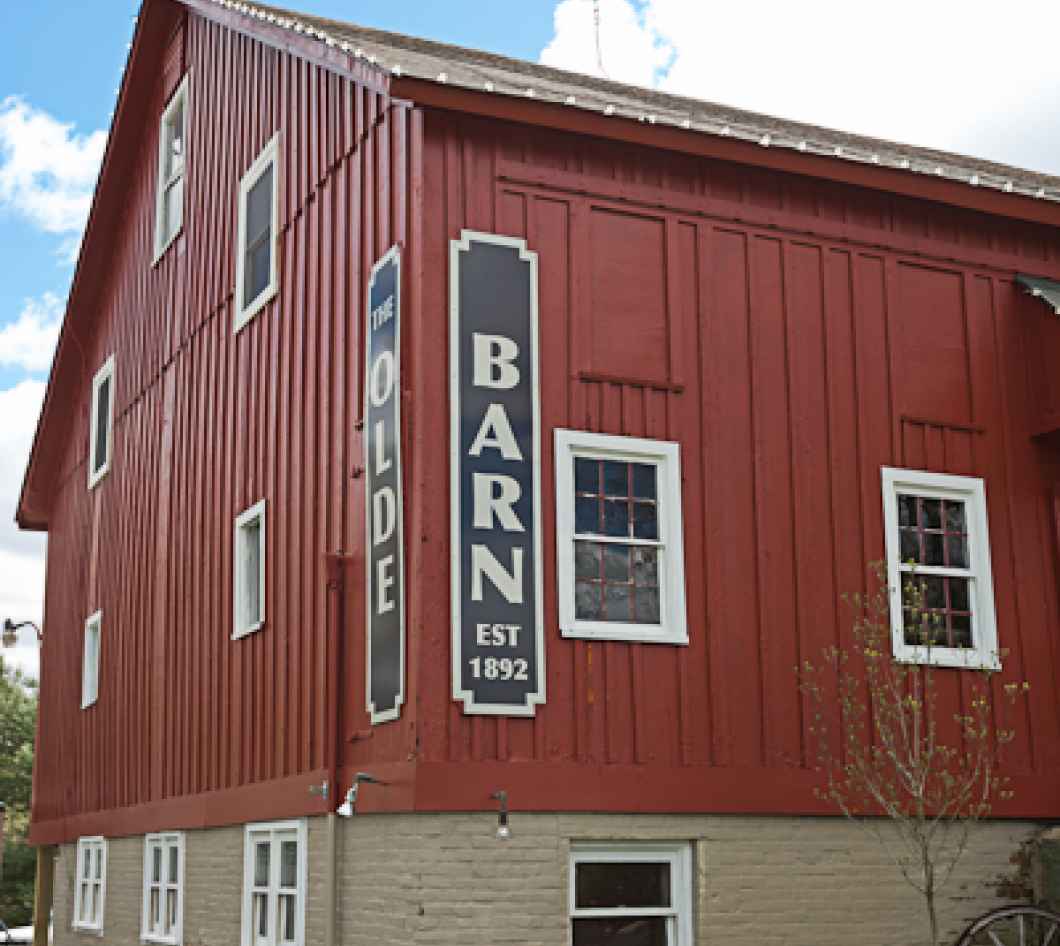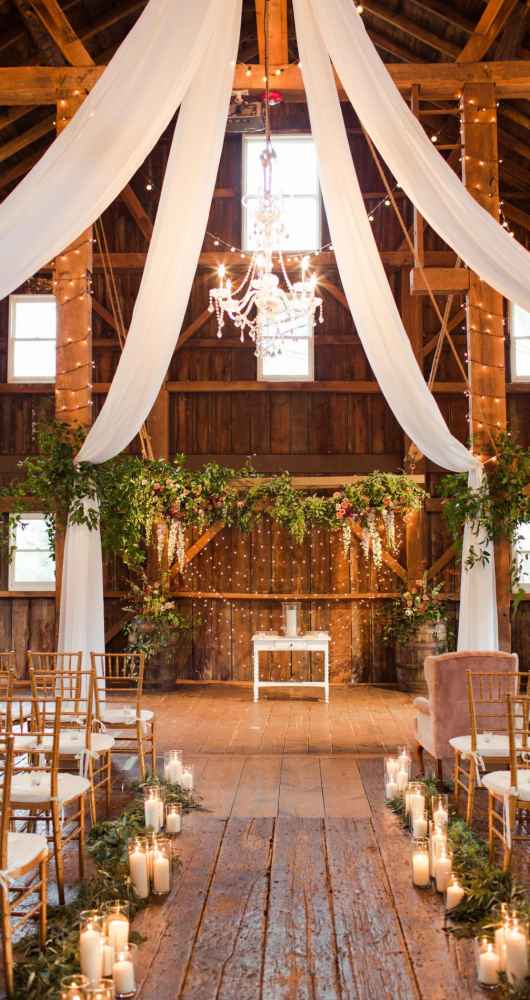 Mustard Seed Gardens
Mustard Seed Gardens, nestled in the heart of the Indiana countryside is a unique setting, rich in history with roots dating back to the mid-1800s. Located on the original Metsker Plantation is the "Olde Barn," which has been completely converted to a one-of-a-kind wedding and event facility that offers old world charm and modern conveniences. Outdoor amenities include a bar, a fireplace, a pergola and waterfront views. Indoors, the venue can seat 200 guests comfortably.
77 Metsker Lane, Noblesville, IN 46062
(317) 776-2300  •  mustardseedgardens.com
The Barn on Maryland Ridge
Situated on a working cow farm and amongst the rolling Bloomington country, The Barn on Maryland Ridge had their grand opening on Memorial Day weekend. The rustic barn can hold up to 150 guests. Amenities include table, chair and linen rental, an outdoor fire pit, restrooms, and bridal suite. 
5347 South Greene County Line Road, Bloomington, IN 47403
812.327.4895 • thebarnonmarylandridge.com
Mike's Music and Dance Barn
Mike's Barn is a country music venue in the heart of Brown County. While it operates as a bar and dance club, it is available for weddings and other private events featuring a large wooden dance floor. 
2277 IN-46, Nashville, IN 47448
(812) 988-8636  •  mikesmusicbarn.com
The Barn on Boundary
The Barn on Boundary offers couples 5,400 square feet of floor space with two levels, allowing couples to hold a ceremony upstairs and a reception downstairs of about 300 guests. The original details are still intact in the barn including original woodwork, a hand-built bar and horse stalls. The rich architecture paired with chandeliers, string lighting and open floor plan completes the four acres of countryside The Barn sits on.
19601 N Boundary Road, Eaton, IN 47338
(765) 748-6193  •  thebarnonboundary.com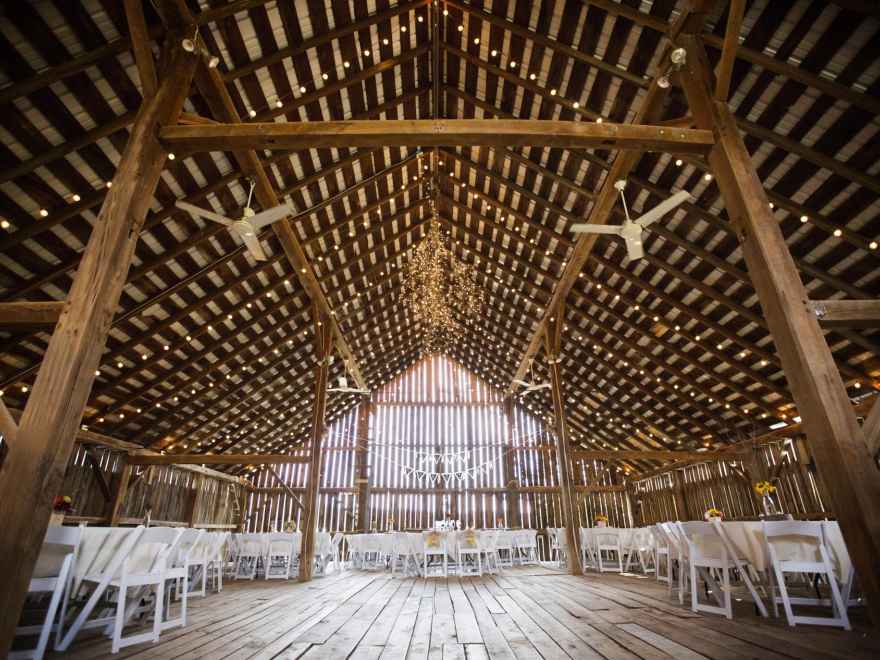 Montgomery Farms
Montgomery Farms is a 150-year-old, two-story barn located on 40 acres of countryside complete with a pond and wooded background. The barn has stringed lights overhead, a fenced-in children's play area, and furniture and décor available to couples. There is also The Farmhouse which is available for the bride and her bridesmaids to get ready in. With access to the entire property, couples have several options for hosting ceremonies and receptions.
1122 E Radio Tower Road, Underwood, IN 47177
(812) 752-2300  •  montgomery-farms.com
Vintage Oaks Banquet Barn
A long winding driveway leads to the privately nestled Vintage Oaks Barn. The barn was originally constructed in 1837 and after a series of renovations, will be open for the 2016 summer season. Renovations include restrooms, the addition of chandeliers, a newly constructed loft, new windows, and another barn door. Currently, the barn can seat 168 people, but once the loft is completed, there will be more space for up to 250 guests. 
1150 West, Delphi, IN 46923
(217) 972-0583 • vintageoaksbanquetbarn.com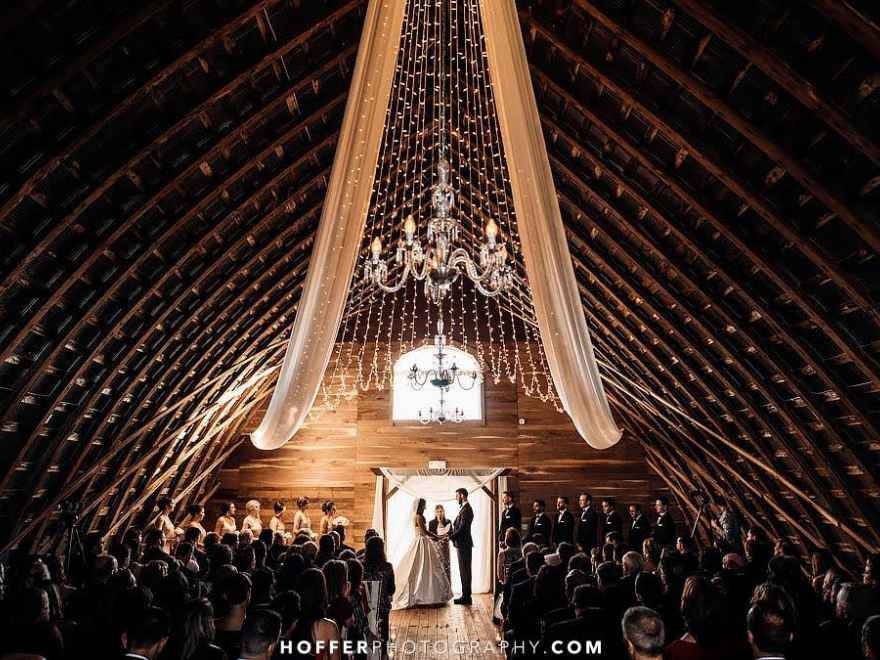 The Loft at Walnut Hill Farm
The Loft is a 147-acre rustic farm nestled in the rolling hills of south central Indiana. The Dutch Hoop Barn has been restored featuring original architecture with a 22-foot ceiling, walnut walls, pine floors and antique chandeliers. The barn is climate controlled and can accommodate 230 for a ceremony and 140 for a reception. Another reception possibility is the covered pavilion which is able to accommodate 300 people. Additional amenities include dressing rooms, a warming kitchen, an onsite cottage, and an outdoor deck.
1317 Bennett Road, Bedford, IN 47421
812-275-6938  •  theloftatwalnuthill.com
start planning your wedding right now!
If you'd like to become a WeddingDay Bride and have access to vendors, wedding advice, free giveaways, bridal shows, and planning tools, click here!