The Vision
Whimsy and elegance were two things that came to mind when designing this cover. We knew nothing could be more perfect for this concept than a Michigan wedding overflowing with all the rich colors, freshness and elements of summer the season had to offer—including some of its more delicious offerings!
While we had more than enough inspiration to start with, one element we really loved served to shape the overall look and feel. "Peaches really led the theme," says Nicole Marsh of Compose Events, our talented planner that brought this beautiful vision to life. "When you think of a Michigan summer, you think of fruits—peaches and cherries. We worked hard to find the perfect balance between pops of color, white space and creating an elegant look."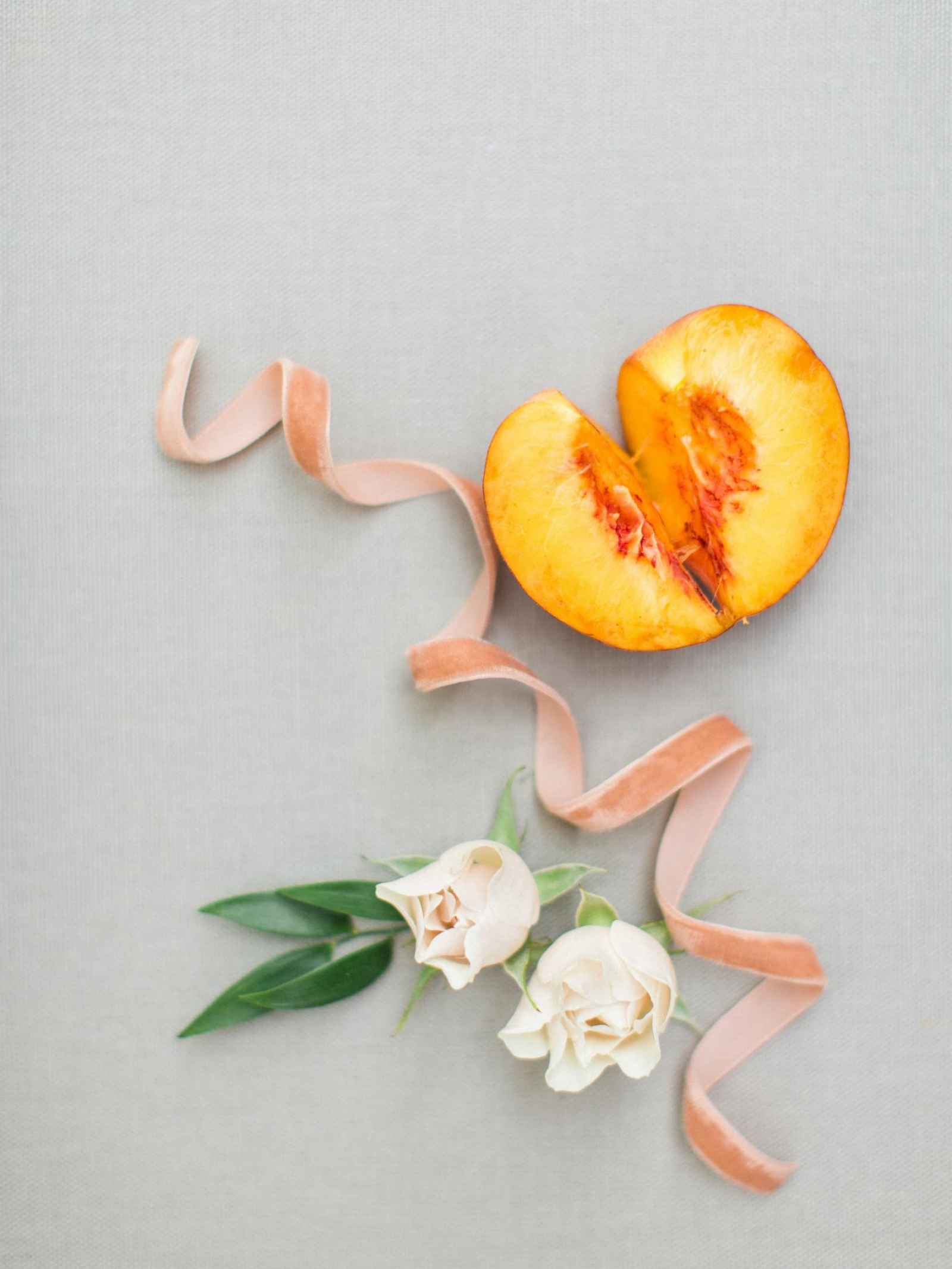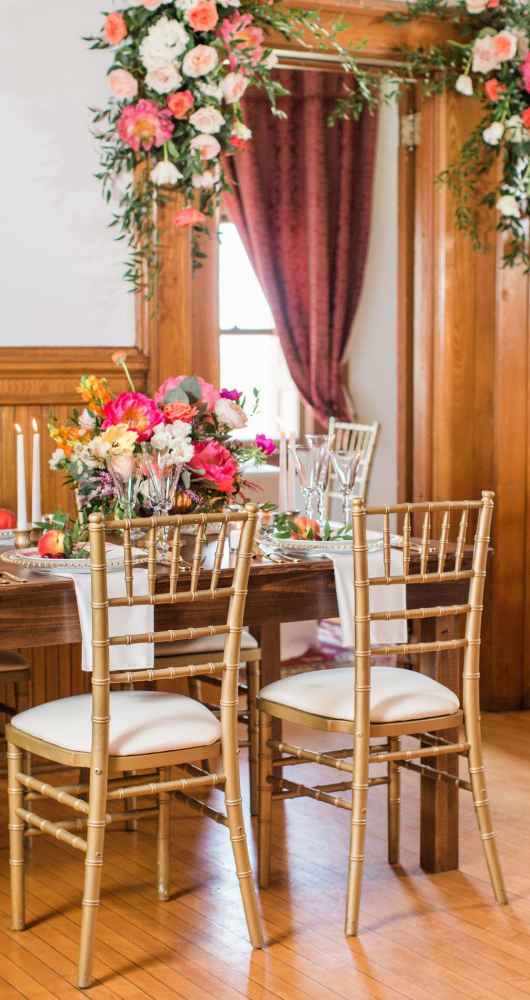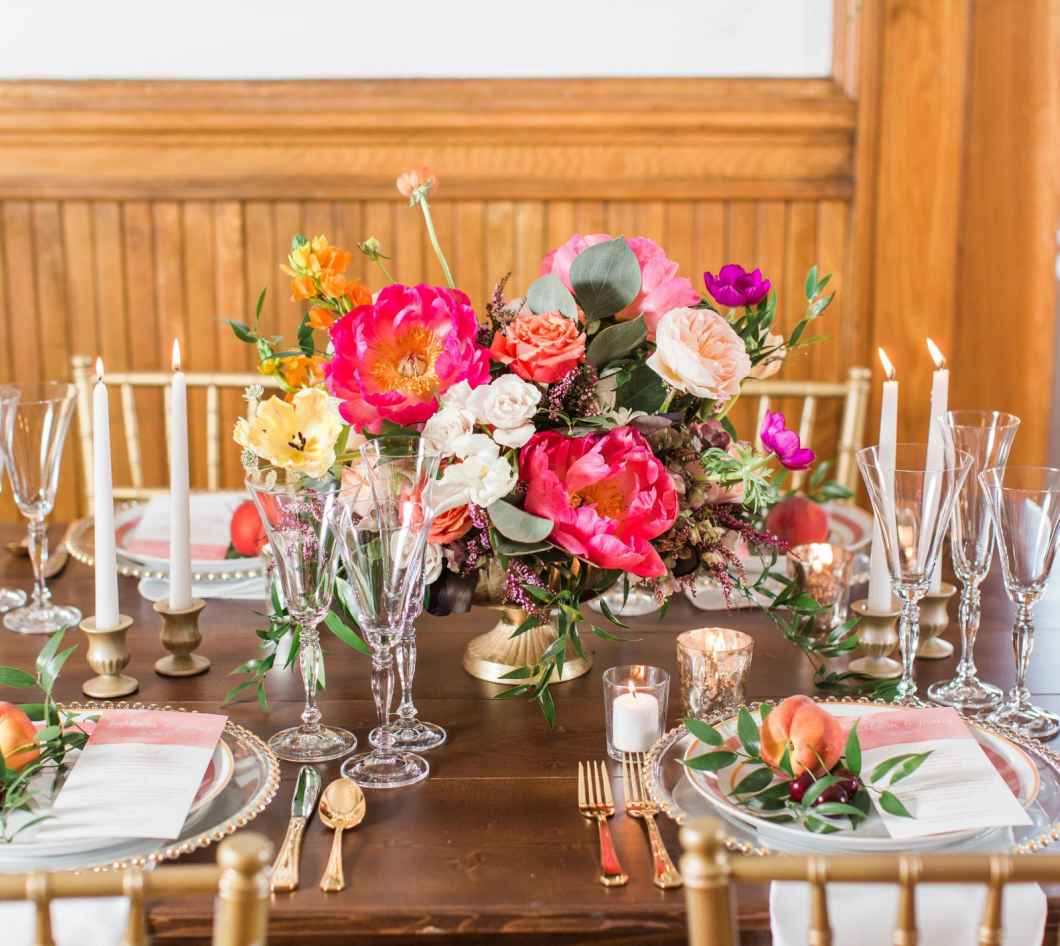 The Venue
What could be better for an upscale, summer wedding than lush, elegant gardens and a whimsical atmosphere? Henderson Castle was our venue of choice for this shoot. We knew with all its rich, historic details and other unique characteristics, it was the ideal backdrop for the dreamy vision we had in our hearts.
"Henderson Castle was elegant and had beautiful grounds," says Nicole. "There were so many lovely areas we could shoot from—gardens, a vineyard, a ballroom and an outdoor gazebo. The colors around the multiple gardens not only fit with the theme but allowed us to have many shooting locations to really take advantage of sun and shadow locations."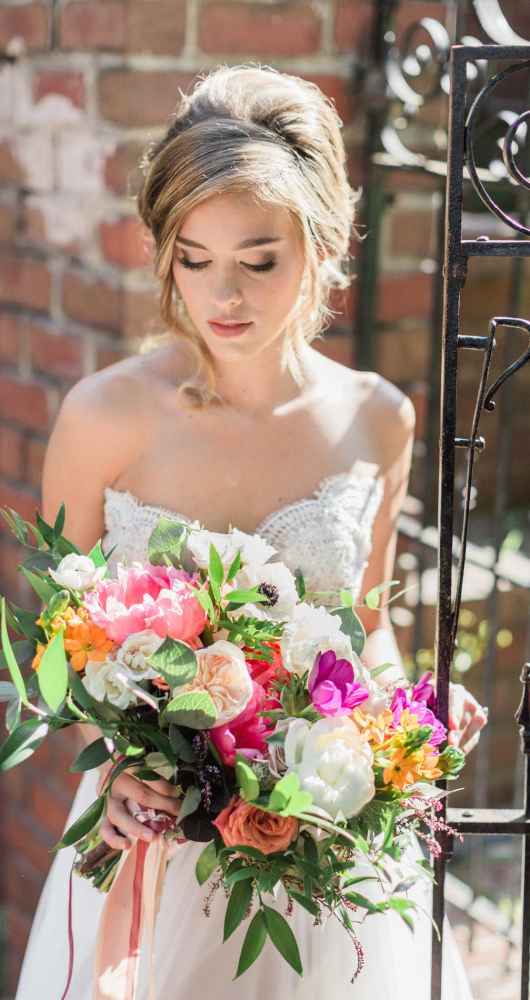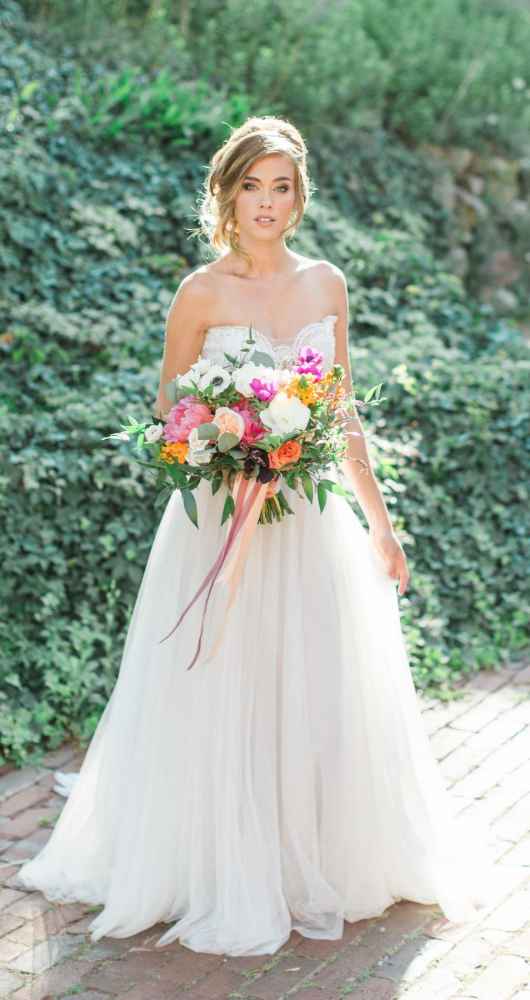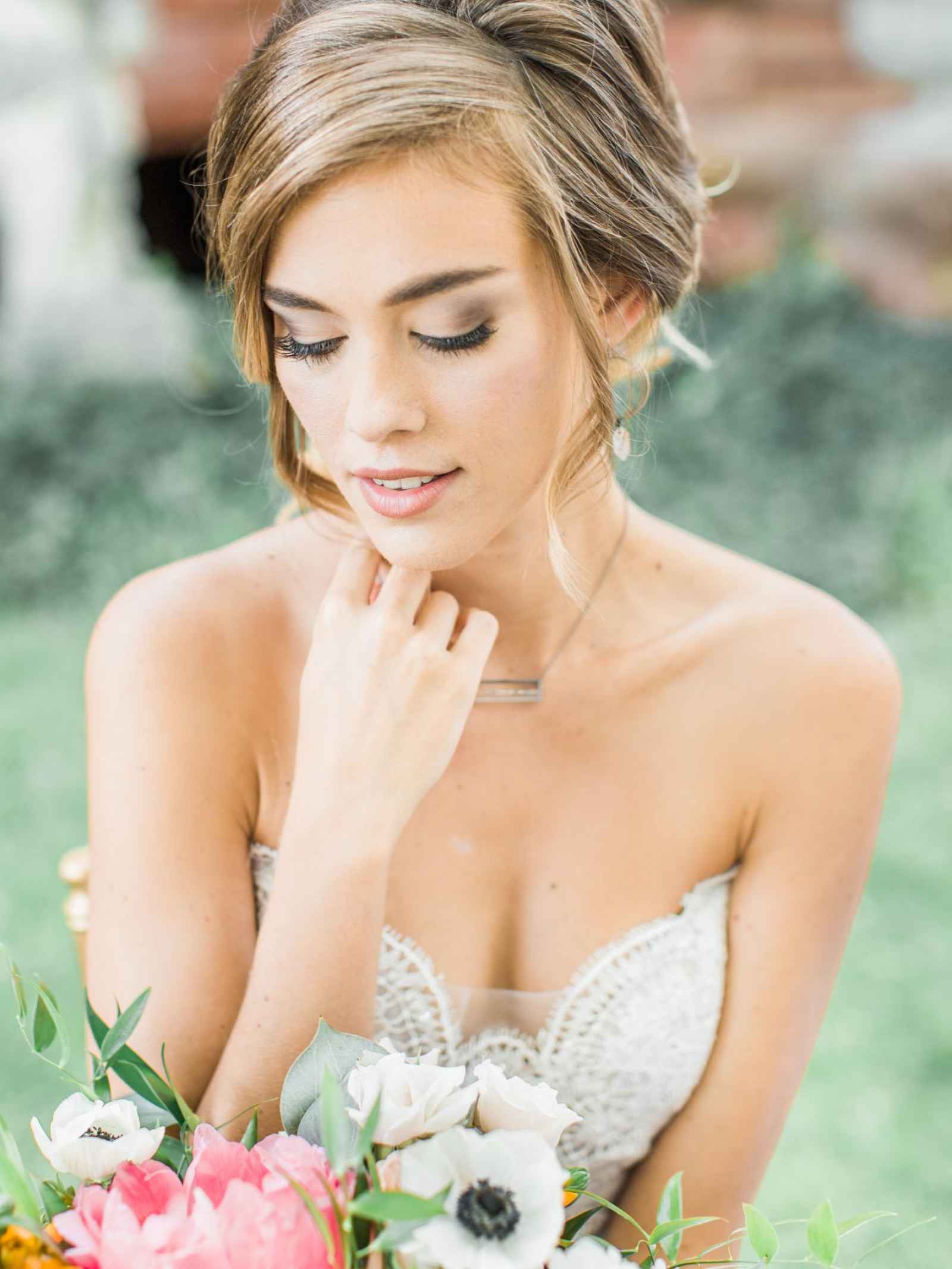 The Look
Our bride wore a stunning Paris House of Bridal dress. The lace bodice and flowing, tulle skirt were the embodiment of whimsy and grace, and the way the skirt flowed across the grounds only added to its elegance. Andi Sherman of Something Blue Stylists helped to shape the beautiful bridal vision by allowing the bride's natural features to shine through with soft, neutral makeup paired with a more dramatic lash. Andi also pulled the bride's hair into a romantically coiffed updo, perfect for a magical, castle wedding.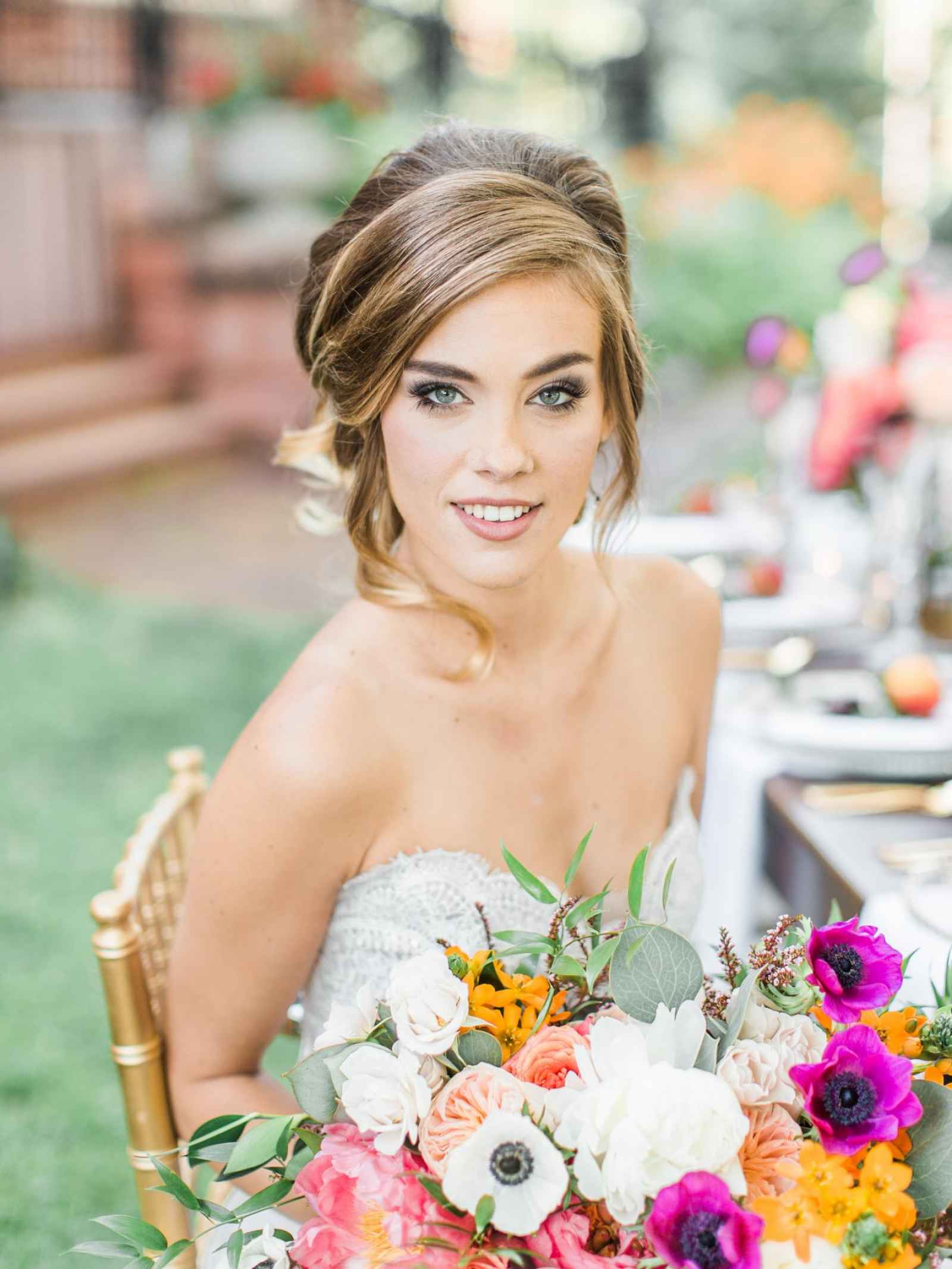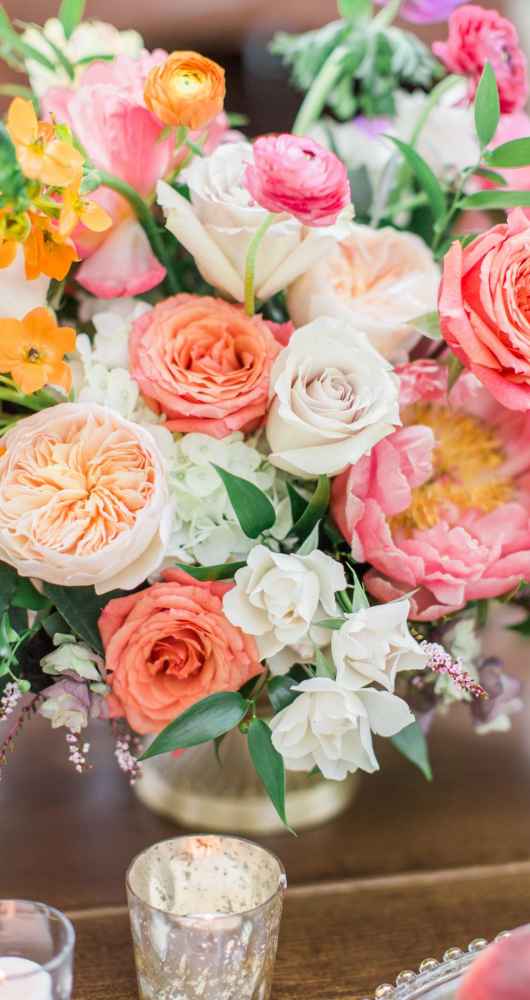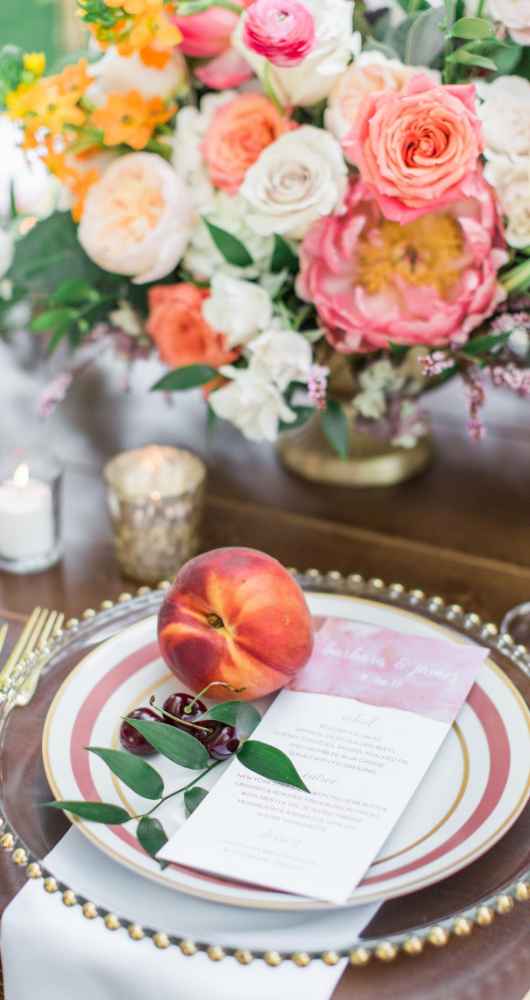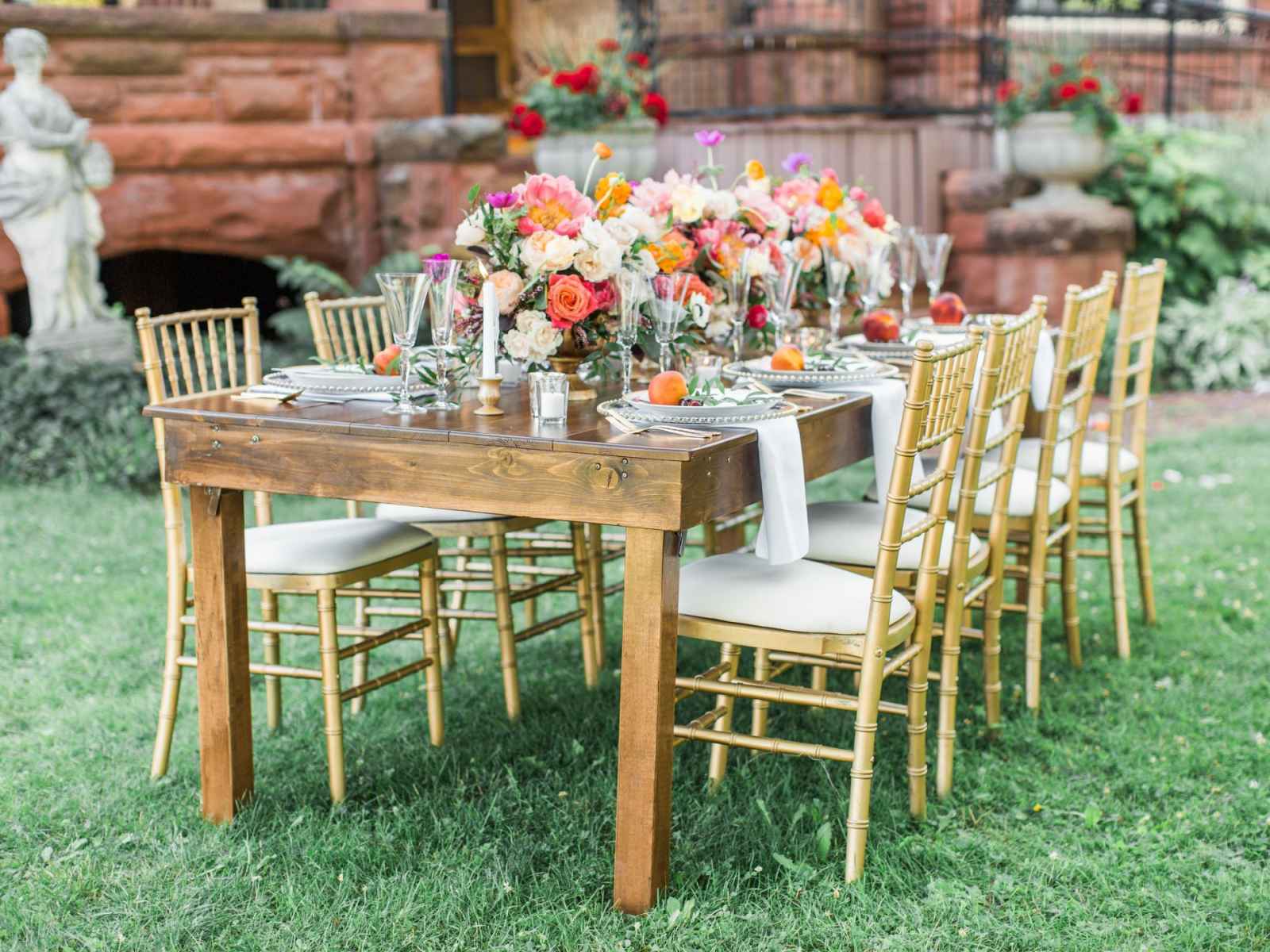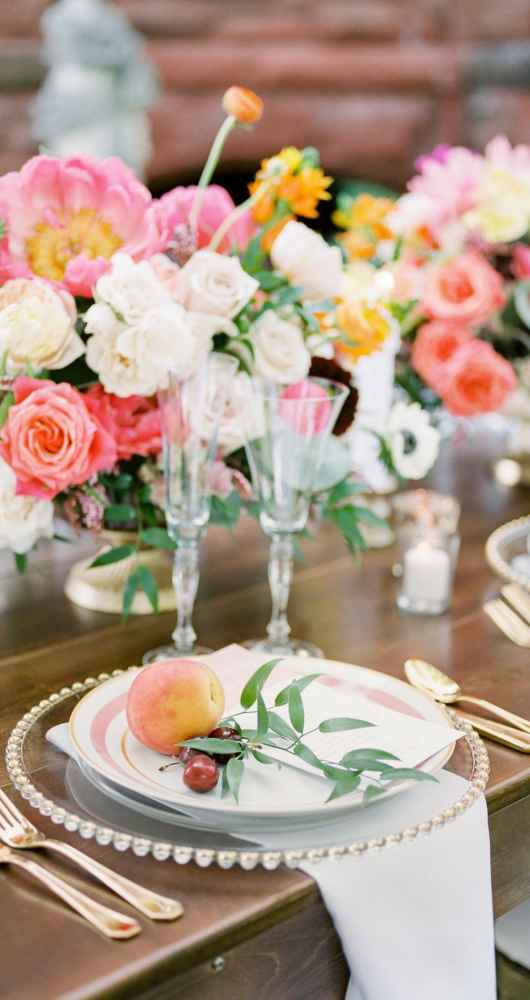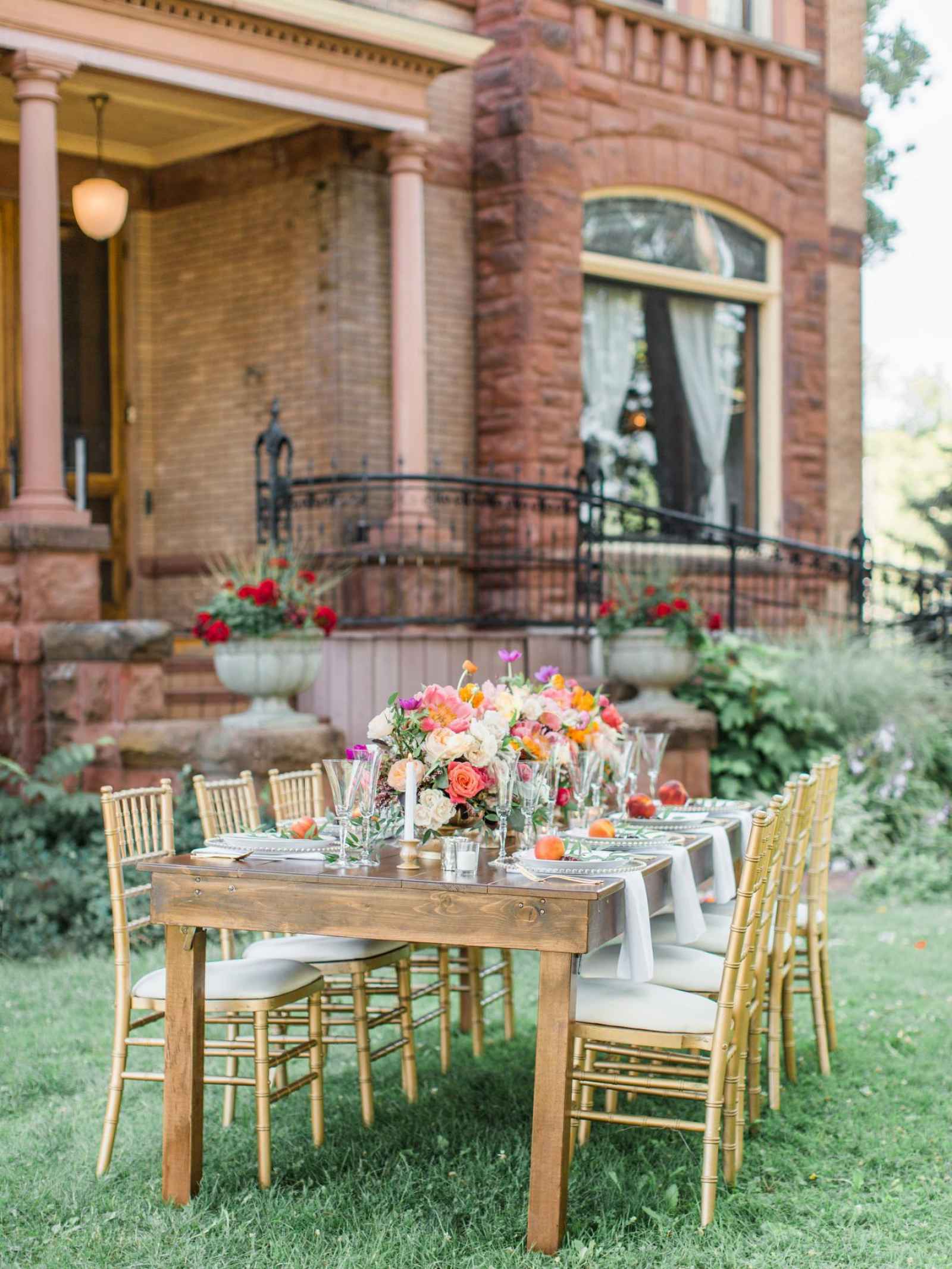 The DÉcor
We aimed for an overall look that was vibrant and colorful yet soft and elegant. "Creating white space with pops of color where needed was essential," says Nicole. "We so often see neutrals and greenery, especially with the green trend right now, so it was fun to mix things up and to be bold with our selection."
While the use of fresh fruit, watercolor paper goods and farm tables in non-rustic settings are trends that seem to be becoming more and more popular, we chose to further contrast our look using gold chiavari chairs, and the result was beautiful.
Simplicity set the stage for our tablescape in order to let the sweet peaches, cherries and gorgeous paper goods and florals take center focus. "The gold silverware was the perfect touch to pull the chiavari chairs towards the floral arrangements," says Nicole.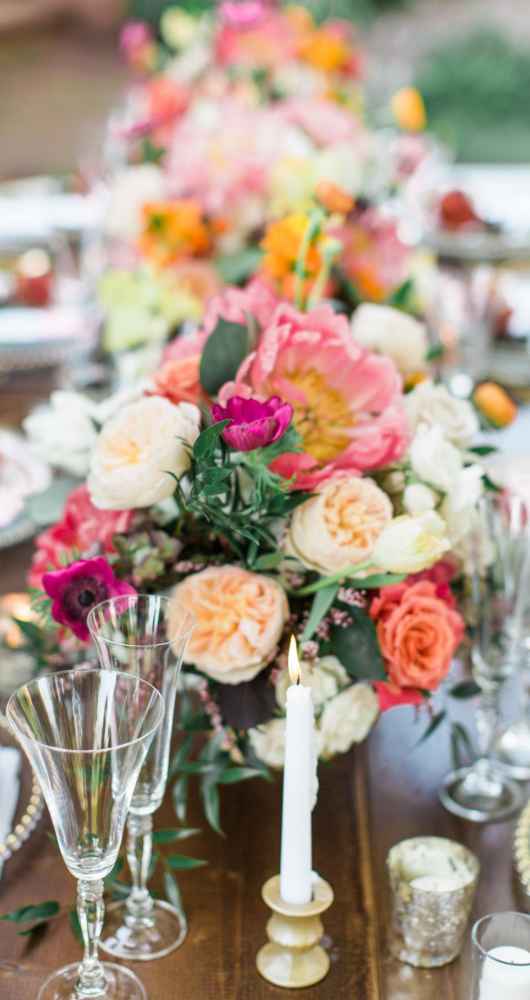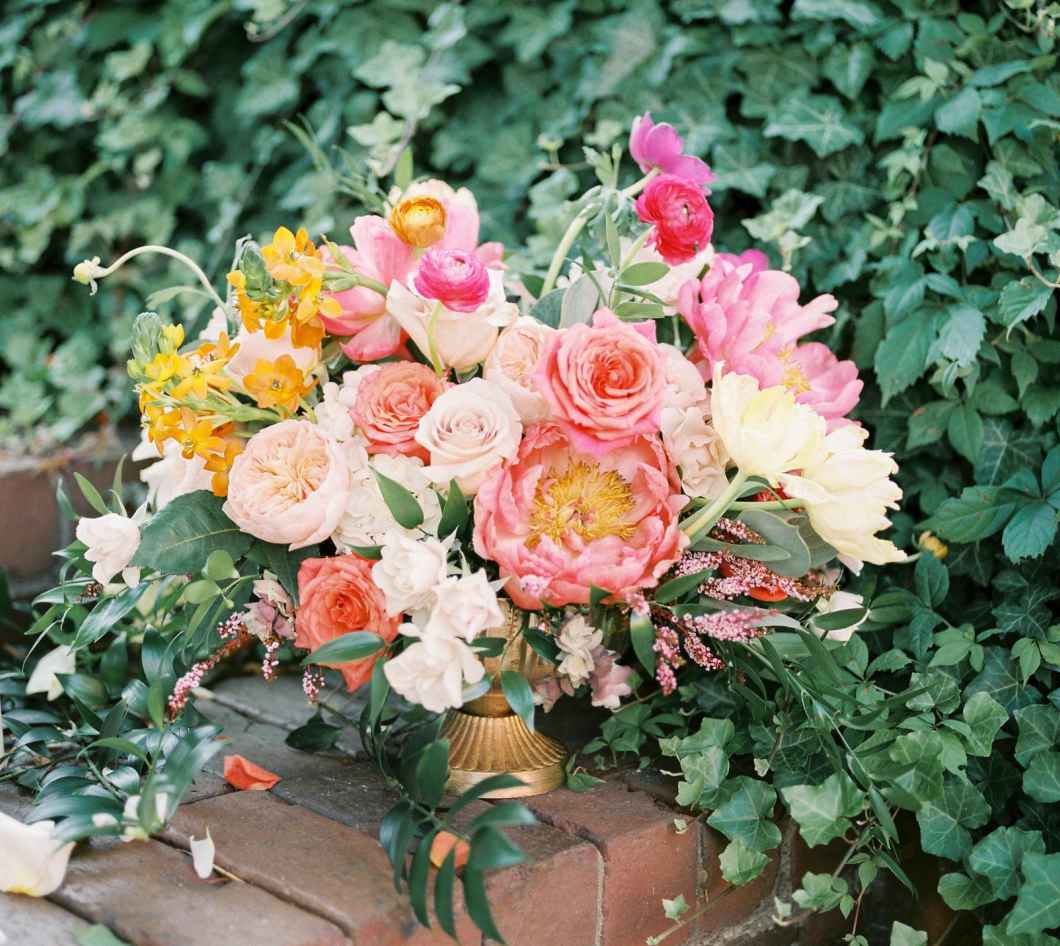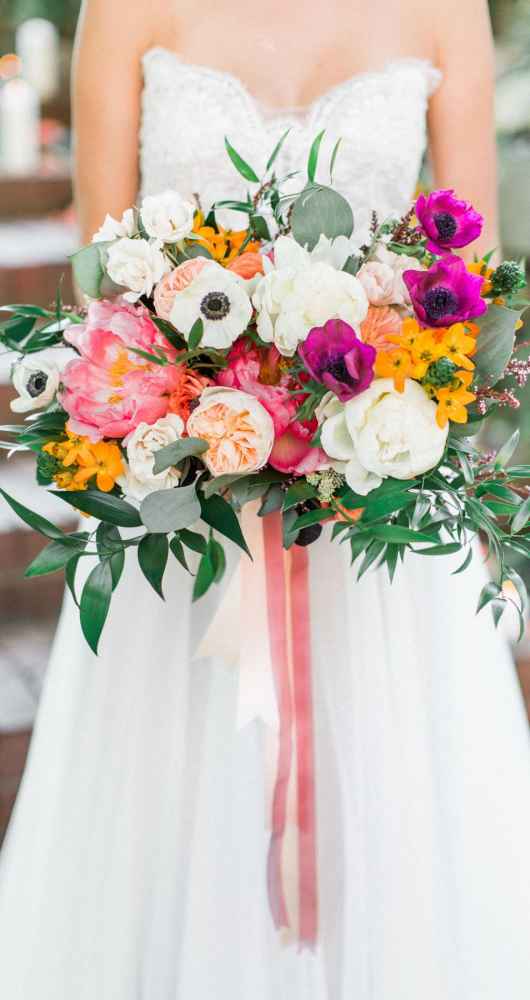 The Florals
Because we were working with so many vivid colors, we really had a blast incorporating so many different textures and tones in the flowers!" says Leah Bayes of West View Florist. "The Coral Charm Peonies and peach David Austin garden roses were the focal flowers, while the orange Star of Bethlehem and hot pink Anemones added a punch of color," explains Leah. The breathtaking arrangements were softened using pale pink Quicksand roses and white Majolica spray roses. Greenery was also a must-have. Trailing greenery and other unique blooms tied the elegant garden look together beautifully.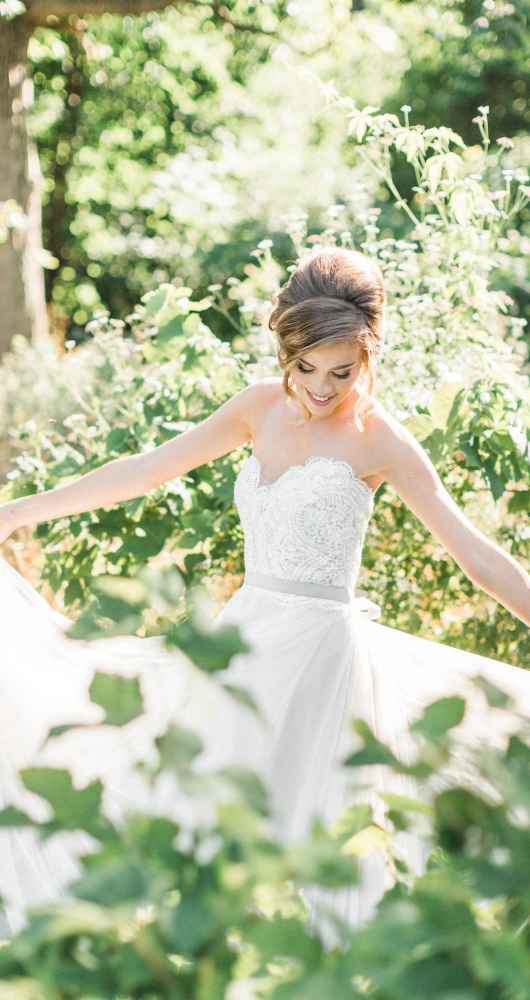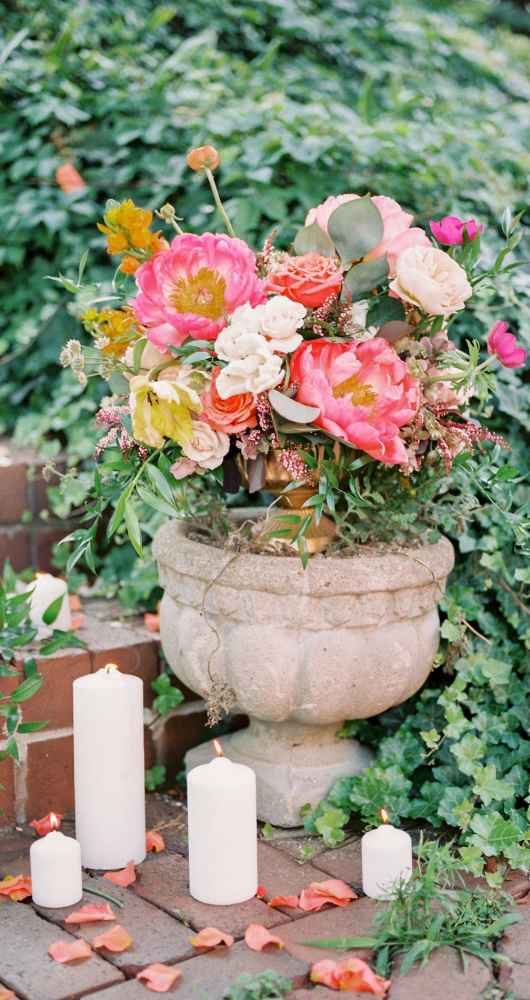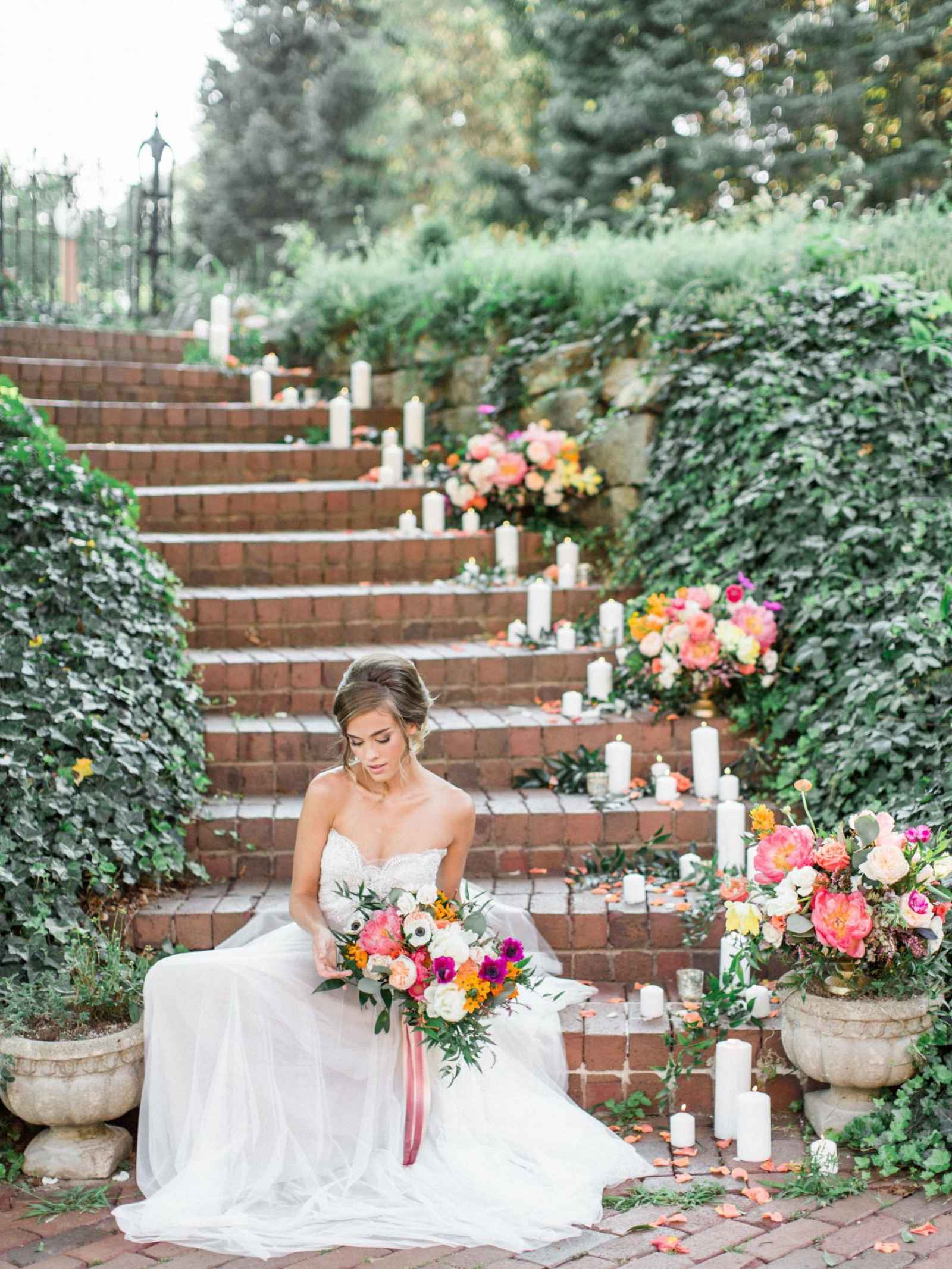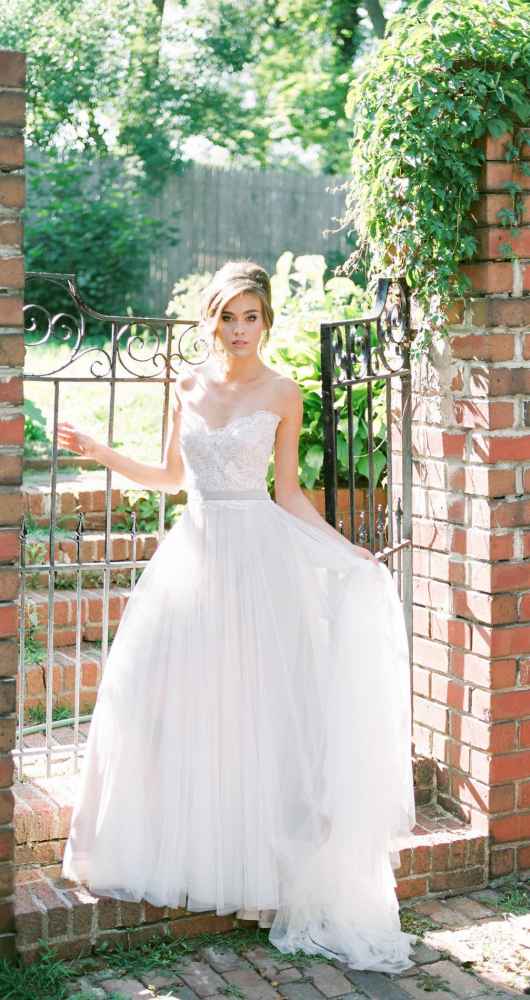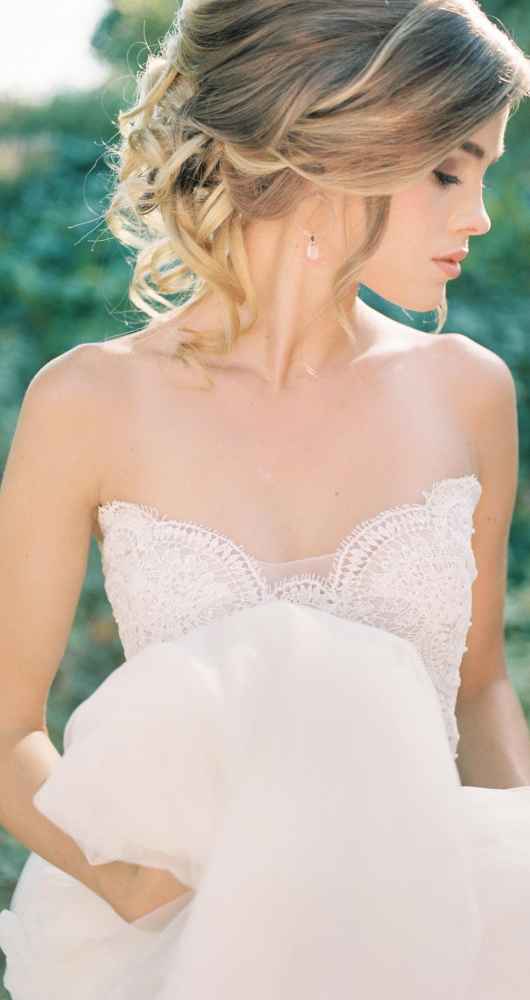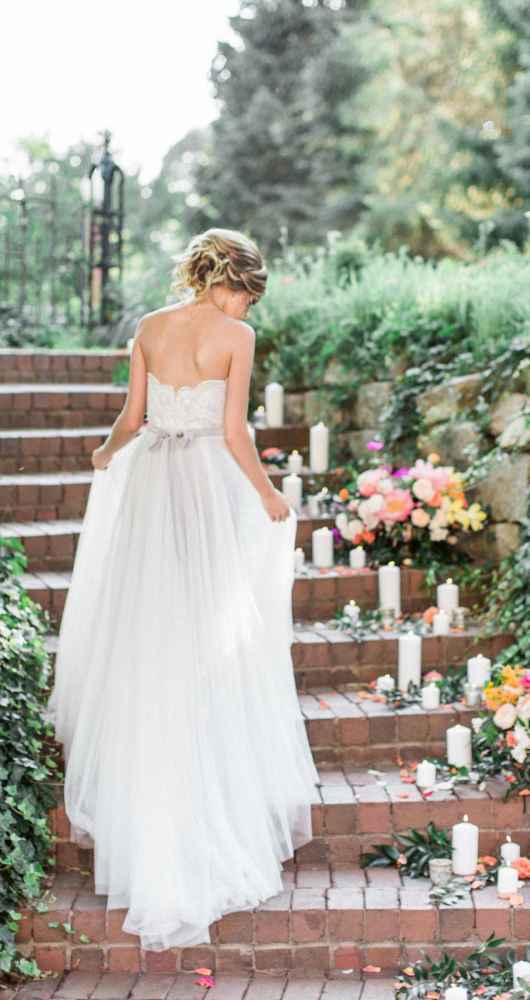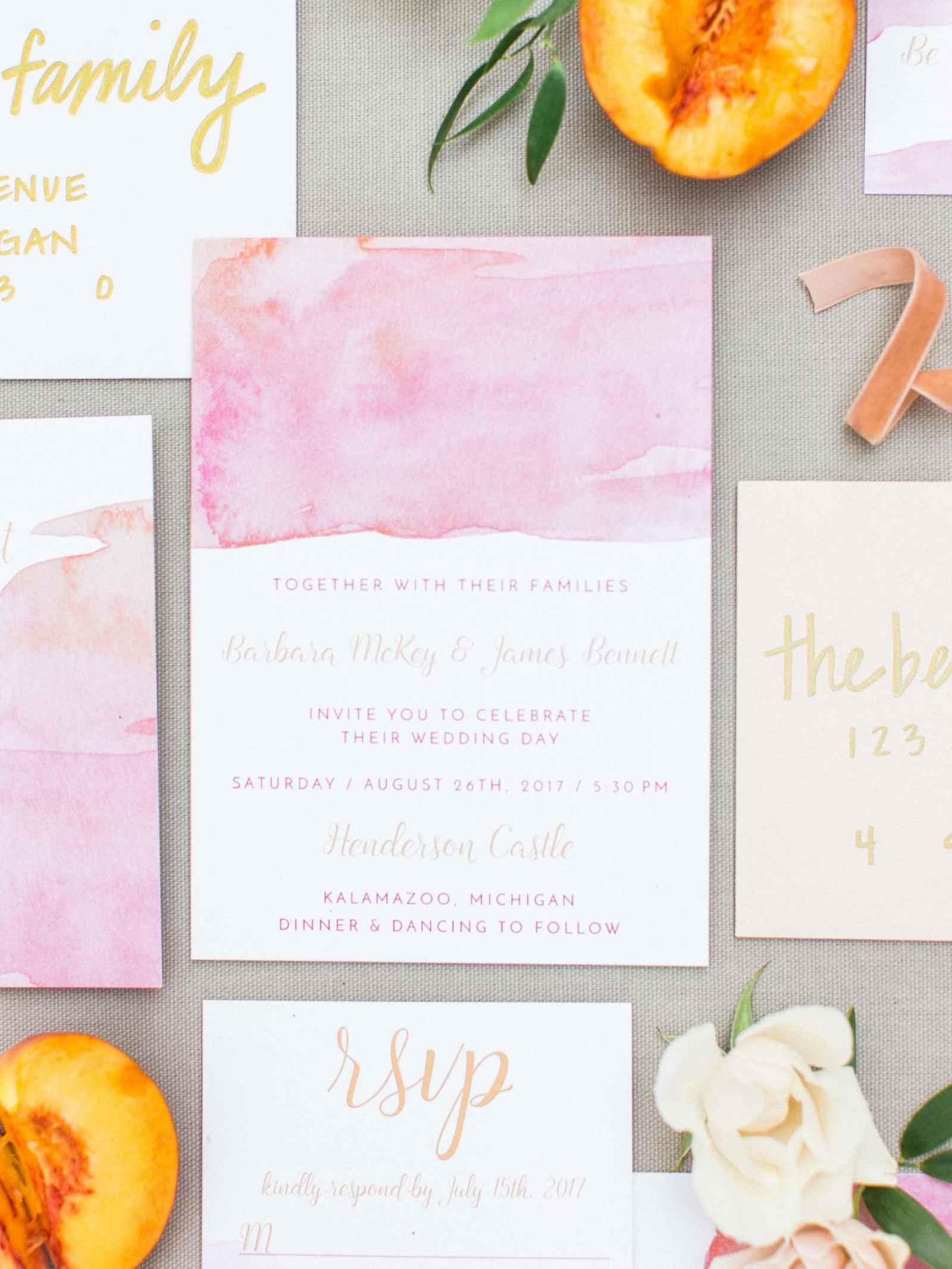 The Stationery
Amanda McKey Designs created the ideal stationery suite, complete with elegant yet colorful fonts. "I presented two visions I thought would work well with our overall theme as well as our color palette and she came back with such gorgeous work," says Nicole. "It was the perfect amount of pop and color to our overall aesthetic"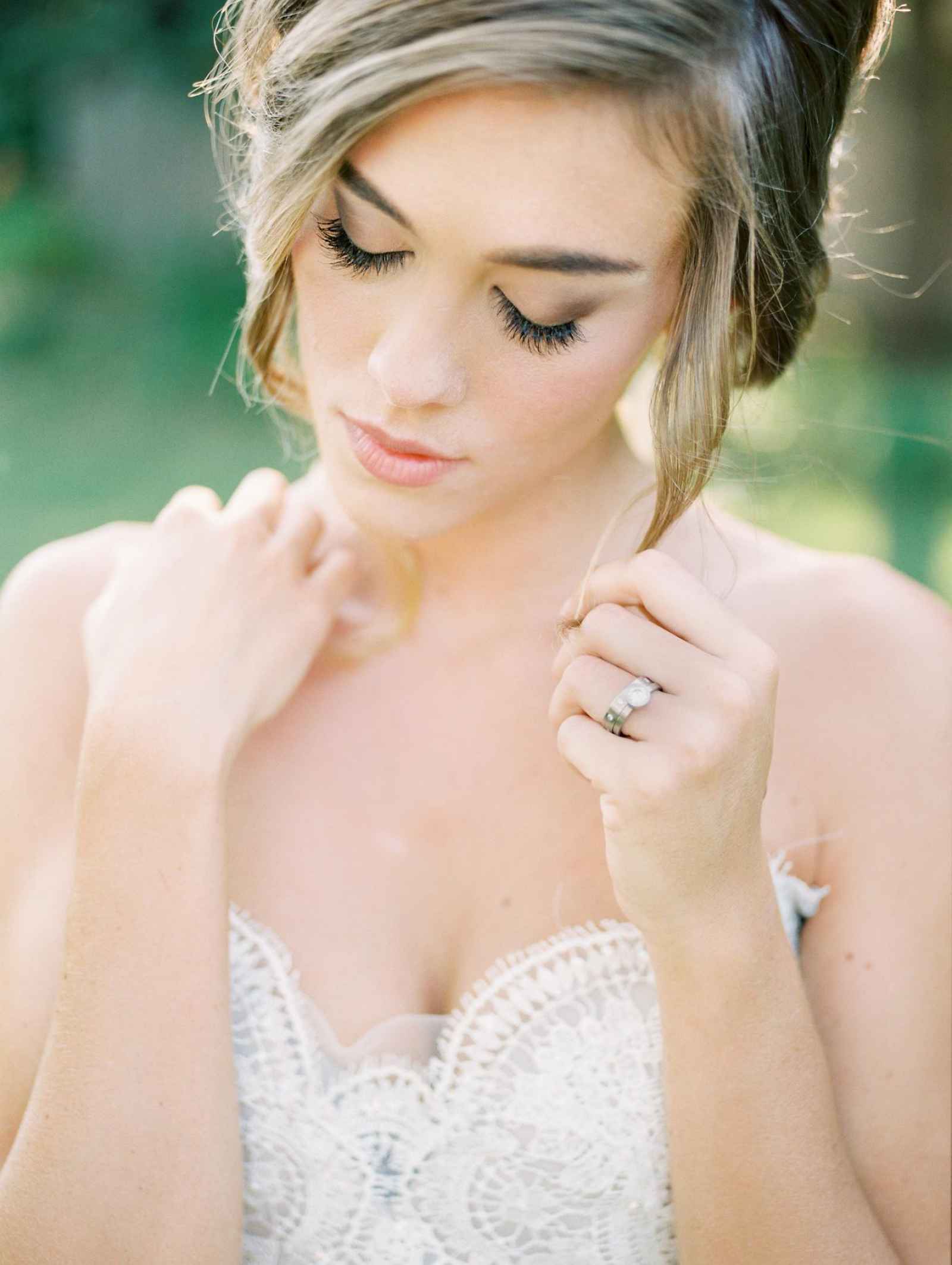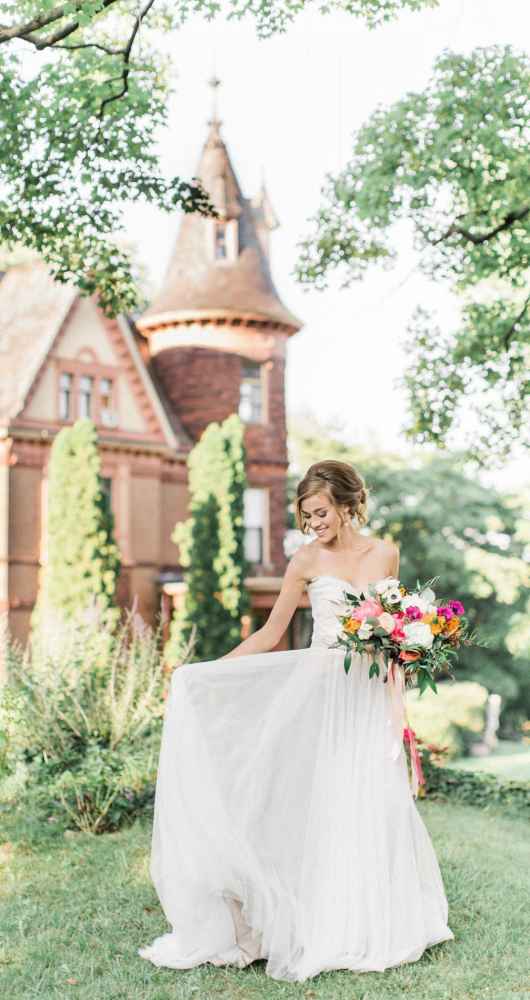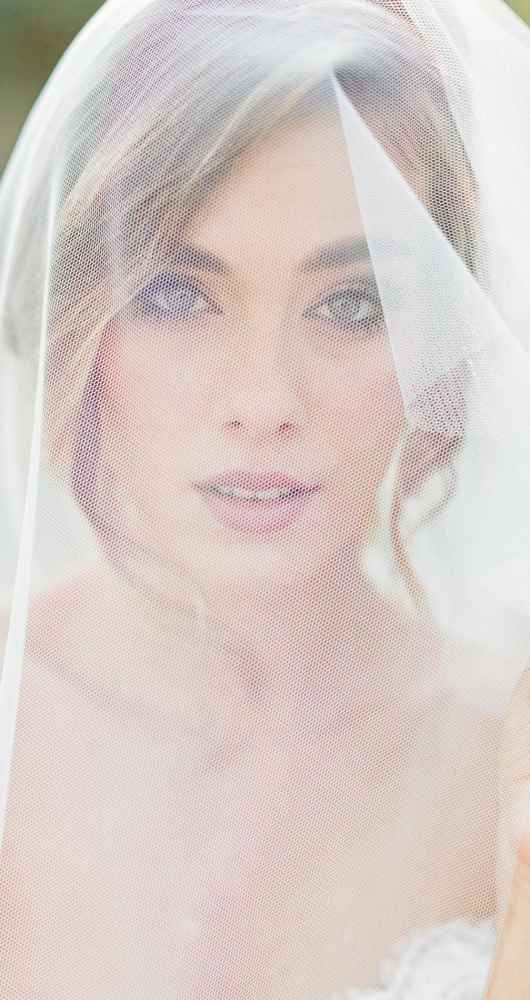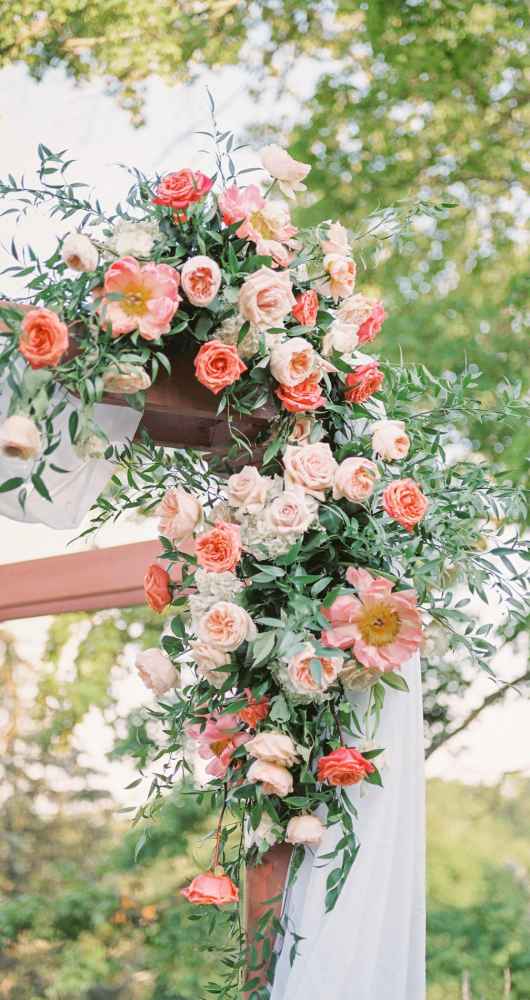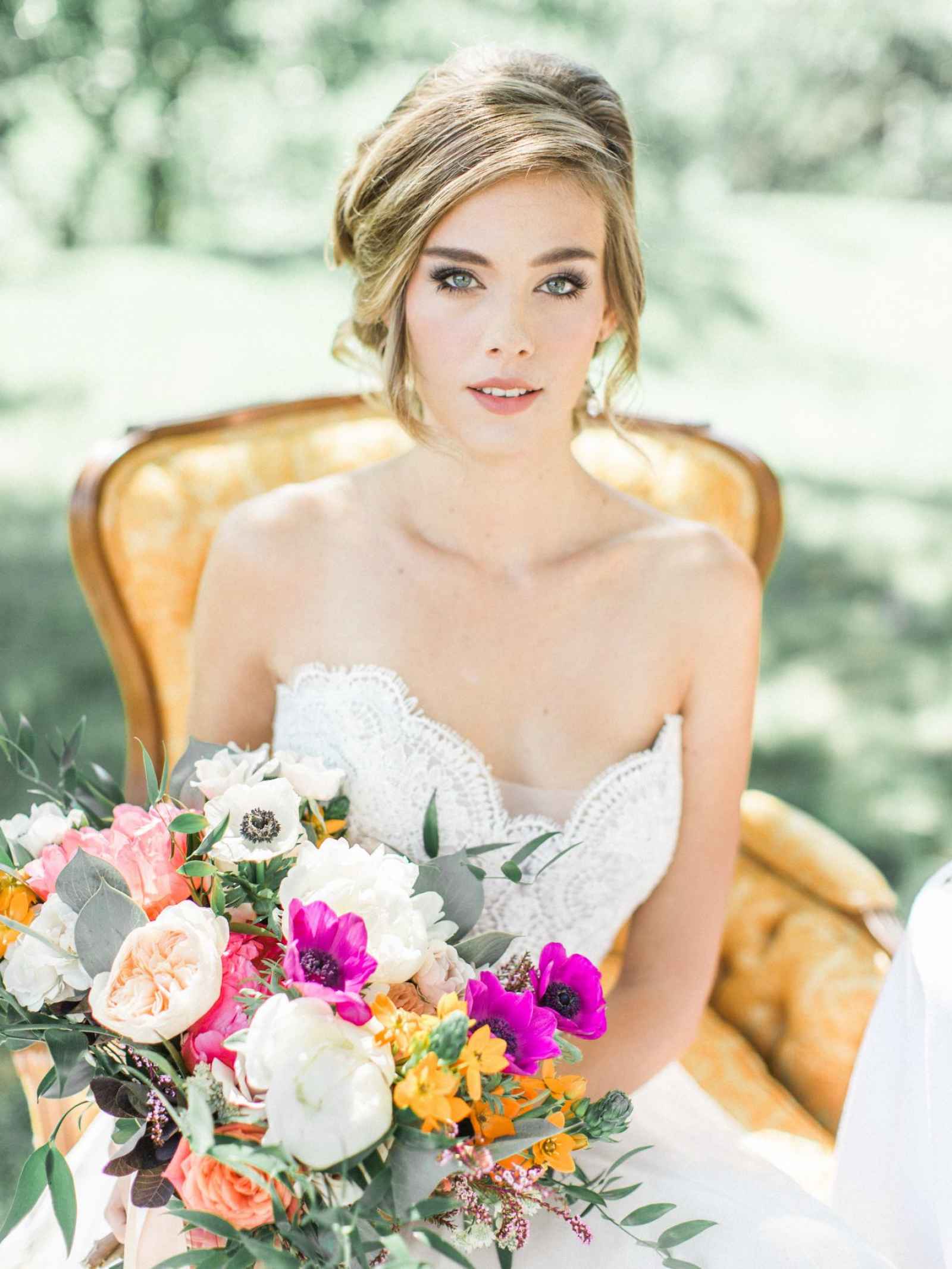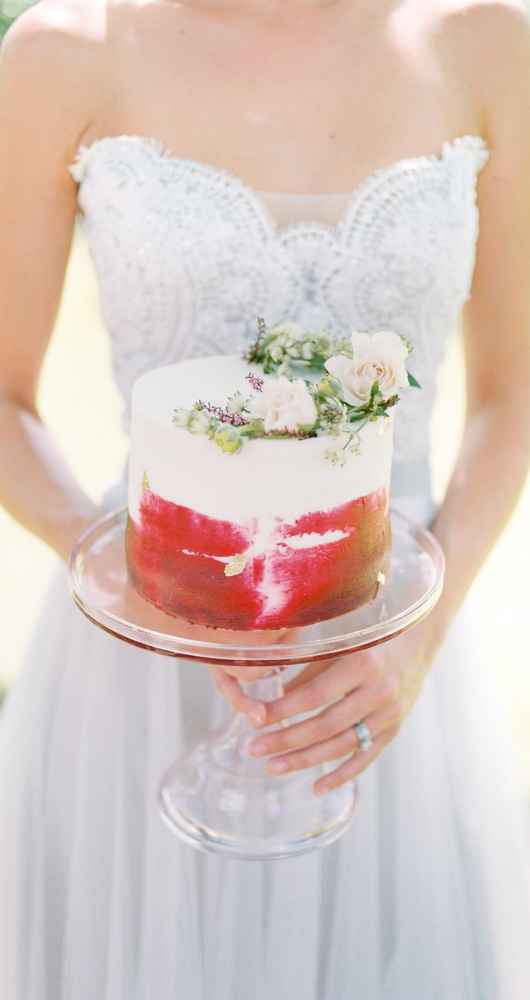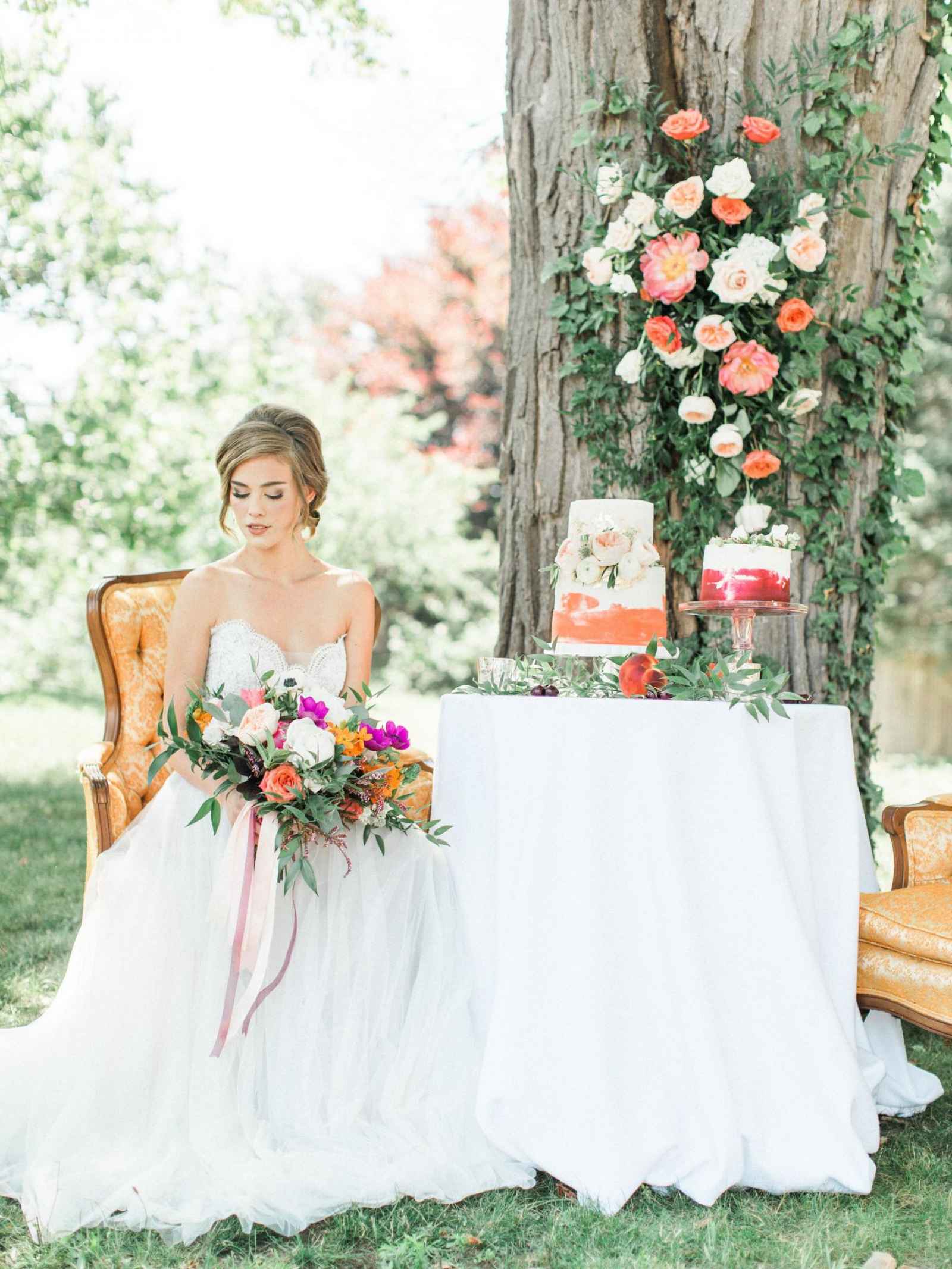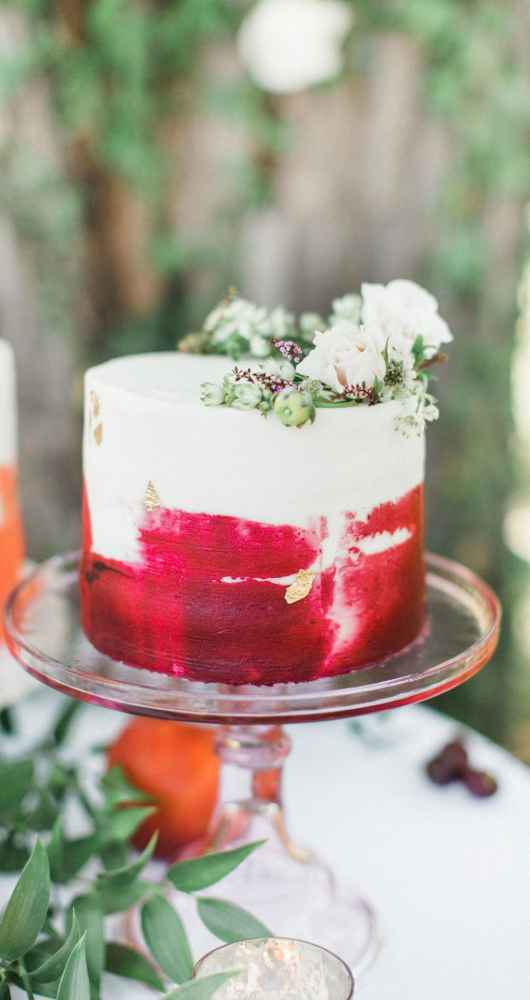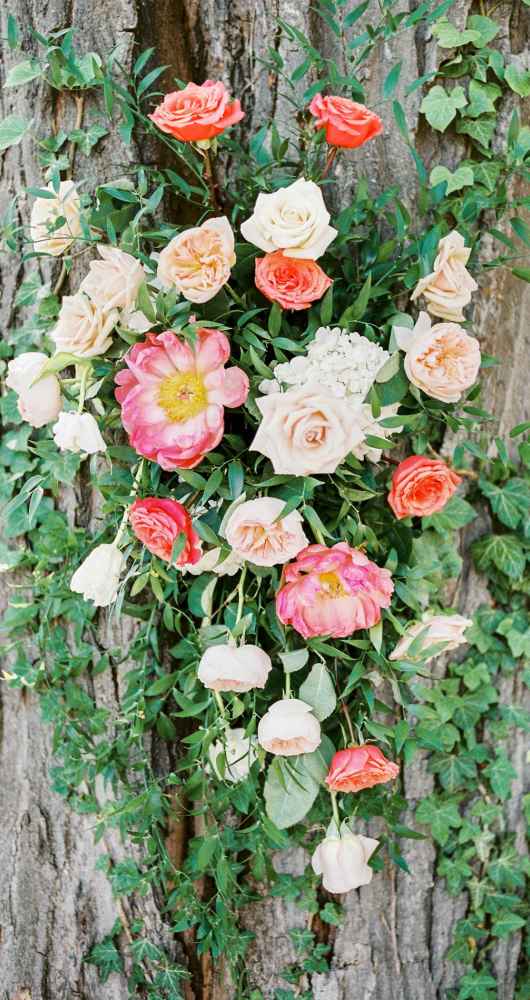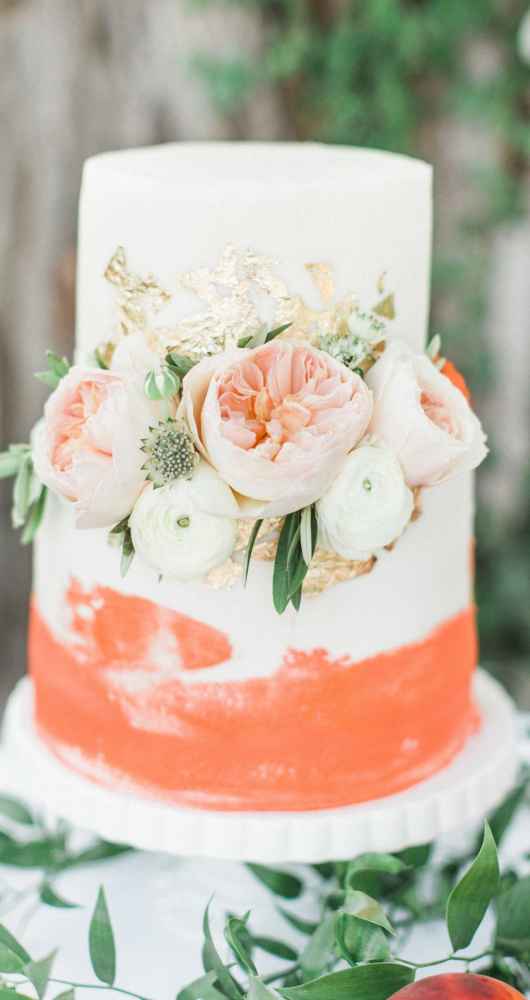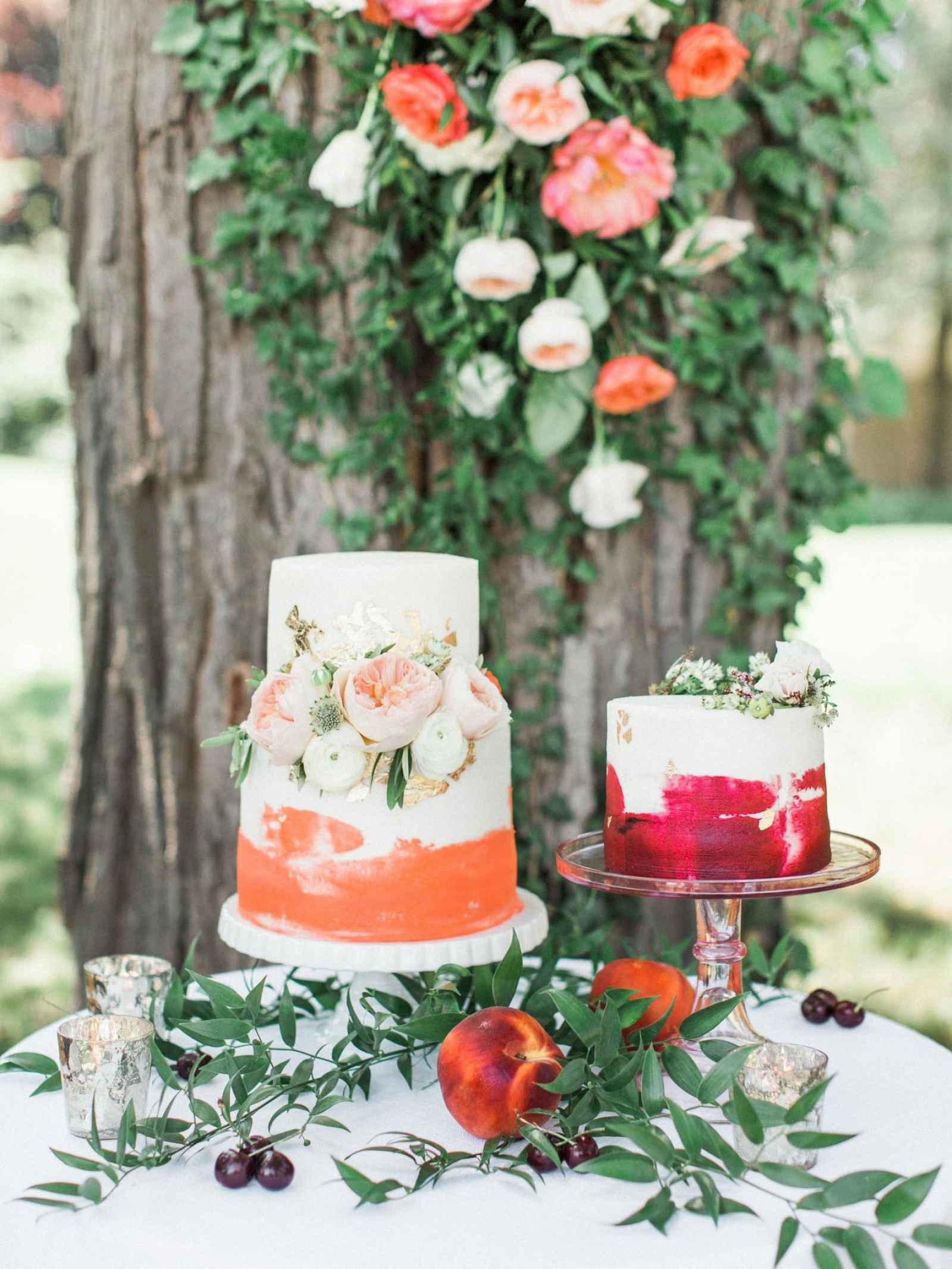 The Cake
"As with everything else in the shoot, we asked Wildflour Cakes + Pastries to incorporate our peach led theme and supporting colors of burgundy and gold," says Nicole. The elegant feel was achieved by keeping the base of the cake white. Colorful floral touches that mirrored the bouquet and centerpiece designs added just the right amount of delicate detail and color.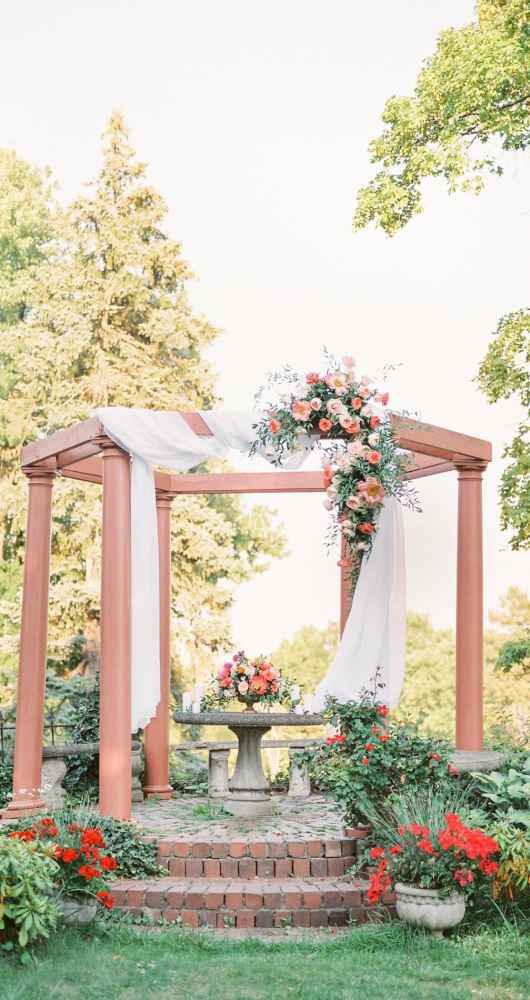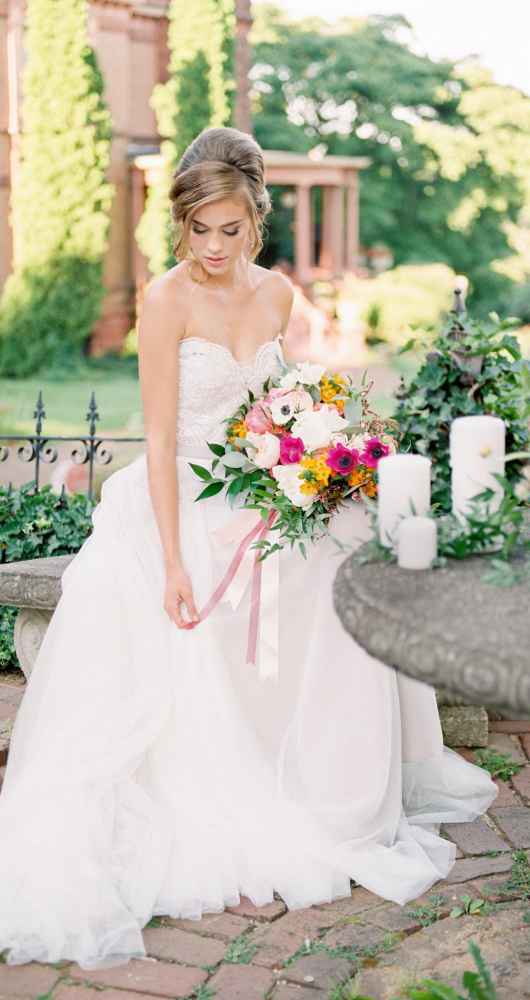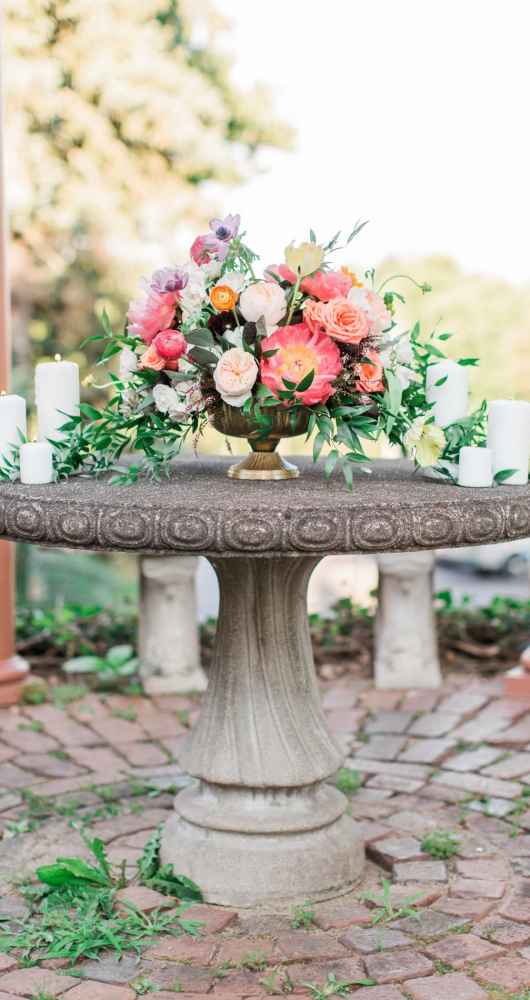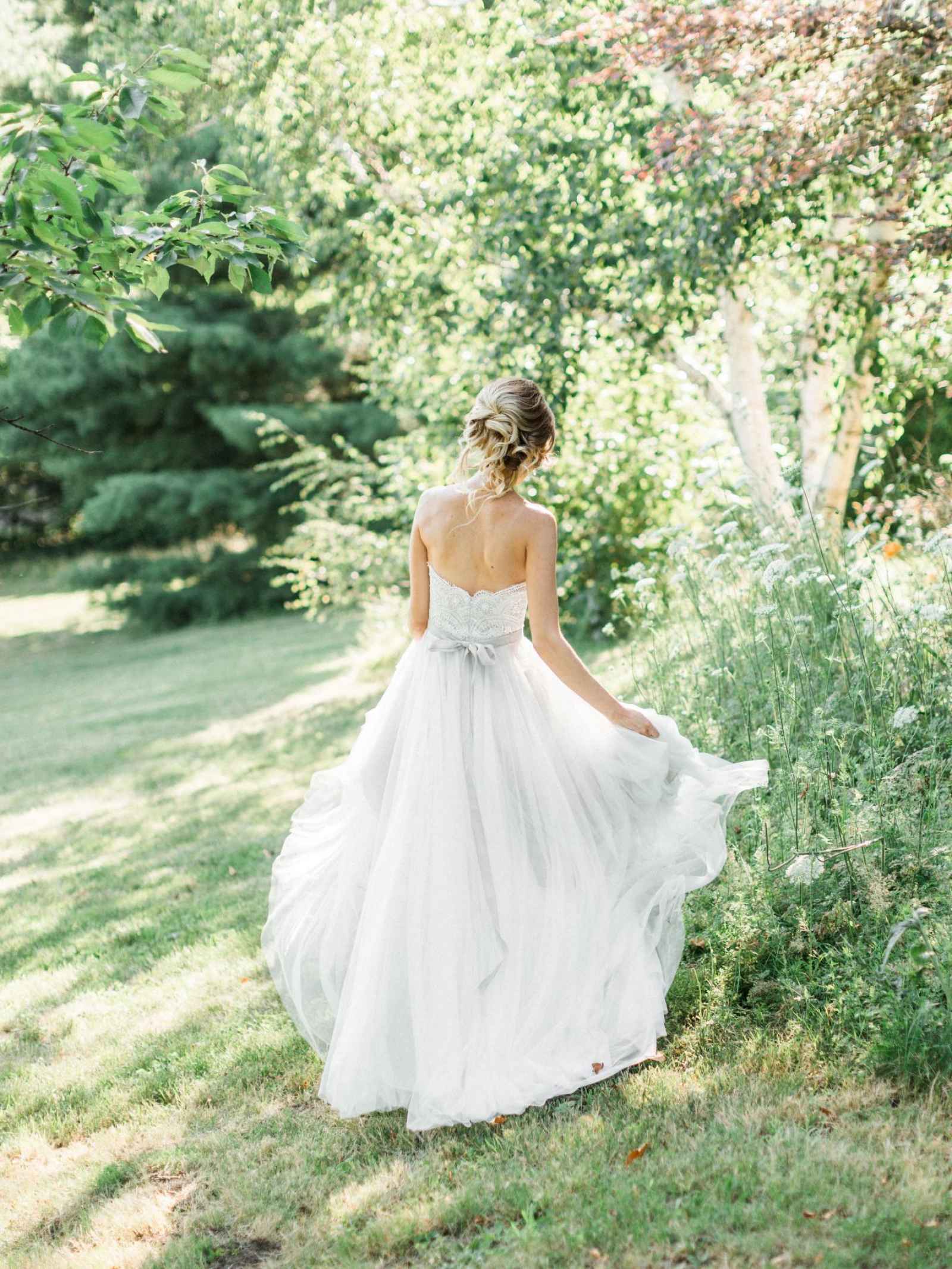 WeddingDay Magazine Cover Shoot at Henderson Castle from WeddingDay Magazine on Vimeo.
are you a bride-to-be?
We'd love to plan with you on weddingday-online.com. Let's get started!
 
are you a wedding extraordinaire?
Join WeddingDay Magazine in inspiring brides by partnering with us! See how here.